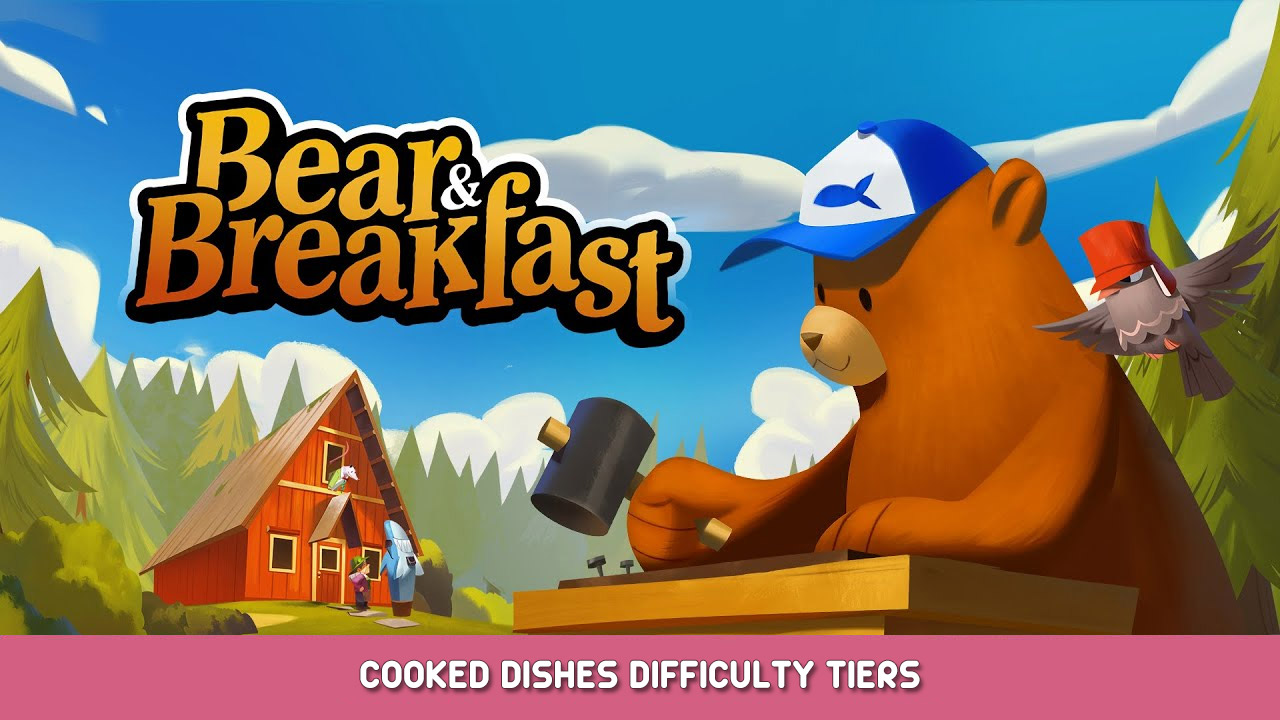 Title: Bear and Breakfast
Release Date:
Developer:
Publisher:
Information about Bear and Breakfast is still incomplete. Please help us fill the details of the game using this contact form.
Cooked dishes, ranked by the difficulty of acquiring the ingredients.
Trivial dishes
These dishes can be cooked using only ingredients bought from Ipswich's store.
Easy dishes
Can be cooked using ingredients in Julia's garden or the Winterberry greenhouse, plus ingredients from Ipswich's store.
Moderate dishes
Require ingredients that must be foraged from Highlake or Pinefall.
Name
Score
Ingredient location(s)
Spinach Stromboli
8
Pinefall
Zesty Seared Mushrooms
7
both
Pan Fried Spinach
7
Pinefall
Hard dishes
Require an ingredient found only in outlying areas: Darkgrove, Whitestone Bay, or Beachside.
Name
Score
Ingredient Location(s)
Honey Sage Tea
3
Darkgrove
Peach Iced Tea
3
Darkgrove, Whitestone Bay
Citrus Peach Cooler
3
Whitestone Bay
Fluffy Pancakes
8
Beachside
Spicy Linden Tea
3
Darkgrove, Beachside
Peach Cobbler
7
Whitestone Bay
Sous Vide Carrot Stew
8
Whitestone Bay
Gameplay tips
Guests expect not just a sufficiently high food score, but also a variety of foods. You can't just load up your buffets with grilled cheese and expect them to be satisfied. Have Julia provide the dishes that are difficult to create. Then make the easier dishes yourself. You can do this by putting two buffets in the dining room, and having Julia control only one of them. Start with her providing about 10 points of food, and then increase her share as guests get more demanding, and pay more. Eventually you'll have enough money coming in to pay her to provide 45 points of food at every location.
That's everything we are sharing today for this Bear and Breakfast guide. This guide was originally created and written by sth. In case we fail to update this guide, you can find the latest update by following this link.
If you believe that any of the content on this site violates your rights, including your intellectual property rights, please contact us immediately using our contact form.