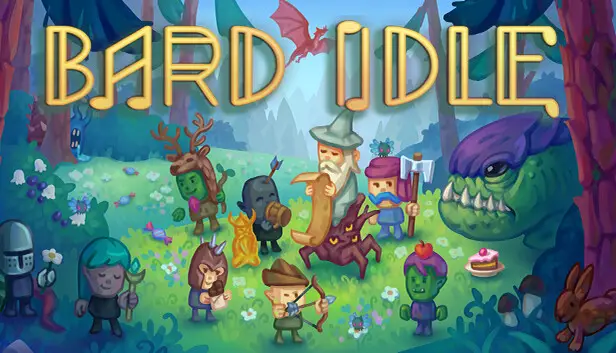 This guide is meant to assist folks in finding their way through all the features and figuring out what will help them move up in the zones.
Bard Idle Overview
Bard Idle is a game where things fight automatically, even though it's called Idle, it's not lazy until later. In the beginning, you need to do stuff yourself. Bard Idle has helpful features that make it easier over time, but at first, you've got to do things. This guide is to help you reach a point where you can start a run and do well without doing much yourself.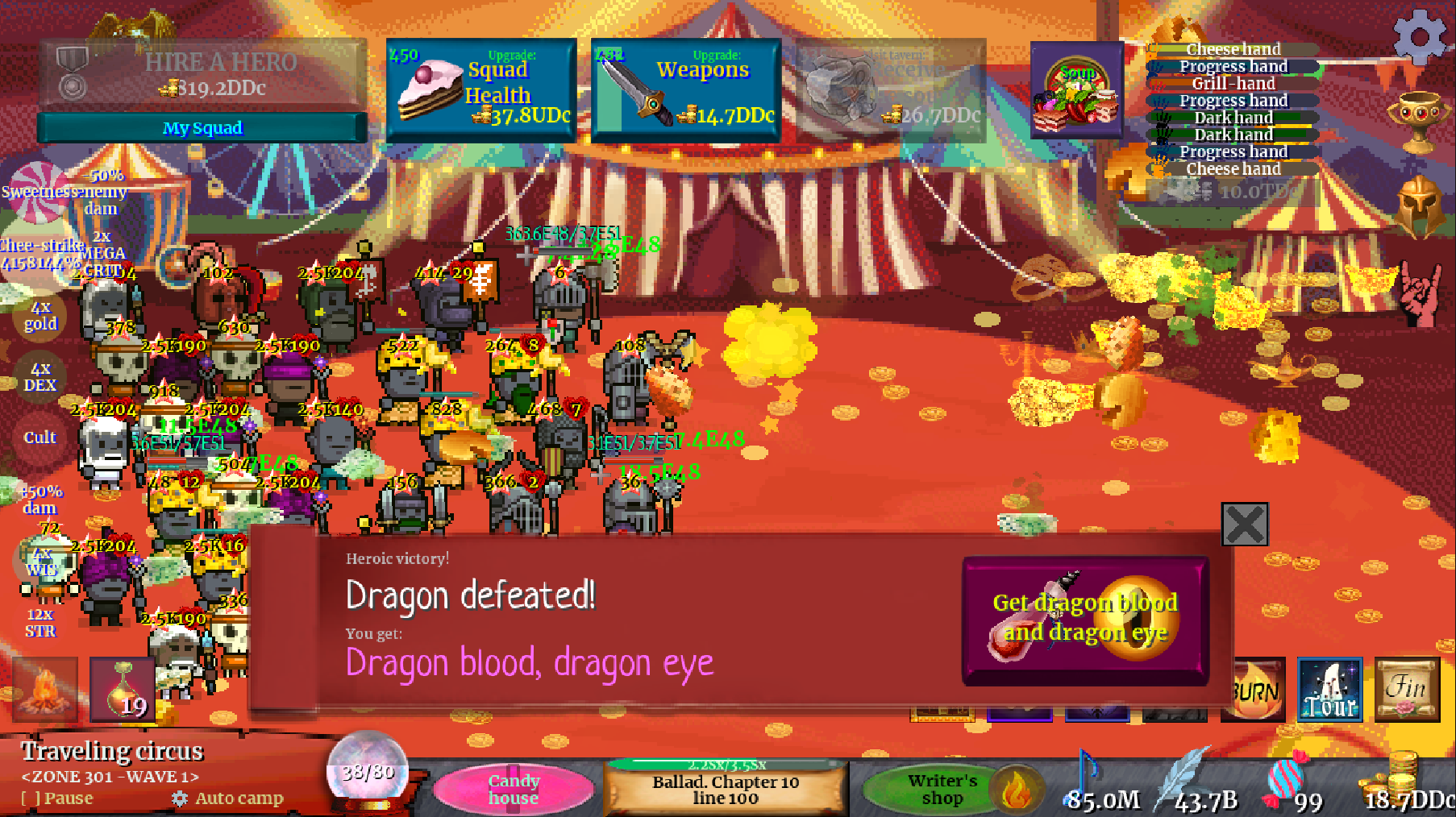 General Objectives
Make a team of heroes for fighting through zones with tougher enemies. Each zone has 10 waves, and you need to beat them all to move to the next zone. Every 10 zones, there's a boss; beat it to get a special item called Ambrosia. Ambrosia turns a hero into a flower (flower type depends on the hero's race/class). Every 100 zones, you face a dragon. Beat it to get Dragon's Blood and Dragon's Eye. Dragon's Blood upgrades your squad, and Dragon's Eye lets you jump to the highest dragon zone, getting all the rewards.
While going through zones, write ballad lines to make pens. Pens are used to unlock and upgrade books in the Writer's Shop.
Reach zone 25 to unlock the Arena. It's a separate challenge with tough waves, earning Glory. Glory upgrades damage/gold/heath/pen multipliers for the arena. Note: Going into the arena means you can't end/burn your ballad, and doing so resets your multipliers by a percentage based on your arena rank. Use the arena if you want to push past a certain stage.
Reach zone 50 for a rock concert. Concerts give notes, boosting gold, damage, health, pen gain, and inspiration. Getting enough notes unlocks upgrades, like extra books and game mechanics. Warning: Giving a concert means you can't end/burn your ballad and resets arena and book progress. If you haven't reached zone 75 for manuscripts, hold off on concerts until you save your important books.
Reach zone 75 to unlock ballad burning. Instead of ending your ballad for pens, you can burn it for manuscripts. Manuscripts save your books when giving concerts/tours and upgrade them further with added pages.
Reach zone 125 for a tour. Tours are like concerts but give more notes.
Reach zone 150 to create a guild. Guilds give extra book pages based on the required number of heroes.
Reach zone 175 to unlock the Comedy and Tragedy bonus. This bonus boosts pen gains by x10 and manuscript gains by x5.
As of 11/9/2023, this is all that's available.
Basic Terminology
Strength, Dexterity, and Wisdom: These are the main stats that make a hero hit harder. The total damage a hero deals goes up by increasing these stats and the weapon's scaling.
Constitution: This makes a hero healthier by boosting their health.
Accuracy: This increases how often a hero lands a critical strike.
Initiative: This boosts how frequently a hero attacks.
Cunning: This skill helps a hero earn gold with each hit.
Inspiration: This is what you need to write ballad lines.
Gourmet: A special bonus that raises strength by +3 when a soup is active. Only heroes with the Gourmet trait benefit from the Onion and the ballad line "Delicious taste will inspire heroism (Gourmet only: x5 cheese effect)."
Dark Mark: A debuff on enemies, lasting until the enemy dies. It's applied by Dark Priests, Dark Hands, Undead heroes with the Death tarot card, or through ballad lines like "One Hundred Dark Marks for a Dead Man's Soul." Each application makes the enemy take 10% more damage.
Courage Charge: A stacking buff that resets at the start of a new zone or if the hero dies. It's given by the Priest of Light or through ballad lines like "Body Fears, Soul Never!" and "Let Courage Be Born in Battle!"
Admiration: A buff making heroes either deal x10 damage on every hit or reduce damage taken by x10. It's applied by the "Charge Pumping" book or ballad lines like "WOW! TOAD! So beautiful!" and "Perseverance of the Undead Is Infinite." Undead heroes gain Wisdom and, when reborn, grant admiration to the team. Admiration can be used to deal extra damage or reduce incoming damage.
The Rock & Roll Hall of Fame
The Rock & Roll Hall of Fame works like a pyramid with milestones, giving you more books and game mechanics. Let's go through the leagues and what you get as you collect more notes.
Wooden League: Nothing
Stone League: Opens the shelf of Ancient Knowledge in the Writer's Shop.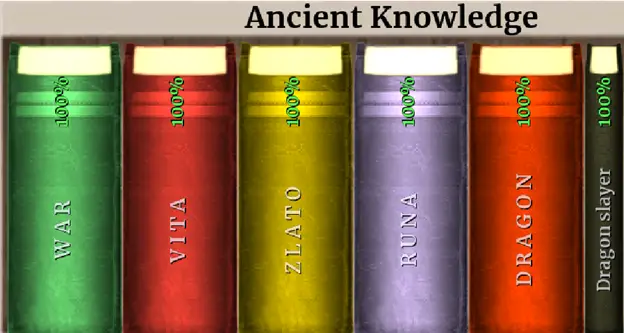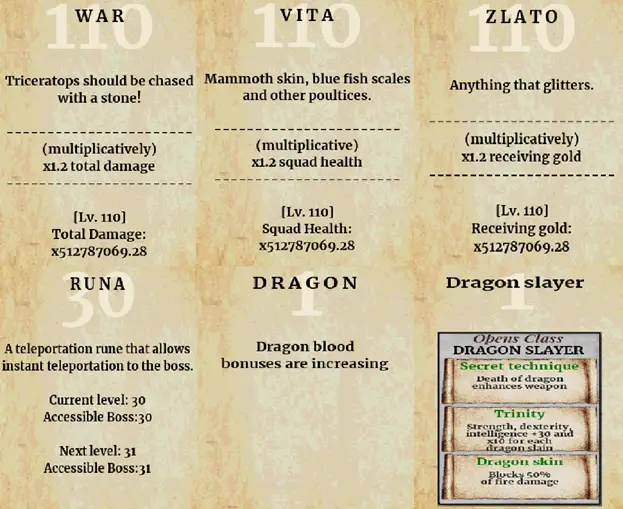 Iron League: Unlocks Enhanced Weapon mode for heroes.

Bronze League: Unlocks Megadwarf mode.

Silver League: Unlocks Mad Artist mode.

Golden League: Opens the shelf of High Tech in the Writer's Shop.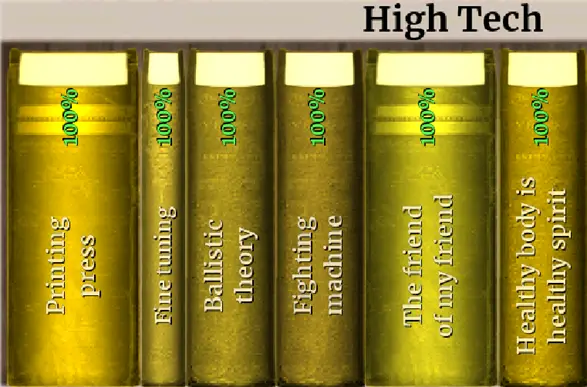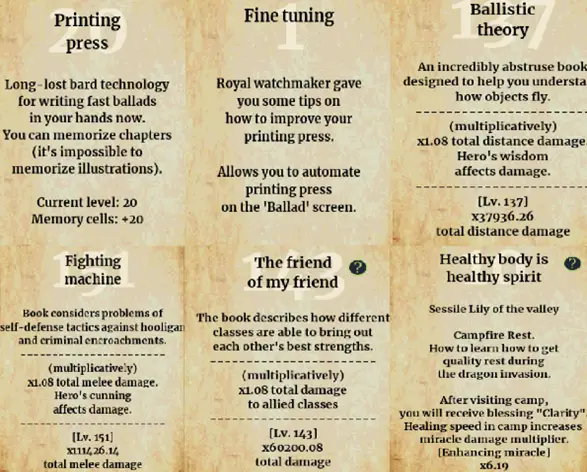 The Friend of my Friend Class Groupings

Healthy Body is Healthy Spirit Calculation

Early Game
Your primary objective is to reach zone 100 and acquire the Dragon's Eye.
Starting out, you only have the ability to earn pens which is determined by this formula. The longer your run and the further you get, the more pens you'll receive.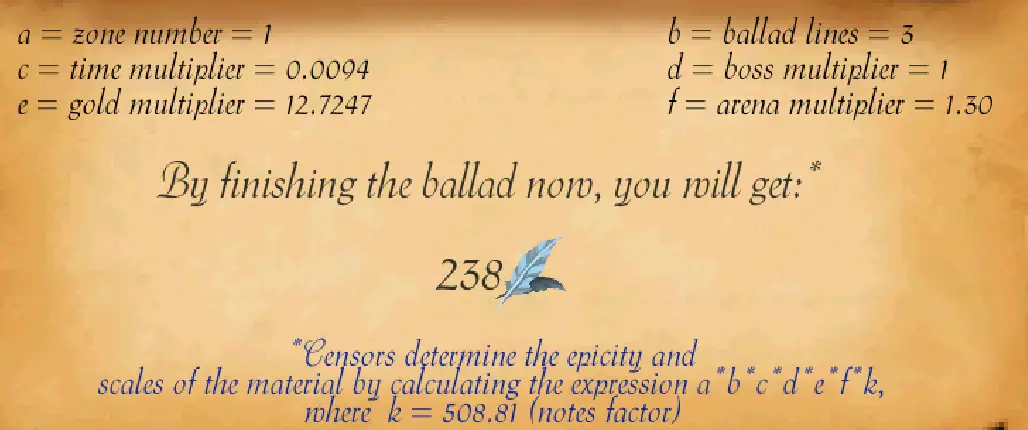 Pens are really important because they help you make your books better in the Writer's Shop. Your books are where you get most of your power in the game, affecting your damage, health, and gold earnings. There are also different classes you can get to make your team work together better.
As you play the game more, you'll see that having a lot of health isn't the most crucial thing. Your heroes might get taken out in one hit, and you'll rely on Dark Hands and Cherry Jam to protect your front line. At the beginning, it's okay to put some pens into health books, but once you unlock Chiromancy and have enough gold to reliably get Cherry Jam, you don't have to focus on health upgrades.
The Book of the Novice is your biggest book with a whopping 250 pages. It's like the book you aim for in the end game. While it does increase health, the damage boost is really, really good. So, make sure to upgrade your damage and gold books along with the Book of the Novice.
When you're looking at your books, be careful about getting too excited about unlocking all the different classes. It might seem cool, but having too many unlocked can make it harder to get the specific heroes you really want when you're hiring more during your runs. Until you can switch through heroes a lot with a bunch of Ambrosia, your options for building your team will be a bit limited.
But don't worry, you can have up to 25 heroes in your squad.
Right now, in this game, having fewer heroes is better.
It's a good idea to focus on one hero that gets all the good stuff (like flowers, gems, etc.). You don't want too many heroes just spending time attacking and using up your soups. Having a couple of Knights, a thief, and a priest (especially the Elf Priest for blessings from altars and trees) along with your main DPS hero will help you keep buffs, make gold from rabbits, and open chests.
Reaching Zones 50 and 75
Zones 50 and 75 are really important points in the game. That's when Notes and Manuscripts are introduced.
WARNING: If you do a concert, all your books will be RESET.

To avoid this, you should use Manuscripts to save your book progress.

Once you've saved your important books, you can safely do concerts to get more gold, increase your total damage, HP, pen, and inspiration gain. Notes stick around forever and won't be reset.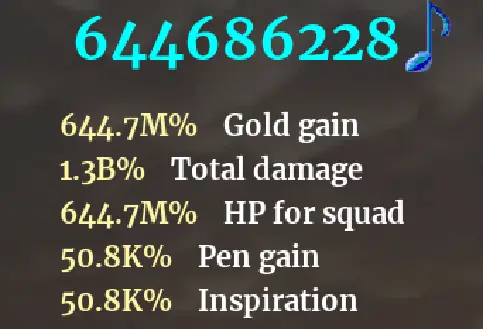 Your path to beating zone 100 and all the other dragons involves a mix of burning your ballad and doing concerts/tours.
That's everything we are sharing today for this Bard Idle guide. This guide was originally created and written by Magicfangers. In case we fail to update this guide, you can find the latest update by following this link.
If you believe that any of the content on this site violates your rights, including your intellectual property rights, please contact us immediately using our contact form.