Title: Baldur's Gate 3
Release Date: August 3, 2023
Developer: Larian Studios
Publisher: Larian Studios
Welcome to the enchanting world of Baldur's Gate! In this all-encompassing guide for the Steam game, we'll thoroughly explore a seemingly straightforward yet remarkably adaptable skill, the Shove.
Getting Started
Amidst the chaos of spells and swordfighting, the Shove technique often goes unnoticed. However, gaining expertise in this move can prove to be a game-changer in battles. Whether you're a seasoned Bhaalspawn or a newcomer, this guide will provide you with a comprehensive understanding of how to make the most of the Shove ability.
Understanding the Mechanics
Let's begin with the basics: What exactly is a Shove? A Shove is a straightforward physical maneuver that involves applying force to push someone or something. Now, let's examine the toolbar closely.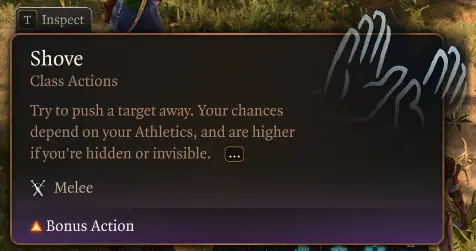 Shove patiently resides in your toolbar right from the moment you craft your character, ready to be employed in the world. For the modest cost of a bonus action, it performs precisely as its name implies: you select a nearby enemy and administer a sturdy push. Shove doesn't come with any specific prerequisites. There's no need to unlock it; you can employ it at any time as long as you possess a bonus action point.
To initiate a shove, simply click on the shove icon found on the Hotbar or press the designated shortcut key for the icon.

Next, pick the target – whether it's an enemy, an ally, or an object – that you wish to shove.
The success of your shove hinges on your Athletics skill, but it's important to note that it will consistently work if you're invisible or concealed in some other way. The distance you can shove a target is contingent on both the weight of the target and the Strength of your character.
Tactical Applications: When and How
Now that you've got a grasp of the mechanics, let's explore when and how to tactically apply them.
Push Enemies Off a Cliff
You might be wondering, "Why should I shove my enemies?" How about the possibility of a one-hit kill on any foe, even some bosses? Shoving enemies off cliffs can result in substantial damage due to the fall. If you toss them from a significant height or into a dark abyss, it's even possible to instantly dispatch them.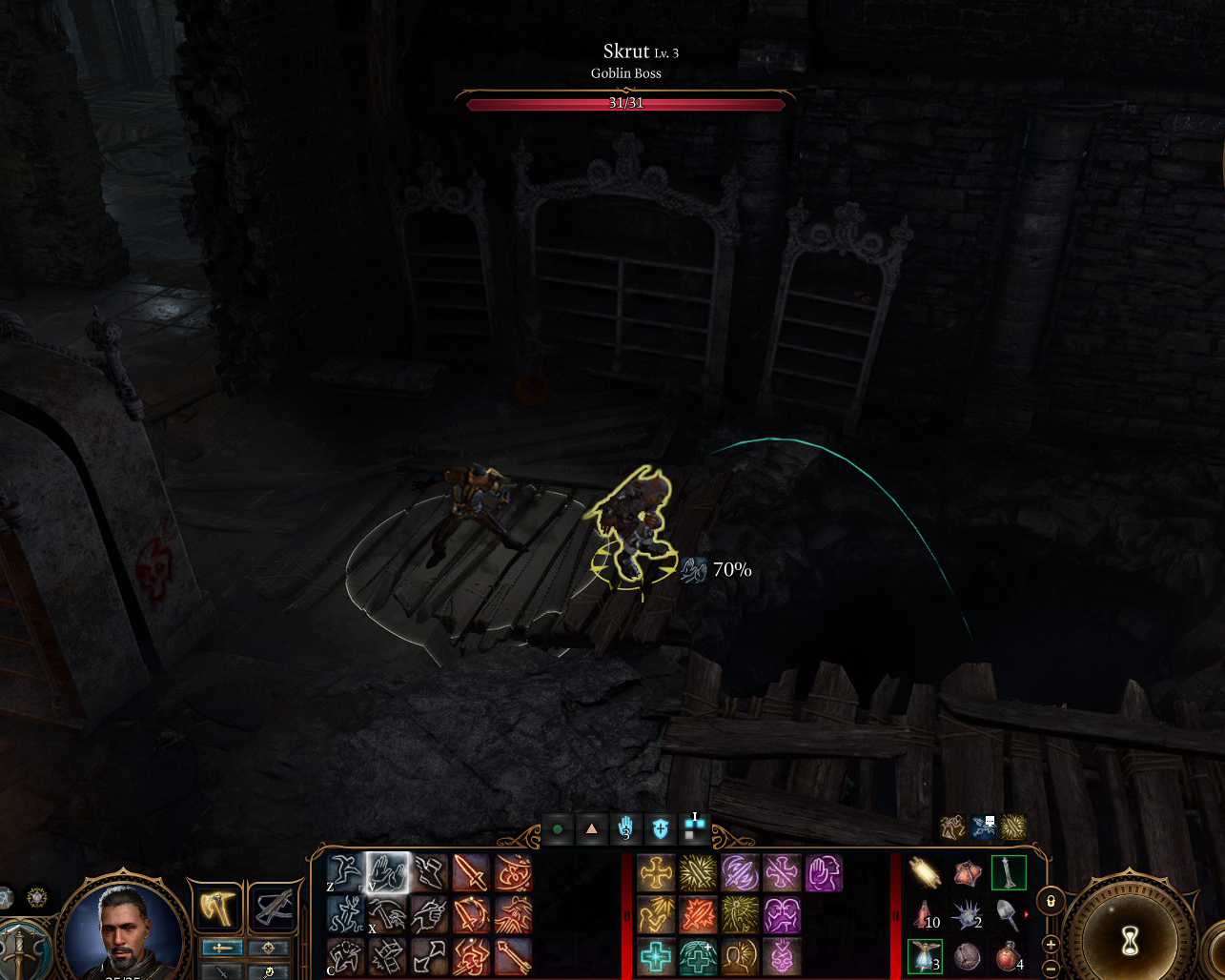 In a successful dice check, Skrut was sent hurtling off the cliff's edge. The interplay between the shove's physics and the terrain ensured a guaranteed outcome. It serves as a poignant example of how environmental factors can greatly enhance what seems like a simple action. The laws of physics worked in your favor, resulting in Skrut's untimely demise.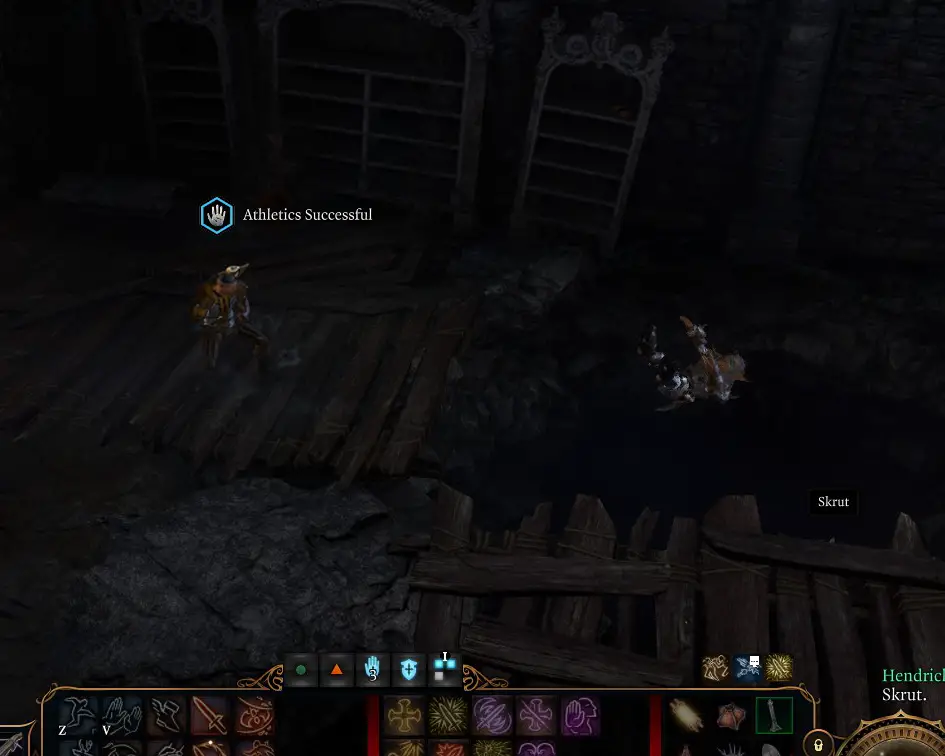 Consider the Nightwarden Minthara. Typically, this is a challenging battle due to her ability to heal herself continuously and the goblins fighting alongside her. But for a clever shover like us, there's a convenient bottomless chasm nearby, and we'll make good use of it. After shoving all the goblins to their doom, finally…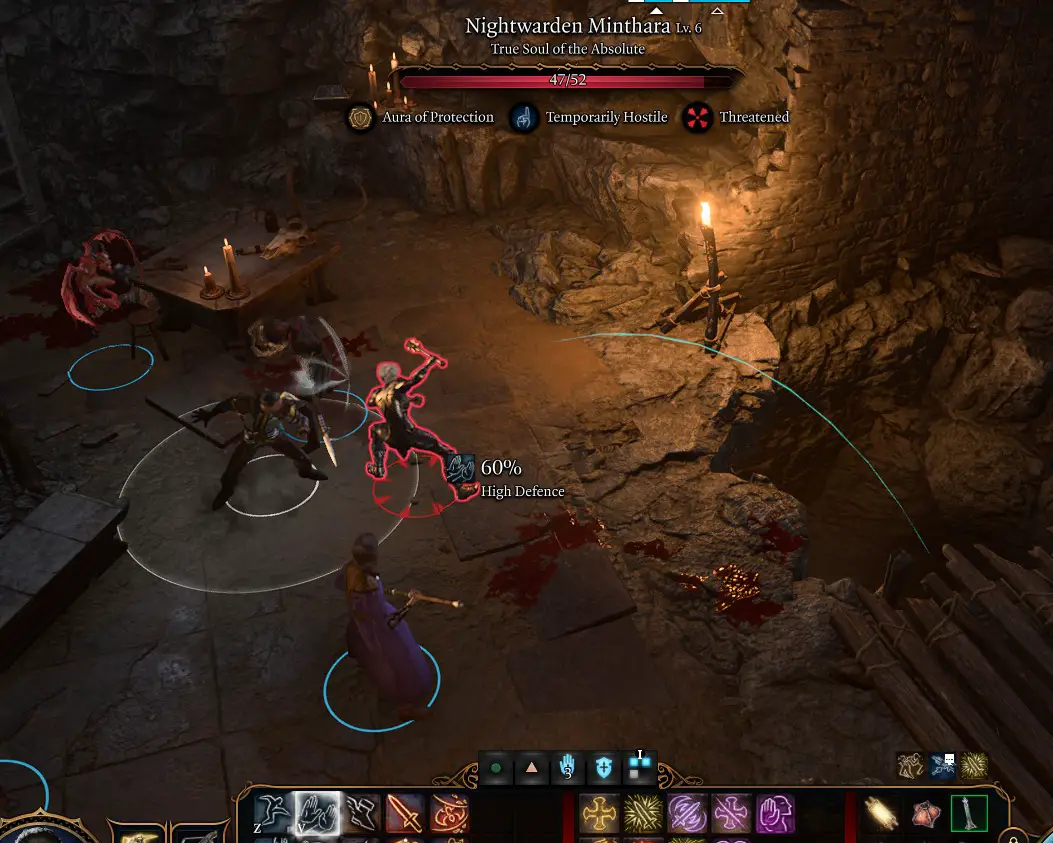 Just one shove is sufficient to make Minthara disappear forever, making this fight incredibly easy.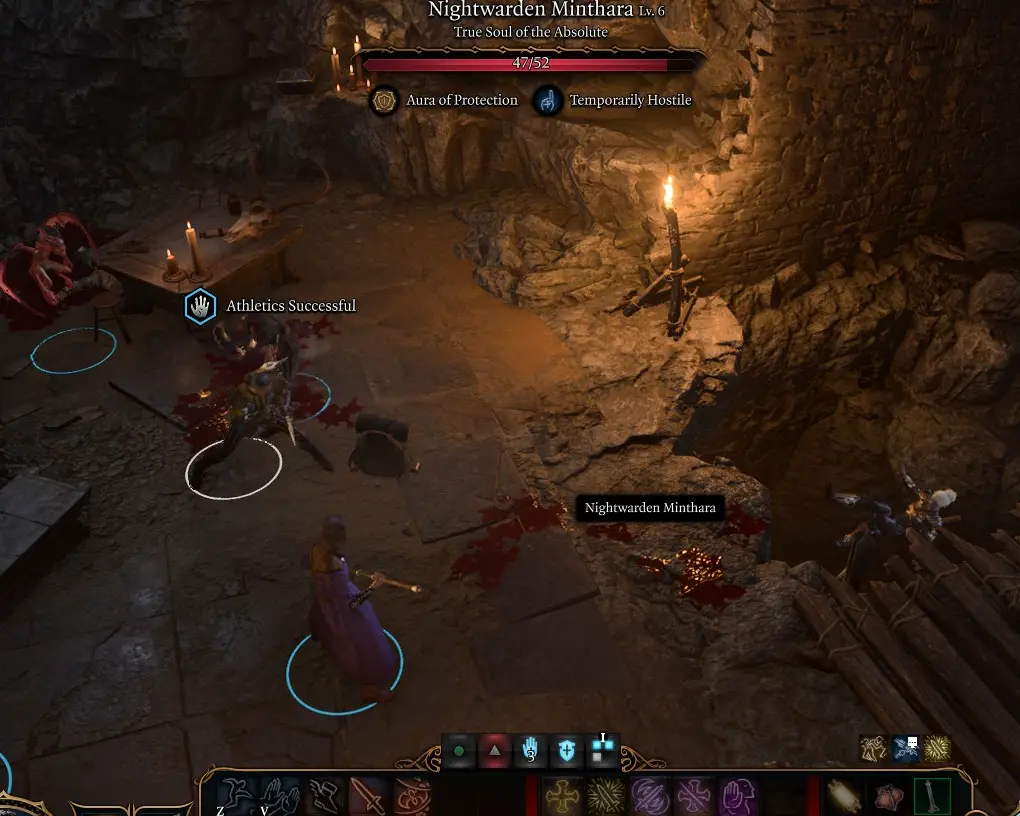 You can shove your way to victory against many bosses. However, there's one drawback you should be aware of: you can't retrieve loot from enemies thrown into the abyss.
Repositioning Enemies
When your foe is in a vulnerable position, shoving them can relocate them to a highly disadvantageous spot. You can push them into traps like flaming terrain, spiked surfaces, and more, using the shove to inflict additional damage or move them closer to hazards. Nevertheless, this requires precise positioning to be effective.
In this scenario, we'll effectively utilize Gale's Mage Hand to shove our adversary closer to an exploding barrel, setting up for another companion to swiftly eliminate the enemy.
Protecting Allies
Shoving an ally might not seem like an intuitive action in a game, but in certain situations, it can offer strategic advantages. It's most valuable for moving them out of harm's way, particularly if they have no more movement available and are in a precarious position.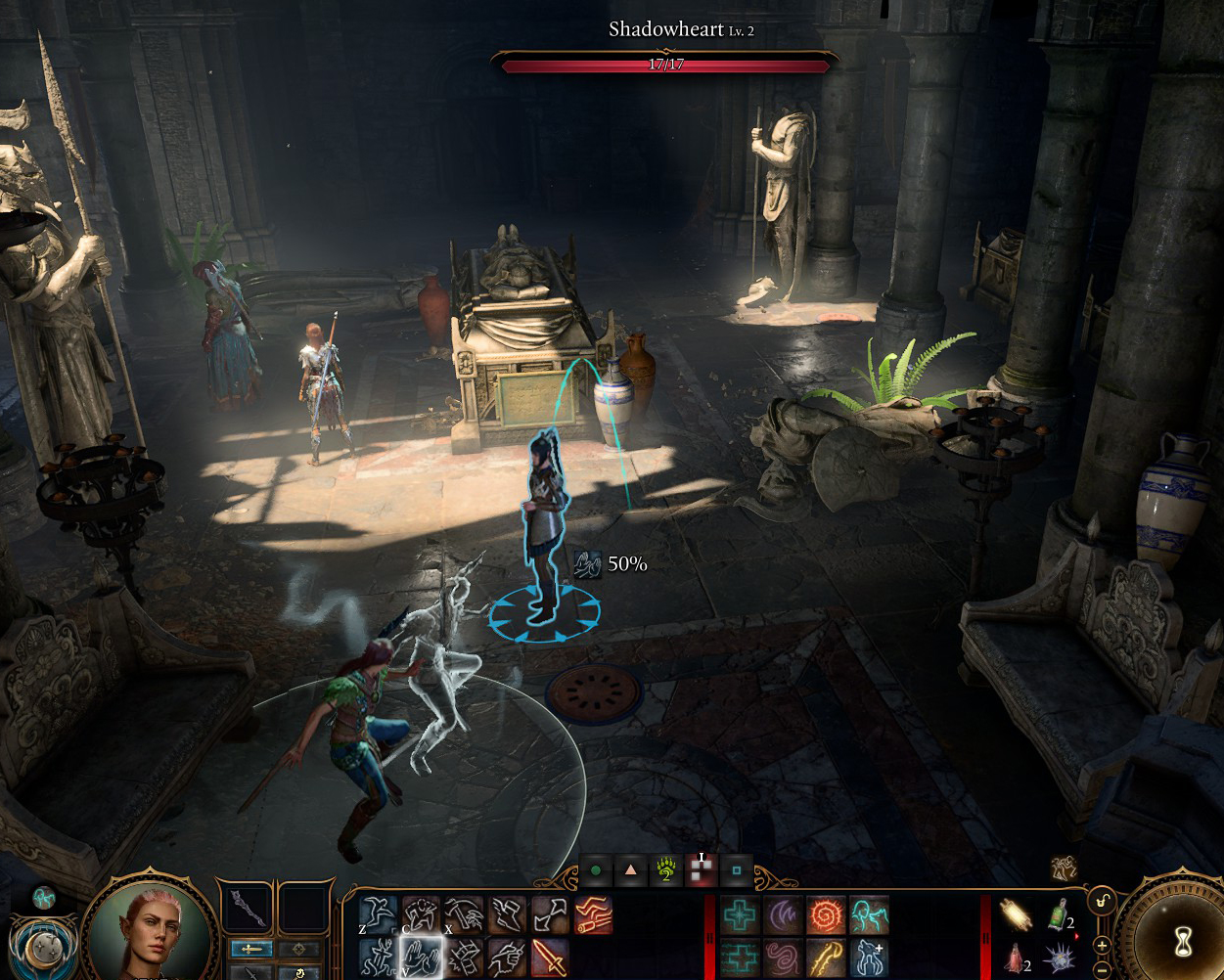 Conclusion
As the dust settles and the echoes of battles fade, you've not only become a skilled warrior but a true master of the Shove technique. From that initial push to the final strategic maneuver, you've harnessed the underestimated power of Shove, reshaping the course of battles and leaving enemies bewildered while allies stand in awe.
Always remember, Shove is more than just a physical action; it's a mindset, a strategy, a tool to reshape the battlefield to your advantage. As you journey through the realms of Baldur's Gate and beyond, let the lessons from this guide serve as a guiding beacon. They remind us that innovation and creativity can transform even the simplest actions into game-changing triumphs.
So, as you continue your adventures, let the knowledge of these insights empower you to confront any challenge with confidence and a determination to push your way to victory. Farewell, dear reader, and may your path be as unwavering as a perfectly executed shove!
That's everything we are sharing today for this Baldur's Gate 3 guide. This guide was originally created and written by krle. In case we fail to update this guide, you can find the latest update by following this link.
If you believe that any of the content on this site violates your rights, including your intellectual property rights, please contact us immediately using our contact form.