Title: Baldur's Gate 3
Release Date: August 3, 2023
Developer: Larian Studios
Publisher: Larian Studios
This guide will provide you with straightforward steps to defeat Gortash in Wyrm's Rock without relying on traps, allowing you to unlock the achievement known as "Fancy Footwork" in Baldur's Gate 3.

Fancy Footwork
Defeat Gortash in Wyrm's Rock without activating any traps.
How to Reach Gortash
The most straightforward approach involves applying Enhance Leap to every member of your party, enabling you to jump from rooftop to rooftop on the southwest side of Wyrm's Rock Tower. Once you're there, you'll encounter some scaffolding, which provides an opportunity to ascend even higher. Be cautious of any ground traps and make sure to lead with your most perceptive party member.
Upon reaching a bell tower, you'll discover a lever that lowers a ladder to the level where Gortash is located. This will facilitate your confrontation with Gortash in Baldur's Gate 3.
Getting in Position and Fighting
Here's the positioning of my party when I encounter Gortash: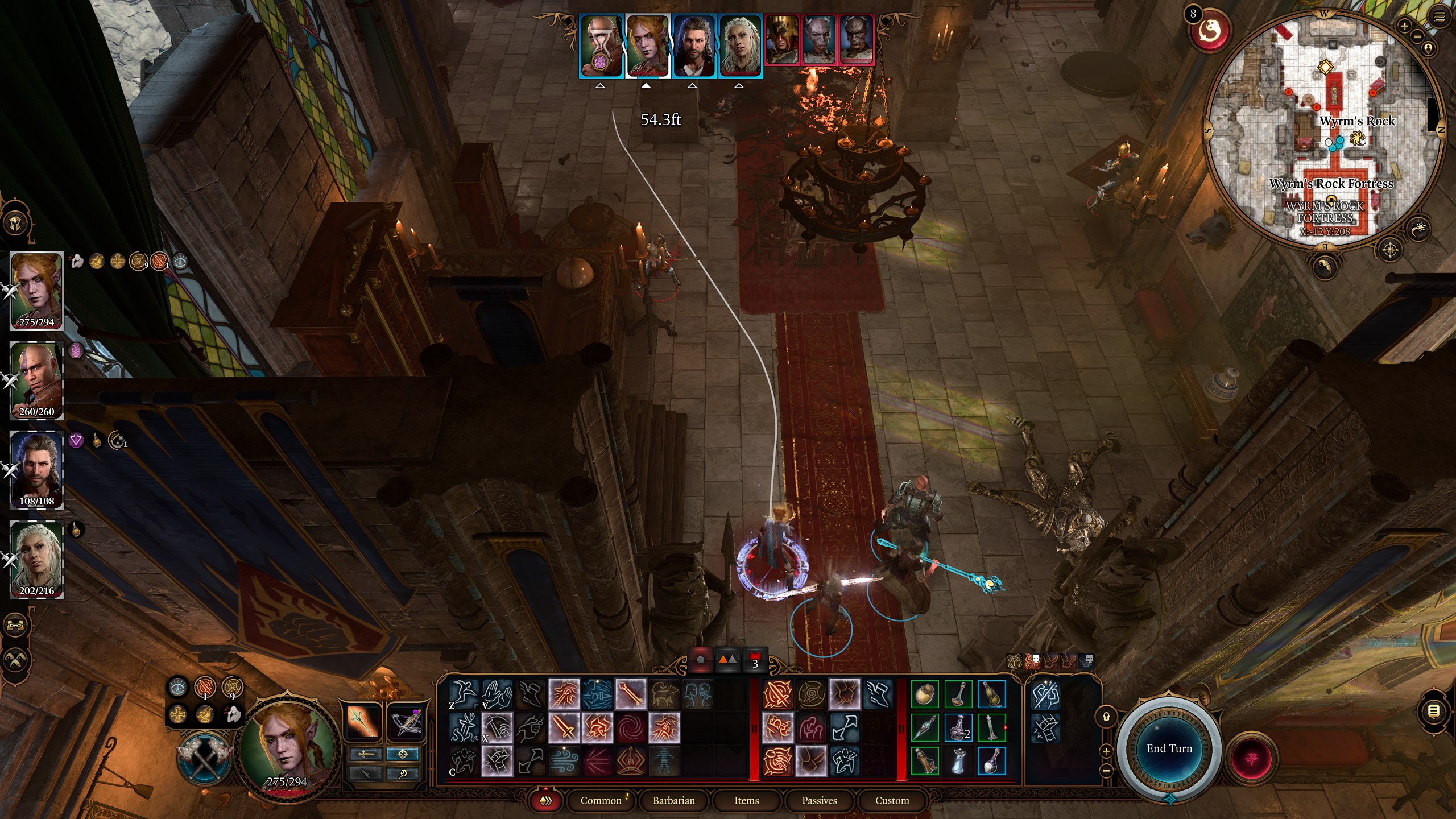 A simple way to reproduce this positioning is to utilize the "Shift" key and move your front-line characters up to the edge of the vision cones, indicated in red, but ensure they stay just outside of them. Once you've established this placement, proceed to bring your support and caster characters into position. This strategy can help optimize your party's positioning for combat in Baldur's Gate 3.
The Encounter
So, our situation is quite tricky. Moving backward triggers traps, and moving forward does the same. Our primary strategy involves using ranged attacks. Personally, I employ bows and crossbows, occasionally utilizing fire bolts and even throwing projectiles. If Gortash is pushed out of our range, we can employ a tactic where we throw a bomb behind him and then use a firebolt to propel him back toward us.
Those two entities on the wall that are boosting Gortash shouldn't concern us; they're not significant. Our main focus should be to remain in this position and unleash as much ranged firepower as possible on Gortash. If any guards approach, we must stand our ground and eliminate them.
It took us approximately four rounds to defeat Gortash and earn the achievement. Keep in mind that I'm not particularly skilled at this game, and my character build may not be optimized.
That's everything we are sharing today for this Baldur's Gate 3 guide. This guide was originally created and written by GMRslyer. In case we fail to update this guide, you can find the latest update by following this link.
If you believe that any of the content on this site violates your rights, including your intellectual property rights, please contact us immediately using our contact form.