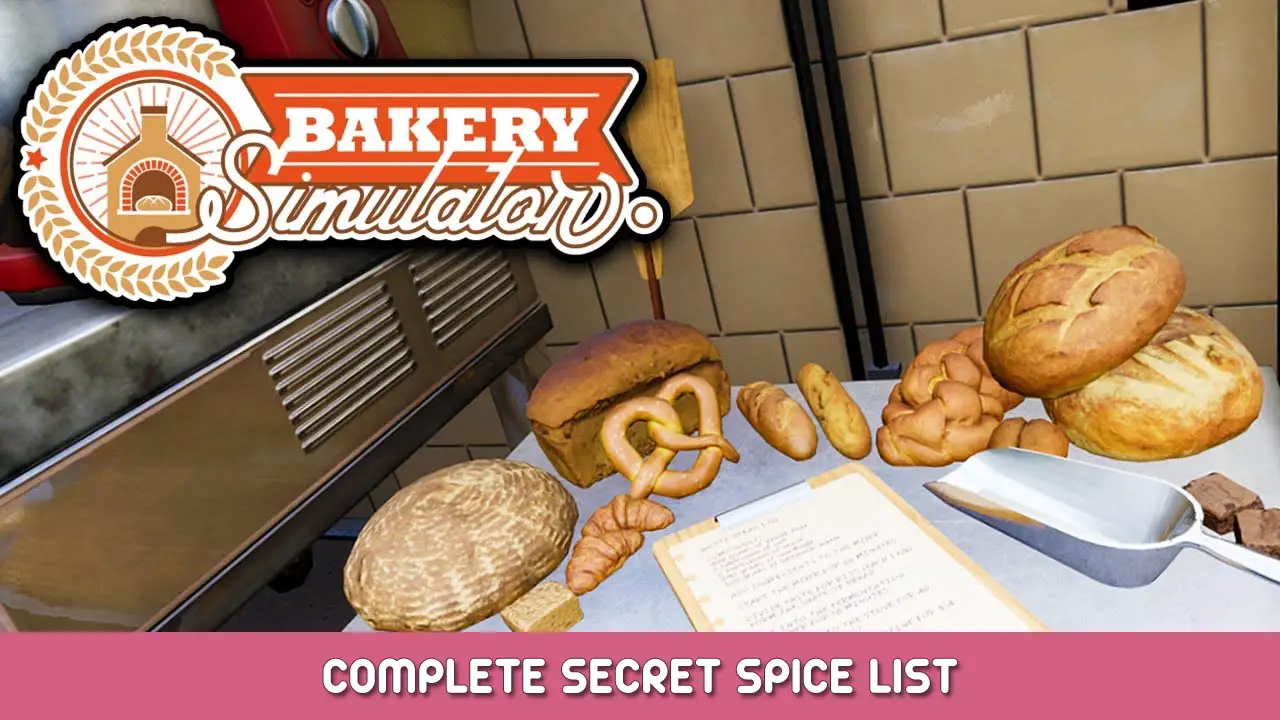 This guide will be showing you the complete list of all secret spices in the Bakery Simulator game. In case we missed any spice on the list below, feel free to let us know in the comment section.
Breads
Bronze Bread – Rosemary
Golden Bread – Basil
Granny's Bread -Honey
Puppet's Bread – Basil
Corn Bread – Cinnamon
Sunny Bread – Orange peel
Buns
Breakfast Bun – Jam
Morning Bun – Garlic powder
Triangle Bun – Cloves
Puppet's Bun – Chili
Granny's Bun – Cinnamon
Surprise Bun – Jam
Twin Sister's Bun – Ginger
Twin Brother's Bun – Cinnamon
Lava Bun – Chili
Square Bun – Mascarpone cheese
Magma Bun – Ginger
Loaves
Farmer's Loaf – Honey
Folksy Loaf – Rosemary
Old-Fashioned Loaf – Cinnamon
Silver Loaf – Dried cranberry
Sunny Loaf – Orange peel
Granny's Loaf – Cardamom
Brownie – Vanilla
Muffins
Muffin On The Go – Dried cranberry
Cheat Day Muffin – Mascarpone cheese
Cocoa Cup – Honey
Surprise Muffin – Caramel
Grandpa's Muffin – Cinnamon
Exotic Muffin – Cloves
Chocolate Muffin – Vanilla
Wise Muffin – Ginger
Doughnuts
Doughnut – Jam
Cheat Day Doughnut – Caramel
Surprise Doughnut – Dried cranberry
Coconut Doughnut – Orange peel
Puppet's Doughnut – Mascarpone cheese
Grandpa's Doughnut – Cinnamon
Baguettes & Croissants & Pretzels
Baguette – Garlic
Croissant – Jam
Bagel – Chili
Pretzel – Ginger
Puppet's Baguette – Rosemary
Gluten Free Baguette – Cardamom
Chocolate Croissant – Orange peel
Puppet's Pretzel – Vanilla
That's everything we are sharing today for this Bakery Simulator guide. This guide was originally created and written by Ram. In case we fail to update this guide, you can find the latest update by following this link.
If you believe that any of the content on this site violates your rights, including your intellectual property rights, please contact us immediately using our contact form.