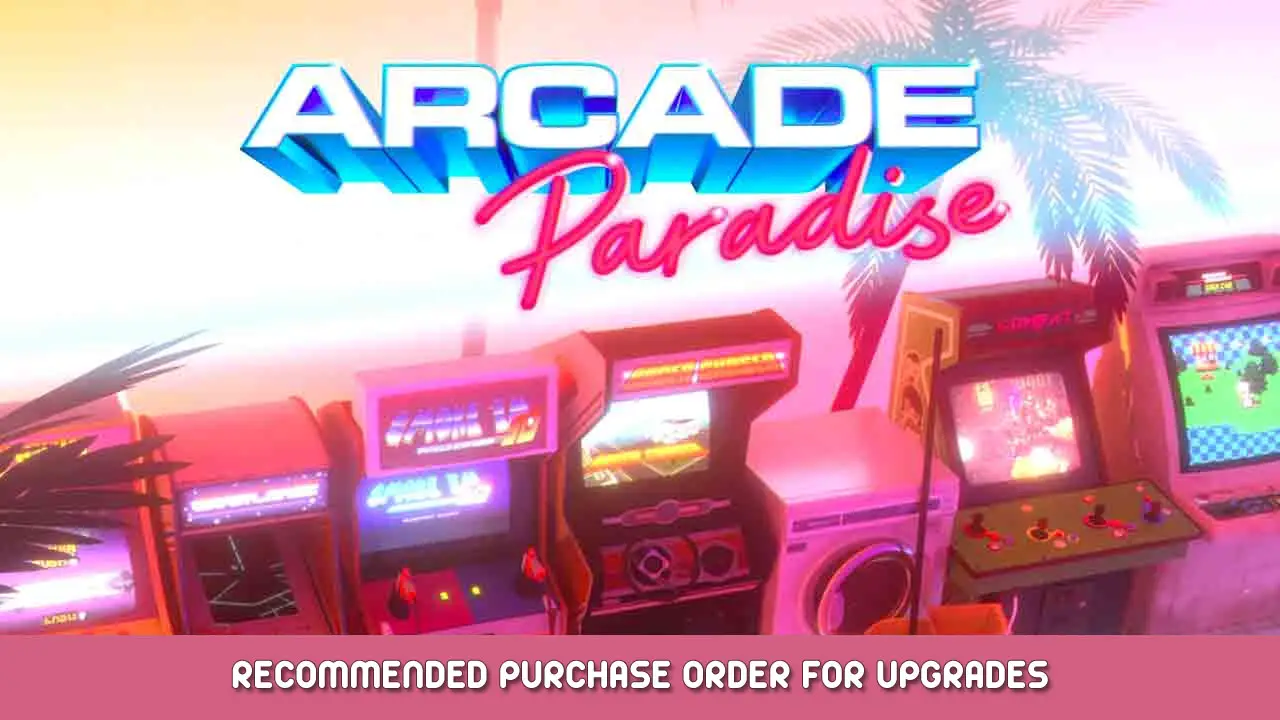 This is my recommended purchase order for Upgrades in Arcade Paradise, based on my playthrough to endgame.
Upgrades purchase order:
1) Garbage bags – reduces trips to the dumpster, which you want to avoid early game so that you have more time to get as many goals as possible while slowly phasing out of doing laundry
Optional 2) Sneakers – This is just nice to have and it's pretty cheap seeing as you can afford them in 2-3 days. Slap "toggle" mode on in settings and you'll always be faster, whether it's to the dumpster, bathroom, or another arcade game
2) Beginner's Guide to Space and Time – absolutely required, this doubles the amount of time in a day. The benefit should speak for itself, though you can always cheese a game by playing it before 2AM and not leaving it until you're done doing the goals you're seeking.
3) Assistant Manager's Assistant – at this point, you'll probably be late-game, which means your arcade makes a LOT of money, and you have a LOT of machines. This prevents you from being interrupted/bothered by "'s money is full", which in turn prevents you from losing potential money. This also eliminates any usefulness the digital safe would have.
4) The Electrical Engineering Guidebook – now that you have probably over 25 machines and a ton of customers, these machines break quite often, even when you optimize plays per hour/cost. Reducing the breakdowns means, again, fewer interruptions and more consistent income.
5) Radio Advertisement – Now that you have safeguards against losing money, you're ready for more customers.
6) The Art of Zen – Nice to have, reduces morning cleanup time and reduces "unclog toilet" interruptions.
7 (Unsure of true benefit, don't own this yet…) Bing Roadster – in theory, this is a good upgrade, but I'm unsure if trash will be there if you open up early and show up later, or if it's there immediately. I'd prefer to get my trash duties done right at the start of the day rather than having to check on it later. If all it does is give you yet even more time in a day, this is definitely worth, but Radio Advertisement should be better regardless, as it affects the entirety of your day.
Low-value/vanity upgrades:
Gold watch – Obvious. Only potential benefit is if it stops your hand from coming up during arcade play when alerts happen.
Digital safe – Once you have the automatic coin gatherer, you are almost never accessing the safe. Mashing A while spinning the lock isn't hard, and you'll only do it if you need to bank the small amount you get from gathering gum/trash and cleaning the toilet.
Idiot's Guide to Personal Computing – Gives you solitaire and minesweeper for games, a folder of images(most of which are the ones that are posted on your arcade wall), a folder of videos (promotional material for the game), and a folder of music (music that is used for the arcade games themselves). No practial use, but you might enjoy it once you get the game-affecting upgrades.
Trendy pair of glasses – This isn't going to help you find trash. If anything, a flashlight would.
That's everything we are sharing today for this Arcade Paradise guide. This guide was originally created and written by antiphon. In case we fail to update this guide, you can find the latest update by following this link.
If you believe that any of the content on this site violates your rights, including your intellectual property rights, please contact us immediately using our contact form.