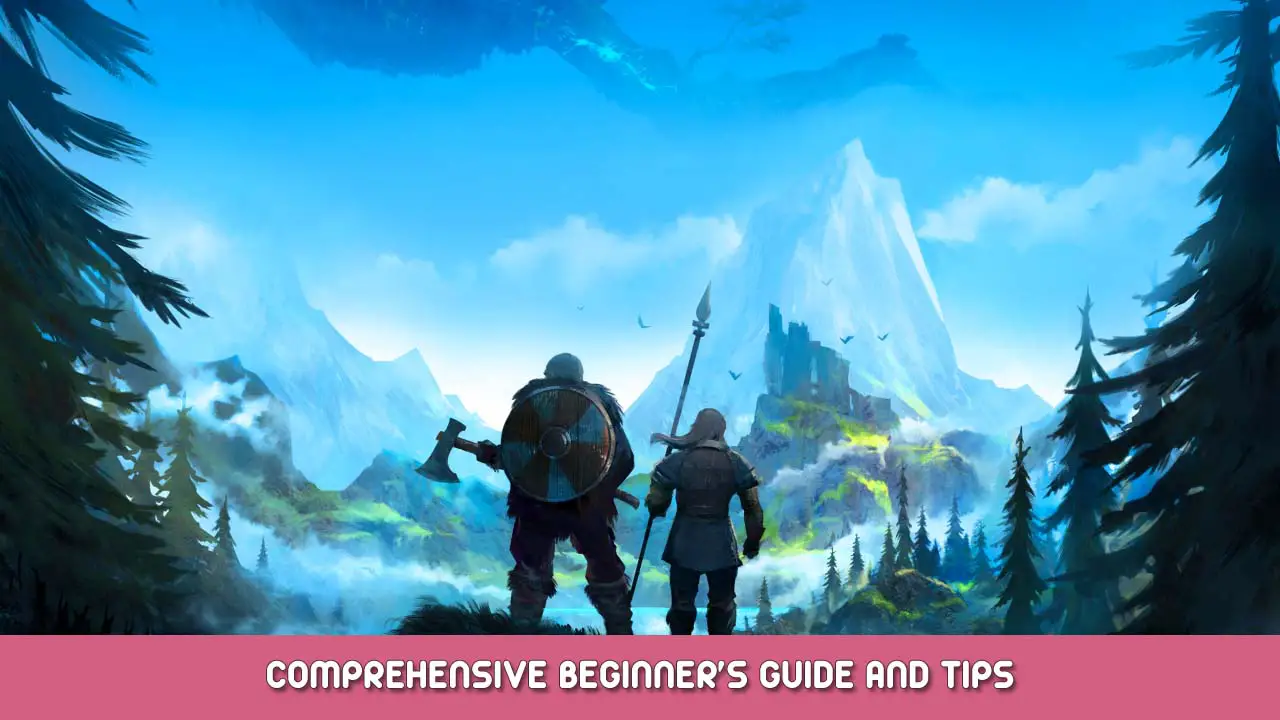 A guide for the (not so brave) traveller, who like to make sure to stay alive. A slow but compressed pile of information to get you started within the game, trying to give you the most valuable advice while keeping spoilers out as much as possible since exploration and learning is the true fun in this game. If you still need more tips, make sure to check out the spoilers section. I'm planning to make a series if it's helpful but please have patience, should you like it.
Introduction
Welcome, (not so) brave traveller! Seems like you stranded somewhere within the 10th world as well. Do not fear, for I am here to help you getting started if you should ever need advice. I will try to keep you alive longer, however my playstyle is not everyone's taste so please only use those tips that you find suited – I'm just not an axe-swinging maniac. If you are – I'm happy for you but you will probably not find this very helpful if you have a completely different playstyle (this is not so much true for the introduction but it will be for any future guides).
Valheim is a beautiful open-world-sandbox-game with lots of exploration as well as the option of terraforming and building to feed your need to be creative, if you are that kind of person. It can be pretty grindy but at the same time is granting you a whole world as your playground. Since you're already here tho, let me guide you through your journey…
The possible spoilers are always on the bottom of the guide and marked as such. I will give you this information, should you desire it. But I'm not responsible if it destroys your fun in the game so choose wisely if you want to read them. IF you are new, I strongly encourage you to not take a look at them as the true fun in this game lies within exploration and learning! Better also stay away from the forums if possible as spoilers are inevitable.
Please note: This will be the first part of a series of guides as I have quite a bit of experience with the game and figured it might be better to create a guide rather than posting everything in the forums time and time again as new players come and go. I will try not to repeat all the basics within each part so make sure to see the other ones, if you feel like you missed some information.
Getting Started
Read the information that the crows will give you. They might tell you something that is already written in here but maybe you missed something. If they spawn while you're in a fight – just ingore them for now, finish the fight and go to a safe spot as they will follow you.
As you roam around you will find different materials – as soon as you pick them up, new recipes might be unlocked.
If possible avoid wandering around at night, as stronger enemies might spawn.
You will need to manage your health and stamina, as those are key to being able to fight, build, jump, swim etc. See next chapter below.
You do not need to sleep, drink or eat regularly as your stats have a base amount with which you start when you entered this world. However not eating means, that your health & stamina will not regenerate. Sleeping is simpy used to skip the night.
It is advised at any time to get the rested buff from being near a fire, as this will increase your stamina regeneration by a lot (will not work if enemies are nearby or if you're wet).
When wet or cold (at night or in certain regions) you will get a debuff which reduces your stamina regeneration
This world is big! When exploring, try to keep your buffs up, your tools, weapons and armor repaired and be cautious if you see a change in the landscape. Maybe you're not well-suited enough to tip your toes into these unknown lands yet.
Put your weapons away while running, as they will make you slower.
Some mobs are afraid of fire and will not come near you while holding a torch.
Gather and store materials, you might still need them later on. Just one simple chest probably won't do.
There is a repair-button in the crafting menu (hammer-icon, no workbench needed in the beginning).
Advanced crafting is only possible at a workbench that is surrounded and well-guarded by walls and a roof, you cannot just place a workbench out in the open and use it without those preparations. Just try a bit to see how much protection it needs – sadly this can vary. If you have 3 walls and a roof around it but it still won't work, destroy and rebuild it on a slighty different spot than before, it might work.
Repair your hammer! When deconstructing you'll quickly find yourself needing to craft a second hammer because you forgot to build a workbench with a roof for repair while it still lasted.
Feathers can be found on different occasions but a safe source are birds. Best chance of getting those is either shooting them with a bow when running around or near water. There is also a higher chance at night and during storms as they will land somewhere near you.
Trees can and probably will kill you at least once.
Swimming needs stamina – if it's depleted, your health will go to 0.
All of your skills will slowly level as you use them. Sprinting will make you a bit faster and use less stamina while weapon skills f.e. will do a bit more damage as well as use less stamina. If using a bow, you will also be able to draw faster.
Upon death you will not lose anything the first time and just respawn in your bed if you used one before. However following up, you will lose a certain amount of skill levels with each death so keep this in mind when preparing for a trip. Your whole inventory will be held by your corpse which you will have to loot in order to get it back. Because of this, most players keep an alternate set of armor in case they need to retrieve their stuff.
Some mobs are attracted to noise and will walk towards you when chopping wood or mining.
'Base'-items like campfires or workbenches will create a zone where no monsters will spawn and no items you drop on the ground will despawn. If you want to get rid of items, just throw them into the water for now to avoid accidentally picking them up again.
Food/Stam-Management
It's a good idea to start leveling sprinting and jumping to reduce their stamina consumption. When in peaceful/well-known areas, use them as much as you can. When exploring, it's better to keep a bit of stamina in case of an attack.
When food is consumed, it will only last for a specific amount of time. After 50% of this time has passed, the effect of the food will gradually wear off. Know that having enough to eat might be something you will want if you want to constantly have the full effect (you will need double the amount).
There are different types of foods which you will discover the more you progress. Players not wanting to die a lot might consider to always use the best foods available at any point in the game, even if this means a lot of hunting and gathering.
Search for different food sources: Some of them will grant more health, others more stamina or maybe both of it evenly.
Personally I'm always playing with 2x health and 1x stamina food to be on the safe side while exploring/gathering but it is totally up to you. You just need to know that you can actually still have fun playing and managing your stamina if you only have 1x stam-food, it is actually possible.
Meat will need to be cooked before it can be consumed: Build a campfire and a cooking stand to do this but notice that it can burn when it's left on the fire for too long so pay attention, you'll get cheaper coal later in the game.
Combat, Weapons & Armor
Pay attention to your surroundings! Sometimes it will be possible to hear or see nearby enemies which are not yet alerted.
You can use logs or boulders to get an advantage in blocking your enemies path.
Most mobs cannot jump or climb – but you can, so use it wisely.
Sneak attacks will deal more damage according to the stats in their description. You can use this to kill enemies in the early game instead of a bow. Knifes have a bigger sneak attack bonus so try one of those.
There are different types of weapons and damage within the game. Not every weapon will do the same amount of damage on a specific enemy. You can see this on the color of the damage numbers: gray = resistant / yellow = weakness / white = neutral. If you find yourself not doing enough damage with an axe for example, maybe try a club instead.
From time to time you will encounter starred enemies, which will do more damage but also yield more mats when killed. So be cautious: While this makes farming mats easier, killing those enemies might be somewhat challenging. The further you progress in the game, it might be a wise choice to not fight them in melee (close range battle) but equip your bow instead.
Bows might be your best friend if you like ranged combat, you can avoid a whole lot of damage input like this. Plus it's really fun once you've leveled your skills a bit.
You can parry attacks by blocking just before the enemy will hit you – this will stagger them and let you do more damage.
If it's fun to you, try to get used to dodge or blocking/parrying attacks early on in the game as it can help a lot. However if an arrow is flying towards you: Just take a step aside right before it reaches you and laugh at them. When dealing with multiple enemies however, retreating and planning which enemy to fight first might a better option, than taking an arrow to the knee.
Blocking requires a lot of health. If your health is too low for a certain enemy-attack, you will get staggered and take more damage while in this state. Of course the blocking itself always requires stamina, but the calculation-base for a successful block is your maximum health.
Different types of armor will be available to you later on. Take a good look at the descriptions on everything you have equipped when deciding: Some heavier armors will make you slower which means escaping can be a lot harder.
Armor, weapons and tools can be upgraded at the respective workstation they are crafted with.
Some weapons have special attacks which you can use with your mouse wheel.
Ground Preparation For Your Base
Prepare the ground: Know that it is a good idea to flatten the ground you're building on with a hoe. When planning a bigger build, keep in mind that you're not able to mine rocks. However, with the hoe it is possible to raise the ground to a certain amount if you have some stone on you.
Using the hoe you can only level the ground to a certain degree. When raising the ground with stone, do not simply just use the stone everywhere you're working on! Instead pick the highest spot, stand above it and try to level the ground around it as it might be raised a bit which will save you stones. If you want to know how exactly the different hoe functions work, I would advise you to search for tutorials on YouTube in your preferred language.
Be aware of the fact, that at any place in the game it is only possible to lower or raise the original ground level by 8 meters (you can measure this with the wooden walls f.e.)!
Some areas in the game like the spawn-area are protected, there is a radius around it which will keep you from building too close to it.
There are some stone formations which cannot be destroyed with a pickaxe. If you're searching for a base-location, try and see if you can destroy any rock that is blocking the area!
Protection will be topic again later on, but for now: Know, that being able to raise or lower the ground around your base is a big plus.
You might want to look for a spot close to an ocean for your (for now) 'final' base, for … reasons. You know, the nice view on the sea and stuff.
If you love building as much as me, please please always keep all of the above in mind to avoid frustration when finding out that the base you have started 4 days ago is placed in the wrong spot!
Your First Base
Sometimes you will come across abandoned ruins of buildings. If you are this lucky, it's usually a good idea to just use those and rebuild them so you can save quite a bit of wood and time.
For a base you need some walls and a roof to keep your fire burning and a bed to lay your head to rest. The bed needs to have a burning fire nearby and is used to set your spawnpoint in case of sudden death – otherwise you will respawn at the altar where you started.
To get you started, your base doesn't need to be a big mansion. However, it should have enough space for a bed, possibly a fire (if not built on the outside with a roof), some chests and a workbench if you want to place it in there.
Plan the venting of your fire! If you build a small shack with a low roof and place a fire in it, it will produce smoke which gives you damage. Also keep in mind, that the smoke needs space: No matter where you place it, a fire with a roof 1m above it might go out. It's best to build a 2x2m wall on 3 sides around the fire with about 4m height to the roof. However it is possible to control the smoke-direction by using the angled roofs and guiding it outside which makes it a lot easier.
Structure integrity is a thing. When building something that has contact to the floor, it will be shown in blue. Building on top of that will make it green – the limit for the integrity is reached as soon as it will appear deep red. Just try to keep it simple for now, there will be options to build higher/longer (bridges f.e.) later in the game.
You do not need to have a wooden floor within your house, it just needs protection like walls and a roof. Try and see how many open spots/windows you can build to still get the rested buff and keep the bed useable within your home.
Workbenches and campfires f.e. will keep enemies from spawning around them (see radius in building menu). Use this to prevent enemies from spawning inside your base if you have built a court with walls around it.
Bosses
At the spawn point you will find a red glowing rune stone which will let you see the location of the first boss on your map.
There is always more than one location for each boss somewhere on the map. Finding them can be hard but as you progress, you should come across some clues on them easily. Or maybe you just run into them randomly while running around: If so, mark those on your map by activating the rune stones there.
In order to summon the bosses, you will need to gather certain items (more than one so make sure to collect and bring a few with you). You can get a hint on what you need by reading the rune stones at the altars or paying attention to how they look / how the boss is called.
Just like normal mobs, some bosses might have resistances to certain types of damage/weapons.
When preparing for a bossfight, make sure to use use your best armor/weapons and food (yes, again, because it's important).
Multiplayer Tips
If you are playing in multiplayer: Be warned. When running through the forests and meadows, it's best if every player will gather or hunt a bit while exploring. If you come across edibles, make sure to loot them as it can be really hard to keep up with the consumption of several players if just one of them is responsible to feed a whole town. It will also mean that this person has less chance to level their skills like chopping trees, mining and fighting which can make a considerable difference.
Multiplayer can be a lot of fun! However keep in mind, that while you will save mats on crafting station upgrades and building mats (in case you share a base), it will still mean several times the mats needed to craft armor and weapons to keep everyone protected. Try not to just use higher tier weapons and keeping a worse armor – it might very well be worth the effort and time to fully equip all of your allies in order to succeed.
Try to make sure what everyone wants beforehand: Will it work if all of you just use one base? Or maybe some might want to build their own houses and won't be happy otherwise? Both of it can be fun, and it might sound ridiculous. But in the end, people might want to be creative. Maybe create a bigger base with single houses? Or everyone will have their own base and you'll connect them with nice paths?
Later in the game there will be one item you can place which will protect your base from unwanted visitors (not 100% but it helps).
SPOILER – Bosses
As soon as you kill one boss, this will trigger stronger enemies to appear at night as well as during the raids.
You will find hints on their locations mostly by clearing dungeons and looking for buildings where rune stones might be found.
SPOILER – Base Protection
Raids can happen (randomly at a certain interval if conditions are met) if you are within the radius of a player base (at least 3 'base'-structures placed within a certain radius, like workbench, bed, campfire f.e.). It does not need to be your own. If you're visiting the base of some friend, better be prepared to defend it.
They will last for around 2 minutes and mobs might still linger around after this timer, so if staying inside your base and waiting, you might need to get outside to clear the area after the event.
In order to keep your base intact, it might be a good idea to have some level of protection. For now the stake walls are a good option
You can block enemies from getting to you by raising or lowering the ground using the hoe and pickaxe which you will get later on. Raise the ground level of your base, dig a trench/moat around it or raise an earthen wall around it to keep them outside. Big plus: They cannot be destroyed and if no bridge o.e. exists for them to enter, it's safe from melee attacks.
If you try terraforming for protection, make sure that the edges are steep enough by using the pickaxe on the edges. It's steep enough if you need to jump (but make it at least 2m high/deep to be on the safe side).
There are most likely small islands somewhere on your map. You can also use those as your base location. But remember this: If it is too close to another island/mainland etc. will just spawn there and walk/swim right towards you so if you need a place where you can go afk, look for a small island in the middle of the ocean and place workbenches or campfires over the whole area to keep anything from spawning there. Not even raids will spawn mobs if you do this.
SPOILER – Exploration
Enter new biomes at your own risk, know that it might very well kill you.
There are ships within the game that you can later use to travel/explore/transport materials. Beware the ocean tho, as there are creatures which might show up if certain weather/daytime conditions are met. Better always have a bow with you.
Sooner or later you will come across non-destructible structures like trees or boulders (not showing message when hitting them). Maybe they would be a nice spot to build on top of if they can't be desroyed?
Should you be as lucky as to find a bee hive: Try to destroy it either with a bow or by deconstructing the walls around it, you will need them to build your own bee hive to get honey.
The maximum amount of fall damage, no matter thee height, is always 100.
SPOILER – Crafting Tiers
As of now there are always 2 armor choices per biome. Before proceeding to the next tier and crafting a new armor using the new mats you have found, maybe take another look at the one you're waering right now. Is it possible to build a new workstation upgrade? Some armors might not be worth the effort if you only get a few armor points more in the end. Note tho that the meadows are excluded from this as you're just starting out to even get some armor rating which you will need for the boss etc.
Every armor tier is designed like this: If you upgrade the strongest armor you can get in one biome to the maximum, it will have the same armor rating as the first tier of the armor from the next biome. So sometimes it's better to keep the old armor a bit longer and gather enough mats to be able to upgrade the next right after crafting, as it will have less durability. For weapons and tools it's not the same stats but the durability problem remains. [/list]
That's everything we are sharing today for this Valheim guide. This guide was originally created and written by iamoffline1. In case we fail to update this guide, you can find the latest update by following this link.
If you believe that any of the content on this site violates your rights, including your intellectual property rights, please contact us immediately using our contact form.