Title: Thriving City: Song
Release Date: April 21, 2023
Developer: White Star Studio
Publisher: IndieArk
A few pointers for newcomers in the bustling town of Thriving City: Songs.
Story tips
Make sure to complete the tasks they assign you before the party wraps up. If not, you'll face a game over and lose valuable hours of playtime. The time left until the party ends is the time you have to reach the required population.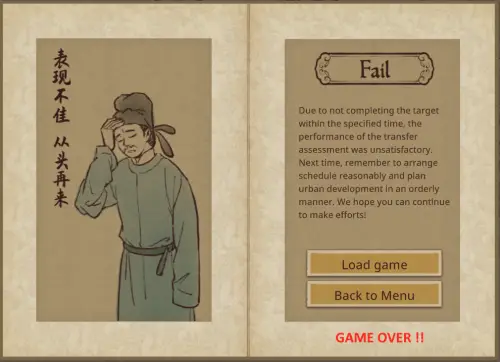 Starting off in story mode, you'll notice that the initial layout of the city is quite messy. Don't hesitate to modify and enhance it by removing structures like houses, shops, and workshops. This will help optimize the city's design.
General tips
Buffs: Experiment with combining different elements to discover new enhancements. Some enhancements can significantly improve your outcomes periodically. However, take your time with this process. While certain enhancements can attract more tourists and offer monetary benefits, they're not the utmost priority.
City Satisfaction and Expansion: Prioritize the satisfaction of your city's inhabitants. The higher their happiness, the larger the influx of new residents each year. If your happiness level falls below 50, acquiring an additional 300 citizens could take years to achieve.

Knowledge is power:Utilize the statistical tool to understand the issues in your city. This is the most effective method to determine whether your city generates sufficient resources to meet its requirements. Additionally, it allows you to identify whether there is a trend of tourists departing without accommodation, providing insight into the need for constructing more guest houses.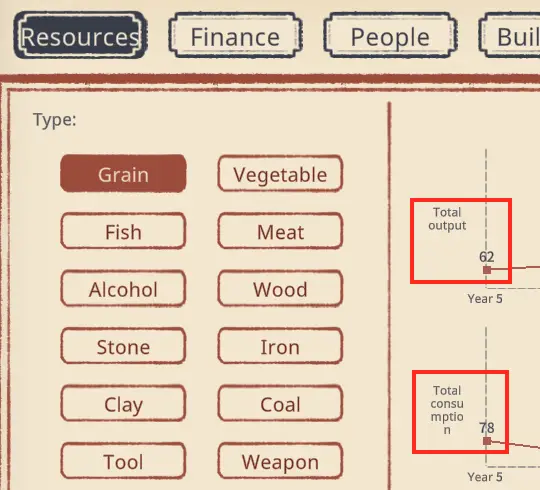 Annual report: Make sure to keep an eye on the yearly report now and then. It provides extra information about the statistics and a more condensed version compared to the graph. This can aid in comprehending unfamiliar issues. The report offers more comprehensive insights than the small window at the lower left corner of the screen. Personally, I find it more beneficial when used alongside the party's statistics.
In my situation, both my economics and industrial structures use up a significant amount of food. I'm short by over 400 units of food to sustain these buildings.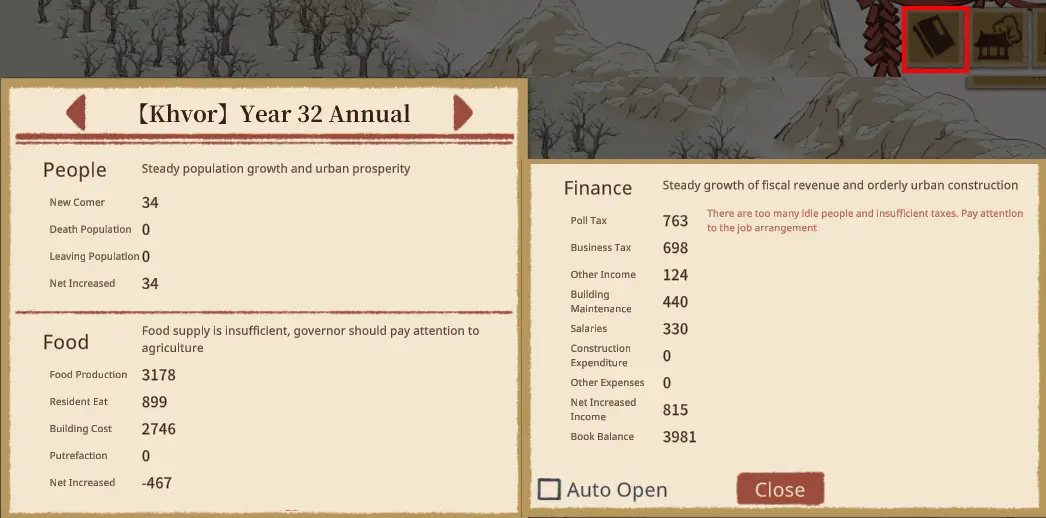 City tips
City Design:When constructing economic buildings, it's more favorable to position them diagonally rather than in a direct line that cuts through the village. This is because economic structures like tea houses, lodges, and thespian inns have a diamond shape range, rather than being square. Consequently, it's essential to place these economic buildings amidst the residential structures.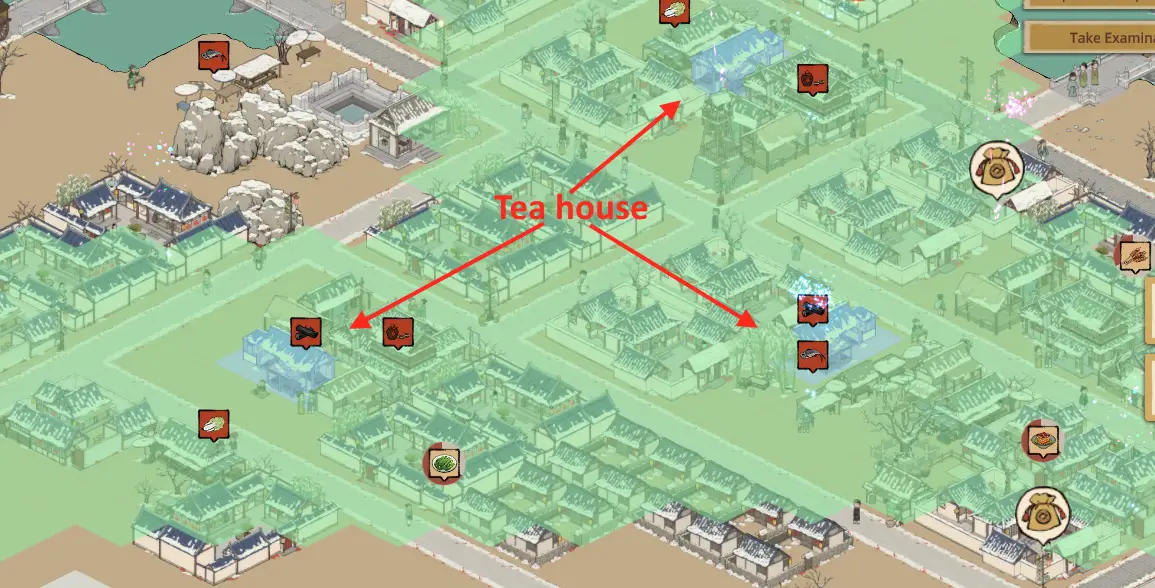 House needs: When a house wants something in particular, a bubble appears with the icon of what it needs (example below with the tea). When the bubble is completely red, you get a red thumb.
Two reasons can make this bubble happen:
The tea house don't have the supplies needed to produce enough tea for everyone.
The tea house is not in range of the house. (Not in the green area of the tea house range)
It is often a range issue.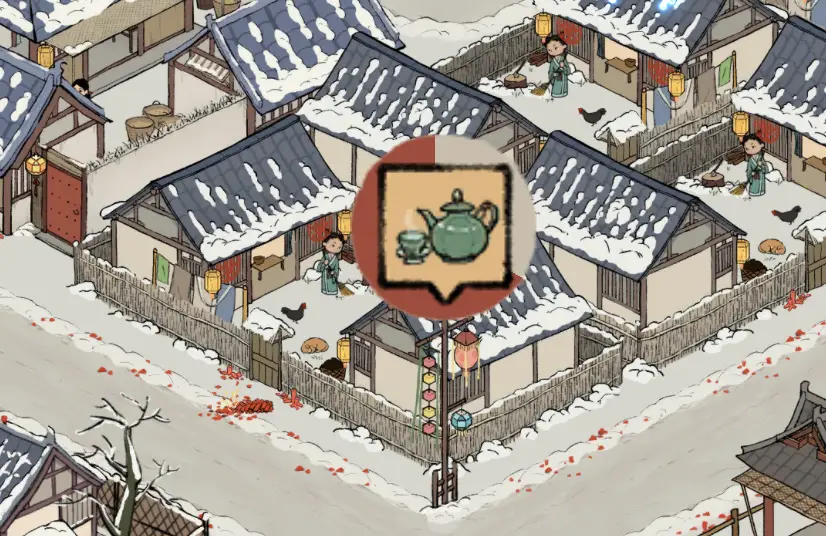 Mansion & loan:Construct a pair of lavish homes whenever feasible. Secure loans from affluent individuals, which you will be required to repay within a few years. This option bears lower risk compared to a formal bank loan, as any delay in repayment would primarily result in family displeasure.

The outside world
School and exams: Always aim to keep some unemployed individuals, commonly referred to as "vagrants," in your vicinity. They tend to appear frequently and can be directed towards education until the schools are at maximum capacity. This approach accelerates research, as it yields students capable of successfully completing exams. These exams are spaced out over time, so it's crucial not to overlook any of them; otherwise, you'll face a wait of several years until the next opportunity. Making sure you're prepared for these exams should take top priority when embarking on a new game.
It's worth noting that there was a time when I went without exams for over 38 months, which can indeed be a lengthy gap that you wouldn't want to miss.
However, be cautious not to have an excessive number of vagrants, as this could lead to an increase in street crime. Strive to secure sufficient housing to accommodate a complete workforce along with a reasonable number of vagrants.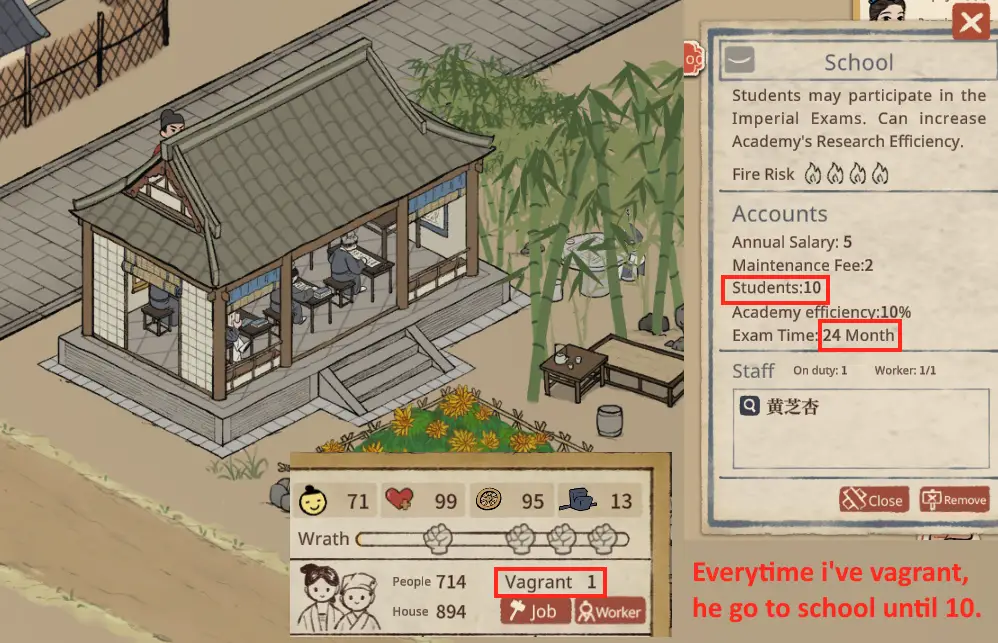 Tourist commodities: Make sure you construct a guest house and pair it with a Thespian inn. This way, more visitors will come to your city using wagons. The reason for this is that the combination of a guest house and a Thespian inn provides a positive effect.
Keep in mind that this positive effect doesn't apply to big guest houses. However, building those larger guest houses can still be intriguing. Thus, make your decision based on what suits your situation the best.
Remember, big guest houses have quicker transportation and can accommodate more tourists in their carriages. Nonetheless, the expenses for wages and fees are twice as much. This ultimately leads to increased tourist revenue.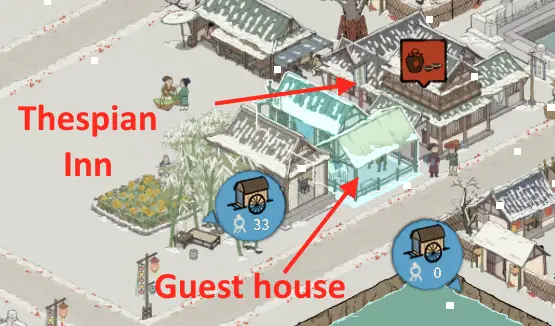 Example of industry chain
Optimizing supplies: Minimize travel time as much as you can. This means that a village requires certain things like alcohol and coal. Therefore, you should construct industries and farms in close proximity to facilitate the entire production process. Place facilities such as a coal mine, tavern, housing plots, farmlands, and lumberyards as near to the town as possible.
Take into consideration the happiness of the villagers; certain structures can decrease happiness. There may be instances when this approach isn't feasible, such as with clay mines or iron mines, since industries need to be located close to these mines. However, whenever the opportunity arises, follow this strategy.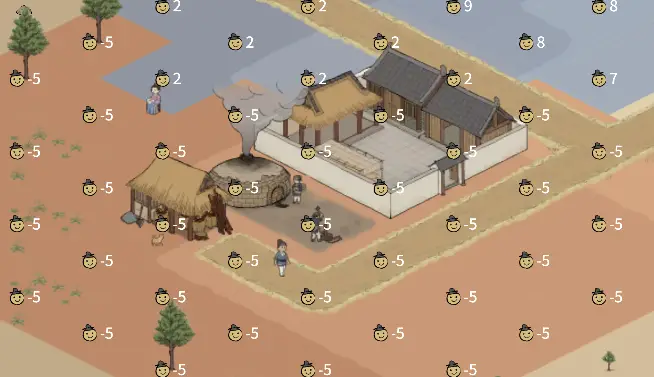 Note: The layouts below are just for display purposes, they are not optimized in terms of efficiency.
Folk Kiln production: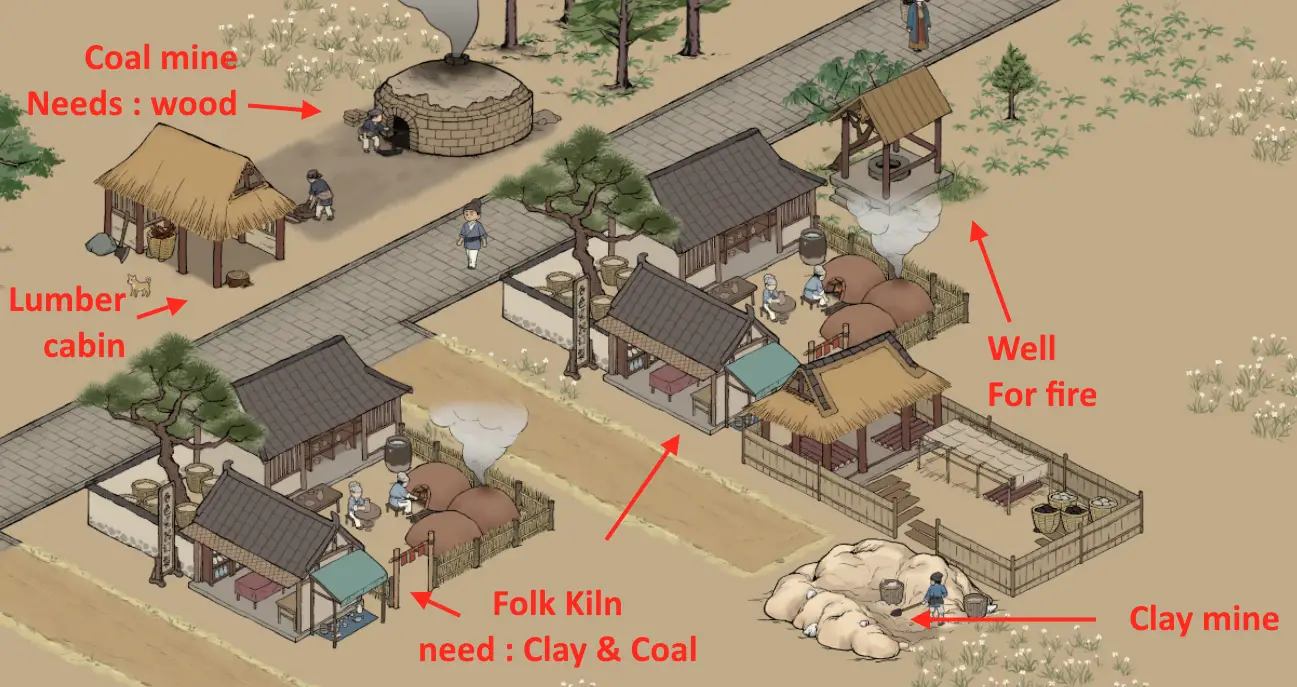 Alcohol production: A piece of land grows 14 grains annually with enhancements. Meanwhile, a pub generates 20 units of alcohol each year and requires 8 grains to make 4 alcohol units. Hence, several pieces of farmland are necessary to sustain a pub throughout the year (around 2 should suffice).
If you possess grains and workers consistently over the entire year, a tavern has the potential to reach a capacity of 25 or more.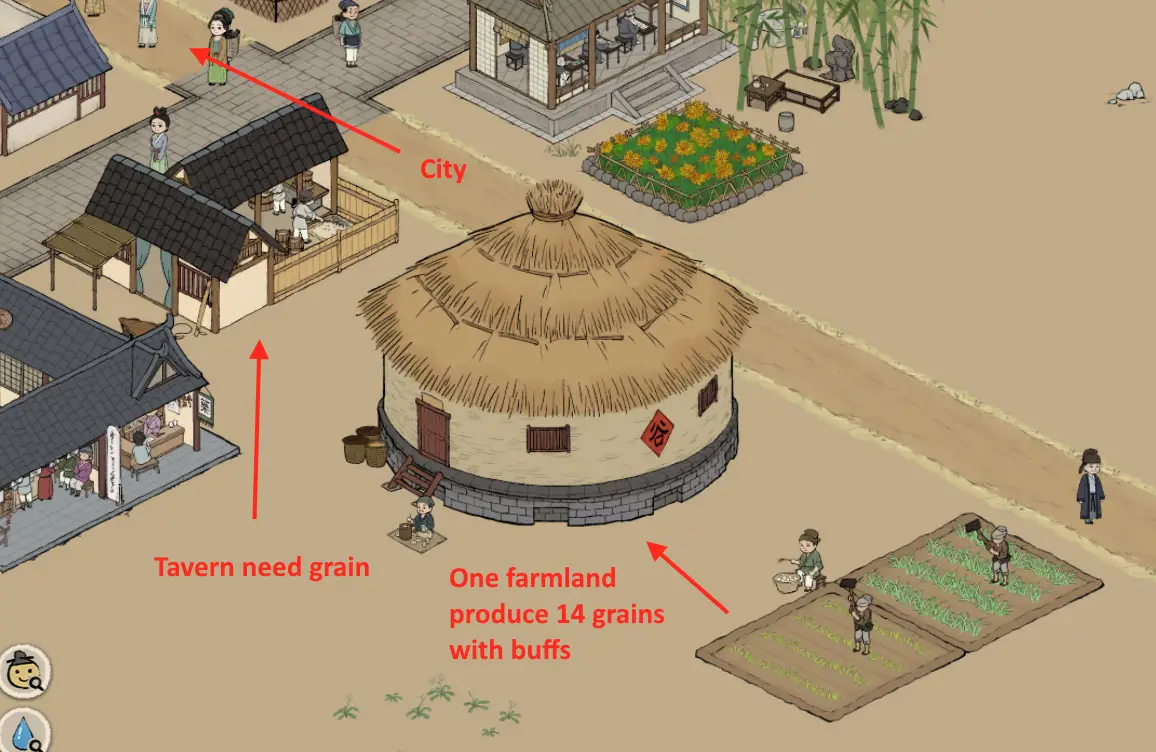 That's everything we are sharing today for this Thriving City: Song guide. This guide was originally created and written by [BLK] Telu. In case we fail to update this guide, you can find the latest update by following this link.
If you believe that any of the content on this site violates your rights, including your intellectual property rights, please contact us immediately using our contact form.