Title: The Lord of the Rings: War in the North
Release Date:
Developer:
Publisher:
If you and your friends don't want to deal with an ancient, poor quality voice chat that can't be turned off, this Guide offers an easy and arguably the best solution. See The First Section for the short version.
Short Version
TLDR.
1. Disable your microphone in "Manage Sound Devices"
2. Open the game with friends and get in a lobby together
3. Re-enable microphone.
4. Begin GamingYou will need to do this every time you wish to play together.
If you aren't able to do this with this short version, read the steps below for detailed instructions.
Step 1: Disable your Microphone in Manage Sound Devices
If you don't know what that is, it should look like this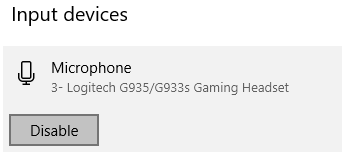 This shouldn't be that complicated, but if you aren't familiar with your PC settings for whatever reason, you can use the search function by opening settings and typing in the bar

Click on your microphone and click disable.
Your friends won't hear you in discord or whatever chatting service you are using, so make sure you coordinate before disabling your microphones.
It is also heavily recommended you keep this window open as you will need to re-enable your microphone later.
Step 2: Open The Game and Host or Join a Match
Someone in the group will need to click multiplayer, then select which option is appropriate (most likely private match).
From there, the host can send invites to others or they can select join game via steam overlay.
Step 3: Re-enable Your Microphone in Manage Device Settings
Literally repeat Step 1 and Re-enable your Microphone. It's that Shrimple.
Bonus: Joining Matches after they have started
In the event someone has connection issues and disconnects, you don't need to redo the entire process.
You'll just need to disable your Microphone, join the ongoing match, then re-enable it once you have loaded into the match.
Notes
Credit to my friend Beowulf for coming up the method, I just decided to write it up for fun and see if it helps anyone.
Fun factin his words, this supposedly works as a decade old game like this only checks for microphones when you join the lobby. If there is no Microphone to detect, it won't force the in-game voice chat.
If you have useful info that could be added to this guide, feel free to share and I might add it.
If this doesn't work for you I don't know how to help you other than to recommend double checking the steps or searching elsewhere.
That's everything we are sharing today for this The Lord of the Rings: War in the North guide. This guide was originally created and written by CarpoTheDuck. In case we fail to update this guide, you can find the latest update by following this link.
If you believe that any of the content on this site violates your rights, including your intellectual property rights, please contact us immediately using our contact form.