Title: Tales of Vogar - Lost Descendants
Release Date: May 15, 2023
Developer: Torsten Scholze
Publisher: Torsten Scholze
This guide will show you the step-by-step process and walkthrough on how to unlock all achievements in Tales of Vogar – Lost Descendants. Additionally, it provides a comprehensive game walkthrough to assist you in successfully completing the game.
Useful Tips
Utilize Spells and Skills: Don't hesitate to employ spells and skills during battles. There is an ample supply of healing crystals available.
Upgrade Your Gear: Regularly upgrading your equipment is essential. You can sell items marked with the description "May be valuable to some merchants" to fund your gear upgrades.
Avoid Inn Rests: Save your money by refraining from resting at inns. Instead, invest your funds in healing items, which will enhance your combat effectiveness.
Consider Minimal Item Usage: While it's feasible to finish the game without using many items, some battles may require a fair amount of save scumming.
Introduction
The prologue of the game is quite straightforward. It involves reading the story and using normal attacks for all battles.
Jakam
In your encounter with the Angry Bee, it can be defeated with just two normal attacks. Your primary objective at this point is to collect specific items: a log located in the northwest corner, branches in the northeast corner, and leaves in front of the tree near where you gathered the branches. Afterward, proceed to the east exit to set up your camp.
Following a brief cutscene, you'll encounter another enemy on your path. Simply follow Jane's instructions and employ the Fire spell on the Angry Bee to eliminate it in one blow. If you require it, you can use the Meditate option to restore some of your MP (Mana Points).
Upon entering the cave, your next battle will be against Bats. Dispatch them using the Fire spell; it will take two hits to defeat them, so keep casting it. If you find yourself in need of MP, you can use Jane's Blessing ability. Otherwise, let Jane focus on Meditating, as her regular attack is relatively weak. Once you've completed the battle, proceed to the exit for another cutscene.

I'm going on an adventure!
Finish the Intro
Chapter 1: Who am I?
Crossroad
At this crossroad in your journey, Glen will become a member of your party. Before departing from the prison, be sure to interact with the pouch on the table to acquire 200 Gil. In the subsequent screen, you'll encounter 2 Rats. Glen, being a physical attacker, possesses the Concentrate ability, which grants an ATK buff for 2 turns. He can dispatch the Rats with two hits. You have the choice to either use skills or opt for normal attacks this time. Personally, I recommend the latter to conserve MP, but keep in mind that there will be a healing spot soon if needed.
Once the battle concludes, interact with the prison door to the north. You'll receive information about a special mechanism concealed behind a lantern, specifically the one to your right. Enter the secret passage.
You'll have the ability to jump over the small ledge by pressing either Z (keyboard) or A (controller). Leap and confront the Bats. With Glen on your side this time, you can employ normal attacks with both Ascan and Glen to defeat the Bats in two turns. Don't forget to open the chest nearby to obtain 3 Potions and 1 Ether. Proceed by interacting with the door covered in vines to the north to unveil an exit, but hold off on entering it for now. Instead, head towards the east exit to discover a healing crystal, allowing you to restore your health. Then, exit through the previously vine-covered door.
Following a lengthy cutscene, make your way to the east exit. The path ahead is straightforward. Enter the cave and engage the Bats as usual, then open the chest to acquire 2 Antidotes. Continue along the path to another cave where you'll encounter Spiders. These enemies are slightly more formidable, so remember to cast Fire with Ascan. Also, exercise caution with Glen's attacks if his health is low, as they can counter.
Exit the cave. You'll encounter an Angry Bee here, but unlike the ones you've faced previously, this one is more robust and resistant to Fire. Allow Ascan to execute normal attacks and use Glen's Concentrate to enhance his attack power. Your journey will lead you to Port Lewes in the next screen.
Port Lewes
Engage in a conversation with the sailor near the exit to learn that he has misplaced the key to the captain's quarters. Following that, seek out a boy and a girl near the bridge leading to a ship. Agree to participate in their game of hide and seek. The girl is concealed in the inn. While you are in the vicinity, interact with the piano for an achievement.

Hit the keys
Play some tunes on the piano in Port Lewes.
Locating the boy can be a bit challenging. First, ascend the stairs, then proceed all the way to the west. You'll find him hidden behind some boxes. Afterward, engage in a conversation with the boy near the bridge. Indeed, this key is the one that the sailor was searching for, but refrain from speaking to him just yet.
Now, it's crucial to prepare for your upcoming journey because you won't be returning to this area. You have the freedom to sell all of your dropped items and upgrade your gear before continuing. Feel free to sell any items labeled as "May be valuable to some merchants" to finance the necessary gear upgrades for your party members.
Do you remember the sailor we previously spoke to? Approach him again and hand over the key. Prepare yourself for an unwinnable battle that awaits.

Well that was fun
Finish Chapter 1.
Chapter 2: Building an Army
Hideout
Begin by opening the chest to acquire 5 Antidotes, 5 Eye Drops, and 5 Herbs. Then, exit to the world map and make your way to the tower situated in the northwest corner of the region.
Swamp around the Tower
Don't be concerned; the poison from the Wolves won't linger after the battle concludes. Deploy Ascan's Fire and Glen's normal attacks to defeat them all. It's advisable to save before each encounter, as these battles can be challenging. The final battle against 2 Wolves may require some luck. Consider using Glen's Blade Slash to reduce the number of enemies as quickly as possible.
Tower of the Witch
Although you're supposed to step on the red tile, try stepping on the non-red tiles to engage in battles with some Skeletons for additional EXP. These Skeletons are relatively weak, so there's no need for concern. Use Ascan's Fire and Glen's normal attacks to dispatch them. You only need to defeat 2 of them before being fully restored.
Vogar
You have several objectives to complete, and I'll break them down in the specified order:
Begin by navigating to the world map and proceeding to the southern building to engage in a conversation with Vincent.
Subsequently, make your way to Lunaris, situated northwest of the Hideout. Inside the house located in the southeast corner, you'll find a person you need to speak to in order to recruit a carpenter.
Once you have secured the carpenter, head back to the house in the southeast corner of town and search for a letter.
There's a cave in the northeast corner of the map, but refrain from entering it just yet.
Before venturing into the cave, explore the town where you'll come across a house occupied by inebriated soldiers. Engage them in combat, as they are vulnerable to Fire attacks. This will yield valuable experience points (EXP).
Now, proceed to enter the cave. Inside, you'll encounter a healing crystal that can be used to restore the health of your party members. However, it's essential not to initiate a conversation with Cathy at this point.
Cathy can be found on the northwest side of the cave. Instead of speaking to her directly, converse with the man standing next to her and provide him with two potions by engaging in dialogue with him twice to achieve a specific goal.

Good Samaritan
Help the people in need.
Prior to engaging in a challenging battle, it's advisable to save your progress. You'll be facing formidable adversaries, but a strategic approach can secure victory. Employ Ascan's magical attacks alongside Glen's combination of Retribution and Blade Slash to overcome your foes. Element selection is unimportant in this battle, as your opponents lack specific weaknesses or resistances. Following the skirmish, utilize the healing crystal to restore your party's health, and subsequently depart from the town. Remember, you can return to this healing crystal whenever necessary.
Once you've left the town, make your way back to Vincent's residence and enlist his aid. Upon completing this task, return to the world map and journey to the southern farm adjacent to Vincent's house. Engage in a conversation with the individual there, who is, in fact, the blacksmith you've been seeking. However, before recruiting him, it's imperative to cure the ailing farm owner who lies in bed. Speak with the farm owner to ascertain that a specific plant is needed for his recovery. Fortunately, this plant can be found within the nearby mines, which aligns with your other objectives. Venture into the mines situated to the west of the Hideout.
The mines serve as the dwelling place of Orcs, creatures vulnerable to Ice-based attacks. Dispatch them efficiently by having Ascan employ Ice spells and Glen use Concentrate followed by regular attacks, concluding the battle within two turns. Locate the Rosmarin plant in the southwest corner of the dungeon, identifiable as the sole green plant within. Additionally, you should eliminate all five Orcs in the area as part of your secondary quest. A chest containing 2 Potions can be discovered in the northwest corner of the map. The remaining five Orcs can be found downstairs in the southeast corner, with another chest containing 2 Eye Drops in the southwest corner of this floor. Once you've fully explored the area, exit to the world map.
Proceed to enter the forest situated to the southeast. Here, you will encounter Willowisps, creatures susceptible to Thunder-based attacks. Ascan's Thunder spells and Glen's Concentrate followed by regular attacks should suffice to vanquish all six Willowisps. However, following this encounter, you'll face a Behemoth, which is vulnerable to Ice attacks. Utilize Ascan's Ice spells and have Glen execute Concentrate, followed by Retribution and Blade Slash to overcome this formidable foe. Interact with all the graves in the vicinity to collect Suspicious Stones. These stones can be employed on the prominent slab located in the northeast corner of the area. Remember to interact with the slab for each Suspicious Stone you possess. In return, you'll be rewarded with the Rune of Dark Magic and an achievement. It's worth noting that this rune imparts the Mental Fury skill to Ascan, although some may find it more practical to learn this skill later in the game.

Rune-tastic
Find the hidden rune in Braedon Forest.
After leaving the mines, return to the world map and make your way to the house where the carpenter resides. This house is located to the south of Vincent's dwelling in case you need a reminder. Once there, provide the Rosmarin plant to the gentleman who is recuperating in bed.
Following this, a cutscene will ensue, and you'll find yourself engaged in a minigame. The objective is relatively simple: press the directional button that is displayed on the screen. As you progress, the game's difficulty will increase. On the second stage, you'll need to respond more swiftly, and on the third stage, be prepared to press the opposite direction as indicated.
Hideout
Make sure to access the chest located to the north of the table, which contains 2 Phoenix Feathers – a valuable item for your adventure. Additionally, remember to equip your party members by consulting Ayden, the blacksmith in the area. To finance all the necessary gear upgrades for your team, consider selling any items marked as "May be valuable to some merchants."
For those who are keen on achieving all available achievements, don't overlook the opportunity to purchase the SakaiJi, as it contributes to unlocking an achievement within the game.

Tsushima sends their regards
Buy the SakaiJi.
Before proceeding, it's prudent to save your game. Your next destination is Lunaris, where you'll face a formidable trio of bosses:
Mace Mercenary
Greatsword Mercenary
Swordmage Mercenary
Begin the battle by directing Glen to engage the Swordmage Mercenary first, exploiting her vulnerability to physical attacks. Execute Glen's Concentrate, followed by Retribution and Blade Slash combo to swiftly dispatch this opponent.
Next, focus your attention on the Greatsword Mercenary, who is susceptible to Thunder-based attacks. Ascan's Thunder spells are the ideal choice to exploit this weakness.
With these two adversaries defeated, you can collectively target the Mace Mercenary. My approach involved utilizing Glen's Concentrate followed by Blade Slash and Ascan's Thunder spells, but feel free to employ your preferred tactics.
Jane, in the meantime, can contribute to the battle by using her Encourage skill intermittently between bestowing her Blessings upon your party members, enhancing their combat prowess.
The Chase
Before approaching Jane and Glen at the exit to the world map, I suggest saving your game. This is important because you'll soon encounter a series of events, starting with a minigame, followed by two battles against two Soldiers.
In the first battle, Ascan has the flexibility to use any magic attack, while Glen should utilize the Concentrate + normal attack combo twice. It's crucial to start the battle with Jane's Encourage ability to boost your team's morale.
After this, you'll board a wagon and face a boss called the Corrupted Soldier. Here's the catch: you can only damage this boss using Jane's healing spells or Glen's bleeding effect from his regular attacks. However, be prepared for the boss's nasty confusion and silence attacks.
You have two viable strategies here:
Use restorative items to cure the status ailments inflicted by the boss.
Rely on RNG (random number generation) and reset the game if Jane is afflicted by either confusion or silence. To improve your odds, consider equipping Jane with the Ring of Will, which can help reduce the chances of her getting confused. Note that the second option may require multiple retries to succeed, so it's not recommended unless you're determined to avoid using any items, similar to my own playstyle.
Just ensure that you commence the boss battle with full HP, and remember that you can heal from the menu after loading your save file, which was triggered just before the boss fight.
Hostage Camp
To progress in the game, head towards the camp located northwest of your current position. Once you gain control of Jane, exercise caution and avoid moving or interacting with the horses when the soldier is facing your direction. Keep in mind that you can only interact with the horses from the front side. After this sequence, you'll team up with Glen.
Your objective now is to reach the northeast corner of the map without being detected by the guards. The key to success is circling around the northwest side, as the guards have limited vision range. Use this to your advantage to remain unnoticed. If you encounter difficulties with this part, you can refer to a short video guide for assistance. Please note that I opted to skip a chest on the west side, which contains 2 Phoenix Feathers, 2 Potions, and 3 Silence Bombs.
Once you reach your destination, open the chest containing 1500 Gil and interact with the glittering object. It's advisable to save your progress at this point.
Prepare for a battle against the boss, known as the Lab Experiment. This boss is vulnerable to water attacks and is susceptible to high physical damage. Interestingly, it has identical physical and magical defense stats, meaning you can choose either type of attack to defeat it. Occasionally, the boss may break down, rendering it inactive unless it casts a Repair ability. Be cautious of its Blade Dance attack; you might need to rely on luck (RNG) to survive it.
During the battle:
Ascan should repeatedly use Water spells.
Jane can spam Encourage and utilize Blessings or Healing Wave as needed.
Glen should employ the Concentrate + Blade Slash combo to deal significant damage.
Elinmyll
The Hideout now offers gear with ice protection for purchase. Be sure to buy and equip this gear for your party members to bolster their resistance to ice-based attacks. Once you've completed this task, make your way to the world map and venture into the town located in the snowy region to the far south. Stay warm and be prepared for the challenges ahead!
Chamber of Trials
Continue your journey by heading north until you spot a chest in the northeast corner. Open it to discover 5 Potions and 1 Ether. Afterward, make your way upstairs to explore further.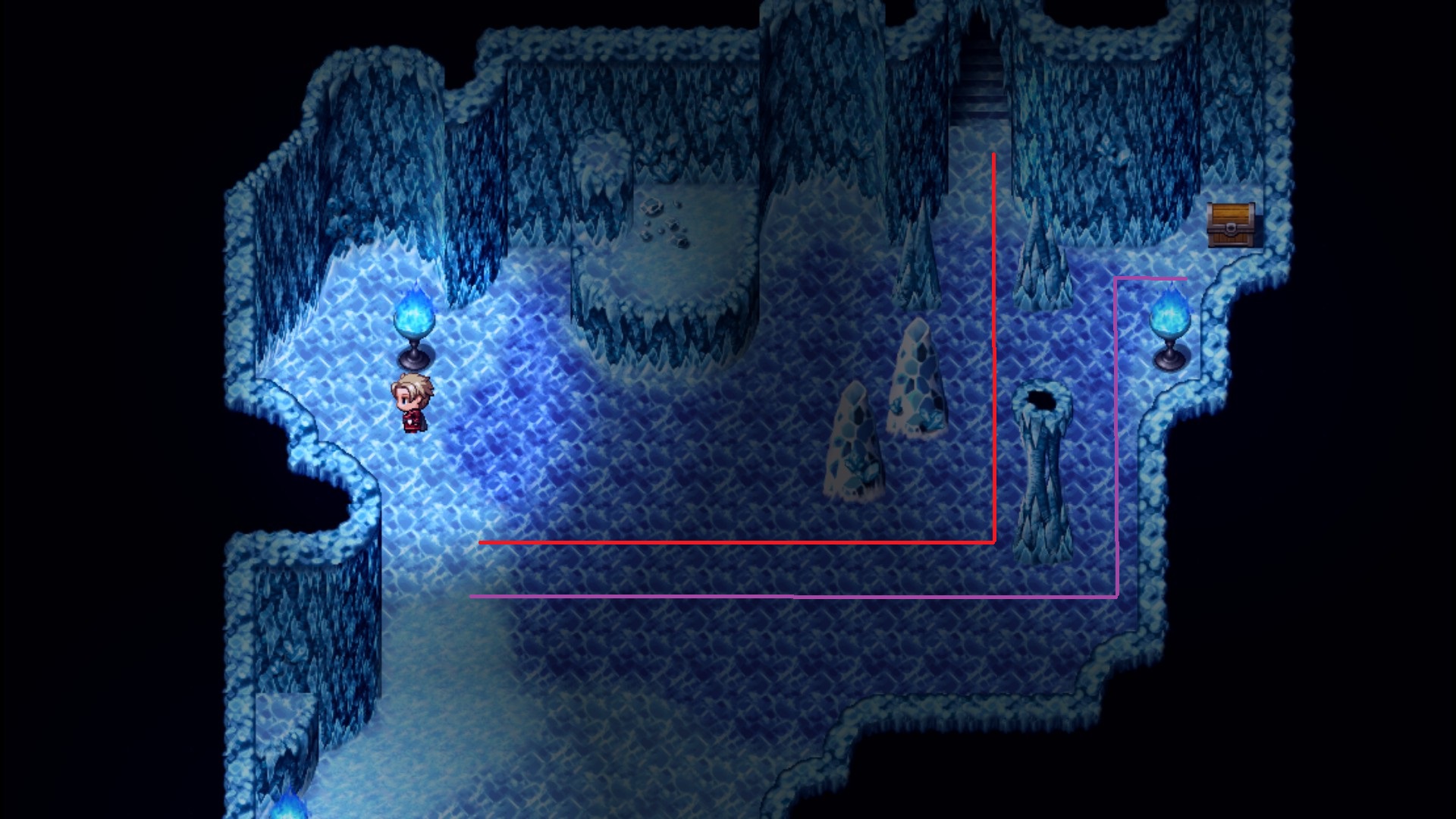 To acquire the Elder Rod, please proceed by opening the chest containing more puzzles.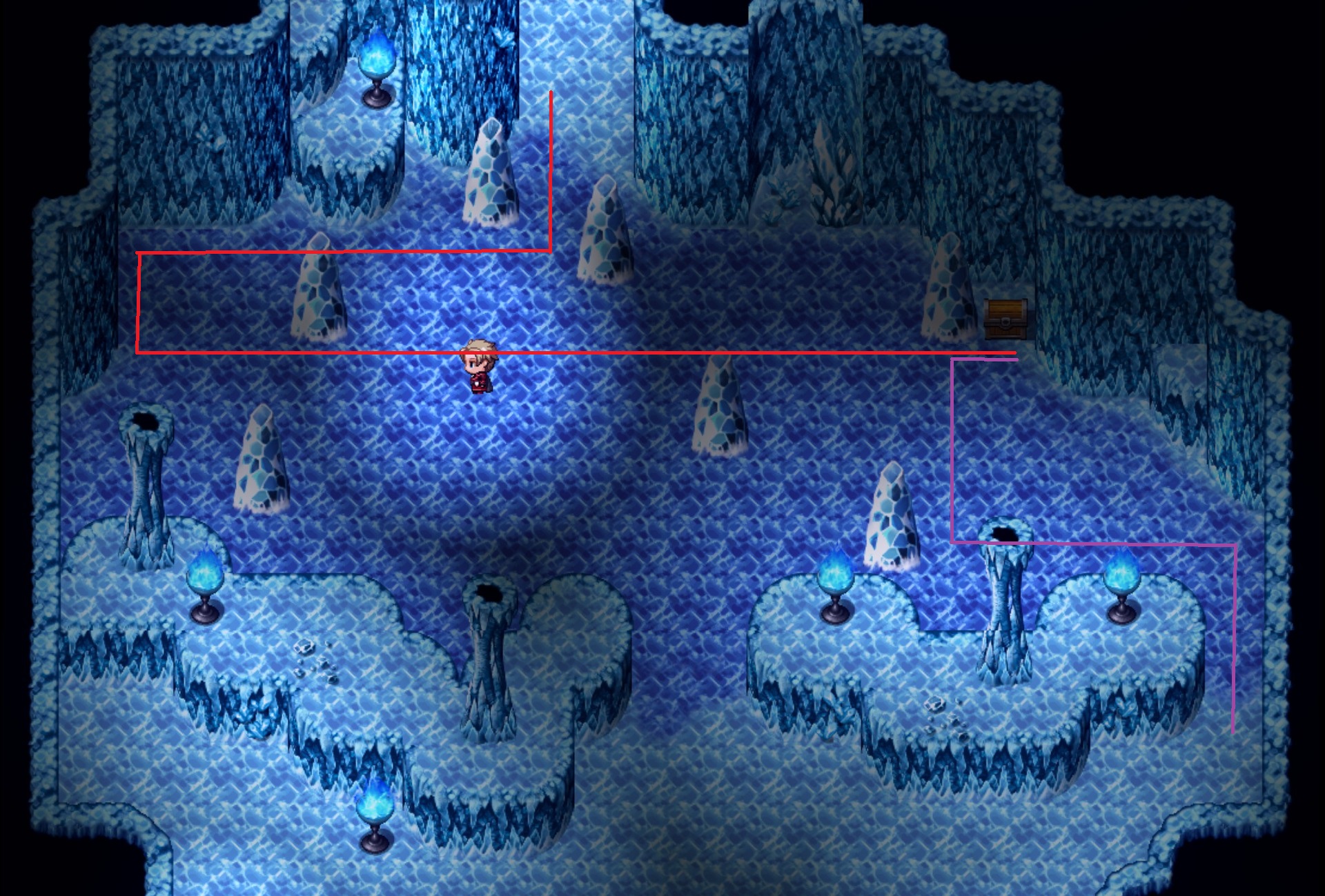 To initiate a cutscene, approach and interact with all the crystals situated to the north. Following the cutscene, shift your attention towards the substantial door. Your next objective is to shatter the seal encasing it. To accomplish this, perform interactions with the crystals according to the specified sequence:
red > blue > green > yellow
red > yellow > green > blue
yellow > red > green > blue
green > blue > yellow > red
Following the appearance of another crystal, proceed to interact with the crystals once more, adhering to the subsequent order: Red > Blue > Green > Yellow > White
Executing this sequence will result in the revelation of two chests, which contain coveted items such as a Winter Cape, Ring of Will, 1 Elixir, and an achievement.

They're not rocks, they're minerals
Solve the hidden riddle in the Ice Shrine.
Before proceeding through the large door, it's crucial to make certain preparations. Take note that the Elder Rod you obtained earlier is more potent than the one currently in Ascan's possession. Thus, consider equipping it. Also, check if you acquired the Winter Cape from the blacksmith in Hideout; if not, equip it now. Once you've completed these tasks, you can confidently approach the door.
Behind the door awaits the formidable boss known as Iceiathan. As you might have already deduced, its primary vulnerability lies in its susceptibility to Fire attacks. During the battle, keep an eye out for Iceiathan's ability to conjure protective walls. To counter these, employ specific spells:
When faced with a Water Wall, utilize Thunder.
In the presence of an Ice Shield, employ Fire spells.
Lastly, don't forget to employ Channeling as necessary to heal or remedy any status ailments that may afflict you during this encounter. Good luck!

Wow, I love this game!!!
Finish Chapter 2.
Chapter 3: Revenge
It's essential to remember to equip the Staff of Wisdom on Jane. Additionally, be sure to interact with the map to acquire 2 Phoenix Feathers. As for completing your social interactions, here are the locations of the individuals you should speak to:
Talis who is located in Revolution Base
Vincent who is located in Revolution Base
Dylan who is located in Revolution Base
Jane who is located in Dylan's House
Glen who is located in Inn
Cathy who is located in Inn Second Floor
Engaging in conversations with all these individuals will not only provide you with valuable information but also unlock an achievement. Make sure to connect with each of them as you progress in your journey.

Chatterbox
Talk with every ally before the final battle.
When you're prepared, engage in a conversation with Dylan to advance the storyline. If you engage in conversations with all the characters, you'll receive additional rewards, including 2 Elixir, the Ring of Haste, and a morale boost. During the final battle, you have the freedom to select any character you prefer. However, if you opt for Glen and Jane, you'll achieve 100% completion in a single playthrough. I recommend having at least Glen or Jane on your team to make the battles more manageable. If you decide to go with characters other than Glen and Jane, you'll earn an achievement.

Curiosity
Choose other team members than Glen and Jane for the final battle.
Selecting Glen and Dylan as your characters will enable you to successfully sneak past the guards, earning you an additional achievement. After successfully navigating the stealth section, make your way to the west exit. There, you'll encounter three mercenaries and a chest. Open the chest to acquire 2 Elixir potions.

Snaaaaaaake
Sneak your way through the castle and open the chest.
Ensure that you are detected by the mercenaries as part of your gameplay. After a brief cutscene, the mercenaries will proceed to the east exit. Pursue them to unlock another achievement. Please keep in mind that this option may not be available with certain party combinations, such as Vincent and Cathy, or Jane and Talis.

Mercenaries everywhere
Find a way so that the Mercenaries join the battle on the castle grounds.
If you opt for party members other than Jane and Glen, be prepared for possible battles with the guards in the hallway, but you have the option to skip these encounters, especially if your party combination makes them challenging.
Regarding the mercenaries and the chest, please note that in some party combinations, triggering this event might not be possible, so don't worry if nothing happens.
When you're ready to proceed, save your progress and head north to approach Alastar for the final showdown:
Boss: Alastar
Recommended Actions:
Ascan: Use Mental Fury followed by any spell.
Jane: Employ Encourage and choose between Blessing or Healing Wave.
Glen: Concentrate and follow up with Blade Slash.
If you have additional party members besides Jane and Glen, they can provide support. Here's a breakdown of their potential actions:
Dylan: Induce sleep for 3 turns.
Vincent: Apply ATK, DEF, and MDEF debuffs for 4 turns and blind for 5 turns.
Cathy: Fully heal the party and provide DEF and MATK buffs for 4 turns.
Talis: Inflict initial damage to Alastar.
After defeating Alastar, save your game before heading to the south exit for the final battle:
Boss: Ragnor, Alastar
Ragnor is vulnerable to Ice and physical attacks, while Alastar is weak to physical attacks but not to any specific element.
You can't eliminate Ragnor, but Alastar's barrier will break only when you reduce Ragnor's HP to 1. Afterward, Ragnor will repeatedly cast Break Out, and when it succeeds, Alastar will regain his barrier. You'll need to repeat the process of reducing Ragnor's HP to 1 to continue the fight.
For this battle, follow these recommended actions:
Ascan: Begin with Mental Fury and then use any spell.
Jane: Start with Encourage and choose between Blessing or Healing Wave.
Glen: Concentrate and follow up with Blade Slash.
If you have party members other than Jane and Glen, they can also provide support, similar to the previous fight.
Congratulations on successfully completing the game!

You did it!
Thanks to your efforts, Vogar is safe again.
Following the epilogue, the credits will roll, and you should receive an achievement for this accomplishment. However, if the achievement doesn't trigger, you can resolve this by loading any of your saved files and accessing the credits from the game menu. This should ensure that you receive the achievement.

Be a good lad
Watch the credits.
That's everything we are sharing today for this Tales of Vogar - Lost Descendants guide. This guide was originally created and written by aquatorrent. In case we fail to update this guide, you can find the latest update by following this link.
If you believe that any of the content on this site violates your rights, including your intellectual property rights, please contact us immediately using our contact form.