Hate censorship? Want to get the no longer available achievement, "You Are Prepared"? Or do you just want to shoot yourself in the head? This is a guide that will tell you how to prevent your game from updating to the current, CENSORED version that removes certain "sensitive scenes".
First Things
The 1.0.22.1 update pushed July 21, 2021, deleted a couple of critical scenes from the game that the devs have now decided are "too sensitive" for players. Here's how to take control back of your copy of SuperhotVR so YOU can decide for yourself whether or not you want to experience them (and obtain the "You Are Now Prepared" achievement so you can 100% the game).
The first thing you need to check — is your game is already censored? If it's on version 1.0.22.1 or later, bad news, the scenes are deleted, and you'll need to roll back first.
If your game is on a version EARLIER than 1.0.22.1, good news! You can block updates without having to do anything else first.
Blocking Superhot VR Updates
Now that you've got an UNCENSORED SuperhotVR folder, here are the 2 ways to keep it from getting ripped out of your hands and updated by Steam.
Easy Way
Temporarily copy your uncensored Superhot folder somewhere, let it update the game, then replace the censored folder with your good, uncensored folder.
2. You don't need to do anything to the appmanifest file because it already has all the newest IDs in it, and set the update flags. Don't forget to make sure the game is set to "Only Update When I Start The Game" or else you might have it ninja-update on you someday.
Hard Way (Current As Of July 26, 2021)
Find the appmanifest for Superhot — it's appmanifest_617830.acf, and will probably be in \Steam\steamapps
Open that file in any text editor, like Notepad or Textpad.
Change the following lines in the file to match the below:
"StateFlags" "4" to "AutoUpdateBehavior" "1" (only needed if you don't have the game already set to "Only update when I launch the game" in Properties).
In the "Installed Depots" section, the first six-digit number should be replaced with "617831" (this is the current patch's SteamDepot ID number), if it's not already that number.
Still in the "Installed Depots" section, there's a super long string of numbers after "manifest". Replace that entire string of numbers with "587023216058924447" (this is the current patch's SteamDepot manifest ID number).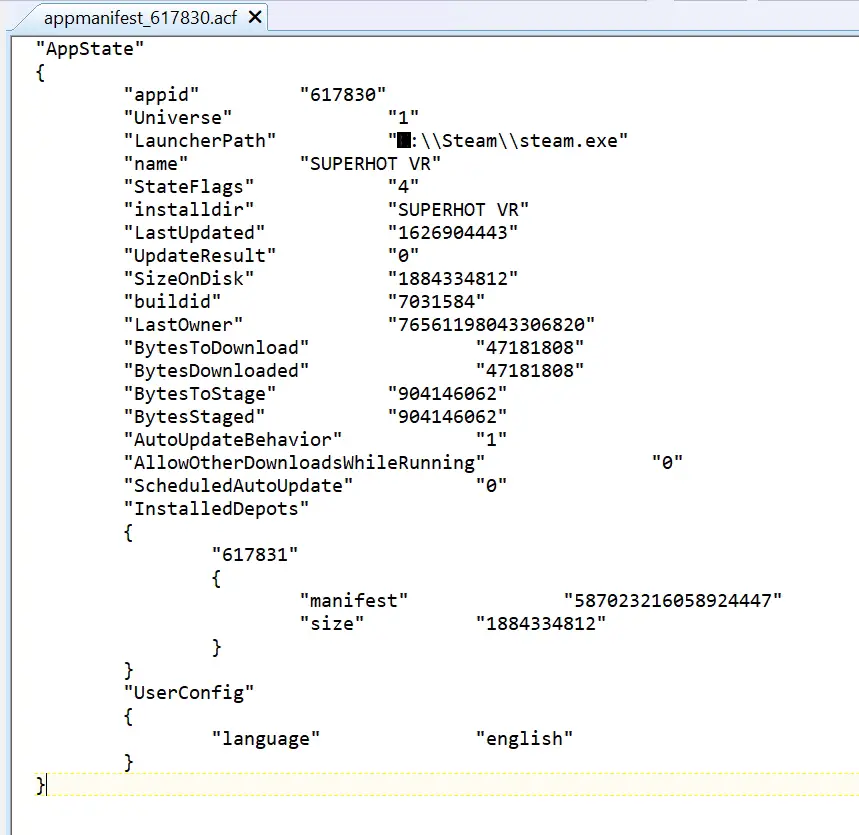 Note: If those are no longer the current patch IDs at the time you read this guide, don't panic! You can grab the newest IDs from SteamDB if you don't want to wait for the guide to be updated. Keep reading to see how to do that.
Save the file and the game will think it's already up to date, until the next time the devs post a patch. If the game thinks it needs to patch, "StateFlags" will change from "4" to "6". But since "AutoUpdateBehavior" is set to "1", it won't update until you actually run the game, so you have time to close Steam and edit the appmanifest with the new patch's Depot and Manifest IDs (you can look them up from SteamDB).
After You've Blocked Updates
Once you've got the uncensored game files in place and set the game to "Only Update When I Launch The Game" in your settings, you're good to go. Just remember 3 things:
NEVER RUN "Validate Files" WITHOUT BACKING UP YOUR UNCENSORED FOLDER! Running that command will prompt Steam to check the folder, and it'll realize what's in there isn't the newest version and will flag it for the update, potentially wiping your precious good version files.
If the developers push a patch and Steam wants to update, don't worry. Just close Steam and repeat the earlier steps to protect your install (I recommend doing it the "Easy Way" at this point since you already have the good files on hand, it's less trouble than faffing around with the manifest file.)
Keep your uncensored game files in a safe place!
Enjoy the original, UNCENSORED SuperhotVR experience!
And that concludes this SUPERHOT VR guide. Do you have any suggestions to improve this guide? Please let us know by leaving a comment below. For any other concerns, please reach us using the contact details found on the contact page.