Title: STUFFED: Fun Co-Op FPS
Release Date: December 10, 2021
Developer: Waving Bear Studio
Publisher: Waving Bear Studio
If you're having trouble getting through Night 1 of the game "Stuffed," I've got you covered! Here's a guide I've put together with various tips to help you navigate the challenges of this creepy house filled with terrifying toys.
Please note that I don't have extensive experience with the game yet, but I'm excited to play more and potentially develop better strategies in the future. While I'm not an expert, I have managed to survive, which should lend credibility to my guide.
And for those of you who are breezing through Night 1, I'm sure many players would appreciate additional guides or extra tips shared in the comments.
Part 1: Room Purchasing
In Stuffed, a significant aspect of gameplay involves purchasing rooms. This involves a risk-reward dynamic. When you acquire a new room, you gain access to a new purchasable weapon and often a consumable. However, this also leads to the emergence of additional enemy spawns.
When deciding which rooms to buy, consider their location relative to Ellie's door (the one you must defend). Aim to acquire rooms that aren't on the same floor as Ellie's door. Since her door is typically on the second floor, prioritize purchasing doors on the first floor. If only second-floor doors are available, opt for those that are farthest from Ellie's door.
Part 2: Arsenal
Most enemies in Stuffed can be dealt with using various weapon choices. These enemies include Gnomes, Ducks, and Robots. However, foes like Tall Shadows, Shadow Minions, and Sock Monsters demand more strategic weapon selection.
I recommend having one moderately fast-firing weapon and another with high damage and a wide radius. For the primary weapon, consider the Jelly Boom Boom (a personal favorite), the Rock'em Pop'em, or the Sk8rboi. While the Big Beefy is the ultimate weapon, it's expensive and hard to obtain. If you manage to get it, it's a game-changer, but start with one of the other options. These weapons work well against most enemies.
If the suggested primary weapons struggle against Tall Shadows, consider using the Shot Caller. This sniper rifle makes quick work of Tall Shadows, especially if you aim for headshots.
For swarming enemies, try the Cola Cannon or RPG. These weapons shine in waves 7 and 10, clearing out multiple enemies at once. The Jelly Boom Boom can do this too, though with a smaller damage radius.
In short, the ideal loadout could consist of a Big Beefy paired with an RPG.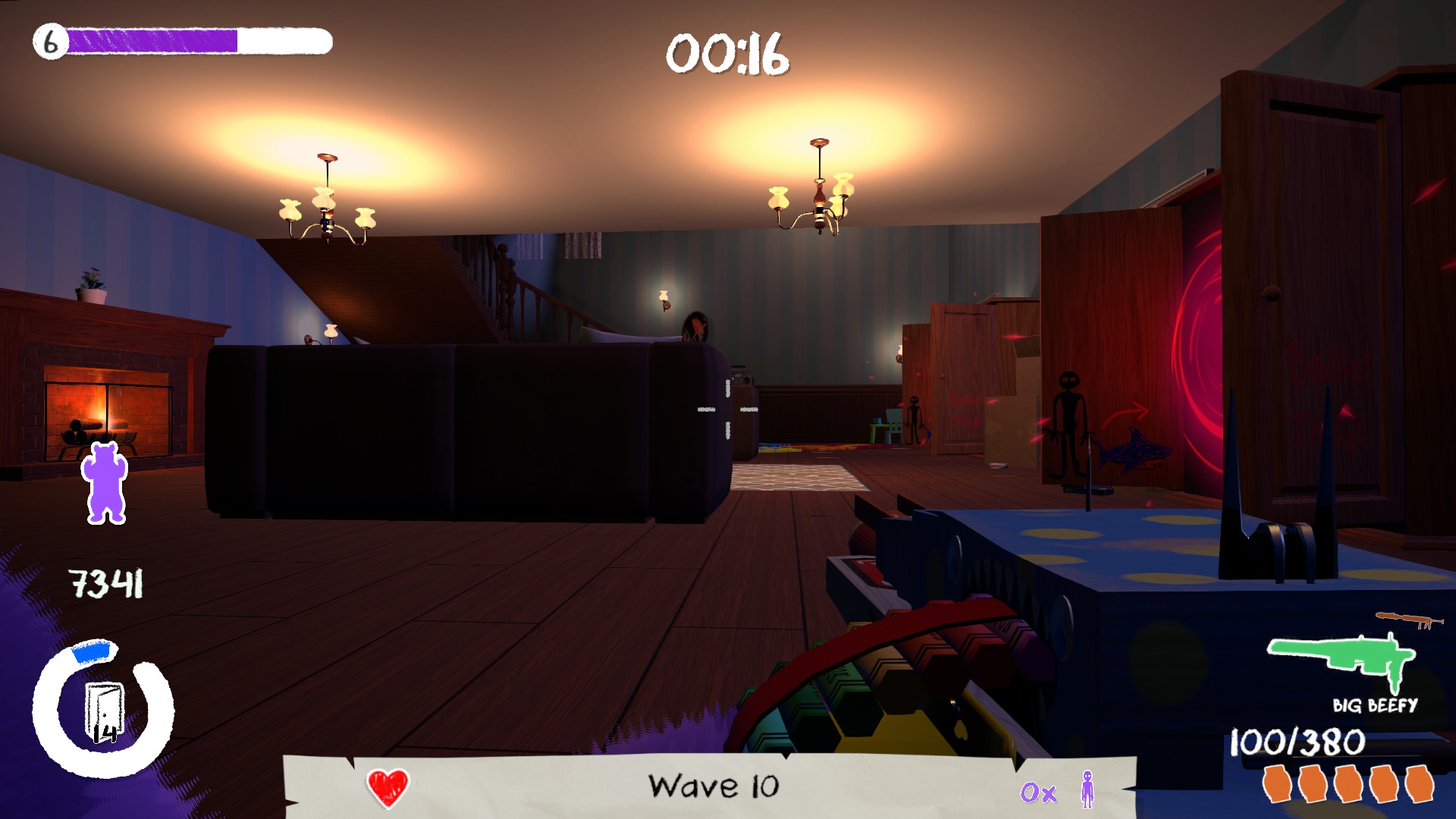 Part 3: Leveling Up
By defeating enemies and opening doors, you earn XP, enabling you to level up and receive perks. While perks like infinite sprint might be tempting, it's best to hold off initially.
Upon your first level-up, choose a Door Repair Kit. If you're playing in a group, each member should have at least one.
Subsequent perk choices depend on your gameplay performance. If you're frequently dying, invest in extra health perks. Each perk adds half a heart, which proves highly advantageous.
If you're surviving well or health perks are unavailable, upgrade door health. This proves invaluable in wave 10 when Shadow Minions appear and during encounters with Tall Shadows.
If you're in a tough spot (low health, limited ammo, overwhelming enemies, etc.), consider max ammo or extra ammo perks. This strategy can be a lifesaver, providing that extra magazine needed to complete a wave.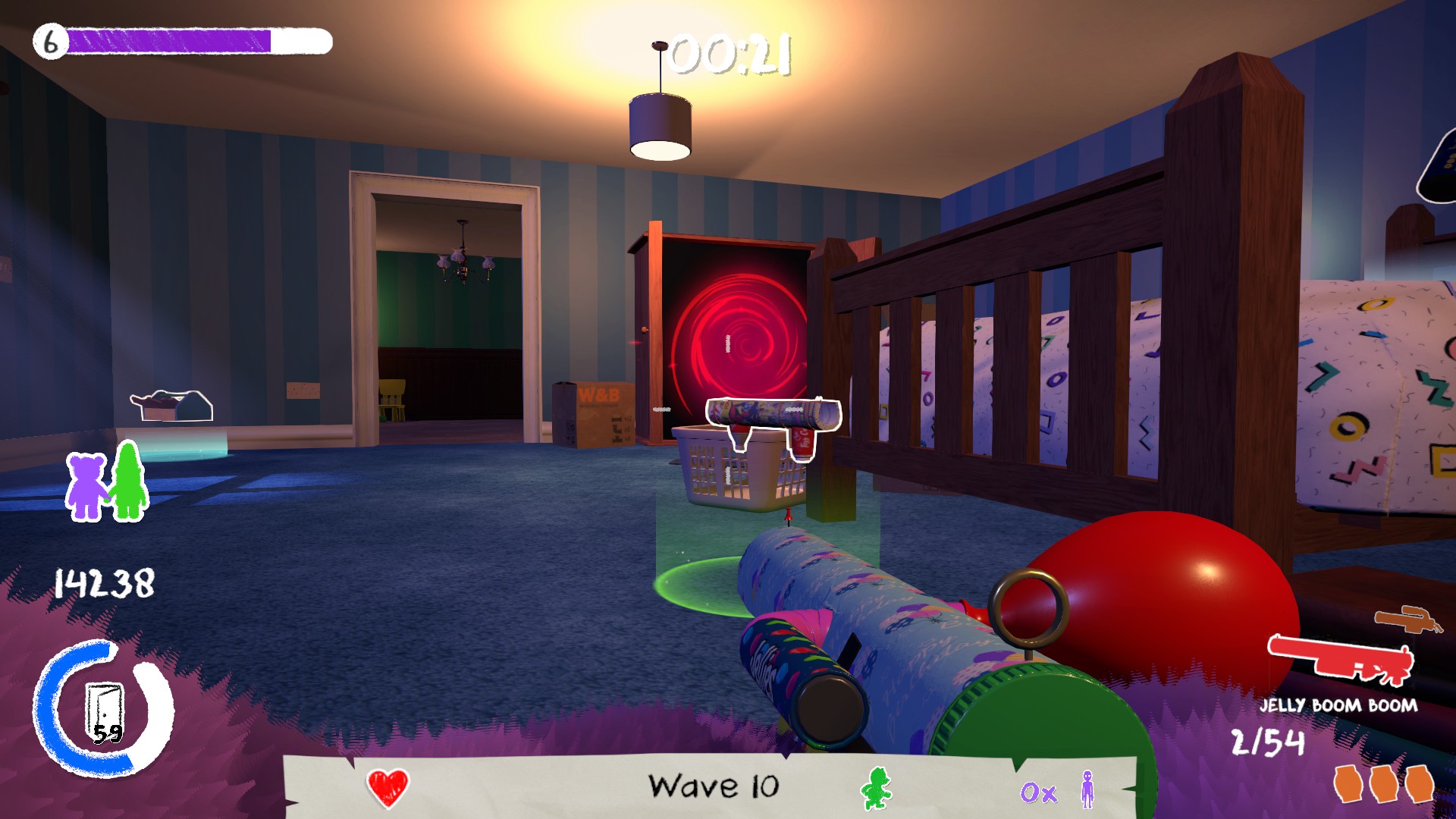 As shown in the image above, it's possible to select the infinite sprint perk and still conquer wave 10.
Part 4: Extra Tips
Tip #1: If purchasing distant doors feels inconvenient due to traversal, remember the teleportation boxes around the house. These not only facilitate quick travel to weapons but also serve as a strategy to lure enemies away. Using teleporters to separate enemies can be effective. These teleporters consistently return you to the spawn area near Ellie's door.
Tip #2: If you have grenades (Boom Corn), a smart tactic involves jumping and circling a large group of enemies to bunch them up and eliminate them with a single grenade. This approach yields ample XP and spares ammo.
Tip #3: Sock Monsters move swiftly but only when you're not looking at them. By wave 7, position yourself where you can see all Sock Monsters and Ellie's door. Use a wide-radius weapon to clear out the Sock Monsters effectively.
Tip #4: A blend of Tips #2 and #3 is useful on wave 10. Leap around Shadow Minions, employing your high-radius weapon to eliminate them. It's acceptable to let them damage Ellie's door to some extent, as long as you survive. Handle the swarming Shadow Minions near you first, then deal with those near Ellie's door. Repeat this process to triumph over wave 10.
That's everything we are sharing today for this STUFFED: Fun Co-Op FPS guide. This guide was originally created and written by Cameo. In case we fail to update this guide, you can find the latest update by following this link.
If you believe that any of the content on this site violates your rights, including your intellectual property rights, please contact us immediately using our contact form.