This guide will pretty much be a day-by-day breakdown of the Summer of Year 1. Note that some events are pre-planned and will always occur on the date they are set for, but others are conditional and will be based on what you've done in the game.
Crop Layouts
I'm presenting this first, even though it probably falls under Summer 1, because I think it's important and handy to be able to reference back to.
It's entirely possible to obtain iridium sprinklers in Summer, Year 1, although they are pretty expensive to make or buy. Since the plot layout of crops with an iridium sprinkler can also be used without a sprinkler, I'm presenting it here. You can either place a Scarecrow, Lightning Rod or another crop in the center space.
The first layout is for planting 6 each of four different crops: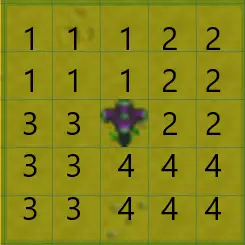 Each number is a different crop, so, for example, for Summer, crop 1 would be Wheat, crop 2 would be Radishes, crop 3 would be Hot Peppers and crop 4 would be Tomatoes.
An alternate layout is for planting 6 of one crop type, and 9 of two other types: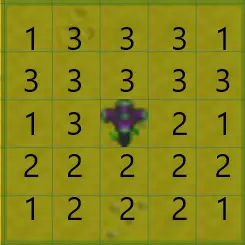 This is useful for the "pole" types, making them crop 1; so, again, for Summer, crop 1 would be Hops, crop 2 would be Melon, and crop 3 would be Corn.
Of course, if you want to have a chance to get a giant crop, you can combine two plots together like this: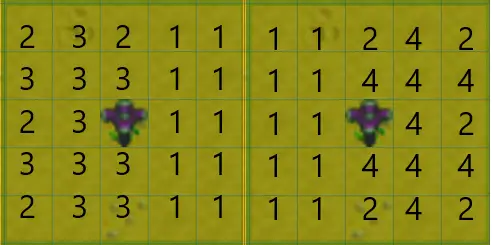 In this case, make sure crop 1 is Cauliflower (in Spring), Melon (in Summer), or Pumpkin (in Fall). Crop 2 will be the pole plant (Green Beans in Spring, Hops in Summer, and Grapes in Fall). Crops 3 and 4 can actually be the same crop (Corn, for example). This would obviously increase the number of seeds needed from the previous single plot layout.
If you're planning to invest in Quality Sprinklers, you'll simply need a 3×3 (9 tiles) layout, with the center tile being the sprinkler. Note that there is no layout using Quality Sprinklers that will let you water every crop and have a chance at getting a Giant Crop. Personally, I think Quality Sprinklers are a waste of resources, and I rarely use them… except for in the greenhouse if I don't have enough Iridium Sprinklers yet. Otherwise, I just suck it up and water everything by hand – just get that Watering Can upgrade!
Summer 1 (The New Crops)
When you awaken on Summer 1, you'll find all of your Spring crops have died. You'll need to use your scythe to clear them out, and you'll have to repair your farm, clearing out any rocks and logs that grew up over night. You should also plan your crop layout (see the previous Section) and begin tilling soil and watering, at least until about 8AM. Then head into town to buy your crop seeds. I recommend you plan to start with 6 plots each of Wheat, Radishes, Hot Peppers, and Tomatoes. I usually also like to plant 6 Hops and at least 9 Corn. You should plan to purchase or make Speed-Gro for the Wheat, Radishes, and Hops (which would be about 18). And be sure to use Basic Fertilizer on the Corn to increase the chance of gold quality, because you want at least 5 Gold Quality Corn. Altogether that will set you back about 5,700g.
Next you'll need some Melon seeds. Even with the 9 you should have gotten by now from the museum, you'll need to plant at least 20 to have a decent chance of getting the 5 gold quality ones you need, especially since without Deluxe Speed-Gro you can only get 2 harvests of Melons in the season. Again, make sure you use Basic Fertilizer.
Whatever else you have left should be spent on Blueberry Seeds. Normally you'd want Speed-Gro for each Blueberry Seed, but the extra income from Speed-Gro is not as much as the extra income from additional Blueberry Seeds, which also cost less. Just make sure you don't buy more than you can handle watering every day (I've been able to manage about 75, but you'll need to use your own judgement). If you have Pine Sap and Clams, you can make Speed-Gro; otherwise, you can buy a few, but I wouldn't buy more than 20 Speed-Gro's.
I should also note that you will need to buy an extra 48 Wheat Seeds, 24 Radish Seeds and 20 (or more) Melon Seeds to get through the season. I wouldn't buy more than 6 extra Wheat Seeds at this point, though, or it will reduce the number of Blueberry Seeds you can get.
You will also want to get at least one Sunflower Seed to plant, but don't buy it from Pierre. Buy it at the Joja Mart. It's the only thing Joja sells for less than Pierre, and it's a good 25% cheaper.
Summer 2-3 (The Earthquake)
Summer 2 will be focused on watering your crops, unless you get lucky with some rain. You should also make time to go foraging looking for the unique forageables of summer: Grape, Spice Berry, and Sweet Pea. You'll need to turn them in with the Junimos, when you get a chance.
After you go to bed on Summer 2 you will hear a strange sound. In the morning of Summer 3 you will be told that there was an earthquake during the night. That earthquake opens up the path to the North in the mountains, behind Robin's house, which leads to the Stardew Valley train station, and spa. The spa is free to use – just enter the proper locker room based on your character's sex, then walk around to the changing booth. When you come out the other side you'll be in your underwear/swimsuit (same color as your pants). Just continue south to the spa and hop in the water. Keep in mind you must stay still in the spa water for it to work, but it's possible to completely recharge your energy and health in about 1 hour or so of game time! Perfect if you went a little crazy with the summer crop planting.
You will also get a letter in the mail from Lewis on Summer 3, asking you to find his "shorts". They're in Marnie's bedroom, so you'll need to be friendly (2 hearts) with her to be able to retrieve them. Turning them in gives 750g and 1 Friendship heart with Lewis.
One other thing to note is that most of the villagers will change their daily patterns in the new season, except for the Saloon regulars (Gus, Emily, Clint, Shane, and Pam), who will still be in the Saloon every night.
And as with Spring, if you get a rainy day, be sure to do some fishing! Shad appear (again) in the rivers, but in the ocean you can catch Red Snappers. You need them for the Junimos, and there are occasional villager requests for them (which you obviously can't fulfill without rain) so make sure to hold on to a few. You can also catch Sturgeon now in the mountain lake, and you'll not only need one for the Junimos, but you also want to hold onto them because they're the only fish that can give you Caviar. To get it, you need to have Robin build you a Fish Pond (you'll need 200 stone, 5 seaweed, 5 green algae, and 5000g). Place at least one Sturgeon in the pond and they will multiply over time… they'll also occasionally give you Sturgeon Roe, which when placed in a Preserves Jar will give you Caviar. You will need Caviar eventually, so it's a good idea to plan ahead and hold onto at least 1 Sturgeon.
Summer 4 (Jas' Birthday) through Summer 10
Summer 4 is Jas' birthday and probably the best thing you'll likely have to give her is a gold quality Sweet Pea or Daffodil, if you saved any from Spring. Spring 4 is also the first day to harvest Wheat, if you used Speed-Gro. If you only bought enough seeds for the first planting (6), then you'll need to stop at Pierre's to buy at least 6 more Wheat Seeds.
Summer 5 is a Friday, so make sure to visit the Traveling Merchant, if you have any money. Otherwise there's not much to say about it.
Summer 6 will be your first harvest of Radishes (if you used Speed-Gro) and Hot Peppers. I recommend saving a few gold quality ones, and you'll also need to give the Junimos a Hot Pepper. There is a quest later in the season that you'll get from George, asking for a Hot Pepper, so you definitely need to save one for him. Also, both Shane and Lewis love Hot Peppers, so you can quickly gain friendship with both of them if you give them some of your harvest (sadly they were both born in Spring, so you'd have to wait a year to give them to them as birthday presents).
Summer 7 is a Sunday which means gifts reset and the Traveling Merchant is back. If you've been hitting the beach you've also likely gotten a Rainbow Shell by now. They are excellent to sell, but make sure you keep at least one (any quality) for a quest.
Summer 8 is Gus' birthday. You can give him a Daffodil or Sweet Pea. This is also a good time to get some tool upgrades going if you haven't already.
Summer 9 is the second harvest of Hot Peppers. Otherwise it's just another busy Summer day.
Summer 10 is Maru's birthday. Maru loves quite a few things, but probably the best thing you could give her is a gold quality Strawberry, if you have any that you saved from Spring. If not, you can just give her Quartz, and she'll be happy. Summer 10 should also be your first harvest of Hops. I would ship 15 for the achievement, but otherwise hold on to them, because they are more valuable when turned into Pale Ale, which requires a Keg (Kegs are made from 30 Wood, 1 Copper Bar, 1 Iron Bar, & 1 Oak Resin), the blueprint for which is learned at Level 8 Farming.
Summer 11 (The Luau) through Summer 16
Summer 11 is the Luau, which is held at the beach. You won't be able to enter the beach until it starts at 10AM. And you need to enter before 2PM or you will miss it. If you have a gold quality Cauliflower saved from Spring, be sure to bring it with you. You'll gain a huge boost to your friendship level with everyone in town. If you don't have a gold quality Cauliflower, you can use a regular or silver quality one, but it won't give the best result. The only other thing that you'd be able to obtain by the Luau that would work is a gold quality Sturgeon – but again, it has to be gold quality. And make sure to talk to everyone to get credit for daily conversations.
Summer 12 is a big day. You should get your first harvests of Tomatoes and any Speed-Gro boosted Blueberries. That means a huge influx of gold. I recommend you ship 15 Blueberries for the achievement, then take the rest to Pierre. After that, head up to Robin's with at least 4000g, 300 wood, and 100 stone and get your Coop finally built – but you'll need to make sure you have some space cleared on your farm to place it first, though. Also, Summer 12 is the start of the extra forageables at the beach event, so try to work out stopping by the beach into your schedule over the next 3 days. Also don't forget that it's Friday, so you should also stop at the Traveling Trader in the Forest, too!
Summer 13 is Alex's birthday; give him a Sweet Pea or a Daffodil. It's also another forageables at the beach day, so again make a point to stop at the beach. And it's also the day your first batch of Melons will be harvestable, so you'll need to visit Pierre to buy more seeds, if you haven't picked some up already. Again, remember that you want 5 gold quality ones to give to the Junimos, so if you didn't get 5, save whatever you did get, and wait for the final harvest. You'll also get a quest later from Demetrius asking for a Melon, so save an extra regular quality one for him.
By this time you should have also made it to floor 40 of the mine and picked up some Iron Ore, and smelted them to Iron Bars. You also might have come across some Refined Quartz. If not, you can make it with 1 coal and 1 quartz in the Furnace. You can also convert Broken CDs and Broken Glasses into Refined Quartz in the Recycle Machine, if you've gotten Fishing to Level 4.
You need to make sure you have a couple of Lightning Rods made for when any Summer Storms hit. They serve 2 purposes: they attract lightning preventing your plants from being stuck (which will kill them), and they produce Batteries the next day after being struck. You'll want to take your first Battery into the tunnel that's West of the Bus Stop, and place it in the darkened wall panel. That will begin your quest to meet Qi. You'll need the Desert open to finish that quest chain, so you'll be a little ways away from getting to see him, but there's no reason not to drop off the battery now. The second part of that quest requires you to take a Rainbow Shell to the bin at the Train Station (near the Spa), and with the extra forageables on the beach, you're very likely to get a Rainbow Shell around this time.
One more thing about Iron: in addition to making Lightning Rods with them, you'll also want to make a couple of Bee Houses. You'll need 40 Wood, 8 Coal, 1 Iron Bar, and 1 Maple Syrup to make each one. I would make at least 2, if you have the materials to spare.
Summer 14 is the last extra forageables at the beach day, so make sure you hit the beach, or you'll lose those extra forageables. The 14th is also a Sunday, so visit the Traveling Merchant. It should also be the first harvest for your non-Speed-Gro boosted Blueberries. You'll also get the quest to give Pam a Pale Ale in the mail. Again, you'll need a Keg and Hops to make her one.
Summer 15 is just another Manic Monday. Assuming you started your Coop on Summer 12, it should be ready today. Unfortunately, unless it's raining, Marnie won't be working, so you'll have to wait until Summer 17 to get your chickens… Marnie goes to Pierre's for her weekly aerobics session with the other ladies of the town on Summer 16, which is a Tuesday… unless it's raining. So pray for rain! Summer 15 is also the last day you should plant Starfruit without Speed-Gro. While you can only buy Starfruit Seeds in the Desert, you will get 1 Starfruit Seed from Gunther when you've donated 15 items, so try to make sure you do that by Summer 15.
Summer 16 is mostly notable as the last day you can plant Melons without Speed-Gro. You should have planted your second batch on Summer 13, but if you're worried about getting enough gold quality ones, and you have the space for them, today would be your last chance to plant any (without using Speed-Gro).
Summer 17 through Summer 21
Summer 17 is Sam's birthday. If you managed to get a Tigerseye from one of your geodes, and you didn't donate it, you can give it to Sam because he loves them. Or if you managed to snag a Pizza (or feel like buying one from the Stardrop Saloon for 300g), he loves them, too. Otherwise, just give him your highest quality Sweet Pea. Assuming you didn't get lucky with rain, today is also the day to buy your chickens. You'll want 4, and be sure to get at least 1 each of white and brown. The reason is that white chickens lay white eggs, and brown chickens lay brown eggs, and you'll need both types, for the shipping achievement and for the Junimos! And check out the special section on Raising Animals!
Summer 18 is nothing special. Just keep watering crops, fishing, gathering and mining. And don't forget your chickens!
Summer 19 is Demetrius' birthday. If you have any Strawberries left over from Spring, he loves them. He also loves Ice Cream which you can get from the Ice Cream Stand that Alex runs near the Museum. Or you can also give him your highest quality Sweet Pea. It's also a Friday, so be sure to visit the Traveling Merchant!
Summer 20 should be your second harvest of any Speed-Gro boosted blueberries, so it should be a big income day. If you have enough money, you should definitely get yourself an Apple Sapling and a Pomegranate Sapling. Planting them now will ensure you get a least a couple of each, and you will need them for the Junimos (3 apples and 1 pomegranate at a minimum, although you'll likely want to donate an extra of each to the Artisan Bundle). Not to mention having a couple to ship, give as gifts (mainly giving Elliot pomegranates, since he loves them), and to use for cooking. You should also be upgrading your pickaxe and axe to iron level around this time, again, if you can afford it (and if you've got enough iron ore). You'll want both upgraded before fall so you can finally clear out you farm. Summer 20 is also when you'll get Demetrius' quest in the mail asking for a Melon. Lastly, Summer 20 is the last day you can plant Summer Spangles. You'll want to ship one, and save one as a gift for Caroline (she loves them), preferably a gold quality one.
If you've been following my advise, you should have grown chickens by this time. Ship at least one egg of each color. The spares should be turned into Mayonnaise, and that's what you should do with all the eggs from here on out (except for any you keep for cooking). You should have the Mayonnaise Machine blueprint from Farming Level 2 so you just need an Earth Crystal, a Copper Bar, 15 Stone, and 15 Wood. And I would make at least 2. And if you have the mats, I recommend
you make 4!
Summer 21 is a Sunday, so gifts reset, and the Traveling Merchant will be in the Forest. It is also the last day to plant Poppies, so if you haven't planted any, be sure to plant a few, as you will need one for the Junimos and one to ship. Also if you have bee hives by this point, you should plant one Sunflower near them today. The Sunflower will bloom on Fall 1, and boost your honey's value after any Poppies you had planted near the bee hives have died.
Raising Animals and Upgrades
So by Summer 22 you should have a full Coop and a Barn on the way (if not already built). As such, I thought this would be a good place to give some tips and pointers regarding caring for animals. Your Barn and Coop both have 2 doors: one for you, and the other for the animals. The animals' door can be left open, or can be shut. If opened, the animals will leave the Coop or Barn (unless it's raining) and wander around outside. If you want to keep them contained, you should build fences, but I wouldn't keep them too tightly corralled. The reason is that they will eat grass, if they can get to it, and doing so will greatly increase their happiness.
Just like with the villagers, your animals have a happiness meter, and the happier they are, the higher the quality of the items you get from them will be. Happier chickens will lay large eggs, rather than regular ones, and also higher quality (all the way up to iridium quality, if they're happy enough). Cows will give Large Milk, instead of regular Milk. Goats will give Large Goat Milk instead of regular Goat Milk, and Sheep will give higher quality Wool. Pigs will find more Truffles, Ducks will give feathers more often (and both Duck Feathers and Duck Eggs will be higher quality), and Rabbits will give Rabbit Feet more often, and higher quality wool.
Also, when you buy your first Cows, be sure to buy a Milking Machine, too, so you can get Milk from them. You will also need Sheers to get Wool from Sheep (although you do not need the Sheers for Rabbits – Rabbits will just drop their Wool, like the other Coop animals do).
So, how do you make your animals happy? First, make sure to click on them every day to pet them. You can tell if they need to be pet because the cursor will change into a hand if you haven't pet them. You also need to make sure you feed them everyday. That means pulling Hay out of the chute and then carrying it and placing it in the feeding trough (the long brown thing at the top of the Coop/Barn that looks like a bench). Now, if you let your animals outside, and if you have enough grass growing, they can generally feed themselves. They also gain extra happiness from eating grass outside, so it's in your best interest to let them do so. As far as that goes, you can either keep the animal door open all the time, to let them freely enter and exit as they choose, or you can close the animal door at night before you go to bed. The one advantage of closing the door is that all the animals will be inside the next morning, and it makes it a lot easier to pet them all (and avoid missing any). The drawback is that they may not have enough time to find food, depending on where the Coop/Barn is, and how much grass is growing nearby. Also, you won't get quite as many Truffles from the Pigs if they're held up in the Barn most of the morning – so you should also make a habit of checking the animals first thing in the morning, before you do anything else (watering or harvesting).
The next important thing to know about animals is that you shouldn't be selling the items you get from them (except for the Rabbit's Foot and Duck Feather) – you should be turning milks into cheese, eggs into mayonnaise, and wool into cloth. In all cases the finished goods are worth considerably more than the starting item, and this is further increased if you take the Artisan Profession (part of the Tiller Profession chain) when you reach Level 10 Farming.
The next thing I should probably mention at this point is upgrades. For your tools you should be looking at having your axe and pickaxe upgraded to Iron before the end of Summer. If you have the money to spare, you can also upgrade you pack to the 36 slot maximum. Once you've got the iron axe, you should head to the North-Western corner of the Forest, just above the Wizard's Tower, and chop up the log there. That will give you access to the Secret Forest, which is where you can find 6 renewable giant stumps, as well as some unique forageables; it's also the only place to catch the Woodskip, unless you have the Forest Farm. You can break up the giant stumps every day to earn Hardwood, which you should start gathering now. You will need 100 Hardwood to be able to build the Stable, which will give you access to the Horse. The Horse is one of the best Quality of Life improvements available in the game. It will significantly reduce your travel time around the valley, thus giving you more time to do pretty much everything.
The other consideration is upgrading your fishing rod. The Fiberglass Rod doesn't improve your ability to fish, but it does allow the use of bait, which will increase the bite rate of fish. It's available at Fishing Level 2 from WIlly's shop for 1,800g. The last upgrade is the Iridium Rod, which costs 7,500g, and is available the day after you reach Level 6 in Fishing. (At Level 5 I recommend taking the Fisher Profession. Not only is the 25% fish value increase fairly significant, it also allows you to unlock the Angler Profession at Level 10 which further increases the value of fish by a massive 50%!) Your main interest in developing Fishing is to try and catch the rare fish of Summer. This includes the Pufferfish (catchable only at the beach on sunny Summer days, from 12pm – 4pm), Rainbow Trout (catchable from rivers and the mountain lake, only on sunny Summer days, from 6am – 7pm), Octopus (catchable only at the beach in Summer, from 6am – 1pm), Dorado (catchable only in the Forest River in Summer, from 6am – 7pm). There are several other fish available in Summer that were not available in Spring, like the Tuna, Pike, Red Mullet, Sturgeon, Super Cucumber, Tilapia, and Red Snapper (only catchable on rainy days), but most of them are also available in either Winter or Fall (or in the case of the Red Snapper, all three).
Pufferfish are needed as a Junimo turn in, although it is possible to buy them from the Traveling Merchant, if you're willing to spend the gold. To catch it before Summer is out you'll definitely want an Iridium Rod and a Trap Bobber. And if you can get a fishing boost food, that will help as well. If don't manage to catch one, just keep an eye out for them from the merchant – although she's charges an exorbitant mark up for them (anywhere from 600-1,000g)! One other thing to keep an eye out for from her is Red Cabbage (or Red Cabbage Seeds). Since Pierre doesn't sell the Red Cabbage Seeds until Summer of Year 2, the only way to complete the Junimos quests before the end of Year 1 is to either buy one directly from the Traveling Merchant, or buy the seeds before or on Summer 19, as that's the last day to plant the seeds and harvest before Fall.
All of that being said, you definitely don't want to spend everything you have by the end of Summer. You will want at least 15,000g to buy crops for Fall, and 20,000g would be better.
Summer 22-28 (Last Week)
Summer 22 is the start of the final week of Summer. It's technically the Dwarf's birthday, but you won't be able to give him a gift until you've learned to speak Dwarfish. Accessing the Dwarf requires using an Iron pickaxe, or a regular bomb to blow up the rock blocking the path on the far right side of the mine entrance. To learn to speak to him, you will need to collect 4 different scrolls from the enemies in the mines. Turn them all in to Gunther, and he will reward you with a Dwarven Translation Guide that will allow you to speak to the Dwarf. You can then buy from him, and also give him gifts.
Summer 22 is also another non-boosted Blueberry harvest day, so you should be getting another income boost. Also, if you're friends with Caroline, don't forget to visit her sun room for your free Tea Leaves! Summer 22 is also the last day to plant Radishes without Speed-Gro, although if you followed my earlier advise, you probably planted some on Summer 21. Just know that those will be the last Radishes of the Summer.
Summer 23 is nothing special, although if you need a gift for Willy for Summer 24, and you have kegs and bee hives, be sure to put a honey in a keg to get Mead, which Willy loves. If you place it in the morning, it should be ready the next day.
Summer 24 is Willy's birthday. If you managed to catch an extra Catfish or a Sturgeon, he loves them. If you brewed up some Mead, he also loves that. Otherwise you can give him a high quality Sweet Pea. Summer 24 is also another Speed-Gro boosted Blueberry harvest day, but since it's Wednesday, you'll have to ship them this time, and wait for the money.
Summer 25 is the day you should be planting your last batch of Speed-Gro boosted Wheat, although if you missed a day, it's not a big deal. Speed-Gro boosted Wheat planted on Summer 26 won't be harvestable on Summer 28; but it won't die on Fall 1, so you can just harvest it then, which is when you would want to plant your first crop of Fall Wheat anyway. Summer 25 is also the day any non-Speed-Gro boosted Melons should be ready to harvest.
Summer 26 is the last day to harvest any non-Speed-Gro boosted Blueberries. You can stop watering them too, since they won't be producing any more fruit before they die. (Just don't confuse the Speed-Gro boosted ones and miss watering any of them!) This should also be the last harvest of Radishes, if you were using Speed-Gro on them as I advised. You should then plant 6 Wheat in the Radish spots, so you can keep the Speed-Gro safe through the season change. It's also a Friday, so be sure to go see the Traveling Merchant.
Summer 27 is another normal Summer day. If you haven't been doing too much fishing, today would be a good day to do it! Especially since the beach will be closed tomorrow!
Summer 28 is the final day of Summer. It should be the last harvest of your Speed-Gro boosted Blueberries. Wheat might also be harvestable – but you might want to leave it, as the fertilizer will not be lost if there's wheat already planted there on the morning of Fall 1. This is also true for Corn and Sunflowers. One big difference between the end of Summer and the end of other seasons is that since Wheat, Corn and Sunflowers will live on, you should make sure to water them (normally you don't have to water anything at the end of a season).
If you were planning to get any fishing in on this day, note that the beach will not be accessible due to the holiday (even though that doesn't happen until 10PM). Finally, since it's Sunday, the Traveling Merchant will be in the forest. This is your last chance to get a Rare Seed, so make sure you have 1,000g to buy one, if you haven't gotten one already! Or even if you have!
Part Three will be coming soon with details of the Season of Change: Fall. You'll be busier than ever in Fall, but you'll start making mad money too, which will let you get even more upgrades!
And again, if you have any suggestions or comments, good or bad, please let me know!
And that concludes this Stardew Valley guide. Help us improve this guide by leaving your suggestions in the comment section below.
If you believe that any of the content on this site violates your rights, including your intellectual property rights, please contact us immediately using our contact form.