Title: STALCRAFT
Release Date:
Developer:
Publisher:
Here we will go directly into the gameplay, talk about effective farming methods and much more.
Leaving the landfill
Junkyard barter is the foundation of what you will be doing in the future. It is from here that many lines of costumes and weapons begin, as well as a truly complex barter, which will require much more time and effort. I advise you to prepare thoroughly at this stage. I will talk about armor later, but things are different with weapons.
You need to choose a good, playable weapon, as it is simply unrealistic and not advisable to make or buy everything. When choosing, you need to take into account: Price, DPS, Effective distance, Caliber and the period of time in which this weapon is "strong", but, unlike suits, the characteristics of weapons often change, from which it is impossible to make one big top of guns.
There will be no further locations, in the article we will talk about the rest of the map, its features, gameplay and much more.
Gameplay features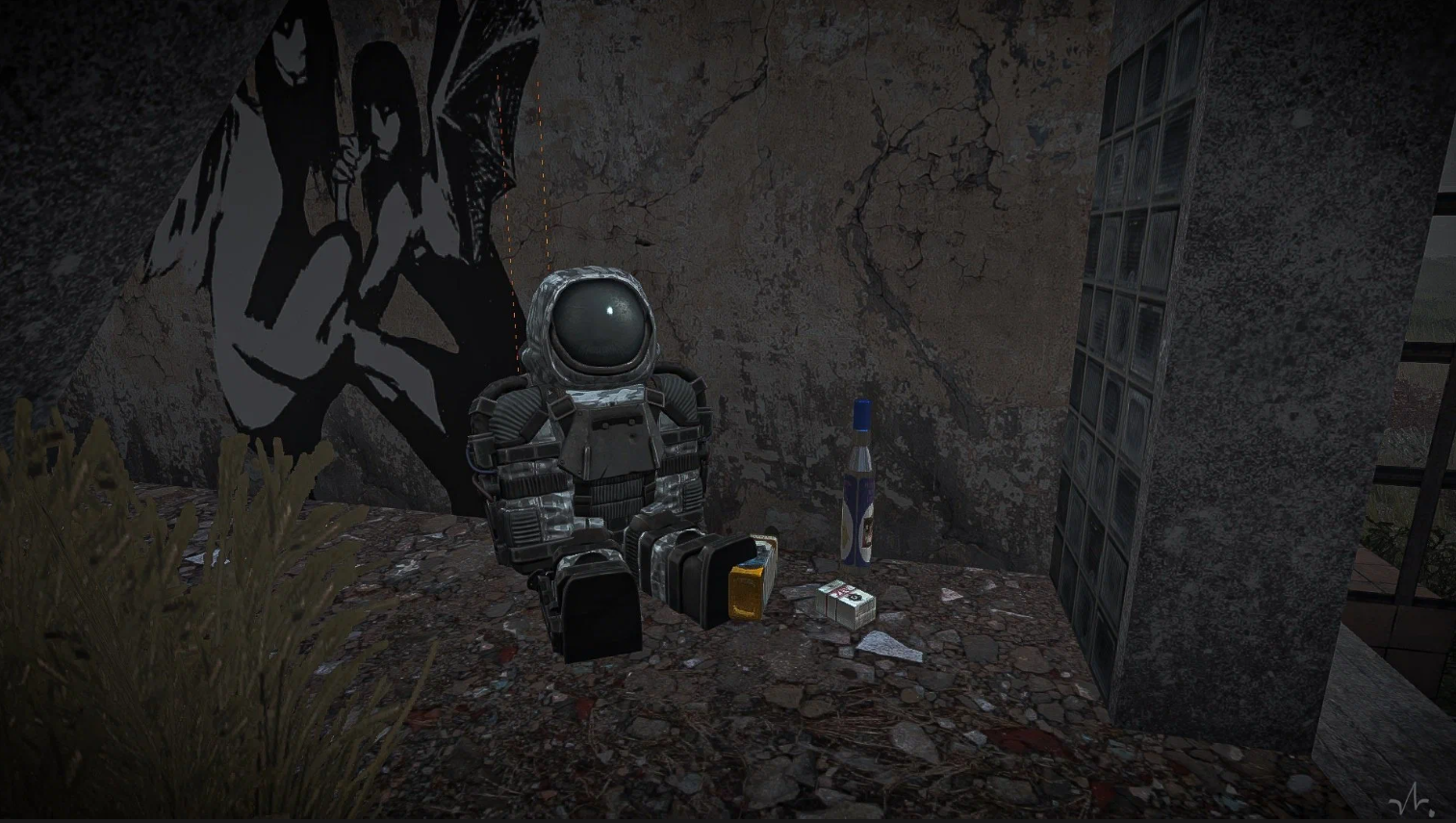 Distribution mechanics
What is known so far:
The distribution is mainly affected by your equipment, deaths and kills in the world. With equipment, everything seems to be clear, having, for example, equipment of a veteran – you can get to the server stalker-veteran or veteran-master.
List of servers from the author's personal experience:
(Lockkey – Beginner);
(Newbie – Stalker);
(Stalker – Veteran);
(Veteran – Half-Master);
(Half-master – Master);
(Master – Legend).
With murders and deaths it is already more difficult. It is not clear how many times you need to kill to be thrown to the servers above and similarly with deaths, how many times you need to die to be thrown to the servers below. But it's a fact, your cd in the open world affects distribution.
Infections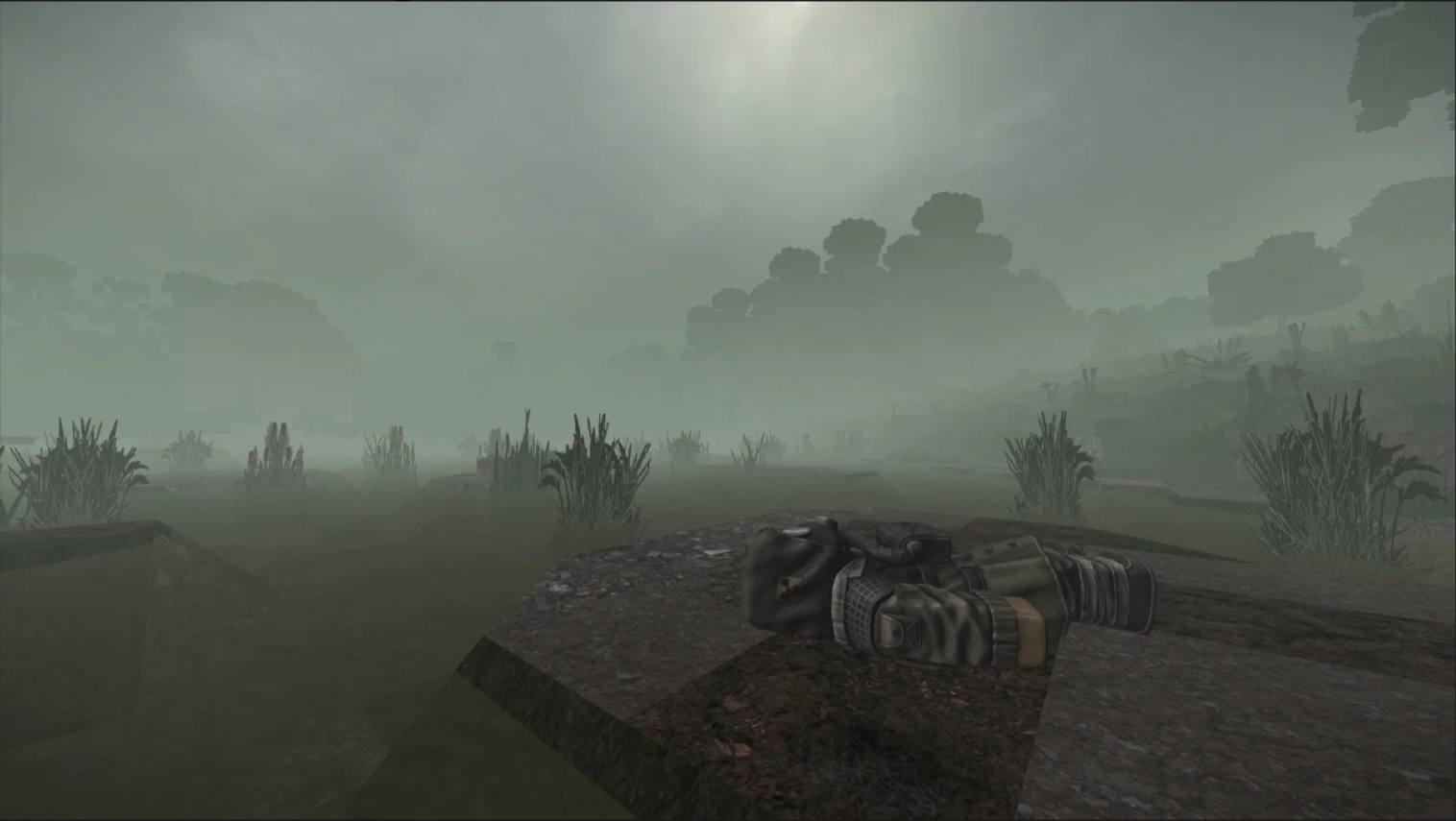 Each of you, running in the swamps, met radiation. This is the so-called infection (the area in which the character is affected by various negative effects). There are only 4 types of infection in the game:
biological;
radiation;
Psi-impact;
Thermal.
Also, each of them is divided into 3 levels (1, 2, 3).
Your armor has protection from these influences, pay attention to these points: radio protection, bioprotection. thermal protection, PSI protection.
It's not hard to figure it out:
100 – protection from 1 infection;
200 – protection against 2 infections;
300 – protection from 3 infections.
Remember, the farther north, the stronger the infection. Getting to the red forest without 100 radiation protection will be possible, but terribly inconvenient.
Barter
Here I will tell you briefly about specific industries – Weapons and Costumes, their advantages and disadvantages over each other.
Choosing a suit
Drop in the game is divided into 4 classes. Let's go in order
(The description of armor and weapons is current at the time of writing. Below is the armor and containers of the Veteran class).
combat armor
Centurion: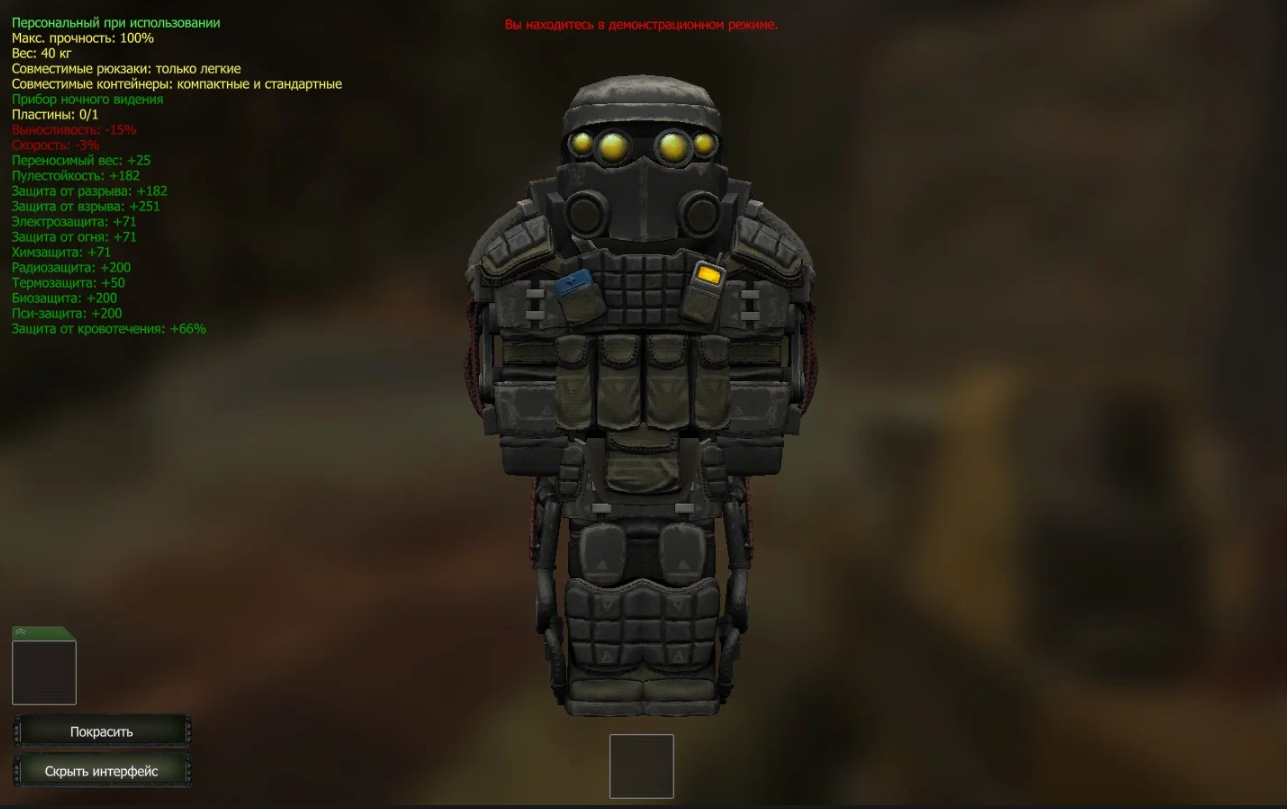 The Centurion is a very powerful suit. The best value for money. There is a very good development prospect. Its problem is that the damaged version does not have 2 bio-infection and 2 psi-protection, from which you will have to occupy container slots with special artifacts.
Can equip standard and compact containers (forager is the best choice among veteran containers).
I highly recommend if your gameplay involves frequent PVP and you are ready at first to put up with the lack of patency in the northern locations
The Huntsman: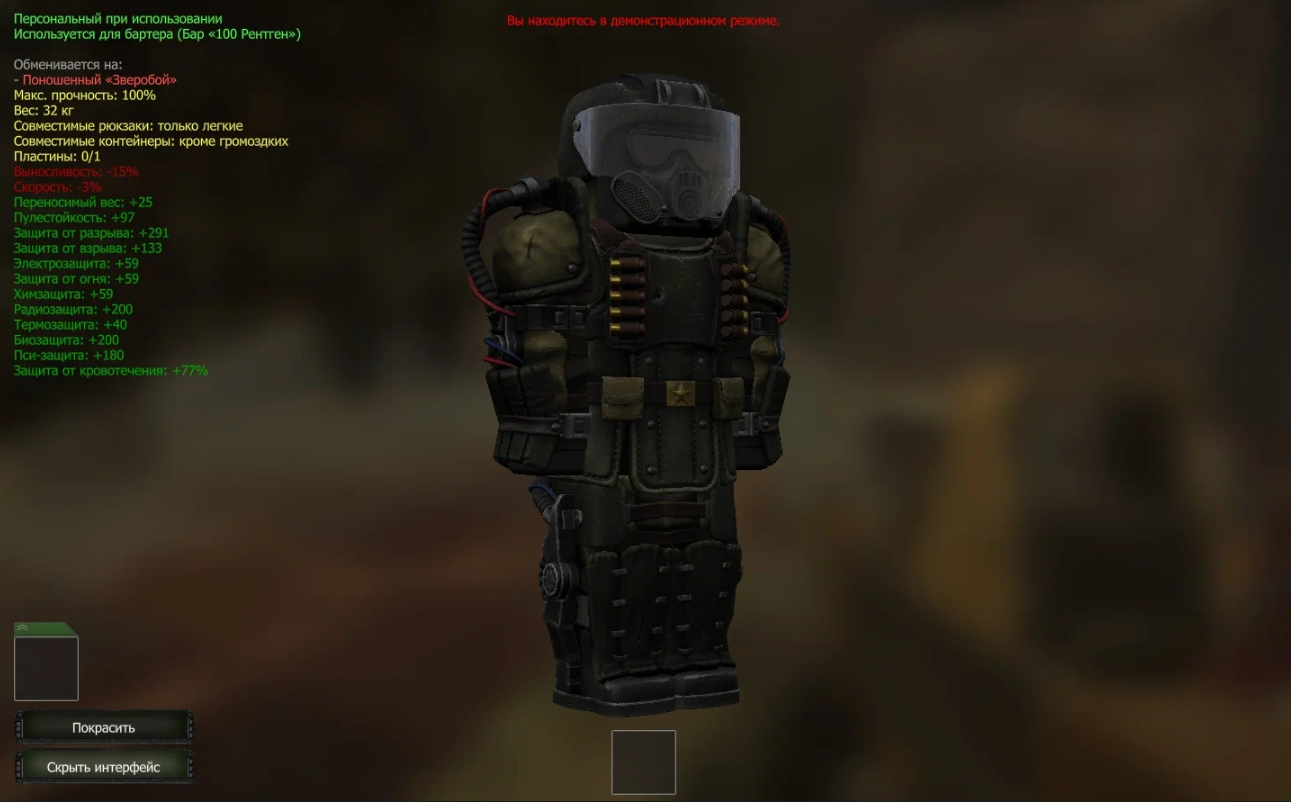 The Huntsman is considered a PVE suit in the game, as it has a very high resistance to bursting, and also has the ability to carry any containers, except for bulky ones. This is where his merits end. The prospect of development is so-so, the price / quality ratio is terrible.
I highly do not advise, too situational costume, in modern realities it is very weak.
Research Armor
Exoskeleton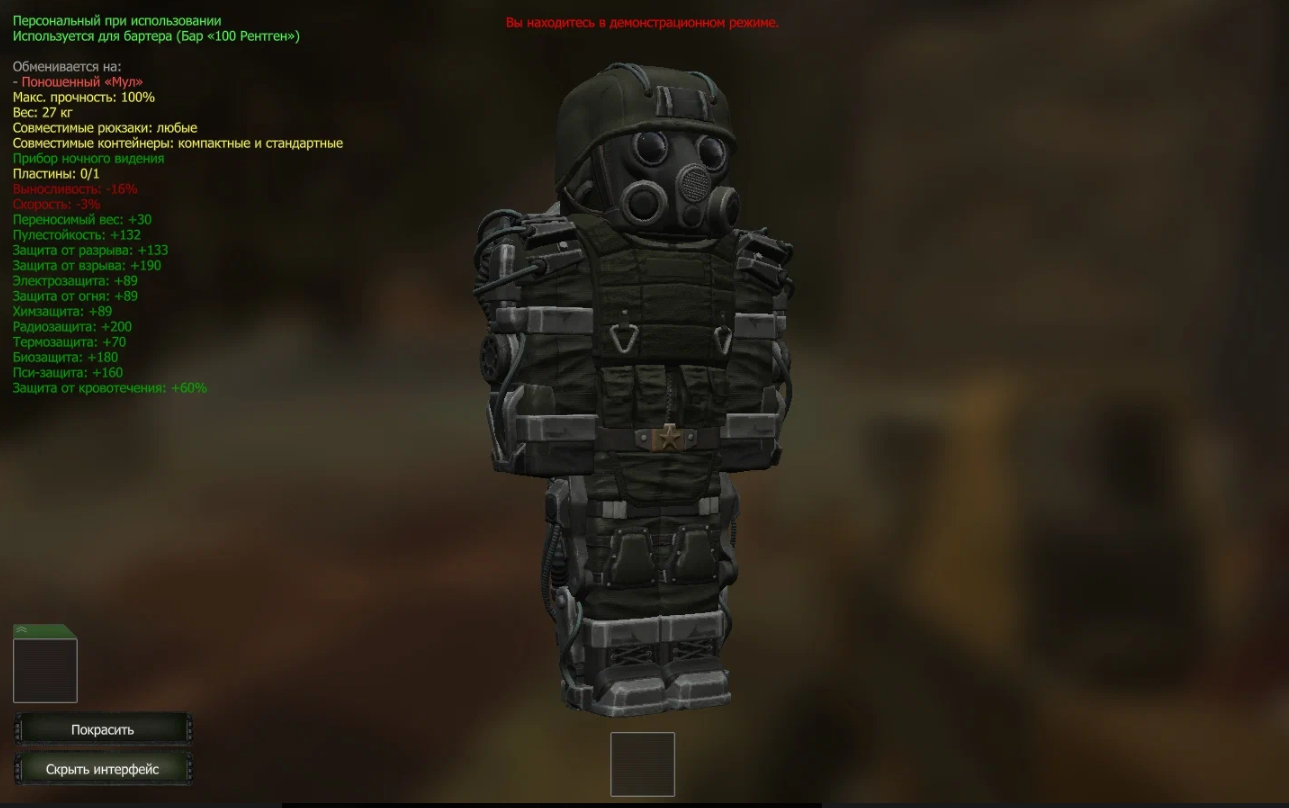 There are 2 variations of the costume, stalker and bandit (suit). The differences are minimal, so we will consider the stalker version. The suit is not bad, it carries any backpacks and compact / standard containers. Very good in terms of price / quality ratio, but has a weak development prospect. It does not have 2 bio-infection and 2 psi-protection.
For maximum expansion, the Jagdash container is required, which drops from the Cursed Fire box (event case).
Here you need to decide for yourself, an expensive, but promising Centurion, or a cheaper, but weak in the future Exoskeleton (hereinafter referred to as Ace / Mule).
Skat-9m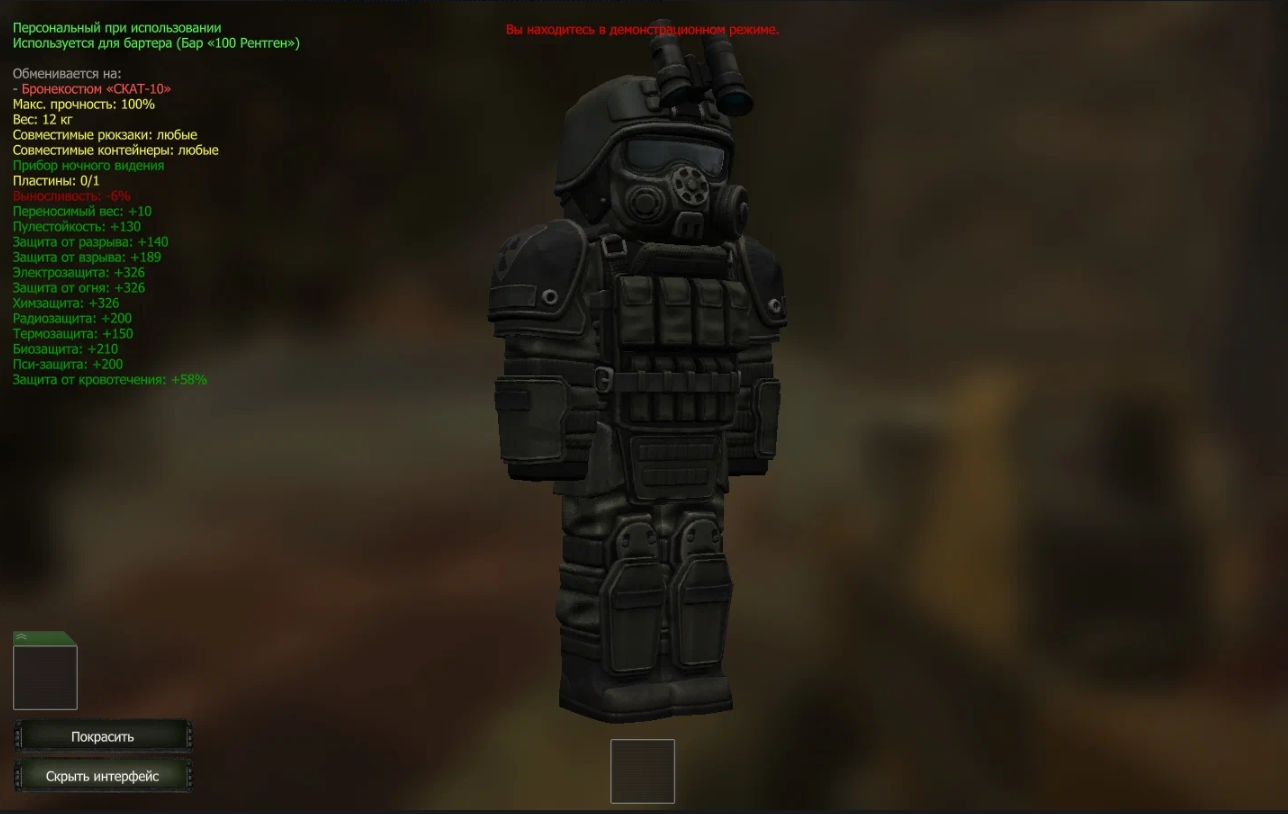 The best suit that combines bullet resistance, infection protection and all kinds of containers. The best development prospect among all barter suits. Slightly worse than the Centurion in PVP, but it has 3 bioinfection (Scat 9b), with the full version, which gives excellent passability in the zone, and also has a better container (lair 6u).
As they say in the community: "If you can master barter, definitely do it!".
He has only one problem – Anomalous Serum, the most difficult element of barter to get. For the next stage of leveling, you will need as many as 45 of them, but this is already end-game material.
Combined armor
Decree AO-5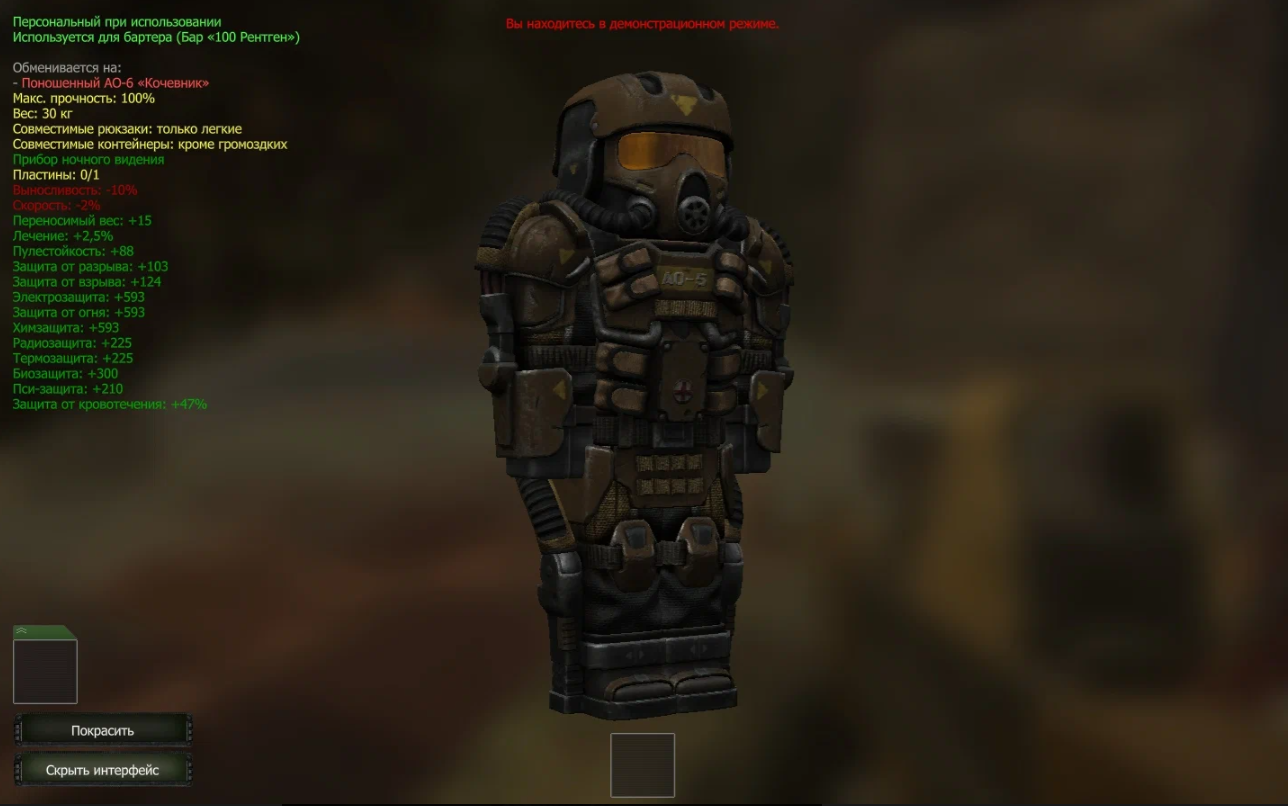 You can scroll further, the armor is not even worth your attention. Terrible price / quality ratio, disgusting prospect for the development of the line.
scientific armor
Saturn and his predecessor Seva (or Reaper)
Saturn is a suit in which you can survive any level 3 infection, but with the full version, the damaged version cannot boast of the same. The costume is not relevant now and has an analogue in the person of Kim "Atlas", which can be obtained for the quest (it has its own nuances) or Kim "Amethyst" (predecessor by barter).
Choosing a weapon
With what to scare the boys in the zone – everyone decides for himself. In modern realities, good weapons can be both made and bought at auction. But how to define a "good" weapon is always an open question. There are a lot of discussions on the forum, a lot of guides and reviews on YouTube, and a lot of experts in chat rooms. Due to the frequent changes in characteristics and because of the situational nature of each gun, I advise you to familiarize yourself with the current information.
At the moment, I can advise you to make these weapons:
FN F2000 – A good medium-range assault rifle, easily done through the limansk.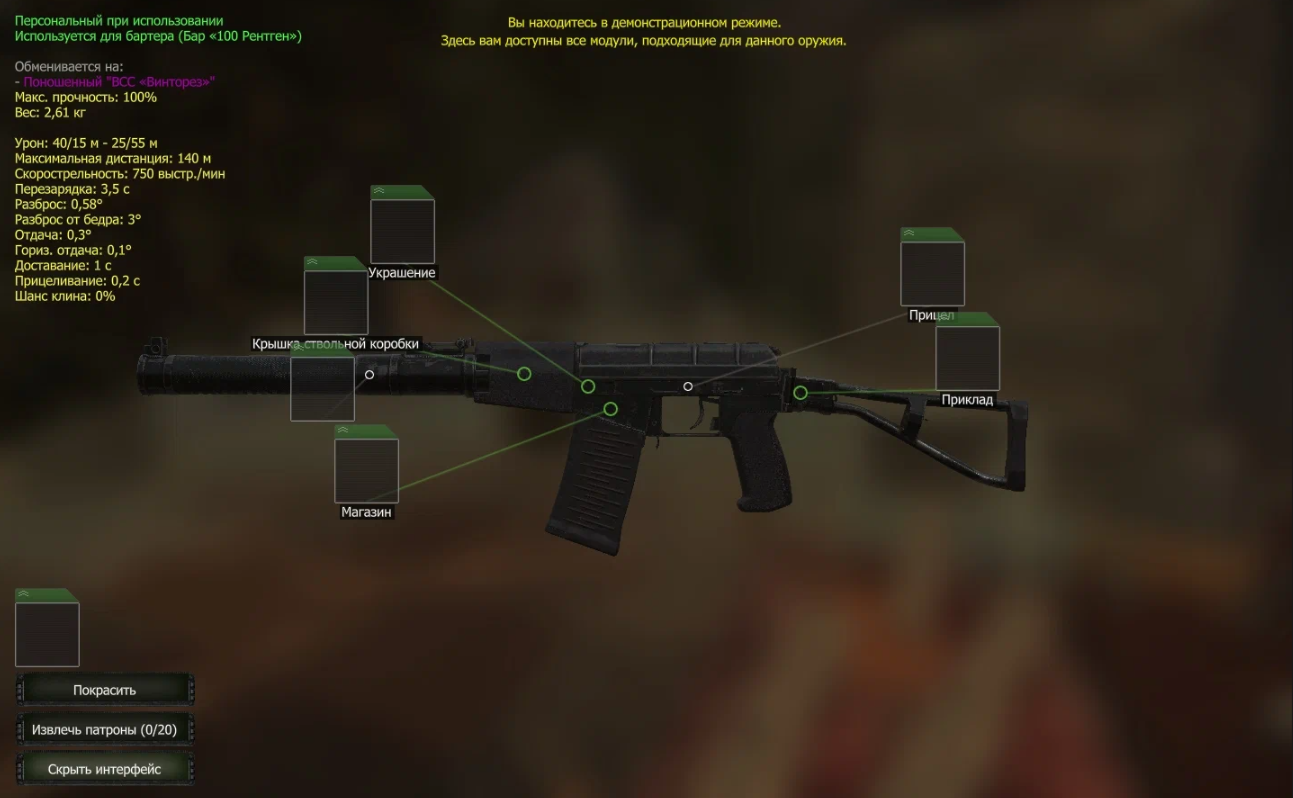 AS "Val" – A good close-range assault rifle, cheap craft, good caliber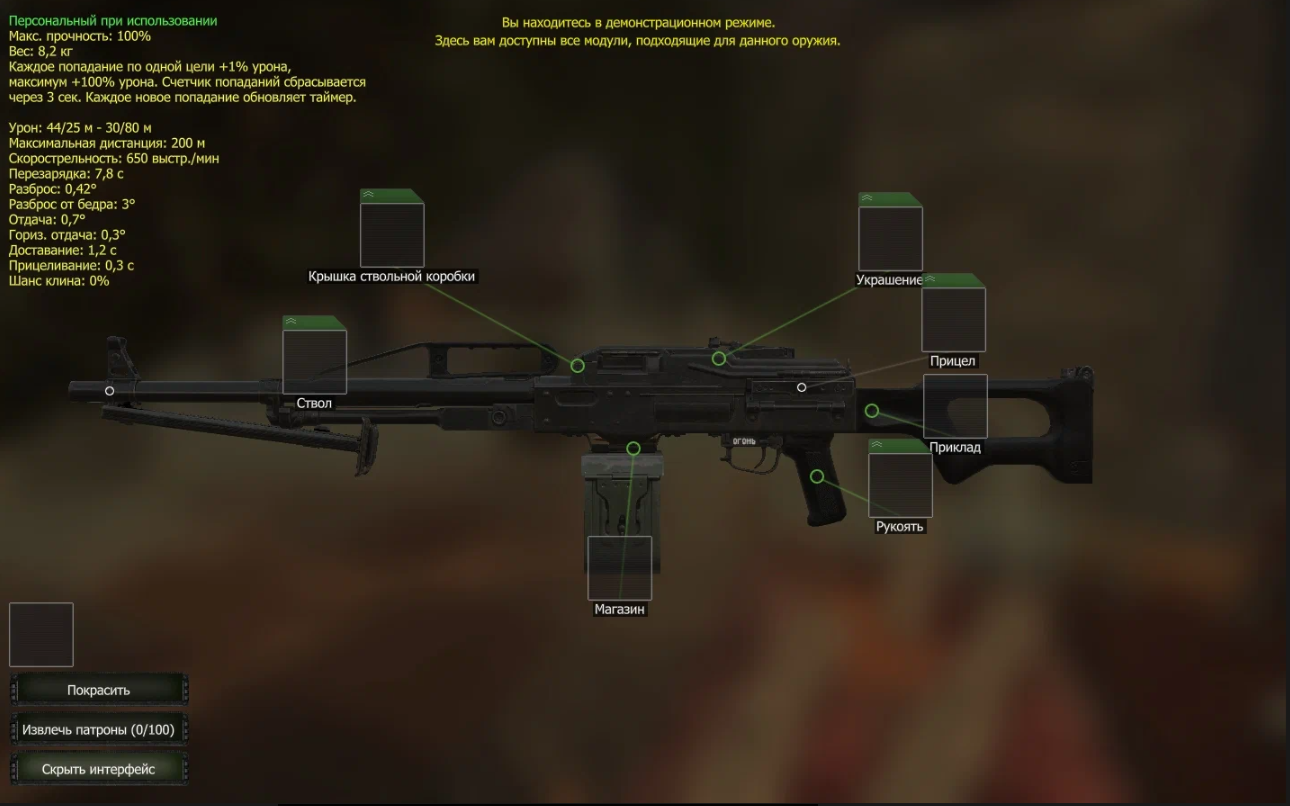 PKP – A powerful machine gun with a good caliber.
Containers
In addition to weapons and costumes, everyone should have a container, because thanks to it you can make your life very much easier.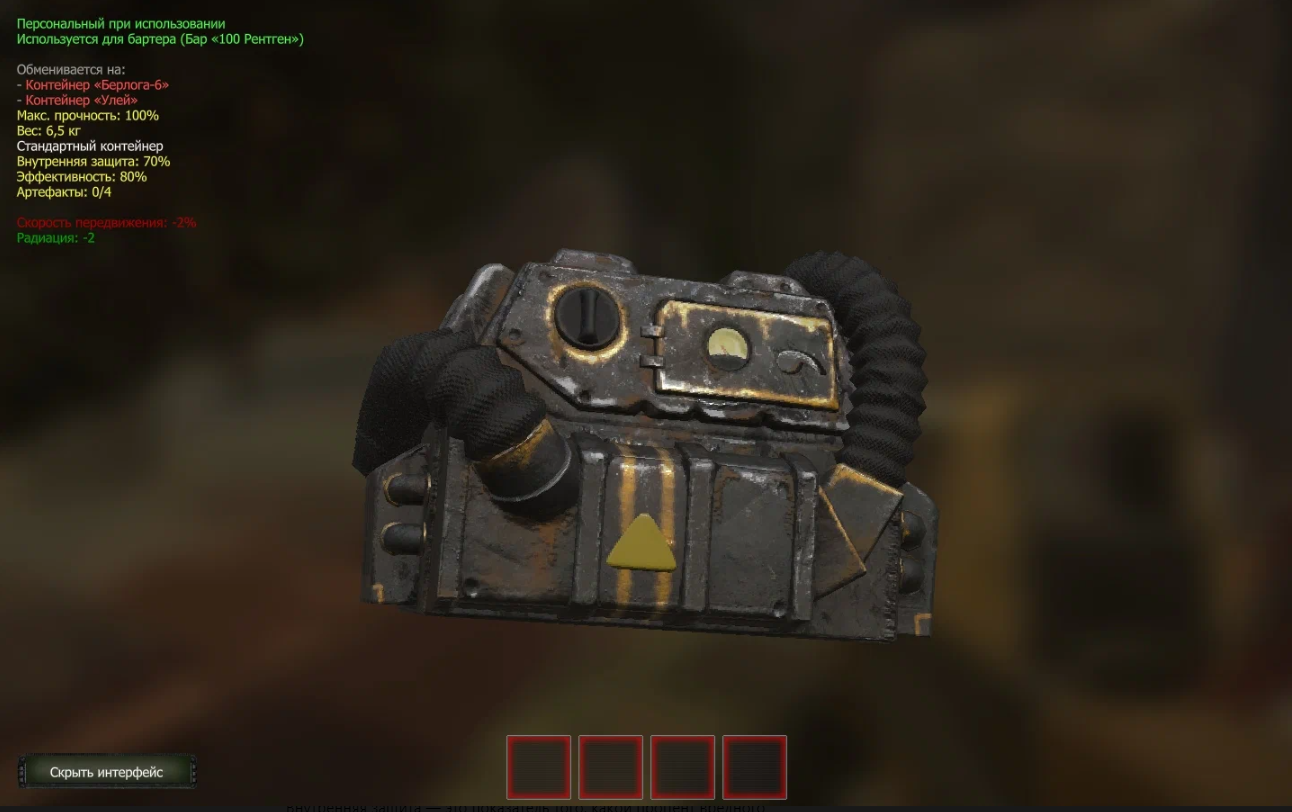 Containers are an obligatory element of every self-respecting inhabitant of the zone. They allow you to use artifact properties.
The mechanics is simple, we put artifacts into them and get the so-called "assembly". Each container has 3 parameters:
Size / Number of slots / Internal protection
The size is responsible for whether you can wear a container with a particular costume.
Number of slots – as the name implies, this is the number of artifacts to hold
Internal protection is an indicator of what percentage of the harmful effects of an artifact it can absorb.
Once you've chosen your main suit's line, BE SURE to look at what kind of containers it can carry.
Farm
The armor was picked up, the cannon was looked after, the container was chosen, now the most exciting thing is to do it all!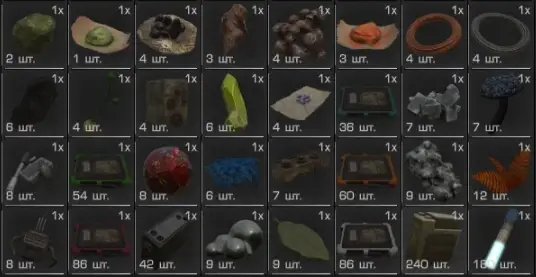 Barter Components
Farm, farm and farm again! We counted the amount of necessary resources, prepared for the sortie and forward to the open world. Carrying resources bit by bit, we gradually accumulate them. There are no instructions here, everything comes with experience. Everyone builds strategies for himself.
I can only mark settings
An Anomalous Rift is a type of tower defense activity. To get 100% of resources, you need to "defat" the installation for 5 minutes.
Farm currency
PvE farm:
It is not difficult to get currency at the moment. By clearing spots, in addition to barter resources, you get all sorts of trash that needs to be taken to the fence. This money should be enough for the same barter, but for the assembly or for the valyn from the auction …
PvP farm:
It takes a long time to farm the currency on your own, but what if you literally take it away from your enemies. Everything is simple and complicated at the same time. Your task is to kill the "carrying out" (the person who takes out the swag to the base), but how you will do this is up to you to decide. Take an accomplice with you (maybe even from another faction), shoot the rascal and hope that you are lucky
Arthunter farm:
Don't like killing and cleaning spots? Then you are here. learn the art of arthunting, and then a wonderful world of expensive artifacts will open before you. There is really one thing here, but if the previous two methods are somehow stable, then arthunting is a real casino. You can find both a couple of flashes and a solid artifact, the price of which can go well over a million. Good luck is your main assistant
Additional pumping options
'Good armor is good, but good armor enchanted by +15 is even better!"
The mechanics here are as follows: you put the tool and the item, if you are unlucky, then the tools and the maximum durability of the item are spent. Don't worry, it's easy to recover. After level 5, you will need to add spare parts, otherwise, in case of defeat, you will lose LEVEL.
Outcome
At this stage, you will linger for a long time. Here you will find an exciting development path that will not seem boring if you have friends or playmates. Each takeaway will be accompanied by a storm of emotions, each purchase will delight you more and more, you will immerse yourself in the process of creating assemblies, bidding and more. Do not take this game as a challenge, you do not have to go through it completely, linger at this stage. Enjoy her.
That's everything we are sharing today for this STALCRAFT guide. This guide was originally created and written by Betelgeuse. In case we fail to update this guide, you can find the latest update by following this link.
If you believe that any of the content on this site violates your rights, including your intellectual property rights, please contact us immediately using our contact form.