A guide to help you with the Special Stages and get all 7 Chaos Emeralds! I personally find the Special Stages are quite fun, but they do get somewhat frustrating in the fifth, sixth and seventh stages. I won't make a similar guide for Episode I, as those Special Stages are more self-explanatory. I also just found Episode I disappointing as a Sonic game and only mediocre for a platformer, not bad per se. But that's enough rambling, onto the guide!
Special Stages
Sonic 4: Episode II's Special Stages use the half-pipe formula in Sonic 2, Sonic Rush, etc. There are 7 Special Stages and 7 Chaos Emeralds like Sonic 2, but unlike Sonic 2 they are entered in a different way. Sonic and Tails can enter them by getting 50 rings then reaching the end of a stage, which will make a Giant Ring appear. Jump into it, then Sonic and Tails will enter the Special Stage.
At the beginning of each Special Stage, the game will show the number of rings the player needs to collect. Collect this number of rings or more, reach the checkpoint and the game will show another number. Collect at least this number of rings, reach another checkpoint and the game will show another number. Reach the goal with at least that amount to get a Chaos Emerald. If Sonic and Tails reach any checkpoint/goal without enough rings, they will be kicked out of the Special Stage. Sonic and Tails can jump with the jump buttons (although Tails' jump will be slightly delayed in singleplayer), and boost with the Super Sonic/Tag Action button.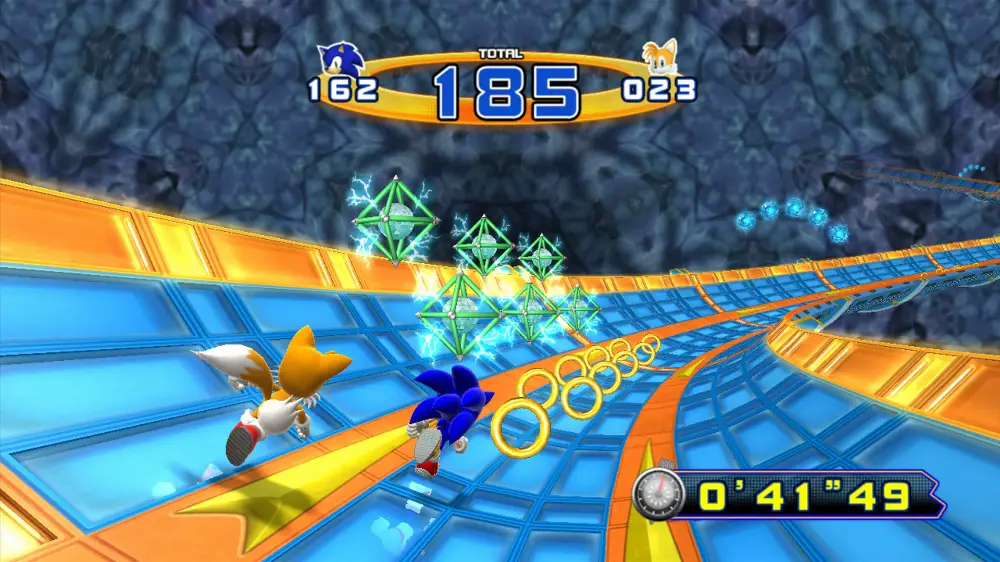 These Special Stages have several objects that affect Sonic and Tails in different ways:
Rings – Collect enough of these to advance in the stage. Each is worth 1 ring.
Super Rings – These rings look like rings with a 10, which are worth 10 rings.
Glowing Rings – These are worth 1 ring each, collect all in a sequence to gain 20 rings.
Combination Dash – They look like a medal with a handshake emblem, it'll make a temporary rope between Sonic and Tails that can collect rings, but will not be affected by hazards.
Dash Panels – They will send Sonic and Tails dashing. Usually into some rings.
Springs – Springs send Sonic and Tails flying onto another pipe.
Electric Mines – These electrocute Sonic and Tails upon contact, which will slow them down but they will lose no rings directly. The best way to avoid most of them is with a well-timed jump.
Bombs – Like the ones from Sonic 2, these will remove 10 rings from Sonic and Tails upon contact. If the character hit has no rings or is Tails in single-player mode, they will lose no rings.
Basic Tips and Tricks
When you're about to reach the goal/checkpoint and you don't have enough rings, just pause and retry. It won't even cost a life! I find this makes the later Special Stages actually bearable.
The bonus for glowing rings can really save you in a pinch. In fact, the seventh Special Stage might as well be impossible without them.
The boost takes a good second to charge up before Sonic and Tails blast at supersonic speed. It's best to memorize the stage layouts if you want to boost. You should also start holding down the button a good few seconds before the section you need to boost in.
In sections with the Combination Dash, move from left to right/right to left to widen the rope and get more rings. The rope will start to shrink when you stop moving and will disappear altogether after a while.
Bonus Not Very Helpful Tip: The stages are easier in multiplayer, but if you're lonely I suppose you could just play with one hand controlling each player. I don't recommend it, but it can work.
And that concludes this Sonic the Hedgehog 4: Episode II guide. Help us improve this guide by leaving your suggestions in the comment section below.
If you believe that any of the content on this site violates your rights, including your intellectual property rights, please contact us immediately using our contact form.