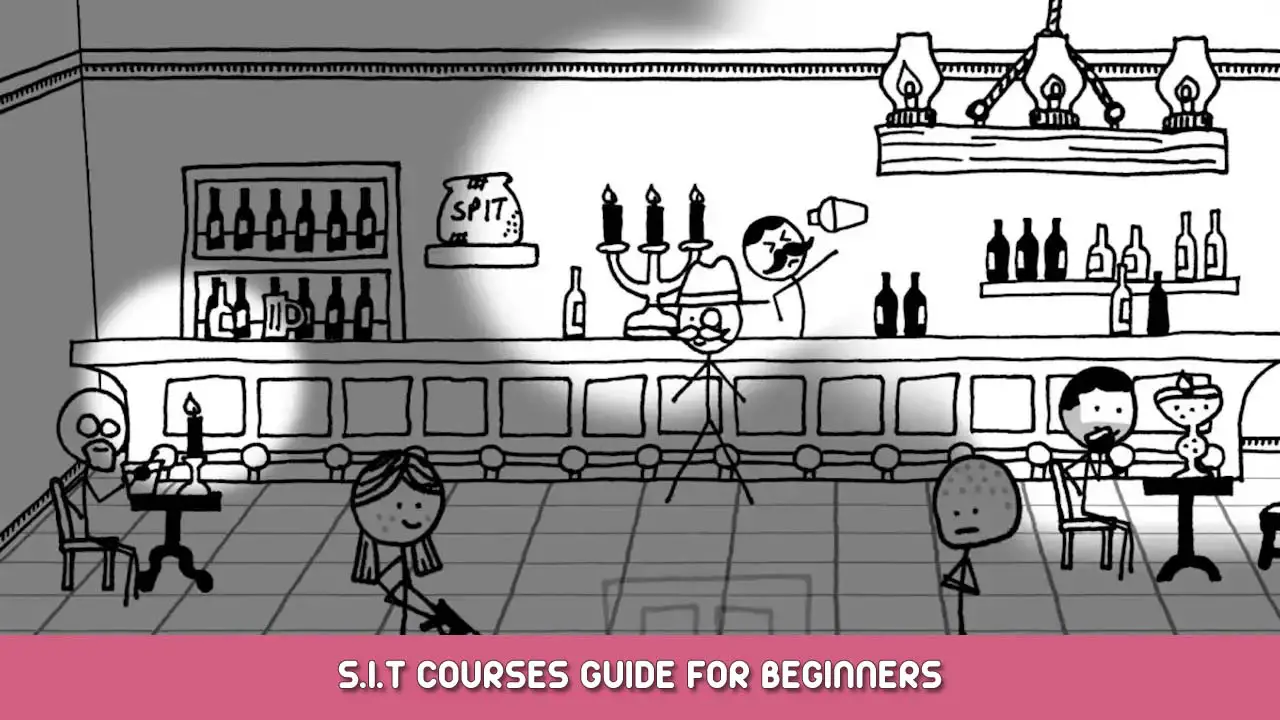 This guide may be outdated. Click here if you want to read the original and updated content about the Shadows Over Loathing S.I.T Courses Guide for Beginners.
This is a walkthrough on how to get through the S.I.T courses if you get stuck.
Before you read the guide
I wrote this guide with hints and answers, so if you wanted more hints to solve it on your own, or you just wanted the answers to the puzzles, hopefully this guide can satisfy your needs.
I am making this guide from my own experiences, and there are some thing I just haven't discovered. I also don't have quite as much free time as I would like to make this guide, so it will stay WIP for a bit while I go through the game and find what I think I should put in this guide. If anyone has extra info I don't have, please leave a comment.
I'm currently working on getting geo [combat], plants [combat], and culinary [a very irritating course] written out, but I have everything else written. Any additional info I can add to the other sections will be amazing, if you have some, please leave a comment.
Anyways, with the preface out of the way, I hope this guide helps you!
Chemicals
So you chose chemicals as your major. Great! The game gives you all the info you need to complete this series of puzzles, albeit in a sort of hidden way.
After you toss everything into the river, Prof Gilbert will tell you to make chrome polish. Easy peasy, just trial and error on the table, right? Well turns out only 2 of the 4 hoppers are full, so here's where the first puzzle comes in.
Experimenting will ask you which order you want to use the elements in, and this is actually important. After experimenting a while, you may notice that the first two numbers determine the material of the solution, and the last two numbers determine the effect of the solution. Ex. 1111 will give you bologna bleaching juice. 11_ _ = bologna _ _ 11 = bleaching
This is pretty nice to know, because now you don't have to go through every single 4 digit combination, but rather just the 2 digit combinations for the first and second half. If you've figured out 11 _ _ is bologna, you don't need to do 1112 or 1121 because results will be bologna something juice. Same for the back end, _ _ 11 is bleach, so you don't need to do 1211 or 2111 because it'll always be a bleaching juice.
So experiment with that, and write it down. (You only need to test 4 combinations minimum)
Here's all the combinations with the first 2 elements.

11 bologna/bleaching
12 umbraline/softening
21 vellum/straightening
22 asbestos/purifyingNow that you've gone through the combinations, you realise you can't make chrome or polishing juice. What now?
That book beside the station, "A Complete and Practical Guide to the Various Alchemical Subftances & Their Properties, for the Ufe of Students in a Clafsroom Setting" which if you got bored reading the title and stopped halfway through is supposed to help you solve the puzzle. Unfortunately the pages are too stiff to turn. Darn.
Hint 1
The book is made of vellum Hint 2
The game straight up tells you that you got the correct solution once you've mixed it Answer
You need vellum softener. 2112 Now that you can flip through the pages, you learn what needs to be in the third hopper, but not the fourth. Arsenic. Go ask Prof Gilbert where you can get arsenic. He'll give you the location to Hilbert House. Go explore hilbert house.
Tip 1
The only things in monster rooms are monsters.Tip 2
You don't need any resistances or MMM stat to get the arsenic Answer
It's in the drawer in room 3B Now that you have arsenic you can go experiment with the new element you have. Because you read the book, the first 2 hoppers are now named as mercury and lead. I'll keep using the numbers.
Here are the new combinations you can make.

13 chalk/deodorizing
31 bronze/strengthening
23 rubber/polishing
32 glass/revivifying
33 smoke/removingOk now that you've logged the new combinations, now what? Well at some point the game tells you if you're having trouble with the courses ask for help at the library. You might have already done this, seeing as you're looking at this guide, and gleamed nothing useful from their hints. That's fair. Janet's hint for chemistry means nothing until after you get arsenic. Go to the library and ask Janet about chemistry.
Hint 1
The statue at the chemicals department is bronze, life-sized, and even lifelike. Hint 2
You need to make something to pour on the statue. The game will tell you "It seems useful, but for what? Once you've made the right one. Answer
Make bronze revivifying juice. 3132 Pour the juice on the statue and hey what do you know it turns out Dr. Adams bronzed himself and wasn't unbronzed when he intended. If you go back to the alchemy station with Dr. Adams, he'll trigger dialogue about how the 4th hopper's element wasn't written down in the book, and fix that for you. Read the book again and you'll learn the fourth element is lithium. Go ask Prof Gilbert again where to get lithium, and he'll give you the location of a soda factory in Ocean City.
Now, I have absolutely no idea where to find the combination to this thing. I just used my MMM stat, which I could have sworn was muscle the first time I went through this, but it asked me for 6 moxie this run. If someone has the answer, do tell.
Anyways, put your newly acquired lithium into the alchemy stations, and figure out how to make chrome polisher.

14 barnacle/loosening
41 chrome/insulting
24 corduroy/bending
42 gold/doubling
34 sandwich/annihilating
43 leather/thickening
44 hair/dissolvingAnswer
4123 Give that to Prof Gilbert and congratulations on passing chemistry!
Robotechtronics
Alright! Robots! Unfortunately you aren't
makingthe robots but you are programming one to traverse 7 obstacle courses.
The game doesn't really tell you what all the different obstacles do or what to do with them, but it's pretty intuitive.
Your partner will tell you what the machines do. The wheel machine will change the legs attachment on your robot, the arms machine will change the arm attachments, the machine with a punchcard sticking out is where you program your bot, and the black screen machine is where you change the course and run the program.
You'll see that the right arm machine isn't working. Simone tells you to go grab a servo from the AC units on the roof which can be accessed through the spider wing. You'll need this, so make sure you go and grab it.
The leg attachments are servo legs, all-terrain tread system, and gyrothopter.
The arm attachments are air horn, circular saw, flamethrower, mop, and snowblower.
More on what these do after I talk about the obstacles.
Here is a list of obstacles (which i've tried to choose the best descriptive names I could think of) and the solution to it hidden behind the spoiler box.
Pitfall : roadblock
fly over with gyrothopter Metal box : roadblock (this one cannot be broken)
Stack of crates : roadblock
break with circular saw Giant ice : roadblock
melt with flamethrower Dirt/marbles : floor obstacle
does not affect All terrain treads or gyrothopter, trips up legs. Can be removed with mopWater : floor obstacle
short circuits treads, does not affect legs or gyrothopter. Can be removed with mop Oil slick : floor obstacle
slippery for treads, trips up legs, does not affect gyrothopter. Can be removed with mop Firey debris : roadblock
put out with snowblower The commands you can give the robot are limited to 9 commands total. The commands are move forward (camera right), move left (camera up), move right (camera down), use left arm, use right arm.
I'm not entirely sure what getting all the extra credits does, but all the solutions below will grab the extra credit.
Course 1
Program
> \/ > > > /\ > Course 2
Needed equipment
flamethrower armProgram
/\ > > flame > > > \/ Course 3
Needed equipment
mop arm, flame arm, legsProgram
/\ mop > > flame > > > \/ Course 4
Needed equipment
saw, gyrothopterProgram
> > > saw > /\ > \/ \/ Course 5
Needed equipment
all terrain, saw, snowProgram
/\ > > saw > snow > > \/ Course 6
Needed equipment
legs, flame, sawProgram
/\ flame > saw > flame > > >Course 7
Needed equipment
wheel, saw, snow Program
\/ /\ /\ snow > > saw > \/And that's the end of robotechtronics! Check the black screen machine to get your transcript signed.
Meta-Acoustics
So you decided to chose meta-acoustics. Maybe you like music, maybe you know your theory, or maybe you just didn't like the other options. Either way, this ones a bit of a puzzler. Mostly because a lot of these prompts are not musically related.
If any of the prompts seem like they require any outside knowledge, the machine usually has definitions and info on what you need to be doing. Read this guide for a little extra help/solutions.
The music room is in the spider wing. Don't ask me why.
Go in there, sign in on the giant computer, and touch the acoustic pedestal. You can turn on "REQUIRE CONFIRMATION" if walking into the wrong acoustic pedestal is a problem.
The first target sequence will ask you for and ascending major. If you know your music theory, easy peasy. For anyone who knows nothing about music, let me give you a bit of information.
The acoustic pedestals are laid out in a piano octave. An ascending major is asking you to play a major scale. The easiest major scale on a piano is all of the white keys starting from C, the C major scale. It just so happens that this is the only scale you can play in game, because the game only gave us one octave. Why can we only play C major? Because C is the only note that repeats, and you need both a lower and higher pitched note to complete a scale. In C major, that would consist of CDEFGABC. Music notes letter from A-G, then loop back to A with a higher pitch.
So now that we know what to play, there seems to be a problem. Pedestal 8/G is broken. Just go down to the machine by the door and press the buttons to move them all to 11. This ones really easy.
Hint
the left button moves all 3 up one, the middle button moves the middle and right up one, and the right button moves only the right up one. After playing your ascending major, the next target sequence is a descending pentatonic. "What the heck is a pentatonic?" everyone who didn't learn music theory is asking. Honestly, I'm bad at explaining things, so I can't explain what a pentatonic is properly without going deep into theory terms. Basically a pentatonic is a 5 note scale. It uses specific 5 notes, but nevermind that for now.
If you check the computer and press the hint button, it tells you there are several possible pentatonics you can play on the pedestals, but it's looking for a specific one. How are you supposed to tell which one? The game tells you that with the second hint, "This challenge has been designed to follow naturally from the previous one. This is a pretty vague clue, and its really easy to overcomplicate if you know your music theory. Technically, you don't need to know any music theory, or even what a pentatonic is.
Hint
The last challenge was playing all the white notes on the piano octave, so naturally what should the next challenge be? Answer
play all the black keys (B9742) But again, one of the pedestals don't work. Pedestal 4 seems to be missing it's button. There's a dorm room flyer on top of it instead. Read that and it'll direct you to room 2B at Hilbert house. Grab the button from there.
The next prompt is solipsism. Go to the machine and press hint for a definition and 2 hints.
Answer
press pedestal 1 Target sequence 4 is ordinal primes.
It's just asking you to play prime numbers.
So you press all the prime numbers and…… huh? it wants 6? But theres only 4 prime numbers between 1 and 9. What's going on?
Hint
keep counting with ABCD Answer
2,3,5,7,B,D Target sequence 5 asks for a standard fibonacci. If you don't know what a fibonacci is, basically it's a sequence of numbers where the next number is the sum of the previous 2.
Hint
The first number is 1. The second number would be the sum of the previous numbers, but since there is only one previous number, you can count that as 0+1 and the second number is 1. Hint 2
So far your sequence is 1,1 so for the third number you would add 1+1=2. Now your sequence is 1,1,2. To get the fourth number, add 1+2 for 3. Your sequence is now 1,1,2,3 Answer
1,1,2,3,5,8,13 Target sequence 6 says jingle bells. Now remember when I said the acoustic pedestals are laid out like a piano octave? Basically the game is just asking you to play jingle bells on a piano.
Hint
the hint on the machine tells you to play EEE EEE EGCDE. If you don't know the notes on a piano, you can look that up.Answer
55555558135 And that's the last one! Go insert your transcript into the transcript signing machine and give yourself a pat on the back for passing musical math class.
Astronomy
So you like the stars, do you? Well this puzzle is pretty straight forward, even though it was labelled [sillier puzzle]
The prof says he drew 3 fake constellations on the board, and you have to mark the 3 fake ones. Then he tells you to go use the telescope on the roof in the spider wing.
The constellations you can see from the telescope are

The pail/The bucket
3 fishy friends
The cigarette
The meat
The quadropus
The gunBut hey, you only see 6 of 12 constellations, whats up with that?
If you go talk to the prof, he'll just tell you to look from a different point of view. This changes nothing. His dialogue is useless. So now what?
Hint
where else can you go for help with your courses? Answer
Go to the library and ask Douglas for astronomy help So after you do that, you'll have a new option on the telescope and see the other 6 constellations.
The constellations you can see from this POV are

The big pickle
Dennis
The balloon/The lollipop/The tennis racket
The cube
The spider
Roberto's whorlNow go mark off the 3 fake ones
Which are

The house
The astral pilsner
TexasAnd that's astronomy!
Spiders
Now why in the absolute hell did you pick spiders?
Anyways, turns out that you didn't sign up to be a student, but rather the teacher of the spiders class. Not sure how that happened.
In the spiders classroom there's an applied spiders room which is a build your own battle with spiders. You first need to get some spider chow, and interacting with the spider chow shelf will direct you to Hilbert House room 1C.
You can start the lecture at the lecturn. Trying to teach the class the students will ask if you've fought an intrasylvanian vampire spider before.
The machine at the back requires you to pick 3 spider summons, giving you the name of the spider and how many will spawn. Ex. Intrasylvanian vampire spider (1) will spawn 1 vampire spider or Piper's Striped Sniperspider (3) will spawn 3 poison spiders.
The machine then asks you for a security protocol.
Pheromonal decoy will give you a dummy on your side of the field that can get attacked. It's immune to poison.
Prophylactic Blood Transfusion will increase your max HP by 15.
Well-Armed Graduate Assistant will give you a controllable attacker with 19hp, 8 muscle, 6 mysticality, and 4 moxie.
Prototype Growth Serum will increase your MMM by 3, and decrease your max hp by 5
For an easy fight, pick 1 intrasylvanian and 2 piper sniperspiders. For safety chose the decoy.
Take out the vampire spider before it can attack, and the sniperspiders only move is to poison the least poisoned member on your team, which after they poison everyone else on your team, includes the decoy that can't be poisoned. Tank the poison damage, and take out the poison spiders one by one.
The other things the students ask is if you've been 8 poisoned before, and if you've fought 9 spiders in one battle.
For this battle just fight 9 poison spiders. Make sure you don't get the decoy this time, or you'll get at most 4 poison and they'll be stuck trying to attack the decoy. I recommend getting the blood transfusion for this one to better tank the poison damage.
Go back and finish the lecture, and that's it! Congrats on finishing the most cursed class that exists.
Phys Ed
Phys Ed, huh? Well turns out by the time you get to the phys ed room everyone already nose goesed the coaching job, and made you the coach.
The Phys Ed room is in the barbecue wing.
There's nothing you can do except go to battle with the rival team. You will lose. After you lose, you'll get kicked back into the locker room to give pep talks to the team.
From what I understand, these are the roles of the team.
Alice is single target dps
Bob is aoe
Charlie is tank/berserker
David is healing support
Eve is buffing support
When giving pep talks to the team, you'll get to chose 1 of 3 modifiers. You can't change the modifier you give them, and they carry this modifier through all rounds.
You can give another pep talk to any players who get knocked out during the round. [Info from DerpHaven]
You can get super soldier syrup from the guy throwing food at Zeta Omega Omicron (the party frat) to give to your team. He asks for 3 of a food/potion for the syrup [info from Chillax and Mad the Max]
From what I could tell, there is no downside to losing.
I lost round 1, 2 and 5 twice and every time I got to pick new modifiers, and graduated anyways.
If anyone has more info on phys ed, post a comment.
That's everything we are sharing today for this Shadows Over Loathing guide. This guide was originally created and written by (Influ)Enza. In case we fail to update this guide, you can find the latest update by following this link.
If you believe that any of the content on this site violates your rights, including your intellectual property rights, please contact us immediately using our contact form.