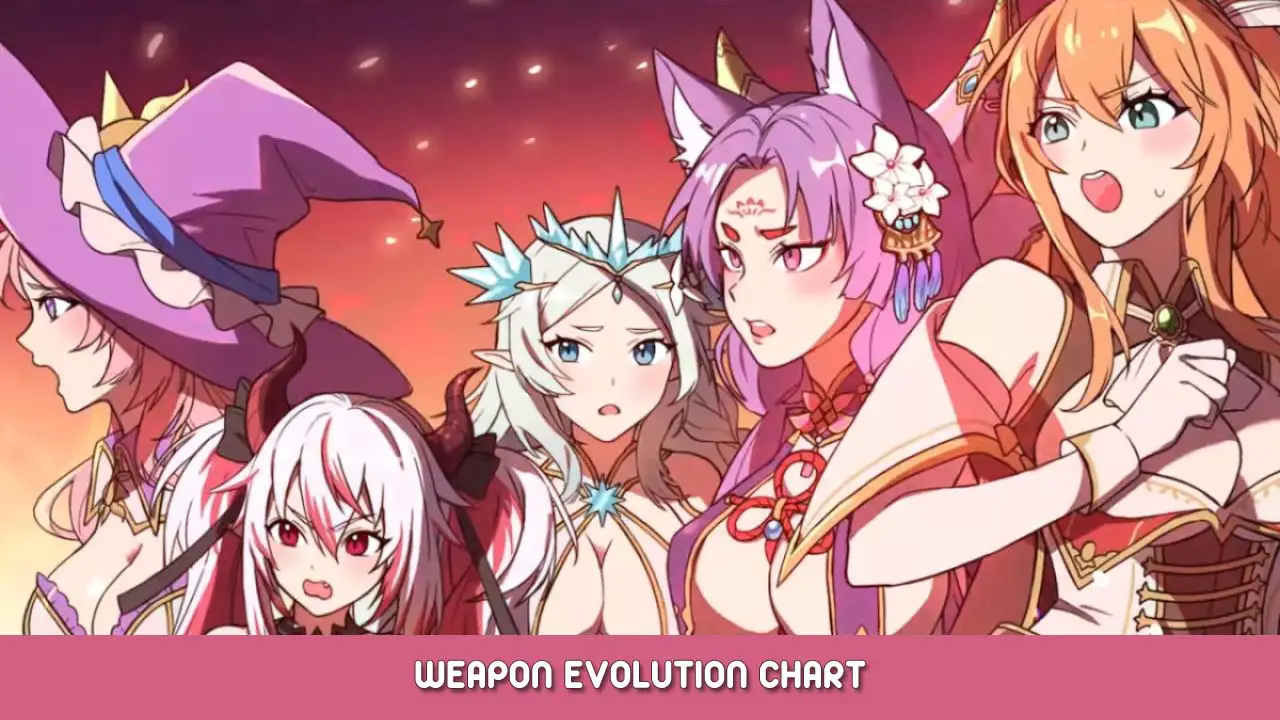 Weapon Evolution Combination, along with my experience/opinion of each weapon based on the initial release.
What Weapon to Pick
The key is to evolve 1-2 weapons before the 10 minutes mark to ensure a smooth run.
Personally, I pick my Weapons based on available passives.
Take into account of what is available to pick up on the map so you can go beyond 6 passive items
If you already max out a passive item and then pick it up on the field, you can go 1 level above. That is a very nice boost for things like Damage and Experience Gain.
I recommend specialization over quantity. If the passive is not useful to your current build/difficulty, it is okay to leave that passive on the ground and let the Exp rolls into more level for your weapons.
I focus on 4 passives as the core of my build, and would try to roll legendary version.
Legendary Damage and Cooldown are the basis of my builds
Legendary Experience Gain is also mandatory, faster level up = faster power ups
Attract Area is just a nice quality of improvement and makes level up more efficient
This leaves 2 slots for you to be flexible. Use these 2 slots to pick up passive items to ensure you can evolve your weapons, or augment their strong point.
Do pick up area if you are going for things like Holy Cross
Pick up Amount if 5+ of your weapon can benefit from it.
Gold Gain and corresponding relics at casual – medium works well. Melisandre can take real good advantage of it and Dragon Heart is pretty fun. Kill it with Fire!
Revival (Cheese) is great choice at harder difficulty
Sample Game Clear DPS
DPS are only for reference. Different weapon combination will have different impact on a specific weapon's performance.
Casual: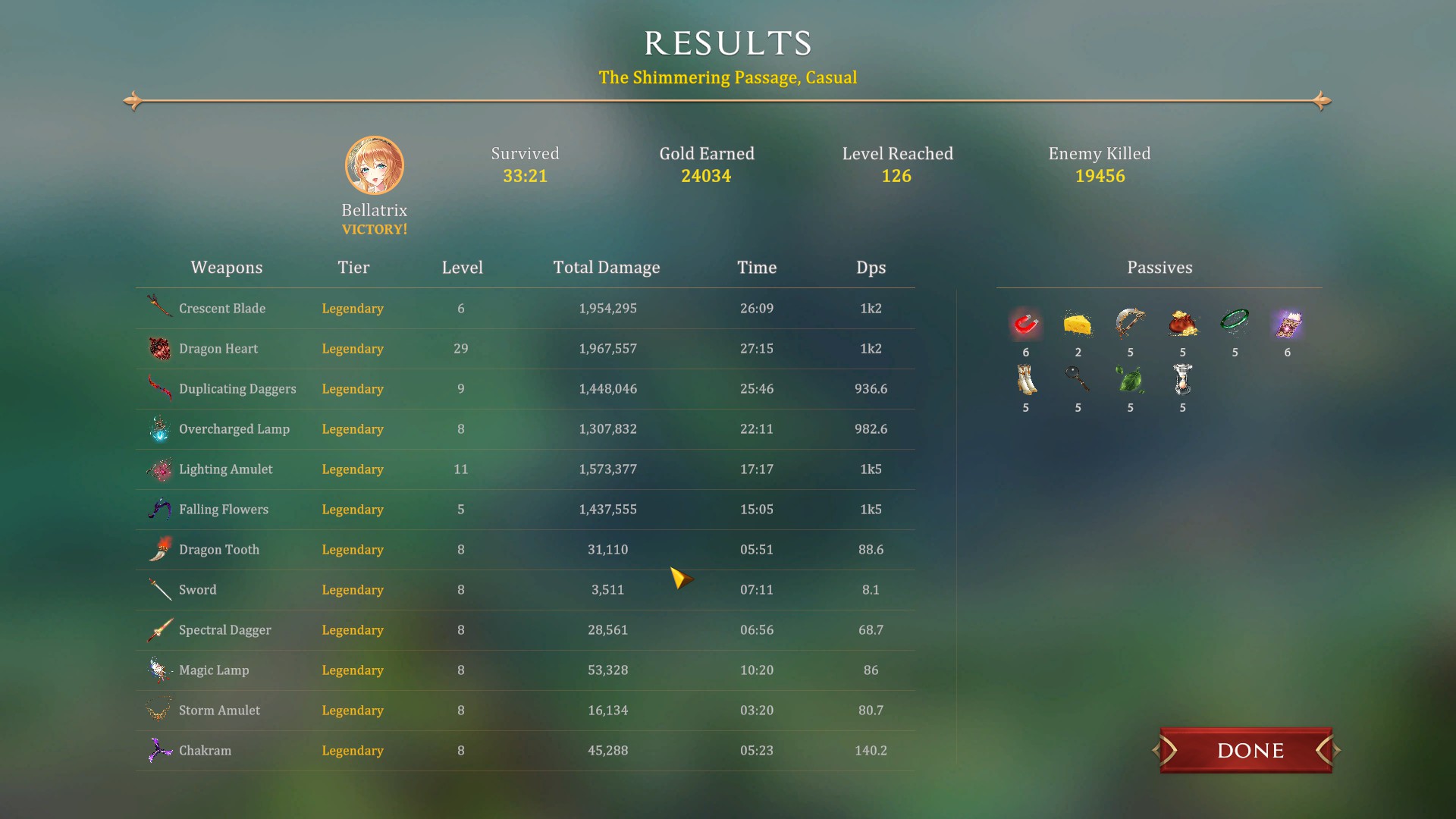 Things die too quickly for damage to register… The Lamp is a good learner weapon as it auto target anything close to you and is a better defensive option that the shield at lower difficulty. It is worth nothing that the lightning amulet and the dragon heart drowned out its damage potential. Also worth mentioning, it is fairly easy to farm 20K+ gold per run despite the -5% gold debuff.
Very Hard: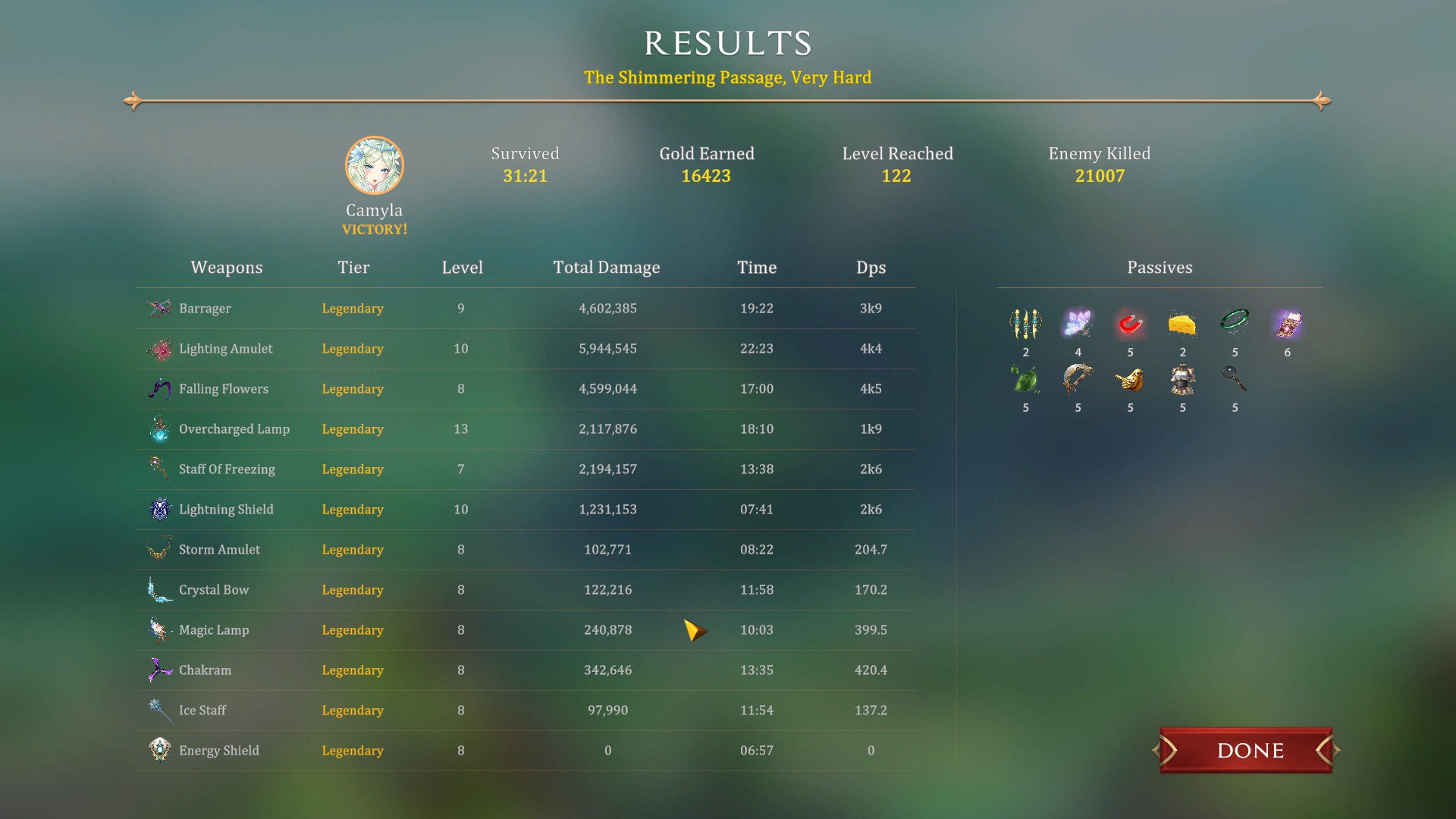 The Barrager did decent damage despite all the bow suck comments I read on the forum. You will notice the Lamp's damage completely drop off. It is time to graduate to stronger weapons. Falling flower did pretty decent DPS. Staff of freezing can freezes everything with it's ray but the direction is random… the DPS is on the low side compared to Frost Orb. Things dying quicker is the more reliable CC.
Extreme: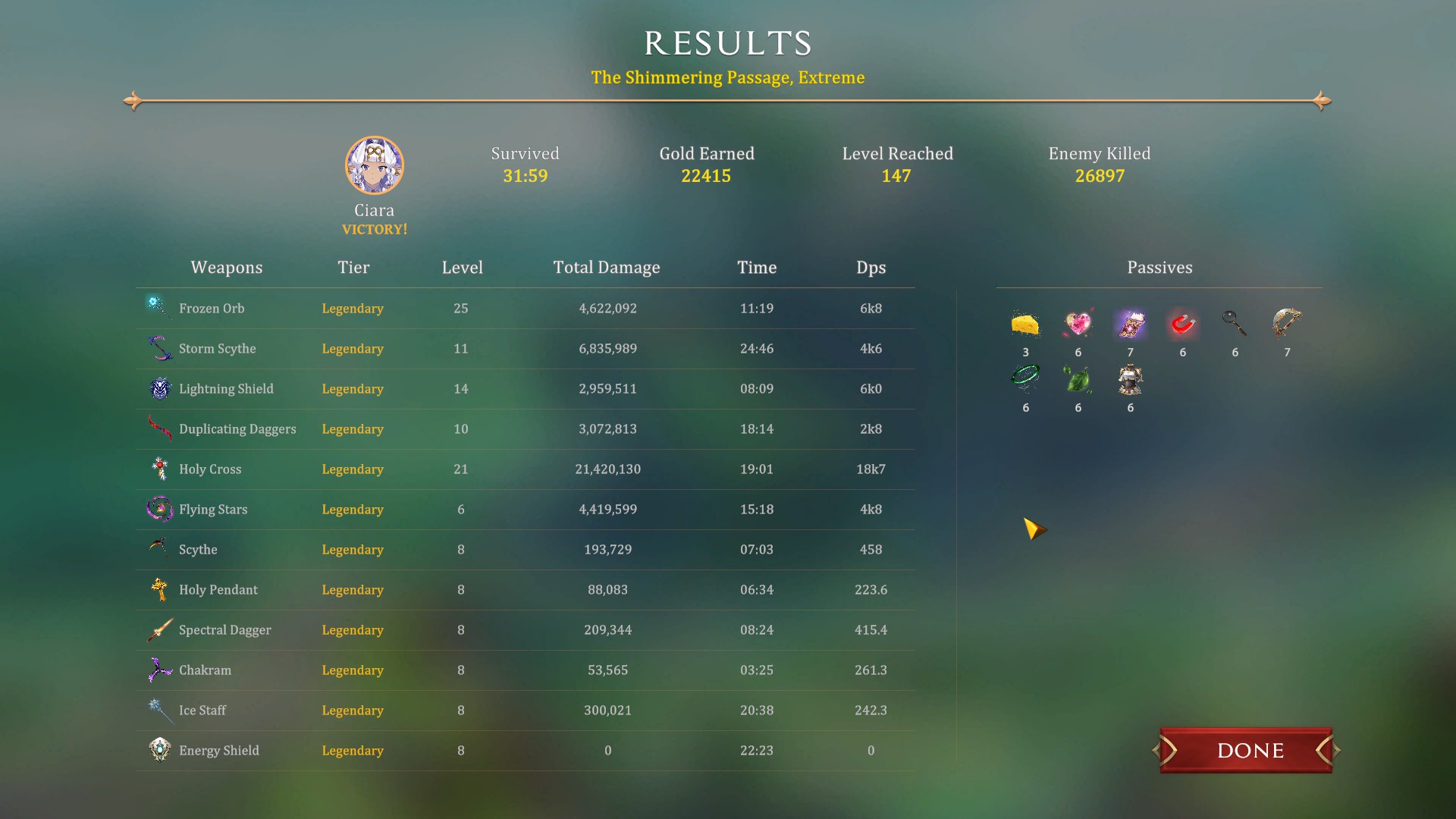 Due to 70% more mobs in Extreme, they clutter very quickly so it is very easy to proc Holy Cross. That's why there is this huge DPS #. You will also notice Lightning Shield's DPS tripled when compared to Very Hard. Area AOE damage weapon will benefit when map is cluttered with mobs.
Also worth mention is the up time of Lightning Shield, I am surviving by running from chest to chest to grab health potions, so it is quite easy to lose the charge and kills it damage potential. But having the shield does help keeping me alive so I see the damage as icing on top.
Frozen Orb's CC is extremely useful for this difficulty, and its area damage is spectacular.
Storm Scythe and Flying Stars' job is to shave the down the HP of the mobs in mid range to ensure I kill them quickly when they get close.
Next run I would be swapping the Spectral Dagger for the sword given its low DPS performance. It pretty much got overpowered by the other weapons. I want to test Endless Tide's knockback ability to open a path.
Always a good idea to keep your core build, and experiment with 1 or 2 weapons. Some weapon combination might surprise you.
That's everything we are sharing today for this Sexy Mystic Survivors guide. This guide was originally created and written by Bladewind. In case we fail to update this guide, you can find the latest update by following this link.
If you believe that any of the content on this site violates your rights, including your intellectual property rights, please contact us immediately using our contact form.