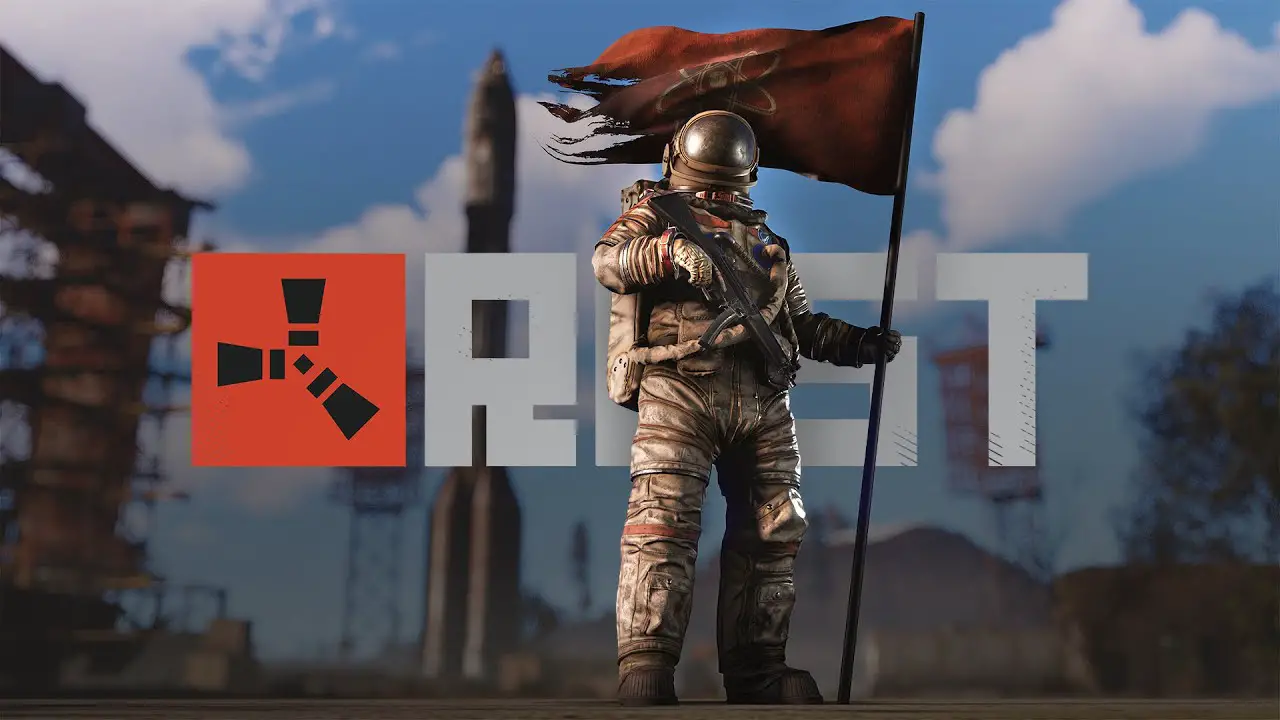 Rust is a game of survival, a brutal and challenging environment for people just learning how to play. The community in Rust is not toxic, but what I would consider just plain cruel. You may find yourself being killed repeatedly even though you have just been spawned and have nothing. You may spend days or even weeks grinding and getting loads of materials just to have them raided and all taken away. Rust can be a waste of time if not played correctly. However, once you start playing, it is extremely hard to stop.
You and Your Rock
When you first spawn in Rust, you should normally find yourself on a beach with nothing but a rock and a torch. You do not spawn at full health, but rather on the verge of hunger and dehydration. The first thing you should do is steer away from other players in the area. One of the most difficult aspects of Rust is that you cannot trust anyone. Any person that you see or hear, you want to treat them as hostile until you can prove they are not. You can't do much with your rock at the start of the game other than smash trees to get wood and stone nodes to get stones. You can also collect metal ore and sulfur ore, but they are not useful until later when you can smelt them. Collect enough stone and wood to craft some basic tools: a stone hatchet and a stone pickaxe.
While you forage for materials, look for hemp plants to get the cloth. Before making clothes with cloth, make a sleeping bag to set a spawn point so you don't spawn on a random beach when you die. To use the sleeping bag, place it on the ground. You can rename it if necessary. Next, make a building plan out of wood and construct a simple base with doors and LOCKS. Make sure to look at each lock and hold E or F (depending on your selected key) to bring up a menu and lock your base. Next, gather enough wood to make a tool cupboard. Place it on your base and secure it with a lock if necessary. Put some extra wood or other materials for your base on it to keep it from rotting over time. Congrats, you have successfully completed your first big step into the game.
Starvation and Dehydration
Starvation and dehydration are the main things you need to keep track of. You will find a bar to measure the amount of time before you starve/dehydrate to death next to your health bar. A great way to get water is to find a river on the map and go to it. These rivers have fresh water that you can drink until your water bar is full. Along the sides of the rivers, you can find crops such as corn and pumpkins. Eating these provide a lot of calories (fills up the food bar) as well as some hydration.
Beware, animals such as wild boars, bears, and wolves may be in the area and will attack you. Try to avoid as many bears as possible because they have 500 health, do huge amounts of damage and you can not outrun them. You may hunt other animals such as deer, wolves, and boars with a hunting bow to get raw meat, bones, fat, and leather. You can make an assortment of gear items with bones and leather. Cook raw meat over a campfire in your home, using wood to fuel the flames. Cooked meat other than human meat is an excellent source of nutrition. If you don't feel like going out and about and risking your life for food, you can suicide and respawn in your sleeping bag when you get super low on hunger and hydration to bring it back up. You can reclaim your items from your dead body.
Monuments
If you take a look at your map, (G), you may find an assortment of named locations on it. These are called monuments. Most are really dangerous and are hotspots for many players because of two things: loot crates and recyclers. Loot crates have a variety of great loot and will be useful in the long run. Recyclers, however, are used to grinding components such as springs, gears, pipes, gasoline containers, road signs, and more. You can also recycle weapons, armor, and clothes. When you recycle something, it turns into the materials it was made of, and the main materials are scrap, metal fragments, and high-quality metal. Scrap is a currency. You can use it to learn blueprints to craft new items or use it to trade in shops and with other players. Metal fragments are used to make so many different things that I can't even begin to list them all. You can also upgrade your base to sheet metal with metal fragments. Finally, high-quality metal is used to craft top-tier items such as guns, and it can also be used to upgrade your base, specifically armor, which is the final base upgrade.
There are also monuments such as bandit outposts, outposts, and fishing villages that are safe zones. You are not allowed to carry weapons or attack players there, and you will be shot if you do. Safe zone monuments have vending machines where you can buy useful items. At bandit outposts and outposts, you can find drone stations where you can order goods via drone from any shop on the map. This comes with a delivery fee of 20 cents. Be careful when going to monuments because most high-tier monuments have radiation. Radiation gives you radiation poisoning, which accumulates and drastically lowers your health until you die. Wear a hazmat suit or insulating clothes to protect yourself from radiation and survive while going to these monuments. Some monuments have puzzles.
These puzzles require you to flip switches or replace fuses in order to unlock a key card door. These doors, along with the key cards, come in three colors: green, blue, and red. Green, as the lowest tier, typically has 2-3 loot boxes. Blue, as the mid-tier, has more loot boxes, as well as more loot boxes from higher tiers. And red, as the highest tier, has insane loot, the majority of which is military-grade boxes and locked crates. You just have to wait 15 minutes to unlock a locked crate. Behind each door, you have a chance to find a key card for the next tier, except for the red door, because there is nothing higher than the red door.
World Domination
After a long time of playing Rust, collecting guns, and raiding monuments, you may find yourself in a position where you do not know what to do. Sitting in your 12-story base with auto-turrets and farms. It is easy to lose hope. But now you get to do to other people what Rust did to you all those years ago
Raid, kill, and destroy anyone you feel like. Pretend to befriend people, give them gifts, and then arrange to meet with them later. This is your reward, the feeling of utmost accomplishment. You can rule the server with everyone fearing your shadow.
That's everything we are sharing today for this Rust guide. This guide was originally created and written by PR1M3L0RD. In case we fail to update this guide, you can find the latest update by following this link.
If you believe that any of the content on this site violates your rights, including your intellectual property rights, please contact us immediately using our contact form.