100% achievement guide for Prominence Poker game developed and published by Pipeworks Studios.
Welcome to Prominence
Welcome to Prominence – Complete the tutorial
This should be a simple enough task. All you have to do is finish the tutorial. When you first start playing the game, after creating your character, you are given the option to play the tutorial in exchange for learning the basics and receiving some free items. When you finish that, you should get your first achievement in the game. If you don't want to play the tutorial right away, you can do so later in Single Player mode.
Challenge Achievements
There are 22 challenges and all related to actions and situations of a poker game like ending with a kind of hand or just for playing hands. These challenges are divided into tiers and after you level up a tier, the objective is increased, but your base progress is restarted. You're known for completing challenges, and there's one for gold. From the main menu, your progress with challenges can be accessed by Persona > Rap Sheet and clicking on the arrow directions.
Do You Even Lift? – Complete a challenge
Gettin' Juiced – Complete 10 challenges
Hole Cards Achievements
The two starting cards in your hand are the hole cards. This is possible in the single-player game's practice mode. It is preferable because you do not lose the chips, and the computer almost always folds.
Blackjack! – Be dealt a Blackjack as your hole cards
Get a total of 21 points to your hole cards that are possible with an ace of any suit and a 10, J, Q, or K of any suit.
These are self-explanatory from the achievement's description.
Seven Deuce Abuse – Win a hand with 7 2 offsuit as your hole cards
Dead Man's Hole – Win a hand with the Ace of Spades or Clubs and 8 of Spades or Clubs as your hole cards
In the Land of the Blind… – Go All-In without looking at your hole cards and win
Simply go all in without checking your cards. Your opponent will likely fold and the job is done. If they don't fold and you lose, just load the machine up again until you get it.
Multiplayer Achievements
Nice Quads – Quadruple your buy-in during a single multiplayer ring game
You can do this in a private match. One person loses to the other, then rebuys back into the game. Do this a couple of times until the first player has 4x the buy-in. (It won't be 4 total rounds because of the rake.) Then just have player 1 lose to player 2, and both of you will have it.
The Mechanic – Win 5 hands in a row in a multiplayer game
You can do this in a private match with a friend if you want to. Otherwise, doing a head-to-head tournament would be your best bet since there are only two players.
One on One – Win a multiplayer Head-to-Head tournament
These can be casual or ranked matches.
The Duelist – Win 50 multiplayer Head-to-Head tournaments
These can be casual or ranked matches.
No Luck Involved – Win a 6-player online multiplayer tournament
These can be casual or ranked matches.
Bustin' Makes Me Feel Good – Bust 100 players in ring games
This can be easily boosted in private matches. Preferably, 100 chip games that allow you to spend your money to your heart's content. If you don't want to boost it and just play normally, it's important to note that you will get +1% on your progress towards 100% every time all of the following conditions are met in a given hand, which means you don't need to have a better hand than everyone else at the table and/or be the only big winner of a showdown: you just need to participate all the way to the end of the hand.
T.K.O. – Knock out 100 players in tournament play
This can be boosted in private matches. But knockouts in head-to-head count toward it as well and, seeing as that's the preferred method for grinding XP, you're probably best off just doing 100 chip buy-ins in head-to-head mode as you'll easily get this with enough time doing that while getting the 50 head-to-head wins, all the location achievements, and a ton of XP toward your affiliation rank. The vast majority of people doing the 100 chip buy-in tables go all first hand, making it the quickest and simplest way to go.
Well-Versed – Place 1st, 2nd, or 3rd in a 6 player multiplayer Tournament in every venue
Even though you can start a tournament with less than 6 players, you should only play 6-player tournaments, and in casual or ranked multiplayer. Casuals can be both public and private. Private is the only mode where you can choose your venue.
Social Larvae – Play in 5 multiplayer games
Start any multiplayer game. As soon as you join a game and sit down, you will get credit for a played game. You can immediately exit the match. You don't have to play a hand or bet any chips.
Social Caterpillar – Play in 50 multiplayer games
The same as Social Larvae.
Social Butterfly – Play in 100 multiplayer games
The same as Social Larvae.
Affiliation Achievements
The Prestigious – Join an affiliation
You can join an affiliation when you reach reputation level 10. The game will automatically ask you to join once you reach this level. You have a choice between the Hearts and the Clubs. Join one, and the achievement pops. If it doesn't appear, try getting to the point where you can switch affiliations (defeat the boss of the other affiliation). Switching may aid in the appearance of this achievement. The Spades are unlocked at level 25, and the Diamonds at level 50.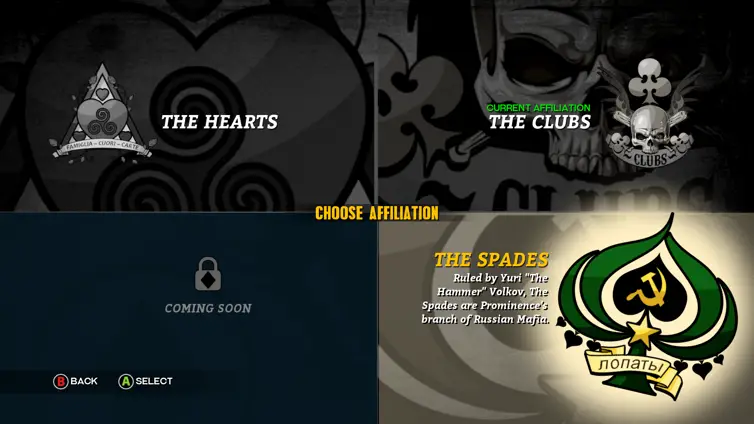 Mutineer – Change affiliations
Now you want to change affiliations. You can change affiliation when you defeat the boss of another affiliation you wish to join. Do this in the single-player Underground. After defeating the opposing boss, go to the Persona menu, select Affiliations, and select an affiliation from the affiliation selection menu.
The Criminal – Gain Rank 2 in any affiliation
Check The Pit Boss Achievement for a detailed guide.
The Tough Guy – Gain Rank 3 in any affiliation
Check The Pit Boss Achievement for a detailed guide.
The Wiseguy – Gain Rank 4 in any affiliation
Check The Pit Boss Achievement for a detailed guide.
The Pit Boss – Gain Rank 5 in any affiliation
There are four affiliations, each with five ranks. Each rank consists of 50 levels. Each rank takes the same exact amount of XP to progress through, meaning it takes exactly the same amount of XP to go from level 10 to level 60, and from level 61 to level 110, if you get the affiliation at level 10. Once you complete the required level to rank up and if you are in the middle of a game, you will get a message in the upper right-hand corner of the screen congratulating you on maxing out your rank with your affiliation. This message tells you that you will not be able to gain any more reps (experience points) until you either rank up or change affiliations. You will then need to go to your personal section and choose the affiliation option. It will tell you in the lower-left corner that you must press a button in order to rank up. You will then get a warning that it will cost you 25k chips to rank up and ask you two times if this is what you really want to do. The progress of your challenges will be reset. The faster way to level up is by playing casual or ranked head-to-head. To progress towards your challenges, you can attend a farm tournament or play seriously. You can combine any strategy with a table item boost, and daily events, which are:
Suave Sunday – Wear your nicest dress or suit and receive a 50% bonus from the Rep!
Muck It Monday – The "Muck It" Rep Reward offers TRIPLE REP!
Tourney Tuesday – Earn 50% more rep by participating in a tournament!
Affiliation Appreciation Wednesday – Represent your current affiliation with an appropriate outfit and earn an additional 50% bonus for Rep!
Thirsty Thursday – On Thirsty Thursdays, all table item refills are 25 percent off!
Fanny Pack Friday – You won't look stylish, but you'll get a 50% bonus rep for wearing the Tourist outfit!
Sucker Punch Saturday – Knock a player out of a game and earn TRIPLE REP!
Ranked Achievements
Up and Coming – Play a ranked game
In the main menu, click on Find Game, Ranked Games, select Tournaments or Head-to-Head, and play your first ranked match. You should play until you either win or lose/get knocked out.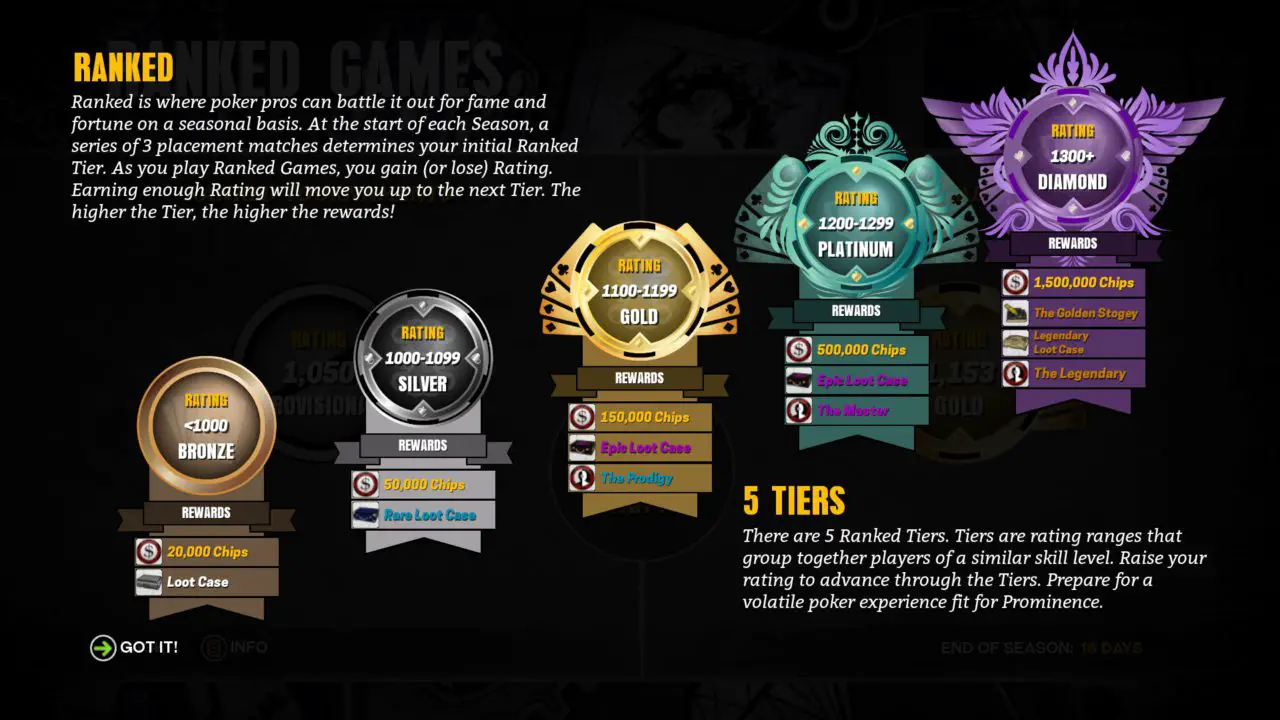 You first have to complete 5 provisional games to earn your ranking. You unlock the achievements for your current and inferior tiers and they are unlocked when you claim the rewards at the end of the season. The ratings and rewards for each ranking are in the first image below.
Ranked: Bronze – End a ranked season in the Bronze tier or higher
Ranked: Silver – End a ranked season in the Silver tier or higher
Ranked: Gold – End a ranked season in the Gold tier or higher
Ranked: Platinum – End a ranked season in the Platinum tier or higher
Ranked: Diamond – End a ranked season in the Diamond tier
Venue Achievements
These are the scenarios for the match. There are a total of five, and you must play each one 50 times. To do this quickly and without losing any chips, create a single-player match at the desired venue. During the dealer's button showdown, progress is usually increased.
Gambling Addict – Play 50 games in the Deck Casino Venue
Most Valuable Patron – Play 50 Games in the Renegade Venue
Klean Freak – Play 50 Games in the Kleaners Venue
Under Pressure – Play 50 games in the Diamond Suite
Meat The Spades – Play 50 games in Motherland Meats
Bankroll Achievements
You can do one or more of the following to increase your bankroll:
Collect daily free chips: Each day you collect your free chips you get a bonus multiplier. Max multiplier goes up to 5x. If you log in 5 days in a row to collect your free chips, you will be earning around 10k per day (according to your level, you'll get a small difference in the bonus chips. You will maintain the 5x multiplier for each consecutive day you log in. If you miss a day, your bonus multiplier drops back to 1x.
Level up: Playing head-to-head tournaments going all in pretty much every hand awards you a quite decent amount of XP which will help you level up. Leveling up enables you to rank up affiliations. Ranking up awards you big amounts of chips several times as you go up within that same rank and also when you are promoted to the next rank.
You can combine this strategy with a table item boost. Table items are less expensive on Thursdays when they are 25% off. On Thursdays, you can buy as many as you want and use them whenever you want. Also, take a look at the hourly events in which smoke and drink items double your bonus XP. Also, be sure to check out the daily events, which award +50% XP. You'll want to focus your effort and time specifically on those days which are listed in the affiliation achievements section.
Buy chips with real money. You need to buy the 2,000,000 chip option only 500 times to get the 1 billion chips achievement.
Titulo – Reach 1 million bankroll
Billionaire – Reach 1 billion bankroll
Daily Cut Achievements
The daily cut is a login bonus and the max daily streak multiplier is 5. Getting more chips is affected by your rank level. When you collect them, look at the screen and it will clearly state that at your next level, you will get more chips, but have in mind that the increase is minimal. The boost is something you can buy to increase every single XP action by 100% and this also affects the daily cut. The 100k achievement goal is cumulative.
Penta-Cut – Collect your Daily Cut 5 times in a row without missing a consecutive bonus
Makin' It Rain! – Earn 100,000 chips from the Daily Cut
River Fishing
River Fishing – Win a hand that you made on the River
The river is the last card that comes out of the 5 in the middle. You need to basically have nothing and the river gives you something, then you win with it. You can continue to go all-in on a 100 buy-in table and this achievement will appear fairly quickly; it happens all the time.
Multi-Buster
Multi-Buster – Bust 2 or more players in the same hand
Busting two people in the same hand is to knock them out of the game and causing them to leave. This typically happens when the stakes at so good people tend to go all-in. Its easy to get carried away trying to do this. The best advice is to fold before things get out of hand if you don't have anything or if the cards on the table don't reflect what you were hoping them to.
Shape Shifter
Shape Shifter – Change your gender
You'll have to change the gender of your character from male to female or vice versa. Switching between genders is free. To do this, all you'll need to do is select Persona from the main menu, then character, and finally gender. Simply select the opposite gender of your character while on gender, and you will receive the achievement.
Smokin' and Drinkin'
Smokin' and Drinkin' – Own a smoke and a drink
The most cost-effective method is to complete the tutorial to receive a free tourist drink, then level up to ten to join an affiliation and earn enough reputation to earn their own cigarette. After earning the items, just pay for 500 chips each to refill them or wait until Thursday for a half-price discount! The simplest method is to complete the tutorial for the free tourist drink, refill it with 500 chips, and then purchase a cigarette for 15000 chips.
Shop-a-holic
Shop-a-holic – Purchase 10 outfits
Thankfully, you can buy cheap clothes for both genders, so it only costs 15,000 chips to get this achievement. Outfits can be purchased by going to Shop & Stash > Outfits > Outfits. Buy all the available 1,500 chip outfits for your current gender, then switch genders and buy the opposite gender's outfits.
The Executioner
The Executioner – Knock out all 5 players in any 6 player tournament
This would be one of the hardest achievements to achieve but can be done in practice mode in single-player and against the AI. It is possible to predict some moves. They'll always fold at the beginning of the match if you go all in, so if you don't have a good hand, put all your chips against them! After you've eliminated the two bots, you'll have a substantial amount of chips and will be able to fold some hands or go all in, expecting your luck to shine. If more than one bot/player goes all-in and you lose the big pot, but win with your hand against another bot/player that got knocked out, this still counts as an achievement. You can also boost this in a private match if you'd rather not rely on sheer luck. Just communicate with your hands with each other. If you get a split, both people get credit for all the knockouts that happen, so there are no worries there. When you're down to the last few players, simply have the person going for it state their hand and check on the final card. Have anyone with a better hand fold and anyone with a worse hand go all in. Repeat until that person can knock out everyone.
And that concludes this Prominence Poker guide. Help us improve this guide by leaving your suggestions in the comment section below.
If you believe that any of the content on this site violates your rights, including your intellectual property rights, please contact us immediately using our contact form.