Title: Project Zomboid
Release Date:
Developer:
Publisher:
This guide is aimed to help people out when it comes to medical in Project Zomboid! It'll outline where to find medical supplies, what to use them for and how to make the most out of what you have.
Outline of Basic Medical
Medical! You'll need to know how to treat wounds sooner or later, since there's countless ways to injure yourself in Project Zomboid. However, with the right supplies, you'll be able to bounce back from any injury…. unless it's a bite.
The first aid skill helps out with the duration that bandages stay on you, how quickly you perform interactions on yourself and to understand the severity of your wounds. The higher it is, the better. Though it won't be a huge problem if you lack high enough first aid skills.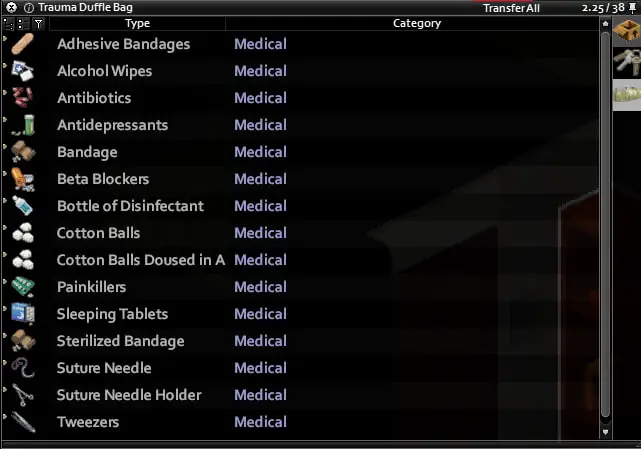 Medical supplies in Project Zomboid.
In the image above, you can see a list of almost every medical items in the game. These can be found in clinics, bathrooms and zombies across the map. Some of them can be used on any injury, like disinfectant and bandages, whereas some can only be used in very specific situations, like the tweezers and suture needles. Antidepressants, Beta Blockers and Sleeping Tablets are used outside of "medical", as they help with anxiety, depression and the inability to sleep due to nightmares.
One item that isn't listed on the image above are ripped sheets. These can be salvaged from most items of clothing, and can be used as improvised bandages. As you can find socks on practically every zombie, you can rip up a pair of socks from a zombie's body and use it to wrap up any scratches or lacerations that you may have. Every injury in this game can be bandaged up once treated, and it's heavily advised that you do so. this can help to reduce healing time overall, but also prevent wound infections.
Any questions can be dropped in the comments below, and I'll add / reply to this guide with the appropriate information.
Bandages
Every bandage has three states. Dirty, clean and sterilised. Each one can be found in different areas, and they can all be changed from one state into another. Whilst bandages are used to stop bleeding, they can also be used to remove infections or treat long-lasting injuries.
Dirty bandages can be found in rubbish or on dead zombies. To clean these bandages, all you need to use is water. It can be directly from a sink, a toilet or a water bottle! Dirty bandages are also obtained when a clean bandage has been on a wound for a long period of time. Applying a dirty bandage or leaving one on for too long can increase the chances of an infection in the wound.
Clean bandages are found in bathrooms and clinics. They can be created from dirty bandages by using water, and can help with healing wounds over a long period of time. Applying a clean bandage to a healing wound will keep it safe from infections, while stopping any bleeding from the wound.
Sterilised bandages are one of the best bandagesyou can get. They combine a bandage and disinfectant, allowing you to treat, prevent and bandage your infected wound much easier and quicker than you would otherwise. These are also the best bandages to use if you're suffering from a burn. You can create a sterilised bandage by combining a ripped sheet or bandage with a bottle of disinfectant.
Adhesive bandages are a single-use bandage that is consumed when it changes to a dirty bandage. These cannot be sterilised, so you will need to use these in combination with disinfecting supplies. They will still do their job and prevent you from bleeding out, though.
Disinfectants
Getting a wound infected is an easy way to be knocked off your feet for a while, and it can be a hassle to treat if you lack antibiotics. Using a form of disinfectant will help you, however. Alcohol wipes, bottles of disinfectant and bourbon can all help to deal with wound infections. However, you can also apply these to bandages to gain the same effect on a bandage.
Alcohol wipes and bottles of disinfectant can be found in clinics across Kentucky, but also inside of residential bathrooms. Alcohol wipes cannot be applied to cotton balls, so bottles of disinfectant are generally carried around more often. On top of this, disinfectant bottles have 10 units that can be used compared to the 5 units of alcohol wipes.
Bourbon is found in bars and alcohol shops, which makes it somewhat easier to obtain compared to the medicinal forms of disinfectant. One important thing to know about using bourbon as a disinfectant is that it causes pain when applied directly to your characters wounds. This can be avoided by combining it with a bandage, however.
Other Medical Supplies
This portion will cover the following medical supplies: antibiotics, cotton balls, painkillers, suture needles and tweezers. These can all be found in clinics and bathrooms, and you'll have most of these items by the time you've looted one or two clinics.
Antibiotics are a form of medication that is used to fight off infections, typically those stemming from wound infections. These half the strength of the infection, which makes it easier to treat with sterilised bandages or disinfectant. You cannot treat zombificiation or a cold with these, so don't bother wasting your supplies on treating it.
Cotton balls are useless on their own, but dousing them in alcohol or disinfectant is their primary use. They can be used to treat wound infections before applying a bandage, and are consumed upon use.
Painkillers are as simple to explain as the name is. They deal with pain caused from disinfecting wounds, damaged limbs or glass shards buried in your skin.
Suture needles and tweezers will be spoken about in one paragraph, as they compliment each other nicely. Both of these items are used when you have a deep wound. Deep wounds can be caused by glass shards or a bullet. To treat this injury, you need to use tweezers to remove the foreign object from your body. You can also use your bare hands for this, though you do chance messing the injury up and causing more damage to yourself. Tweezers are a quicker and safer way of removing them.
Once removed, you're left with a deep wound. To close this up, you need a suture needle. A suture needle holder will increase the chances of closing the wound up, but it is not required. Once closed up, you've treated a deep wound successfully. You can also use a needle and thread from a sewing kit to replace a suture needle, although you'll be in greater pain if this is used.
Wounds
There are several type of injuries in Project Zomboid, and most of them can mess you up in one way or another. They are as follows:
Bites
Bleeding
Burn
Deep Wound
Lodged Bullet / Glass Shard
Scratch
Laceration
Infection
Working our way from the top, let's start with bites. Being bit in Project Zomboid is a game over. You're not able to recover from it, and it'll slowly kill you until it eventually turns you into a zombie yourself. The chances of being bit from behind are higher, so always be careful turning your back to a zombie.
Bleeds are what happens when you're cut, scratched, shot or impaled by glass shards or bitten. It accompanies most wounds that penetrate the skin, but it's the easiest one to treat. A bandage! All you need to do is wrap your cut up and the bleeding will stop over time. Swap out bandages regularly and you'll do just fine.
Burns. These are the most time-consuming injury to deal with, as it can take an extremely long time to heal. To treat a burn, you need to keep the burn covered with a clean bandage until it heals. Sterilised bandages are ideal for this, but anything that is clean will do.
Deep wounds are a dangerous one to have, as they can take a month to heal if you aren't able to stitch them up. However, a suture needle is all that is required to close this up. Stitching it up will inflict pain onto you, however.
Lodged bullets and glass shards accompany deep wounds, as they're typically what you need to remove from your body to treat a deep wound. To remove lodged objects, you can either use tweezers or your bare hands. Tweezers are the safest option, as it won't make the wound worse. Make sure to disinfect after the object has been removed!
Scratches are one of the more common injuries that you'll sustain, being caused from zombie attacks, catching yourself on fences and tripping over. You can easily treat these with bandages, so you won't be suffering badly if you get scratched. However, if the scratch is caused by a zombie, you have a 7% chance to be infected and you'll slowly die to zombficiation.
Lacerations are essentially a more severe version of a scratch. It lasts longer, can take away more health and has a 25% chance to cause death by zombification. However, the treatment is also the same. Keep it clean, bandaged and disinfected to avoid any further complications.
Infections are caused by using a dirty bandage on a wound, or can appear from a wound naturally. Using bourbon, bottles of disinfectant or alcohol wipes will treat the infection. You can also use sterilised bandages to both treat the cut and infection at the same time.
That's everything we are sharing today for this Project Zomboid guide. This guide was originally created and written by Parku Cret. In case we fail to update this guide, you can find the latest update by following this link.
If you believe that any of the content on this site violates your rights, including your intellectual property rights, please contact us immediately using our contact form.