Title: Pharaoh: A New Era
Release Date:
Developer:
Publisher:
This guide will be showing you how to change the size of your UI and in-game text size in Pharaoh: A New Era.
Changing UI and Text Size
Important Note: It seems that certain text and windows remain unchanged in size.
Navigate to the directory: C:\Users\USER_NAME\AppData\LocalLow\Triskell Interactive\Pharaoh\76561197992352044
Open the file named pharaoh_config.json using either Notepad or Notepad++
Locate the section labeled "Graphics"
Identify the following line: "ScaleUI": 1.0,
You have the option to modify the value between 0.25 and 3, depending on your screen's dimensions. The default value is 1.0.
Save the changes and close the file
Launch the game to assess whether the UI and text size are suitable for your preferences.
If they're not optimal, you can increase the value (if the text is too small) or decrease it (if the text is too large).
Note
I recommend incrementally increasing the scale by +0.25, starting with 1.25, then 1.50, followed by 1.75, and so on.
Keep in mind that if you make changes to the settings within the options menu, they will overwrite the modifications in this file, reverting the value back to the default of 1.0. Therefore, if you adjust the game's settings and notice that the text size is not as you prefer, you'll need to re-edit the file to restore your personalized UI scale.
Remember to save your changes before closing the file. Also, note that testing different values requires restarting the game.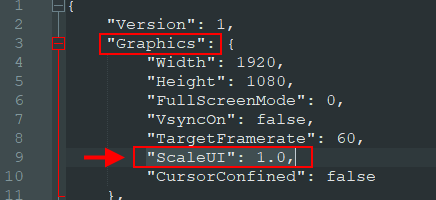 That's everything we are sharing today for this Pharaoh: A New Era guide. This guide was originally created and written by [BLK] Telu. In case we fail to update this guide, you can find the latest update by following this link.
If you believe that any of the content on this site violates your rights, including your intellectual property rights, please contact us immediately using our contact form.