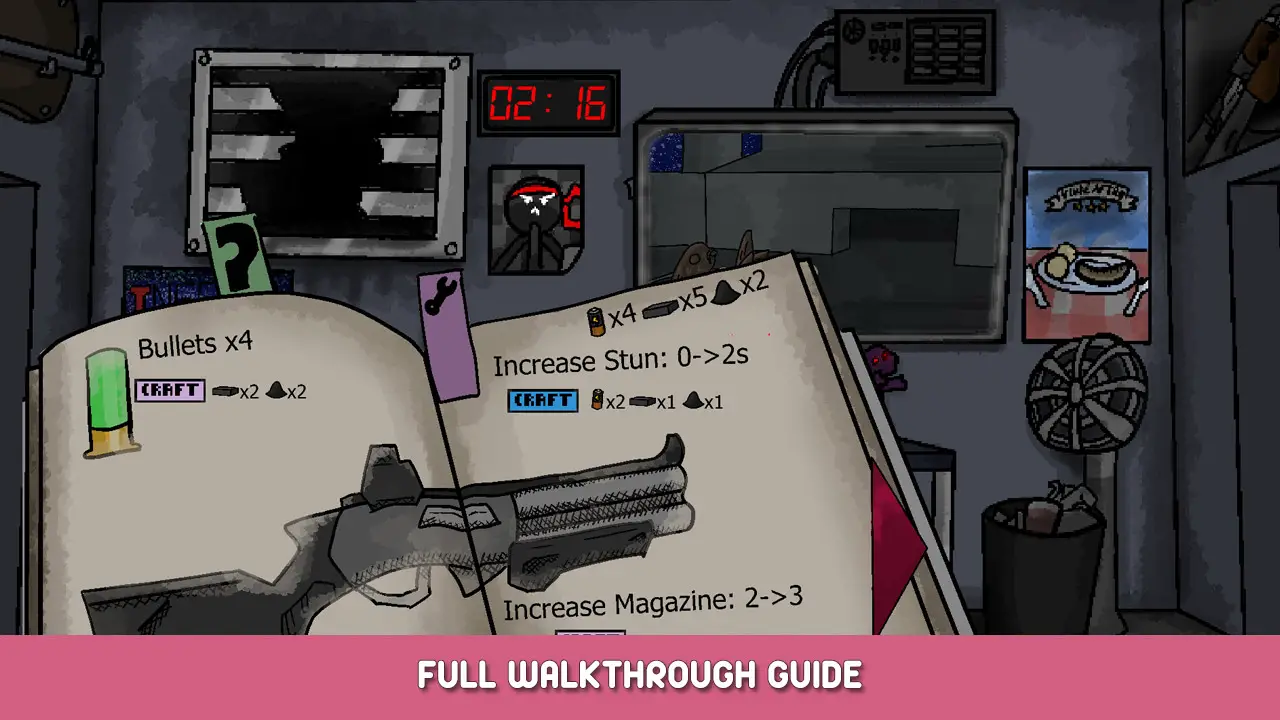 This is a full guide on every hour and a few strategies, this will allow you to easily beat the game.
Basic Gameplay
The basic controls:
You can click each door to walk to them, in the door you can see if someone is there, and shoot them if they are. Each time you shoot you need to reload by pressing R. By default you have 2 rounds in your mag, but you can upgrade that.
You can also do the same with the vent, but you can't see anything in the vent.
By clicking the TV on your wall you can access the cameras, on the cameras little items will spawn on them by clicking them you get a resource. The main cameras that matter are the middle ones.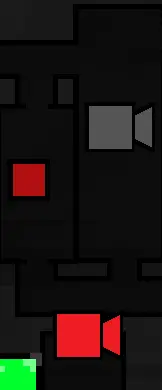 One these cameras you can see them right before they are at your doors, when they leave these they are most likely at your door, but sometimes will go to the other door camera.
By clicking the journal at the bottom of your screen you can get an overview of new mechanics, or craft using your resources, which is very important if you want to survive.
Hour 1
Only Barney himself is active, use most of this time to get familiar with your office, and check the two important cameras to see when Barney is coming in. He can come in both doors so make sure to check both. Besides that It's simple enough to get to the next hour.
Hour 2
In this hour the second character is active, baby bop. They act the same as barney but come from the left side instead of the right. Nothing special just do the same as night 1 but with 2 characters.
Hour 3
In this hour B.J. (Unfortunate name) is active. This is where a lot of people get stuck so I'm gonna explain this clearly.
B.J can either disable your lights, making it so you can't see down the doorways; or appear in your vent. If you hear an electricity sound that means you have to search for the camera B.J is on and reboot the breaker with the big green button. You HAVE to be on the right camera you can't just be on any camera.
When they appear in the vent you have to listen for the ventilation sounds being quieter than usual, or you can check your vent and if you hear slight electricity sounds then shoot into the darkness. This will shoot them you will hear the scream then you are safe.
After you get used to B,J this hour should be easy.
Hour 4
Hour 4 adds Riff which is quite simple. This one is explained well in the manual as well. Whenever you screen gets blocked just click the breaker above your TV to reset it.
This is a slow process but can be sped up with upgrades.
During this hour your clock can also break, just give it a smack (a click) and that will stop. Nothing important.
Final Hour + Strategy
No new mechanics just survive, This will go over the strategy to survive this hour and all the previous ones.
Cycle your cameras looking for resources, but check your middle ones for Barney or BB entering your office. Either listen closely for the vent or check it if the power has been disabled for a while to check for BJ. Check both doors if you check one just to make sure no one is at either of your doors. If your cameras get disabled while your power is off, you can shoot into the halls even if you can't see. So if you know someone is there shoot, or if you want to be safe shoot anyways to make sure you don't die. If you have enough resources you don't even need to check cams anymore, only to find BJ otherwise you can spam check doors and vent every once and a while.
This is pretty easy once you get used to it, just an endurance game, make sure to reload after shooting everyone that is at your office, or you might slip up and die.
What Upgrades To Buy
For the first hours, focus upgrading your stun if you can get it to max, otherwise save for ammo if you are on bull bull. When hour 4 comes make sure you have reboot time upgraded so you have less camera downtime, if both your cameras and power goes out you need that reboot to be quick.
For the last hour spend your batteries on see camera movement. If your power goes out you can click on the cameras that have movement on them and find BJ quickly.
Only get 3 or 4 total bullets in your mag, you don't need more.
Conclusion
This game is pretty simple when you get used to it. Just make sure to be on your toes and don't slip up with your ammo.
This guide should work for 4/20 but I ain't gonna test that, tell me if there is something I missed, or a part you need help on and I will add it to the guide.
That's everything we are sharing today for this One Night At Barneys 3 guide. This guide was originally created and written by Dad. In case we fail to update this guide, you can find the latest update by following this link.
If you believe that any of the content on this site violates your rights, including your intellectual property rights, please contact us immediately using our contact form.