My Hero Academia Sees Kirishima's Bravery to Save Mina Ashido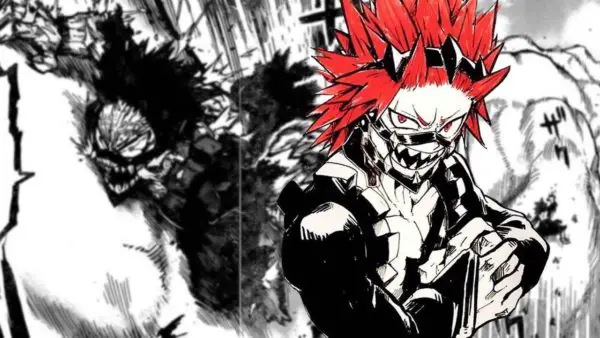 The Paranormal Liberation War Arc in Boku no Hero Academia is getting better and better. The manga series is continuously showcasing character development for the supporting characters. With the latest My Hero Academia Chapter 280, we have seen another bravery of Kirishima, also known as Red Riot, as he saves Mina Ashido from disaster.
Before we get started, be advised that this article contains spoilers. If you haven't read the 280th chapter of Boku no Hero Academia just yet, then avoid reading it as we will be into some real spoilers from the series.
The latest Boku no Hero Academia Chapter 280 followed Mina Ashido, also known as Pinky, as she engaged the battle against Gigantomachia. Following the failed attempt to put the sedative to the villain's mouth, Mina Ashido rushed in. However, things slowed down when she remembered Gigantomachia's voice which paralyzed her into fear. The aspiring pro her recalled her previous encounter with Gigantomachia during her middle school years.
As a result, he loses her focus and lost her grip on the sedative canister. At the same moment, Gigantomachia throws Mt. Lady and almost crushes Pinky. Fortunately, Kirishima stepped in to save Mina's life. But that's not the end for Red Riot's bravery as he immediately grabbed the canister of sedative and throws it into the villain's month.
Himiko anticipated Kirishima's action and throws a knife resulting in the shattering of the canister. While it seems that the villain stopped the UA student, Kirishima still has another canister on his hand which he also throws into the villain's mouth. The last scene sees Gigantomachia crushing the canister of sedative inside his mouth.
This is not the first time for Mina and Kirishima to see Gigantomachia at the same time. During Mina's first encounter with the villain, Kirishima was close to their location but he can't do anything. With the remarkable bravery that Eijiro Kirishima showcased in this arc, it's likely that we will be seeing more of his actions in the future.
Are you surprised by Red Riot's action in Boku no Hero Academia Chapter 280? Tell us what you think by leaving a comment below.
Conclusion
And that's all for this Anime guide. Do you have any suggestions or tips to improve this guide for Anime? If yes, then make sure to leave a comment down below. This guide has been made possible by Jon Davis. You can check him out by simply clicking his name.