This guide will give you information and tips about Killing Floor's Haunted Hotel map. It's key locations and tricks that can help you get through this hard map.
Introduction
KF-Haunted-Hotel is a map created by Mr. RoBoT and Marco back in 2013. It's inspired by the game called Damned, which you can get here on Steam. Unfortunately the multiplayer is long dead, but you can still grab it if you want to play with your friends. Which I definitely recommend you to do if you like the Survival Horror genre.
I've played Damned for 50+ hours and have some experience in both the game and this map, so I'll try to share some knowledge I have, regarding the Monster, his mechanics, and overall how this map works. I will also post some Screenshots with possible key locations.
Basic Information
KF-Haunted-Hotel consists of 12 rooms. Lobby, Hallway, Bar, Game Room, Dining Hall, Kitchen, Saloon, Deposit, Depot, Pantry, Gentlemen Room, and Ladies Room.
The map itself is pitch-dark and without a flashlight is very hard to navigate, unless you play it for some time and get familiar with your surroundings. But if you die or join as a Spectator, it will be fully lighted up and you'll have a chance to explore it and help alive players find keys which sometimes can be very frustrating, especially when you struggle to find the second item in the room (We'll get to that later). You start in the Lobby, soon as you are ready up and spawn, you'll see some general tips on the first doors which you'll have to unlock. I strongly suggest reading and getting accustomed to them.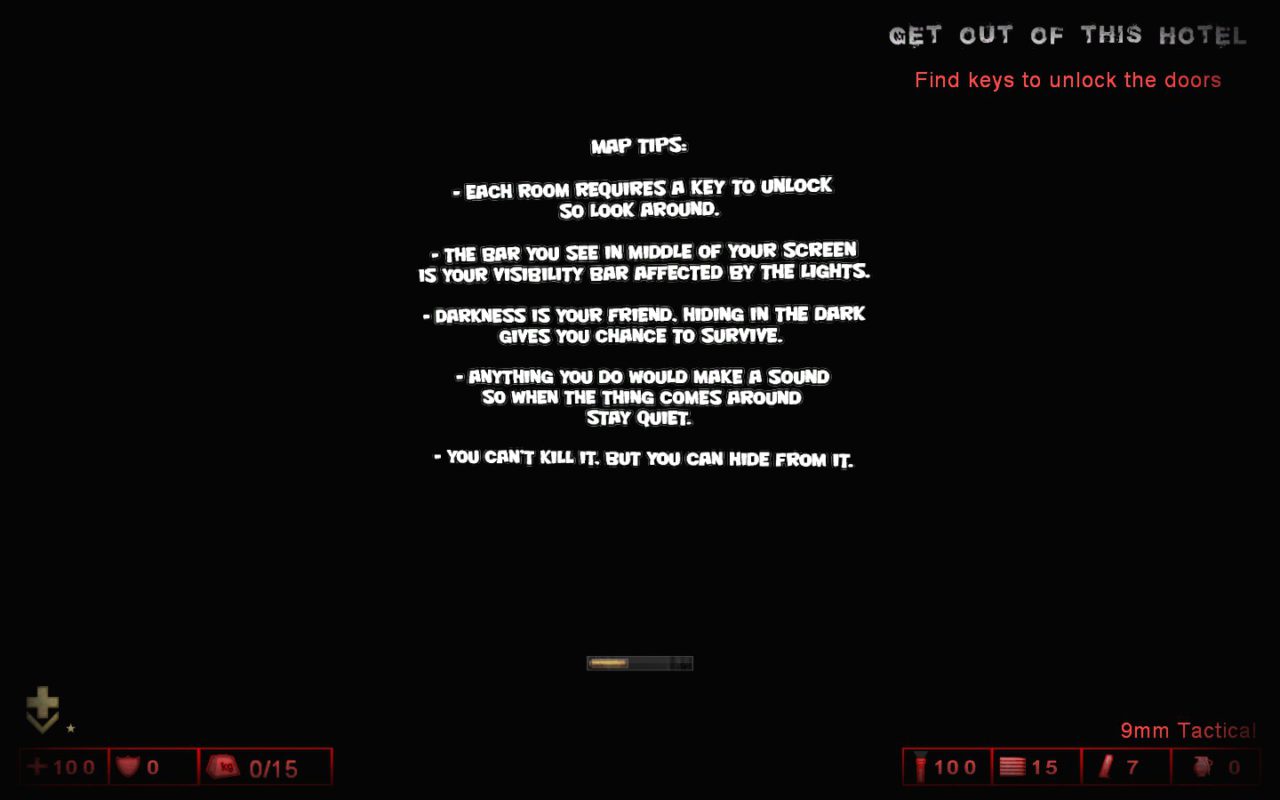 And now let's get deeper into this. Each room will contain at least one key or an item that will help you to progress, but there is a catch. One of the rooms will always contain two keys. (or combination of keys and items), one opens a random room, and another one is for the room with an Axe, which you will need to break the planks guarding, the elevator to victory, or a Golden Key. To win the map, you need to find the Golden Key and Fire Axe, break the planks guarding the elevator in Hallway and escape.
The Items
There are 4 types of keys on the map. Rusty, Metal, Vault and Golden. Rusty keys will mostly unlock Storages (Deposit, Depot), Metal Keys will open bigger rooms (Dining Hall, Saloon, Kitchen) and the Golden key unlocks the elevator to Escape. The Vault Key should obviously unlock the Vault in Pantry, but it doesn't, it is welded-shut. Possibly a bug, but I got no confirmation from the Author. Moreover, the Vault key isn't very common. There are also regular items like an Axe (which breaks the planks) and a Welder (which you'll need to unweld the vault in Pantry room).
The Monster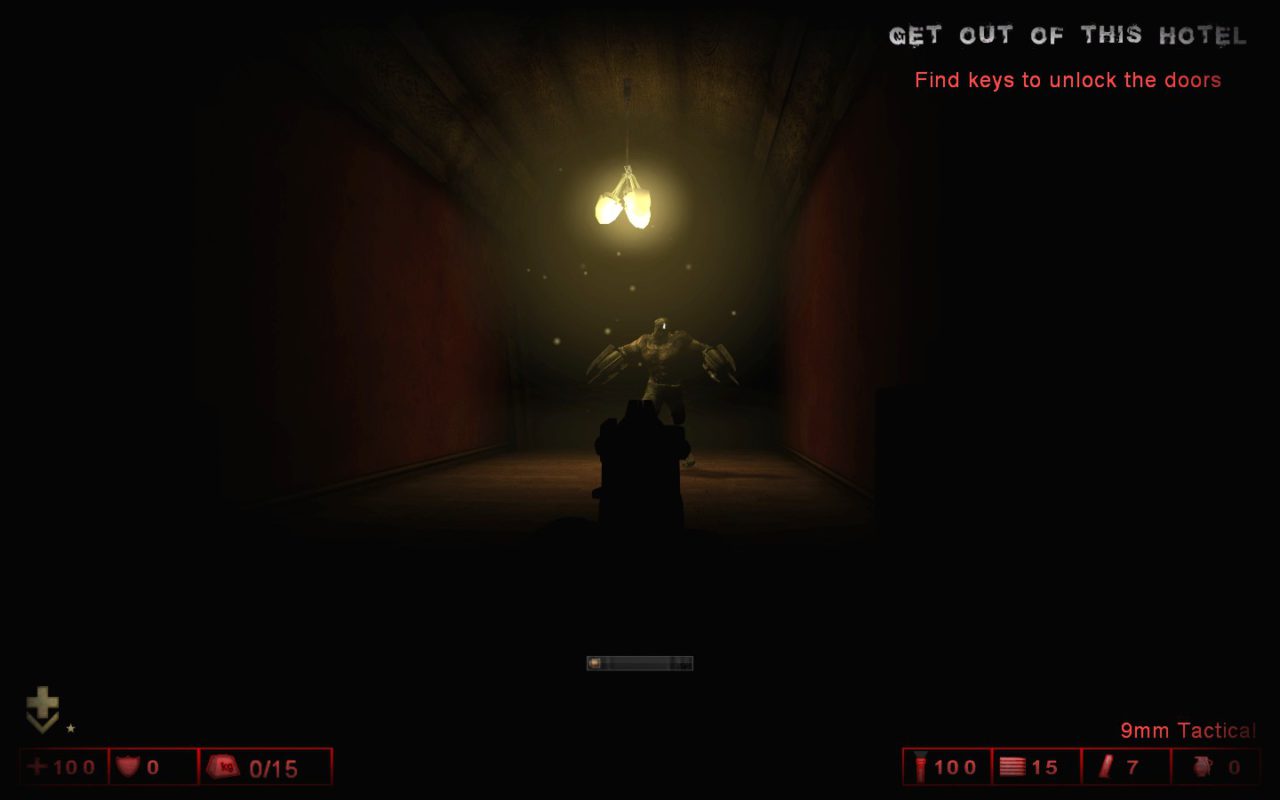 The Monster is a reskinned version of Summer-themed Fleshpound, but he works differently. He is basically Lurker from the aforementioned Damned game. He will lurk around the map, can move through the locked doors, looking for any potential noisemakers. If he finds one, he will enrage, just like normal Fleshpound does, and will run towards his target, but he may lose his target if you hide in the dark.
You've got the so-called Visibility meter on the bottom of your screen. The biggest trick about it is that it's not just your Visibility, but the Noize meter as well. When he spawns, he will check for spots where any Survivor was the most visible and closest to him. So when he is out there, avoid using a flashlight. You can still look around for keys, but using a flashlight will most likely give away your location, even if he is behind the wall. So listen carefully for his footsteps. If he is near, find the darkest spot, potentially a corner, and standstill. If you aren't too funny with your flashlight when he is out there, he will eventually go away and despawn. You will know that when you can no longer hear his footsteps. You may still hear his growling, but that could be a bug so just ignore that. The most important thing is Footsteps.
On Beginner it was possible to kill him if you swarm him with all 6 of you and bully him to death using Axes. It is no longer possible, so just don't try it.
How to Actually Proceed and Win?
As it was mentioned you have to find an Axe and a Golden Key, break the planks and escape through the barricaded elevator in the Hallway. The hardest part about all this is finding the room with 2 items and avoiding the Monster.
You start only with a pistol which is basically your flashlight. You can also use it to draw attention from your teammates who might be in danger.
When you exit the Lobby, you will have about 30 seconds to look for keys. After that, you'll hear an agonizing scream. That's when the Monster spawns. He always spawns in Pantry, that's where you'll find the body of that unlucky person, so get ready to hide.
Find a dark spot with the least filled Visibility meter and stand still until he goes away or even better – despawn altogether. When he despawns it once again gives you about 30 seconds to freely roam with a flashlight on and search for the keys. His despawning can be predicted when you can no longer hear his footsteps.
Hiding from the Monster on itself is not a difficult task, but more of a patience game. Sometimes he is very persistent and may stay spawned for over a minute, forcing you to wait. But if you play with somebody, you can split and confuse him, by turning on/off your flashlight from different locations and potentially luring him away from your teammates. Splitting up here is a very good idea. This allows you to find keys faster and lets your teammates safely search the area for keys.
If you found the room with the Axe or the Golden key, but not a Rusty or a Metal key, it means you've probably missed the room with 2 items, so you will have to backtrack to all previously unlocked rooms and search for another key. But if you did find 2 keys/items in the same room, you should have no problem winning.
Tips and Tricks
The difficulty has a minor role on this map, but I strongly suggest starting on Beginner for people who don't know this map. The Monster has most mechanics of Fleshpound meaning: On Suicidal and HoE his rage will last 20 seconds (10 on any lesser one), he will deal much more damage (can kill you in one hit on Suicidal and HoE unless you are Berserker)
Perks don't matter here, except a few. The best pick is the Medic, he moves faster with any weapon. The Berserker is for damage resistance, he will also move faster, but only with an Axe, meaning no Flashlight. Support will allow you to unwind the Vault in Pantry faster, while Commando lets you see the Monster better and his health as well. Any other perks are useless, you won't get any benefits. Having 4-5 medics and 1-2 supports is the way to go.
There is no Syringe, so every hit counts here. If he brings you down to less than 50 hp, you will move slower, even worse if he brings you down to less than 25 hp, your screen may start flashing red, even further impairing your already bad vision (That doesn't always happen, could be a bug). So avoid him at all costs.
If you do get spotted, don't freak out. Immediately turn off your flashlight and run away to some dark place. He should lose sight of you if you got far away from the location where he spotted you and will eventually calm down.
Make sure your Visibility meter stays as low as possible. Having it empty gives you a 99% chance he won't find you unless you are in the way.
While it may sound s$distic, you should try to avoid using a flashlight unless you are actively searching for the keys. You may have trouble navigating, but if you don't use a flashlight and avoid bright spots completely, he won't spawn at all, until you do.
There are a couple of cheap rooms to look out for. These are Bar and Dining Hall. The Monster may sometimes spawn at another end of the room with you, while you're looking for the keys, completely unaware of his presence. I had a few runs ruined by exactly this situation. This is extremely frustrating and could be a bug. Use tip #3 to avoid him.
If the first Key you've found is Rusty, it will most likely open the Bar, so try there.
Possible Key Locations
You'll find the keys on tables, chairs, flower pots, shelves, sofas, fireplace [Hallway], toilets [Gentlemen, Ladies Room], sinks [Gentlemen, Ladies Room] and even on the floor. They will also be inside the buckets(rarely, probably because it's too obvious). This section will contain screenshots of possible key locations. There are 10+ possible key locations for each room.
Try to look around even if you did find a key and especially if you've found an Axe or a Golden key instead of a Rusty or a Metal one.
That's everything we are sharing today for this Killing Floor guide. This guide was originally created and written by Unknown. In case we fail to update this guide, you can find the latest update by following this link.
If you believe that any of the content on this site violates your rights, including your intellectual property rights, please contact us immediately using our contact form.