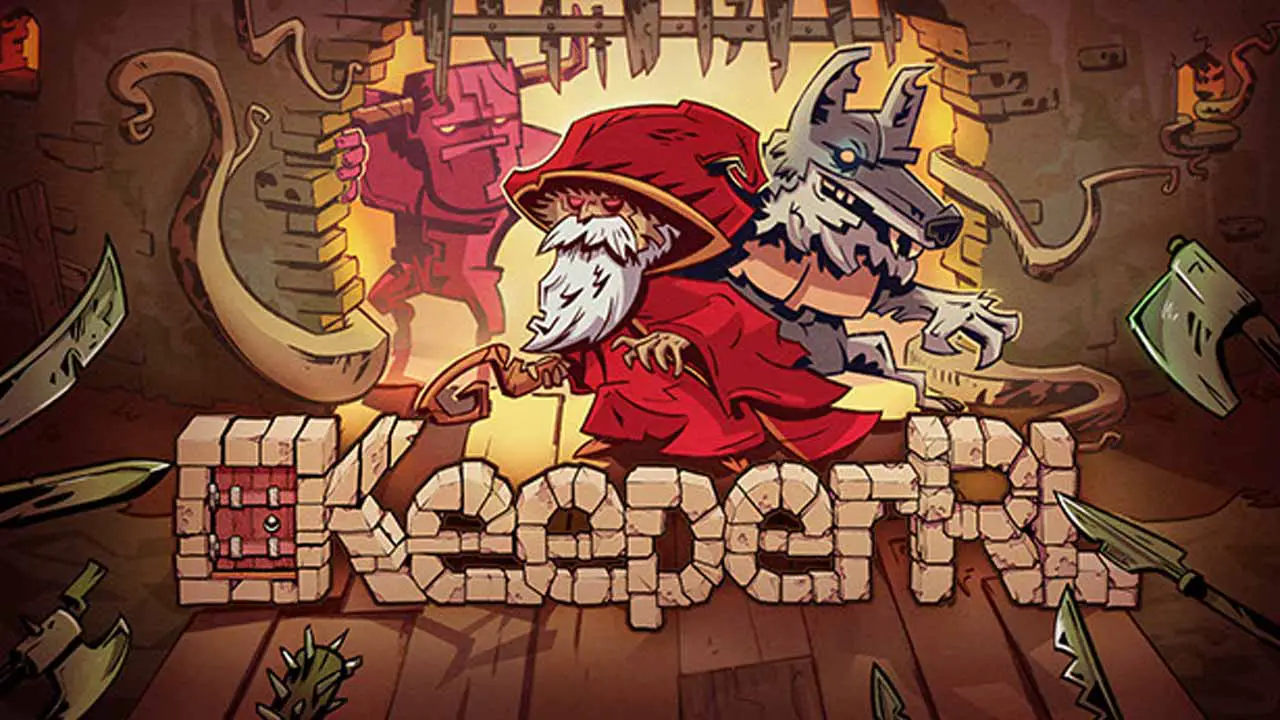 This article will greatly spoil your experience if you are new to this game. Continue reading at your own risk.
Strategy
The easiest way to victory in KeeperRL is to raise a super-strong unit rather than to build
well-equipped army of mass.
You have to:
Pick a suitable (melee) unit.
Always gear him and have him trained as better as you can.
Feed all kills(especially tribe leaders) to him for extra stats/exp.
With insane stats, he will destroy everything.
Candidates for the Super Unit
Knight Keeper
One of the best melee units in KeeperRL. Double Weapon ability allows wielding two two-handed weapons(pardon?) for insane damage.
The only drawback is that if he died accidentally, the game is over.
Cyclops
He is one of the best melee units, too. My cyclops reached 80/70 in my first successful run.
Being properly geared, even a newly recruited Cyclops becomes insane.
The problem is that he is not available for every run because of RNG for maps and torturing. Consider rerolling until they appear as a lesser villain. After capturing him, pray for successful "persuasion" on a torture table. According to my experience, they have a higher chance to be converted than other sentient creatures.
Ogre
Common alternative. Has a decent melee training cap. The magical vulnerability may be a problem, but only 30% gain of received damage are not significant once he gets high stats(You know, actually Magic Missile are useless against Adamantine Golem)
Note that I didn't experiment on them
Doppelganger/Legendary Humanoid
Probably suitable, but bothering to research Demonology and following techs? Really?
Super Unit Gears
Adamantine Battleaxe
Adamantine Armors
Ring of Poison Resistance
Ring of Fire Resistance
Amulet of Regeneration
Poison and fire can kill a unit regardless of its stats, so these resistances are mandatory.
Opening Moves
Pick Dark Knight Keeper. Get at least 1 goblin artificier. You can hire more useless green skins, mainly for prisoner capability, but they should be up to 7 because we need 1 priest, 1 legendary artificier, and 1 harpy later. You can't hire magical units for now. If you see a legendary artificier, hire him. We use him later on.
Mine some iron and give the keeper full iron gears. Do not forget to give another sword(He can equip two). Build Iron Training Dummies and train the Keeper to melee 7.
Now Conquer human village(s) on starting map. This gives you 1 research point. The first research will be Jewelry, which is the most important tech. Craft Poison/Fire Resistance ring and Regeneration amulet. Give the keeper them.
Conquering Tribes
Start conquering weak(peasants, bandits, kobolds, ratmen) tribes.
Seek them on every map.
Fully equipped with iron gears, the keeper alone can take them out.
The keeper should gradually gain more stats.
Avoid fighting Dwarves/Elves/Archers/Ants until you are confident.
Techs
Sorcery/Adv.Sorcery – It's safer to have a goblin priest accompanying your super unit. Also with (basic) Sorcery, Knight Keeper can learn spells of self-healing, which sometimes helps.
Two-Handed Weapon – Your super unit gets stronger.
Others are unnecessary to beat the campaign.
More Conquering
Now you can conquer dwarves for stats/fast-digging slaves. If you are anxious about being solo, hire a goblin priest, make him "stand ground" at a safe location, and back to get healed when your keeper is in a pinch.
Mid-Game Recruits
If a harpy shows up, recruit one. You should have one or more short bows from the spoil of war. If you don't, consider researching Archery with redundant points. She's vital to deal with plague black rats/water level.
If you have a Cyclops villain on the map, you can capture him and convert him as the keeper's alternative. To do that, you should need a descent sized army. Note that he will be triggered when your colony reaches a certain population.
Go Deeper
By feeding the Keeper with many and many kills, now he's got stronger and can smash the entire dwarf settlement alone. Now go deep and get adamantine.
To go deeper, you should meet some prerequisites.
Get a harpy and a short bow.
Get at least 50/50 stats on your super unit(more is better), to massacre Adamantine Golem.
Craft a Ring of Magic Damage, in order to crush Adamantine Golems.
Now, go deeper straightly. Smash everything with your super dark hero. Plague black rats have to be dealt with by the harpy. Clear them by her bow, rather than risking your super unit into a plague.
Sometimes you would get a sufficient amount of Adamantine Ores before facing water levels/Adamantine golems if you are lucky.
Water Level
This level is very useful due to high exp points from Water Elemental. Lure them with harpy to let your super unit crush them for exp. To get to the next level, just find an island and dig a stair there. Wooden Bridges will help.
Adamantine Golem
They are not a big problem for your super unit with Ring of Magic Damage. Once you have enough Adamantine for a set of armor and two Adamantine Axes, you will not need more.
Destroy Everything
Now your super unit should have become unstoppable. Start destroying everything(weaker ones first). If you got dragon scales or glyphs, upgrade equipment. Rinse and repeat the process.
That's everything we are sharing today for this KeeperRL guide. This guide was originally created and written by Mentsuyu. In case we fail to update this guide, you can find the latest update by following this link.
If you believe that any of the content on this site violates your rights, including your intellectual property rights, please contact us immediately using our contact form.