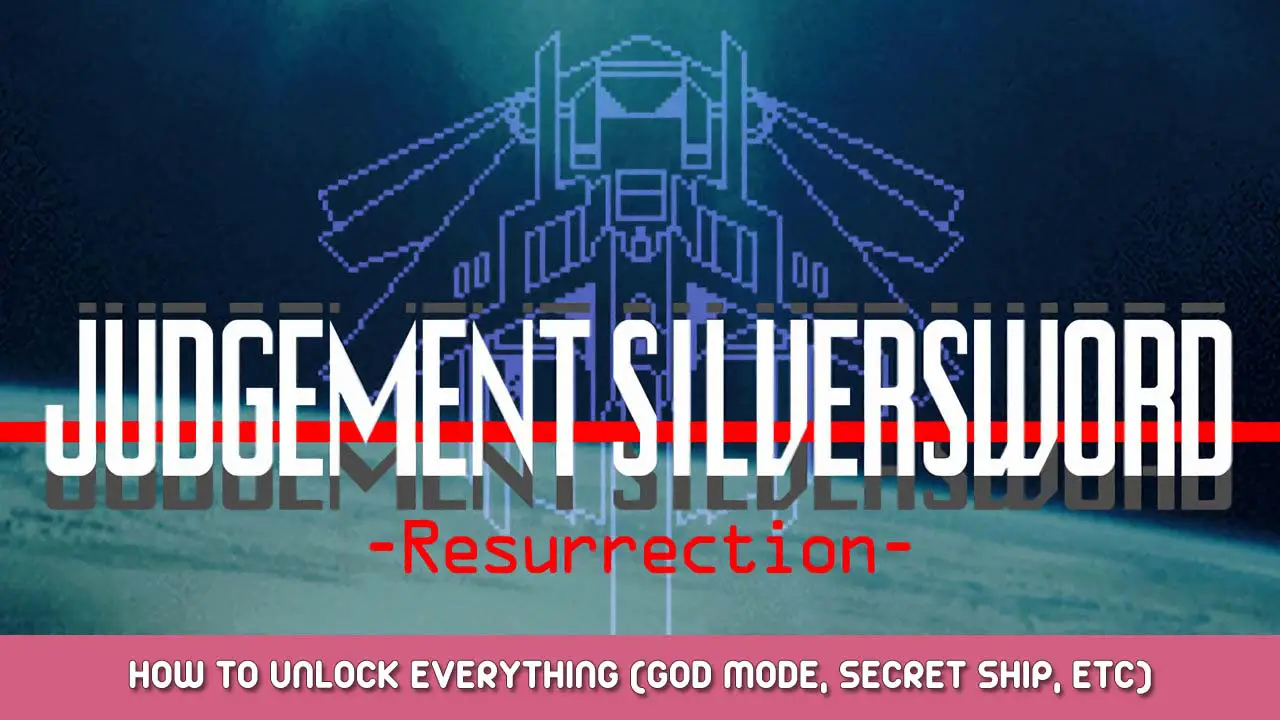 How to unlock Special Mode, the Secret Ship "G-XACALIA", god mode, and more.
Option Levels
Are you one of those gamers who goes straight into a game when you first load it up? Or do you check out the options menu? JSS actually has extremely barren options with many enigmatic question marks when you open it up on first play. The game makes you unlock every single option! But on the flip side, the options are very full featured including things like stage select, God Mode, and a completely overpowered Super Shot.
The way these unlocks work is that every credit you play adds score to a "Total Score" in the options menu. You can check this out at any time by choosing "Setup" from the title screen and then "Information" from the options menu. All options are unlocked the same way — increasing the Total Score.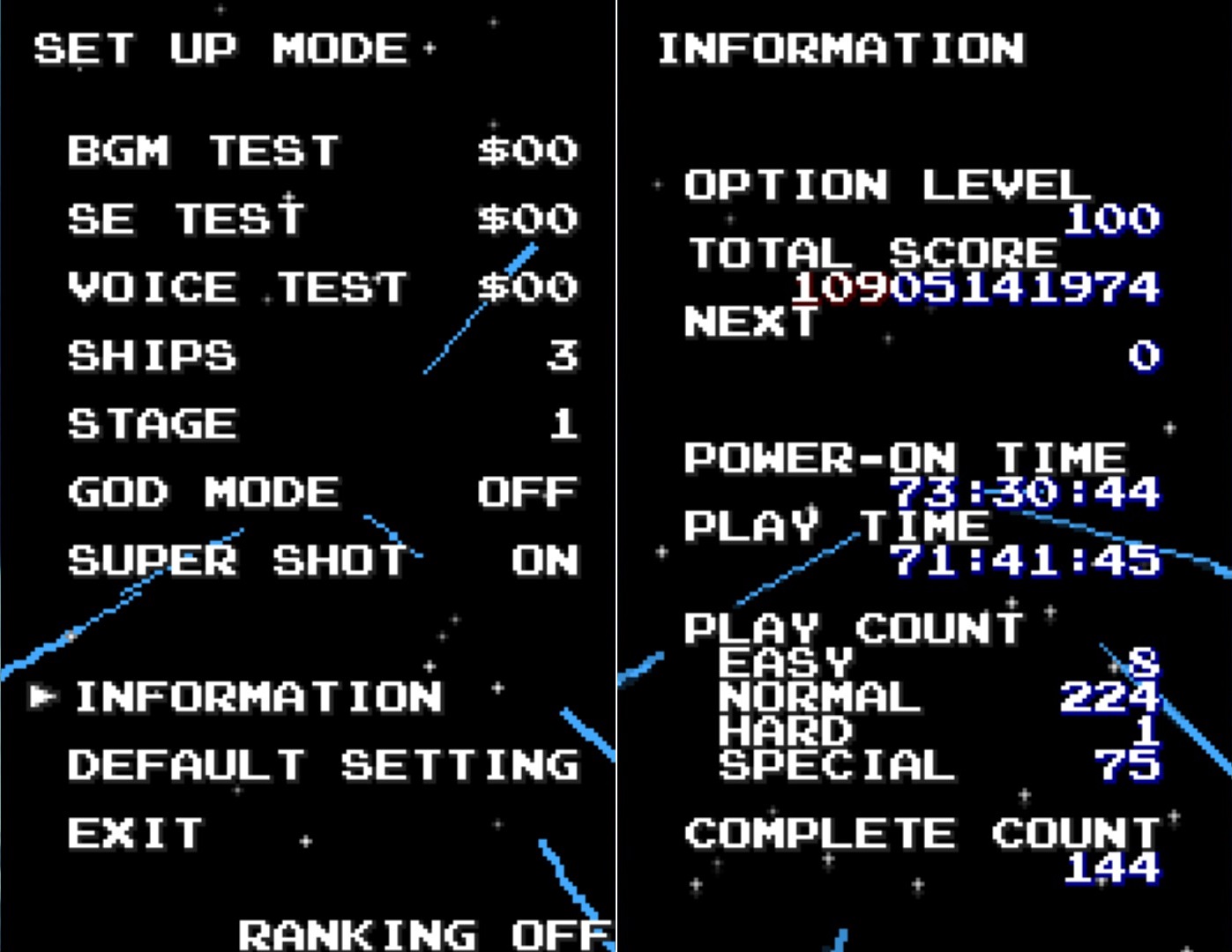 Functionally, the Total Score is basically like experience points in an RPG. It's a number that only keeps going up with every credit you play. It's a nice way to let you feel like you're making progress on
somethingeven if a credit goes poorly.
Option Level
Total Score
New Option
Option Level
Total Score
New Option
1
0
–
26
625,000,000
Free Play (unlimited credits)
2
1,000,000
–
27
676,000,000
8 Lives Max
3
4,000,000
2 Credits Max
28
729,000,000
Stage 5 / Area 27 Start
4
9,000,000
SFX Sound Test
29
784,000,000
–
5
16,000,000
3 Credits Max
30
841,000,000
9 Lives Max
6
25,000,000
Stage 2 / Area 6 Start
31
900,000,000
10 Lives Max
7
36,000,000
Lives Setting Available
32
961,000,000
–
8
49,000,000
4 Lives Max
33
1,024,000,000
God Mode (But not Area 31)
9
64,000,000
4 Credits Max
34
1,089,000,000
–
10
81,000,000
–
35
1,156,000,000
–
11
100,000,000
5 Credits Max
36
1,225,000,000
–
12
121,000,000
BGM Sound Test
37
1,296,000,000
–
13
144,000,000
–
38
1,369,000,000
–
14
169,000,000
Stage 3 / Area 14 Start
39
1,444,000,000
–
15
196,000,000
6 Credits Max
40
1,521,000,000
–
16
225,000,000
5 Lives Max
41
1,600,000,000
–
17
256,000,000
7 Credits Max
42
1,681,000,000
–
18
289,000,000
Voice Sound Test
43
1,764,000,000
Super Shot
19
324,000,000
8 Credits Max
44
1,849,000,000
–
20
361,000,000
–
45
1,936,000,000
Stage 6 / Area 31 Start
21
400,000,000
Stage 4 / Area 21 Start
46
2,025,000,000
–
22
441,000,000
6 Lives Max
47
2,116,000,000
–
23
484,000,000
9 Credits Max
48
2,209,000,000
–
24
529,000,000
7 Lives Max
49
2,304,000,000
–
25
576,000,000
–
50
2,401,000,000
God Mode (Now in Area 31)
Option levels keep going all the way to 100, but after level 50 they don't seem to actually unlock anything.
Farming Total Score
So what's the fastest way to farm score and rise up those option levels? I'll cut right to the chase:
Play Normal or Hard Mode to earn more points
Don't quit/restart runs after a death, you will forfeit those points
Later areas are worth more points, so it's good to continue
Change the settings to increase your lives and start on later stages so you spend more time in more lucrative areas
Once you can clear the game, there is a very large point bonus (2M on Normal) for each extra life remaining
Generally speaking you want to start on the latest level you've unlocked and with the maximum lives you've unlocked. Because later areas are more lucrative for points, this will really snowball after a while and before you know it you'll be high option level and know a lot of the game's patterns. The 1024M needed for God Mode may seem far away but as soon as you're good enough to clear from a late stage start it won't be far away.
If you feel dirty continuing or using non-default settings, well, just think of it as efficient practice. You might be farming Total Score but at the same time your meatspace self is earning real life experience points. Try to have fun with it, and mix in some runs on default settings to see how far you've progressed.
Super Shot
Unlocked at Option Level 43, the Super Shot is so ridiculously powerful that it will kill bosses before they have time to attack you.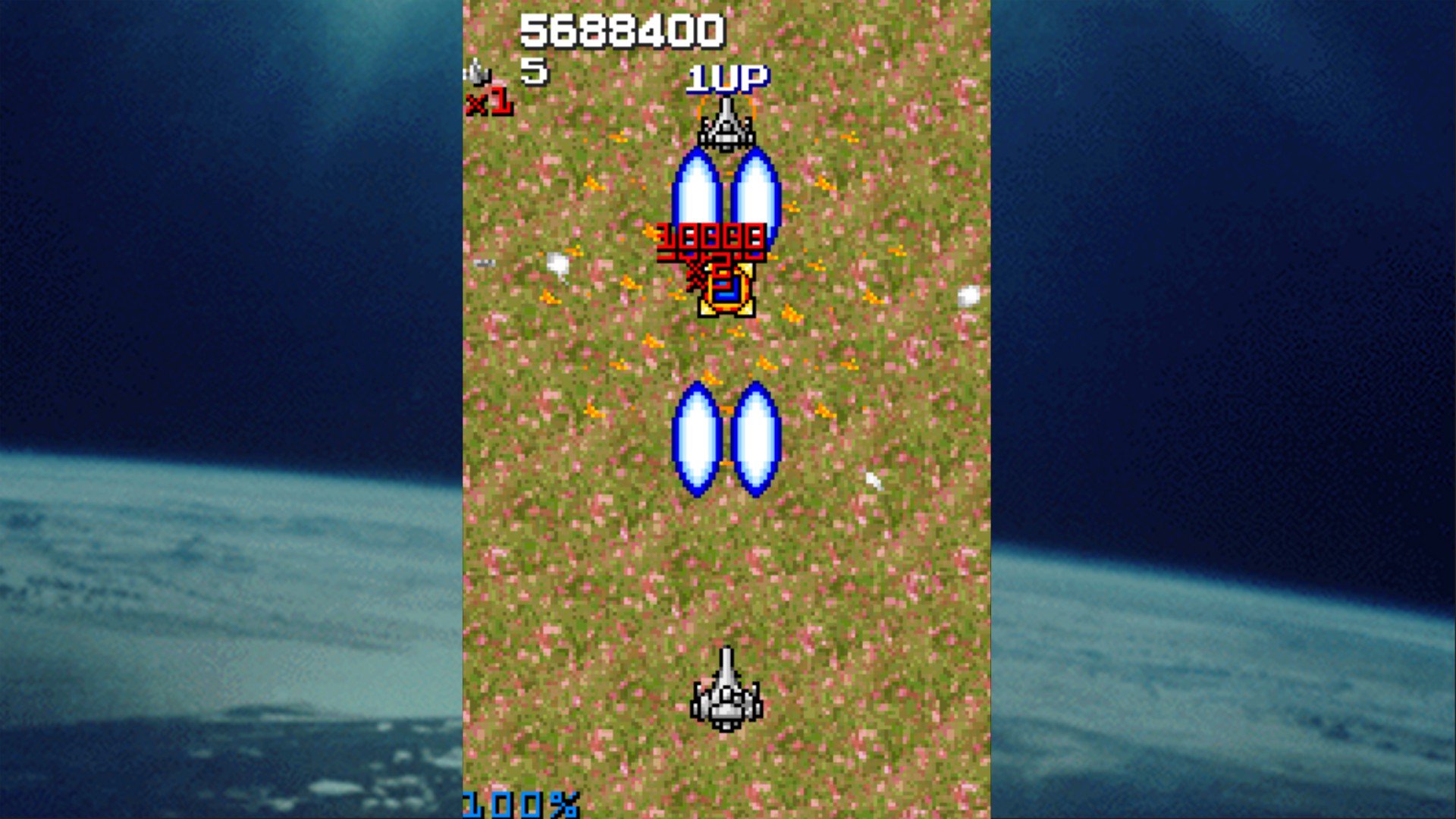 The weapon is so strong actually that it completely trivializes the game. It was added to the game to help the developer debug things. And for us, that means we can use it to practice more time efficiently. Think of it as a fast forward button to get through boss fights you aren't interested in grinding at the moment.
This shot does not replace any of your standard shots. It has a 4th dedicated button for it. So if you can't figure out how to fire it, double check your input mappings. Because it's a separate button, it's quite easy to forget when Super Shot is left on. Imagine the shock on my face, clearing Special Mode without a leaderboard update because Super Shot was turned on (but never used during the run). Learn from my mistakes!
Special Mode
Special Mode is unlocked by clearing Area 31.
Often people will say you need to "1CC Normal" to unlock Special Mode, but this is not quite true. That's only related to how you enter Area 31. The game will end after Area 30, unless these conditions are met:
Complete Area 1 through 30 on a single credit
Only appears in Normal Mode and Hard Mode
Must not be using God Mode unless your option level is 50
Note that there is nothing in there about being on default settings.
You are allowed to increase your starting lives. While you almost need to 1CC to meet these conditions, once you are in Area 31 you are allowed to continue as much as you want. The single credit condition is for unlocking Area 31, not for the Special Mode unlock.
By all means crank up your lives, do a "1CC", and then continue your heart out trying to complete Area 31 with all those extra lives. It's an approachable though still very difficult challenge.
Most able gamers should find themselves making steady progress. Don't feel bad if you don't get it first try. I needed to cheese my way into Area 31 several times before I was able to push through with unlimited continues. But if you're not finding Area 31 fun or don't think you have what it takes, then a little more patience with Total Score farming will get you there: once you hit option level 50 you can simply beat Area 31 with God Mode enabled.
Judgement Silversword ~ Normal – Default Ship ~ 153M
Secret Ship
The Secret Ship is unlocked by clearing Special Mode.
This is it! The ultimate secret unlock buried behind another secret unlock!
Unlike unlocking Special Mode, your only options are to get absurdly good, or else to use God Mode. Special Mode doesn't respond to the lives setting, so there's no shortcut. So if you want that Secret Ship, go farm your Total Points up to the 1024M needed for God Mode!
Judgement Silversword (PC Version) – Special Mode 1CC (Normal Ship)
The Secret Ship (aka G-XACALIA) is a really cool final gift to the player. And it plays very differently as well:
Straight shot is replaced with a narrow but extremely powerful laser. Position it right and you can penetrate large enemies to damage several at a time.
Wide shot is replaced with a rapid stream of homing balls. Useful in a crowd, but they are lower damage and the homing has a slow turn rate which means it can miss some rapidly moving enemies.
Shield is replaced with a very original "bullet repulsion" attack that slows bullets down or even reverses their direction, all while damaging all onscreen enemies.
Hit box is a bit lower and a bit larger than the main ship.
Have fun experiencing all the familiar patterns of Juddgement Silversword in a new way, using this creative and original ship!
That's everything we are sharing today for this JUDGEMENT SILVERSWORD - Resurrection guide. This guide was originally created and written by colour_thief. In case we fail to update this guide, you can find the latest update by following this link.
If you believe that any of the content on this site violates your rights, including your intellectual property rights, please contact us immediately using our contact form.