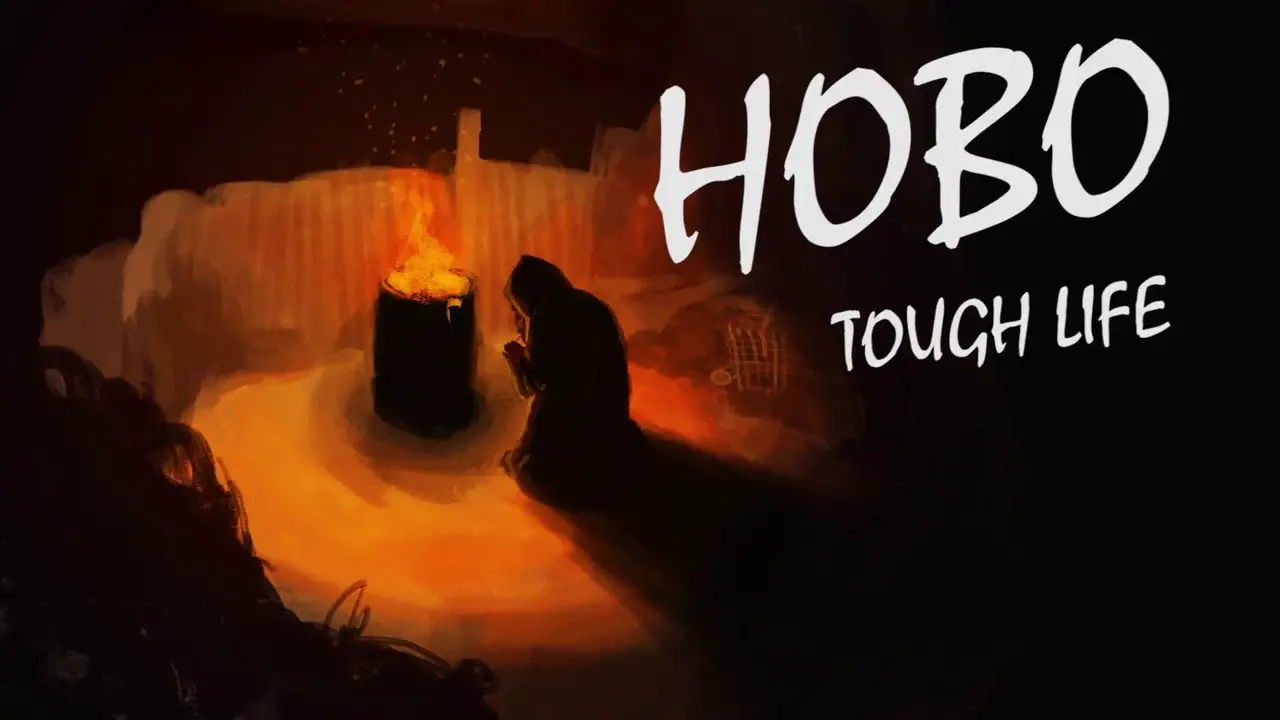 Guide on unlocking hobos for Hobo Tough Life. Tips and images included.
Note
You will be notified if you unlocked the character. A notification will pop up at the center of the screen. A sound cue will also be played.
All Hobos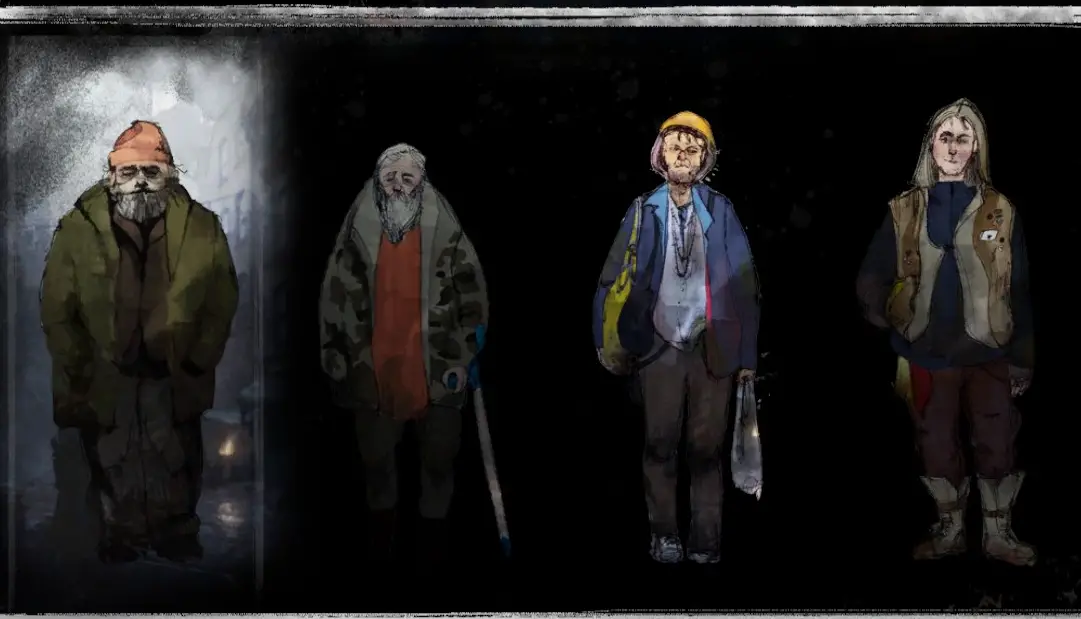 Common Hobo
Experienced Oldster
Smelly Jack
Lucky Luke
Experienced Oldster
Step 1: To acquire this hobo first you must build a study. Below is the recipe.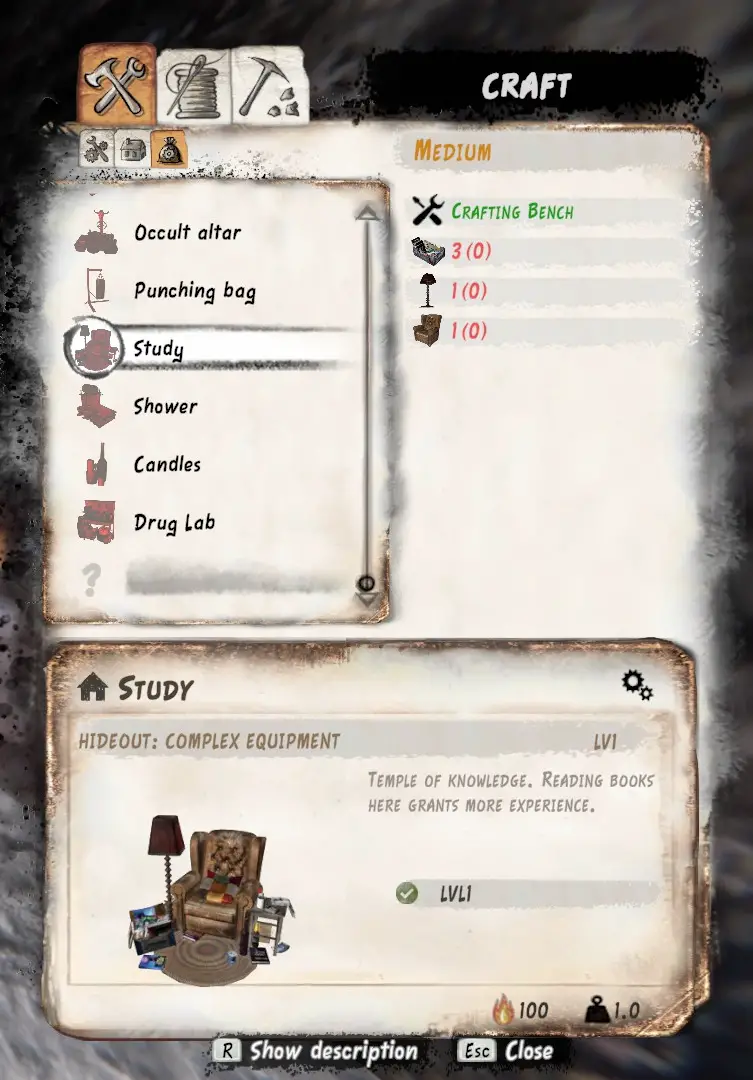 This is what the study looks like when it's placed.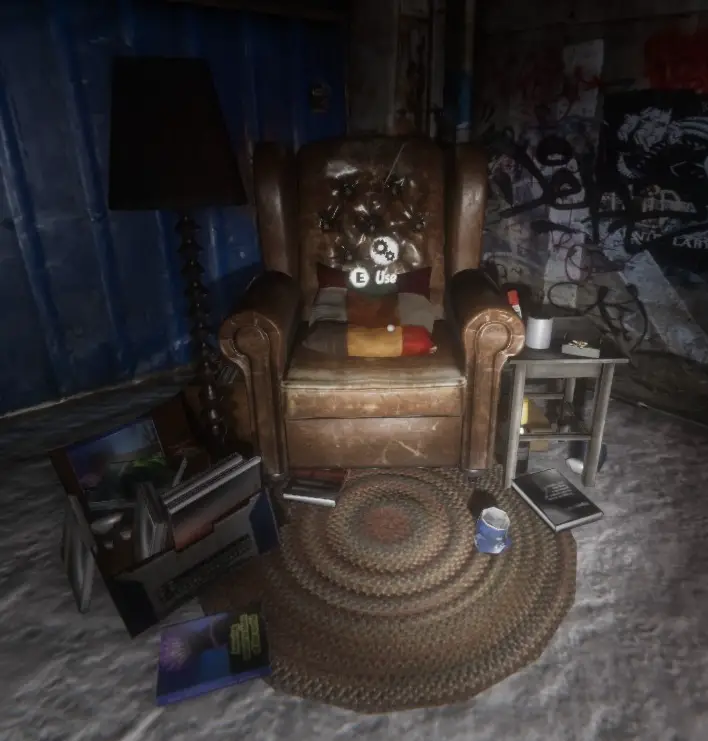 Step 2: Next you must acquire 30 serious books. This part is very grindy. Here are two ways I gathered them quickly.
Stealing – Some NPC's walking around may carry serious books (Having a high steal level helps).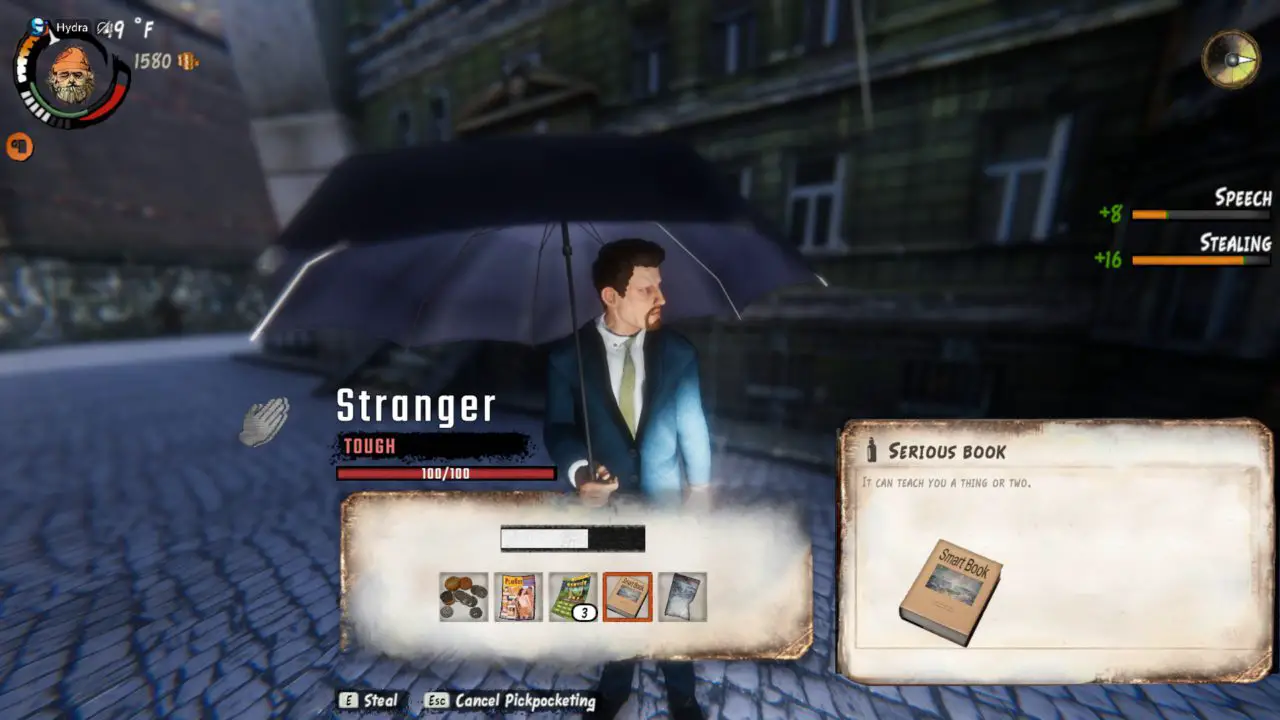 Satanic Shrine – The satanic shrine has a random chance of giving you serious books (Make sure to have plenty of healing items and packaged chicken).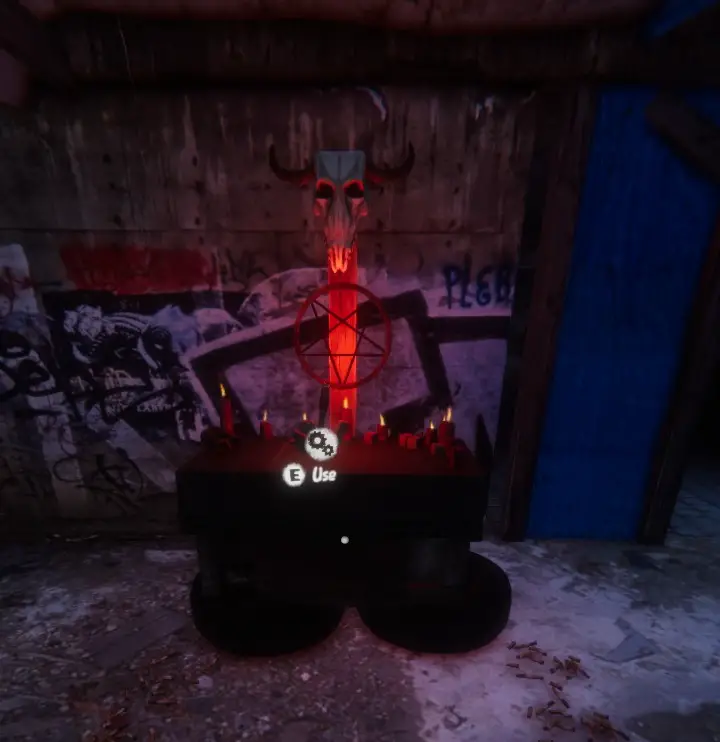 Dumpster Diving Industrial Bins (Not recommended)
Step 3: Use the study to read 30 books. (Doesn't have to be all at once).
Smelly Jack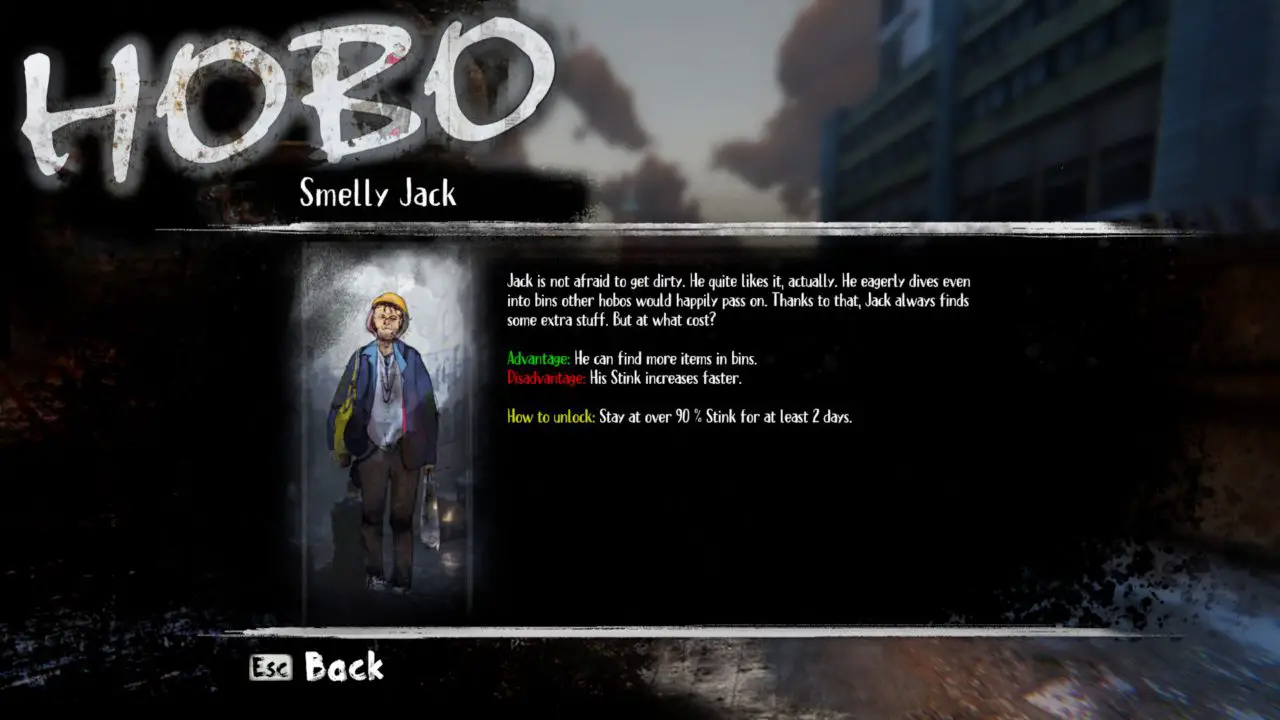 This hobo's by far the easiest to unlock.
Step 1: Sh*t yourself
Just spam food until you sh*t yourself. Instantly spikes odor to 100% and stains clothing.
Step 2: Wait/AFK or do quests/favors while waiting for the 2 days to be up (should be around 60 min). DO NOT use any wet wipes or soap. Your odor must stay above 90%.
Note that you won't be able to interact with most NPCs (except hobos), supermarkets, toilets, etc so make sure you have access to food and toilets.
Lucky Luke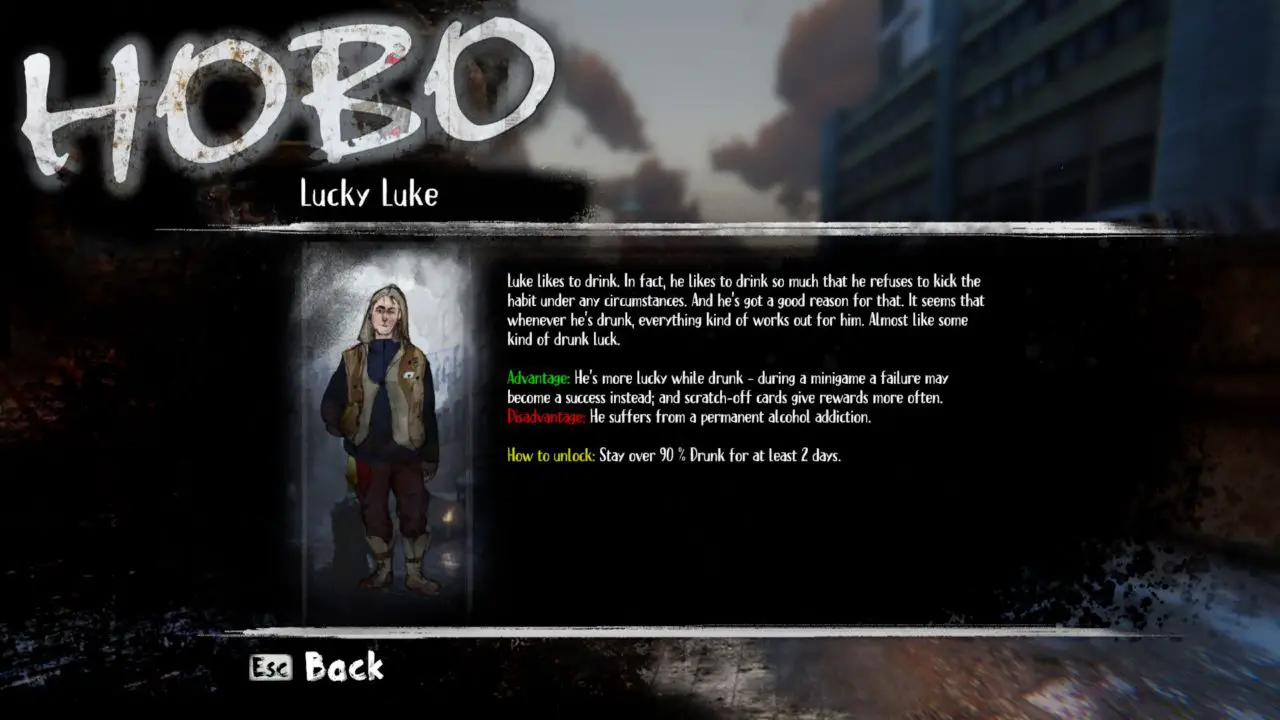 This hobo is easy to unlock as long as you're prepared with plenty of food and energy drinks.
Step 1: Create Drinking Lounge Here's the recipe: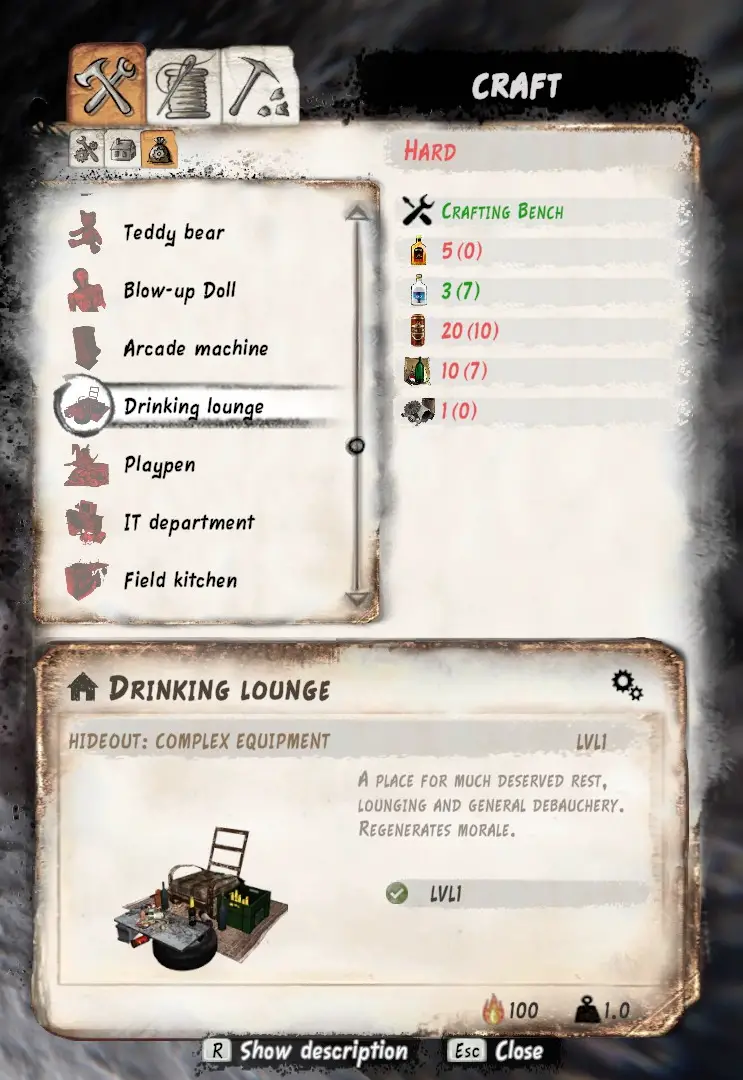 Here's what it looks like: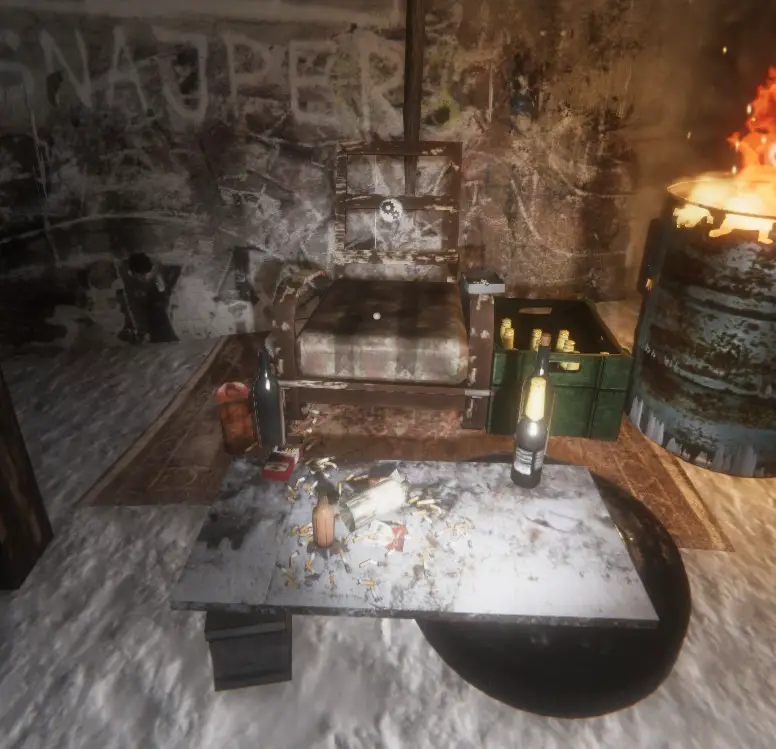 Step 2: Preparation – Make sure to have an inventory of food, quality cigs, alcohol, and energy drinks.
Have at least 2 days worth of energy drinks and food
Have 3 quality cigs
Enough alcohol to get your hobo to 100%.
Make sure to use the toilet and sleep to 100 beforehand
Get stats to a good amount (food and morale – 100%)
Note: DO NOT use coffee as it lowers the alcohol level.
Step 3: Spam the alcohol until the alcohol level says 100% then sit on the drinking lounge.
Step 4: Leave the game open and go do something else (watch youtube/play another game/etc) checking up once in a while to manage stats.
If your hobo needs something (for example: hungry) get off the lounge and eat/drink then get back on. DO NOT use the toilet you won't have enough time just let your hobo sh*t himself.
Food – Hunger
Cigs – Morale
Energy Drink – Stamina
Remember that you have to stay on the chair for 2 whole days. That will usually takes around 60 mins gameplay.
That's everything we are sharing today for this Hobo: Tough Life guide. This guide was originally created and written by Antartican. In case we fail to update this guide, you can find the latest update by following this link.
If you believe that any of the content on this site violates your rights, including your intellectual property rights, please contact us immediately using our contact form.