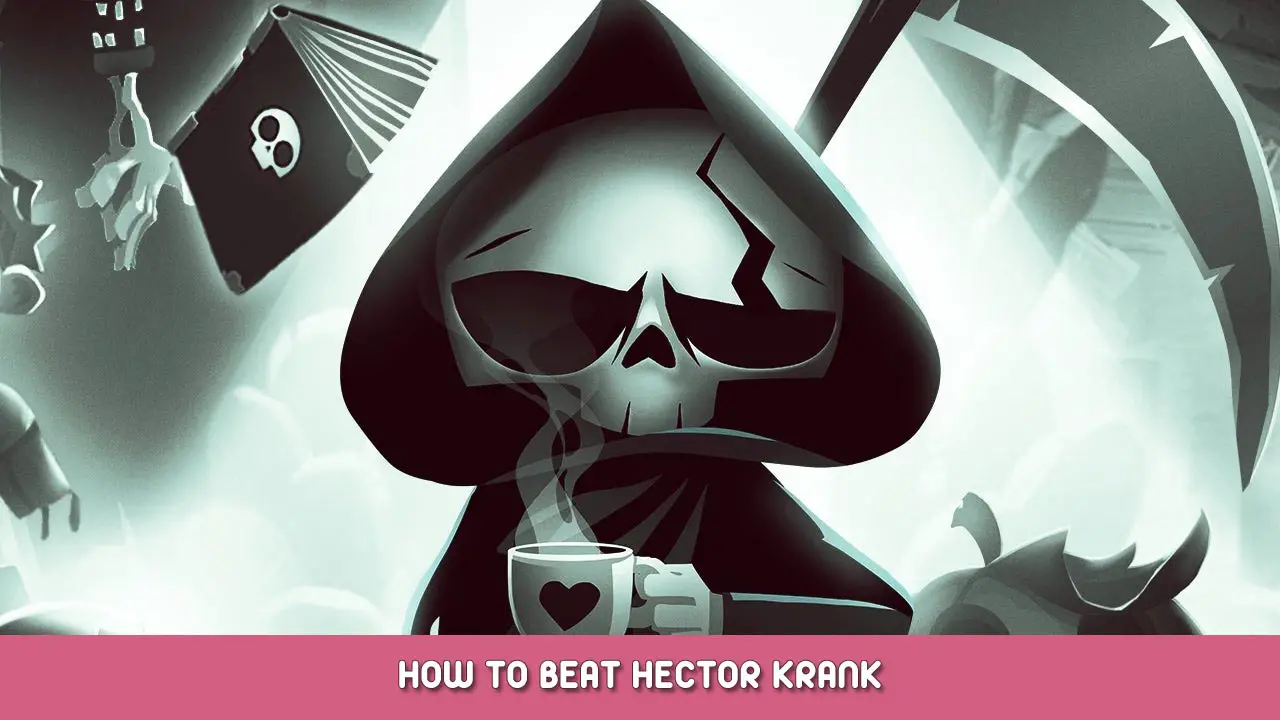 A guide on how to dodge Hector Krank's attacks.
Introduction
The mixed bag of the Sorrows, Krank can either be a joke or the toughest boss in the game depending on how much range Death has. As usual, this guide will go over each of Krank's attacks and how to effectivly dodge them, as well as some general tips that make the fight easier.
Movement Tips
Since I will be using a few terms that may or may not be what the techniques are called by most others, I will be storing them here (and I will put this is any future Have a Nice Death guides that I make).
1. Upperslash
What I call the "upperslash" is one of the most important techniques when it comes to dodging. It is performed by doing an up attack, simple. The height can also be increased by jumping when performing the upperslash. This is useful when trying to get high into the air or to dodge attacks that cover the entire ground.
2. Air combos
They have as much utility as they have combat, as they can be used to extend airtime. These are useful for lingering attacks or when there isn't enough safe space to land.
Attacks
Krank's attacks are fast, hard hitting, and cover most of the arena's bottom area. Krank's main weakness is that he has next to no attacks that can hit above him, with the upperclaw being the sole exception.
All attacks in phase 1 are also present in phase 2.
(Disclaimer: The names of the attacks are not official, and are what I call them.)
Phase 1:
Upperclaw: Krank swings his crusher (the big claw) upwards in an arc, hitting anything right next to and directly above him. This attack can only be performed if Death is within melee range. Dodging this attack is as easy as moving away from Krank.
Dash: Krank pulls his crusher back behind his head before dashing across the arena. This attack can be dodged by jumping over Krank right before he dashes, and performing an air combo if necessary, which it can be in phase 2 where he sometimes chains a second dash.
Cancerous Claw: Krank extends his crusher across the arena until it covers approximately two-thirds of the arena. This attack can be dodged by either moving away from Krank to the opposite side of the arena or performing an upperslash to go above the claw.
Crab Tumors: Krank will summon two small crabs either in front of him or on each side of him. The crabs attack by shooting their claws in Death's direction, which can be jumped over, and are easily dispatched with the Scythe.
Lunge: Krank will lunge forward and stab his crusher into the floor. This attack can be dodged by moving away from Krank or jumping over the attack.
Phase 2:
Backclaw: Krank will jab his crusher behind him, damaging Death if he doesn't get out of the way. Dodging this attack is tricky as it has very little windup and Krank usually has his back against a wall, but dashing through Krank or moving above him is enough to dodge it if he is caught executing it.
Four Claw Combo: Krank will attack with both his crusher and pincer (the little claw) while moving backwards, away from Death. Krank usually performs this after a melee attack, though he can perform it by itself. This can be dodged by jumping above the initial strike and not approaching Krank until the attack is done.
Followup: Krank will send his pincer and crusher in front of him, dealing heavy damage to Death if he unlucky enough to be standing in range. Krank will only perform this after a melee attack such as his lunge and cancerous claw attacks. This can be dodged by jumping above the claws or moving away.
Tips
Krank, being a melee fighter, is best dealt with at range, preferably against the wall of the arena opposite of the crab's location, though he can close the distance in a near instant with his dash attack.
Behing directly behind Krank is ill advised, especially when he is against the wall. The only time it can be beneficial is when Krank is performing a cancerous claw attack or summoning his minions.
The same general tip that aids in fighting C. Imamura can be applied to Krank as well, staying airborne while casting homing spells such as Wishtorm and Bees. But whereas Catherine has three attacks that can hit Death while he is in the air, Krank has only one.
The End
Krank can be a joke with ranged attacks. But when melee and limited range are the only options, he is a monster, even more so than Pliskhan.
The next Sorrow guide will be about the very first boss in the game, the head of security Brad.
That's everything we are sharing today for this Have a Nice Death guide. This guide was originally created and written by Crevice; Abyssal Storm. In case we fail to update this guide, you can find the latest update by following this link.
If you believe that any of the content on this site violates your rights, including your intellectual property rights, please contact us immediately using our contact form.