Title: Halo: The Master Chief Collection
Release Date:
Developer:
Publisher:
This guide will hopefully help you complete the LASO playlists if you have issues with the Save/Quit method not working.
Introduction
If you are like me and many others who want to go through hell called the MCC LASO playlist and don't want to spend years perfecting every run, you are probably going to use the Save/Quit method while playing it solo. As a lot of you know, when you die by quickly saving and quitting the game, you will resume at your last checkpoint. That method works for a lot of people, but not for me. After the first death, maybe two or three, even though I did everything right, I was brought back to the beginning of the level. While searching the internet, I found a lot of people with the same issue, but no one was able to fix it. So I tried everything that came to mind, and I found two solutions that worked. With it, I have currently, as of the writing of this guide, completed 5 out of 6 LASO playlists solo and am currently on my way to completing my last one. Note that this worked for me and a couple other people on Steam who had the same issue. It may or may not work for you, so just keep in mind that I am just trying to help.
Method 1
The first method I tried was to only have the game you are playing LASO installed. For example, if you are doing Halo 2A, have only the campaign DLC installed. While playing through Reach, I had no problems with the Save/Quit method, as it was the only game I had bought at that time. The problems started once I bought all the other Halo games and had them installed. Doing this, I managed to finish Truth and Reconciliation while dying over 30 times and not getting restarted once, where before two deaths and I was back at the beginning.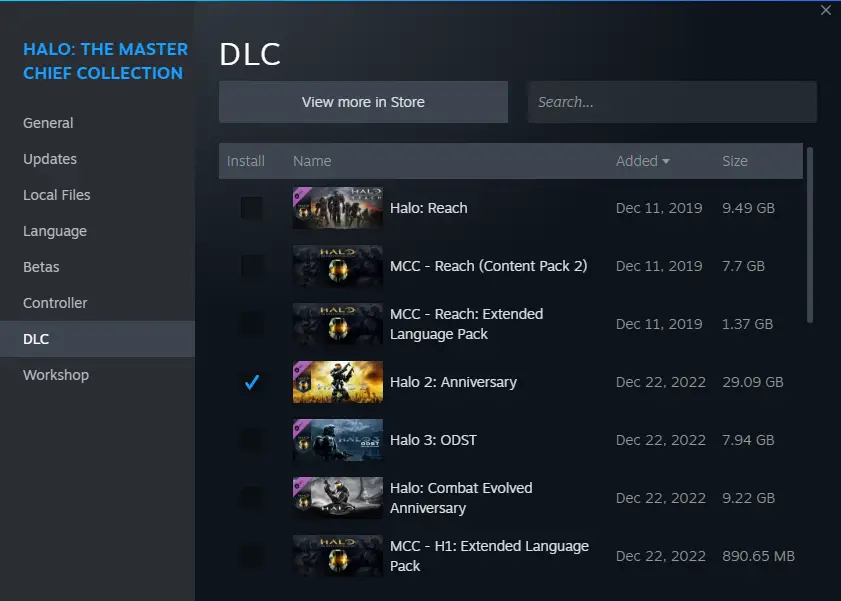 Only check the game campagin you are doing LASO on.
Method 2
Even though the first method did wonders, on some occasions it failed, and I got restarted. Once, while getting restarted, I got angry and forced quit the game. With the level being one of the easier ones, I went back in as I wanted to complete it. Lo and behold, even though I got restarted and saw the beginning cutscene play, I was back at my last checkpoint. The next time it happened, I forced quit the game, opened it again, continued the playlist, and was back at my last checkpoint. Most of the time, after one force quit, it worked, but sometimes I had to do it two or three times, but it always brought me back to my last checkpoint.

I forced quit the game by clicking the STOP button.
That's everything we are sharing today for this Halo: The Master Chief Collection guide. This guide was originally created and written by Reddd. In case we fail to update this guide, you can find the latest update by following this link.
If you believe that any of the content on this site violates your rights, including your intellectual property rights, please contact us immediately using our contact form.