Title: Goat Simulator
Release Date:
Developer:
Publisher:
This guide is on how to get the 'I am Bread' achievement.
Toaster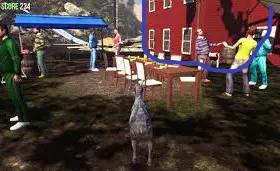 Go behind the red house where I think there is a party going on. You will see a toaster. Headbutt the toaster to turn it on. It might freeze the game.
Finding bread
You will find bread walking on the gazebo. Lick the bread and put the bread in the toaster. 1 more to find! Go on the road and you might find bread walking on the path. Lick the bread and put it in the toaster. You're now bread!
That's everything we are sharing today for this Goat Simulator guide. This guide was originally created and written by Rival3478U. In case we fail to update this guide, you can find the latest update by following this link.
If you believe that any of the content on this site violates your rights, including your intellectual property rights, please contact us immediately using our contact form.