Title: Gladiator Guild Manager
Release Date:
Developer:
Publisher:
Achievements described, organized, and some tips.
Introduction and Notes
You can complete a run in around 8 hours, speedrun it in 3 or 4 hrs maybe.
The game has no time limit*, although some quests are automatically failed if you dont complete them in some time, Im pretty sure that if you reject them or they timeout you will lose them forever, so there's that.
Some quests are also tied to the story arena you are currently on, so its advised to not complete the next arena until you have done all the quests you can, just do the graveyard arena championship every month until you feel you have done all available quests.
At arena championships, I usually do most fights then surrender if I dont want to move the story along yet, you still get the rewards from the 4 fights you win.
If a month passes without any new event quests, you're good to go and continue.
But I dont think you should worry about it too much, just play and if you are missing some achievements, you can do a new run.
You will need to do 3 runs, each one allied with a different faction so you can do their special quests that lead to achievements.
Reputation with a faction will determine how good the rewards from their quests are, allying with a faction will unlock special quests with them and lock the other faction's special quests.
The AI will have access to the same gladiators YOU have access to, you can access new classes every time you beat an arena and open up a new part of the map.
Quests scale with your capabilities, they are supposed to be doable at the level you get them.
The game autosaves constantly, so to my knowledge, there arent reliable ways to choose something, get the achievement, reload and choose another outcome to get the other achievement.
The class buildings and tavern only can be upgraded to level 3, the reviving temple to level 5.
Its a good idea to rush these so you have extra XP from battles and faster resurrections.
Use the bank if you need resources and have extra gold/other resources.
After you conquer Hollow Mountain Arena, there are no events that give achievements.
If you are only after achievements, you can end your run after it, except Indestructible which needs you to finish the game on Hard/Permadeath/30%compensation proper.
Pyromancers are dangerous.
Remember that projectiles can be soaked/absorbed by units infront, there are a few exceptions though, so in general, put your squishies behind tanks as you draw a line of fire from your foe to you.
If you want to train a low level gladiator, try the early championship arenas like graveyard or farm or put them in the back lines while strong gladiators win the fights.

How the market works. (Gladiator and Item)
Every time the market updates, all items get pushed one row down, like this: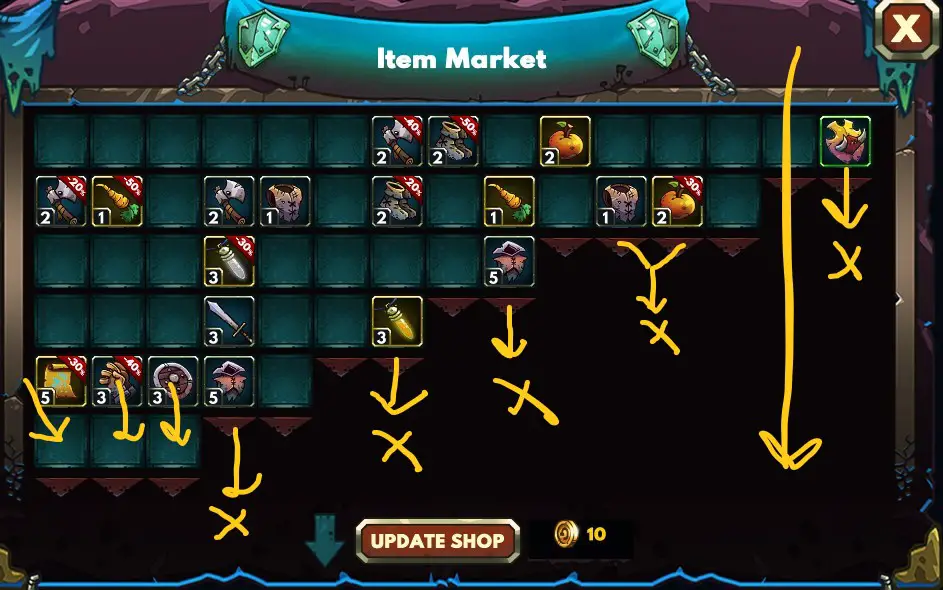 So, if an item is above a brown inverted triangle, the item will dissappear when the market is updated, otherwise, the item will travel to a square below it.
When there is a sale, the green bar on the timeline shows how long the sale will last, while the sale is active, you can update the market with new items and the new items might be discounted too!
Grind Achievements
These will come out naturally as you play.

Death Party Begins
Killed first 20 enemies

Death Show
Killed 100 enemies

The Spectacle of Death
Killed 500 enemies

Death Squad
Killed 2000 enemies
*Kill 2k enemies across all playthroughs

Assassin
Killed 20 enemies with one gladiator
*Kills done by summoner's monsters do not count.

Executioner
Killed 50 enemies with one gladiator
*Same as above.

Battle Veteran
Had one gladiator fight in 20 battles

Good Employ
Paid 200 gold of gladiator wages in one month

Going Professional
Built a team of 10 gladiators

Adored
Reached Adored reputation with any of the factions
Regular Tourist of Afterlife
Had one gladiator die 10 times

Master of Arena
Won 1 vs Many battle in Ring of Death arena
*I got this mode after my tank reached level 16.
Boss Achievements
As far as I know, bosses scale to your general capabilities, still, your team composition and equipped items and consumables will give you the advantage over them.

Clawbane Slain
Killed Clawbane boss
*Allying with the necromancer will open the quest: Finding Mysterious Quest, at the end of the questchain you will face this powerful boss in a 6 vs 1 battle.

Ancient Undead Slain
Killed Ancient Undead boss
*The Baroness will also ask you to help her explore the Temple, if you help her do it, you will eventually face this boss. Although, I didnt get to fight this boss because I chose the Clawbane boss instead, in other words, you need to ally with the Baroness to get the Ancient Artifact quest chain that leads to this boss.

Troll Slain
Killed Troll boss
*This quest is available once you reach the bridge area on the map.
It was a 4 vs 1 match for me, kept him back and distracted with summons.

Undead Yeti Slain
Killed Undead Yeti boss
*This will be available once you reach Iron town.
Baroness Quest Chain: Undead From Hollow Mountain
The Yeti has a knockback attack, take a consumable item against it or a tank with a firm as a rock trait.

Mountain Spider Slain
Killed Frost Mountain Spider boss
*Baroness Quest: Spider in the Mountains
You can get this after Iron Town and before you win the Hollow Mountain Arena.
The spider has a triple shot ice attack and can summon small spiders but if you keep your squishy ones at a distance it should be ok.
Quest/Event Achievements
I got most of these quests while I was unallied, so its not 100% certain that you need to be allied with a faction to get them. Maybe you need a certain good or bad reputation with a faction for a certain quest to spawn or its pure RNG, dont know.
Peasantry Faction

Strong Leader
Won gold by holding onto the pull-up bar for two minutes while visiting the traveling fair
Quest: Prevent Raising Dead 2
A peasant will tell you about a fair using a ghoul as an attraction, ask the peasant about the fair and where it is located and say you will go check it out. After a few days, you will get another quest Traveling Fair and as soon as you click on this one, you'll get this achievement.
Peasant Rights
Helped peasants gain better living standard
After you ally with the people, you can get the quets chain: Food Tax Caravan, finish it to start another quest chain: Iron Town Rebellion and after its done, you get this achievement. Read the advice for the achievement below, since its tied to this one.

Witch Investigator
Joined a witch-burning council
*Got this quest (We found a Witch!) as I started the Bridge area but then nothing happened. So, later on, I found out that THAT isnt the witch we need, I got this achievement at the temple area.
When you ally with the peasants and help them with the iron town rebellion (see achievement above), they form the witch council, so yeah, you need to ally with the peasants for this one too but you NEED to ask them to join the council on Iron Town Rebellion – 2, on that quest, just ask about their demands if you win this fight.
A few days later, they will catch a witch and a new quest chain will appear: Witch or Not
I just burned them all.. Im so sorry…the things I do for achievements.
Pretty sure you can avoid some fights if you do your detective job properly.
*Double checking my achievements, I got this 3 minutes after the last one, not sure when it popped up, will appreciate it if someone can comment when it does.Baroness Faction

Going Into Music Business
Sponsored bandits musical band
Quest: Bandits Taking Over Graveyard Arena
Before winning the graveyard arena, the baroness will ask you to deal with some bandits.
Tell her they sing really well and its a good party, then tell her you will sponsor their talent and stuff, haha, in a few more days a new quest will appear: Sponsoring the Band
As soon as you click on this new quest, the achievement will pop.

Taking Hostages With Good Intentions
Helped Baroness get taxes from the people without spilling any blood
Quest: Crop Tax
That's Cruel -> You lack imagination -> Other methods -> Take women and children as hostages
A few days after this, a new quest will come called Hostages for Crops Tax Plan, after you click on it, achievement will pop.

Plotting With Peasants
Made a deal with peasants to sneak out gold from the Ancient Temple behind the Baronesses back
*When you get to the temple, open the door for her in the quest: Treasure Chamber Door.
After a few days, another quest will arrive:
Deal with the Temple WorkersAccept the deal and get this achievement.

Hollow Mountain Mystery Solved
Helped Baroness handle the mysterious undead situation at Hollow Mountain
*You need to be allied with the baroness for this one to appear after you reach Hollow Mountain.
Quest Chain: Undead From Mountains
Be wary, the final fight is a boss fight and kinda hard, dont do this on your hard permadeath run.
Once you finish the 4th and final fight, the achievement unlocks.
Necromancer Faction

Running a Pet Shop
Started a successful undead pet shop business

Pet-Friendly Guild
Bought undead pets and kept them in your guild
*The two above are mutually exclusive, you either keep the pets OR open a shop.
* i was not allied with anyone, I finshed the graveyard arena and was at the farm one.
Quest: Digging Farm Corpses
After defeating the peasants, ask him what happened.
Tell him to sell the undead pets and that you will buy them all.
A few days later, a new quest will arrive: Buying Undead Pets
Pay the man, and inmeditely after, you will get the quest: Plan for Selling Undead Pets
Choose to keep them for Pet-Friendly OR to invest resources to open the shop for Pet Shop.
After your decision, if you kept the pets, a new event will come super fast and you'll get the achievo.
If you decided to open the pet shop, first it will look like a failure but wait a month or so and then you will get good news and the pet shop achievement.
*You might need to wait for other passive income to run out before the store is profitable. (Like income from bandit band)

Dark Side
Helped High Necromancer to raise and send a small army of undead at Iron Town
*You need to be allied with the necromancer for this one to appear after you reach Hollow Mountain. You can get the quest: Classified Mountain Project
Help the Necromancer during this quest chain until you get the achievement.

Court Twist
Betrayed High Necromancer by standing on the side of the people at the court instead of defending him
I dont know how to get this one, the only clue I have is that Sr Billy got it at the Farm Arena and his reputation was neutral with the necromancer, 85 neutral with peasants and 65 friendly with Baroness and that the quest is called Card Game with Necromancer, so this is possibly a random quest to get Necro Rep.
Story Arena Achievements
To unlock more of the map you have to win championship arenas, it is reported that some quests are missable when you complete an arena and move on, so make sure you read the events/quests section to check on the quests available before completing an arena.
The exception to this is the Ring of death arena which is available weekly.

First Taste Of Glory
Completed the first arena: The Graveyard

Conquering The Winter
Completed the Hollow Mountain Arena
Indestructible

Indestructible
Finished the game on Hard or higher difficulty with Perma-Death mode and Gold Compensation scale at 30% or lower.
You only need to win up to the Hollow Mountain Arena to get this achievement!
Leave this one until your last run when you have a better mastery of the game.
Like I mentioned before, you cant get all event achievements in a single run, so use your first runs to learn which gladiators work best for you.
Permadeath only means your gladiator dying forever, not the end of the game, so, revive crystals and the temple are meaningless, sell crystals, dont build up the temple.
Don't despair, there is almost no time limit to the game, just build yourself back up using early arena championships like Graveyard or Farm Arenas to train your new gladiators or get easy but meager resources.
Dont just focus on your main stat, get some HP/Stamina items too!
Use consumables for tough fights, specially if they have ranged units like archers or pyros which will snipe you from afar!
You can fail/reject all the quests and still win the game, as long as you win arenas and conquer the last one, you'll get this achievement.
For stats on level up, I usually do 1Hp, 1Stam, 2 for Main stat and 1 for Agi unless Agi doesnt help much like for Warlocks, you can play further with this using items, for example, instead of using 4 skill points in HP, get a +400HP item and use the skill points elsewhere, finding your equipment and leveling up strategy is half the fun!
In permadeath mode, be very careful against Few/Many vs 1 fights, the enemy might be able to 1 shot one of your gladiators very easily. You can surrender the fight before it begins to back out and try something more manageable. Avoid Pyromancers and Archers, they hurt so much!
That's everything we are sharing today for this Gladiator Guild Manager guide. This guide was originally created and written by Shindragan. In case we fail to update this guide, you can find the latest update by following this link.
If you believe that any of the content on this site violates your rights, including your intellectual property rights, please contact us immediately using our contact form.