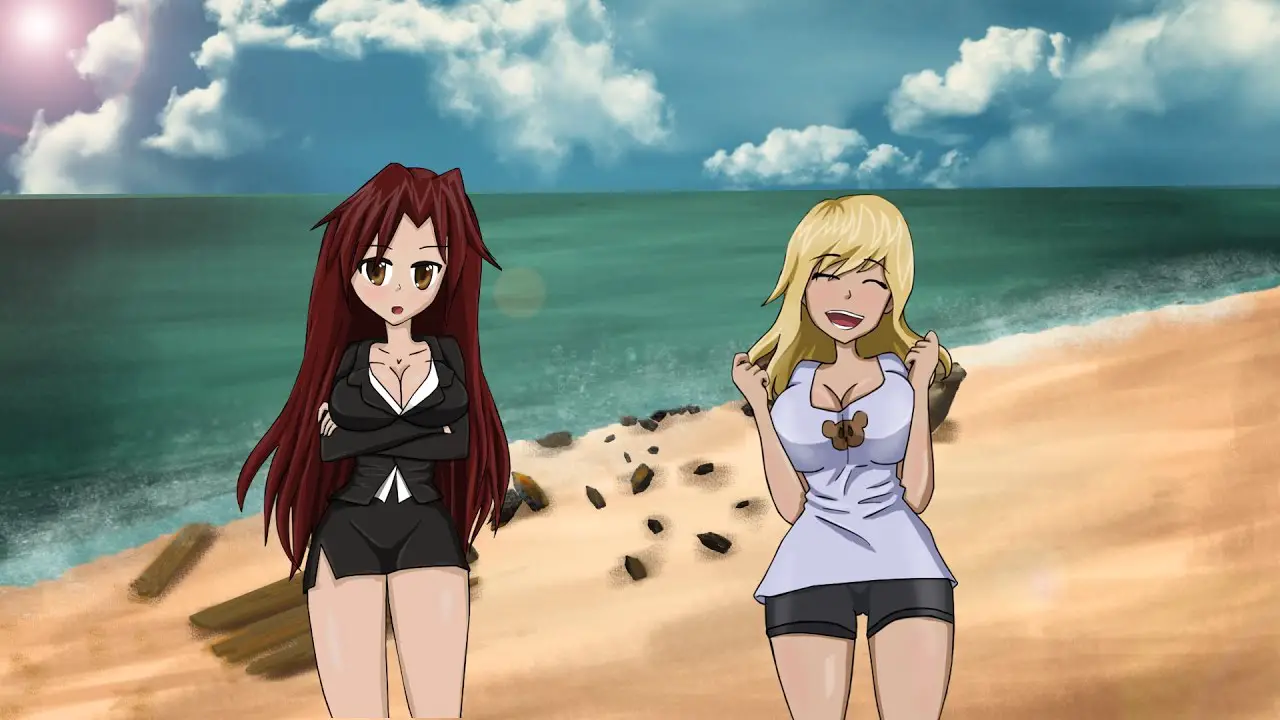 This is a walkthrough guide for Getaway Island. If you're one of the players who are stuck in a certain event, check out the details below to proceed.
Getaway Island Walkthrough
First Day
In the beginning, you will meet the first girl, Junko. A bit grumpy, cold and bossy, after giving her your name she will ask the first question. Because you are just getting up this girl yelling at you bothers him, giving him the option to respond.
My headaches (Second answer) (Only question)
Quiet down (First Answer)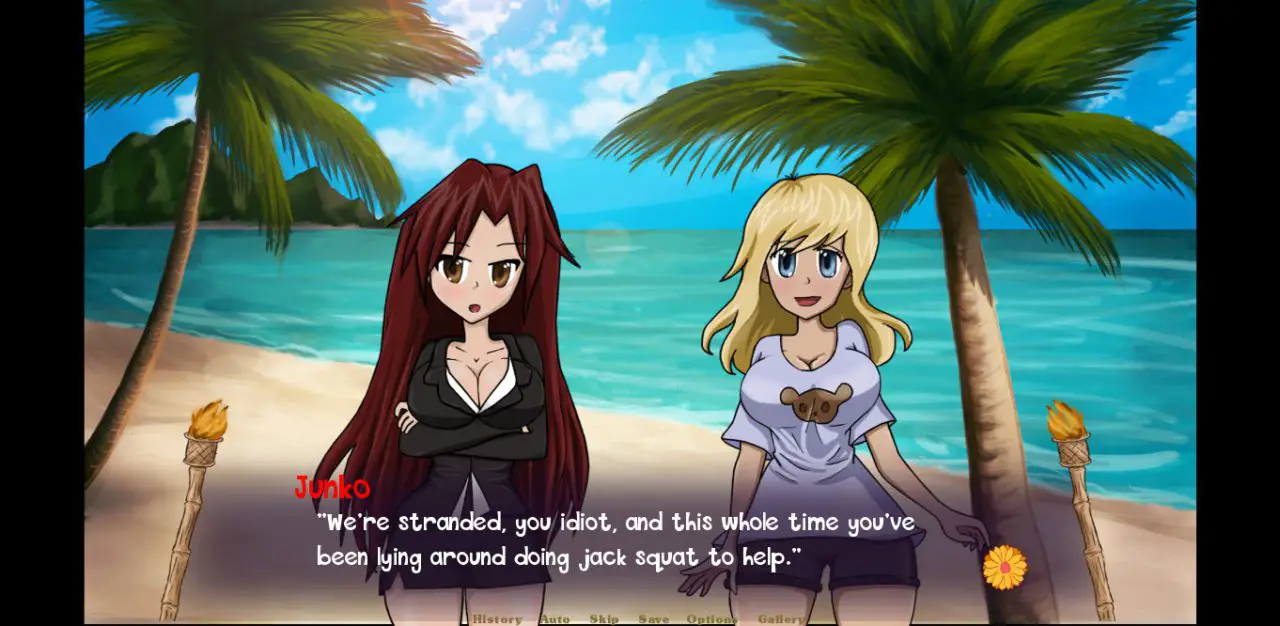 Following this you will meet the second girl, Lili, someone cheerful, kind, cute, you could say she is the one who holds the group together, Junko will claim the fact that she has done nothing but hang around the beach. Then you will respond.
Didn't know
Don't be mean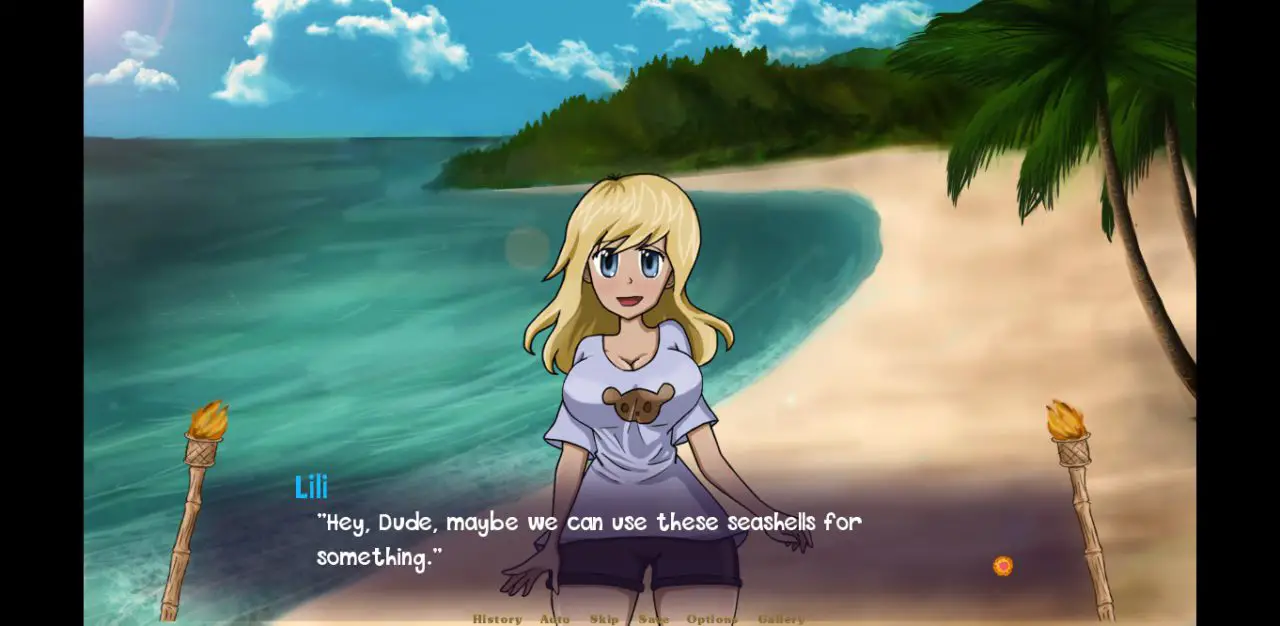 Then you can respond. After chatting a bit with the girls, you will go with Lili to look for resources on the beach, finding seashells, followed by saying that these may have practical uses.
Encourage her
Snap out of it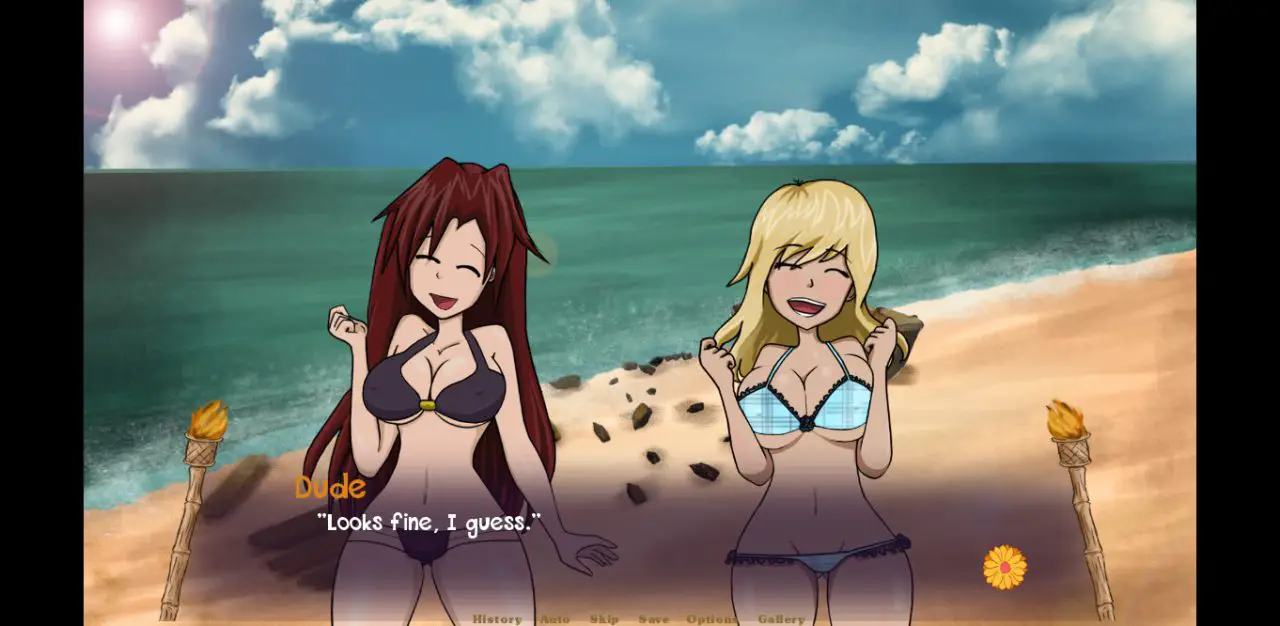 Continuing their search, they manage to find a beached boat, with a can of beans and bathing suits, so the girls proceed to put them on, Junko will then ask your opinion.
The character mentions that he was a member of the scouts, so he has basic survival skills, so he is given the task of creating a shelter, during that time he begins to think about the situation in which they find themselves.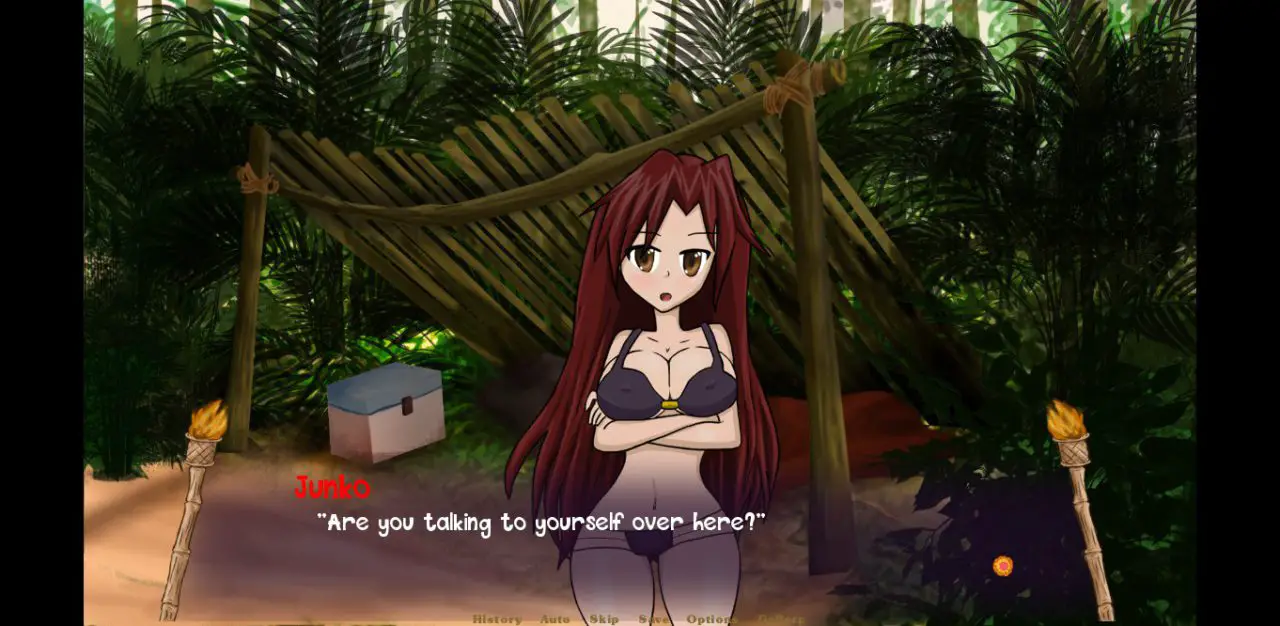 When you finish you start to say that it was a bit exhausting work, hoping that the two girls will thank you for your effort, it is then that Junko arrives asking if you are talking to yourself.
Not anymore
Not important
After a while the night will come, a bonfire will be lit and the girls will start talking.
Junko will ask about your past, but you are not yet confident enough to do so, so you can answer the following.
You're hypocritical
You first
After a little chatting, they will finally go to sleep, ending the first day on the island.
Second Day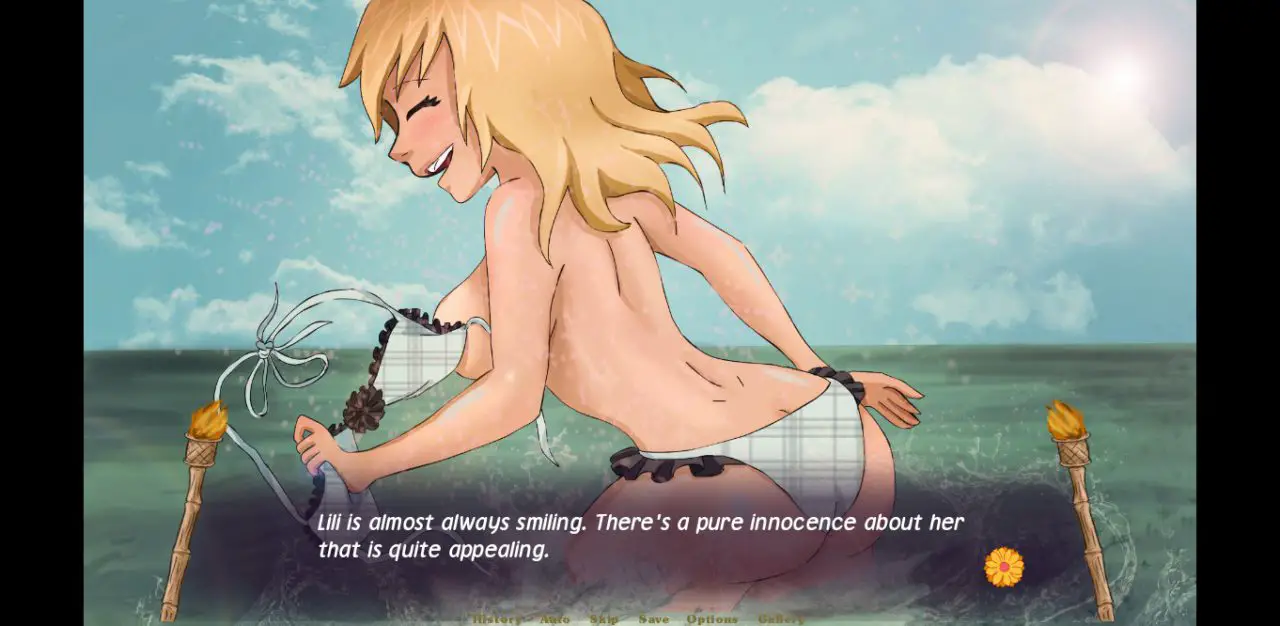 In the morning Junko will wake you up with a bang, giving you the order to look for something that can draw attention to the island, like an S.O.S. sign on the beach, then you will find Lili doing "skinny dipping", you can not stay long because Junko starts to call you, so you continue with the work.
At the end of the S.O.S. signal on the beach, Junko will arrive saying that he expects you to be productive, so you can answer the following.
The shelter
What have you done?
After answering Junko will call Lili, after she arrives they will talk, Junko will leave and you can be alone with Lili, asking her questions to get to know her a little better.
Ask how Lili got here
Ask more about Lili's interests
Mention skinny dipping
Those are only to know her, you can select all.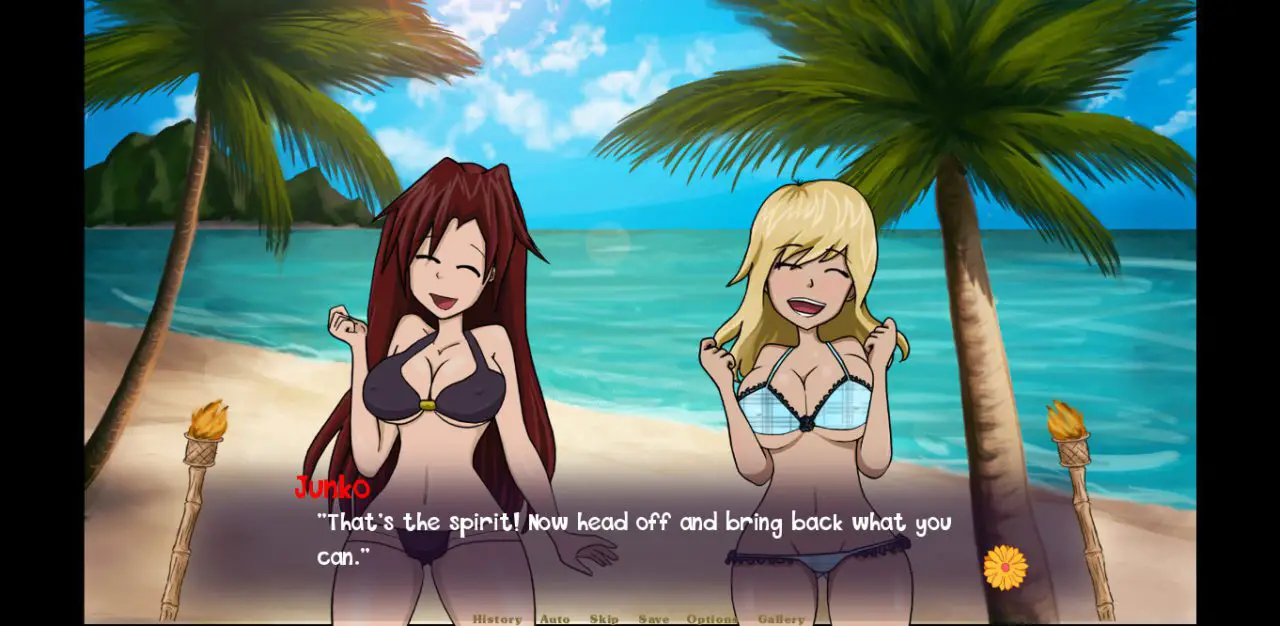 After talking to Lili, you will return to Junko, who will say that she has found a cave on the beach, and she will send you and Lili to investigate, so you can ask her.
You're staying?
Should Lili be going?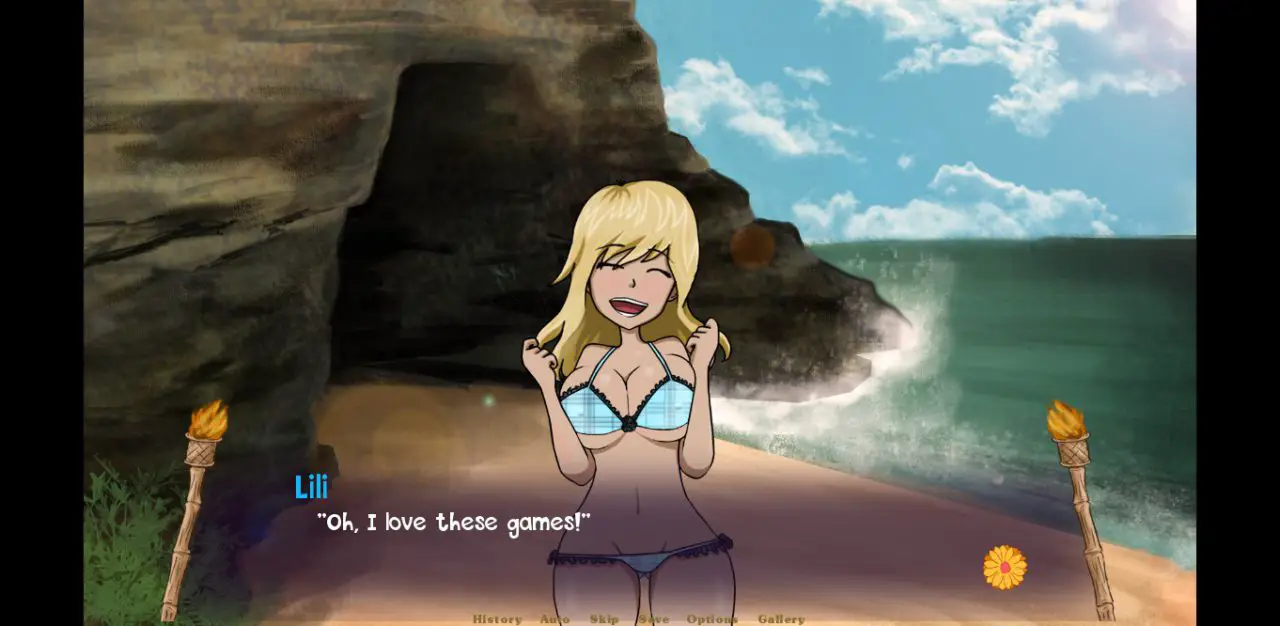 Whatever the answer you give you will go with Lili to investigate the cave, discovering that it is completely empty, being this a quiet place. When you leave you can surprise Lili in three ways.
I'm back (She wond understand the Terminator reference)
Konnichiwa (She will understand and like it)
Boo! (She will get spooked)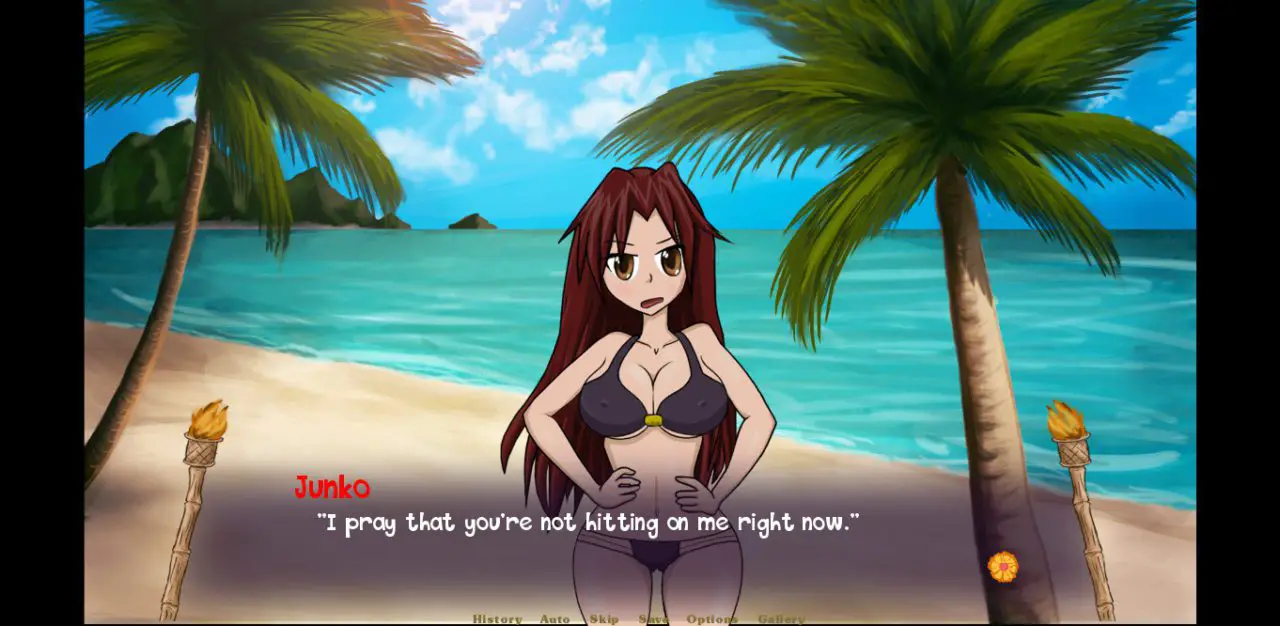 After having surprised her, you will tell her about the cave, so she will go inside, after that the character will go to the beach, finding Junko alone, so she will let you ask about her.
Ask Junko why is really here
Inquire more into Junko's past
Ask Junko's thoughts about Lili
Ask Junko's thoughts about you
After learning a little more about Junko, Lili will arrive saying that she explored the cave and found nothing, casually also mentioning that they rescued the character, also discovering that Junko was a nurse for a while, then Junko leaves and Lili will ask you if you like the beach, answers are.
You will come back to check on Junko, it is then that she will give bad news, someone ate the last of the reserve beans, to which she believes we are not the only ones on the island, theorizing that there may be a tribe of savages already established.
Due to the situation Junko proposes to investigate in the jungle to find supplies, to which she asks you if you are afraid, so you can answer…
Junko will then call Lili to propose the idea of hunting or finding something, so she proposes to create spears, so she sends you and Lili to create them.
You both head to the beach, Lili finds pointed sea shells that can be used as spearheads. You can tell her…
Whatever the answer the result is the same, "seaspears", a play on words that Lili made to refer to the spears created with seashell tips, it is then that Junko doesn't get the joke. Then you can say…
Stand up for Lili
Coerce Junko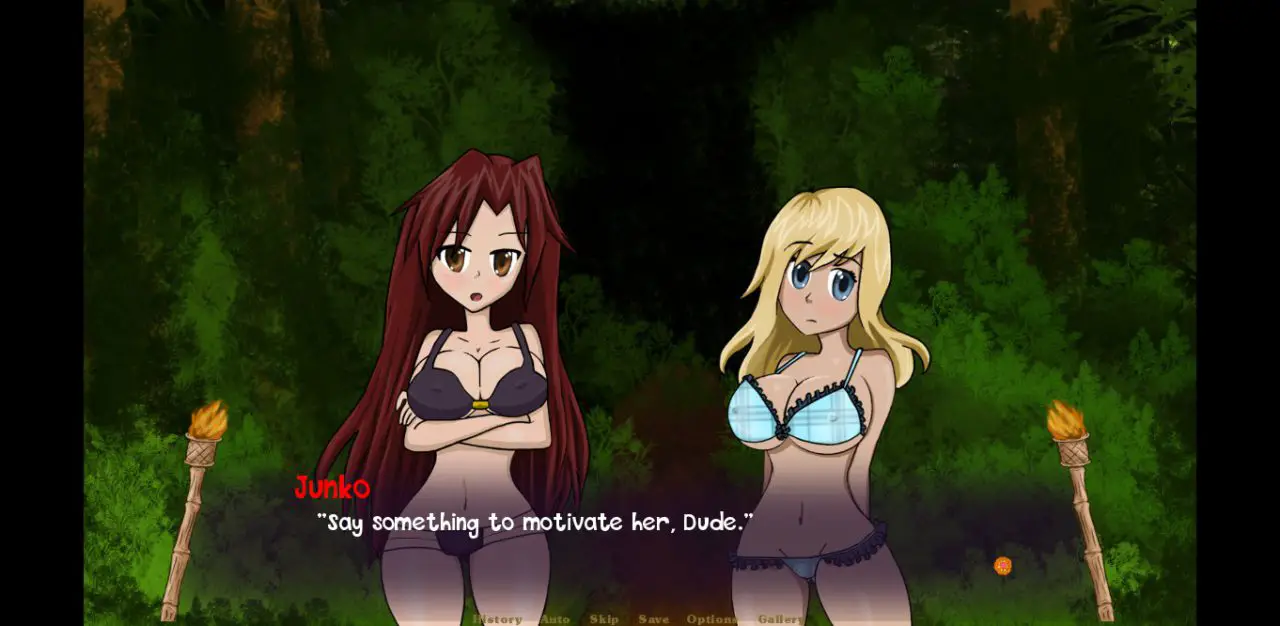 At the end, the character and the girls will head to the jungle, so Lili will feel nervous at first, you can calm her down by answering the following.
It will be fun
Protect her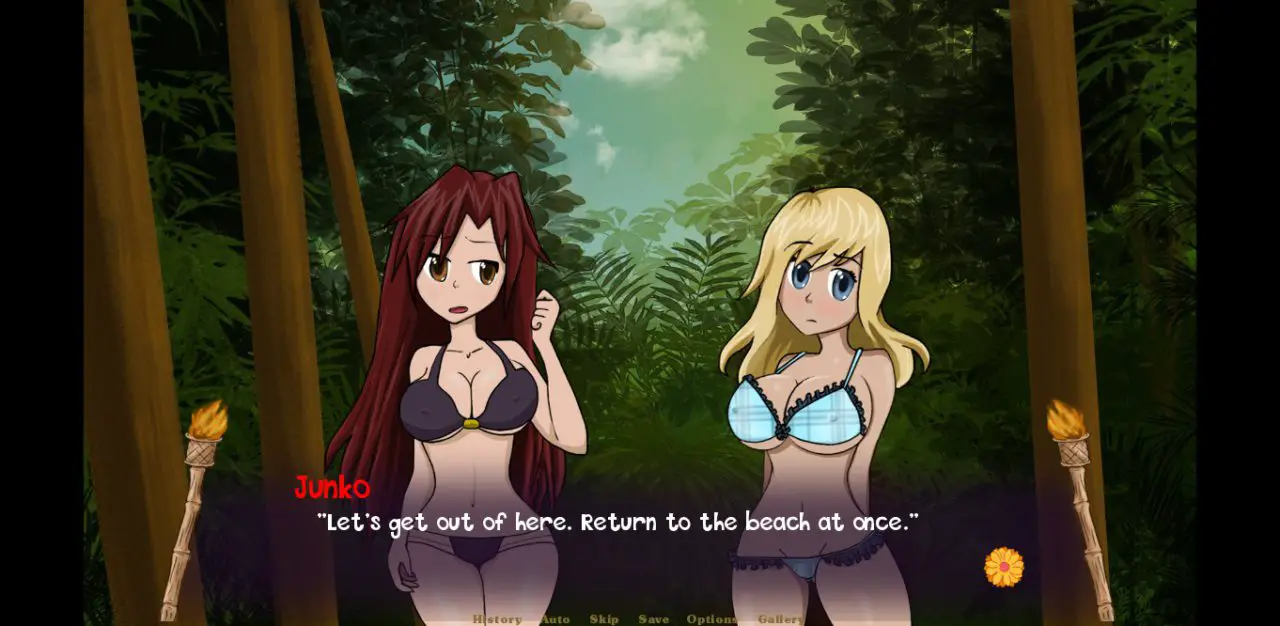 As they enter they hear sounds coming from some bushes, not knowing what it is, Junko decides that it is better to leave as a precaution.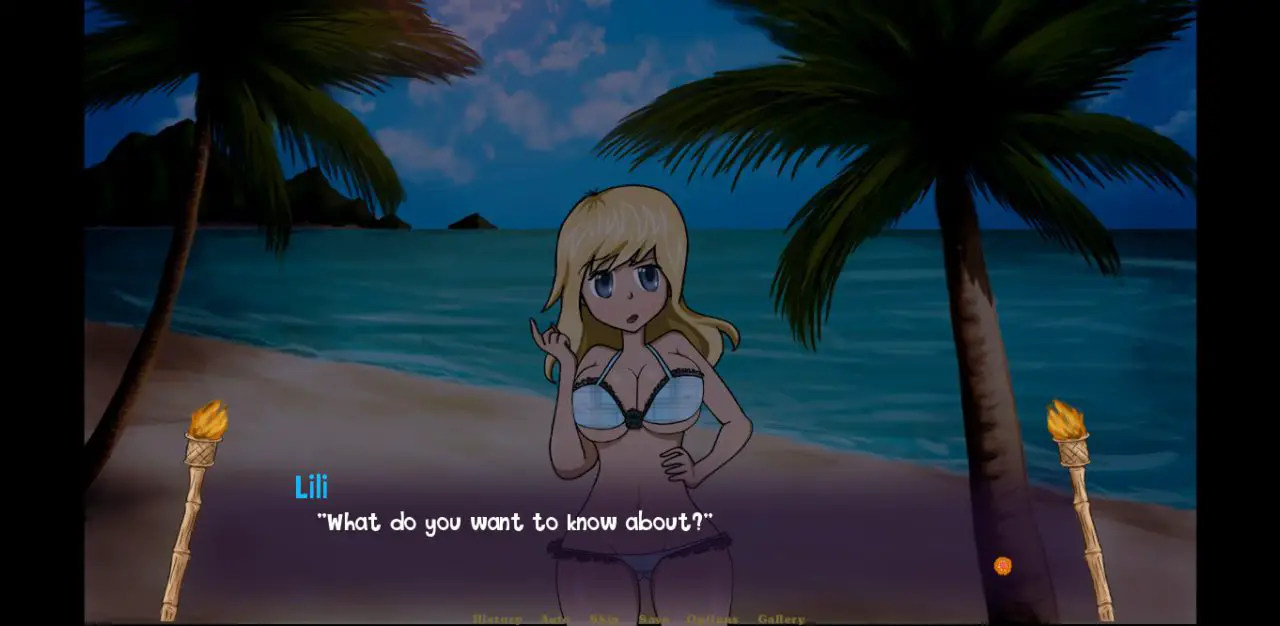 After having left, it will be emphasized that food is needed, so dude proposes to go fishing.
After a while and almost at sunset, you will find Lili on the beach, asking you to ask her more about her.
Ask if Lili likes it here
Inquire more into Lili's past
Ask Lili's thoughts on Junko
Afther fhe questions you can cheer up her.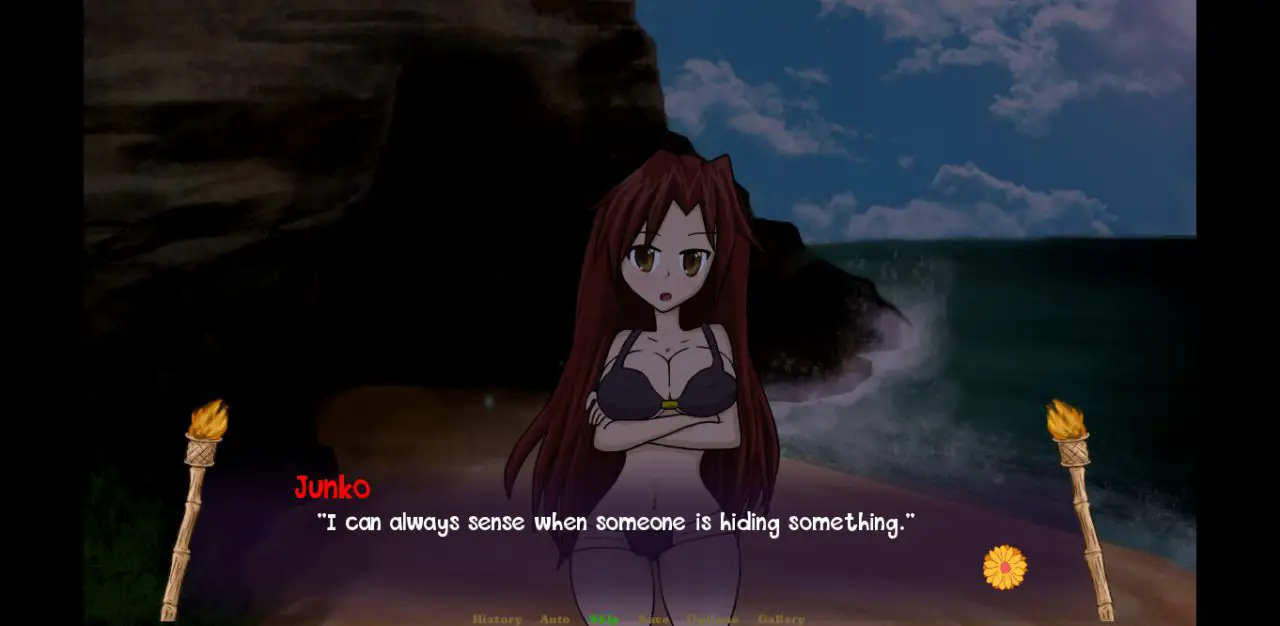 When you finish talking to Lili you will go in search of Junko, you will find her at the entrance of the cave, it is then that she asks you an unusual question, she will ask you if you like Lili, you can answer her that…
She's a friend
I see potential
I like you
After answering and calling Lili and mentioning that there are no werewolves in the jungle, they can go to sleep, thus ending the second day.
Third Day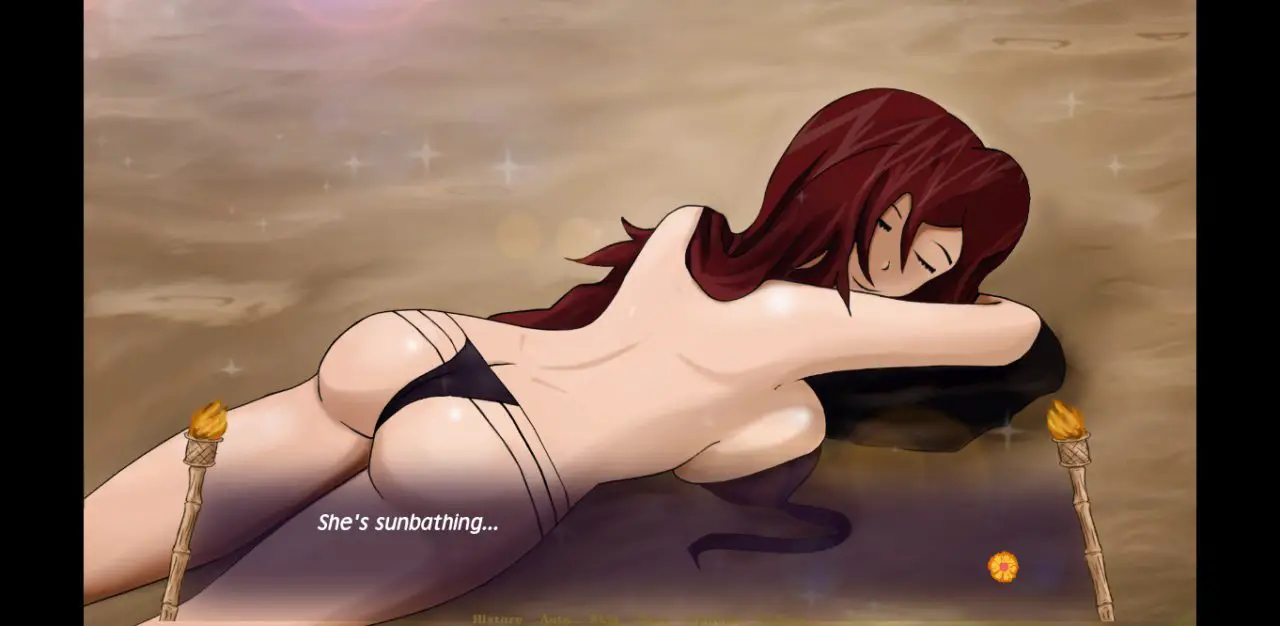 The next morning you find that Junko has not woken you up as usual, so you go to look for her on the beach, assuming she is doing something, then you find her sunbathing. Lili then arrives and asks what you were doing, to which you can choose whether to lie or tell the truth.
After this embarrassing moment you choose to change the topic
After changing the subject you remember the fact that you don't have to eat, then Lili accompanies you to fish, being that you actually start fishing while she is on the beach, but when you turn around you realize that Lili is not there, you go with Junko but she is not there either, that's when you decide to look for her.
It is then that Junko and the protagonist start thinking about Lili's whereabouts, the following being.
The cave (She is not her but you can select it as well)
The jungle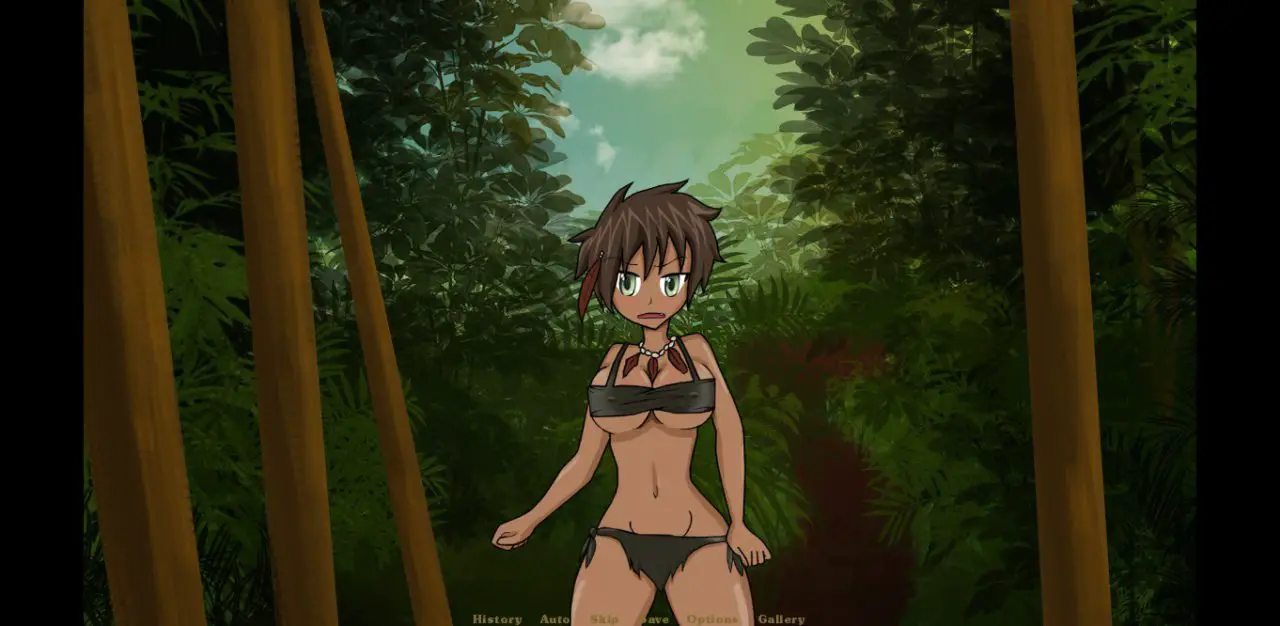 When you find her (in the jungle) Lili mentions that she wanted to look for something to eat in the jungle to try to help, it is then that you hear sounds in the bushes again, you tell the girls to leave, but before you leave you manage to spot something, or rather someone.
After having sighted a native of the island, you will inform the girls of what happened, Junko then asks you to describe her appearance as…
Sexy woman
Scary Barbarian
After having described her, Junko proposes not to go to the jungle for risk of the wild girl calling her tribe and something happening.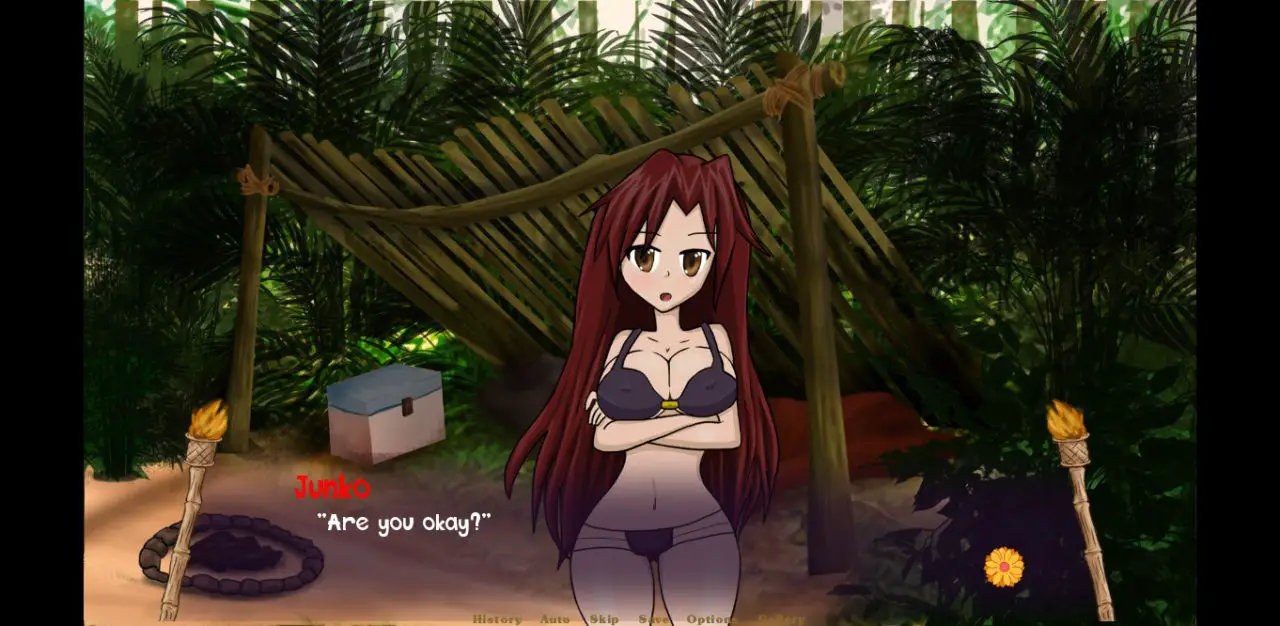 After Lili has left Junko will ask if you are well, and you can answer…
I'm fine
Concerned about you
She will be interested to know if you still miss Maria, so you can tell her…
I miss her
I like it here
It is then that after chatting with the girls the day will end, thinking about who the strange wild girl is and wondering if she is a threat.
Fourth Day
During the night you will hear that something made a noise, like boards hitting each other, you stay awake in case something is roaming around, the sound doesn't come back so you decide to sleep again, even though you are tired.
Junko wakes you up in the usual way, emphasizing the fact that there is no food, it is then that you mention the sounds, Lili says she heard you talking about Junko's melons while you were sleeping (I won't go into details) it is then that Junko emphasizes the sound, asking what you heard.
Mention noise
Don't scare them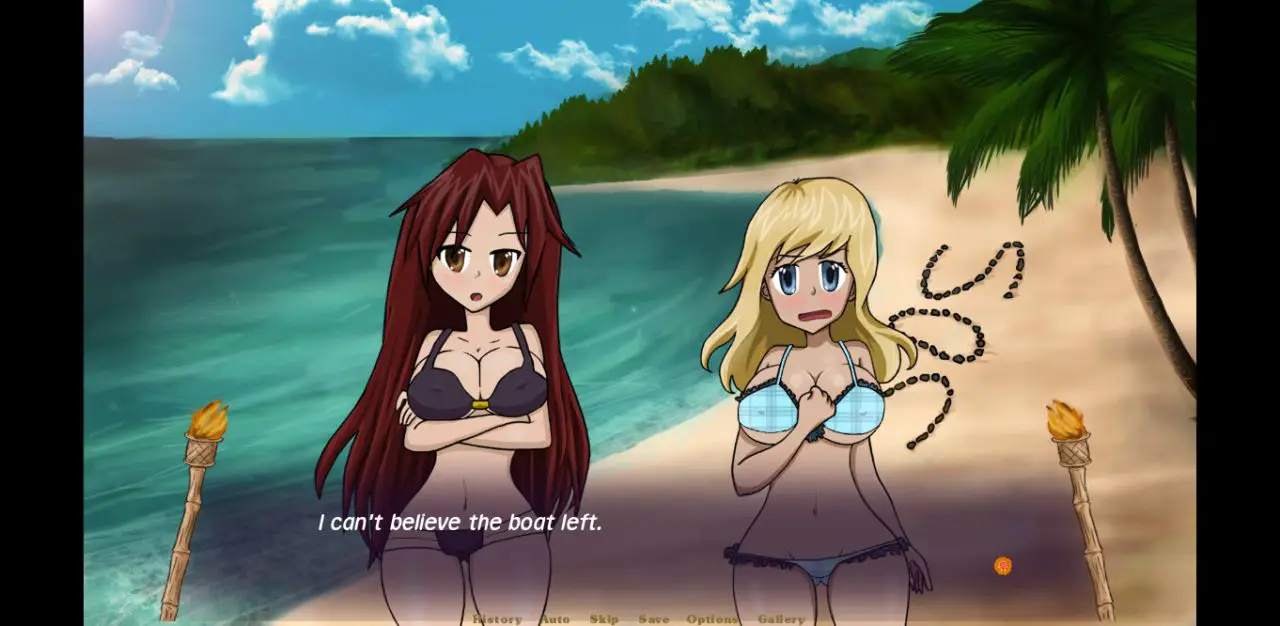 After the conversation, you decide to go to the beach to go fishing again, unfortunately you can't catch anything, but you can see a boat in the distance, it is then that you call the girls so that together they can draw the attention of the boat, unfortunately this one does not manages to see them and leaves
Junko feels annoyed by the fact that the ship left and there is no food, the protagonist tries to tell them that he will return soon or maybe another ship can see them, Junko does not believe him and leaves upset, leaving you two alone.
Then both decide to look for something to eat, while Lili goes to look for something the protagonist finally manages to catch a couple of small fish, you call Lili and she is impressed by you, showing that she also brought some small clams.
It is then that they go to the shelter, finding Junko, giving him good news. So Junko takes the food to start cooking, then ​Lili and you go to the beach, where you can talk more about yourself.
Talk about past
Talk about girlfriend
Talk about interests
Talk about island
Afther three of the questions Lili asks you if you like Junko's melons.
Not entirely
Not at all
It's because of you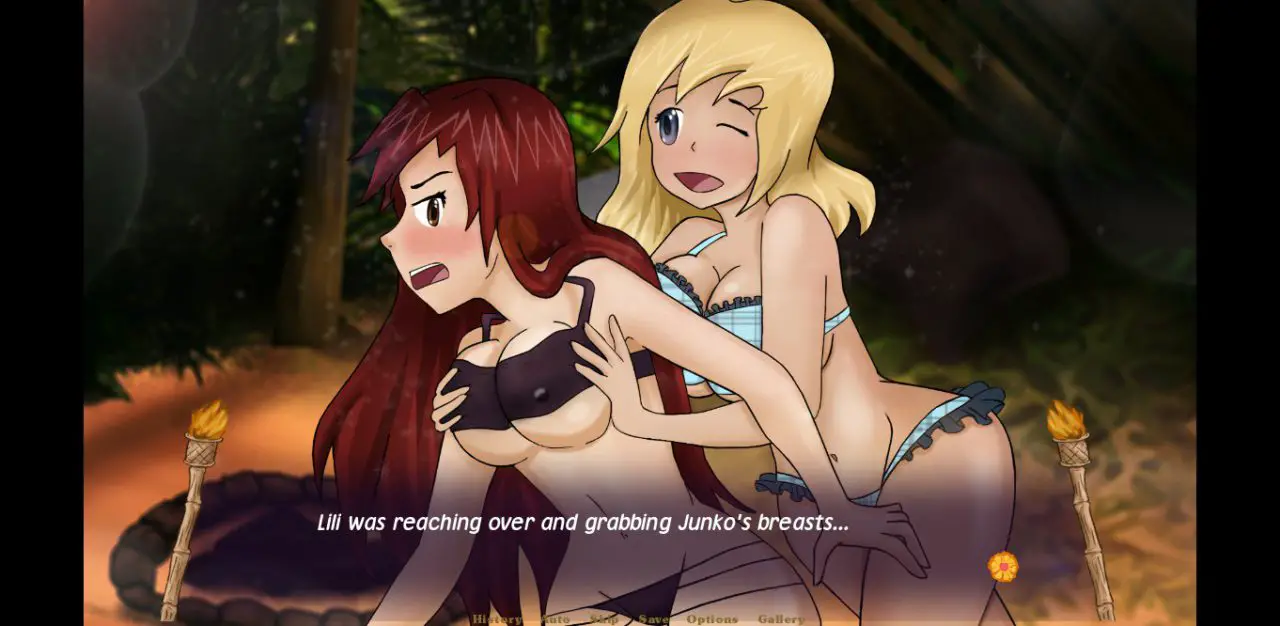 When they have finished talking they will return to Junko to see what she has cooked, to be little is better than nothing, then Lili will mention that Junko's breasts have become smaller, grabbing and squeezing them.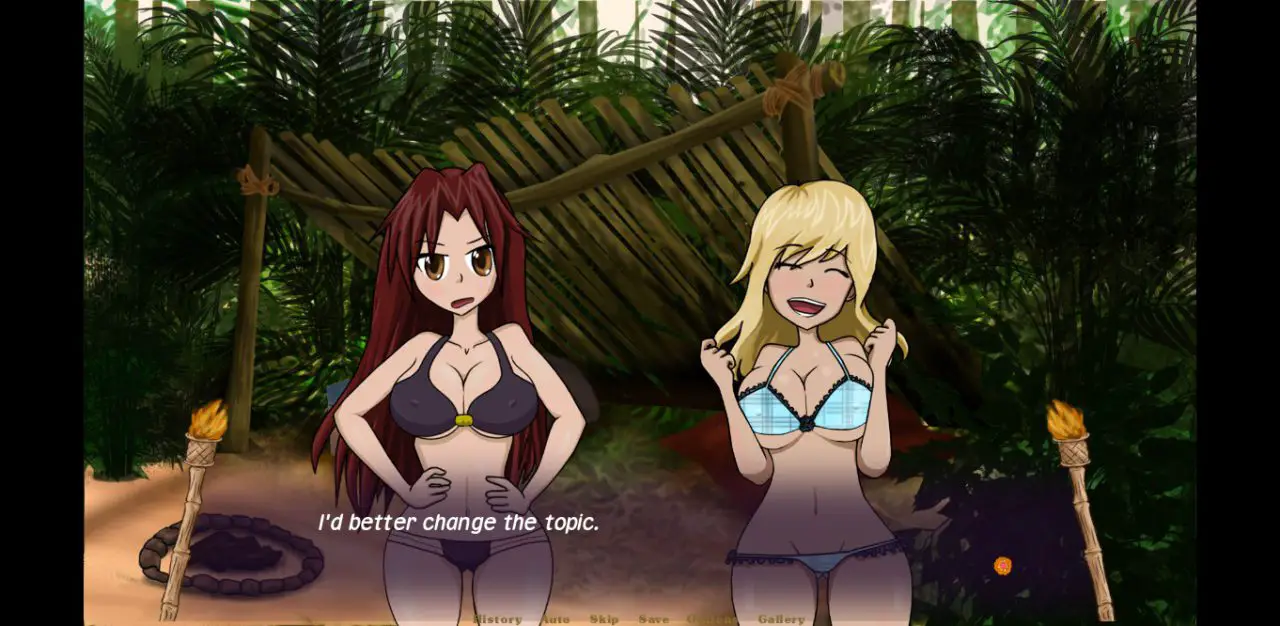 ollowing this Junko would hit Lili, claiming that she shouldn't do that with people, so Lili will say that she is very cute, so to turn off the conflict you will try to change the topic.
Talk about the weather
Talk about the food
After having changed the topic, the day will pass and Junko will mention again that she did not like having her bodily privacy invaded like that, thus ending the fourth day.
That's everything we are sharing today for this Getaway Island guide. This guide was originally created and written by MaskGuy. In case we fail to update this guide, you can find the latest update by following this link.
If you believe that any of the content on this site violates your rights, including your intellectual property rights, please contact us immediately using our contact form.