Title: Dead by Daylight
Release Date: June 14, 2016
Developer: Behaviour Interactive Inc.
Publisher: Behaviour Interactive Inc.
This guide is designed to provide useful information for newer survivors. Please note that this guide contains a lot of personal opinions. If you prefer guides without opinions, this may not be the right one for you. Constructive criticism is welcome, but unhelpful comments are not encouraged.
Dodge mechanics will not be covered in this guide, as they require extensive practice to master. Experienced players may find limited benefits from this guide, but your input is still appreciated if you'd like to contribute.
When to Go for the Unhook (and Not)
This section is crucial, so pay close attention!
The most vital piece of advice is to consistently monitor your survivor activity HUD, especially when you're working on a generator. For those of you who are keen observers, you may have noticed that the game continues even when you're fixing a generator. The killer could arrive at any moment, armed with various weapons, ready to catch you off guard.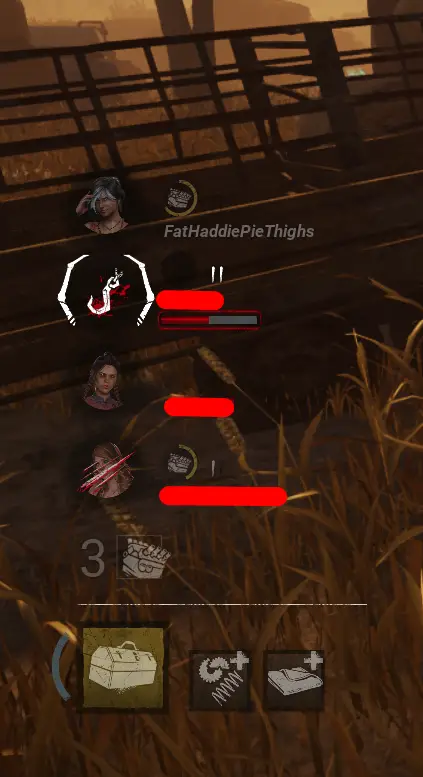 In the image provided, Knight caught Dwight off guard. In this situation, there are two survivors on generators, one of whom is injured.
Ideally, the survivor who is free, which in this case is Meg, should be the one to attempt the rescue. However, if Meg is also injured, then the healthy survivor, Haddie, should be the one to save Dwight. This choice is based on the fact that a second survivor going down while one is already on the hook can give the killer a significant advantage or "pressure."
Another common scenario is when the killer is chasing one survivor while another is on the hook. If the killer is pursuing Meg, for instance, then Haddie should be the clear choice to rescue Dwight, as indicated by the wiggling 'claw' icons.
If all three survivors are injured, the decision should be influenced by whose generator is closest to completion. Assuming that Meg is being chased in this hypothetical scenario, Kate would be the logical choice.
However, exceptions to these general rules can be made if the survivor on the hook is running the Kindred perk. This perk allows survivors to see each other and determine who is in the best position to make a timely rescue. For example, if Meg can see that the situation is under control away from the hooked Dwight, she can signal Haddie to go for the save. This not only saves time but also minimizes the risk of something going wrong.
If the killer is face camping the hook, it's usually best to let the survivor die, unless you believe the killer is particularly bad at chasing and tracking. Giving such killers additional kills isn't worth it.
If the killer is patrol camping, you may need to unhook the survivor and hope the killer chooses to pick you up instead of chasing the other survivor (Dwight in this case) after downing you. If you manage to unhook without the killer noticing, you can let Dwight take a hit within the first 10 seconds of the unhook. However, if the killer takes longer, you should intervene and take the chase, allowing Dwight to heal and return to a generator.
Avoid running the killer back to your partially completed generator, especially if the killer has a perk like Jolt, as it can disrupt the generator's progress and lead to the killer camping it closely.
Finally, refrain from sprinting after the killer as soon as they hook a survivor. This can either result in the killer camping the hooked survivor due to your scratch marks revealing your presence or the killer dropping the survivor to pursue you, which is unlikely unless you are injured or exposed. The best-case scenario is that you end up trading hooks, which works in the killer's favor.
Should I Bring a Flashlight?
Here's a straightforward tip: Limit flashlights to a maximum of two survivors!
If everyone on the survivor team brings a flashlight, it's highly likely that the killer will run the Lightborne perk, rendering your flashlights ineffective and wasting your time. Think about it – the time you spend realizing the killer has Lightborne could be better spent working on generators instead of trying to make a flashy save.
Certainly, there are exceptions, as some killers might not have the Lightborne perk unlocked or may not run it. However, if you're up against a skilled killer, relying on flashlights could set you up for failure. Some killers even use this perk specifically to counter flashlights.
Instead, consider these options:
Take a toolbox: Faster generator repairs lead to quicker wins.
Take a medkit: Healing faster means more time spent on generators.
Use a key with Blood Amber and Prayer Beads add-ons: This combo provides wallhacks, allowing you to play mind games around loops with high walls. It's incredibly effective for wasting the killer's time and creating opportunities for your team.
Should I Stick Around in Post-Game Collapse?
In general, it's a good practice to wait, especially near the exit gates, to take a hit for a fellow survivor who might be fleeing from the killer during the exit gate opening phase. Your willingness to take a hit for them can be the difference between life and death for that survivor. Body blocking can be a powerful tactic in these situations.
The only time it's acceptable to leave prematurely, according to these standards, is if you're injured, on your last hook, and there's nobody around to heal you, making it impossible to take a hit for someone. However, exceptions can be made if you have perks like Dead Hard or Sprint Burst that can help you bait an attack.
If the killer is running the No One Escapes Death (NOED) perk and someone is on the hook, it's important to accept that the hooked survivor is likely lost. Sticking around to find and cleanse the totem that powers NOED might be too late, and the survivor could die before you can do anything.
In a coordinated Survive With Friends (SWF) team, you can attempt a rescue by having someone lure the killer away from the hook, but this is very risky, especially if you haven't found and cleansed the NOED totem. Ideally, when facing a killer with NOED, try to cleanse the totem before opening the exit gates. If you can't do this, the killer may catch you while opening the gate and secure kills.
Lastly, a piece of advice to consider: Avoid teabagging or taunting the killer at the exit gates. This behavior can lead to negative experiences for both survivors and killers and may contribute to face camping or tunneling. Some killers may take offense to such actions. To avoid unnecessary conflict and retaliation, it's often best to avoid taunting and just leave the game respectfully.
Where Should I Run the Killer to?
In Dead by Daylight, your choice of where to run when being pursued by the killer is crucial. Here's some valuable advice:
1. Avoid Running Around a Hooked Survivor: Running the killer around a hooked survivor can be a poor decision. It's not advisable because it can lead to the killer eventually catching you, and having two survivors on hooks near each other can be disastrous for your team. If you do manage to escape, the survivor on the hook might not get rescued, or someone else might attempt a rescue, risking a trade or getting tunneled by the killer. This takes a player out of the game and reduces generator progress.
2. Pay Attention to Generator Pops: When a generator is completed, pay close attention to where it happened. The generator completion notification is hard to miss. This is the ideal location to lead the killer, unless there's an exceptional loop or infinite loop you're aware of. While working on your generator, keep an eye out for elements in the surroundings that can help you create distance when you need to lead the killer. This area should be safe for running the killer since no one will be working on generators there.
3. Utilize the Shack: The shack is generally a strong place to lead killers. Make a mental note of its location on the map and try to guide the killer there. Even without the god pallet, the shack remains a formidable loop. However, be aware that generators often spawn in the shack area, so prioritize completing those generators quickly.
4. Use Perks for Generator Awareness: Perks like Deja Vu or Troubleshooter can be very helpful in locating unfinished generators on the map. These perks provide you with information about generator locations, helping you plan your routes more effectively. Felix's perk is an option too, but some players might find it less effective.
5. Small Caveats: There are a couple of exceptions to running the killer around a generator. If the generator you're near was barely worked on, you can run the killer around it with little consequence. Additionally, if you had a teammate working on the generator with you, and the killer didn't notice them, and your teammate has the Stake Out perk (Detective Tapp's perk), you can lead the killer around the generator. Your teammate can accumulate free Great skill checks from the killer's proximity, which speeds up generator completion.
By following these guidelines, you can make more strategic decisions when it comes to running the killer and contribute to your team's success in Dead by Daylight.
When to Pre-Drop a Pallet?
Pre-dropping pallets in Dead by Daylight is a strategy that depends on the killer you're facing and the situation. Here's some guidance on when to consider pre-dropping pallets:
1. Consider the Killer: Pre-dropping pallets is not always the best choice. It heavily depends on the killer you're facing. For example, against killers like Legion or Wesker, pre-dropping a pallet is usually not recommended because they can simply vault over it. However, against killers like Huntress, it's often a good idea to pre-drop pallets since they can punish you with ranged attacks (e.g., hatchets) if you drop a pallet in front of them.
2. Use Choke Points: Pre-dropping pallets can be a powerful tactic in choke point areas where the killer has limited options. By doing so, you force the killer to either break the pallet or take a longer route around it, buying you valuable time to escape. If you manage to create enough distance and break line of sight, consider walking (if you're not injured) to lose the killer altogether. However, be cautious of leaving blood trails, as this can make it harder to escape unnoticed.
3. Utilize Map-Specific Pallets: Some pallets on specific maps are particularly effective for pre-dropping. For example, the pallet at the top of the main hall stairs in the Raccoon Police Department (RPD) map is an excellent candidate for pre-dropping. Killers going up the stairs have no quick way around it, so pre-dropping it forces them to break it. This can create a significant distance between you and the killer, and many killers will end the chase at this point.
Bonus Tip: Be Mindful of Map Choice: On the RPD map, running the killer outside by the main entrance is generally not a good strategy. This area has a generator, but there are few effective loops to use against the killer. Running in a straight line outside can lead to the killer gaining Bloodlust and ultimately catching up to you, especially if they have ranged abilities. It's better to focus on looping and pallet use within the building in this map.
By considering these factors and adapting your strategy based on the killer and the situation, you can make more informed decisions regarding when to pre-drop pallets in Dead by Daylight.
Legion Counter Tips
Countering specific killers in Dead by Daylight can be challenging but essential for survival. Here are some strategies for countering the Legion:
1. Avoid Pre-Dropping Pallets: As mentioned earlier, pre-dropping pallets against the Legion is generally not advisable. They can quickly vault over them, and the pallets are likely to get broken in the process. It's often better to take a hit and stun the Legion instead.
2. Be Alert During Feral Frenzy: When the Legion enters Feral Frenzy, you can tell by their raised knife and rapid breathing. During this state, it's crucial to either try to make them miss their attack (their lunge range is short without add-ons) or stun them with a pallet. If you fail to do either, they'll hit you, giving them wall hacks to see your location. A smart Legion will aim to hit multiple survivors in this state. If they chain four hits, the next survivor hit will instantly go down, and everyone will be busy mending.
3. Don't Hide in Lockers: Hiding in lockers is not effective against the Legion. Once they've made the first hit, they gain wall hacks and can see you inside lockers. Additionally, the Legion often carries the Iron Maiden perk, which damages survivors leaving lockers. It's best to avoid lockers when facing the Legion.
4. Consider Not Healing Immediately: Against the Legion, healing immediately after being hit and mending resets their wall hacks on you, and they can hit you again to build up their chain. Instead, consider running around in a circle or away from where the Legion ran until it's safe to mend. You can't go down from Deep Wound while sprinting.
5. Use Perks to Your Advantage: Perks like Dead Hard can be valuable against the Legion. It can make them swing at air if you're already injured when they attempt a Feral Frenzy strike. Keep in mind that Dead Hard can only be used once per hook stage after your first hook due to its rework. Sprint Burst is also useful for baiting a swing and dodging their attack.
6. Break Line of Sight During Feral Frenzy: When the Legion is coming in for a Feral Frenzy strike, especially if you're their first target, try to break line of sight. They can't see scratch marks or blood trails in this state, so use obstacles to your advantage. However, if you're already hit in the chain, it's challenging to hide as they will have wall hacks.
7. Split Up: Even in smaller maps, try to spread out from the rest of the group. This can prevent the Legion from chaining four hits for an instadown. It's especially effective if they haven't taken the "never-sleep pills" add-on.
These strategies can help you better handle encounters with the Legion, a killer known for their ability to quickly injure and disrupt survivors. Adapt your tactics based on the situation, map, and your teammates' actions for the best chances of survival.
Solo Players Recommended Perks
Choosing the right perks can make a significant difference in your Dead by Daylight gameplay, especially when you're playing solo. Here's a list of perks that can be particularly effective for solo players:
1. Off the Record (Zarina): This perk provides you with endurance and hides scratch marks for up to 90 seconds after being unhooked. It's a great anti-tunnel measure against killers who focus on hooking the same survivor repeatedly.
2. Kindred (Any Survivor): Kindred is highly valuable for solo players. It reveals important information to your teammates, helping them make informed decisions about when and how to rescue you. It also deters camping killers.
3. Lightweight (Any Survivor): Lightweight has become underrated since its buff. It helps you lose a chase more easily while you're in a healthy state, making it harder for the killer to track you.
4. Deliverance (Adam): This perk allows you to unhook yourself, but you must make it to the first hook save for it to activate. It's a handy perk for self-rescue but requires careful timing.
5. We'll Make It (Any Survivor): We'll Make It speeds up healing, allowing you to get your teammates back to full health quickly. This can help your team return to generator repairs faster.
6. Deja Vu (Any Survivor): Deja Vu is effective against the "3 gen" strategy commonly used by killers. It helps you locate generators that are between other generators, disrupting the 3 gen setup. It also boosts your repair speed.
7. Adrenaline (Meg): Adrenaline is a game-changer when exit gates are powered, and you can't find anyone to heal you. It can save you from a dire situation and provide a second wind to escape.
8. Prove Thyself (Dwight): Prove Thyself offers a 10% bonus to repair speed, which becomes noticeable when multiple survivors are working on the same generator. It's excellent for optimizing generator progress.
9. Desperate Measures (Felix): This perk increases unhooking and healing speed based on the number of injured or hooked survivors. It's useful when playing with teammates who might make risky plays.
10. Wiretap (Ada): Wiretap grants you wall-hacks when a killer approaches your generator. This information can be extremely valuable, especially on indoor maps, allowing you to react and adjust your strategy accordingly. It also helps your teammates find your generator and contribute to its completion.
By incorporating these perks into your build, you can enhance your solo Dead by Daylight experience and improve your chances of survival and success. Remember to adapt your perks based on your playstyle and the specific challenges you face in each match.
That's everything we are sharing today for this Dead by Daylight guide. This guide was originally created and written by QuindariousGooch. In case we fail to update this guide, you can find the latest update by following this link.
If you believe that any of the content on this site violates your rights, including your intellectual property rights, please contact us immediately using our contact form.