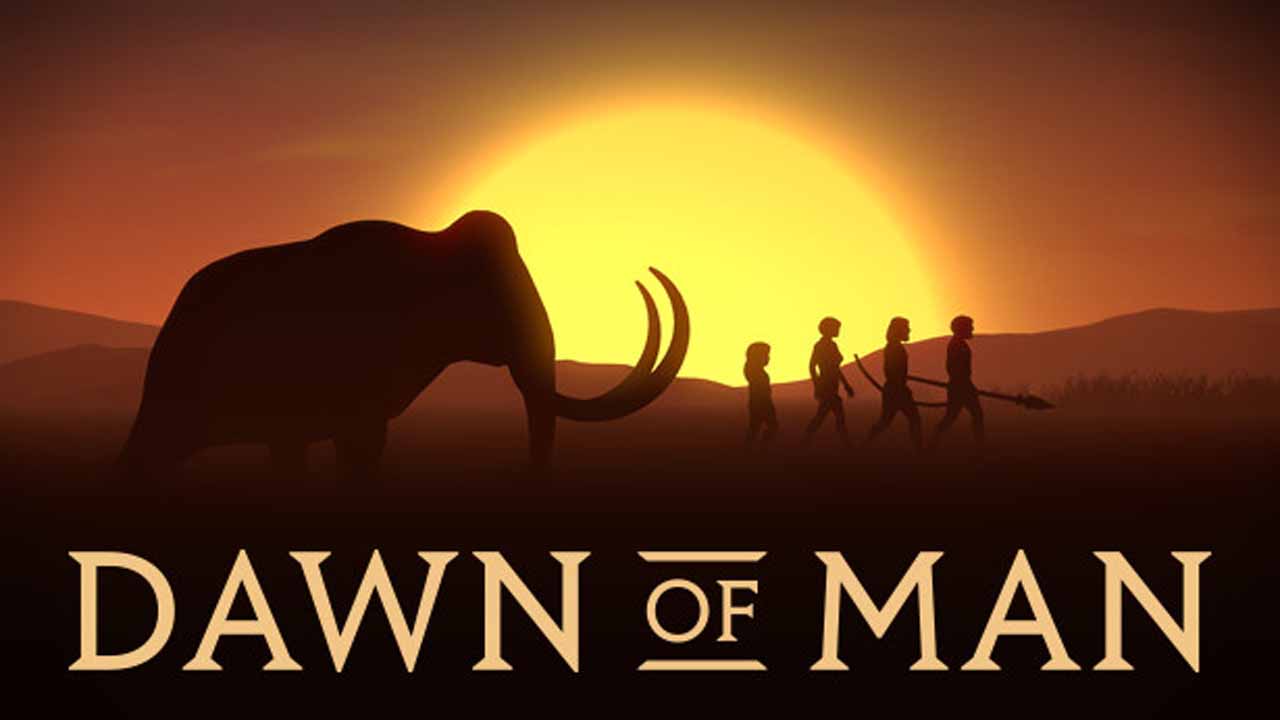 This guide explains every aspect of the food in Dawn of Man, from hunting, cereals fields, and domestication.
Many Ways to Eat
Humans in Dawn of man have many ways to eat, and two are only available in the Neolithic era, which mark humanity's sedentarization and the moment impacts on nature take a greater scale.
They can:
Hunt wild animals
Gather berries and wild vegetables
Harvest cereals, vegetables and make bred
Eat their domestic animals
How Food Function
Food is a perishable good, it has health points that decrease with time, like building, to fake storage life. Here's a chart of the basic storage life of foods.

Every food unit equal the same. One dry food equals the same feed value as a unit of vegetables, milk, fish, or fruits.
Humans will try to eat less fresh food, but if it is not eaten, it will simply disappear. In an ideal situation, you want to multiply the food source, so you don't put your eggs in the same basket and have shortages.
Food Storage
At the start of the game, you can only store food in the storage hut. When you obtain granary in the Neolithic era, you absolutely need to deactivate the automatic storage of food in storages huts and warehouses and verify it's deactivated when you upgrade them.
Hunting
Every animal can be killed, skinned and his food gathered. Younglings are easier to kill, but give less food than adults. The quantity of food can vary, with the maximum being the number in the help of the game and in this chart.
Some animals will disappear with time, so you better hunt them when you can, for the food and the tech points. Note that animals like hyenas and wolves, can and will steal your prey, eat the dead and the food in it.
Here is a chart of the wild animals from every period, in order of maximum meat produced.

Neolithic Revolution
In the Neolithic era, humans settle for good. The first species of cereal start to be harvested and domestic animals start to emerge after years of training wild animals. The diet change in this time, from the hunter-gatherer to a sedentary farmer.
If the diet isn't meat and fiber anymore, it is still dependant on the animal protein influx, cereals, and bread giving energy but not the fat and other essentials elements for the body (fish oil for example).
In the game, it materializes in a big production of cereals, completed with different meats, fish, dry vegetables and sometimes fruits and also milk/cheese.
Crop Rotation
Cereal crops planting occur in spring and harvest in autumn.
Vegetable planting occurs in winter and harvest in summer.
Trees and fruits give in summer or autumn.
It's advised to have a little bit of everything, to have a continuous food supply, knowing that the cereals are the base of your diet. Beware of the spike in workload during the planting and harvest times!
Crop Sickness
One or more crops can have a sickness. If it's the case, the crops will give nothing till the next season. Some cereals crops have less chance to get a sickness, or a chance to give more straw or cereals. It is advised to have different kinds of cereals.
Crops
Note that some cereals have a chance to give more cereals, more straw, and have less chance to have a sickness, indicated in percent.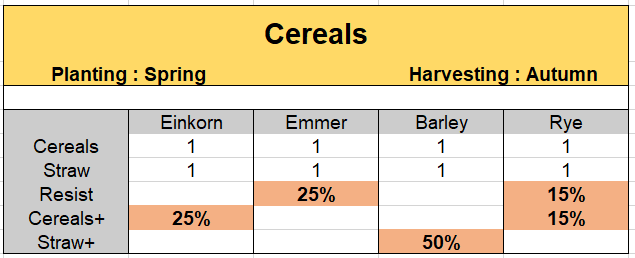 Wild Animals Domestication
After learning Dog domestication, you will be able to domesticate wild animals, build stables to nourish them, and protect them. Once the tech is unlocked, you can select a wild animal and a lasso will appear if it can be domesticated.
Only young wild animals cant be domesticated. A human will go domesticate the animal, and once successful, the animal will come back to your settlement.
Domesticated animals will wander all year, and will seek shelter during pillagers raids and in winter, where your humans will have the task to give them something to eat.
Animals don't consume anything, except in winter where they need wheat and water. if there is no wheat, they will eat cereals.
Domesticated Animals


Animals Specialty
A dog can hunt and help defend your settlement.
Cattle and goats produce milk.
Sheep produce wool.
DOnkey and horses can pull carts, horses are a little bit faster.
Pigs are a great source of food.
Animals Sickness
Animals can die of sickness. Try to always have more animals if possible, you can't avoid animals deaths.
Animals Reproduction
Adults animals will reproduce if they have an opposite-sex partner, during winter, if they are well treated. I advise you to have more than 20 to assure reproduction unless you want to go recapture them in nature.
Task Priority
Personally, I always prioritize cereals fields and stables.
Food Quantity for a 150 Souls Colony
As an average extracted from all my extremes games (three scenarios) I have counted:
A dozen of full fields (70-80% cereals).
Between 75-100 domestic animals, without counting horses or donkeys.
An average of 750 food produced.
That's everything we are sharing today for this Dawn of Man guide. This guide was originally created and written by CinéLudik. In case we fail to update this guide, you can find the latest update by following this link.
If you believe that any of the content on this site violates your rights, including your intellectual property rights, please contact us immediately using our contact form.