Title: Combat Master
Release Date: April 21, 2023
Developer: Alfa Bravo Inc
Publisher: Alfa Bravo Inc
In this guide, we'll explore how to optimize your weapons based on your playstyle. Whether you prefer getting up close and personal or hitting targets from a distance, this guide has got you covered. Additionally, we'll delve into the mechanics of firearms in Combat Master, providing detailed explanations.
Please note that these insights are drawn from my personal experience, and accumulated through extensive testing and refinement. Keep in mind that everyone has their unique playstyle, so you can use this guide as a reference while experimenting at the shooting range.
Gunsmithing Introduction
Before I delve into explaining how gunsmiths operate in Combat Master, we should establish a benchmark as a reference point for our guide. To do that, we require a versatile weapon to illustrate the fundamental concepts effectively.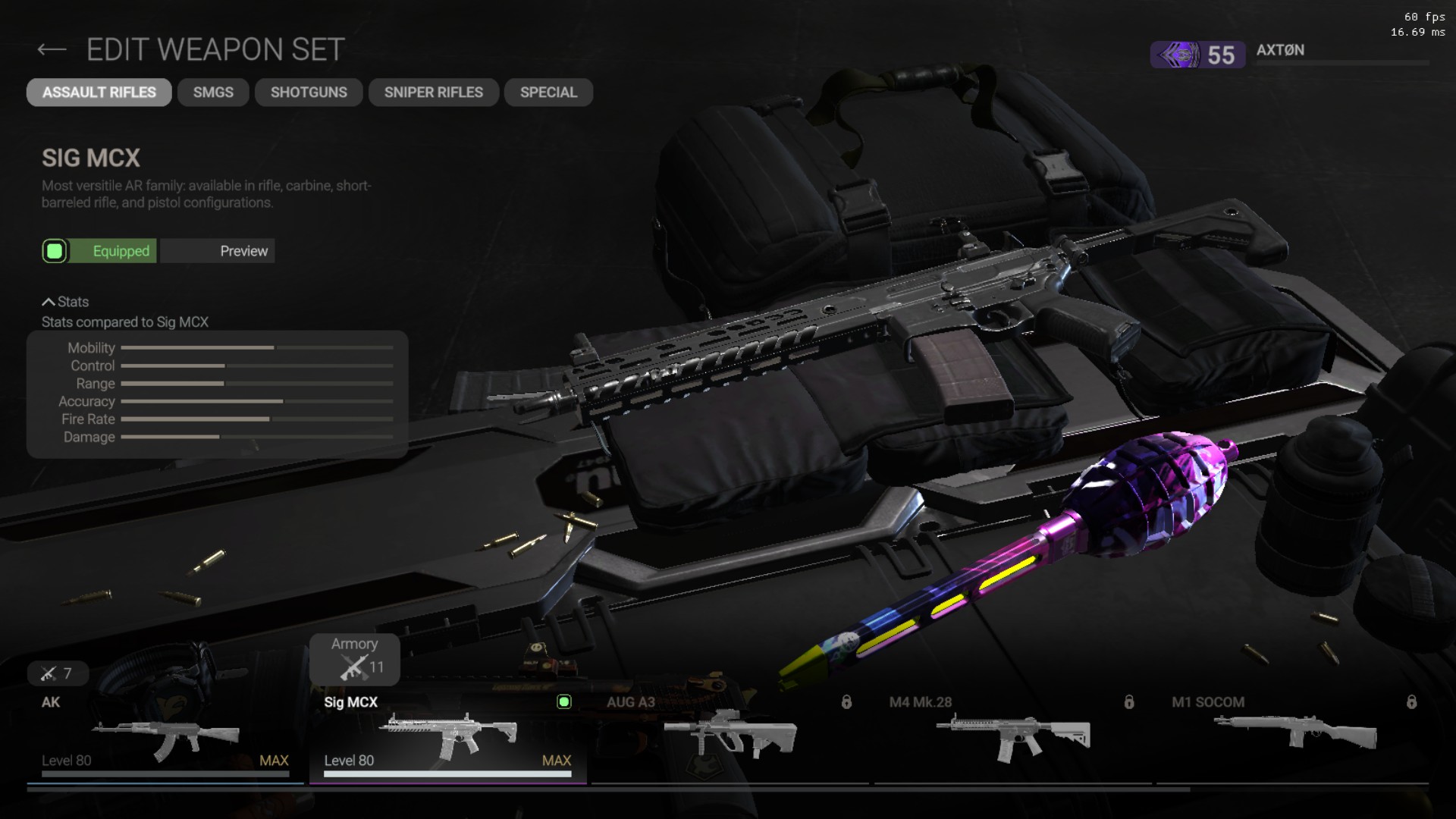 The Sig MCX, a highly versatile weapon commonly found in online lobbies, will serve as our test subject to demonstrate how guns, including most others in the game, operate.
To ensure fairness and minimize bias in our tests, here are some key points of clarification:
Sensitivity Settings: I've adjusted my sensitivity settings to default values for this guide. Normally, I use 120% sensitivity, but in the interest of fairness, I'm using default settings to ensure consistent results.
Recoil Testing: We'll conduct recoil tests on this weapon at various distances, starting from 25 meters and moving in 5-meter increments down to 10 meters. These tests will be performed from a standing position.
Aiming Techniques: We'll examine two aiming techniques during the recoil tests: Hip-Fire (both static and controlled) and ADS (Aim Down Sight, both static and controlled). This will help us gauge how much recoil the weapon exhibits during different firing scenarios.
I've chosen these methods because I've noticed that most players engage in combat at mid-range to close-range distances when using ARs and SMGs, as well as other weapon types like shotguns, snipers, and pistols in general.
Stay tuned for further explanations on these techniques as we dive into the tests. Let's get started!
How Stats Work
In each weapon you unlock as you progress through the levels, there are various statistics that indicate the performance of your firearm. In this section, I'll break down how each of these stats functions and offer tips and tricks for achieving a well-balanced setup. Additionally, we'll address some common misconceptions regarding unique attachments.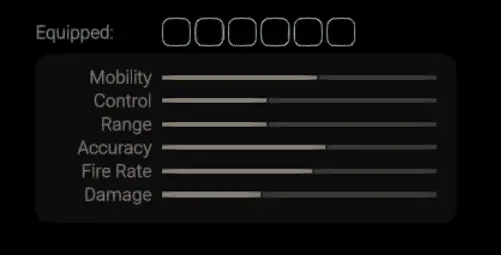 In this section, we define your weapon's performance through its key stats, which are:
Mobility: This encompasses aspects like sprint speed, sprint-to-fire transition (shooting while sprinting), faster aiming down sights (ADS), and quicker reload times.
Control: This relates to how your weapon handles recoil, both vertically and horizontally. It includes factors like bounce (how much recoil affects your aim in both directions) and overall recoil reduction.
Range: Range is about the damage your weapon deals over distance. It's an essential benchmark for understanding how effective your weapon can be at various ranges.
Accuracy: Accuracy, much like control, reduces hip-fire spread and minimizes bullet spread during firing, enhancing your shot precision.
Fire Rate: As the name implies, this refers to how quickly your weapon can empty a full magazine.
Damage: This is straightforward – it's the amount of damage each shot inflicts.
Now, let's talk about achieving balance and tailoring your weapon to your playstyle. Personally, my playstyle usually revolves around maximizing accuracy at any range, minimizing recoil, and ensuring faster reload times, especially with weapons like the SIG MCX, where the reload can be a make-or-break moment.
With that in mind, I primarily focus on accuracy, mobility, and control, and I adjust these aspects as I go. Here's a tip: Try listening to music, conduct recoil tests on your own, and adjust your weapon based on your preferences. Spend time at the shooting range, maybe even engage in some aim training, until you achieve your desired setup. It might take time, but this is how I've fine-tuned my weapons.
I'll provide a more detailed explanation of this process in the next section.
Now, let's clarify some rumors about attachments, particularly in ammunition. Some people, like my friends, believe that certain attachments increase a weapon's damage. However, the reality is that they don't increase raw damage but affect Damage-Over-Distance (DOD). Here's a comparison of special ammunition types with the default one.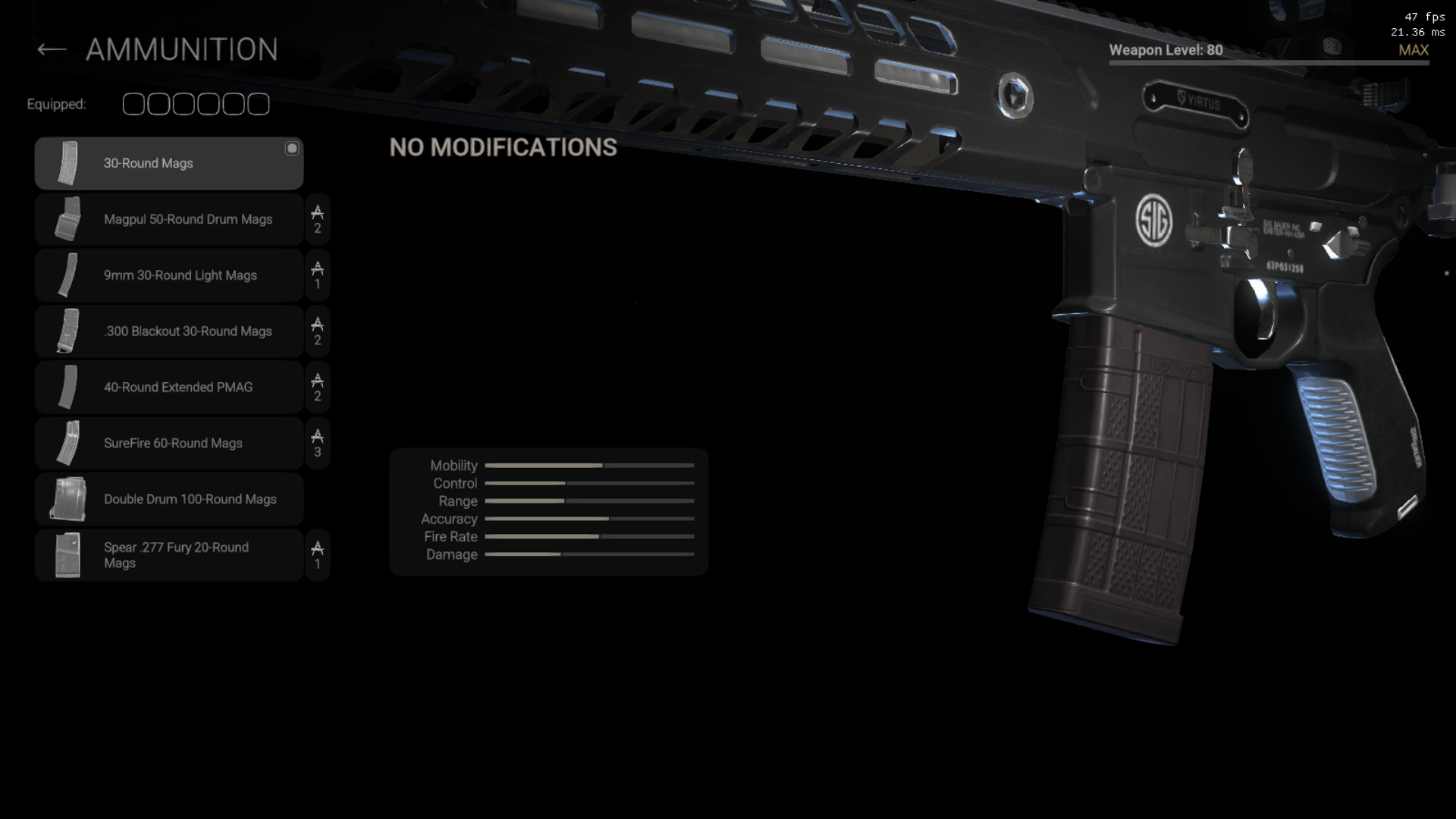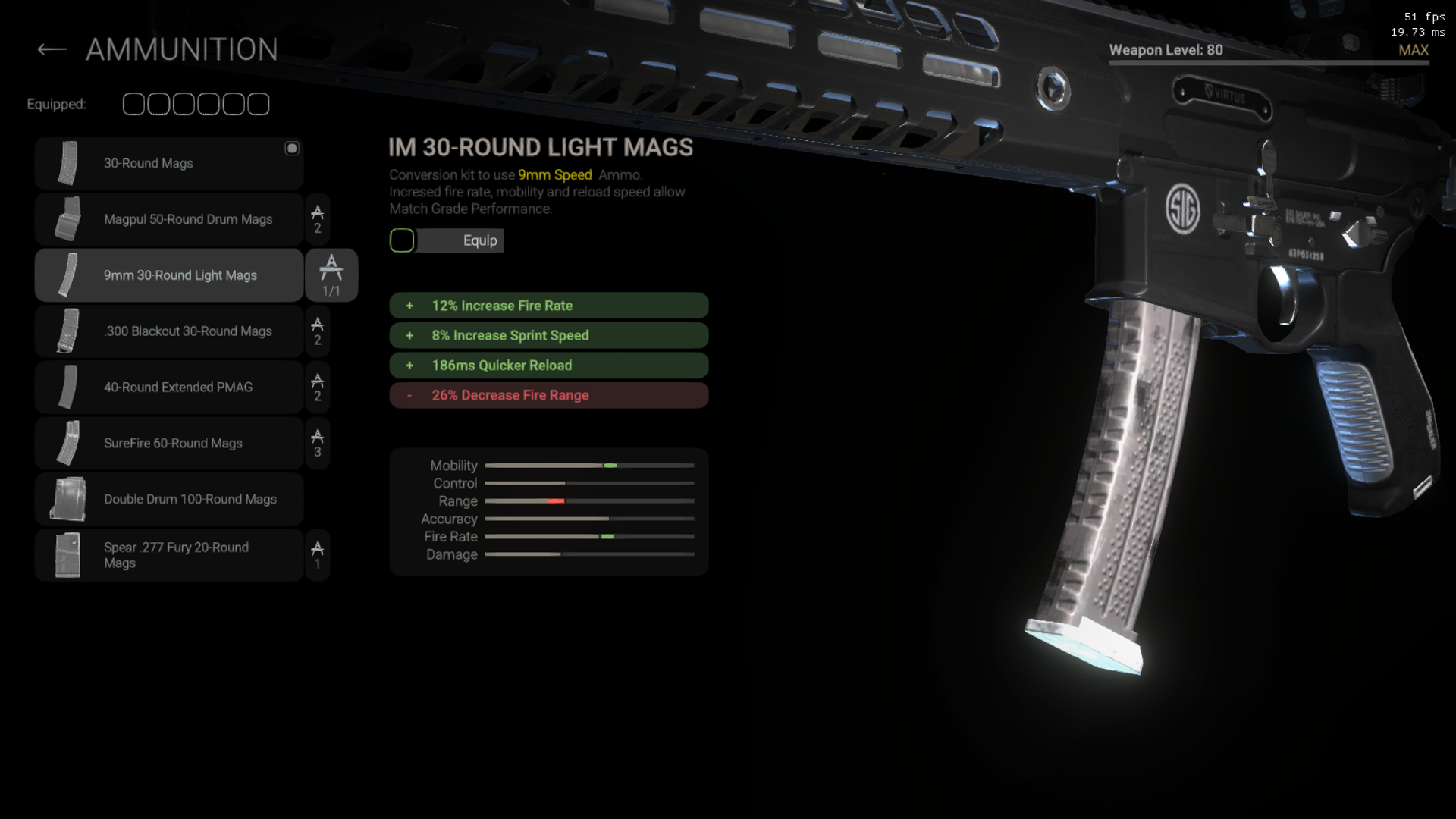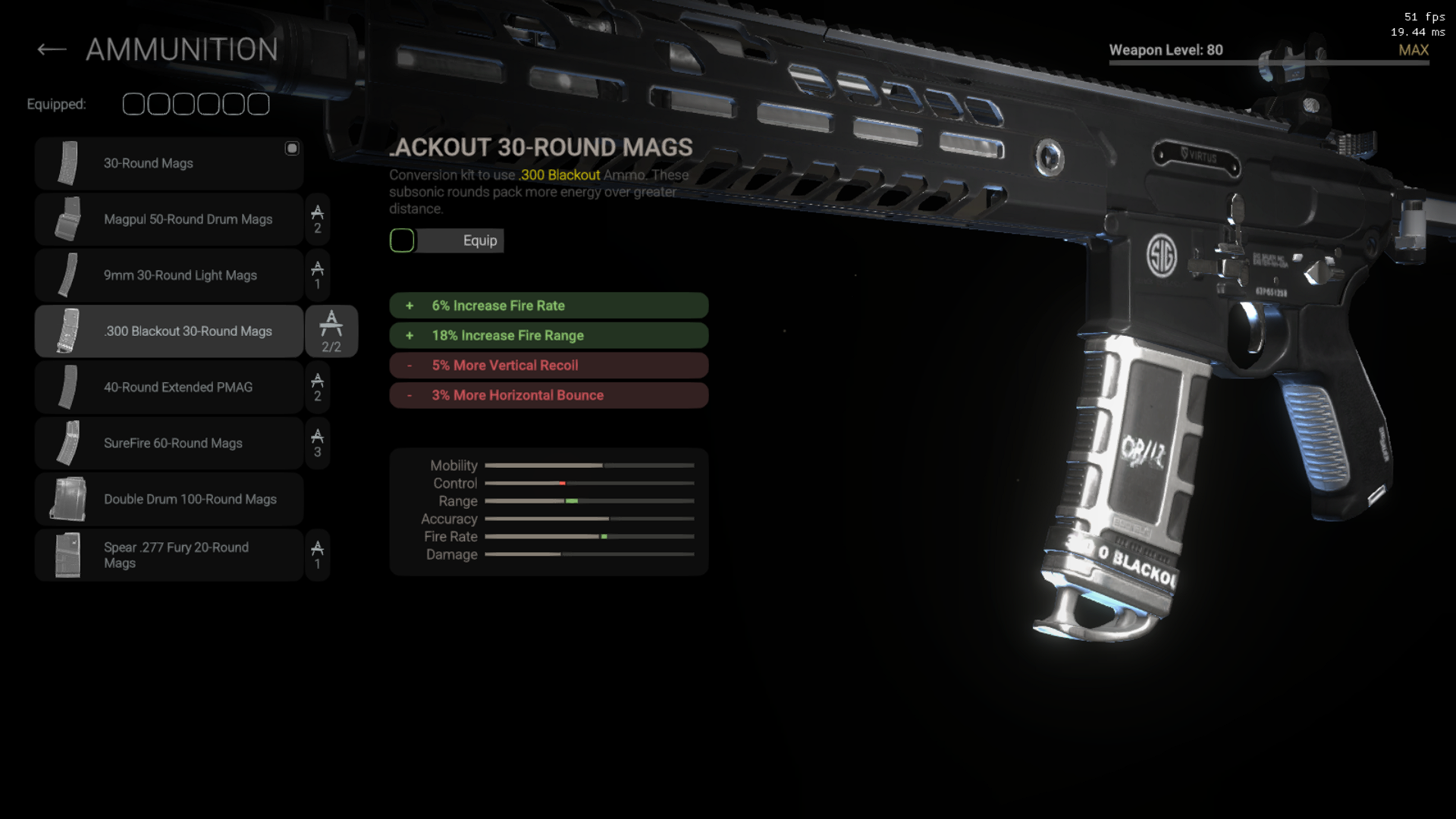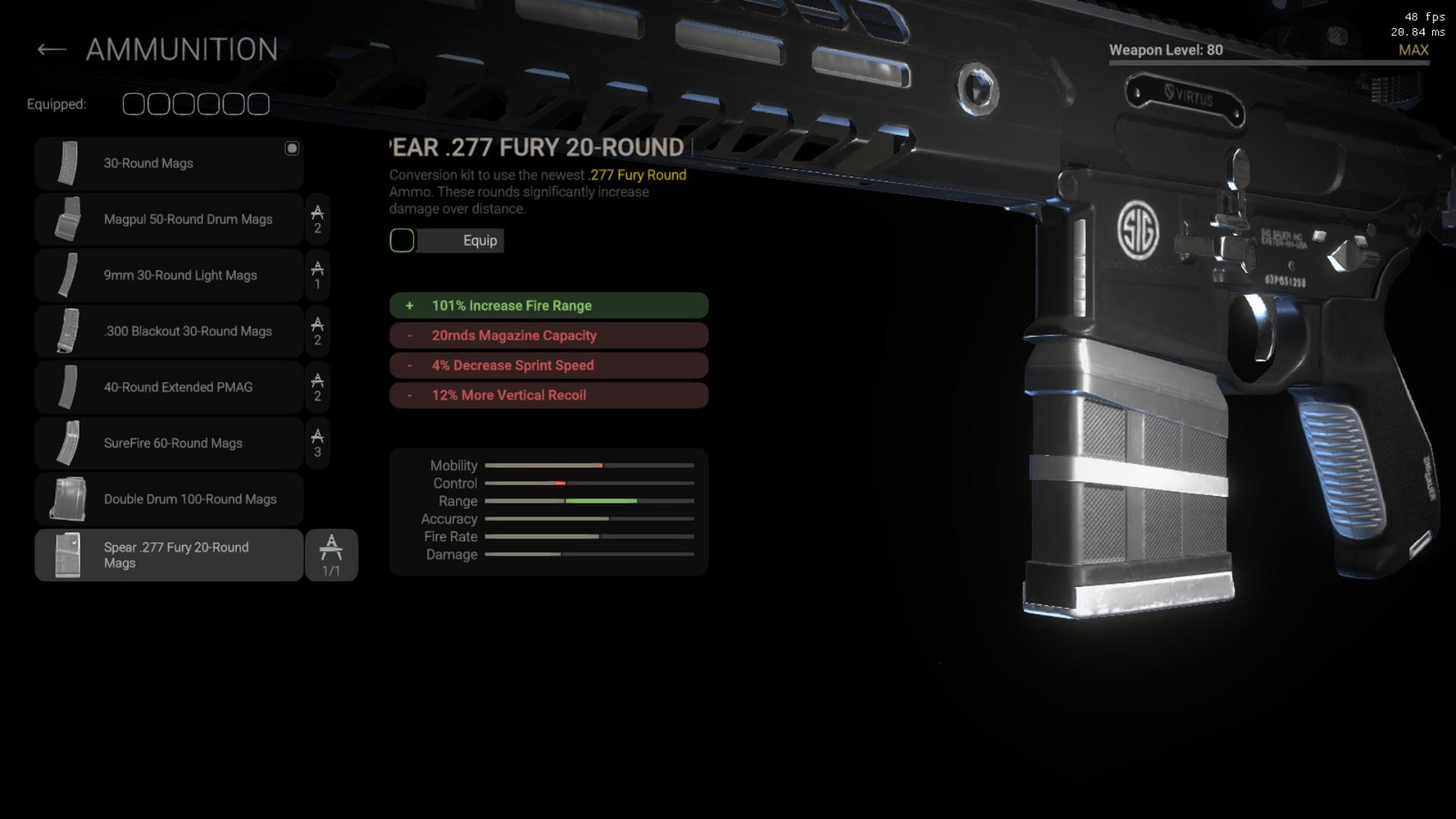 As you can tell, the 9mm magazine deals lower damage as you shoot from farther away, but it speeds up your reload. It's pretty much the same deal with the SPEAR 20-Round magazines, which boost damage for longer shots, but they won't make your damage higher than the default (unless the game developers add a FMJ Perk like in COD BO2).
Anyway, let's stop the chatter (or in this case, typing kekw) and get into how I customized my weapon.
The Basic Test
Before we begin tinkering with our SIG, we need to understand its performance in its basic, unmodified state, without any additional parts, like a stock.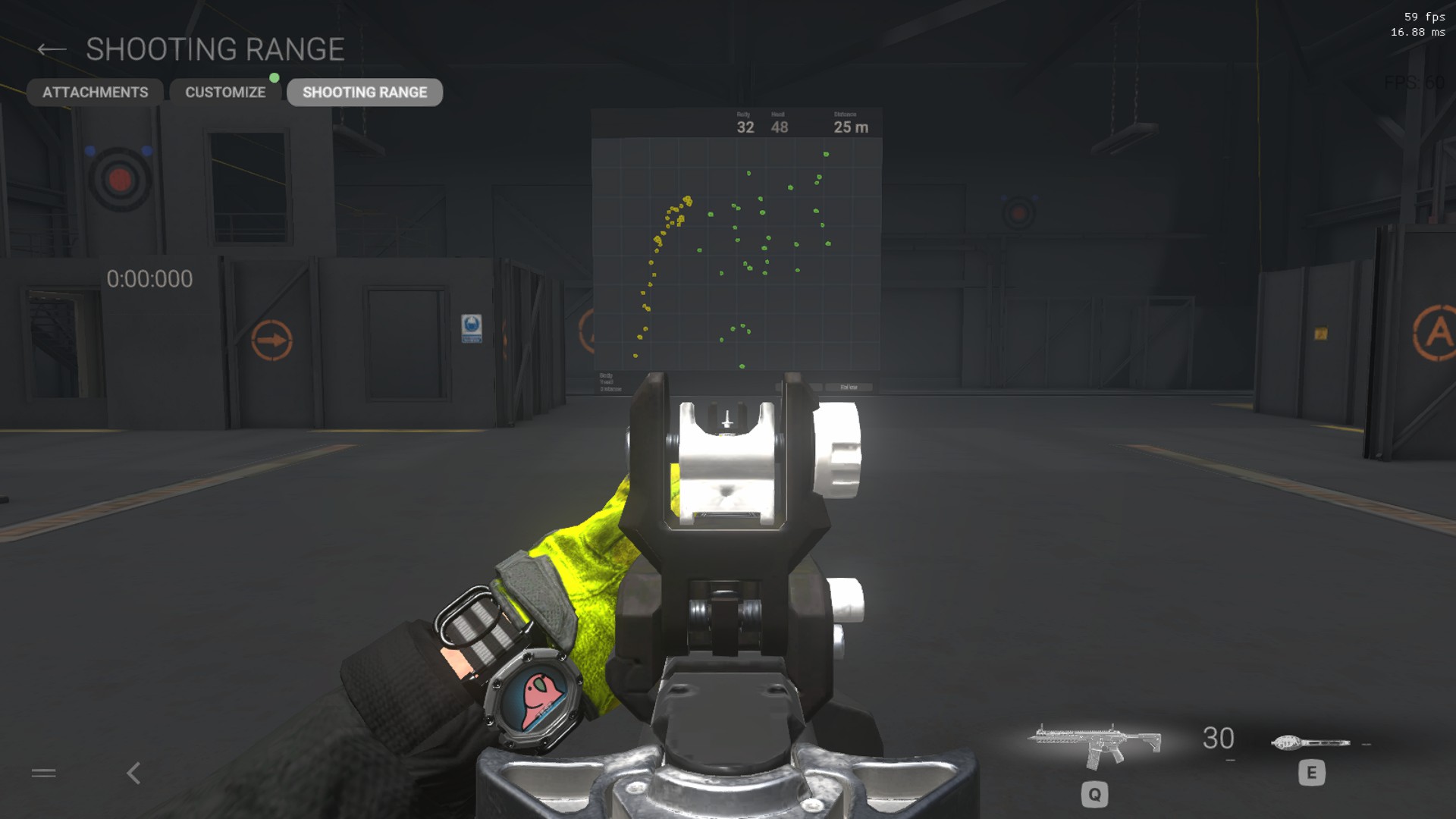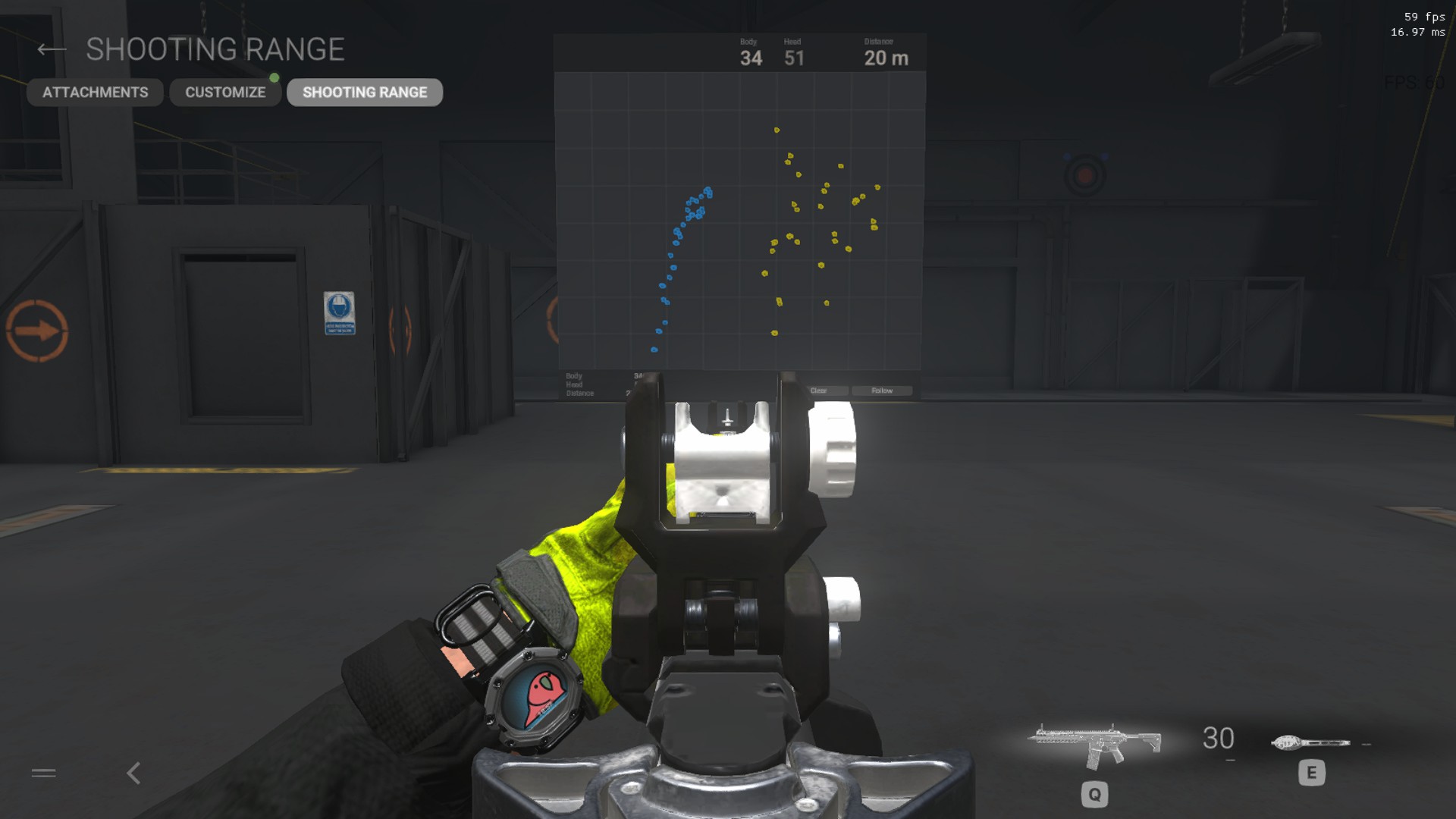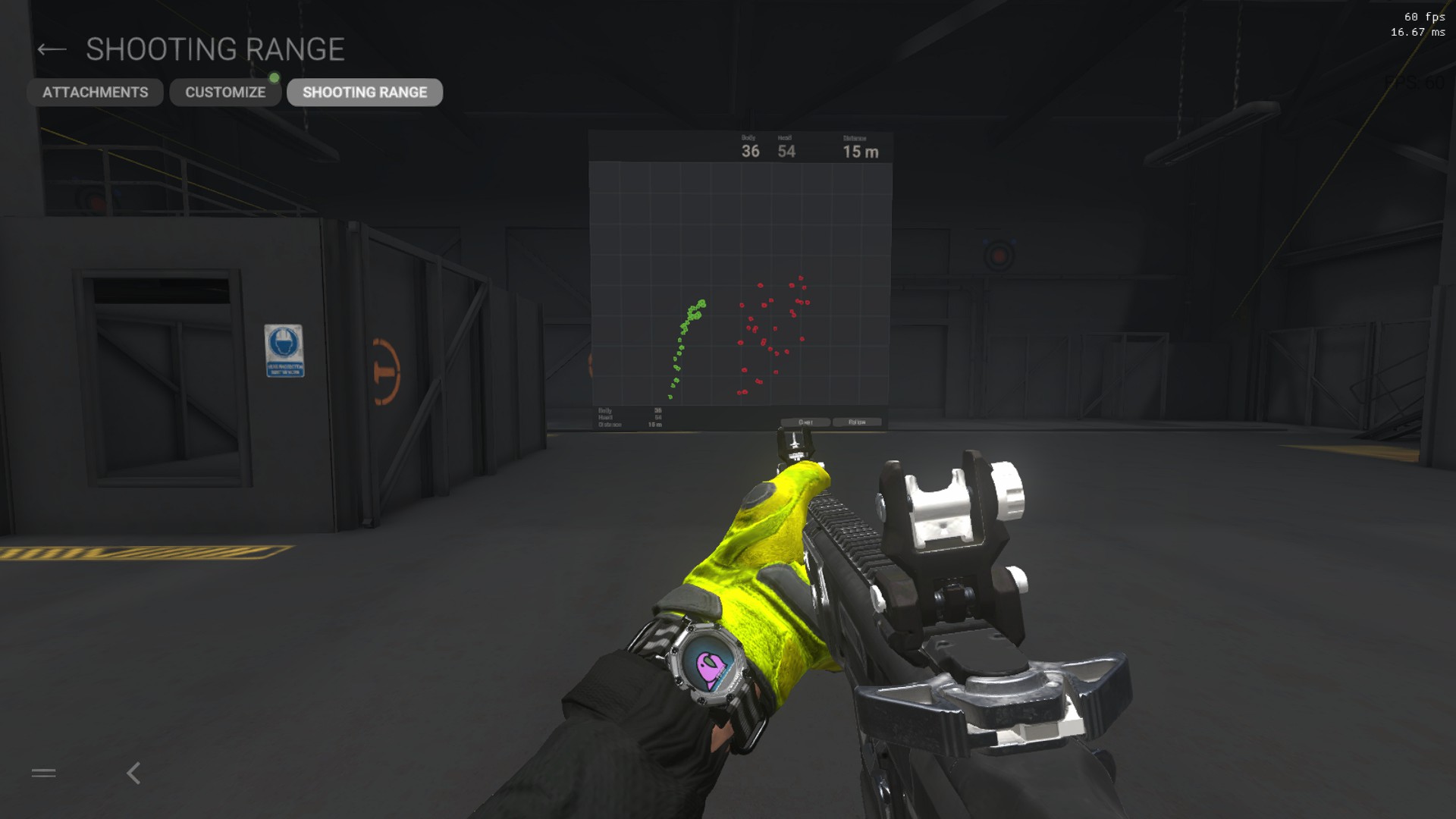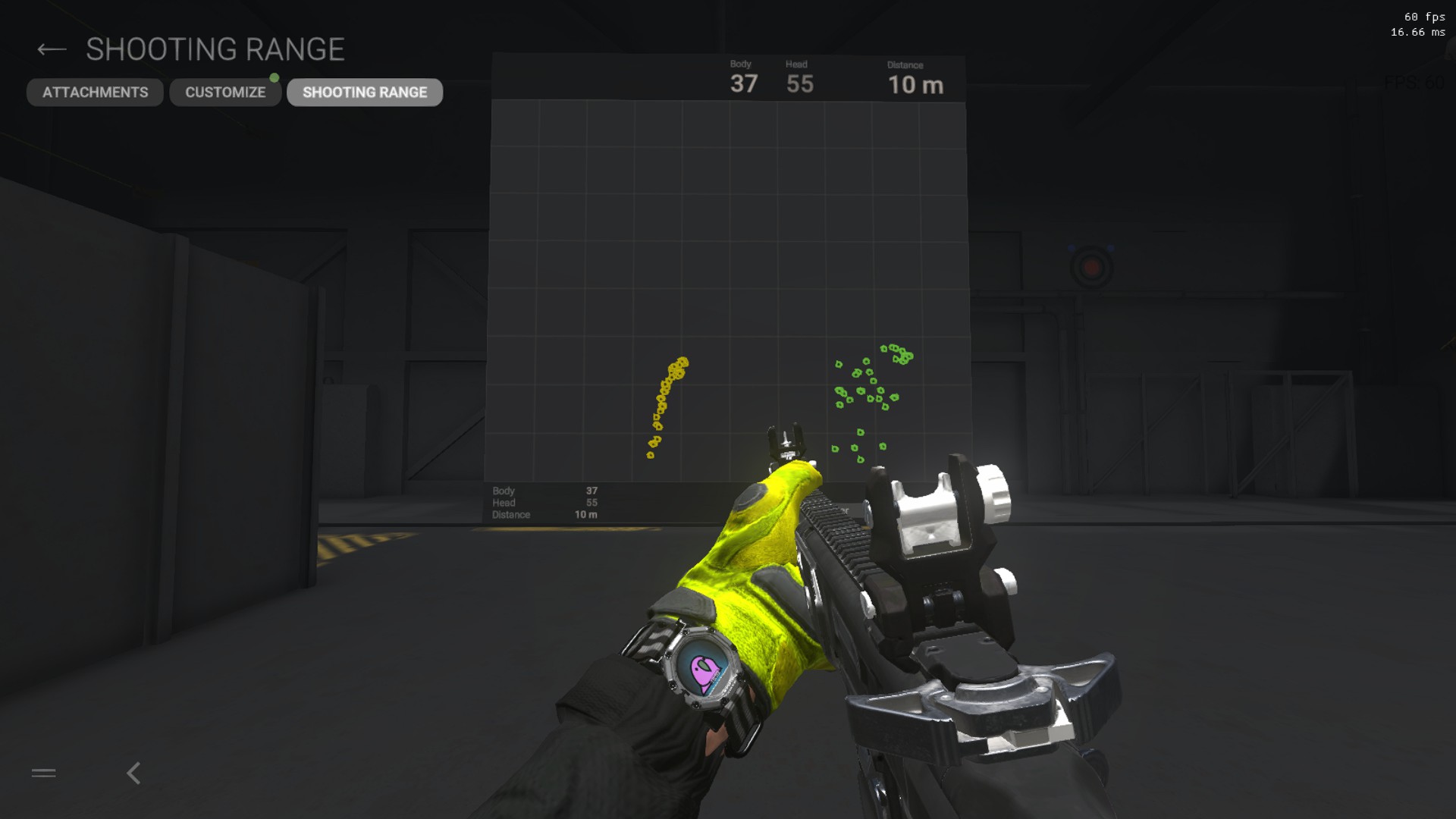 Here are the recoil patterns I observed for both hip-firing and aiming down sights (ADS) without actively controlling the gun. It's quite evident that at 25 meters, hitting your shots while hip-firing (on the right side) is extremely challenging, in contrast to using ADS (on the left side). As we move closer, from 20 meters to 15 meters, you can see that the bullet spread becomes more focused. This aligns with common knowledge in many FPS genres, where longer distances tend to result in less accurate shots.
However, the key takeaway is that if you can manage the recoil effectively while ADS at 25 meters, you'll have a good chance of hitting your shots at that range.
Now, let's examine the results when we actively controlled the recoil in both hip-fire and ADS: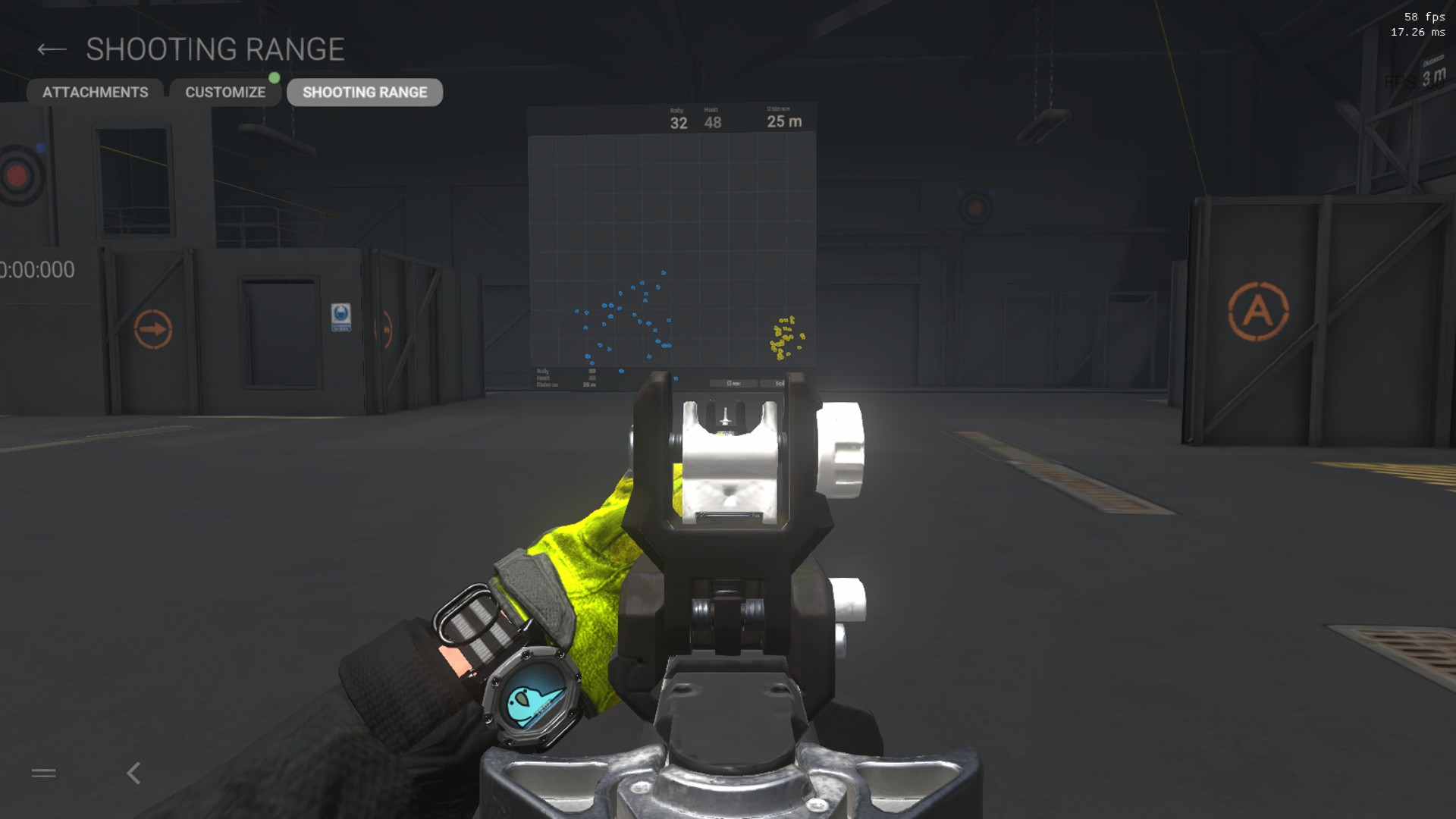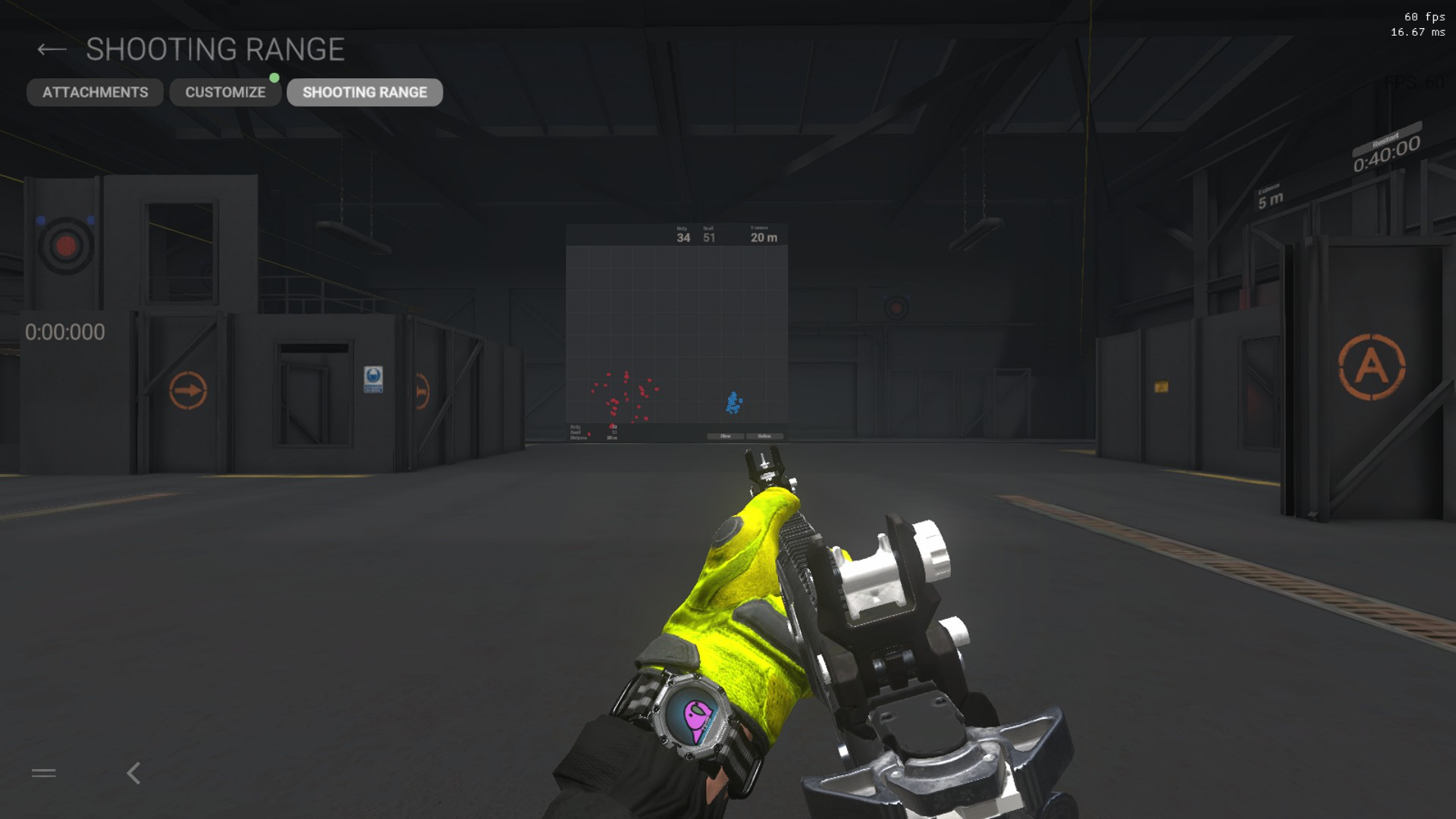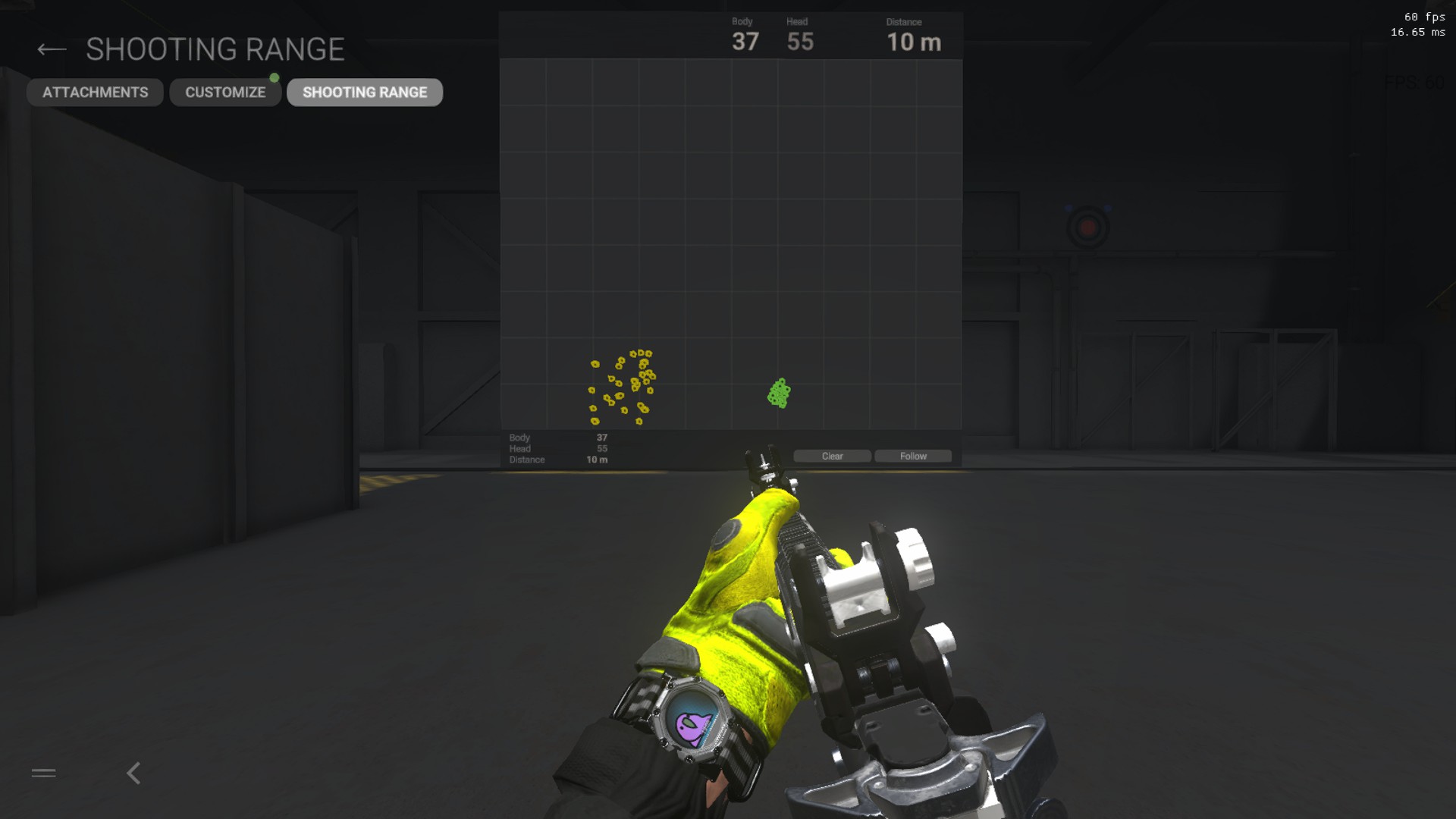 It's clear from the observations that at distances ranging from 25 to 20 meters, hip-firing performance isn't particularly strong (on the left side). However, as we close in to 15 and 10 meters, the bullet spread becomes notably tighter, forming a square pattern that's advantageous if you prefer close-quarters combat. Nevertheless, the real standout performer here is the ADS mode (on the right side).
I managed to somewhat control the recoil at 25 meters, but around the 15-round mark in the magazine, the gun tends to veer to the right and briefly forms a reverse circular pattern. This suggests a deficiency in horizontal recoil control. During a 2-round burst, I noticed significant bouncing, indicating a fair amount of horizontal bounce while using ADS (this is my perception, but I'm curious about your observations as well). Overall, the experience of controlling the weapon is quite satisfying.
Now, let's explore how we can further enhance the performance of this firearm.
The Good Stuff
Sure, let's dive right into customizing your firearm to match your style. We'll start with the muzzle: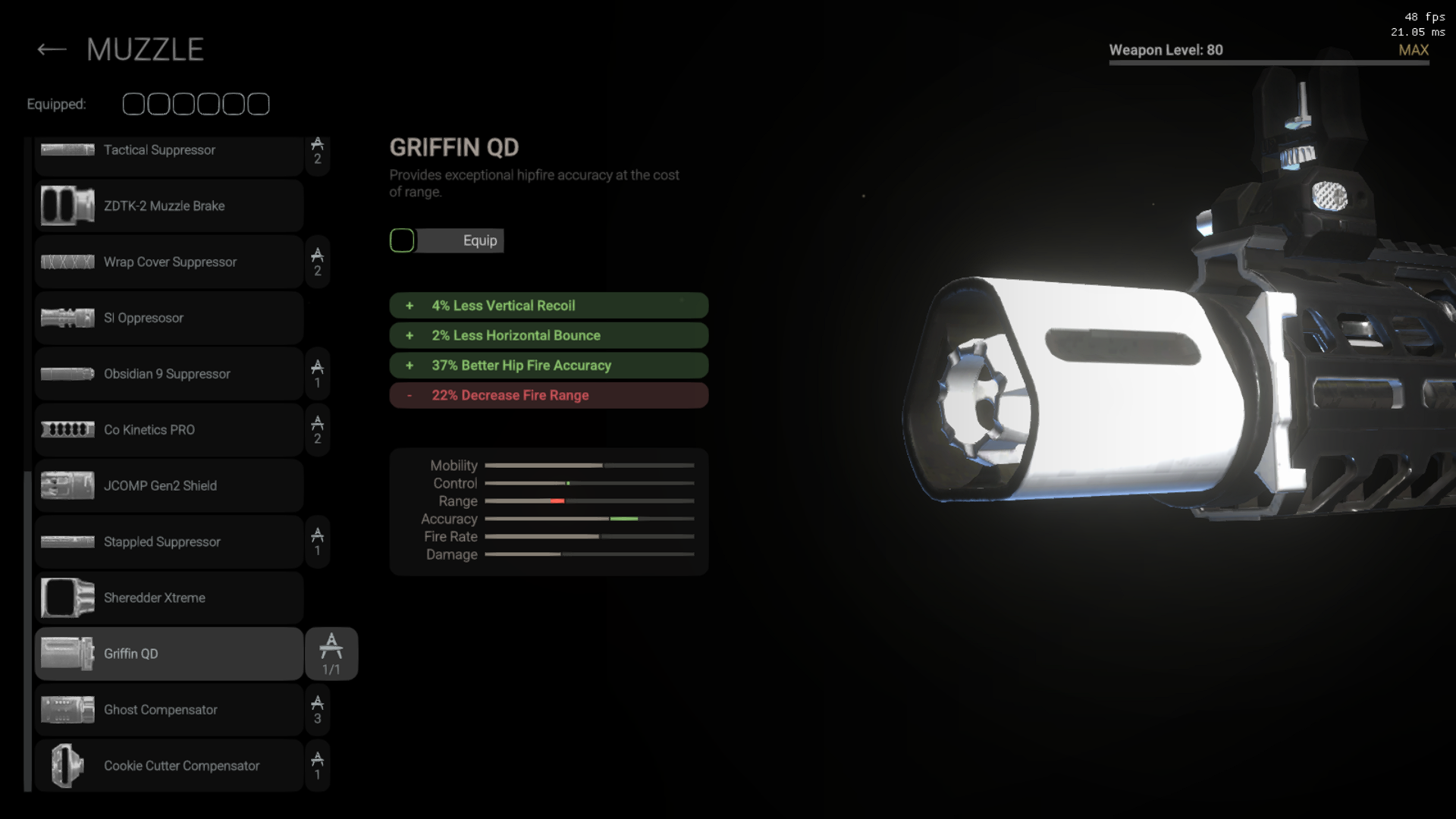 I prefer starting with the Griffin QD as the foundation for my SIG setup because it offers the highest Hip-Fire accuracy, along with reduced vertical recoil and minimal horizontal sway when aiming down sights (ADS) or firing from the hip.
Now, let's discuss the barrel choice: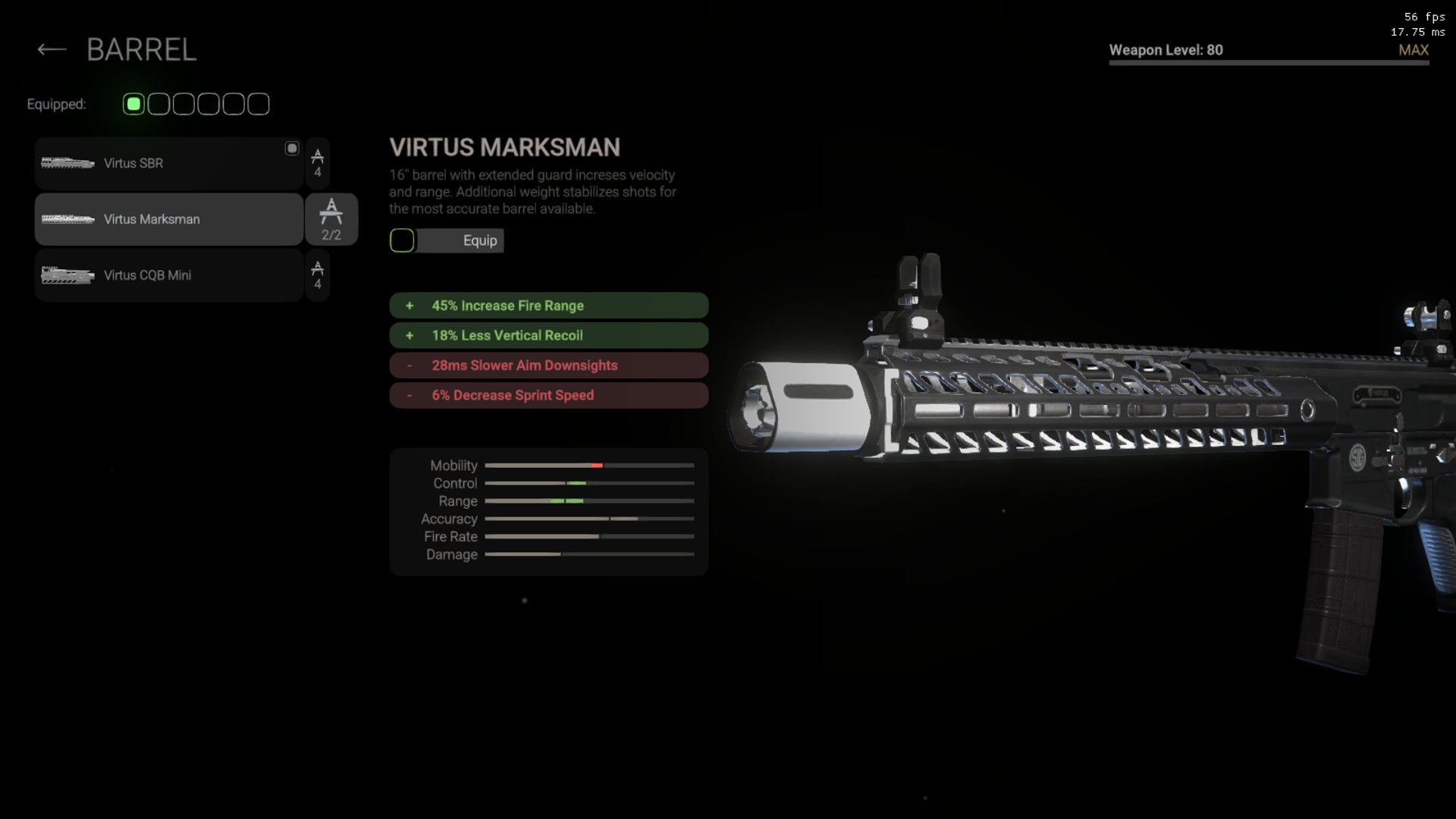 I've selected the Virtus Marksman barrel because it enhances the gun's damage at longer ranges and decreases vertical recoil. The only drawback is that it slightly slows down my aiming down sights (ADS) speed and reduces my sprint speed, but I find it worth it for the benefits it brings.
Now, onto the grips (even if it's just for some comedic value):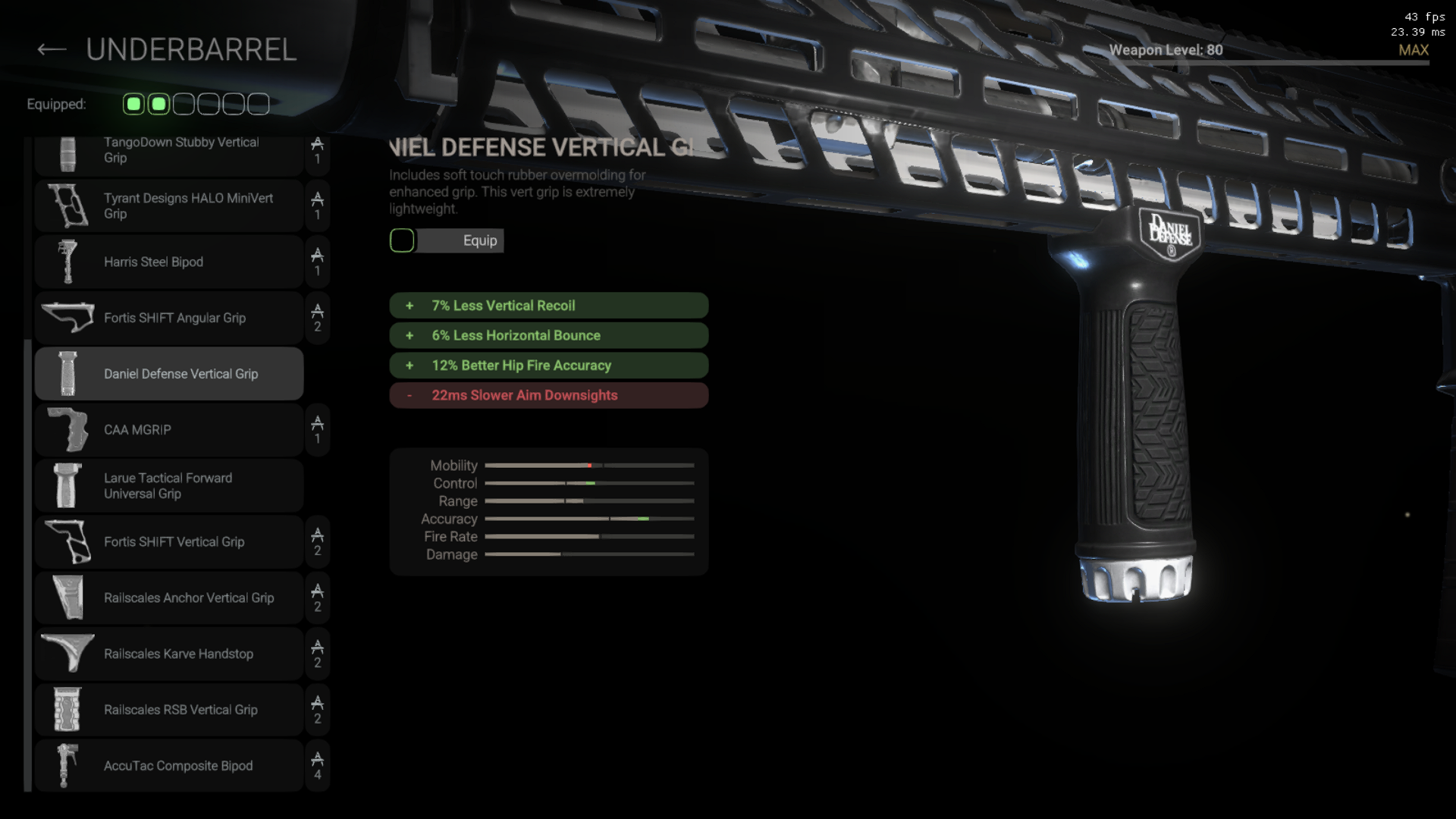 I opted for this grip because it boosts Hip-Fire accuracy, even though it does make aiming down sights (ADS) slower. However, I prioritize maximizing the AR's accuracy, so the slower ADS speed doesn't bother me.
Moving on to the second grip choice (no more jokes this time!):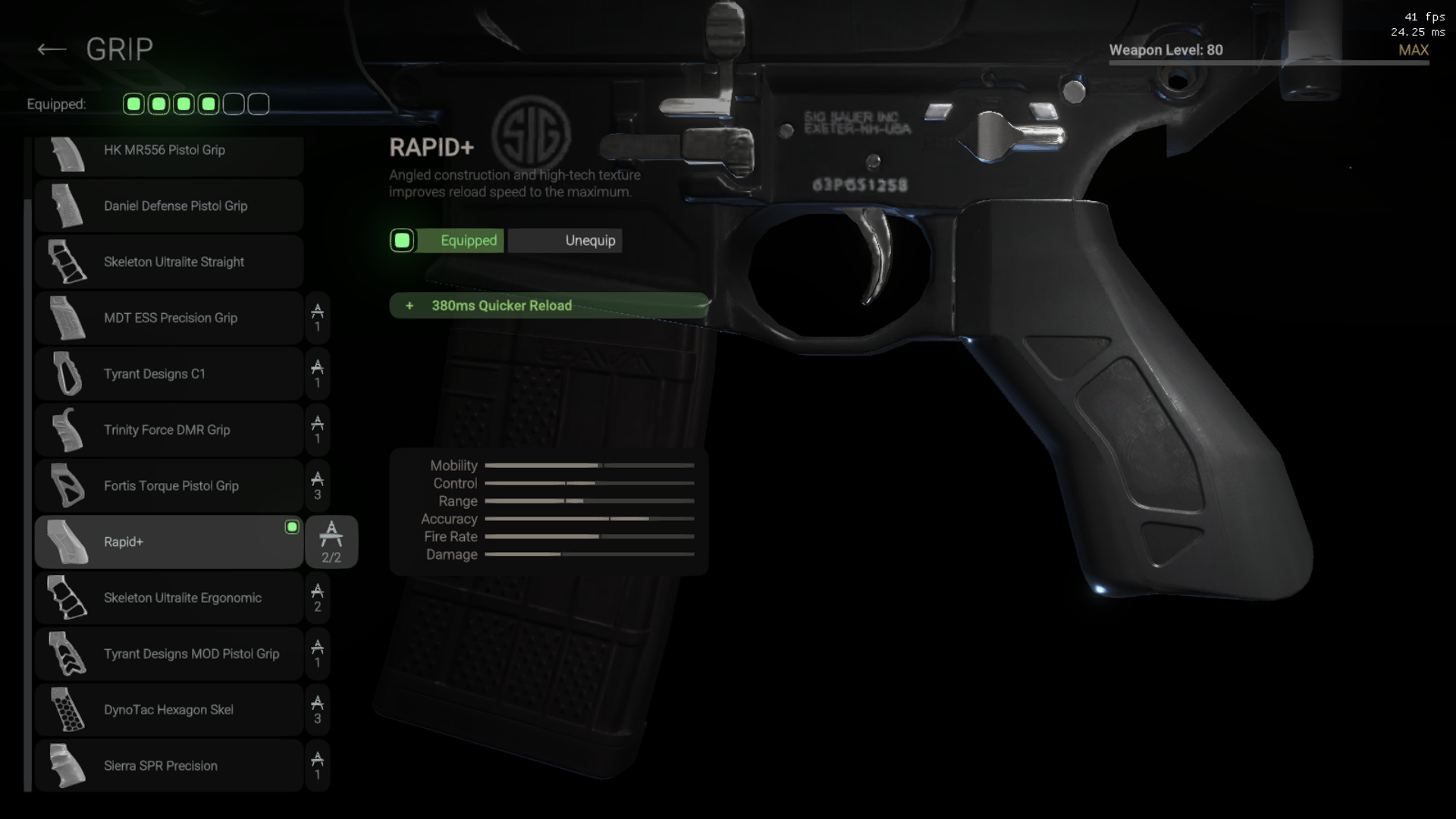 As the name implies, I prefer having a faster reload time for my gun, so I went with this option.
Now, when it comes to the stock, there are three choices available, and you can pick the one that suits your preferences best.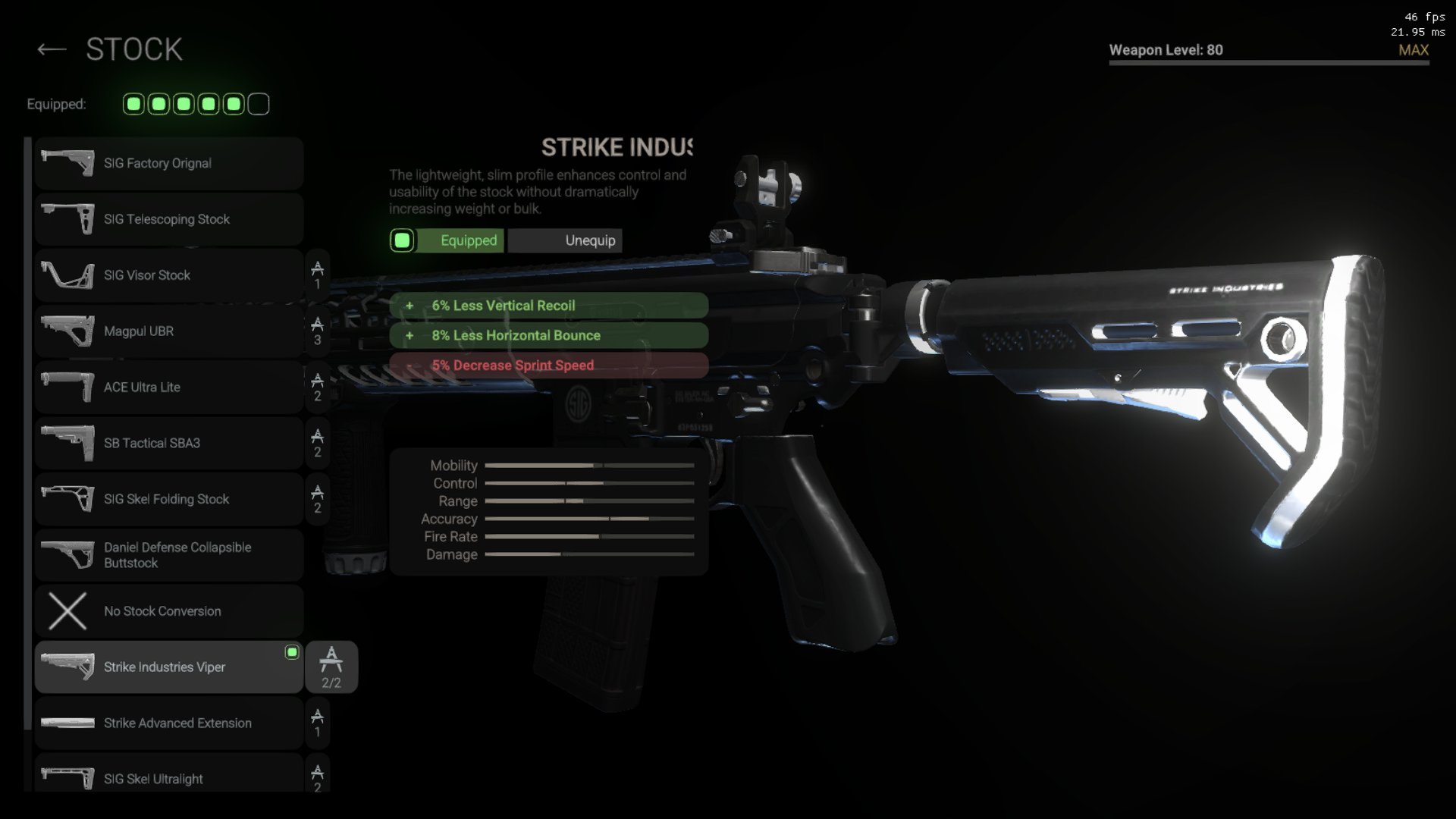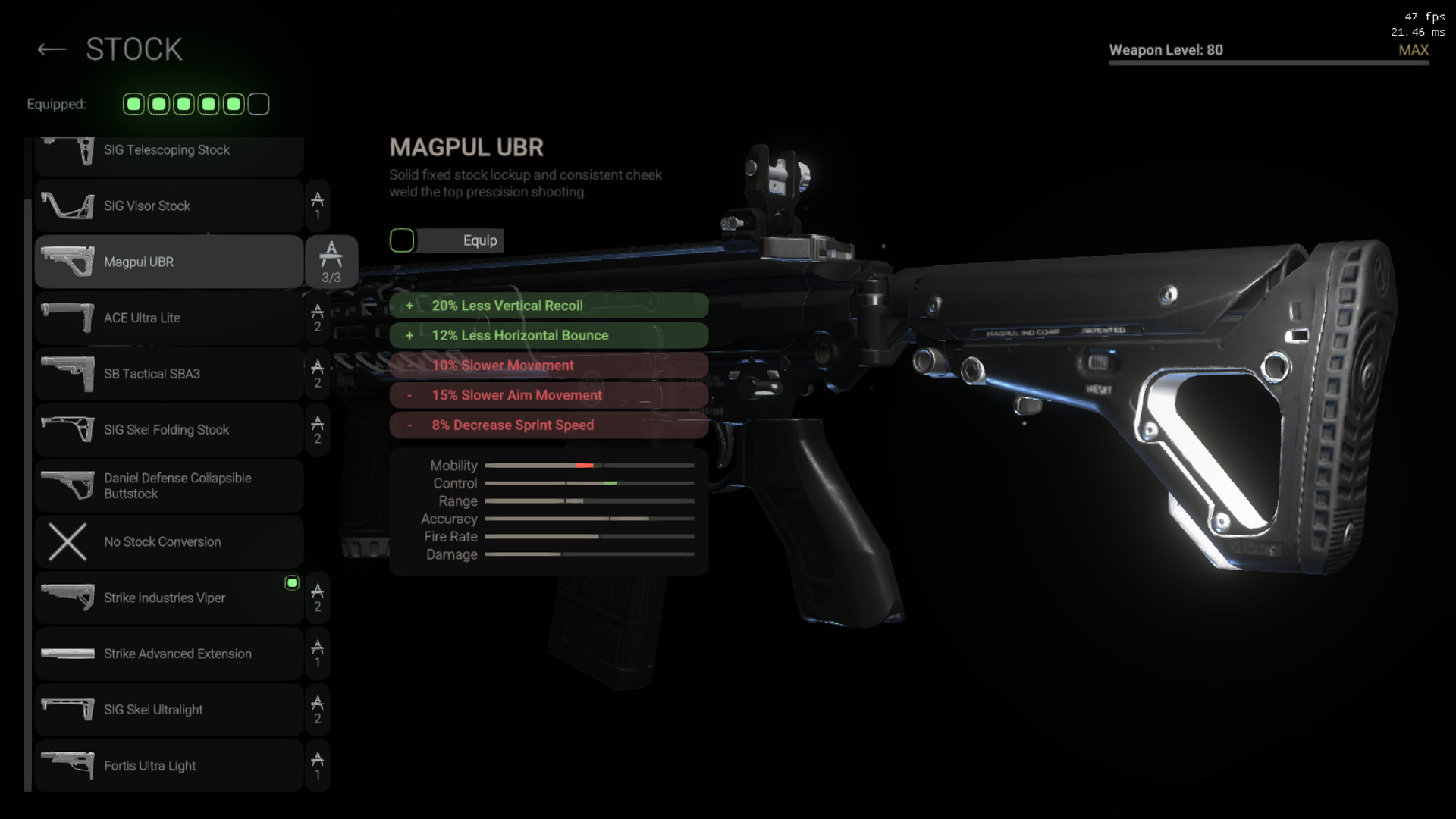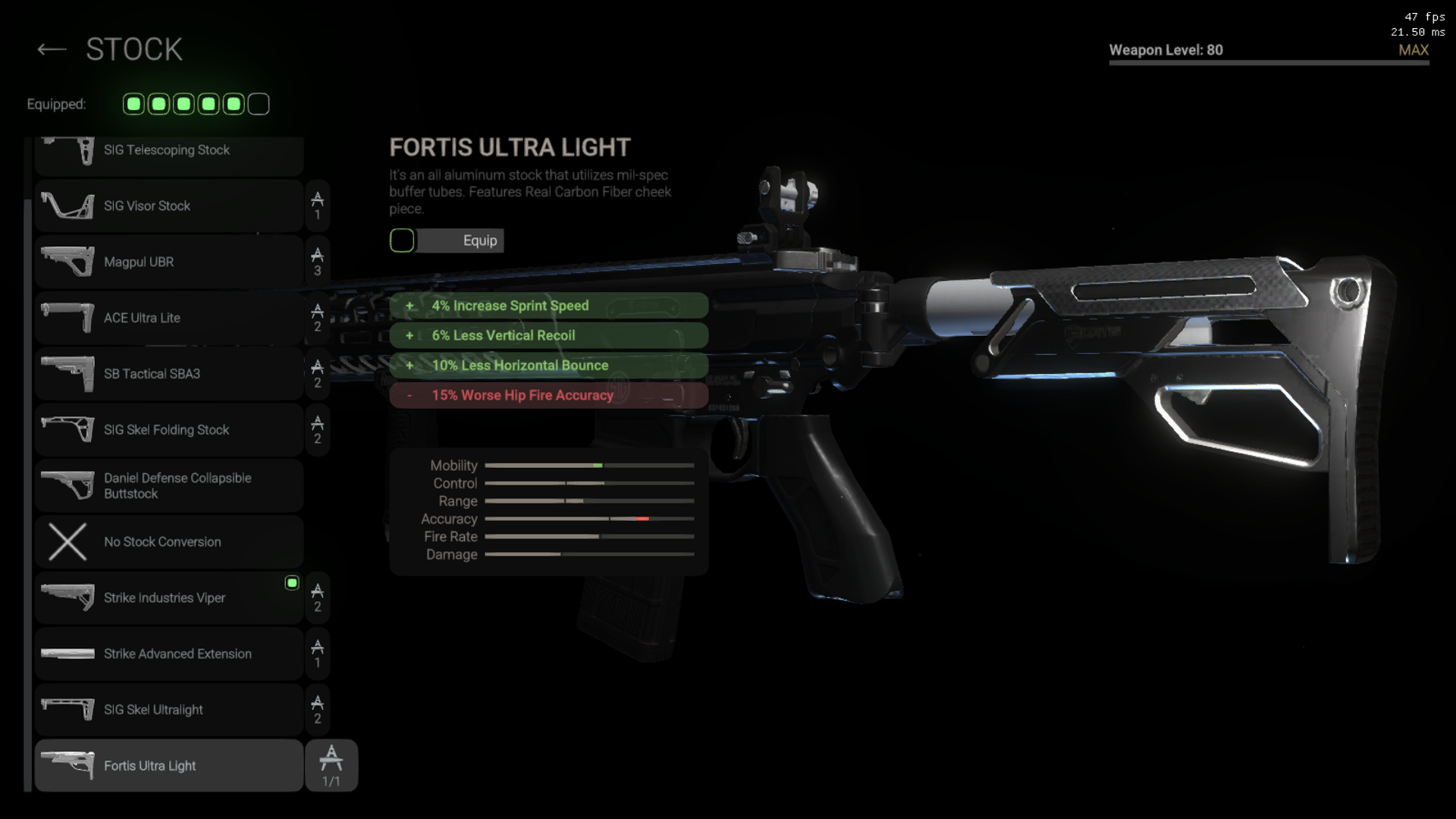 For the stock, I've decided to go with the Strike Industries Viper.
As for optics, while you can choose whichever you prefer, I personally like using these two because they help reduce recoil: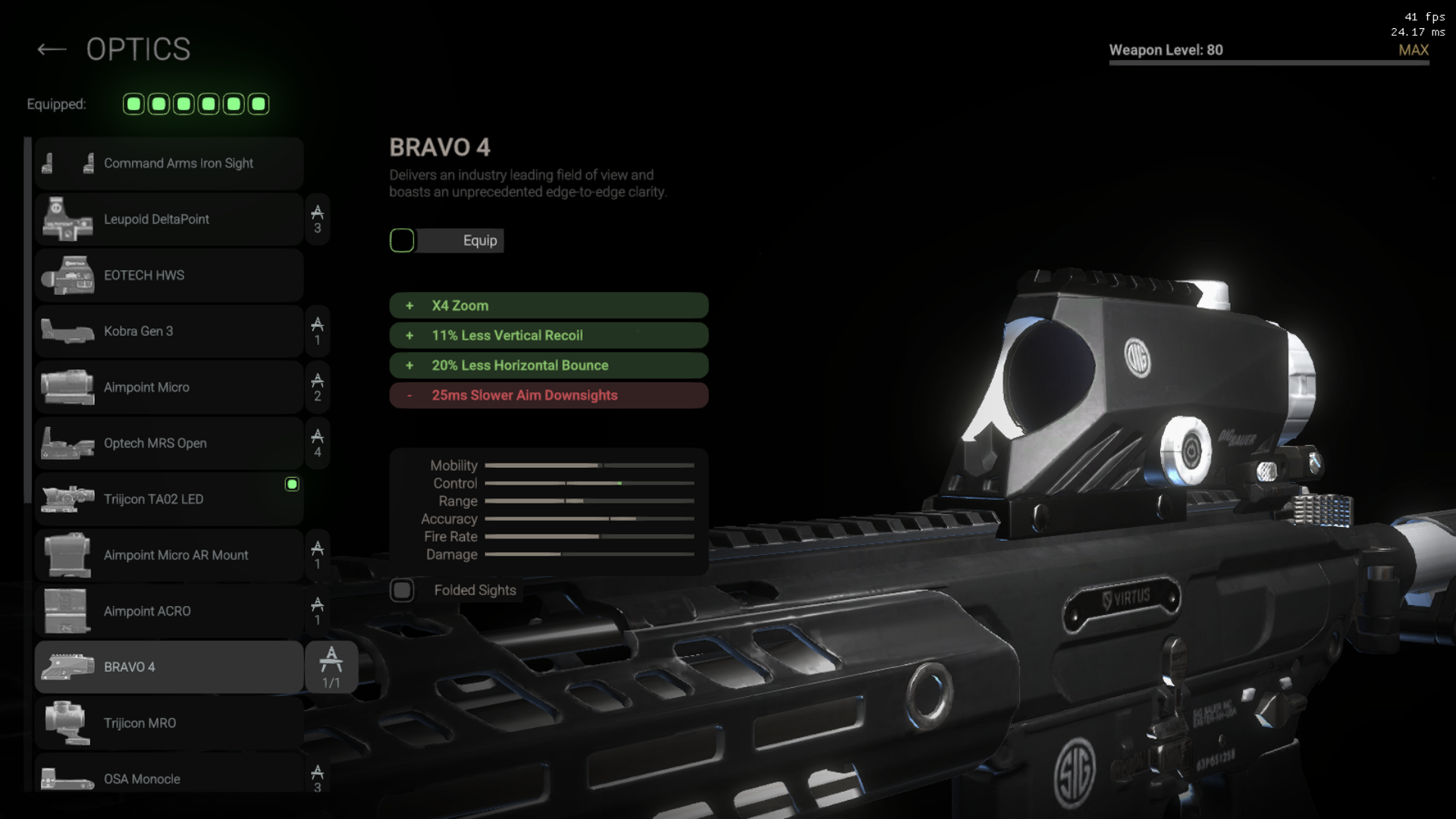 And that's the setup! Once you add in your preferred camo and any finishing touches, your SIG should be good to go. Enjoy your improved accuracy and reduced recoil.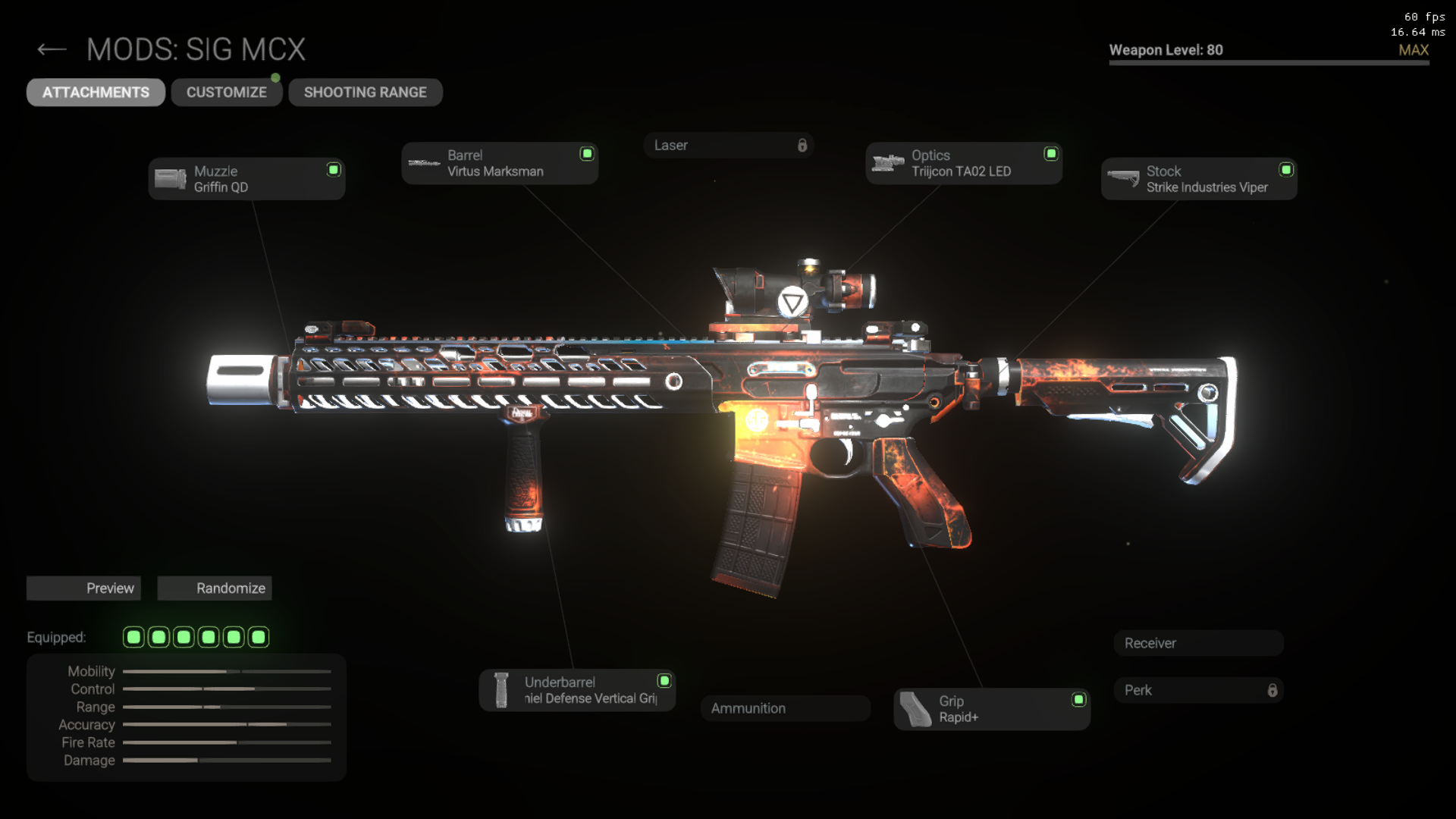 It might be a bit excessive, but if it looks cool to you, that's what matters most! Having a unique and eye-catching setup can be a lot of fun in games. Enjoy your stylish and effective SIG configuration!
That's everything we are sharing today for this Combat Master guide. This guide was originally created and written by AXTON. In case we fail to update this guide, you can find the latest update by following this link.
If you believe that any of the content on this site violates your rights, including your intellectual property rights, please contact us immediately using our contact form.