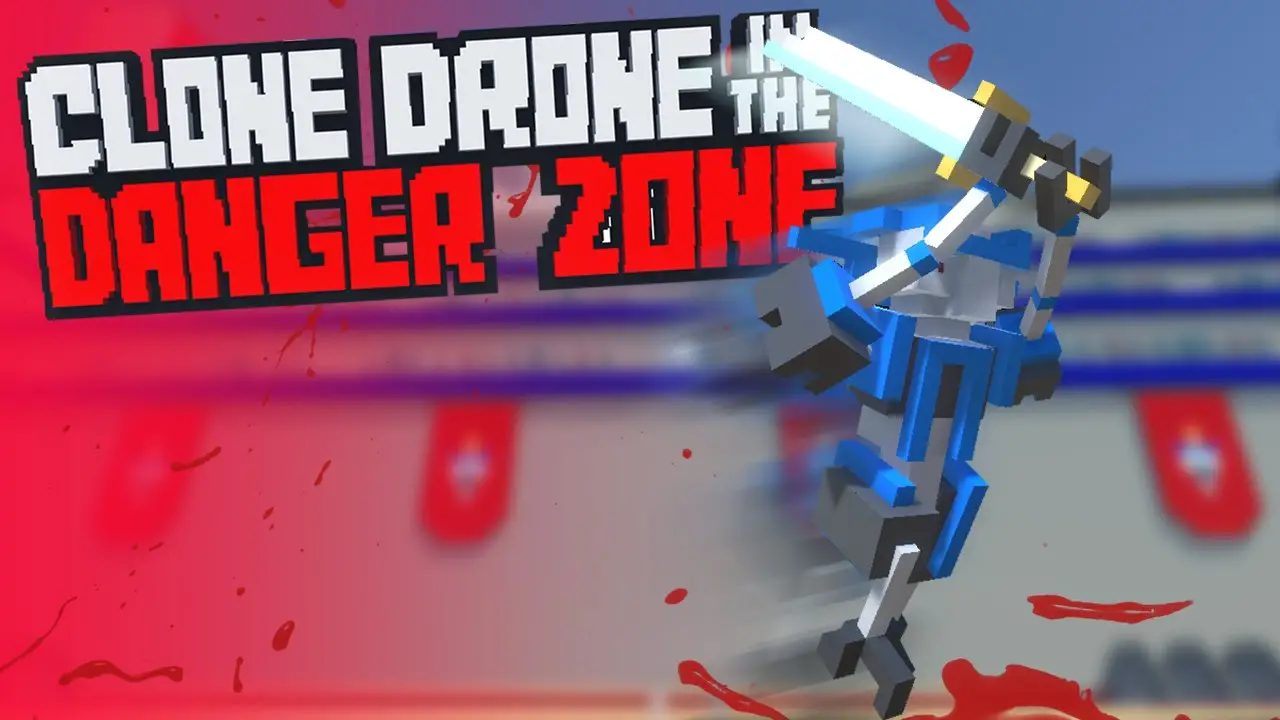 Here's a useful guide if you're a new player of Clone Drone in the Danger Zone.
Sword
Sword is the first weapon in clone drone. It has a side swing and an up and down swing. the side swing is the main attack you will use. It has the best cutting power and speed. You can dash at your opponent to surprise them. Or jump and slice their head for a quick kill. You start with the sword in endless mode story mode chapters 1, 2, and 3. And in most challenges. It is important to know how to use it.
Bow
Bow is the second weapon in clone drone. It is the only long range weapon in the entire game. It has one very flexible attack, shooting an arrow. You can aim the arrow anywhere you point the center of your screen to. Arrows fly somewhat quickly, so get used to the speed. If you are fighting a moving target, lead your shots. Be mindful of your energy, firing an arrow uses energy.
Hammer
Hammer is the 3rd weapon. It is unblockable, but blocks nothing. Just like sword, it has a side swing and an up and down swing. The side swing is the better swing, because you get more range from the swing. Dashing and/or jumping while attacking will give you a surprise element and more range. The hammer swings slower than the sword, so timing is important.
Spear
Spear is the 4th weapon. It has one attack, a forwards thrust. Spear is probably the hardest to use of all the weapons. If you hit your target, the powerful spear point will pierce the opponent.
Kick
Yet your enemy away with kick. Kick them into hazards or kick then slice, smash, stab, or shoot the helpless robot. When someone is kicked they can't do anything until they get up. Kicking someone stops block arrows while they are kicked, so if you have a bow you can shoot them.
Upgrades
Sword: A melee weapon with a fast, powerful side swing and a weaker up and downswing. A basic weapon
Bow: A ranged weapon that consumes about 3/4 of an energy bar per shot.
Hammer: A melee weapon that usually 1-shots. Has more range than the sword, but is slower.
Spear: A melee precision weapon with long-range and a very small hitbox.
Fire: An upgrade that takes away from your skill, making the player more lazy and dependent on it. it burns outward to the nearest fatal point. (Do not use! you will become a noob)
Energy: An amazing upgrade that lets you dash more, jump more, and do anything that requires energy more especially shooting more arrows
Energy Recharge: Recharge energy faster
Jetpack: An underrated upgrade that when used properly can destroy enemies. Amazing with a hammer (basically dash but a bit slower and continuous with more speed).
Kick: An upgrade that knocks down your opponent, they can't do anything until they get up while knocked down. (also great at killing people by kicking them into hazards)
Clone: (singleplayer exclusive) an upgrade that gives you an extra life.
Armor: An upgrade that puts a defensive shell around your arms and legs. Too costly in last bot standing to be useful
Arrow width: (Bow only) An upgrade that makes the arrows you shoot with a bow wider. Makes arrows large enough to hit more targets.
Aim: (singleplayer exclusive, Bow only, Needs Energy upgrade 1) an upgrade that when you hold right-click with a bow when you have an arrow drawn, slows downtime. Let's hope no one here uses it.
Block arrows: (sword only) an upgrade that blocks arrows. DO NOT USE IN MULTIPLAYER a skilled bow user will still kill you
Hammer size: (Hammer only) Makes your hammer bigger. Makes the swing slower with each size increase.
Shield: (Spear only) gives you a shield that blocks attacks. receives massive damage from hammer though. If you have this upgrade you cannot kick it. Fire burns it to a crisp
Shield bash: (Spear+Shield only) basically a kick with a dash (bad)
Get up!: (Kick only) Helps you get up faster when knocked down by kick or Shield bash.
Power Kick: (Kick only) kicks enemies much farther. It becomes a real weapon.
Flame Breath: (Needs Energy upgrade 3) You breathe fire that burns others. Short-range. (single player only)
Fire Resistance (Needs Energy upgrade 3 and Flame Breath) Makes you more resistant to fire. (Single-player only)
Raptor (Last bot standing only, Upgrade drop exclusive) Makes you ride a raptor that has max energy, power kick, and breathes fire. Can be dismounted. (Great if you know how to use it)
Laser (Last bot standing only, Upgrade drop exclusive) lets you fire a laser that obliterates everything in its path. (Aim required)
Giant Size (Last bot standing only, Upgrade drop exclusive) Makes you bigger, lets you jump higher, gives you a bigger weapon, and makes you go 25% faster than normal. Small humans will swarm under your feet, you will be too big to hit them. (Bad upgrade) Makes you a bigger target.
Last Bot Standing
Picking fights (weapon-based)
Hammer users attack everyone in sight.
Bow users love to snipe people.
Sword users swing their swords at anyone who gets close.
Spear users hope no one sees them.
Kick users steal every upgrade drop by kicking everyone else off. (Kicks you out of final zone)
Picking fights (real)
Fight people you know you can beat. (Giant vs hammer, raptor vs laser, kick and sword vs hammer). If someone has a max bow, max energy, and max hammer you should not fight them.
Use your judgment. DON'T LISTEN TO ME! You should be able to know what you can win against and what you can. Don't fight a raptor when you have no energy and no kick.
Challenges
Greatsword – You only get a sword. Get the max sword, energy, and clones
Bow only – Get large arrows, kick, and a lot of energy (clones too)
Hammer only – Get the large hammer, jetpack + energy, and clone
Spear only – Get shield, energy, and clones
Laser only – Video tutorial coming soon (clones, energy, jetpack, kick)
Mind transfer – Die to strong enemies to be them
Kick only – Get jetpack, energy, and clones (you need some luck for this)
Inferno – Clone 10x
Raptor – Get bow, arrow width, get up, and clone
Raptor insanity – Kinda the same as raptor get the bow, arrow width, get up, and clone
Armor – Everyone has armor otherwise just normal endless
Random upgrade – Pray to RNG gods that the upgrade bot doesn't give you armor when you have one leg instead of clone or repair (100% luck-based). I can't help you much on this one.
That's everything we are sharing today for this Clone Drone in the Danger Zone guide. This guide was originally created and written by WingsOfFire. In case we fail to update this guide, you can find the latest update by following this link.
If you believe that any of the content on this site violates your rights, including your intellectual property rights, please contact us immediately using our contact form.