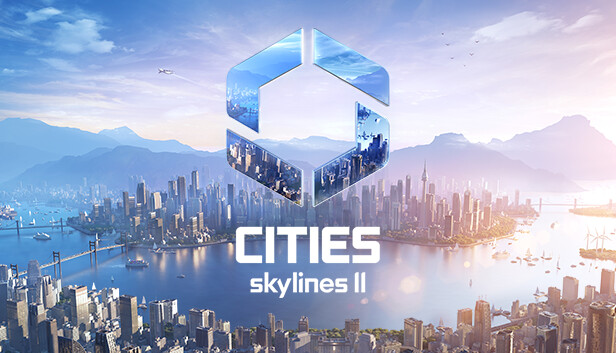 This guide will teach you a simple way to handle your city's trash. This keeps your city safe from flooding and ensures you have all the things your city needs in Cities: Skylines 2.
Garbage Management Overview
Garbage Facilities and How Much They Cost and Why You Need Them All
In the game, there are three kinds of garbage, and I'll tell you why I believe this based on numbers. I'll also explain why it's a good idea to use a combination of methods for all three types.
The 3 types are:
Recyclables
Non-Recyclabes.
Industrial Waste
Now looking at the costs to maintain these facilities and their processing speeds:
Landfill:
$30,000 monthly cost
Processes 0.6 tons per month
$50,000 to process 1 ton of garbage.
Hazardous waste extension:
$30,000 per month
Processes 1.1 tons per month
$27,272.73 to process 1 ton of garbage.
Recycling Plant:
$160,000 monthly cost
Processes 11 tons per month
$14,545.45 per ton of garbage processed
Hazardous waste extension:
$40,000 per month
Processes 1.1 tons per month
$36,363.64 per ton of garbage processed.
Incinerator(without the processing speed extension):
$210,000 monthly cost
41.1 tons per month processing speed
$5,109.49 per ton of garbage processed.
Industrial Waste Processing Site(and you can only build one):
$450,000 per month
55.1 tons per month processing speed
$8,166.97 per ton of garbage processed
If we assume that all garbage is just garbage and can be processed by any facility, it doesn't make financial sense to use anything other than an incinerator. Building processing extensions for landfills and recycling plants is expensive, and the cost per ton for processing is much higher.
So, why would you ever build an extension to a recycling plant when it costs more than double to process garbage? The only logical conclusion is that there are different types of garbage.
It's a good idea to build the industrial waste processor to handle industrial waste, which costs $8,166.97 per ton, compared to the $36,363.64 per ton for other methods.
The second part that confuses people is the processing rate listed for facilities. I believe that the current processing rate displayed when a building is selected is what it should be if all the garbage in the facility was of the correct type. The actual processing rate depends on what you have in storage at the facility.
All garbage facilities act like warehouses for one another, redistributing garbage between themselves with dump trucks to balance out storage percentages. They don't distinguish between garbage types. Each building sorts as it processes, and what it can't process stays in storage.
Investing in storage extensions makes sense if all garbage is not the same. Having too little storage could slow down processing speeds and fill facilities with stuff they can't process. This even makes a case for having landfills, which can process all three types but slowly and expensively, mainly serving as storage.
To put it in perspective, imagine if all your waste management facilities were like post sorting facilities, filled with global mail and no space for unsorted mail or processed local mail. This analogy helps understand the importance of sorting and storage in managing different types of garbage.
Testing Phase
The city's current waste management network consists of 2 landfills, 2 recyclers, 1 incinerator, and 1 industrial waste processor, catering to a population of 37k. This configuration has remained unchanged for a considerable duration, serving as a testing ground for simulations.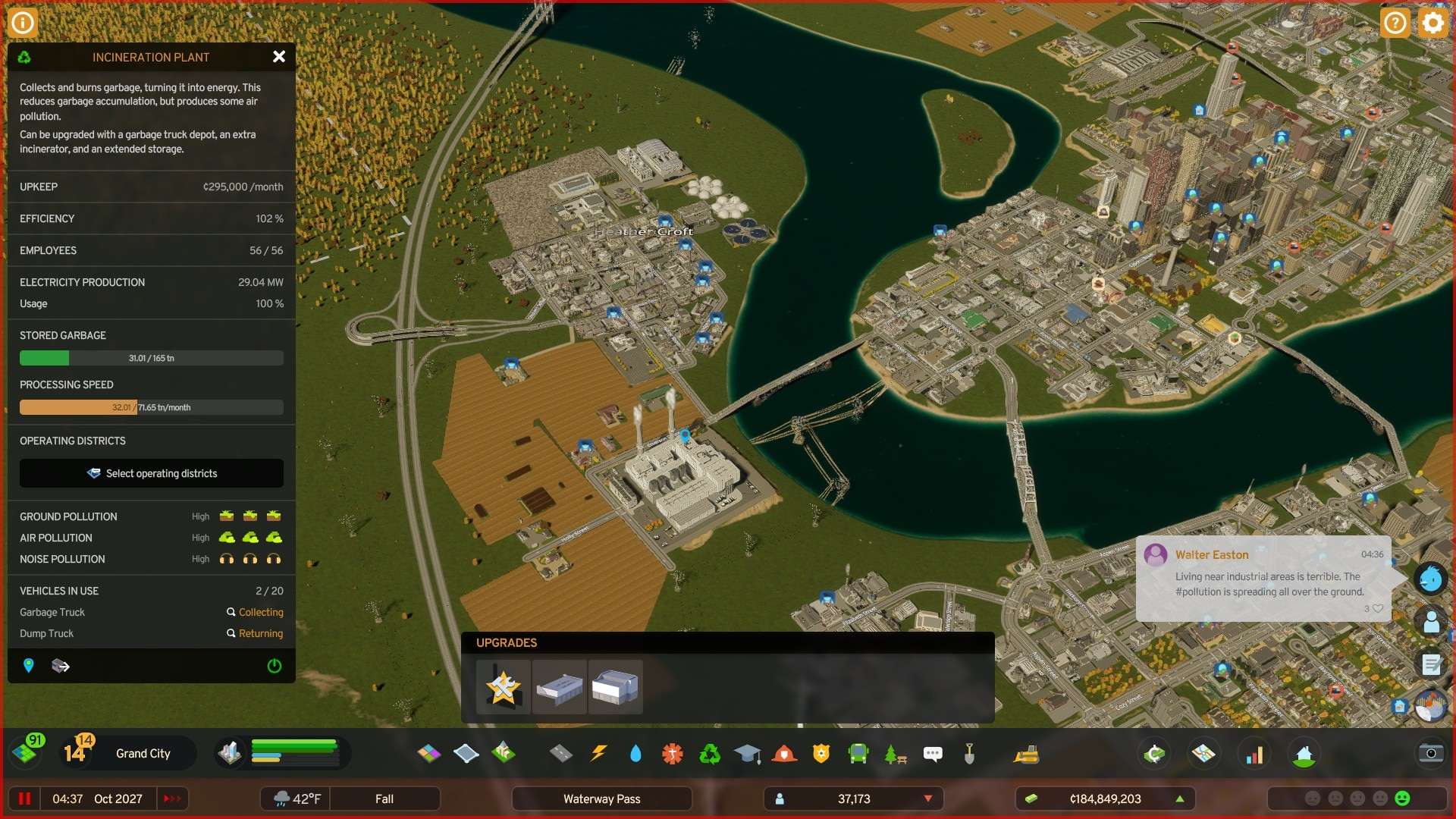 In the city, we have Incinerator 1, with a storage capacity maintaining a consistent level of around 20%. Periodically, it dispatches dump trucks to collect garbage from the recyclers. Notably, there's a landfill and an industrial waste processor situated slightly behind it.
For the new test setup, all waste management facilities were removed except for Incinerator 1, and an additional incinerator, Incinerator 2, was introduced on the right. Although the total garbage processing capacity surpasses the overall accumulation, placing the incinerators next to each other causes external waste collectors to divert towards the far side of the city, which isn't desired for this particular experiment.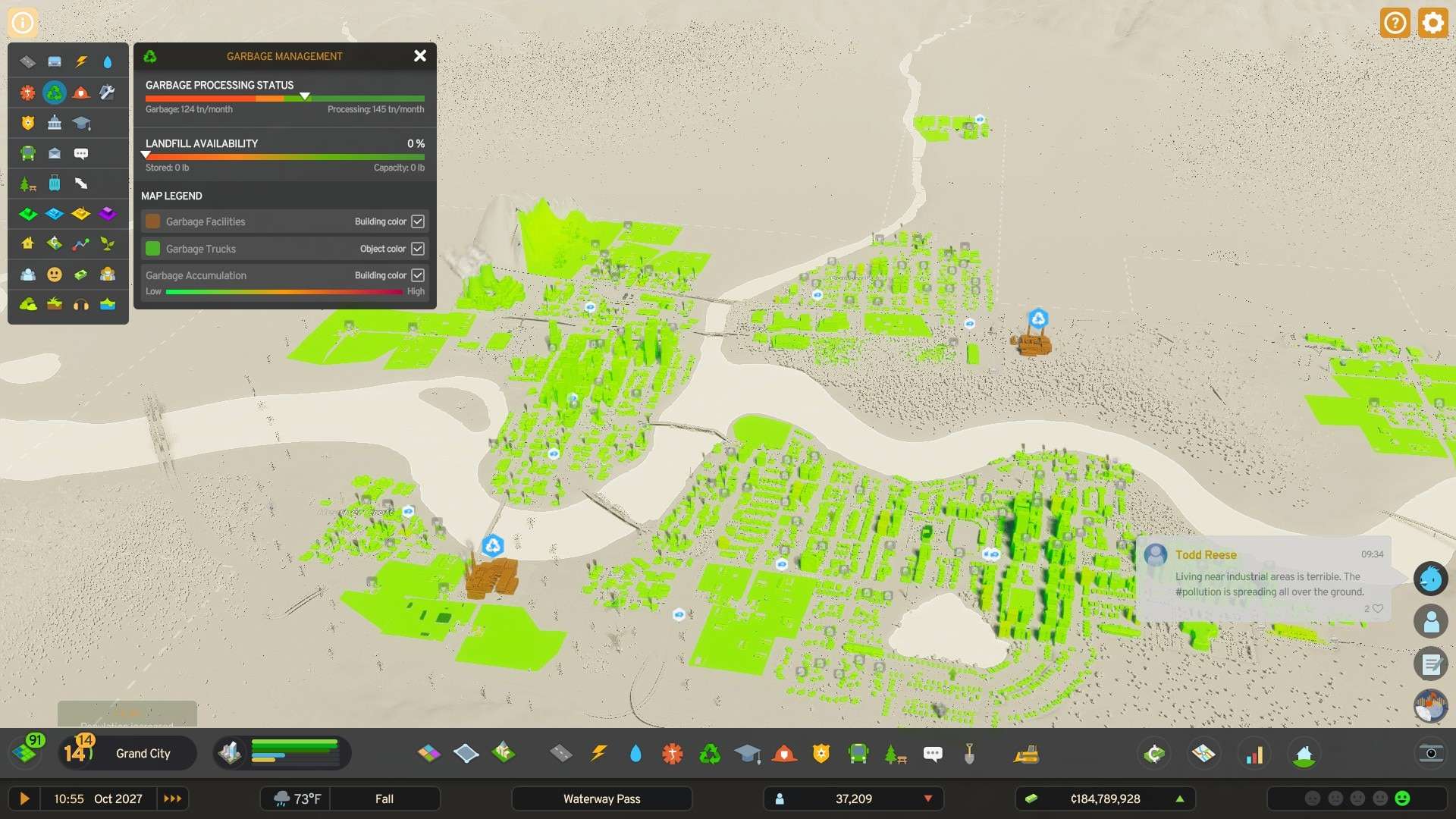 With this setup, the simulation was allowed to run for only ONE MONTH.
Here is Incinerator 1:
Looking at Incinerator 1, it's nearly full, which aligns with the expectation that it would reach capacity first due to its proximity to more industrial areas, resulting in more industrial waste and its closer location to downtown.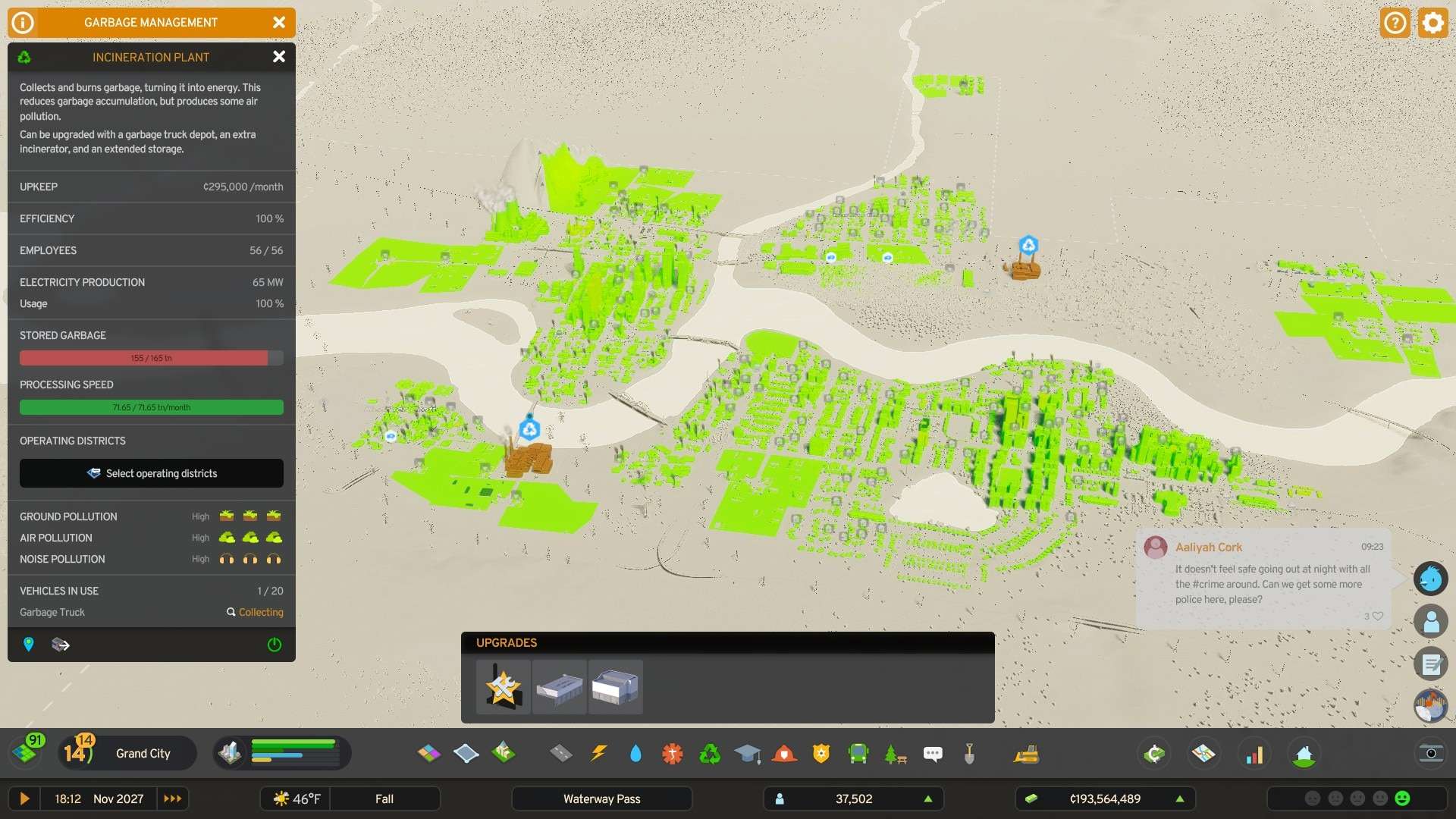 Here is Incinerator 2:
On the other hand, Incinerator 2 is also well on its way to reaching its storage limit. While monitoring the situation, you noticed that Incinerator 2 didn't dispatch any dump trucks to alleviate the storage load. This could be due to Incinerator 1 not having any surplus burnable garbage in storage for Incinerator 2, or it might simply be because Incinerator 2 already had its garbage collectors out and was preserving space.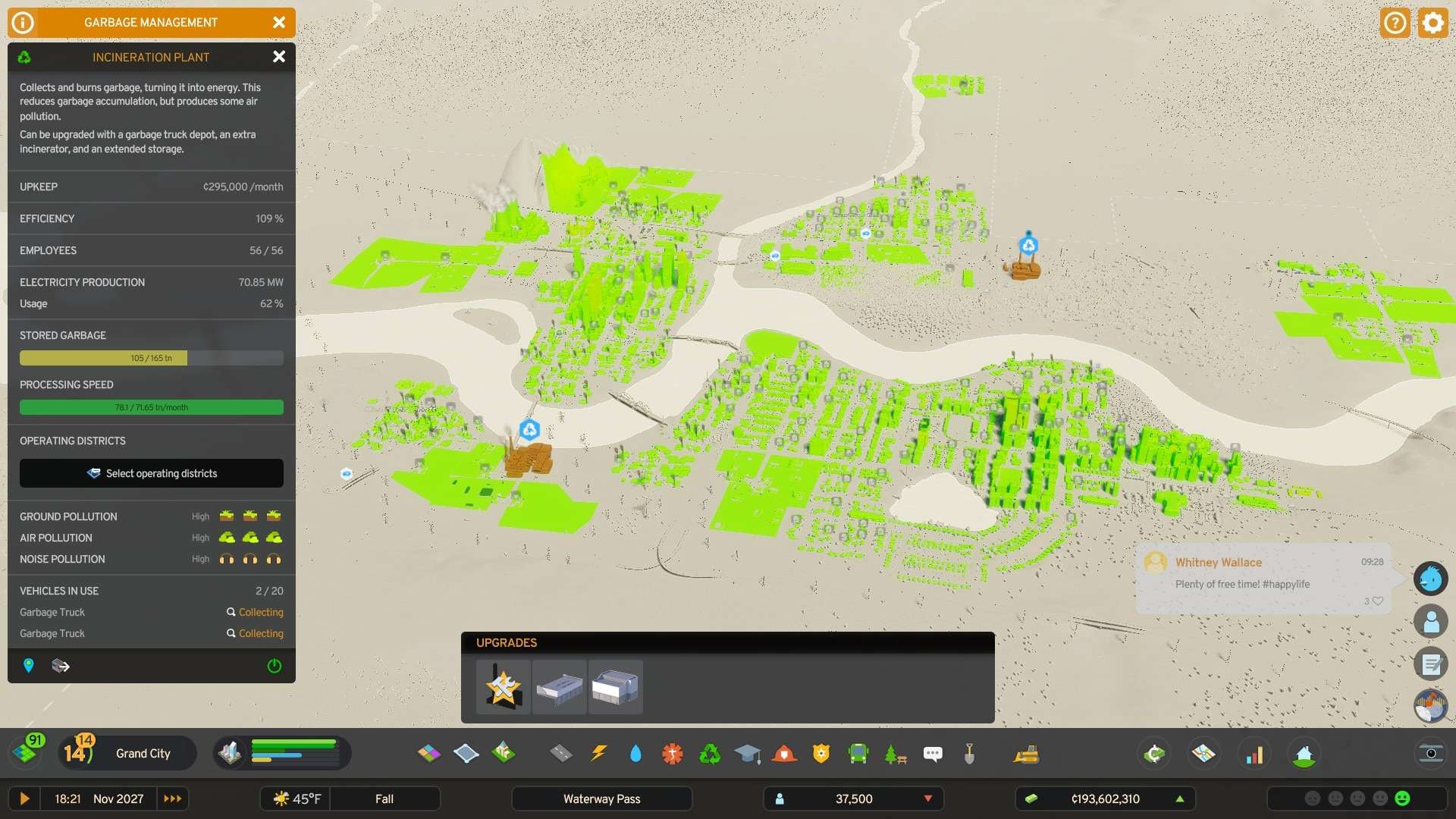 As the situation developed, you observed the arrival of garbage trucks from other cities to handle waste from the areas around Incinerator 1.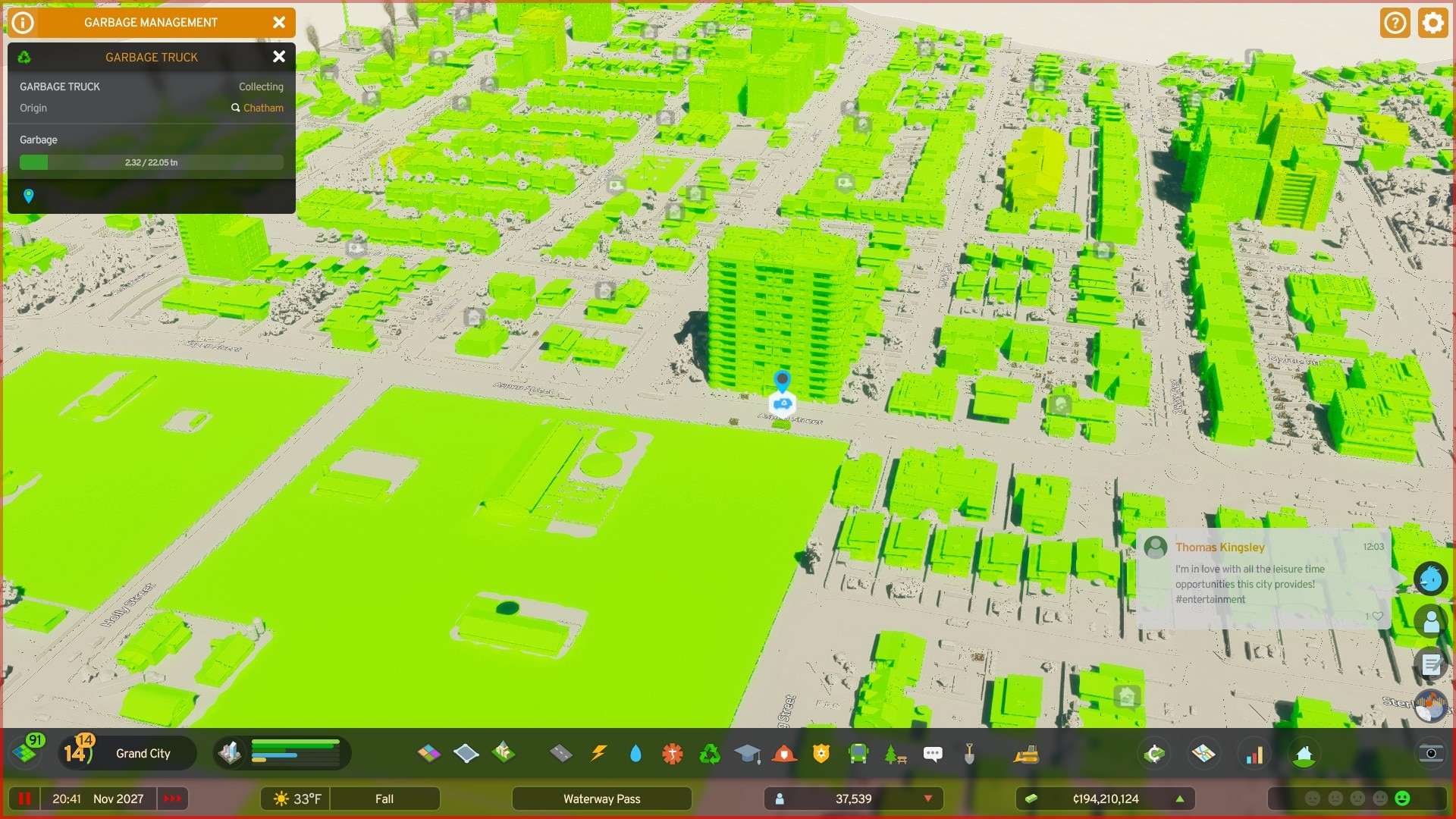 In summary, the evidence collected in this test supports your theory that there are different types of garbage in the game, and to effectively manage waste, a combination of various facility types and ample additional storage space is necessary for processing all the different garbage types.
That's everything we are sharing today for this Cities: Skylines II guide. This guide was originally created and written by icedude94. In case we fail to update this guide, you can find the latest update by following this link.
If you believe that any of the content on this site violates your rights, including your intellectual property rights, please contact us immediately using our contact form.