Title: Book of Hours
Release Date: August 18, 2023
Developer: Weather Factory
Publisher: Weather Factory
Book of Hours shares similarities with Cultist Sim, so it's advisable to avoid extensive discussions until you've completed the game at least once. While this game is notably less intense than Cultist Sim, there are still a few elements that can slip out of your control if you're not vigilant.
A good guideline is to proceed cautiously and thoroughly explore all options until you feel sufficiently adept to face more significant obstacles.
Where can I go?
As you explore, you'll have two main places to visit:
Hush House: This is where you'll perform most of your tasks. Unlock new rooms with the assistance of others.
Village: Here, you can acquire assistance. The tavern provides work opportunities in exchange for cash.
Utilizing the Tree of Wisdom: To the right of the clock, you'll find a shortcut to the Tree of Wisdom. You can lock skills into slots to earn more soul cards. Higher tree tiers require unused skills at higher levels.
What can I do?
On the left side of the screen, you'll find two actions: "Considering" and "Talking." You're likely familiar with their functions. Here are some less apparent actions you can take within the game:
Fireplace: Within the hush house, you'll come across campfires. These can serve two purposes. Firstly, you can use them to brew concoctions. Alternatively, you can utilize them to eliminate items, effectively causing them to vanish permanently.
Bed: The bed has a unique function – it allows you to restore damaged souls. Achieving this requires the right combination of aspects. Moreover, you can switch to a different bed that possesses varying compatible aspects.
Writing Table: Don't overlook the tables, as they have a dual purpose. These tables enable you to catalog and read books simultaneously. Each table comes with its own set of aspect compatibilities.
To Serve: Inside the keeper's lodge, there's a serving set available. This set is particularly useful for beverages with the "to serve" aspect. You can portion these drinks to maximize their usage.
Studies: Scattered across the hush house are crafting stations containing aspects from the tree of wisdom. These stations are crucial for combining souls into more potent versions of themselves.
Who can help?
In the Village, you have the option to hire people for assistance. One of your friends will help you without charge, but the others will require a few shillings. You can also offer them one card of each type, but this can only be done once. After using them or by the next morning, they will vanish.
Interactions with those you hire include:
Memories: Engage in conversations about memories, lessons, or even weather.
Soul: Collaborate with them using a soul.
Sustenance: Serve them food.
Drink: Provide them with drinks.
Tools: Borrow the various tools found in the hush house without consuming the item.
Other: Check your follower's aspects – they might possess unique specialties that let them add aspects from other types of cards.
Periodically, a visitor will arrive, typically every few days. To initiate interactions with the visitor, you must respond to the letter received from the post office. Various options are available for interaction:
Discussion: Engage in conversation about incidents. Exchange the appropriate book for sprintrae.
Tutor: Learn various languages from them in exchange for a sprintria.
Hospitality: Extend their visitation by offering an unoccupied bed.
While exploring, you might encounter beasts. These creatures can provide distinct memories through conversation, but only when they are cooperative. Alternatively, you can feed them. If desired, unwanted pets can be discarded at the ocean (although it's not recommended). Beasts can also be taken to a garden, so you don't have to keep them with you at all times.
How can I remember
Memories, similar to souls and skills, serve various purposes. Acquiring memories involves several methods, with the primary guideline being that you can't possess two identical memories.
The ways to acquire memories are as follows:
Reading: The most frequent method involves reading books. Reading a book for the first time grants you a memory. Additionally, revisiting the same book can recover the same memory.
Weather: The changing weather offers a daily opportunity to gain a memory.
Beasts: Engaging in conversation with beasts consistently provides you with one memory per day.
What will I find?
Most of the items you encounter in the house can also be scavenged from various other sources. To do this, you'll need the appropriate aspect, typically Heart soul (related to Health or Chor), and a skill containing either Heart or Nectar. This serves as the primary method for obtaining new items.
Scavenging methods include:
Foraging in the Woods: In the rightmost corner near the village, you can search for items. The outcome varies based on the current season.
Combing the Beaches: Just below the bridge, there's a beach where you can search for items. Like foraging, the outcome depends on the season.
Harvesting the Gardens: Along the Hush house, you'll come across gardens with plants that can be harvested. These plants change according to the seasons. Different garden beds offer varying sets of rotating plants for you to gather.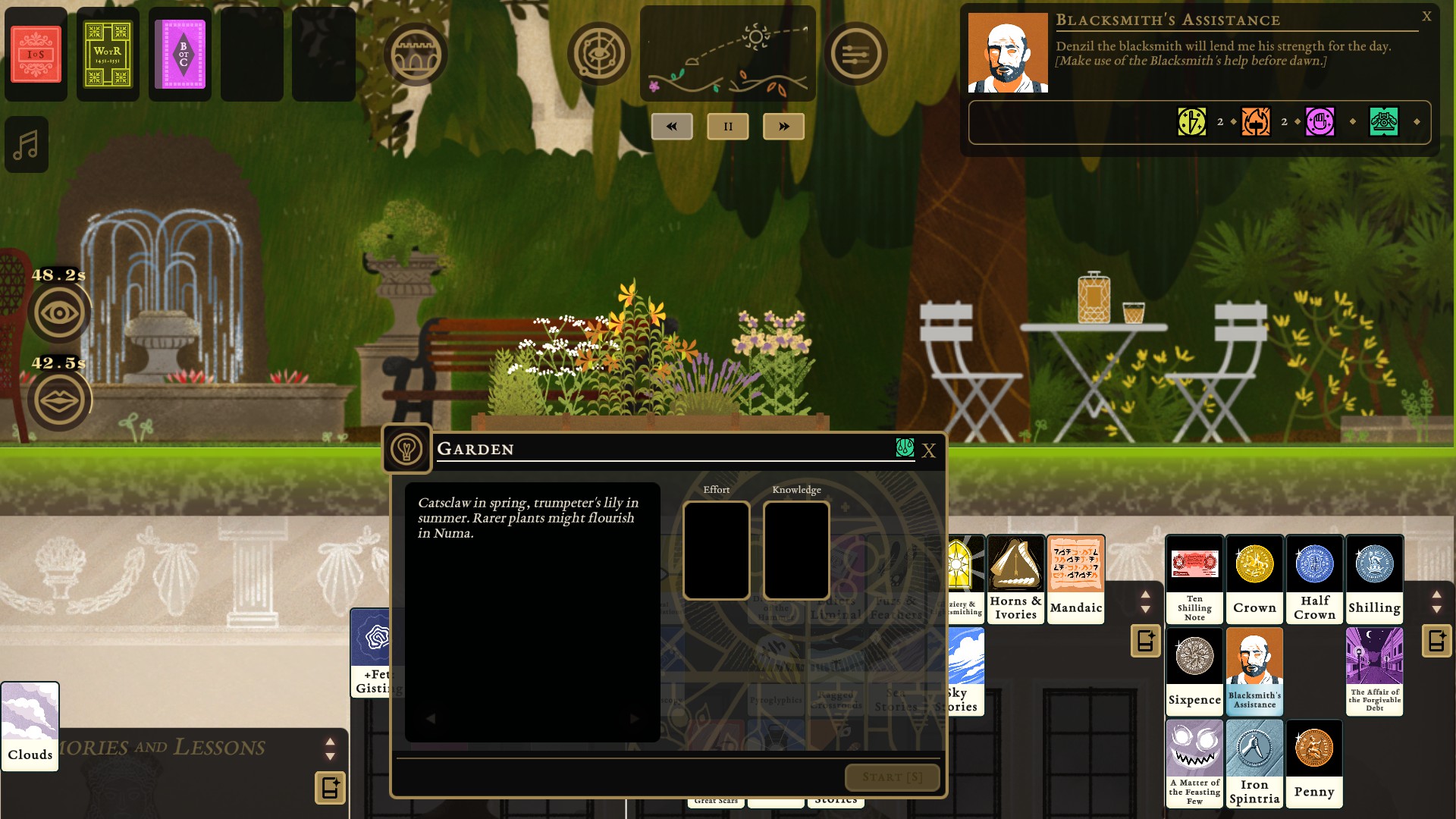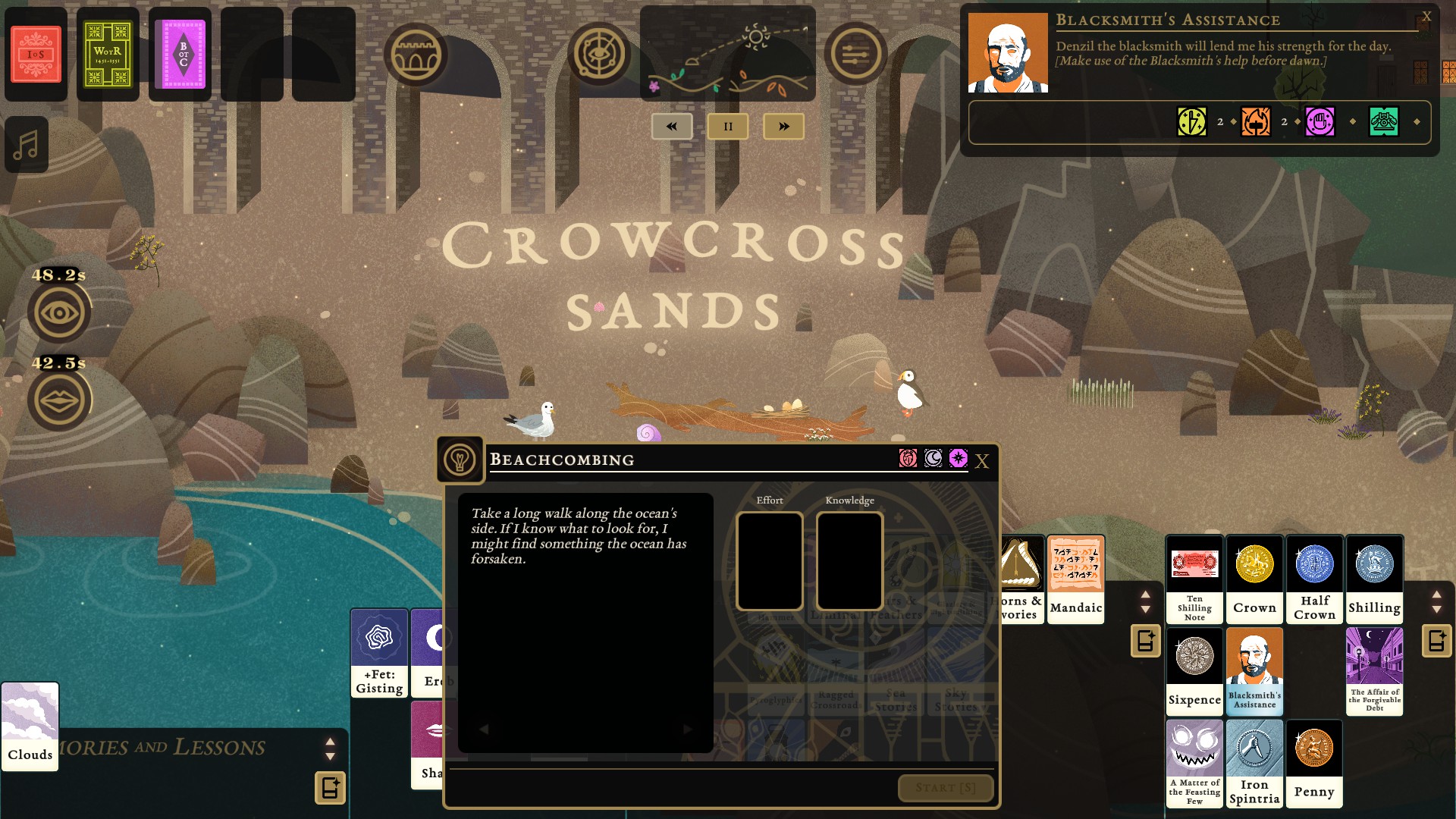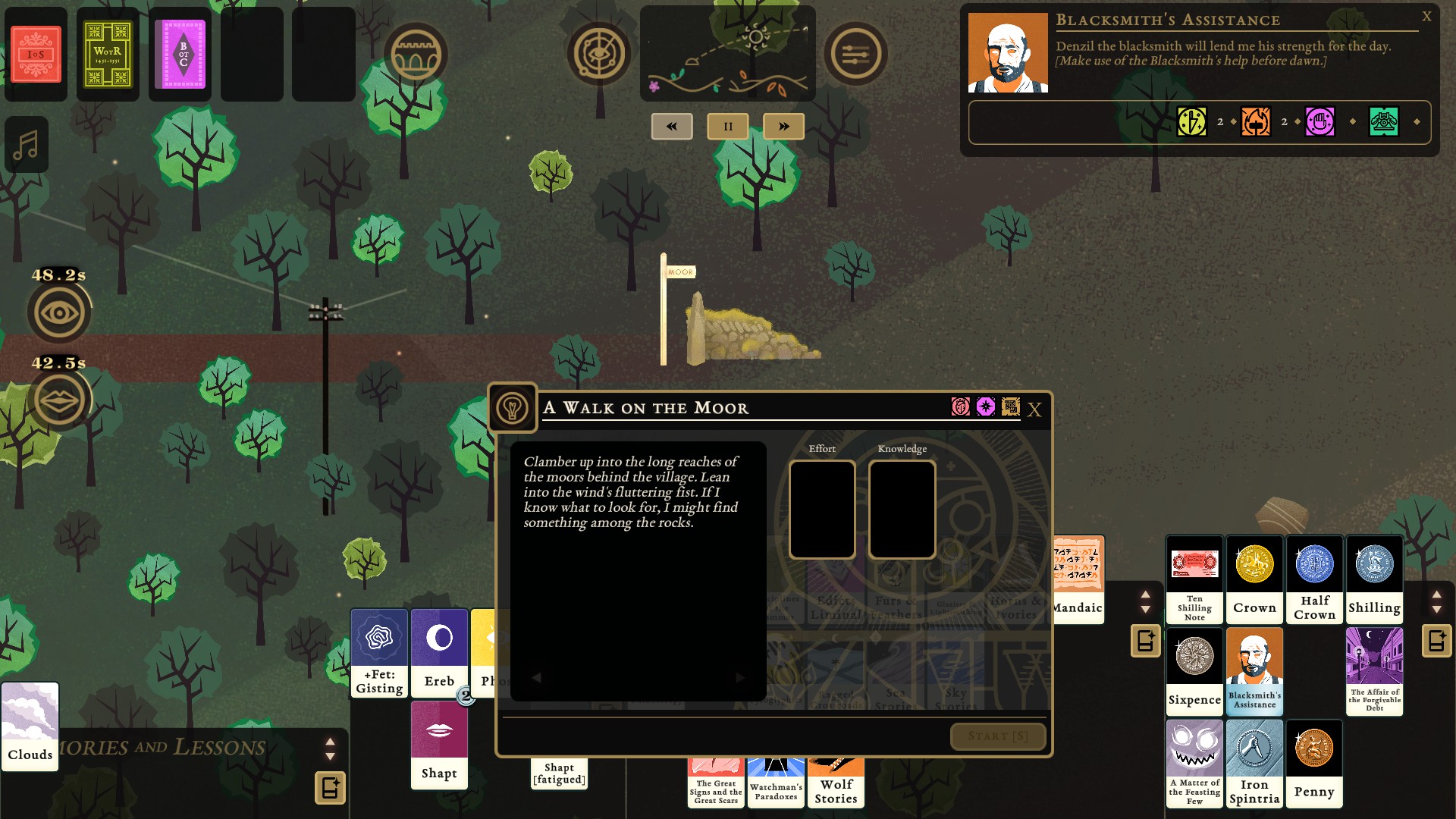 What can I make?
For items that cannot be scavenged, crafting presents an alternative. The various tools within the hush house enable you to craft items, with their quality increasing based on the amount of a single aspect used in the process. This quality progression follows increments of 5, 10, and 15, which requires a distinct reagent. The aspect of the crafting station is indicated in the top right corner.
You can typically create basic items using soul, memory, and skill. The outcome often possesses the same aspect you invested in its creation.
Crafting options include:
Brewing: Utilizing one of the fireplaces, you can brew items without requiring an aspect; having the appropriate item suffices.
Writing: At the writing table, you have the opportunity to craft something. Optionally, you can use paper and ink to enhance the creation.
Music: By playing an instrument, you can generate something artistic.
Shrine: Altars offer the chance to craft medicine, drinks, and more. Curiously, you can bring a pet here for a particular purpose.
Alchemy: In the laboratory, interact with the alchemy set to create various items.
Others: Unique crafting stations are scattered throughout the house. For example, the observatory in the tower and the training dummy in the garden offer distinctive crafting opportunities.
That's everything we are sharing today for this Book of Hours guide. This guide was originally created and written by Owlie. In case we fail to update this guide, you can find the latest update by following this link.
If you believe that any of the content on this site violates your rights, including your intellectual property rights, please contact us immediately using our contact form.