Title: Barotrauma
Release Date:
Developer:
Publisher:
Information about Barotrauma is still incomplete. Please help us fill the details of the game using this contact form.
This guide will explore the Dugong class submarine, its main components, strengths, weaknesses, and upgrades.
Introduction
The guide below provides an overview of the Dugong-class Scout submarine, as of 0.20.16.1 Hotfix (Dec 20th, 2022).
You will find the following features in the guide:
Barsuk basic features & things to know about the submarine
Barsuk room and module overview & basic electrical junction overview
Available Barsuk upgrades, their impact and cost.
Barsuk basics
Mobility
Max Horizontal Speed: 16 km/h
Max Descent Speed: 13 km/h
Fabrication & Storage
Fabricator: No
Deconstructor: No
Medical Fabricator: No
Research Station: No
Storage
Cargo Storage: 4 Crates
3 slots ammunition shelf + 4 slots in guns
3 Diving suit slots
1 Depth charge slot
84 in medium, large and supplies cabinets.
20 slots in Toxic cabinet
30 slots in Medic cabinet
15 slots in Armory cabinet
20 slots in secure locker
Total: 169 slots
Weaponry
Turret Hardpoints: 1
Large Turret Hardpoints: None
Coilguns: 1
Pulse Laser: 1
Electrical Discharge Coils: 0
Dugong individual room features
The diagram does not visualize the 'staircases' clearly, however this should be clear without.
The electrical box wiring connections will be inspected after the basic overview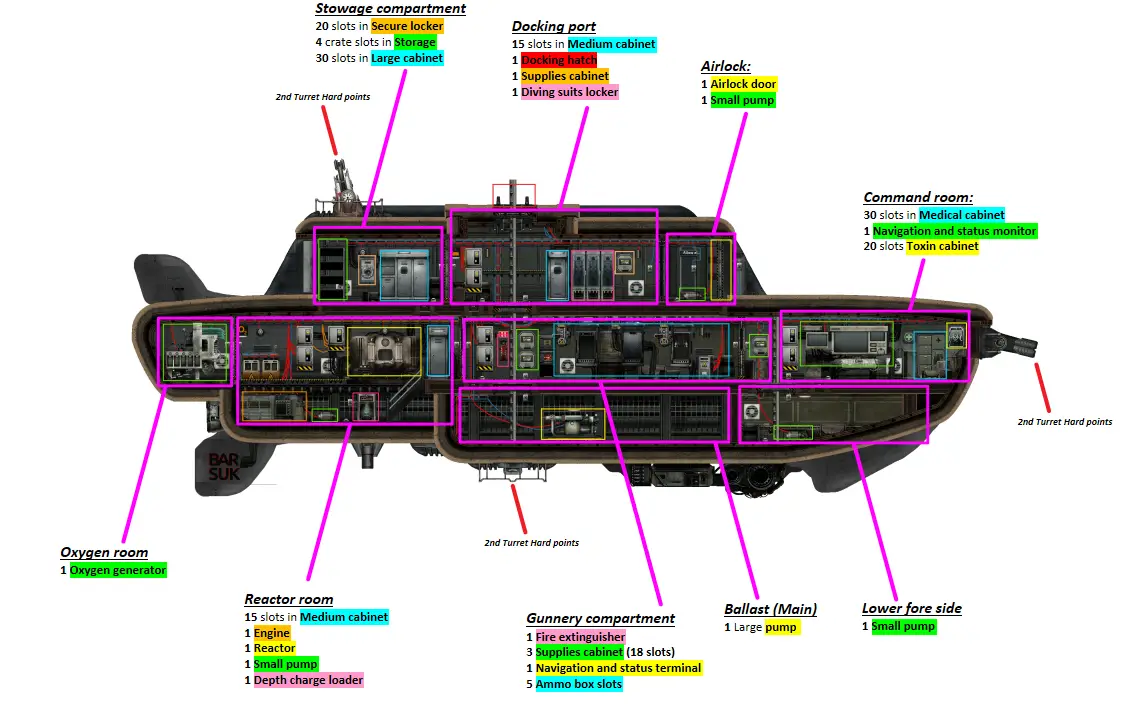 There are two main blind spots on the Barsuk, directly behind the engine blades and oxygen room, and directly infront of the airlock doors. There is 1 small blindspot near the armoury window, as for gun elevation cannot lower that far.
Default wiring in electrical
Bellow we find the default wiring in the electrical room junction boxes. Highlighted are key components that should be kept powered ideally.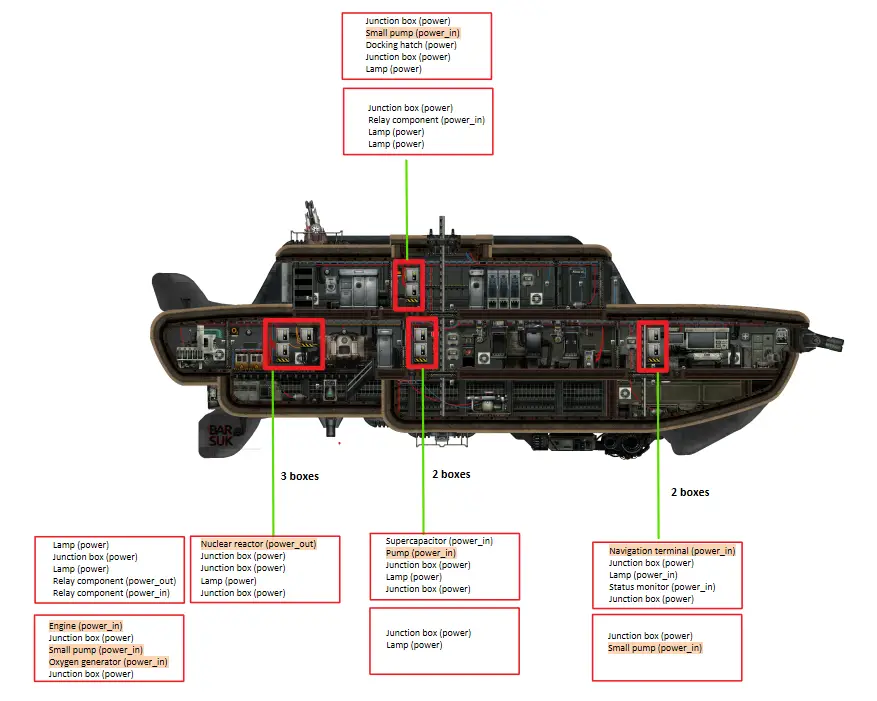 Additionally, here we can see there electrical device positions within the sub – red lines represent separate submarine rooms. This image is taken from the status monitor aboard the submarine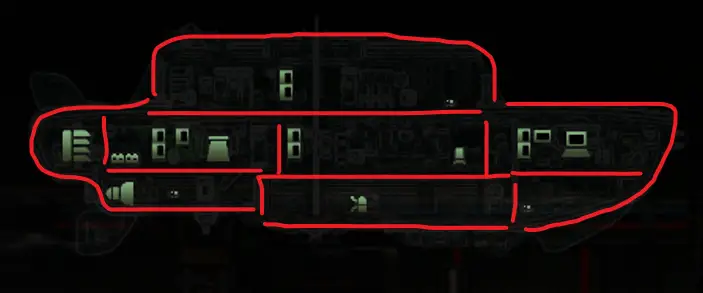 Some thing to note
Default acceleration speed is relatively slow.
You will be swimming quite often inside the Barsuk – any engagement will often flood entire submarine, allowing you to repair your aquarium at leisure paces.
Armory window is easily broken (its also a blindspot for turrets), causes waterfall flooding into the submarine.
Electrical boxes are spread around the hull, making it somewhat inconvenient to repair.
Stock Hull is weak to impact, crashing into walls at medium to high speeds will case high damage to area of impact.
There is 1 only Fire extinguishers on Barsuk, between gunnery and reactor compartments.
Depth charge available near reactor of submarine – should be used responsibly.
Large ballasts, if breached, will force the Barsuk to sink easily, quickly and often.
Available Upgrades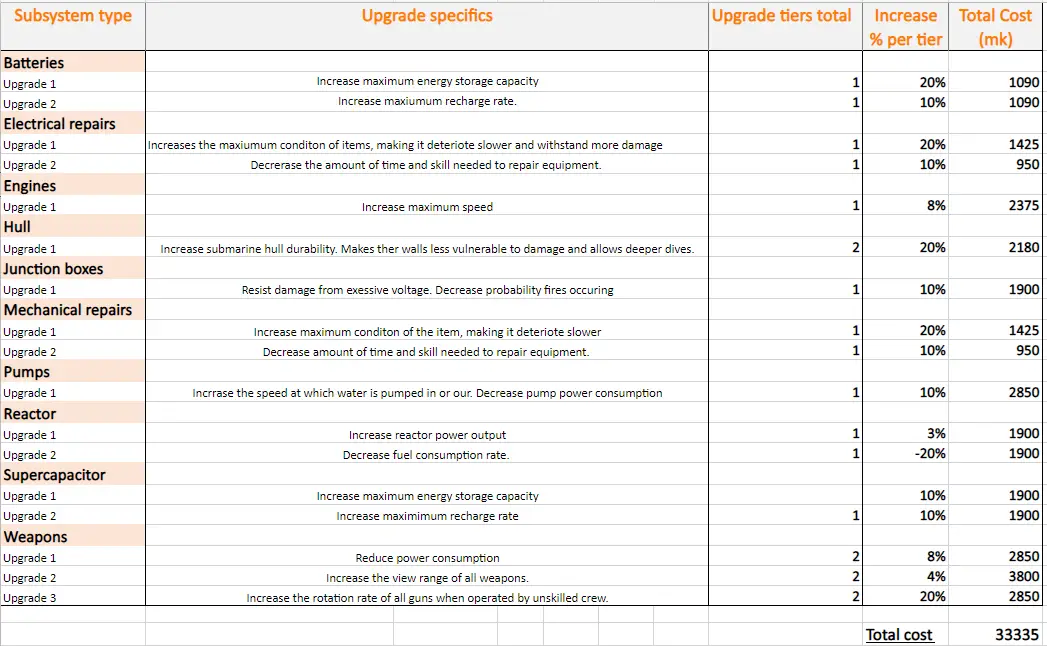 And here are the costs for installing individual weapons.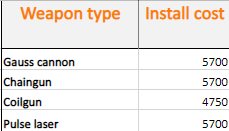 That's everything we are sharing today for this Barotrauma guide. This guide was originally created and written by Drifter. In case we fail to update this guide, you can find the latest update by following this link.
If you believe that any of the content on this site violates your rights, including your intellectual property rights, please contact us immediately using our contact form.