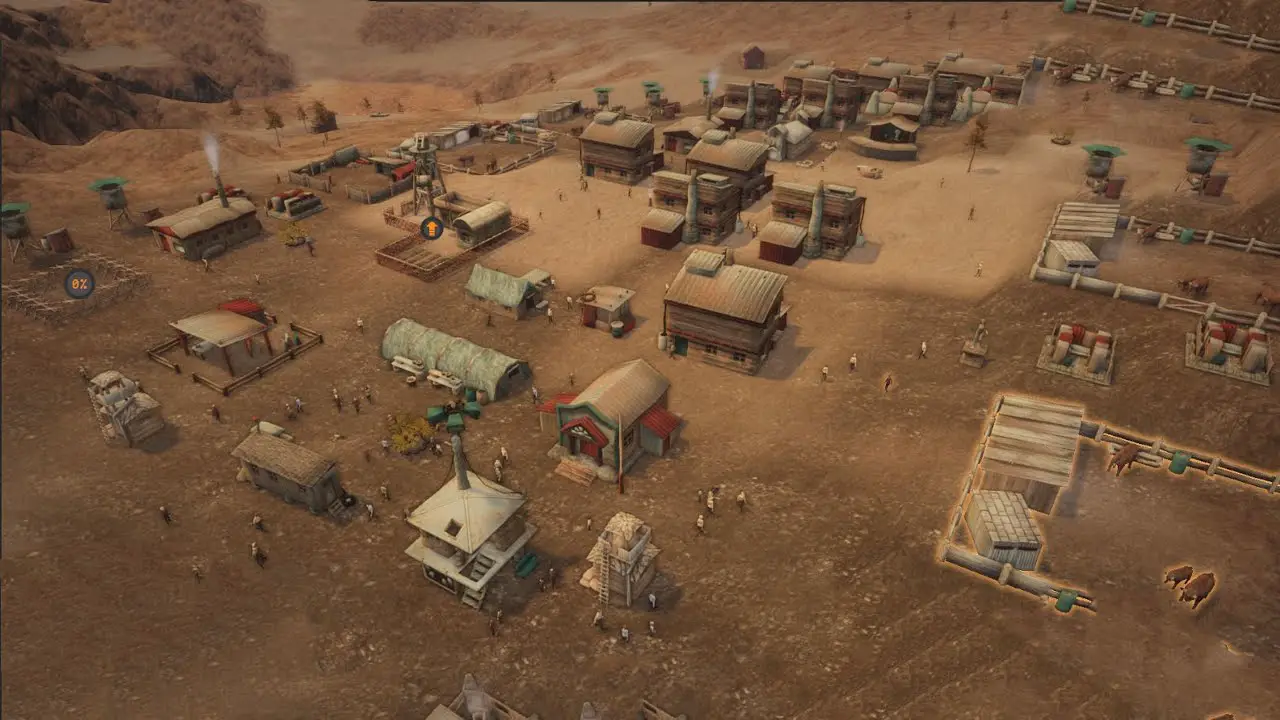 A guide to getting a start in Atomic Society – Completing stage 1 on Extreme Difficulty.
Introduction
This guide will help you to get a start by completing Stage 1 of 4.
This start can be used for all 3 levels (Easy, Moderate, and Extreme).
Hints to a bonus achievement.
Shows How to get a small head start on the first building.
Shows the difference between mass building and complimenting each building.
Enacting Laws and Researching to encourage growth.
Playtime is around 90 mins.
Created after release version 1.0.0.1. Without further ado, let's get started.
Setup
Setup your character.. tool-tips explain it's function or if it's purely cosmetic.
Select your map (Forrest in this case)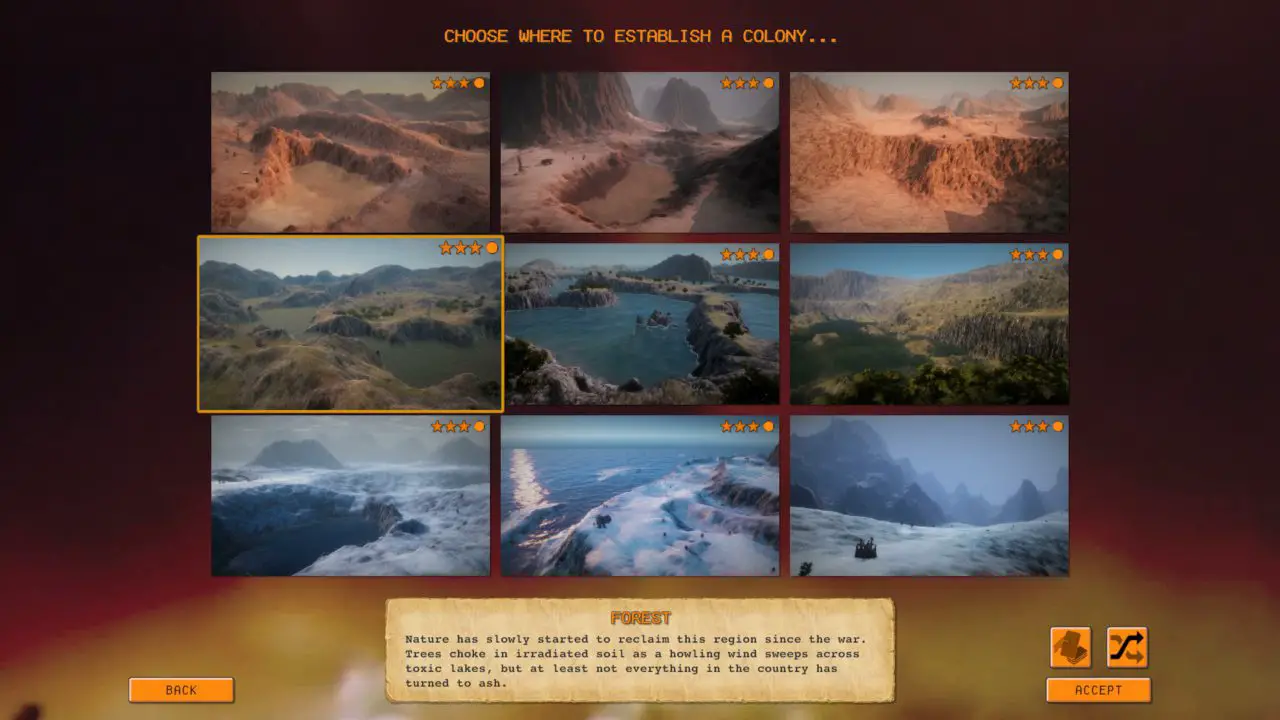 Enable / Disable Raiders.
Note: You will still need Guard Towers to satisfy your settlers. Raiders will not attack if disabled.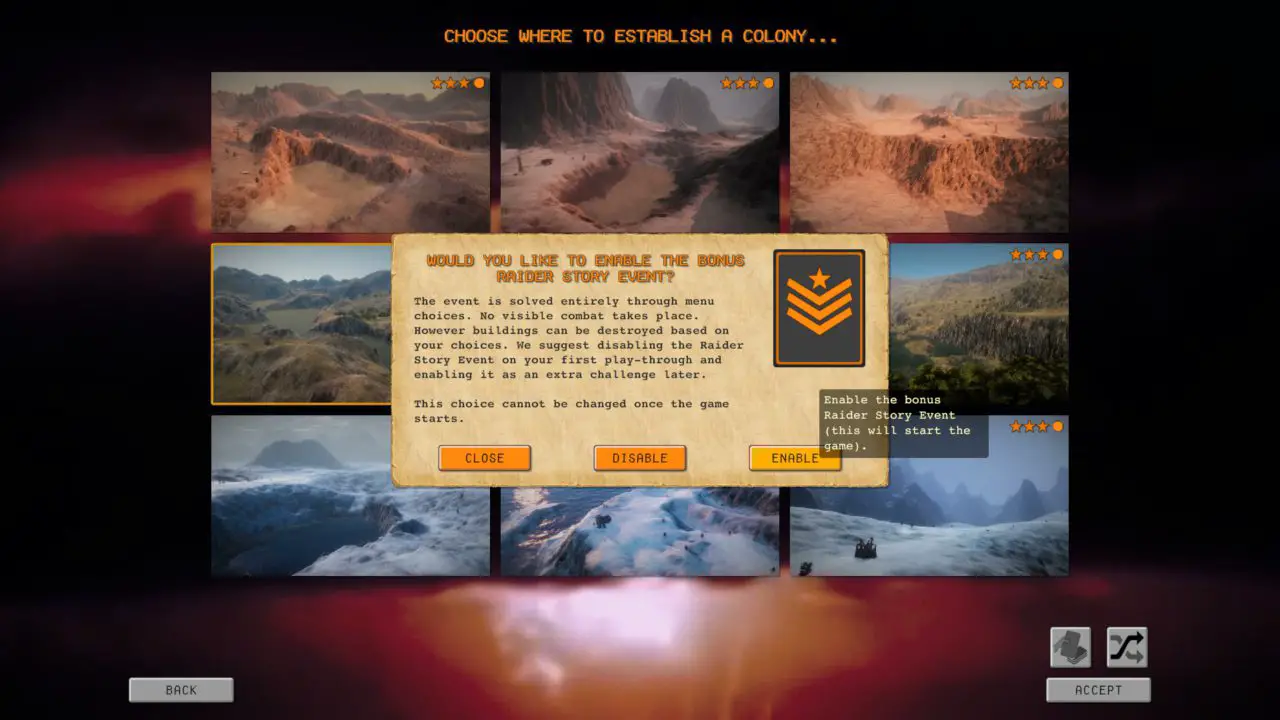 First Steps
As soon as you enter the game.. hit pause.
Look around the map to find a good starting location.
You want a location with plenty of ruins around you to avoid long distances travelled by your leader early on.
Preferably 2 buildings relatively close so your scavengers will get a good array of items each time they scavenge.
Note: They will replenish every 3-4 years once emptied.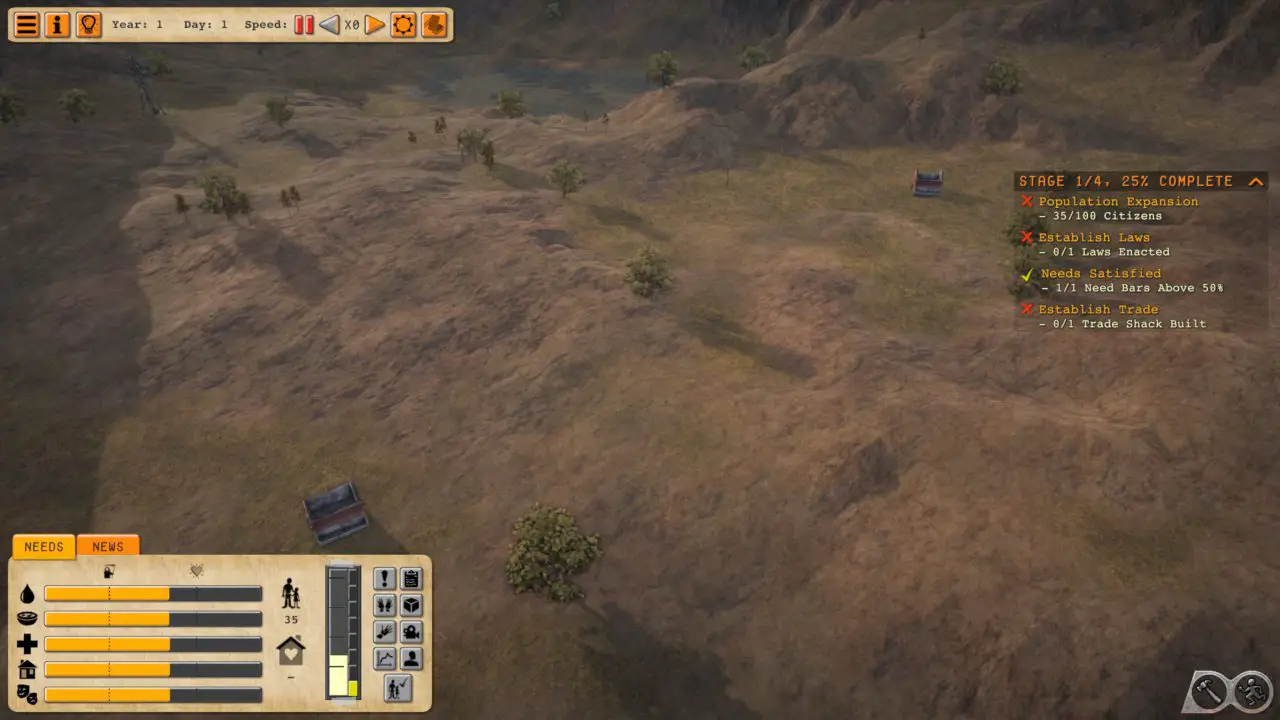 Also keep an eye out for the skeletons to work towards an achievement whilst looking for a good location to start.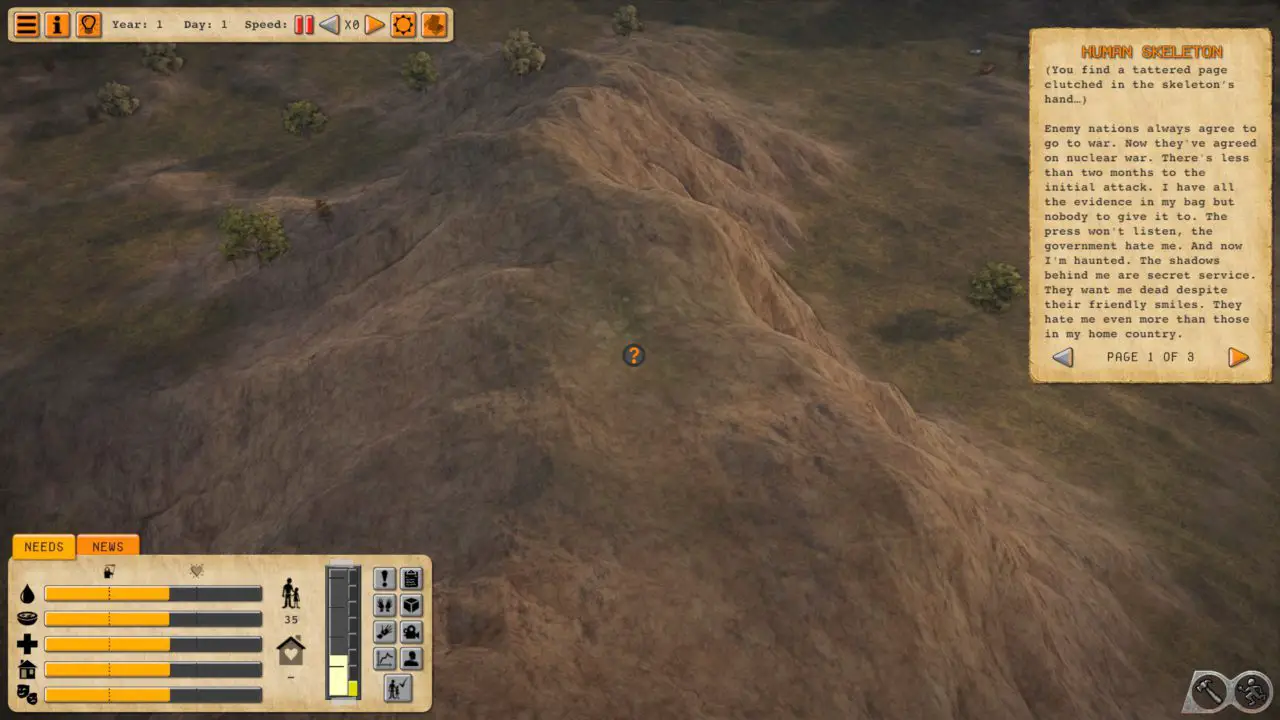 Let's Start Building
Once you have found your preferred location, send your leader to scavenge it first.
You may need to run your game @6x speed depending on how far away your starting location is.
Once your Leader has filled his inventory then convert the building to a storehouse.
Once your storage is built (converted), Empty your Leader's Inventory into the newly converted Storage and name your settlement.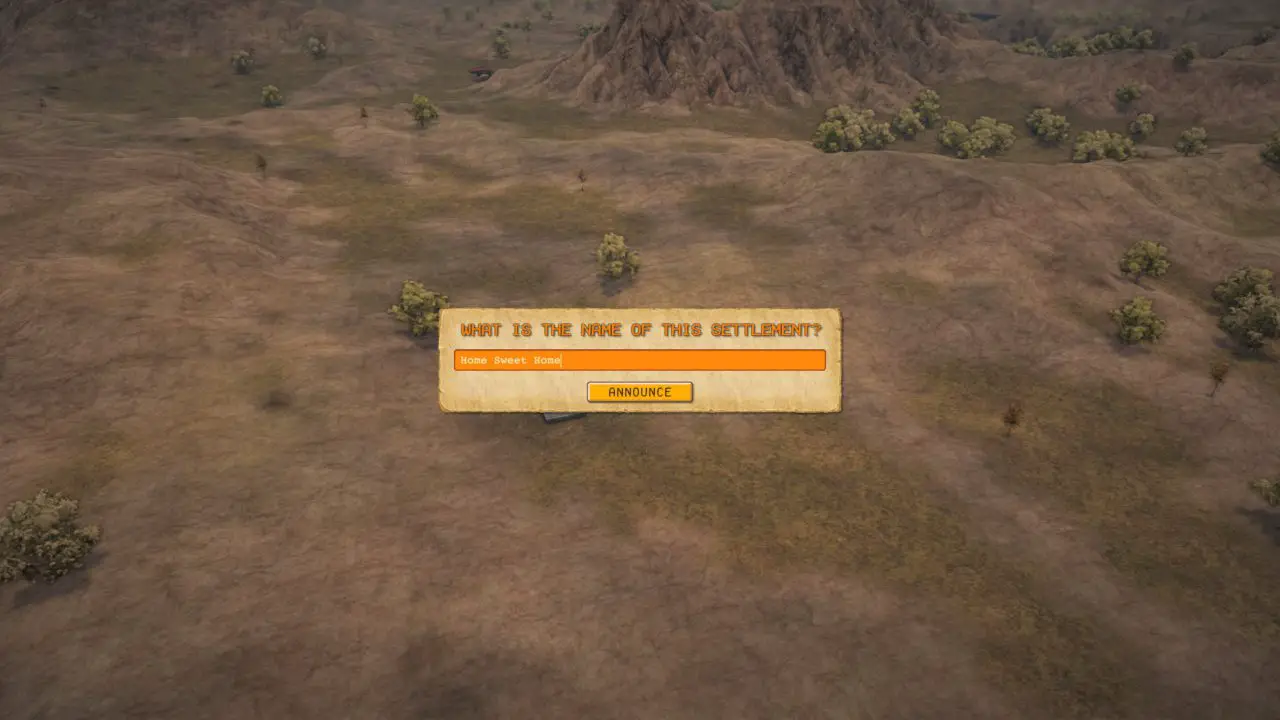 Select 'Construct Buildings' (bottom right of the screen).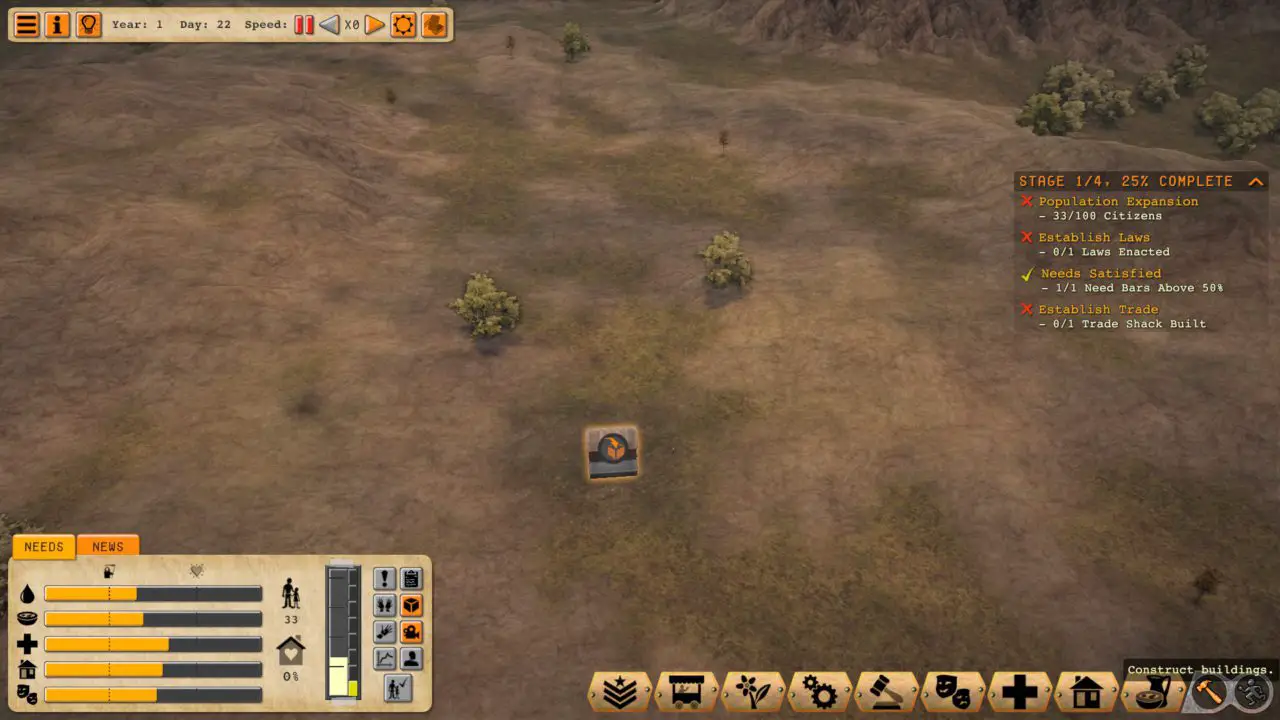 Look for the 'Water Well' and place to build.
Note: If you still require more resources, then send your Leader to scavenge surrounding ruins for what you need. The first listed in the tool tip is what you will mainly get.. any other items will usually be 1-5 in number.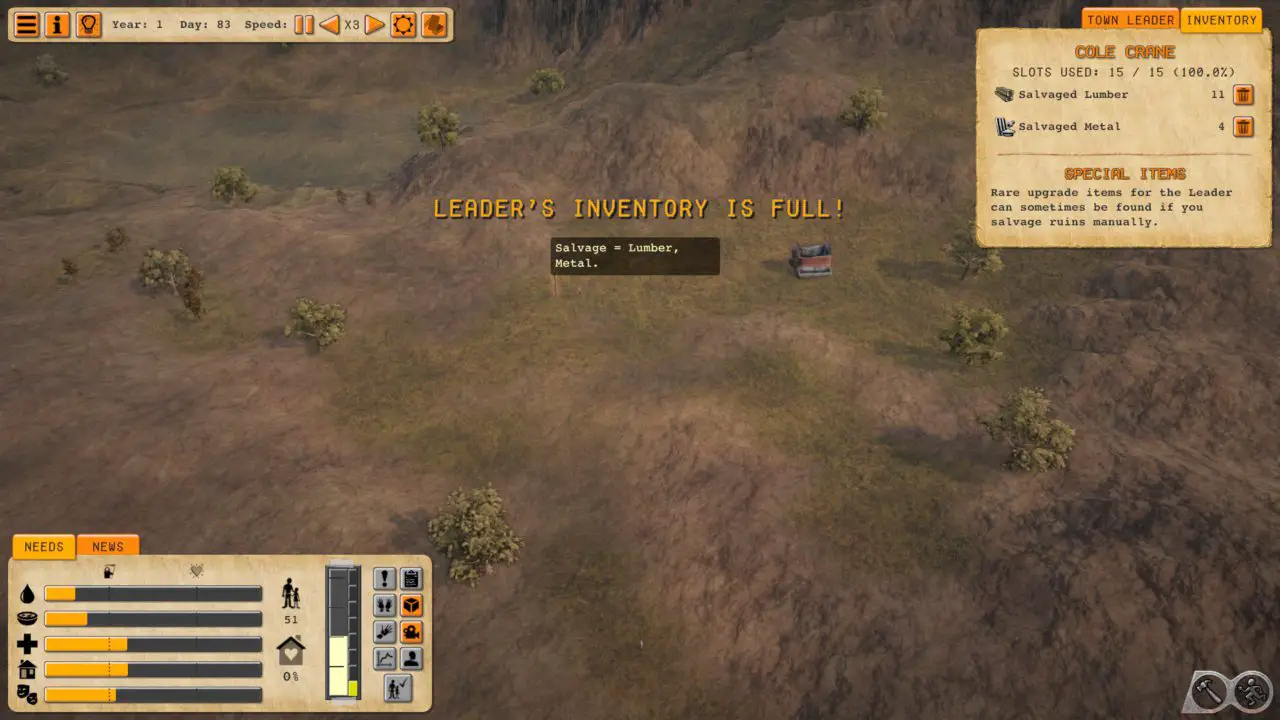 Building and scavenging is your primary function in Stage 1.
Click on the Water Well once built… then check 'Hire Automatically'.. and the game will fill the positions automatically if you have the workforce.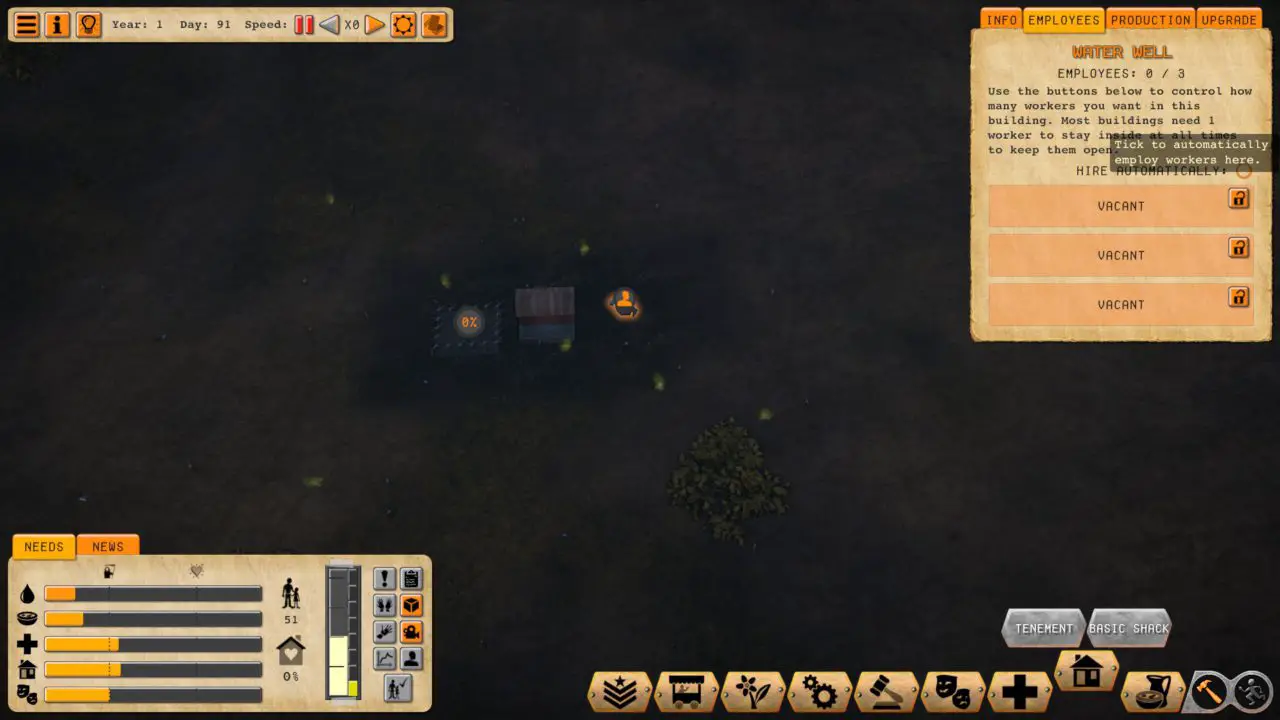 Now place a storage building to increase the amount it can hold.
Now build in this order.. (you will need to scavenge to gain resources.)
Greenhouse to start food production then Crematorium to clean up the dead.
Tenement to house your settlers and a Latrine.
Note: Housing is important as it helps to increase reputation which is based on the number of settlers you have.. more settlers.. the higher your rep will increase.
Trade Shack to begin trading for what you need.. then a Repair Shack.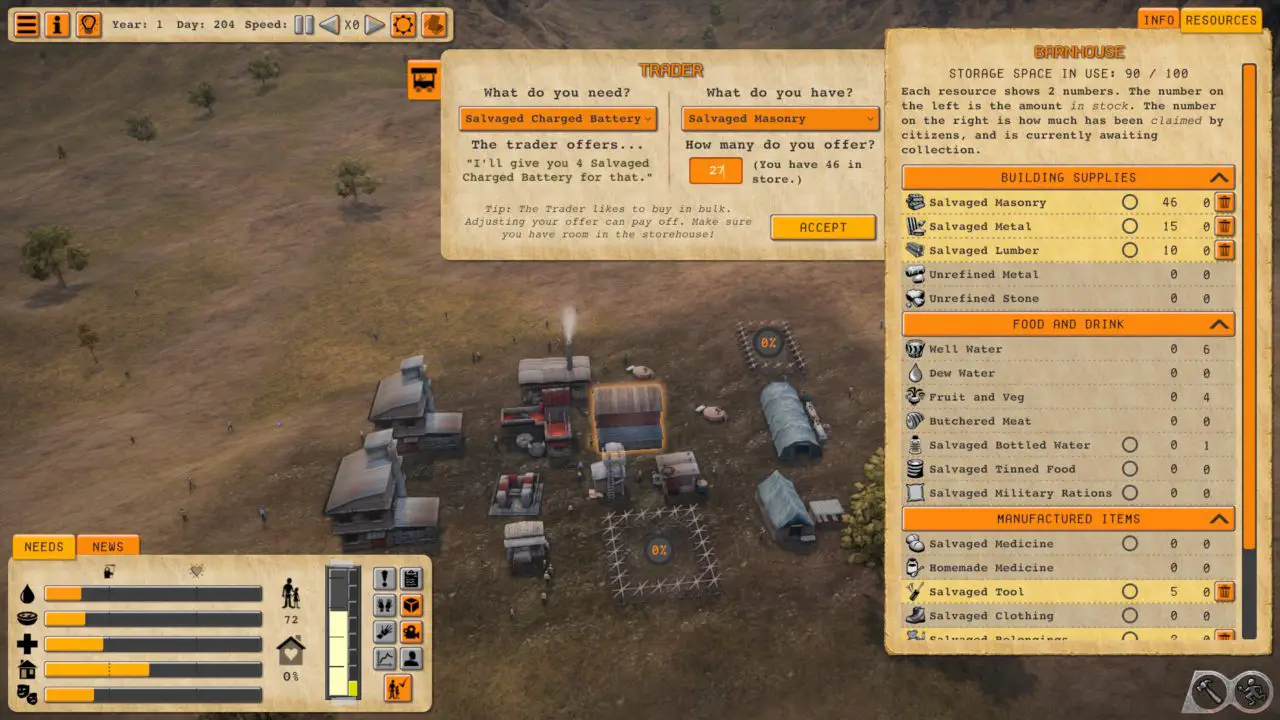 Note: To enlarge this image, please click near the left side on the image. No idea why this image is different for some users.
You should be able to upgrade the Crematorium and the Guard Tower if you were able to get 4x salvage batteries.
Continue building:
Tenement and Water Well.
Greenhouse and Guard Tower to protect your settlement.
Town Hall to allow more management options and a First Aid Tent for health.
Info Station and Research Center.
Note:The Info Station will allow you to start making laws.. set Vegetarians to 'Tolerate' to satisfy this part of Stage 1 requirements. Then make Patriotism and Prostitution. Homosexuality all tolerated for now until later stages.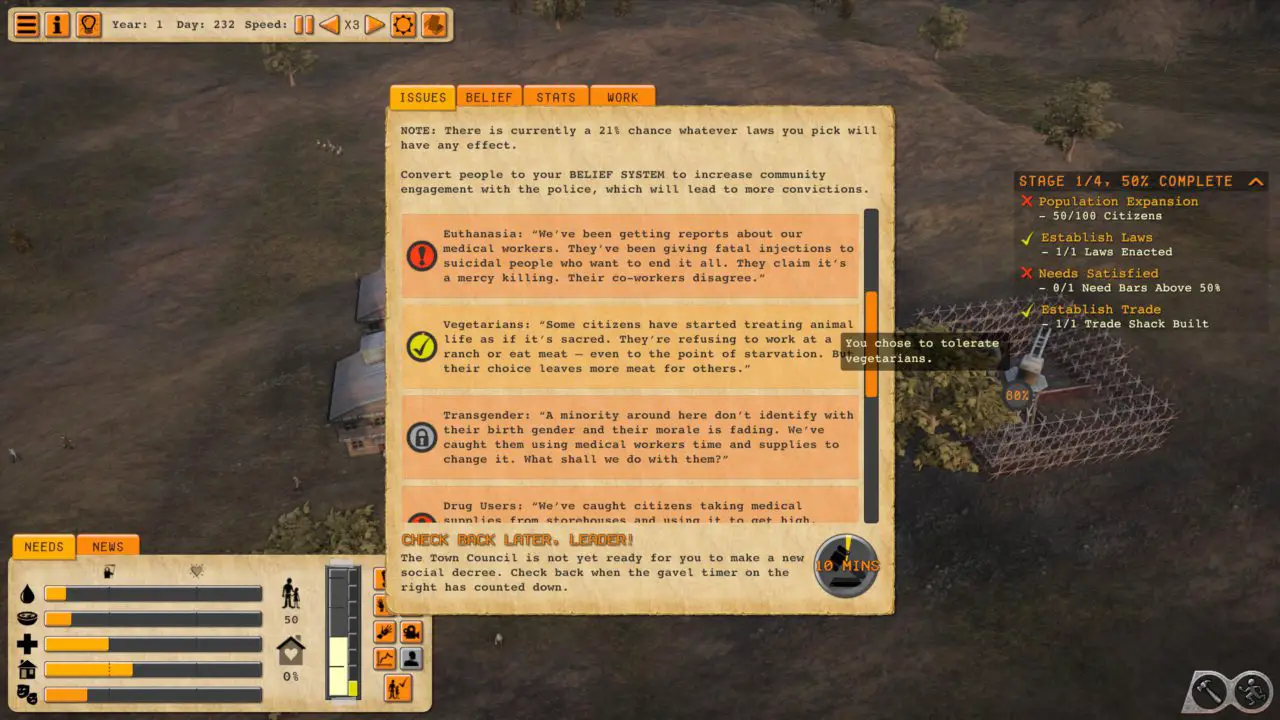 Research Station – Research Elder's End first then Luxury Tower, Hospital, etc as needed.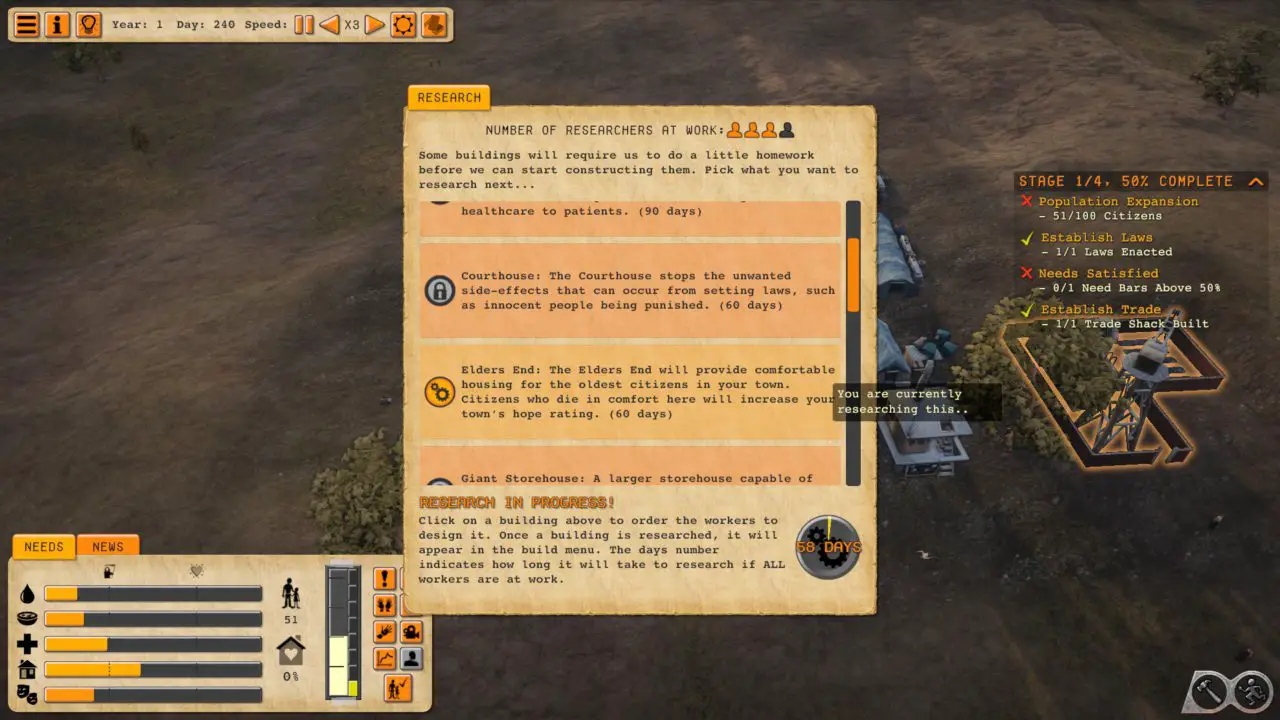 2x Tenements
Latrine and Tenement
Latrine and Dew Collector
Greenhouse and Storage
Trade for more batteries when able too then upgrade the Repair Shack and 2x Latrines.
Set up your min work requirements.. select the '!' in your main UI bottom left of the screen and then select the 'Work' tab. Check the 3 in the screenshot shown so these buildings will always have workers.. then select the remaining 3 as you need them manned (6 max only).
Note: Buildings appear in this screen once built and shows Current workers / Max workers of combined same buildings. Top right of the work tab shows how many workers are Unemployed/Available for work.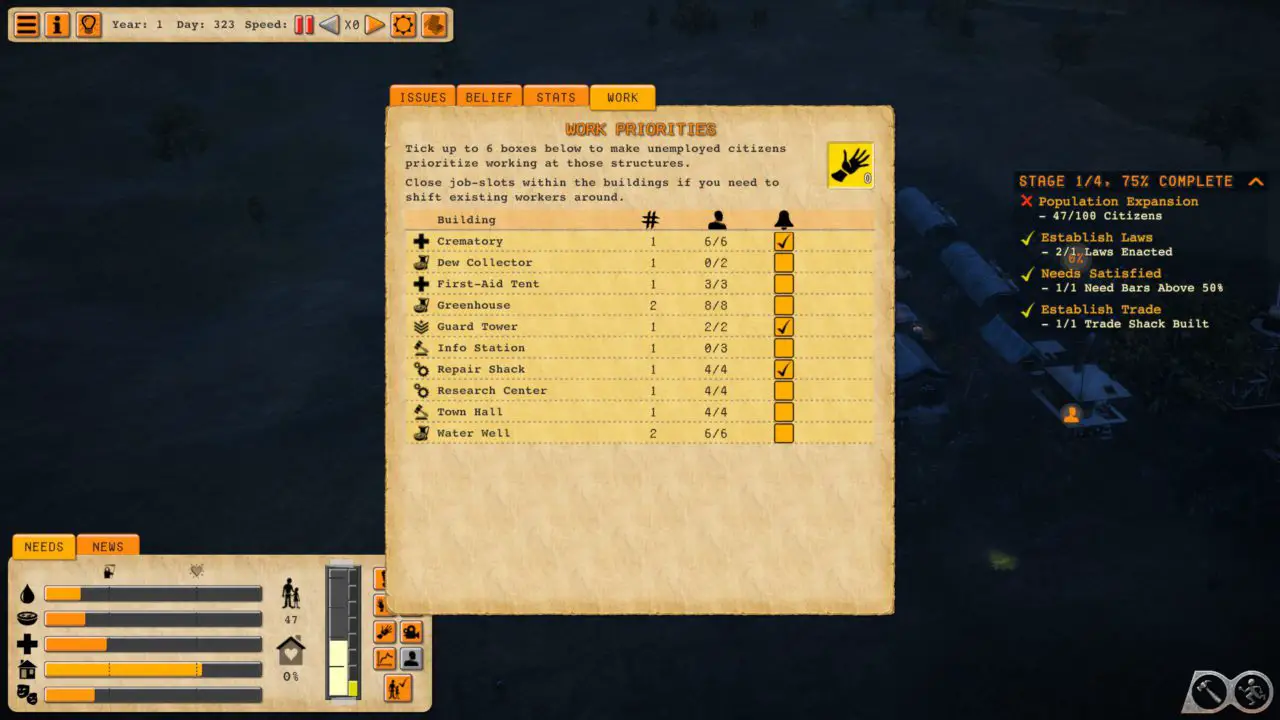 2x Tenements (7 total to cover stage 1 goal of 100 settlers)
Latrine then Dew Collector
Livestock Ranch then Scavenger Hut
Elder's End then Punishment Center
Dew Collector then Greenhouse
Whenever your Leader is idle, send him to the Info Center to educate the settlers towards your belief do not torture or exile them as you need workers to fill jobs. Sadly I forgot till this point but better late than never.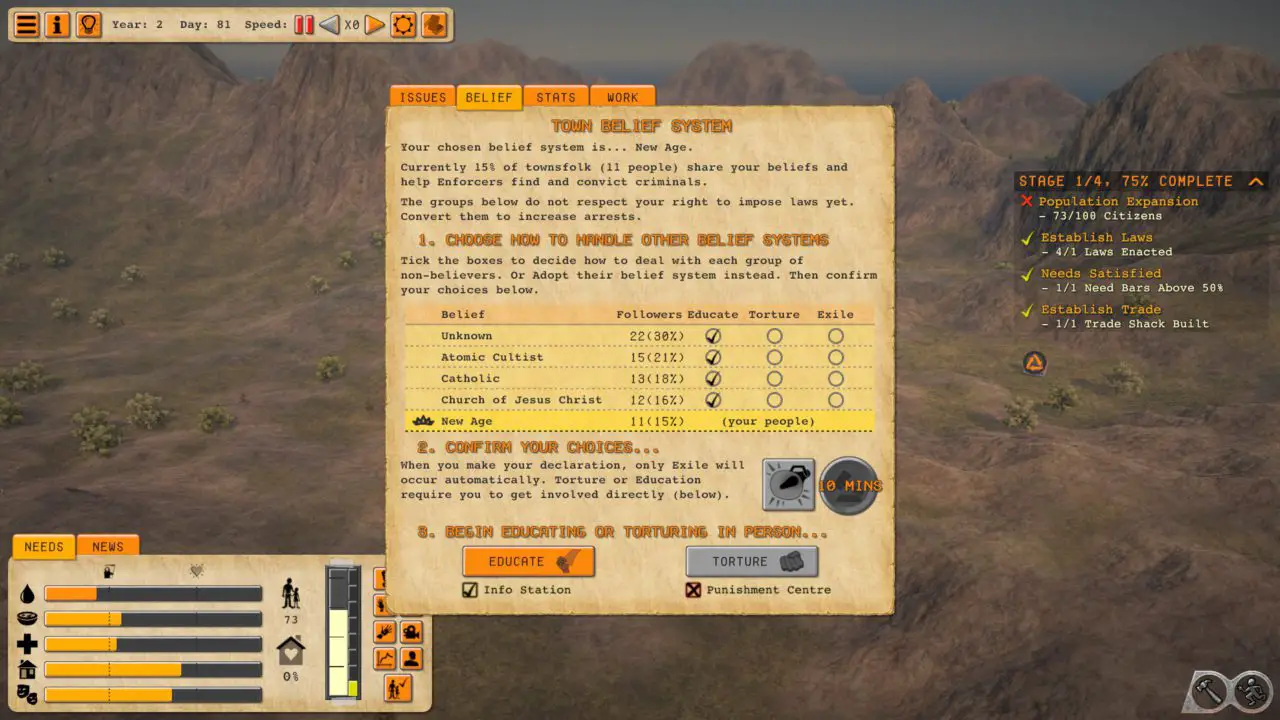 5 mins later…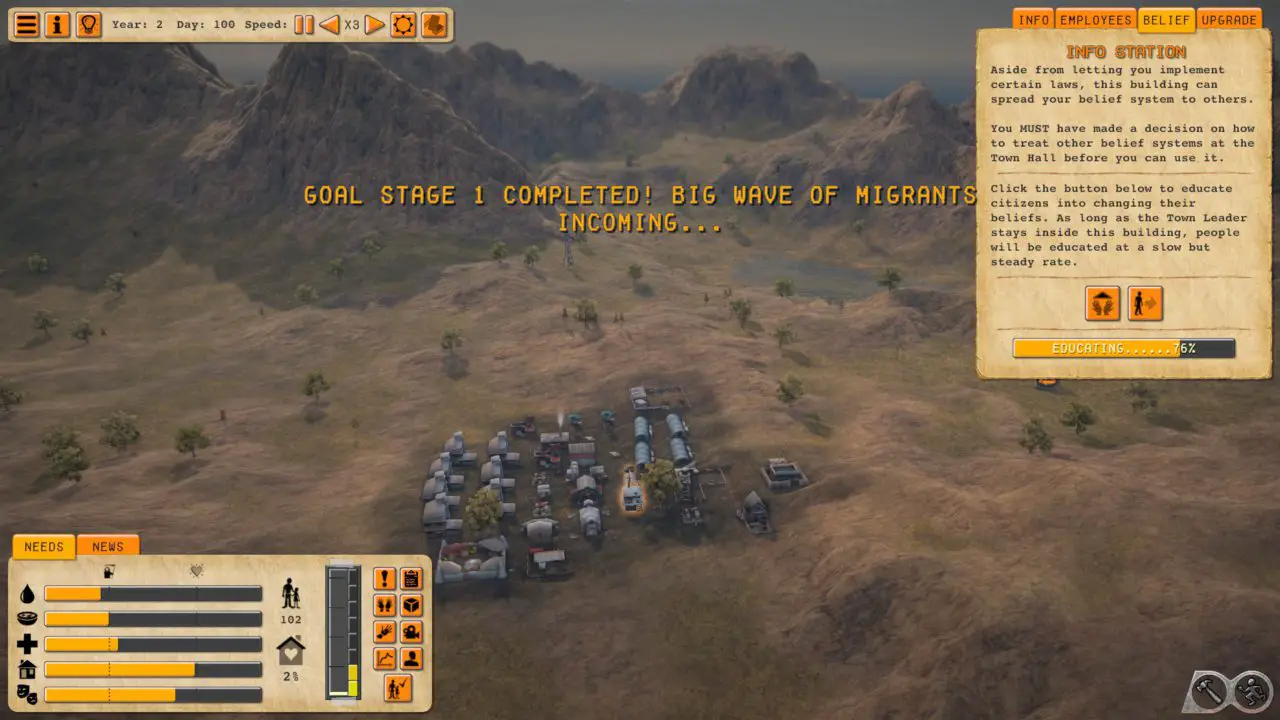 And there we go! Stage 1 completed and already multiple goals completed for Stage 2. This game was played on Extreme Difficulty and accidentally left running whilst editing this guide. 465 in game days played which was about about 50 days longer than other test runs.
I optimised the start by selecting the buildings that complimented each other rather than mass building even with some 'UGH' moments we still completed the first stage in relatively decent time..
Now it's up to you to finish the remaining 3 stages (+bonus stage) from here on using what I hope you learned.
That's everything we are sharing today for this Atomic Society guide. This guide was originally created and written by Beebopper. In case we fail to update this guide, you can find the latest update by following this link.
If you believe that any of the content on this site violates your rights, including your intellectual property rights, please contact us immediately using our contact form.