Title: Atari 50: The Anniversary Celebration
Release Date: November 11, 2022
Developer: Digital Eclipse
Publisher: Atari
The Haunted Houses 3D game is an exciting sequel in the anniversary celebration series. While the game encourages players to create their own maps, I understand that not everyone wants to undertake this task. To assist you, I have provided complete maps for all three levels in the game.
Different Play Styles
FIRE STARTER: This is the default play style, reminiscent of the Atari VCS Haunted House game. By pushing the action button, you can light a torch, enabling you to see and interact with objects. Holding down the button allows you to create a circle that attracts and eliminates ghosts.
GREEN BEAMER: In this style, you are defenseless but possess the ability to track nearby objects.
STREAM CASTER: While this style doesn't provide much illumination, you can rapidly shoot energy balls at ghosts by pressing the action button, neutralizing them.
It's important to note that starting a house with the lights on doesn't incur any penalties. To achieve a high score, aim for speed, avoid losing lives, encounter all the scares (wait in front of the designated areas on the maps for ghosts to appear and scare you), and gather as much bonus time as possible (indicated by the Pac-Man ghosts).
Now, without further ado, here are the detailed maps for each of the three houses in the Haunted Houses 3D game:
Creepy Cabin
Presented here is the map for the initial residence, known as Creepy Cabin. The design pays tribute to the classic Haunted House game, albeit with the inclusion of sealed doors, which adds an additional layer of complexity. Typically, the key can be found in close proximity to the house's entrance.

Terror Tower
Terror Tower clearly pays homage to Kubrick's The Shining, and the resemblance is quite remarkable. It is undeniably the most intricate house in the game, making the map an absolute necessity. The key can be found somewhere in the vicinity of the lobby.

Madness Mansion
Madness Mansion may appear intimidating, but it is surprisingly the most straightforward house once you familiarize yourself with its overall structure. It's important to note that there are convenient direct shortcuts connecting the top floor to the basement. I highly recommend prioritizing the search for the key right away and using a locked door to access the basement instead of the 'B' stairs. Save the 'B' stairs as your exit route when you have the urn pieces with you.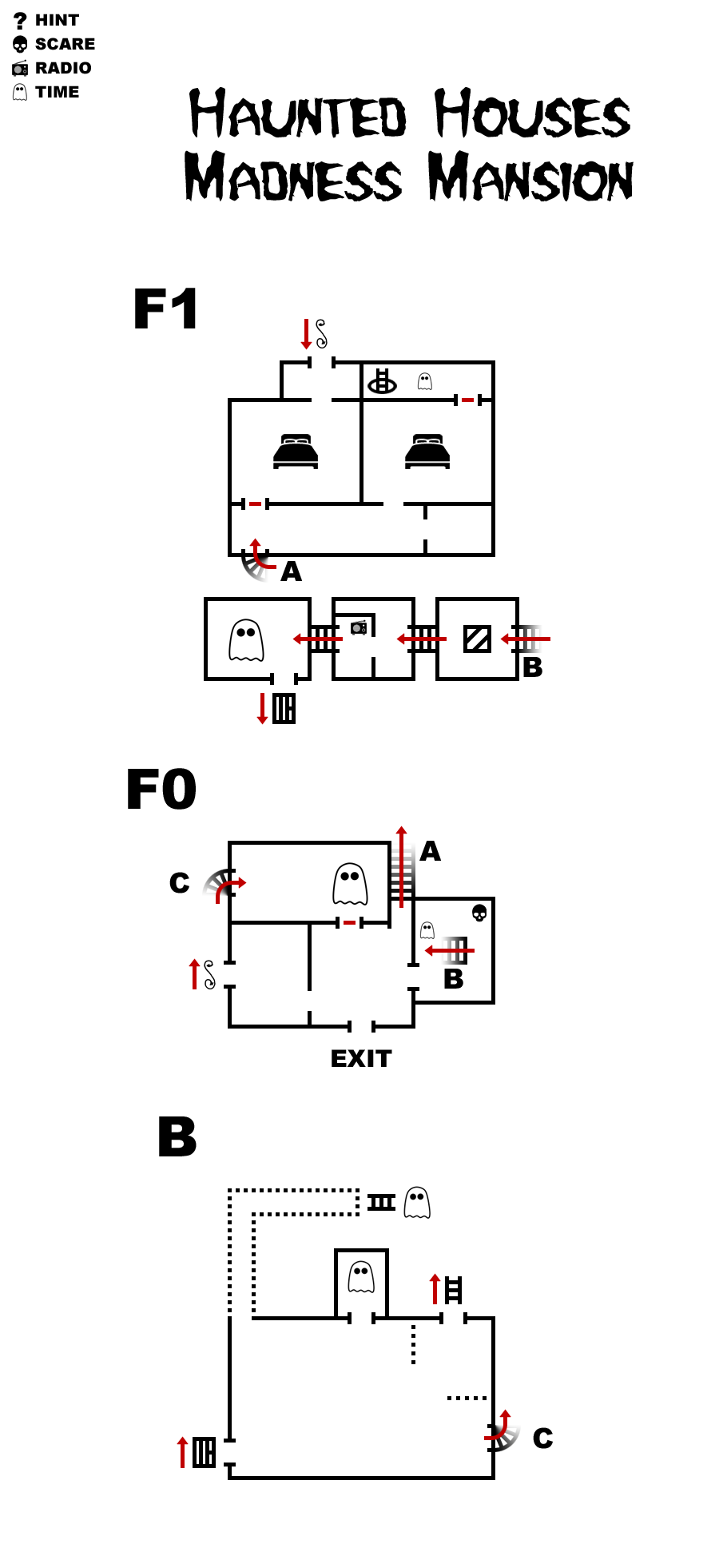 That's everything we are sharing today for this Atari 50: The Anniversary Celebration guide. This guide was originally created and written by Simbabbad. In case we fail to update this guide, you can find the latest update by following this link.
If you believe that any of the content on this site violates your rights, including your intellectual property rights, please contact us immediately using our contact form.