This guide will show you how to have a better and optimized FPS in Ark: Survival Ascended.
In-Game Settings
The following screenshot are the settings that I have already tested to achieve more than 60 FPS in the game.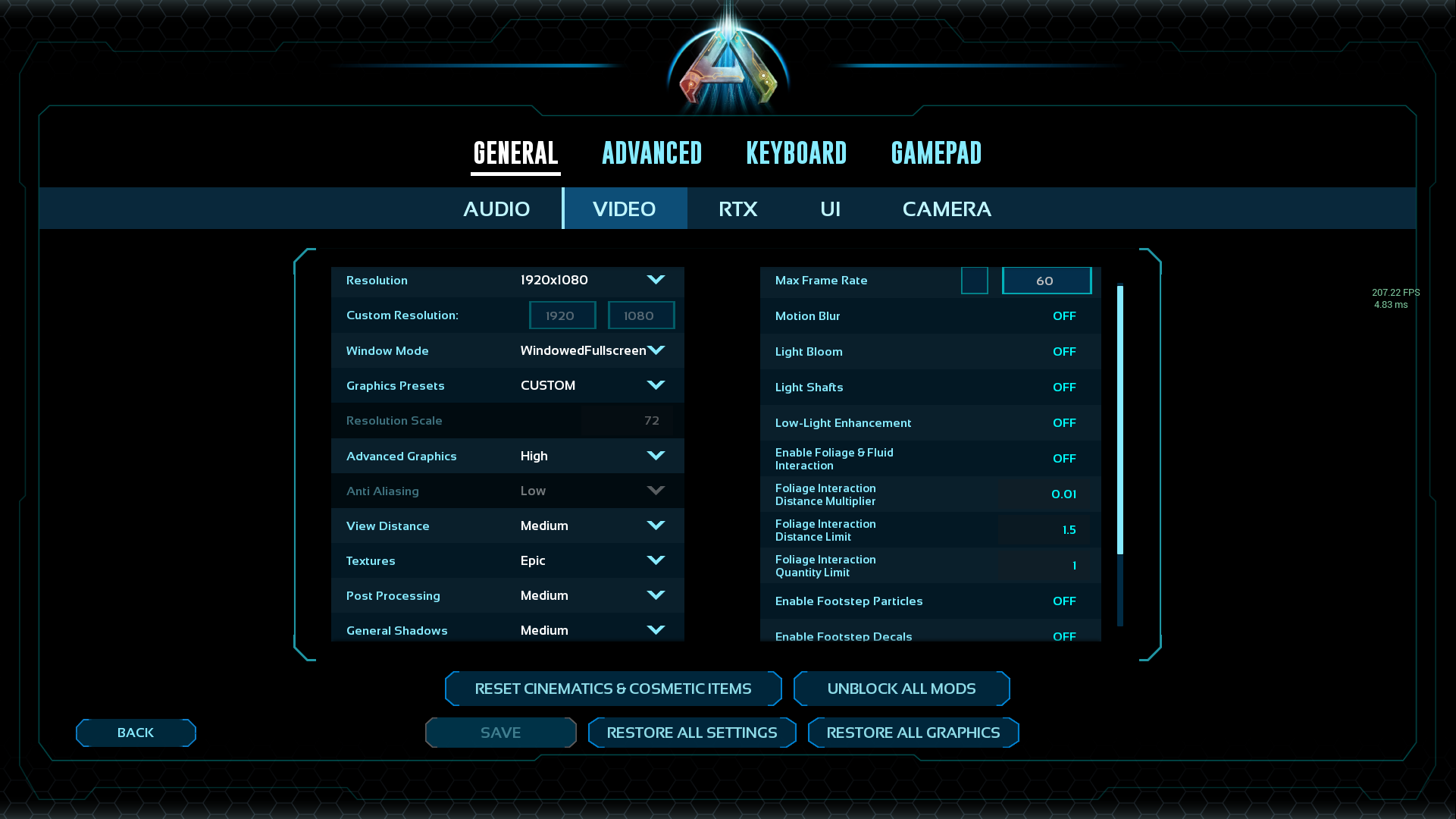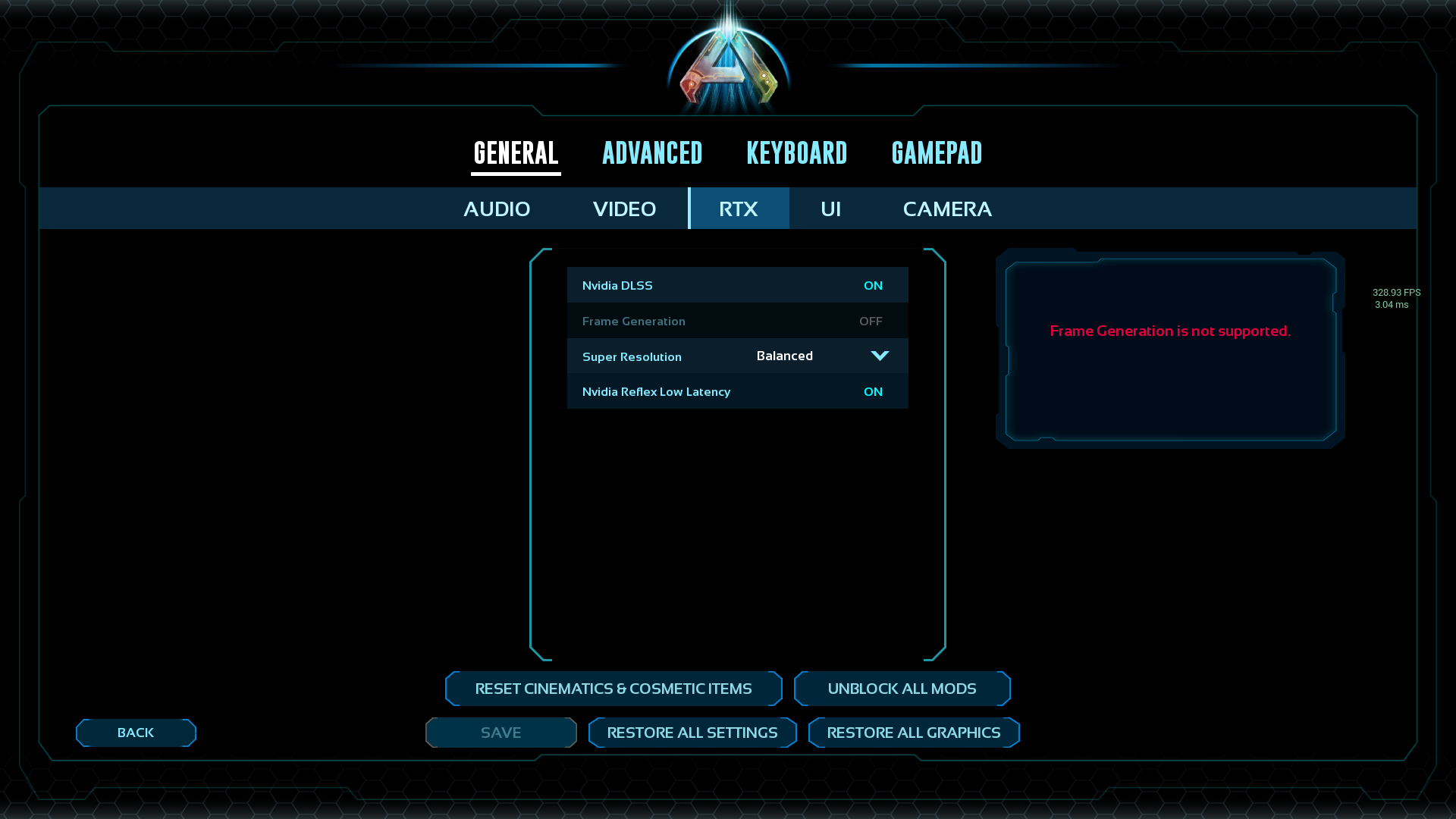 Resolution: Keep it at your native resolution.
Window Mode: Windowed Full screen is preferred, but full screen can make the game feel smoother.
Graphics Presets: Set it to medium for now, and you can customize later.
Advanced Graphics: Lowering it to low can improve frames, but it might affect textures, lighting, and shadows. For better frames, choose low or medium.
Anti Anilasing: Choose low for a slight FPS boost over high and epic.
View Distance: Keep it at a decent level for both good frames and visibility.
Textures: Stick to Epic or High; if needed, drop it to low but keep shadows high or epic.
Post Processing: Medium can give a small FPS boost compared to high/epic.
General Shadows: Opt for medium or low for an FPS boost, especially if you're adjusting textures.
Global Illumination Quality, Effects Quality, and Foliage Quality: These can be set to medium or low for extra FPS.
Other settings like Motion blur, light bloom, light shafts, low-light enhancement, and foliage fluid interaction can impact graphics quality but can significantly boost FPS when turned off. Disabling footstep particles can provide an extra FPS boost, and footstep decals are based on personal preference.
For RTX users, enable Nvidia DLSS. Balanced mode provides a good mix of performance and quality, while quality mode smoothens the game but uses more resources. Performance mode might make the game slightly blurry but increases frames, and Ultra performance can be blurrier but gives more frames.
That's all for the in-game settings!
In-Game Commands
Here are some game commands to optimize your Ark Survival Ascended experience and boost your FPS:
Accessing Console: To access the console in Ark Survival Ascended, press the '~' key or 'fn' and 'esc' on a 60% keyboard.
r.VolumetricCloud 0: Deactivates clouds, increasing FPS by around 20 or more. Note that this can cause weird lighting.
r.Fog 0: Removes fog, which can be a game-changer for your FPS and visibility.
r.Streaming.PoolSize 0: Allows your GPU to use its entire memory effectively.
r.Nanite.MaxPixelsPerEdge 4: Reduces the number of triangles for nanite meshes, improving performance.
grass.enable 0: Disables grass, potentially boosting FPS by around 5 or more. It also makes the game more convenient.
r.Lumen.ScreenProbeGather.RadianceCache.ProbeResolution 16: Optimizes Lumen, a lighting system in the game.
r.DynamicGlobalIlluminationMethod 2: Disables Lumen's dynamic global illumination, which can enhance performance.
r.Lumen.DiffuseIndirect.Allow 0: Further optimizes Lumen by disabling diffuse indirect lighting.
r.Lumen.Reflections.Allow 0: Removes Lumen reflections, which can be demanding on your system.
r.Lumen.Reflections.Water.Allow 0: Disables water reflections, another feature that can impact performance.
r.ShadowQuality 0: Disables all shadows, which can provide a significant FPS boost.
show InstancedGrass: Gets rid of grass and small rocks, improving performance.
Please note that you'll need to enter these commands every time you join a server or start Ark Survival Ascended to maintain these optimizations. These commands can significantly boost your FPS and enhance your gaming experience.
That's everything we are sharing today for this ARK: Survival Ascended guide. This guide was originally created and written by abskepeg. In case we fail to update this guide, you can find the latest update by following this link.
If you believe that any of the content on this site violates your rights, including your intellectual property rights, please contact us immediately using our contact form.