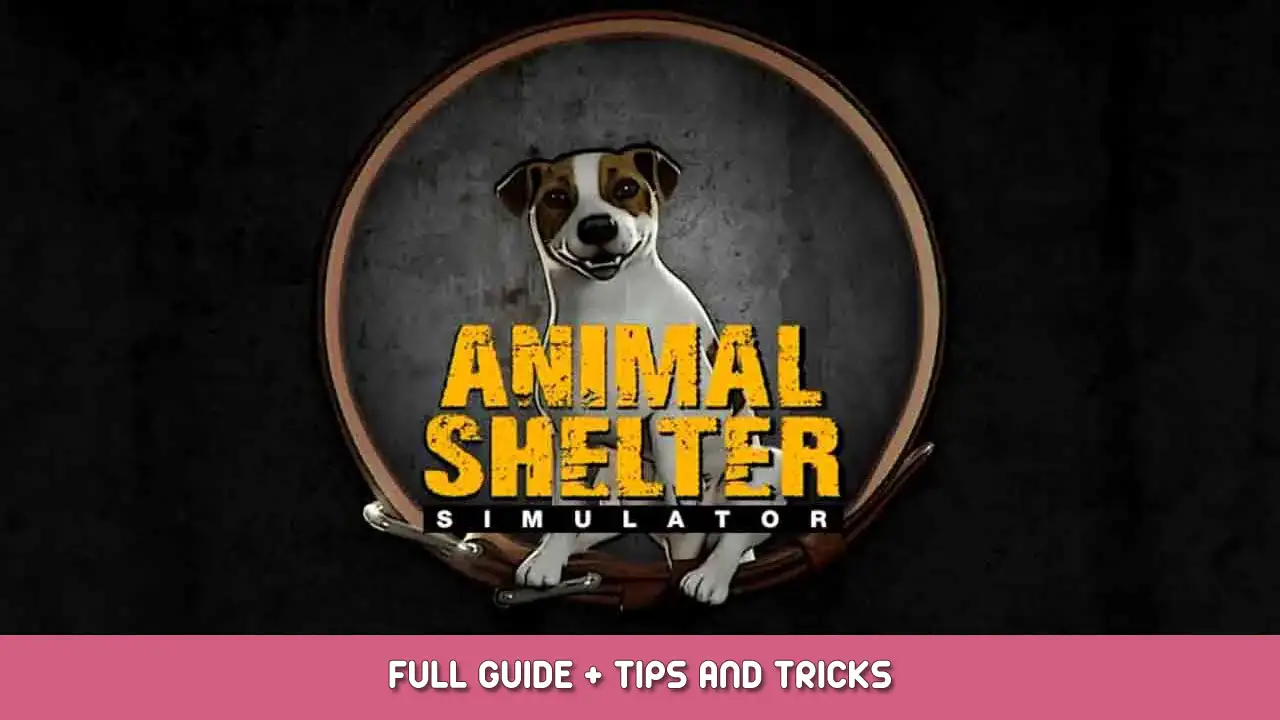 This guide will explain everything you need to know about the Animal Shelter Simulator Game. Some tips, tricks, and basics of the gameplay + achievements and how to complete them.
About the Game
Animal Shelter Simulator is a unique game in which you play the role of a field rescuer-vet. Face the elements of nature and save innocent animals! Their life depends entirely on you! Someone has to save them and that someone is YOU.
In the game, you use your computer to find abandoned, lost, or/and injured animals that need your help. You start on a small lot that you can later on expand and add more buildings in such as the clinic, shower, more and larger fenced spaces for animals, and so on. In the game, you can currently rescue cats and dogs only.
The Basics
In the game, you use your computer to see which animals need help. It also shows you how bad of a condition they currently are (the red heart on the right side of each animal shows you their condition, red heart = good, empty heart = bad)
After you rescue an animal, it will be delivered to you by a blue van. You take care of it, you make sure your animals have food and water, and you can add toys and play with them as well. You can also shower them and if they're injured you take them to the clinic where you take care of them and give them meds etc.
When the animal is happy and adoptable enough they will reveal to you their traits such as "happy", "angry", "glutton", etc; and what they like and dislike in a home (ex. "wants a big yard" and "hates children") after you learn enough about each animal you take a picture of them and make an "ad" for their adoption. Depending on how compatible the animal and their new owner are the more point and money you get which you use to expand your shelter and buy better quality food and toys.
Step by step in the next chapter.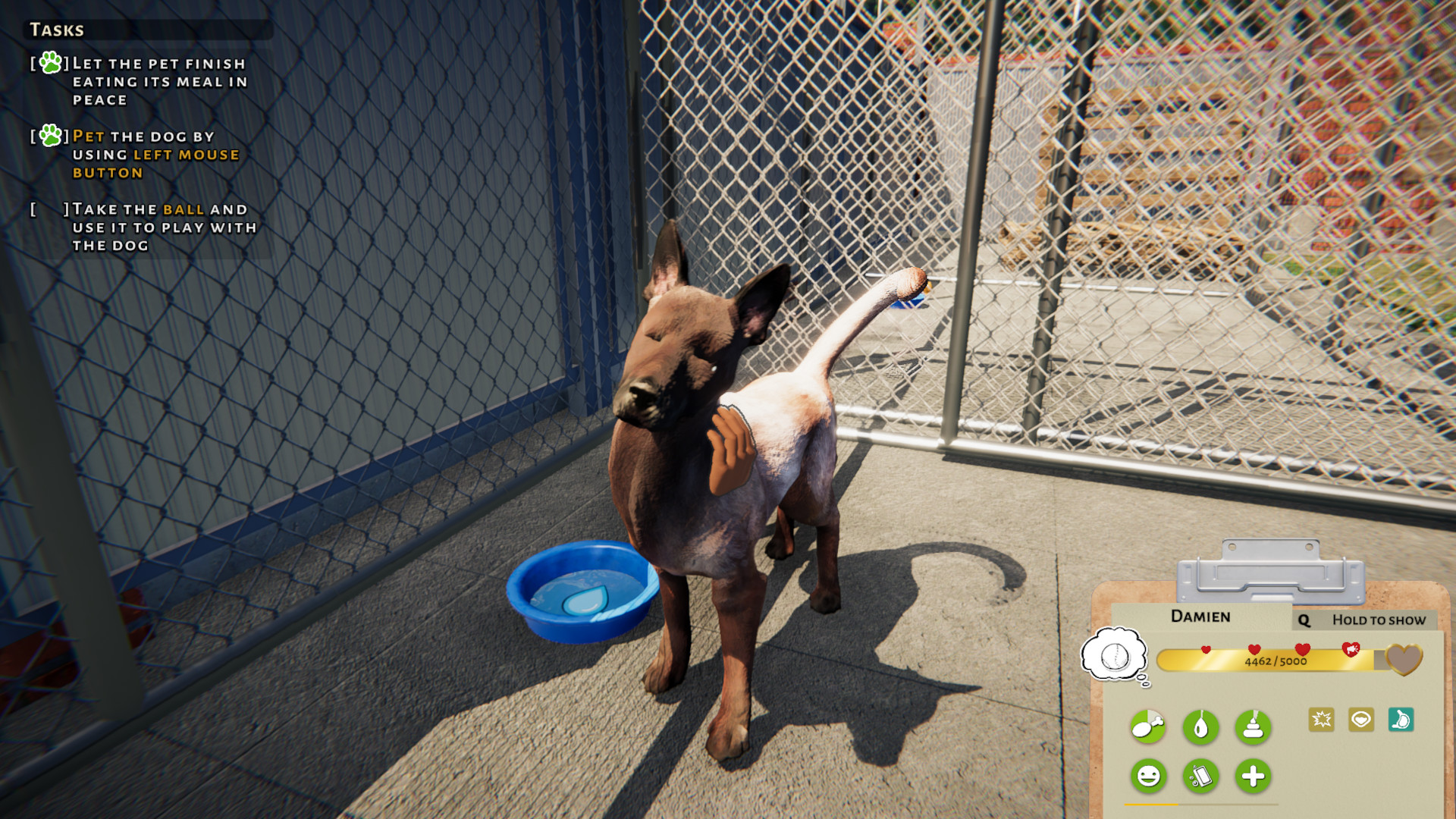 Computer Icons
There are a few icons on your computer that you might need help with but I think you'll get a hang of it pretty quickly.
The first icon is the mail icon where you can see when the new owners had to see about the animals you gave them for adoption and also can see vet results.
Then we have the basket icon where you buy food, water, toys, supplies, medications, expansions, etc.
The next icon is the shovel icon which lets you go into "build mode" where you can expand your shelter and add new and better builds into it
After that, we have a "dog in a hut" icon where you can see all the animals that are currently in your shelter, their state, and where you pair them with their new owners
The next icon is the sad cat in the rain where you can see the sad animals that need your help
After that is the "arrow' icon where you can check how your shelter is improving
The next and the last icon are basically just help for the game itself
Taking Animals in Shelter
You start the game by taking an animal into your shelter. You do that by your computer that you can find in your office building. When you open your computer the icon with a sad cat and a raining cloud is the button where you can see what animals need your help. Each animal already has a name (that you can change) the picture shows you if the animal is a cat or a dog and the heart on the right side represents their health and happiness stage. If the heart is redder than empty the animal is in a decent condition, but if the heart is empty the animal is in critical condition and is probably sick and dirty. That's why when I play I usually rescue the animals in the worst conditions.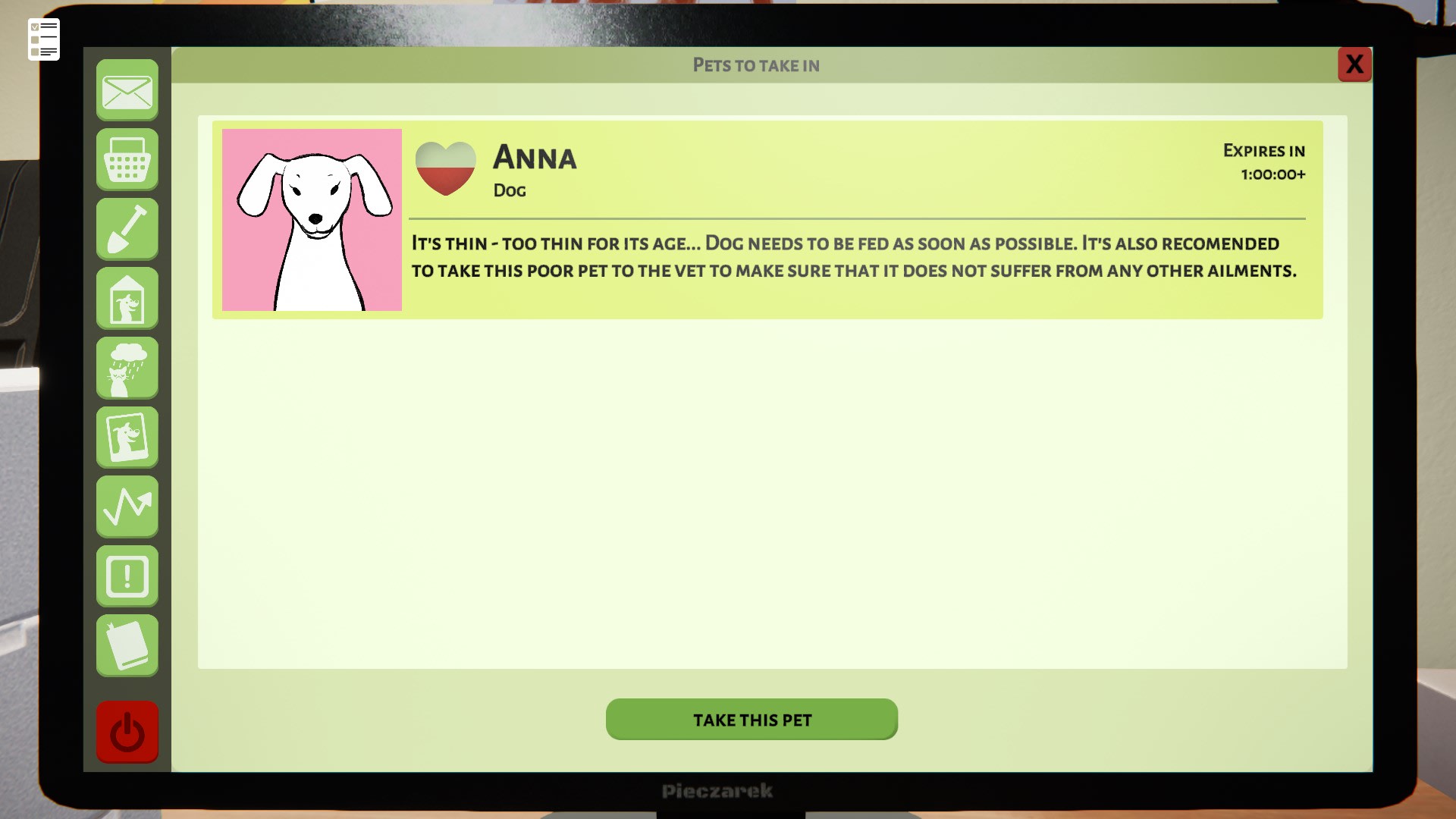 Animal Charts
Each animal comes with a chart that has everything you need to know about her. Starting with the name, their hunger, water intake, their health, their hygiene, bladder, and fun. You can also see their traits such as "funny' etc. and what they like and dislike. When you put them for adoption the better you match their traits with the new owner's traits the more money and bonus points you'll get. You can also see their "adoptability" where you can see when the animal is ready for adoption.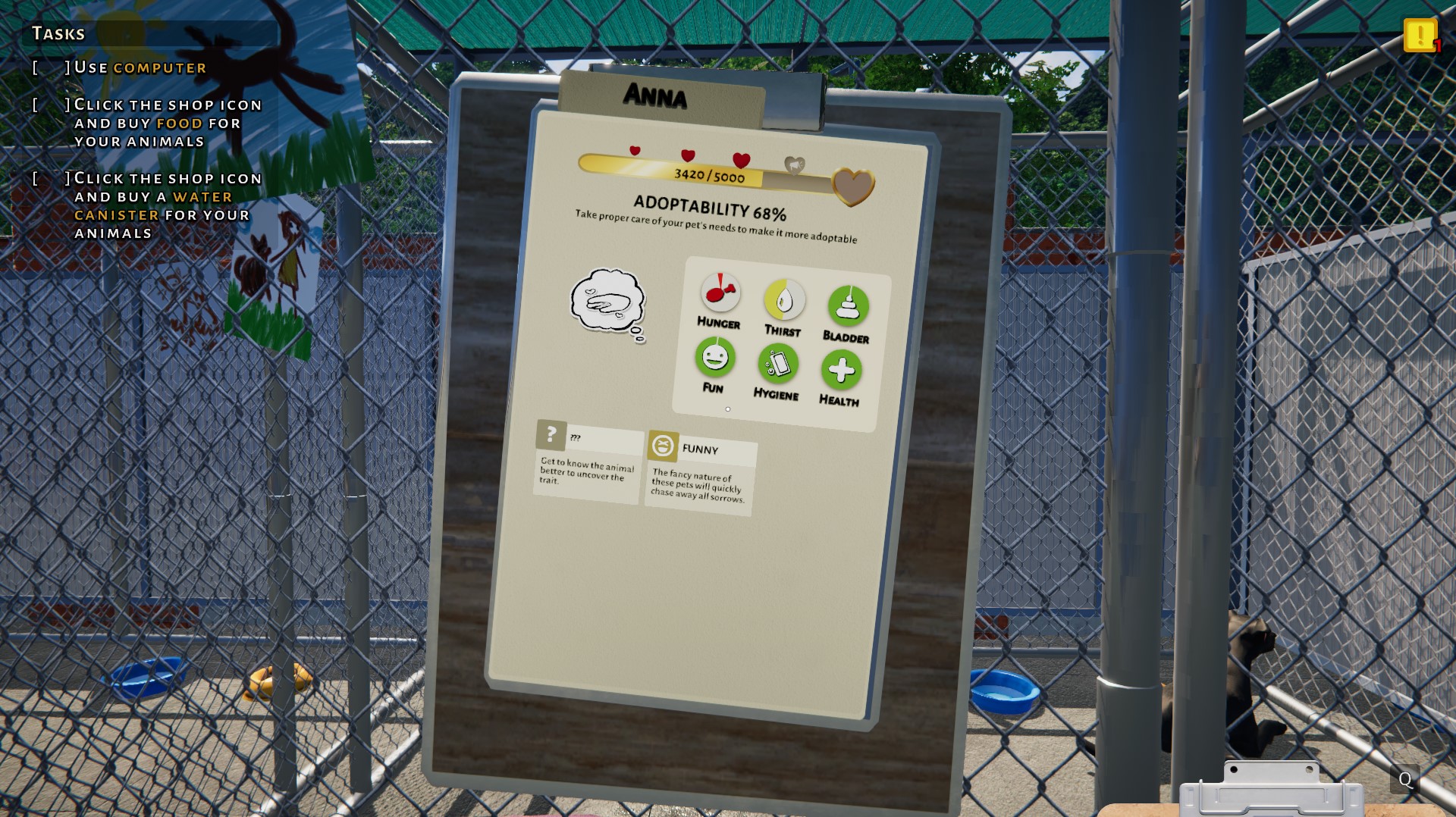 Buying Items
In the shop icon, you can buy items. It's a shop that gives you everything that you need to run a successful animal shelter. You can buy toys, food, water, expansions, new builds, furniture, decor, medication, and even soap, etc.
The better reputation your shelter has the more quality items gets unlocked. You start with the basic food and water and toys and while you progress in the game better quality items unlock for you which makes it a bit easier to run a full shelter.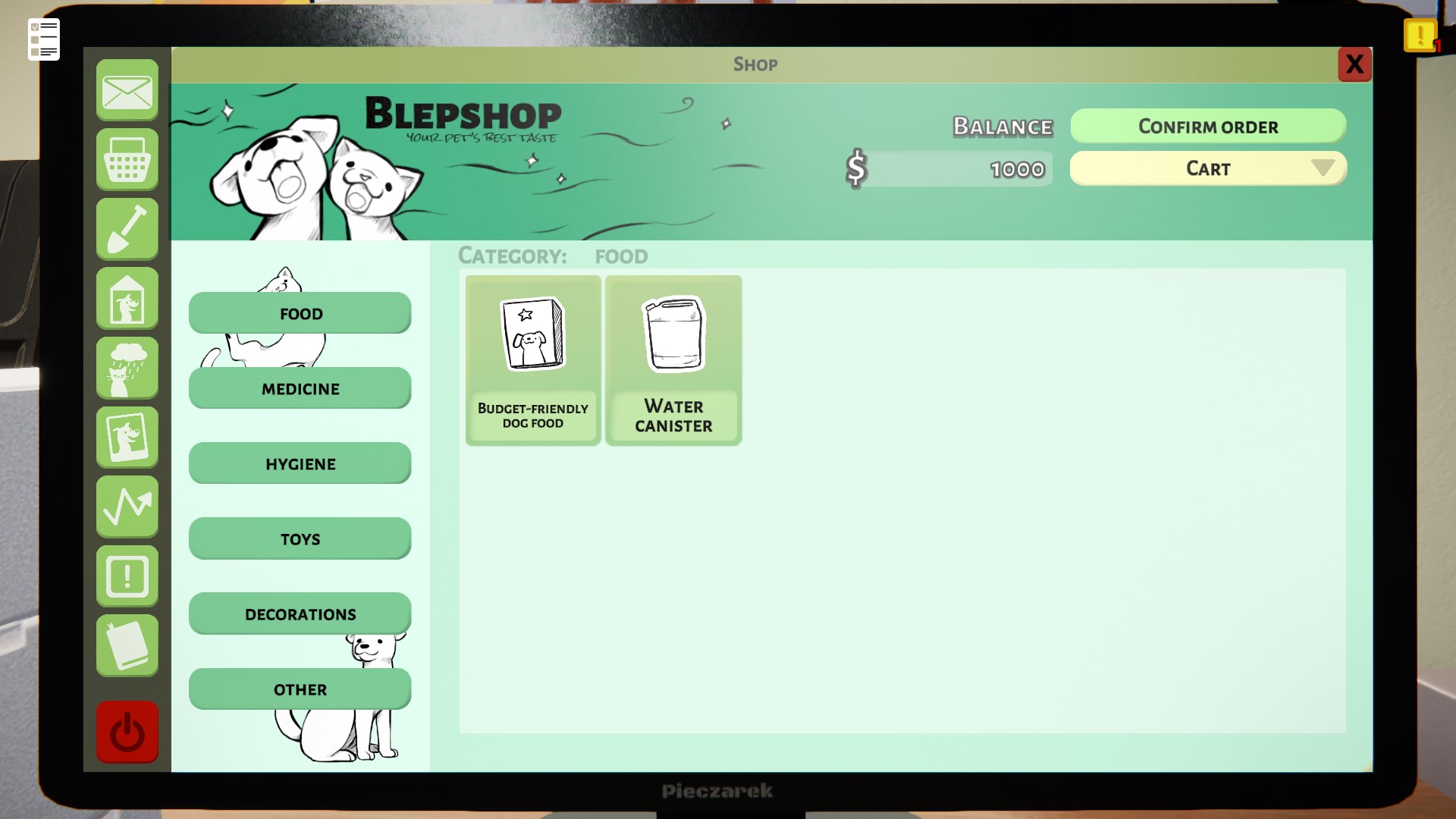 Feeding Animals
When you take in new animals you need to make sure their bowls need to be full of water and food. You buy food in the store and your food and other supplies get delivered by a drone. There is no automatic feeder so you need to do it manually and make sure they are full or your animals will be hungry.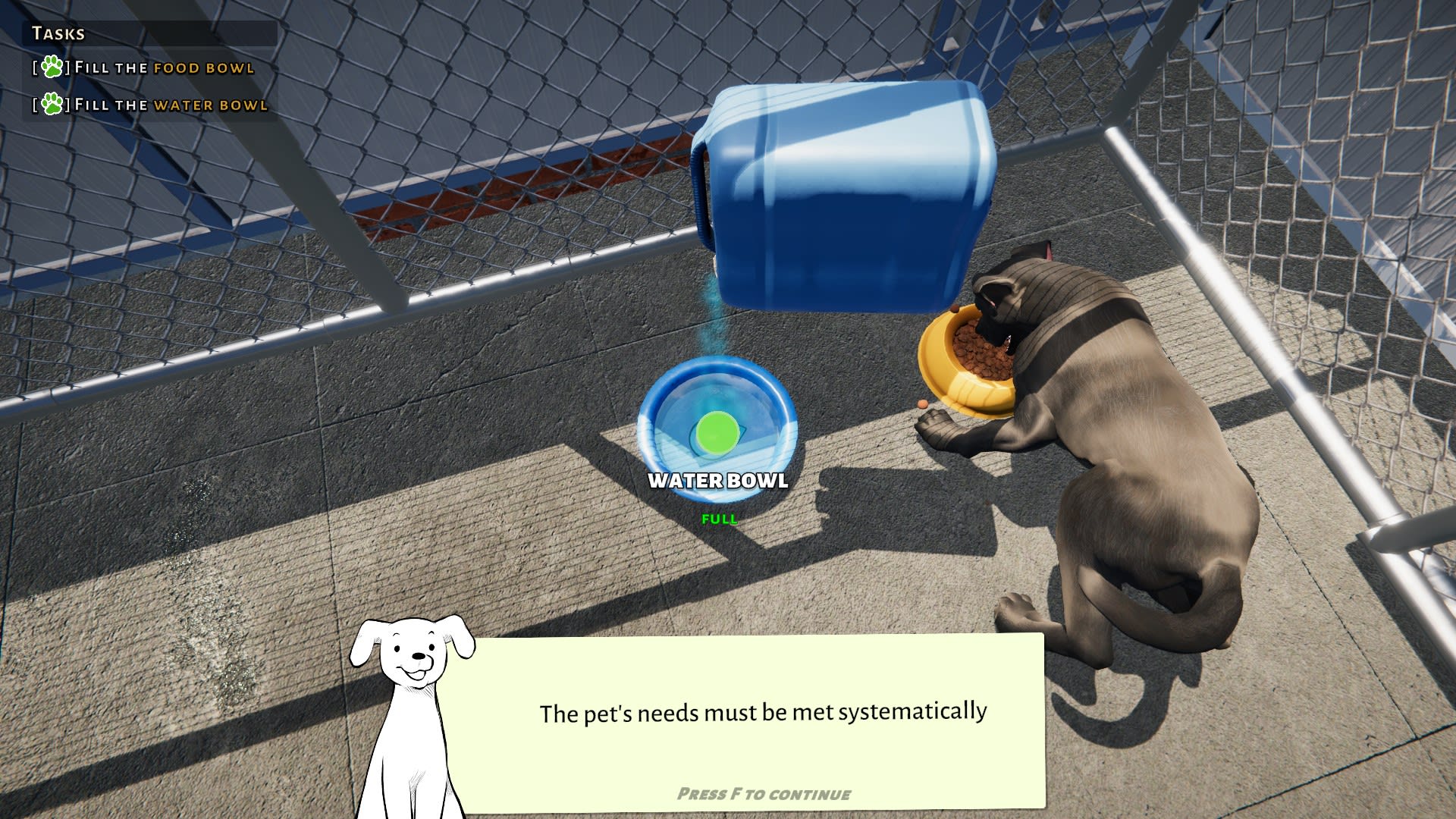 Grooming and Animal Health
Most of the time the cats in the game require more brushing than dogs do. For the dogs, the brush is just something that makes them happy, on the other hand, brushing cats is associated with their health and hygiene as well. But dogs do get dirtier than cats and they will need a washing and a good scrub from time to time in the washing station where you use water shampoo and a hairdryer to clean them.
Animal health also depends on how clean their cages are so make sure you clean their cages with a mop or a broom.
Some pets will be injured that's why you'll need medical supplies that you can find in the shop such as (bandages, pills, syringes, bandaids, etc.). By taking the blood sample and sending it to a vet you'll get a mail on how to further take care of the sick animal. When you heal the injured animal you can put it back in the fence to recover and get ready for adoption.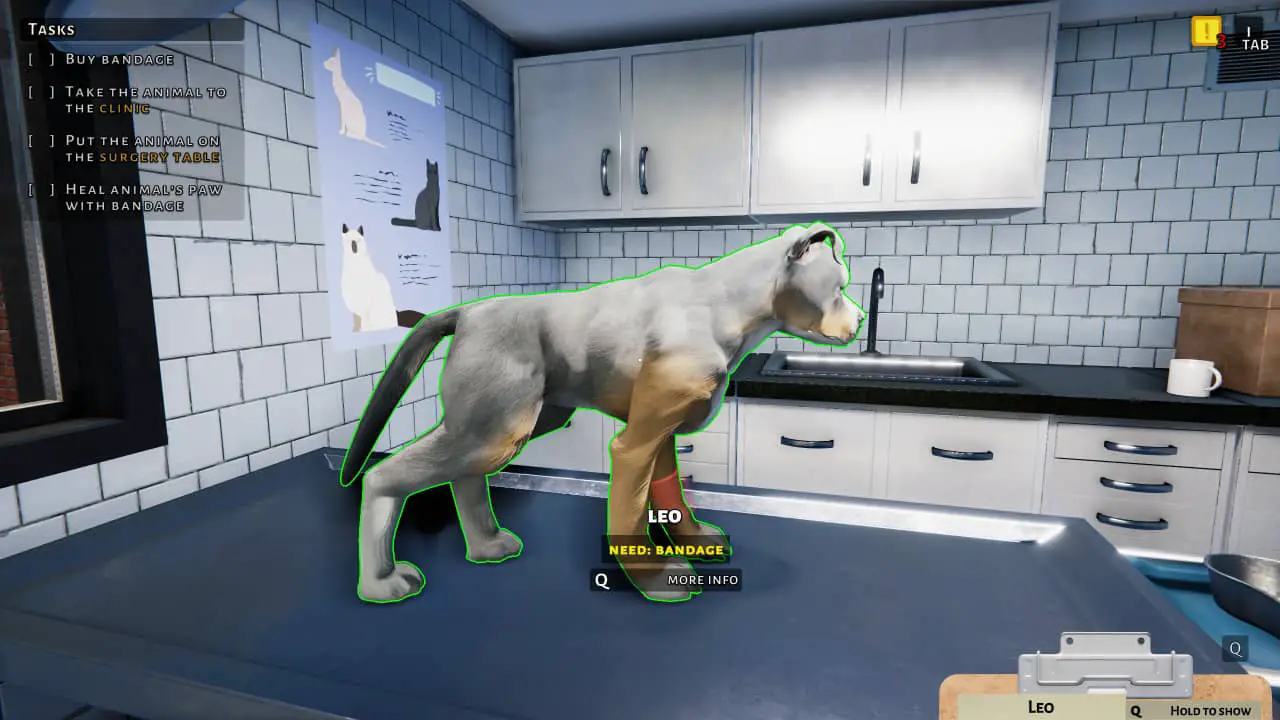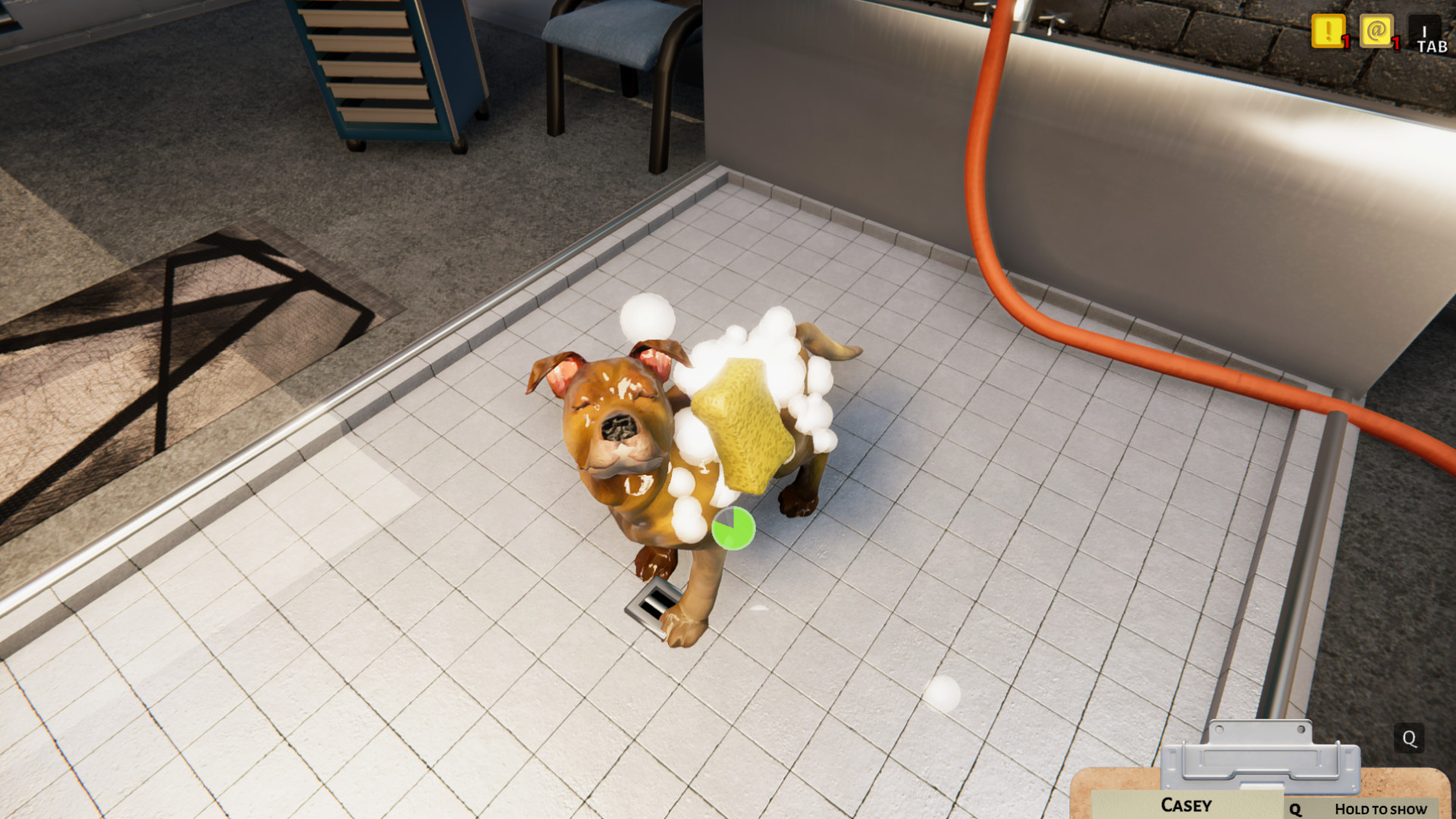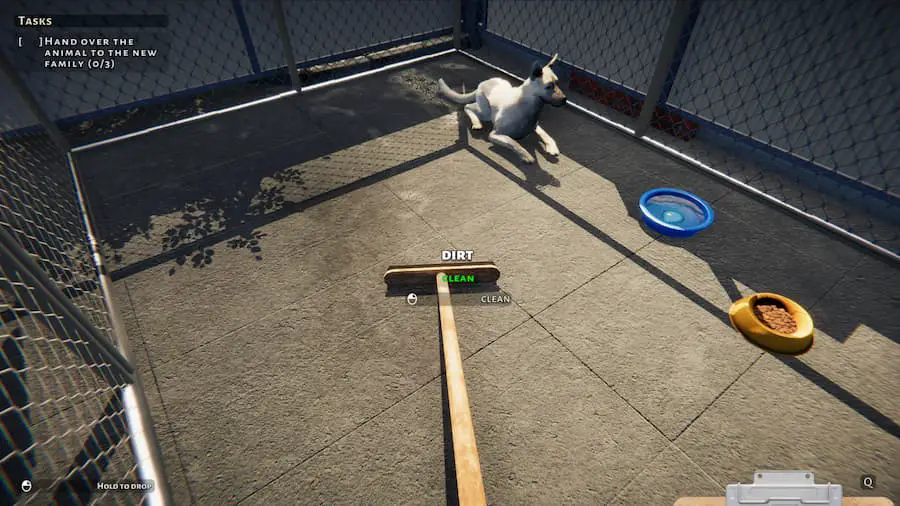 Putting Up Advertisements
When the animal is ready for adoption her adaptability will be 90%. You can tell that when the heart with the speaker is red and you can finally create the "AD" for the animal. You will need to take a picture of the animal with your camera. Make sure that when you do take a picture a "green eye" symbol appears in the top right corner for the best picture.
After you buy your first studio, the studio comes with the professional camera so you don't have to scan the pictures anymore.
After that, you go to your computer and your scanner and scan the picture. You go under the "happy dog in a hut" symbol on your computer and select the animal and click the "create an ad" where you choose the right picture and publish the ad.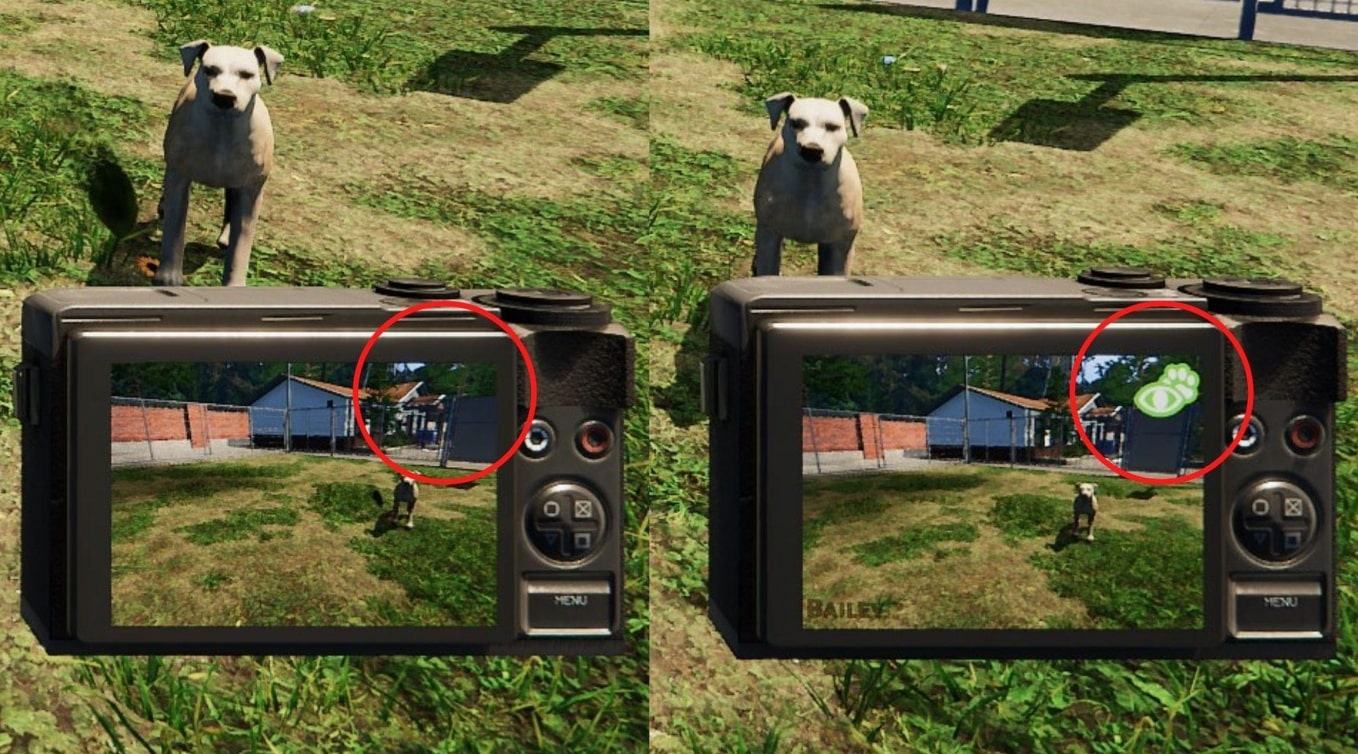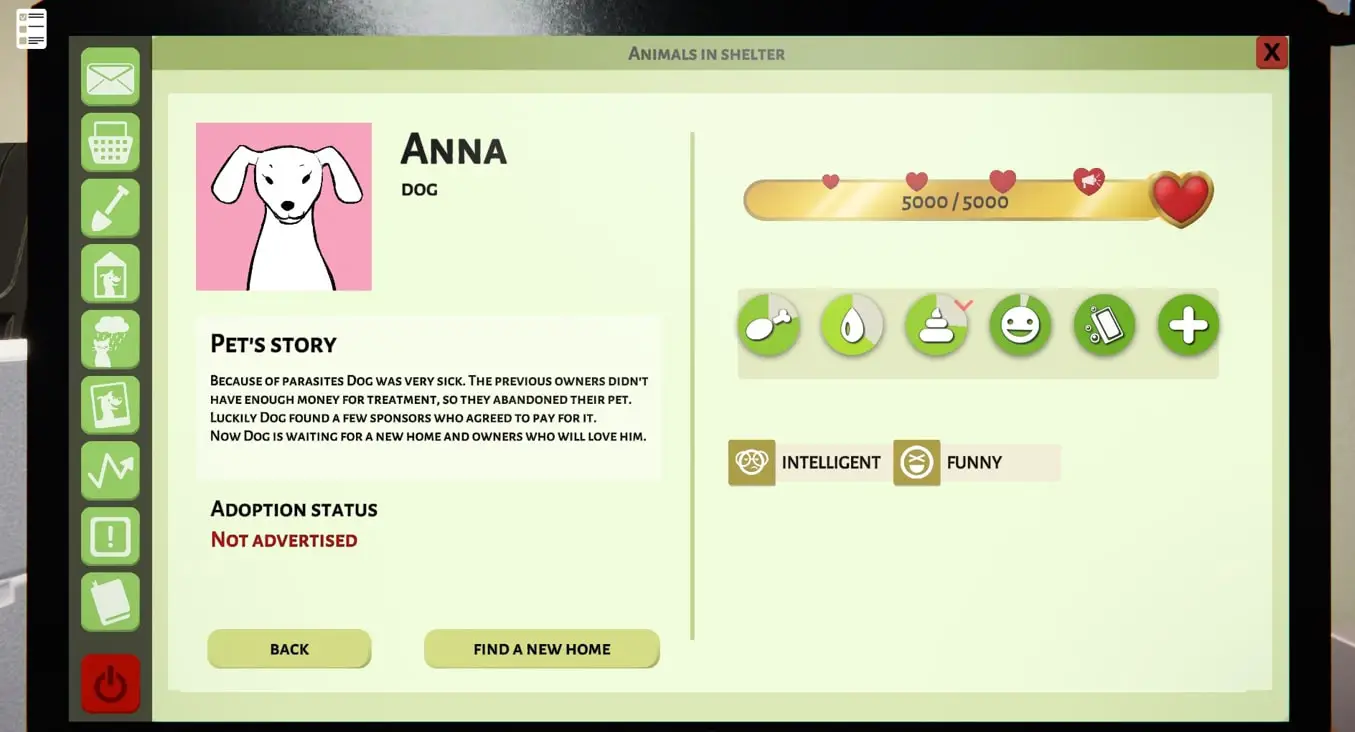 Animal Adoption
After you published the ad, you wait a few seconds and the offers for adoption for people will appear on your right. You need to make sure you match the animal with its new owner correctly. Make sure their likes and dislikes match as much as possible for the best results.
After you match them you pick the animal from its cage and wait for a blue van (it should take a few seconds only).
After you successfully put the animal for adoption you should receive a mail from the new owner and see how good you did.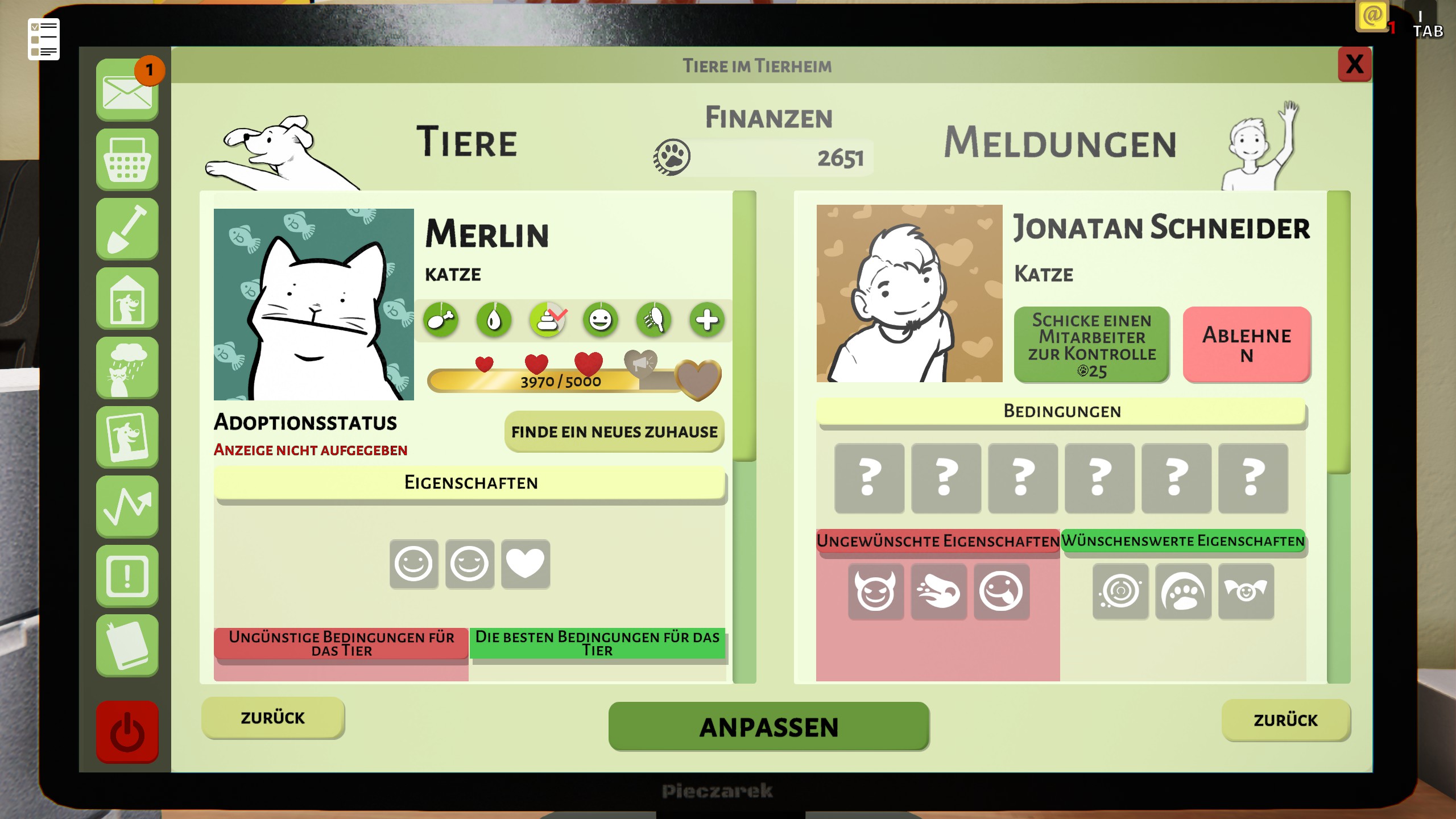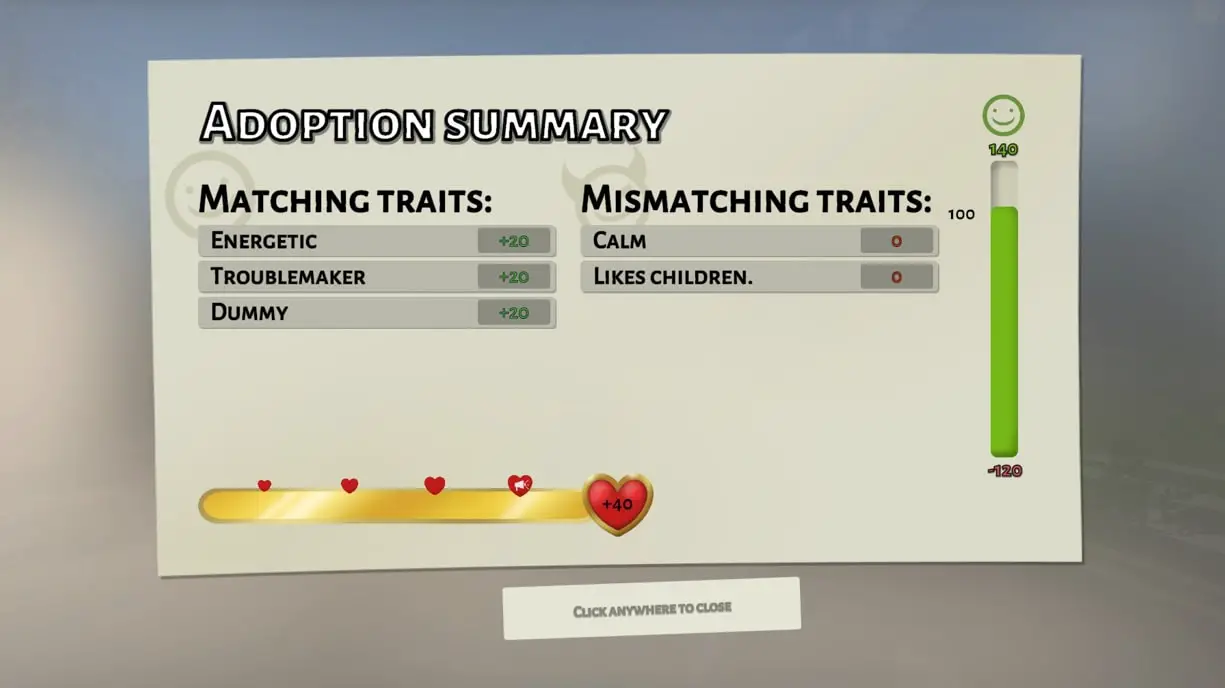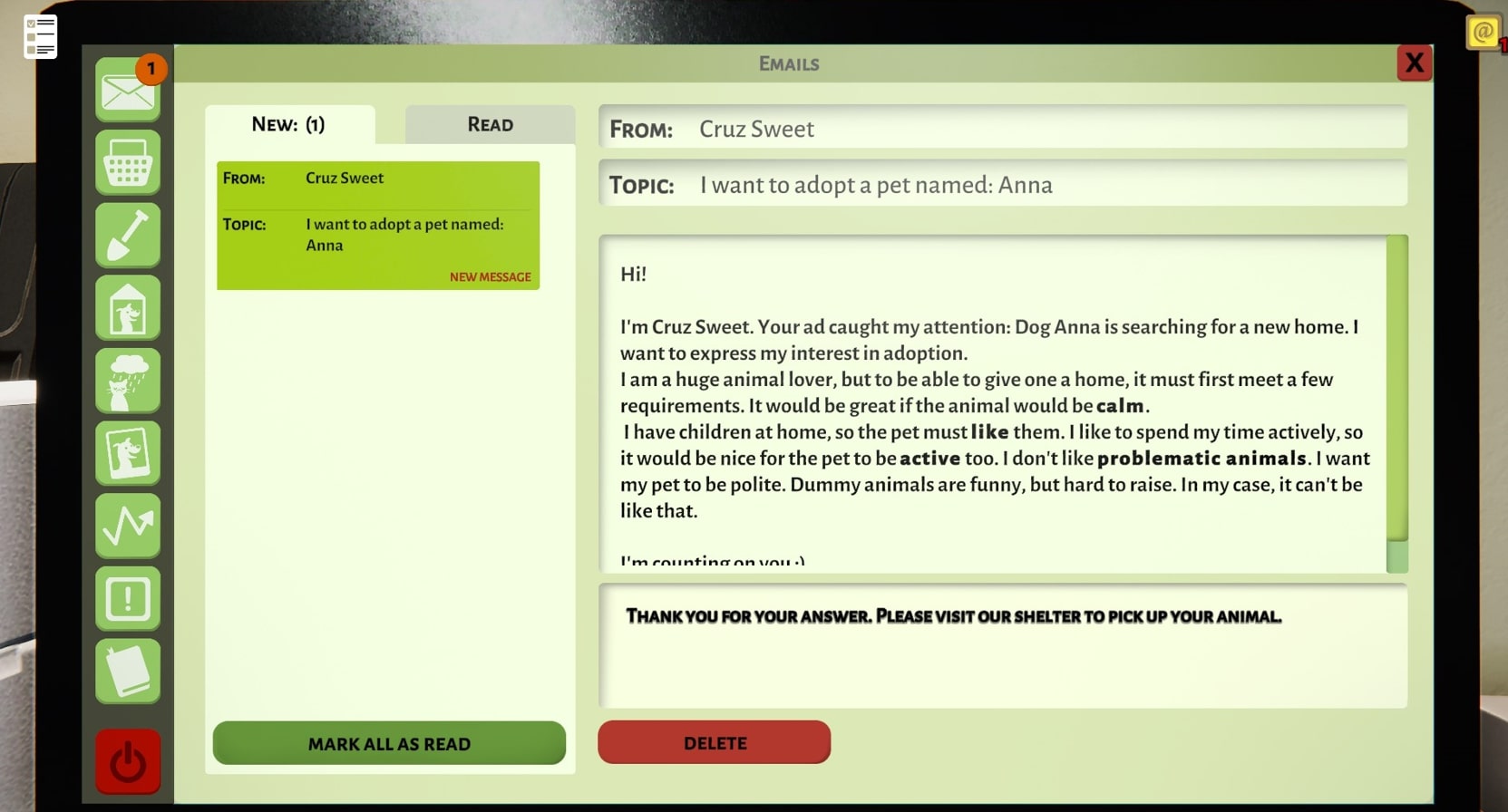 Tips and Tricks
The game itself is pretty easy and relaxing but the number 1 tip I would give you is to take the game slowly. Don't adopt too many pets no matter how badly you love animals and you wish to help them all. The shelter can get full quickly and the game goes from enjoyable and relaxing to stressful and not fun at all. Take it slow and if you have to adopt 1 or 2 animals at the same time. Don't overwork yourself and your brain. At the end of the day, it's just a game and games suppose to be fun!
That's everything we are sharing today for this Animal Shelter guide. This guide was originally created and written by Phoenix. In case we fail to update this guide, you can find the latest update by following this link.
If you believe that any of the content on this site violates your rights, including your intellectual property rights, please contact us immediately using our contact form.