Title: An Outcry
Release Date: January 6, 2022
Developer: Quinn K.
Publisher: Quinn K.
This guide will be showing you the list of easter eggs that you can find in An Outcry. At the same time, you will also be able to find some of the secrets that you will or may miss in the game.
Easter eggs
As of the current writing, there are three Easter eggs accessible within the game "An Outcry." These hidden gems can be discovered exclusively in the FOLLOW route, and they do not appear in the IGNORE route or the prologue. I'll initially offer some general hints about when these secrets can be sought after, and below the spoiler text, I'll furnish more detailed guidance. It's important to note that all of these Easter eggs pay homage to individuals with whom the game's developer, Quinn K, has collaborated and shares a friendship. To provide a broader context about these individuals, I've included information about their work as well. Let's continue to support independent artists!
Graffiti in the Space In-Between
During the middle portion of the FOLLOW route, you have the best chance of uncovering this particular secret, with an approximate 1/26 likelihood of it occurring in an average playthrough. Aptly named, this secret can only be found within the Worker in the Walls' residence during gameplay. It's crucial to note that it does NOT appear in the concluding sequence of SHELTER, even though the player is in the Space In-Between at that point. To efficiently discover this Easter egg, follow these steps: when playing through the FOLLOW route and Unnamed is asked to follow the lone Shrike, just before the Manshrike news scene, smoke a cigarette. This will allow you to choose between taking the stairs or the elevator down to the bottom floor. Smoking before this decision avoids the need to sit through the cutscene in the Shrike hallway and inside Anne's apartment again, making the process of resetting more convenient. Normally, the brick wall in this environment remains blank, but if the Easter egg has been activated, you'll notice a whimsical face spray-painted in black with accompanying text beneath it. What's more, you can interact with this Easter egg twice, so be sure not to miss it!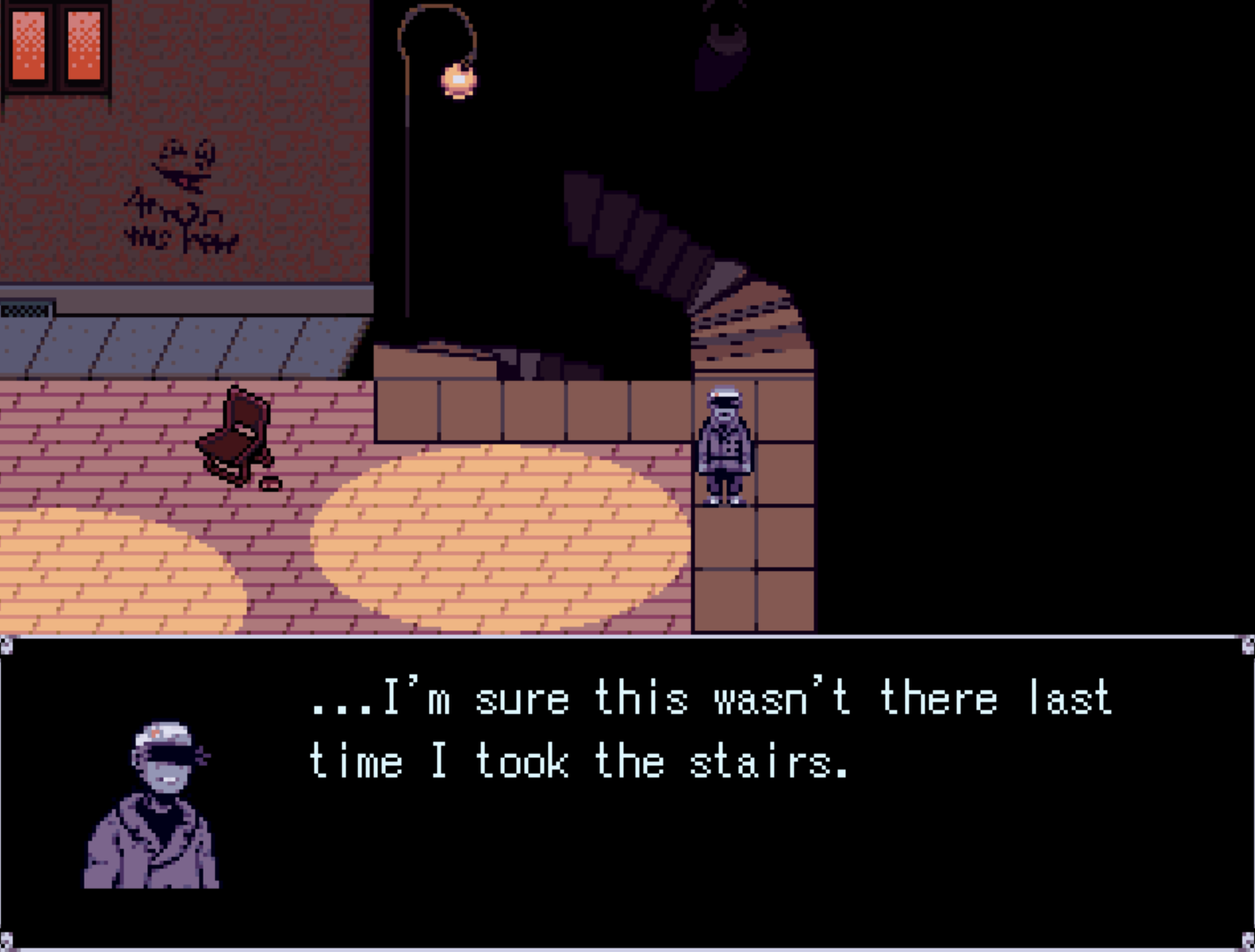 CONTEXT: Amon, who goes by the pronouns she/her, is a close friend of Quinn and played a significant role in the development of the game. Her contributions as a Sound Effects (SFX) artist were invaluable to the game's creation process. Amon has a longstanding presence in the Game Maker community and has a notable portfolio of games, including titles like Gyossait, All Of Our Friends Are Dead, Au Sable, and many others. Her remarkable talent shines through in her work, which often immerses players in what can best be described as "nightmare experiences." Her imaginative game design captivates players and takes them on unique and unsettling journeys within the gaming world. Supporting independent artists like Amon is essential to the growth and diversity of the gaming industry.
Friend in the hallway; round one
Between the areas on the fourth floor, where Unnamed can access the stairway or elevator, there exists a random occurrence where a new character model may appear in the bottom left corner of the room. Don't hesitate to strike up a conversation with this character; I'm certain he won't be preoccupied with any game development tasks! This interaction can be stumbled upon at any juncture following the "Shrike-Hallway" segment in the FOLLOW route. However, it's essential to note that this opportunity vanishes after the scene in Esma's apartment with Anne, as the next section of gameplay introduces another character. To initiate this encounter, approach from any side of the screen and repeatedly move in and out of the frame until Bryce's sprite becomes visible.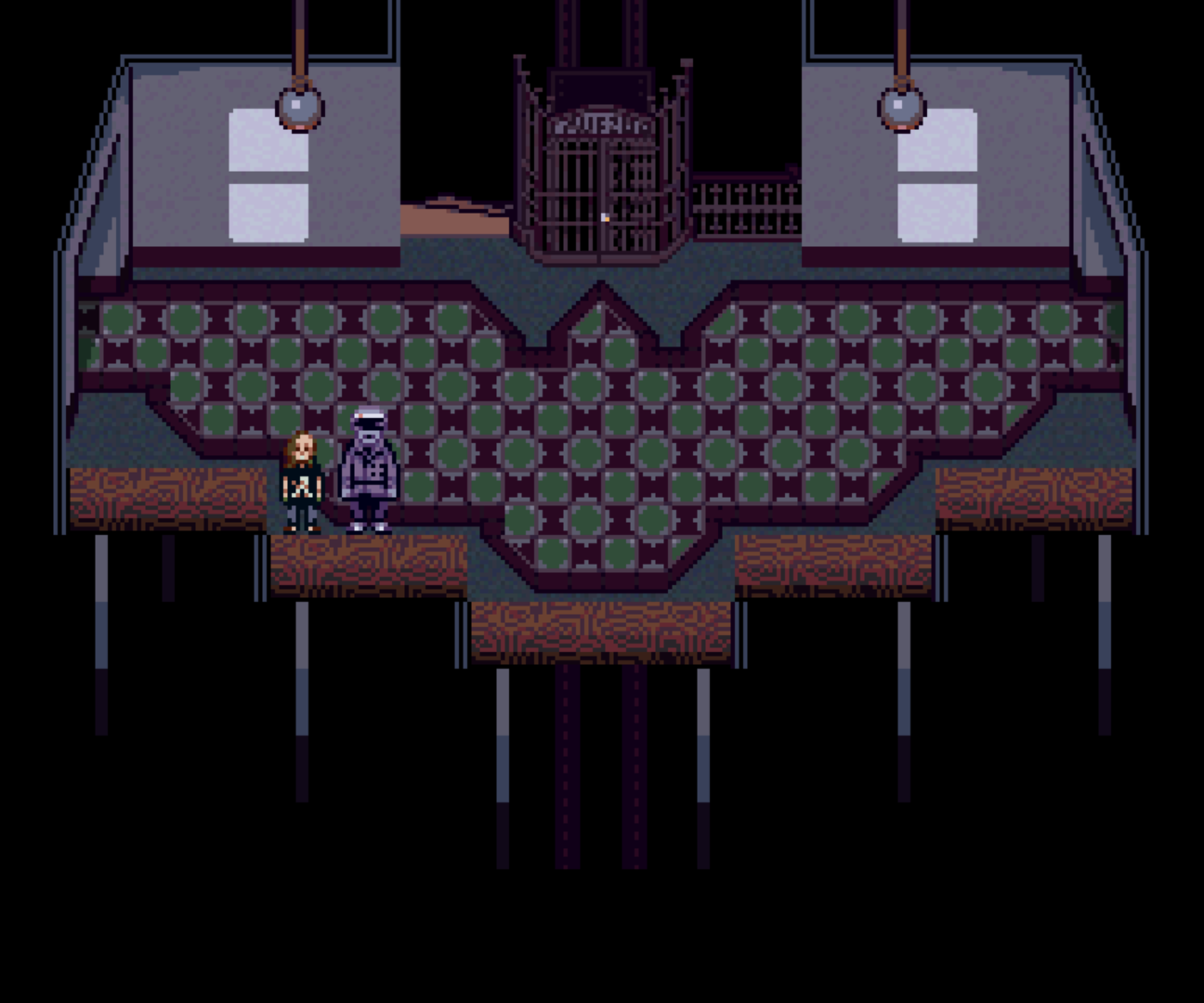 CONTEXT: Bryce, who prefers he/him pronouns, contributed to the pre-renders in the concluding section of the FOLLOW route, also known as the first-person segment, in the game "An Outcry." He is also a close friend of Quinn. In addition to his involvement in "An Outcry," Bryce has an impressive portfolio of other projects, including "Protagoras Bleeds," which was featured on the Haunted PS1 Demo Disk, as well as "Fatum Betula" and "Mysteries Under Lake Ophelia." His creations are known for their captivating atmospheres, and it's worth noting that he has a substantial amount of ongoing work in development, all of which holds promise for being exceptionally enjoyable.
Friend in the hallway; round two
In the late game of the FOLLOW route, there's an intriguing element that occurs between the fourth-floor areas, where players have access to the stairway and elevator. Here, there's a random percent chance for a new character model to make an appearance. This character can be spotted exclusively on the right side of the screen, and her presence becomes apparent after the apartment scene with Anne in Esma's apartment but before the player interacts with the Panopticon Shrike.
If you're interested in engaging with this character, be prepared for a somewhat challenging endeavor. She won't openly express any particular fascination with the building. Discovering this interaction can be a bit "brutal" due to the narrow time window and the sudden drop in the likelihood of encountering her. To increase your chances, it's advisable to approach from the right side of the screen, as doing so will prevent Aster from going through a more extended walking animation. You may need to repeatedly move in and out of the screen until her sprite finally appears. Good luck!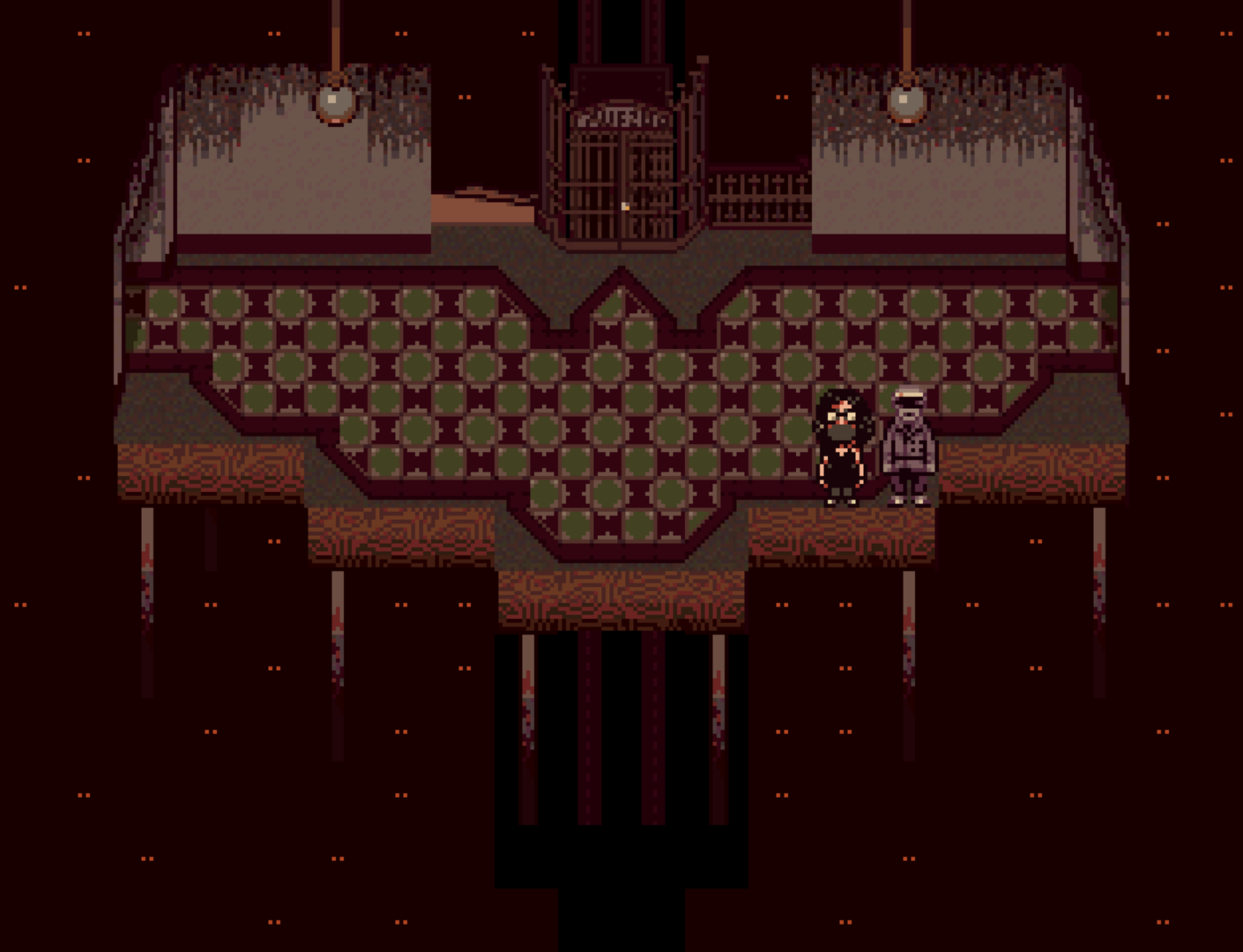 CONTEXT: Dusk, who prefers she/her pronouns, is undeniably a close friend of Quinn, much like the two individuals we previously mentioned. Dusk is notably responsible for creating an impressively detailed model of the theater featured in both the endings of SHELTER and REMORSE. In Quinn's own words, it's described as "pretty dope" and possesses a very non-Euclidean quality.
Dusk's track record in game development is noteworthy. They have worked on projects such as "Apolysis," with a demo also available on the Haunted PS1 Demo Disk. Notably, this game was developed alongside their friend "Dawn." Dusk is also known for their "Nightmare Vignette" series and "Apocryphauna," with more of their games readily accessible. Their games are characterized by an aesthetic that embraces rust and gore, resulting in a profoundly immersive and somewhat unsettling gameplay experience. If you have an interest in the grunge style, Dusk's creations are a genuine treasure to explore.
Prologue and General Secrets
Cigarette quest
If you've ever played "An Outcry" and had the urge to engage with Anne right from the start, you can indeed bypass other apartments and head straight to Anne's. However, there isn't a secret ending where everything goes perfectly. Instead, you'll have the opportunity to collect a lighter and then return to Anne's door. Doing so will lead to a meaningful conversation where Aster inquires about the other residents on the apartment floor, providing you with valuable lore about the characters and their personalities. Enjoy exploring the game!
Actually… Do you have anything a bit more flashy?
During the prologue of "An Outcry," Anne will present Aster with a choice between two lighters: one featuring the trans flag and another with a cool skull design. However, if you prefer something different, you can exit this option choice. Anne will then offer you a lighter featuring Skully, the mascot of the Haunted PS1 Demo Disk series. While carrying this unique lighter, you may not notice any significant dialogue differences in later parts of the game, but it's still a fun and quirky addition to have a silly skeleton in your pocket as you progress through the story. Enjoy your personalized gameplay experience!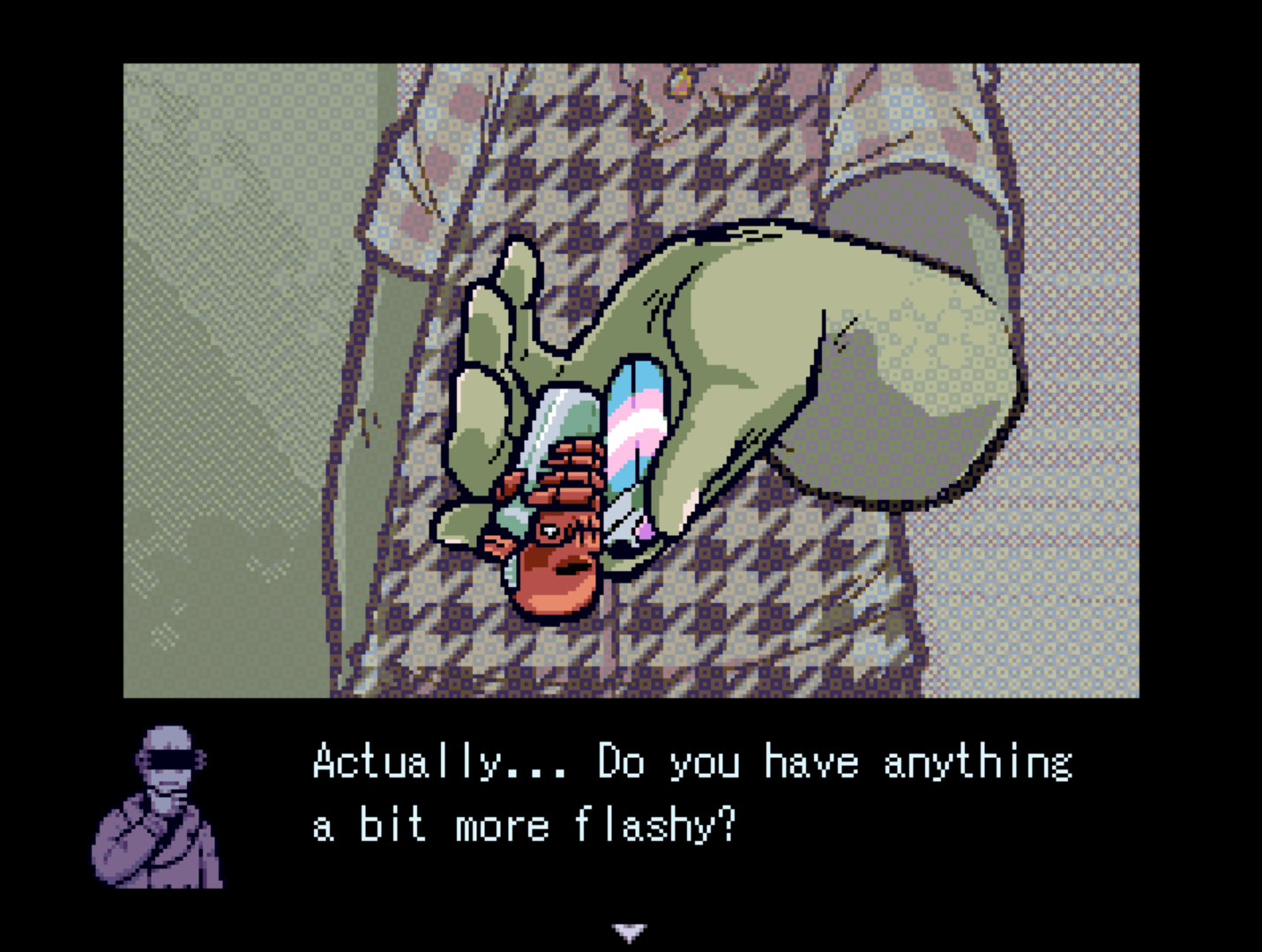 Me and my homies hate Schmitt
Indeed, there's more than one outcome to the scene where Schmitt and Esma meet in the hallway in "An Outcry." If you decide to exit out of the text choice during this encounter, Aster will take a different approach. They will address the argument taking place and stand up against Schmitt, leading to a unique dialogue interaction. For those who enjoy Aster's fiery responses, you'll appreciate lines like, "Certainly makes his alone-time more difficult, that aversion to touching garbage."
It's worth noting that this particular dialogue choice can also influence how Aster obtains their cigarettes, adding an extra layer of depth to the narrative and character interactions in the game. Enjoy exploring the various outcomes and choices within the game's storyline!
Revisiting the streets of Vienna
In the game, there's only one instance where Aster is required to exit the apartment building through the front, and this occurs very early on. However, it's worth noting that you can revisit this area at various points throughout the game, thanks to Anne's auto buzz? The game's environment evolves visually as you progress, and it also varies depending on the choices you make during the Outcry event. Keep in mind that the yellow cursor changes to blue when you can interact with something multiple times. Some of the topics discussed in this game may be challenging for individuals with similar personal experiences, so it's important to prioritize your well-being if any of it becomes too overwhelming.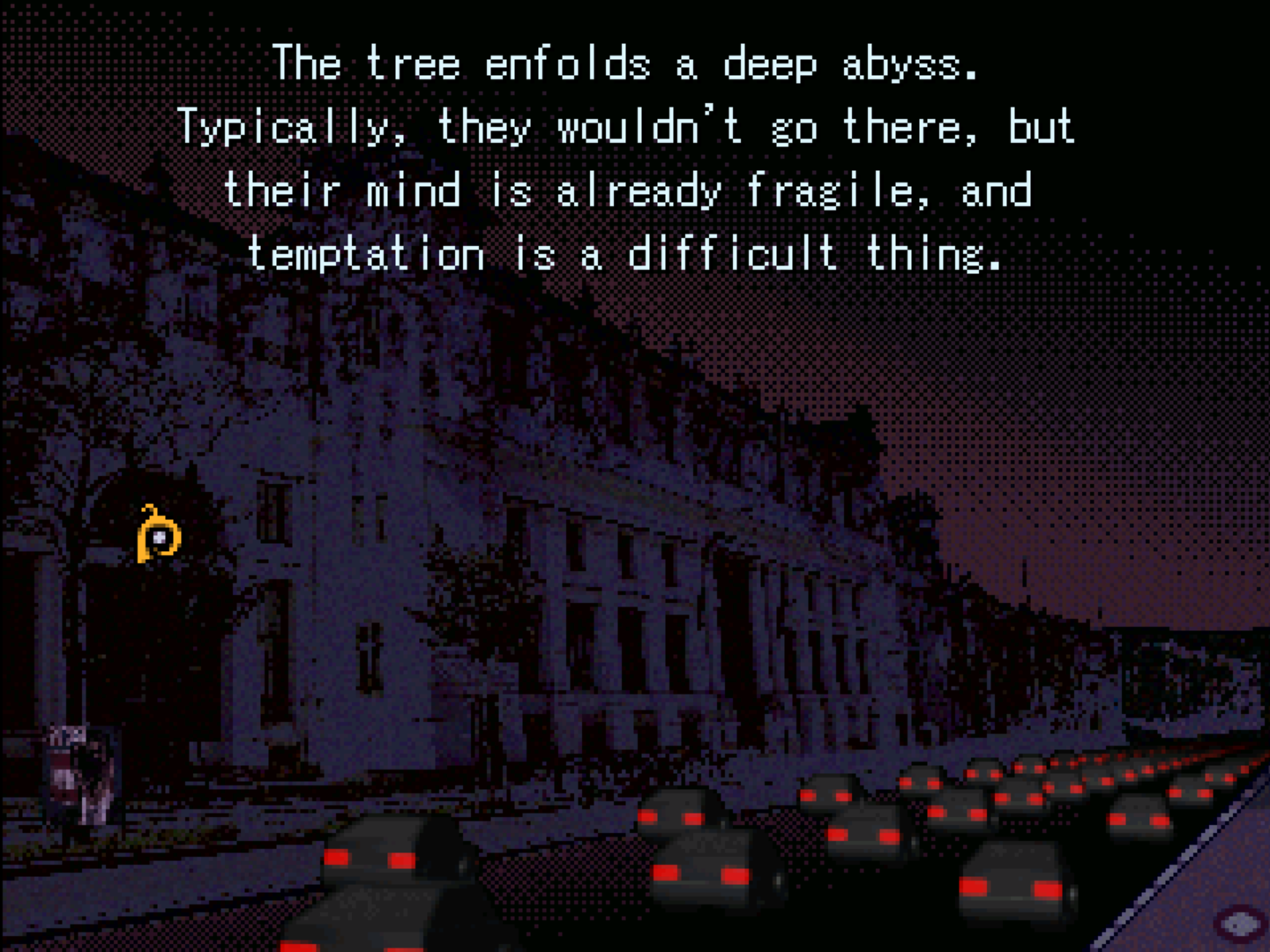 Polaroid photos
In the game, you can come across four distinct polaroid photos of the fourth-floor residents, with three of them found in the FOLLOW route (Anne, Eisen, and Aster) and the remaining one (Schmitt) located in the IGNORE route. If you happen to have missed them, here are the locations:
FOLLOW (Anne): Before leaving for Esma's apartment, head to the right side of Anne's bedroom and inspect the photo pinned up on the wall.
FOLLOW (Eisen): After Aster departs from Esma's apartment, move to the right screen and enter Eisen's room, which is slightly ajar. Examine the left side of the large shelf in the center of the room. It's advisable to increase your brightness settings for better visibility of this photo.
FOLLOW (Aster): During the first-person segment while you're on the first floor from the bottom, go to your right and inspect the room with boxes and cables outside of it. Agree to search through the memories to find the photo.
IGNORE (Schmitt): After Schmitt's passing, immediately enter his home (or access the post-Manshrike drinking scene) and examine the area to the left of the bookshelf. A bit of exploration through a deceased individual's belongings never hurts, right?
FOLLOW Secrets
Cuddle in the sand
Here's a fun tip for making Aster happy in the game: You don't have to consume any alcoholic beverages. When Anne offers you alcohol, simply decline and request a non-alcoholic drink instead. Aster will appreciate your choice, and it's a simple way to keep things sober and enjoyable!
Aster's Apartment
Aster's apartment is a unique location in the game, accessible only once throughout the entire gameplay. When the lights go out, you lose the ability to thoroughly inspect everything and receive the original narration. Interestingly, many items in Aster's apartment can be checked twice, providing you with additional character insights into Aster. Personally, I find examining the chair in the corner particularly fascinating, as it holds a special story. However, there are plenty of other items to explore and discover within their apartment, adding depth to the game's narrative.
Daylight robbery
In "An Outcry," the significance of money is not emphasized, but it's worth noting that Aster begins the narrative with €3 in their possession. However, as the story progresses along the FOLLOW route, there is a possibility of losing some of this money, potentially reducing Aster's funds to €1. This particular turn of events hinges on a confrontation between two shrikes that occurs within Aster's apartments, concealed beneath their jacket. Opting to flee from this encounter will result in the shrikes robbing Aster, each taking €1 from their funds. Conversely, successfully defeating these avian adversaries will safeguard Aster's money from being pilfered.
"Are we there yet?"
As Aster patiently waits for the News program to commence, they have the option to inquire about its starting time from Esma and Anne (who, by the way, are in a romantic relationship – just to clarify). Aster can ask this question repeatedly, not just once, but multiple times. It seems like a fun and persistent way to pass the time, so go ahead and keep on asking!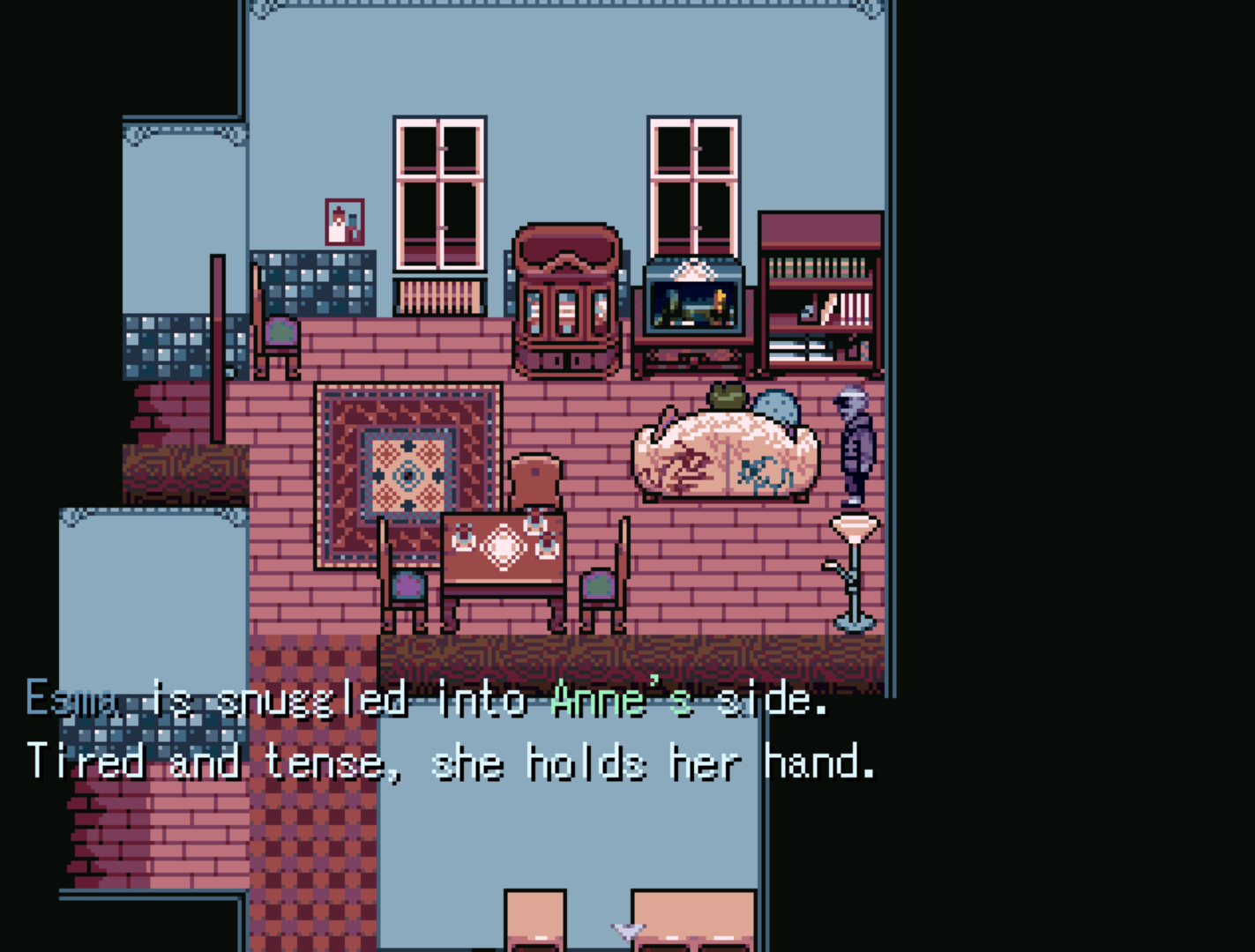 IGNORE Secrets
Esma's fall
In the middle of the IGNORE route, shrikes will launch an attack on Esma and her children, Deniz and Alp. During this scene, players have seven distinct approaches, with six of them influencing the dialogue in the walking sequence and/or Anne's argument. Three of these approaches can be executed within the room where Esma and the elevator are located:
Remain Stationary: Upon entering the room and concluding Esma's plea for help dialogue, simply remain in the same spot. This option requires some patience, as Esma will occasionally beseech Aster until her unfortunate fate.
Approach the Elevator: Approach the elevator and initiate a conversation with Esma, then continue conversing with her.
Exit via the Stairs: Choose to exit the room by taking the stairs.
Should you decide to rush to the aid of Deniz and Alp, your action is straightforward: move the shrike blocking the left hallway and proceed to the boys, who are positioned just outside Aster's apartment door. Here are the outcomes for this scenario:
"I can't do this": Select the sole option and turn away, informing Esma that you've done all you can for her children. Escaping from the shrike battle leads to the same outcome.
Collapse and Engage: Engage the shrikes in battle but succumb to their attacks, resulting in Aster waking up alone, with uncertainty about what transpired.
Victory against the Shrikes: Win the battle against the shrikes and ensure the safety of the boys. This battle is notably challenging, demanding patience and time from the player. I recommend building up braces to minimize the shrikes' attacks to single digits before considering a kick barrage. Alternatively, you can opt to "prepare" to grant Aster a speed boost, offering another approach to the fight. Choose your strategy wisely.
If you aim to experience all the possible outcomes in this scene, it's advisable to create a save before entering this area. This particular scene carries significant emotional weight, so if it begins to affect your well-being, don't hesitate to take a break. Return to the game when you feel more emotionally prepared.
Apartment changes
Following Anne's encounter with the shrikes, you have the opportunity to explore the rooms of the previous tenants alongside her. However, there's a distinct sense that something is not quite right.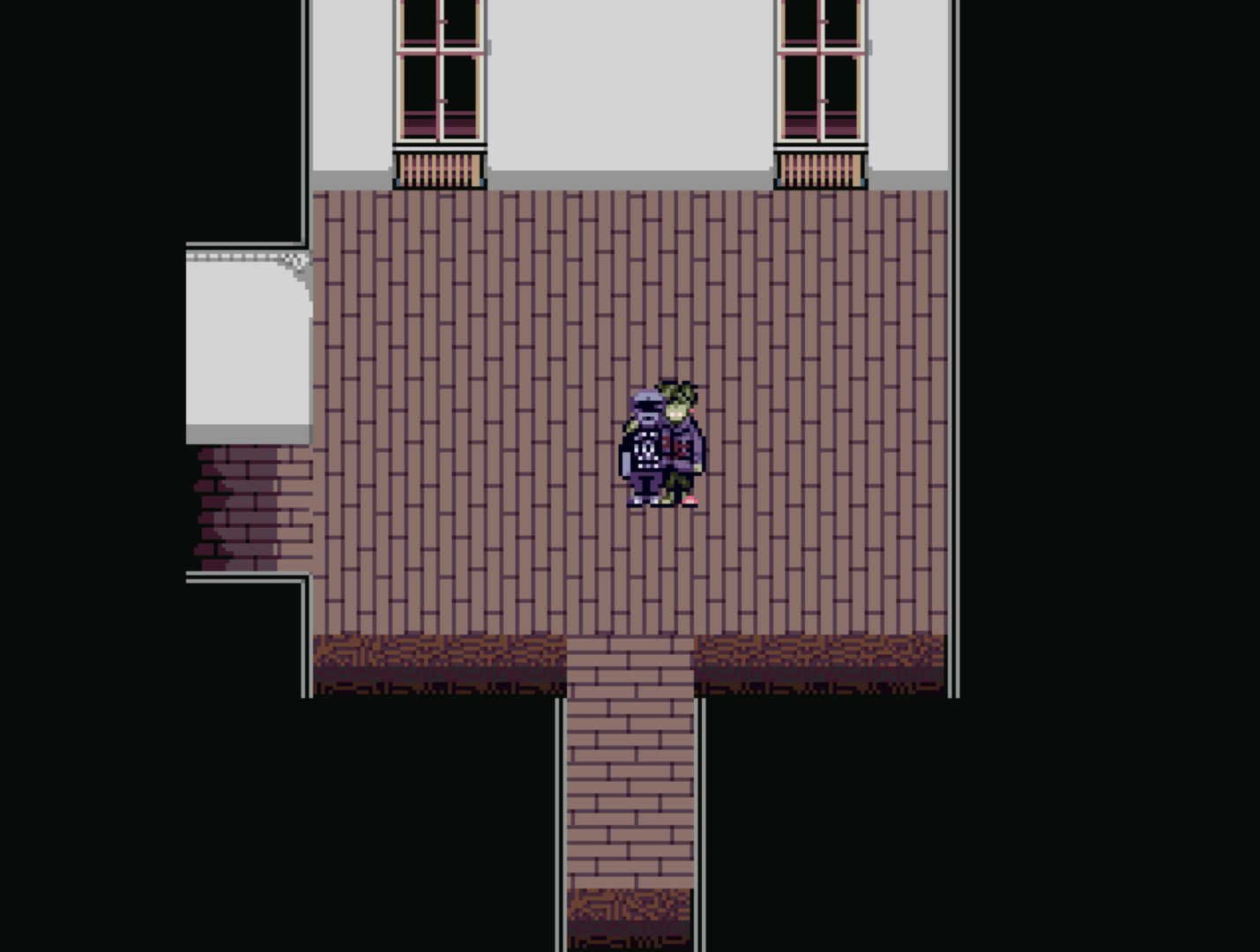 "Top 3 Anne mean moments"
While escorting Anne to the courtyard, there are certain spots where Anne's reactions can be quite colorful, to put it mildly. She might affectionately refer to Aster with some colorful nicknames, like "♥♥♥♥♥♥♥♥" and "idiot." However, when you bring her out to the courtyard, her response can vary based on whether you picked up the trans flag lighter from her during the prologue. If you offer her the lighter, she might respond with a somewhat biting remark: "'Trans rights.' Haha. Vacuous." Ouch indeed.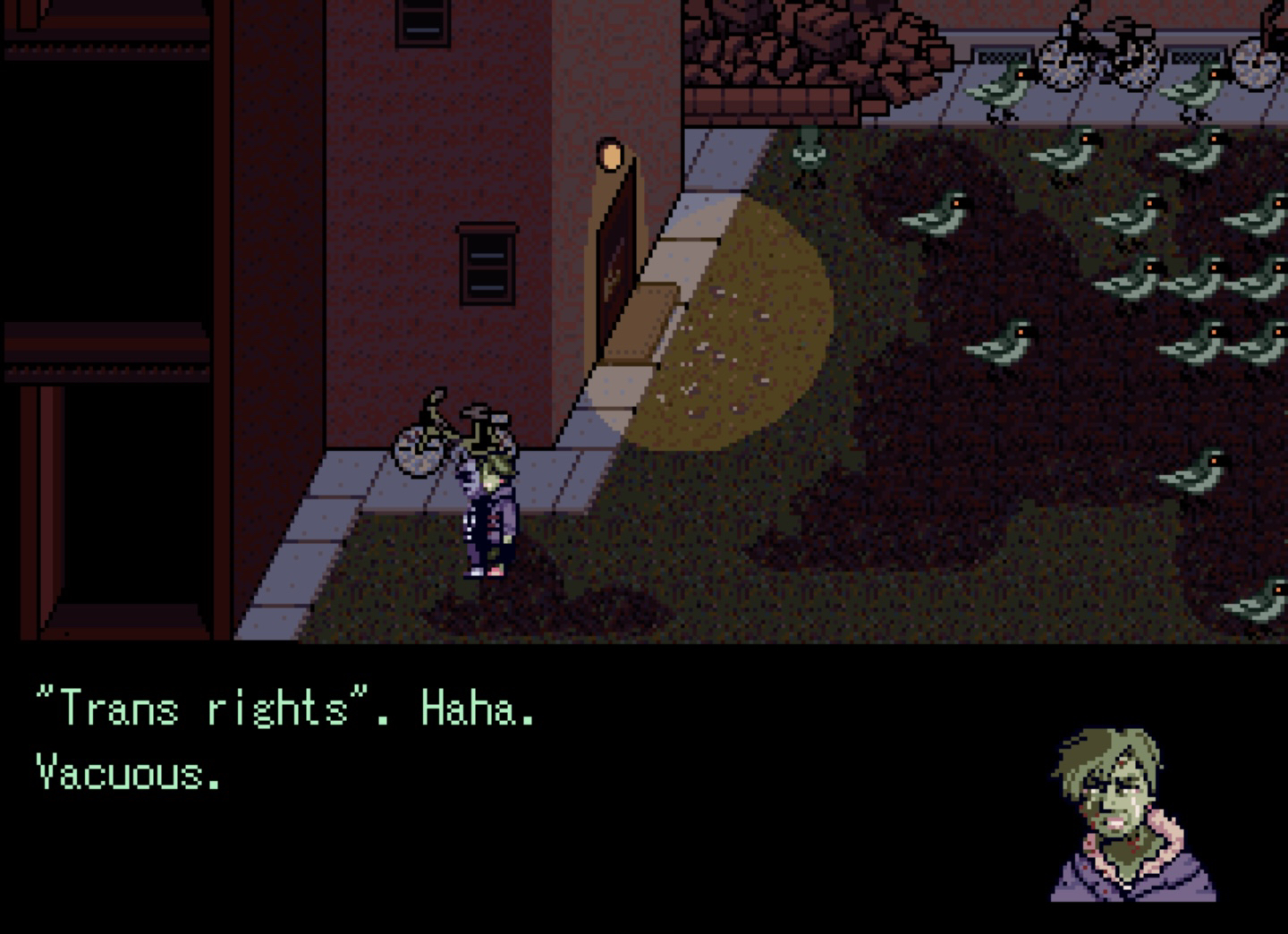 Notes
As I've mentioned before, this guide is by no means an exhaustive resource for uncovering all the hidden elements within An Outcry. I haven't even touched on aspects like the poems you can read, the enigmatic gun shrike, or the secrets hidden in the trash cans. Instead, it serves as a platform for me to share what others might find intriguing! An Outcry's gameplay stands out in the world of narrative games because of its capacity to offer each player a distinct and personalized gaming experience, driven by the multitude of choices available. I hope this guide inspires you to embark on another playthrough and discover even more of the game's rich and diverse content.
That's everything we are sharing today for this An Outcry guide. This guide was originally created and written by Evelyncore. In case we fail to update this guide, you can find the latest update by following this link.
If you believe that any of the content on this site violates your rights, including your intellectual property rights, please contact us immediately using our contact form.