Title: Aliens: Fireteam Elite
Release Date:
Developer:
Publisher:
This guide serves as an archive of sorts for all the Intel logs and also as a showcase for the lore of the game explained by said Intel. This is NOT a location guide. However, I have attached another guide that serves as an Intel collectible walkthrough. If you have any feedback or corrections. Please leave a comment below!
Introduction
There are a total of 39 Pieces of Intel in the base game and 9 in the Pathogen DLC.
There are two achievements that can be obtained by finding 39 and 48 Pieces of intel respectively.
These are:
CMISRS Asset = Return 39 pieces of intel on a single character.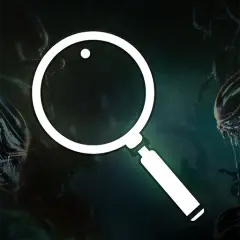 CMISRS Resource = Return 48 pieces of intel.
(Note that you will need to own the pathogen DLC in order to obtain this achievement as the expansion adds 9 more Intel pieces to collect)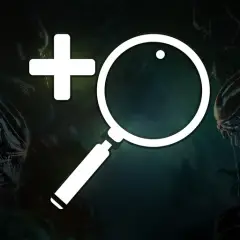 I also wanted to show off the text and lore of each conversation that is triggered when you return Intel to the NPCs aboard the UAS Endeavor. I have attached the images below.
Priority One (9 x Intel)
INGRESS
(Mission #1/3)
Katanga Flight Recorder: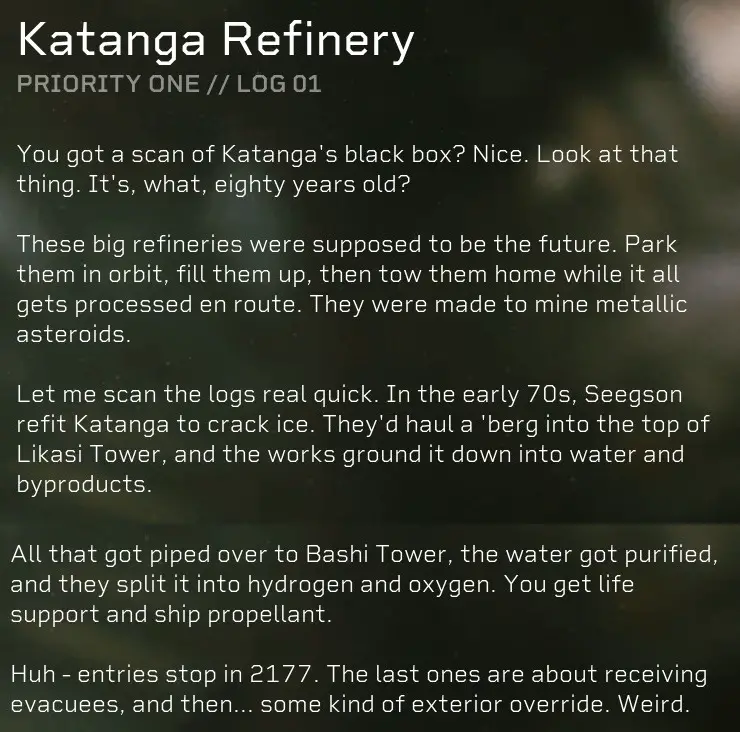 Dead Facehugger: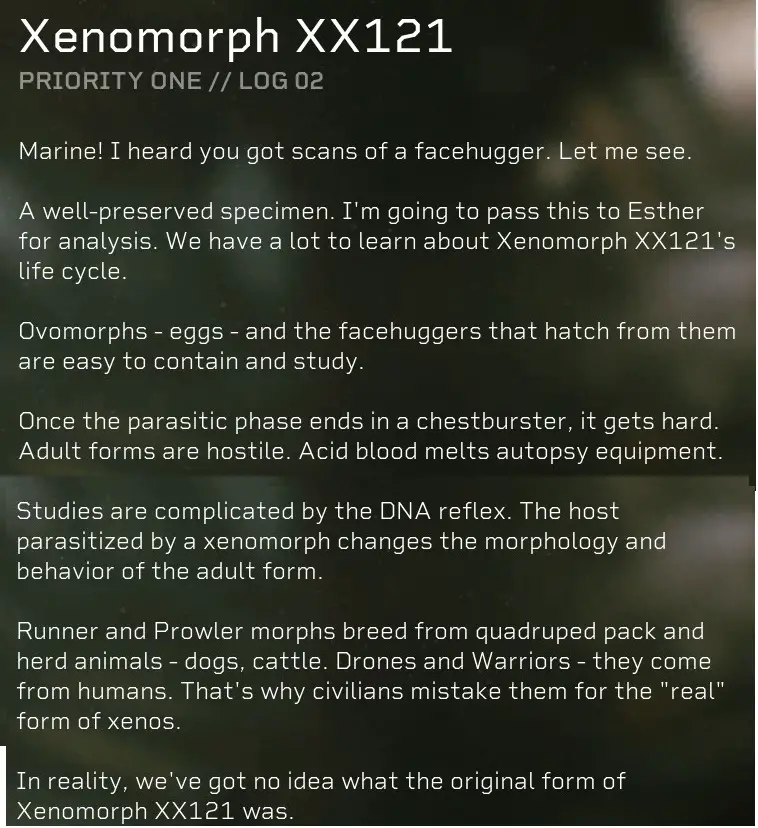 Colonial Indenture Contract: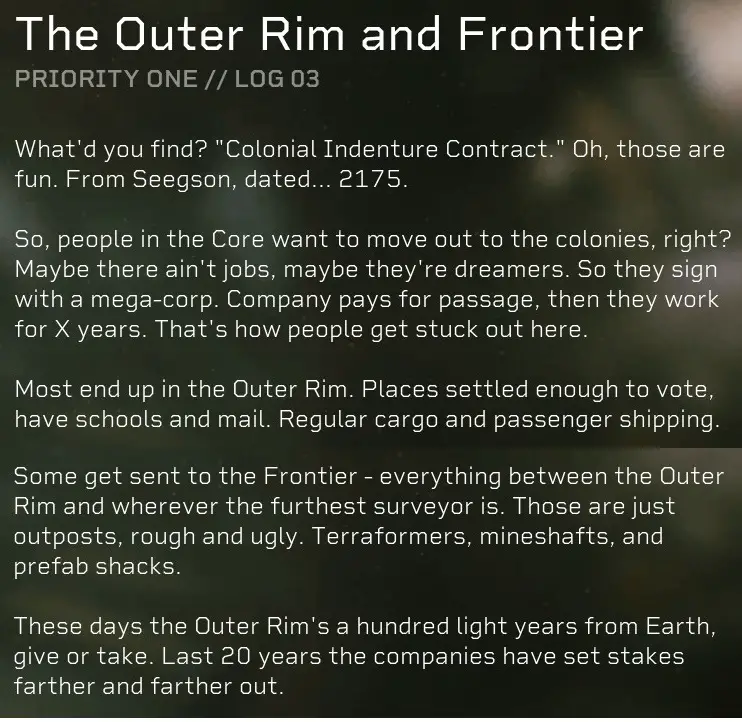 RESCUE
(Mission #2/3)
"Eye on Seegson" Magazine: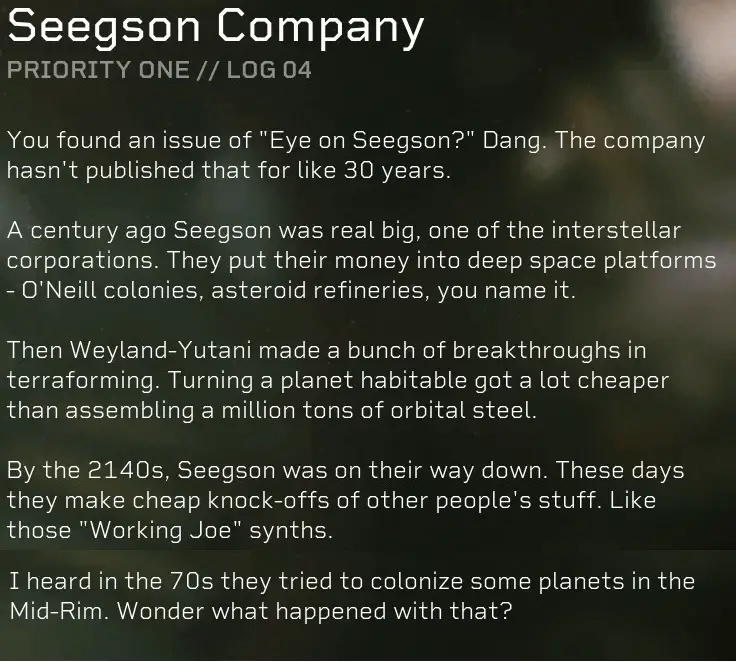 Liquid Replenishment Latex: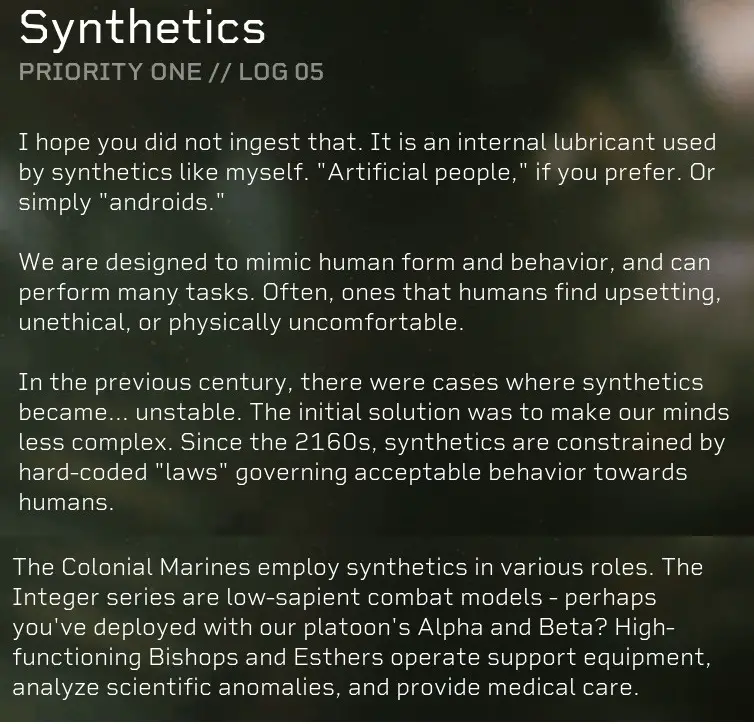 Seegson Maintenance Jack: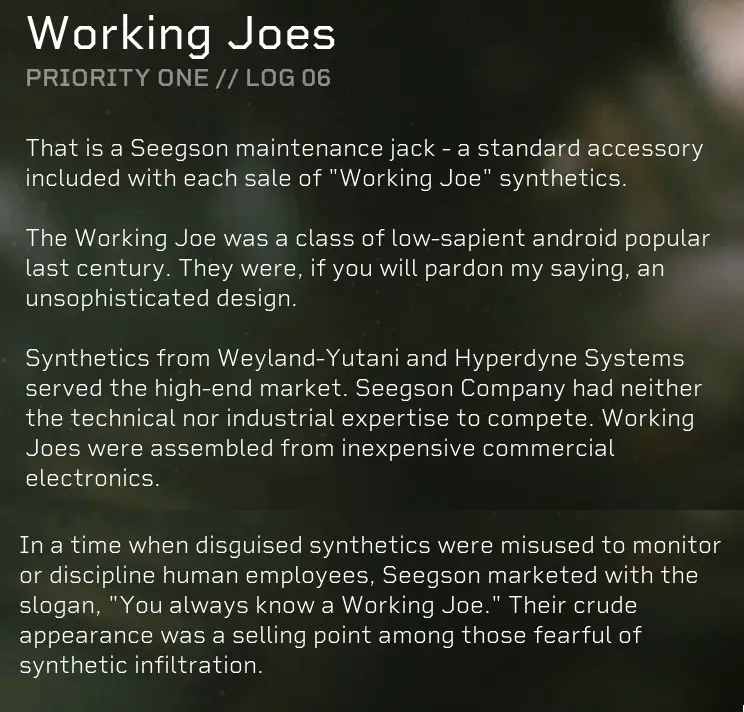 EXTRACT
(Mission #3/3)
Hoenikker's ID Badge:
Cargo Manifest: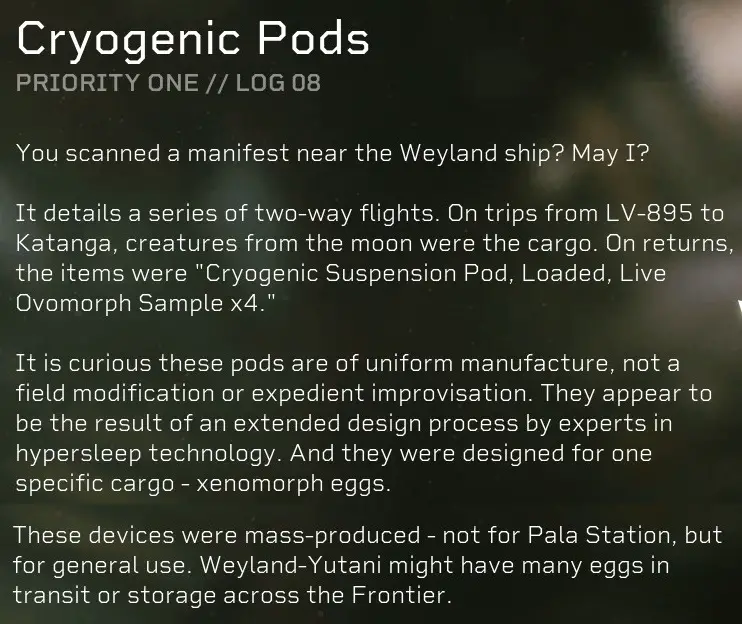 "Cracked Rooks" Squadron Cap: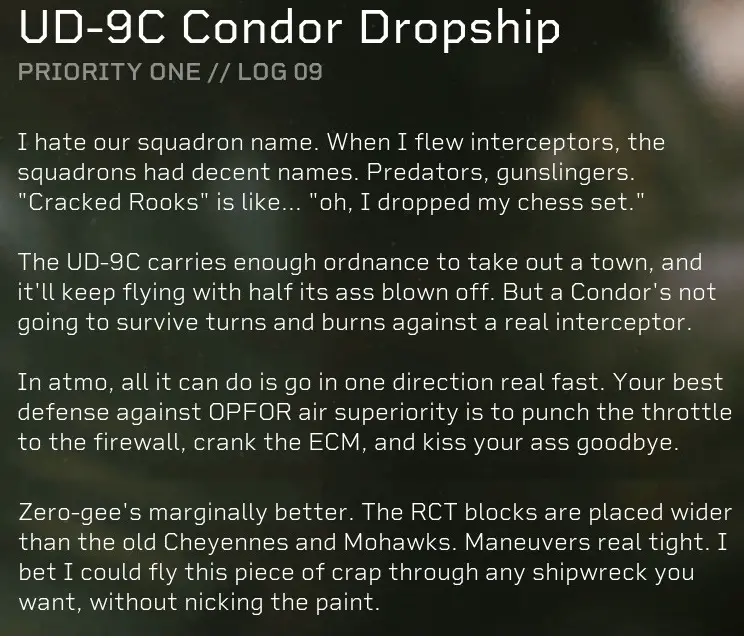 Giants in the Earth (9 x Intel)
INSERTION
Mission #1/3
Empty Can of Aspen Beer: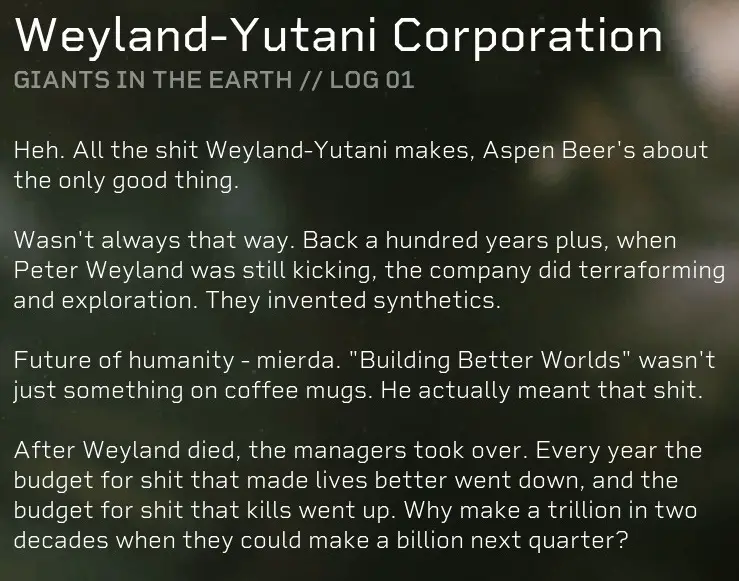 Colonial Protection Act of 2187: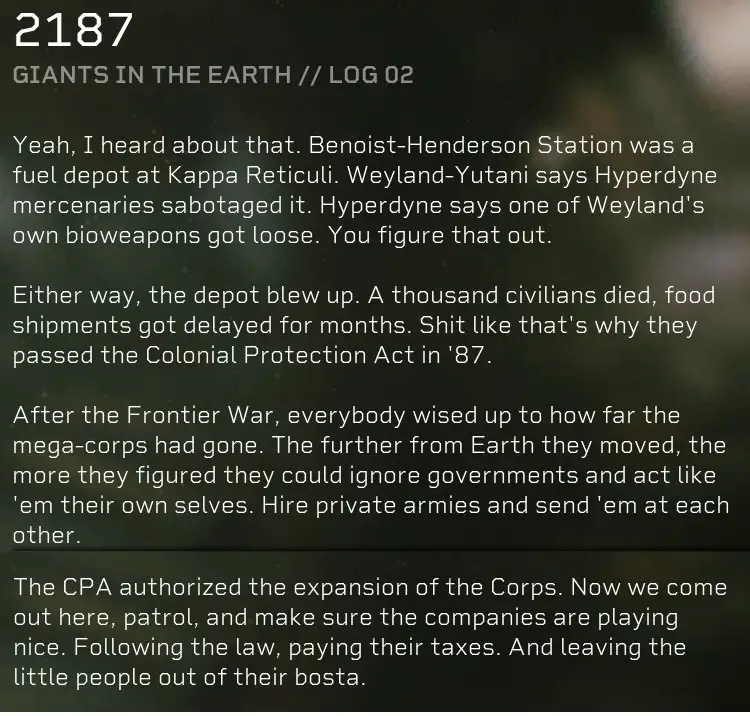 Pilot's Cowboy Hat:
CONTACT
Mission #2/3
CMISRS:
The Frontier War: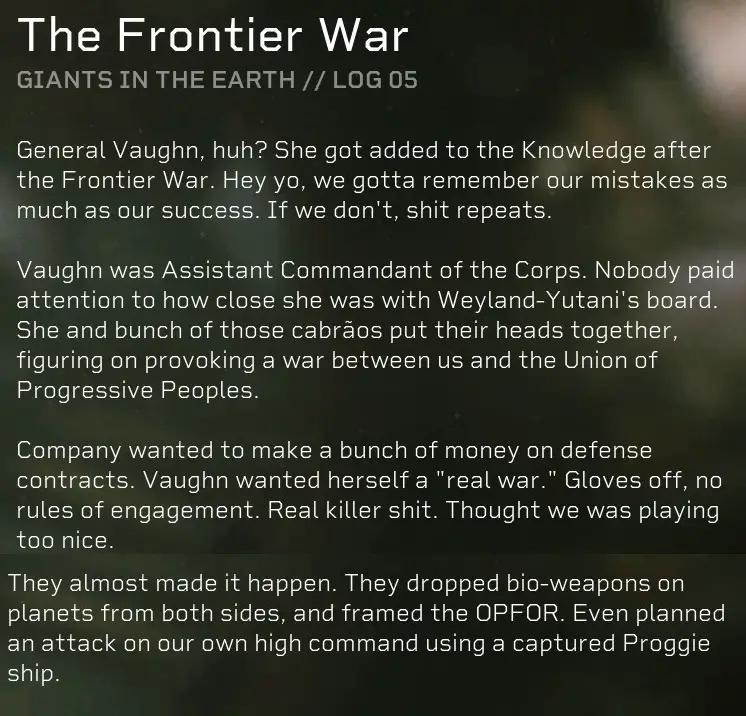 WY Ball Cap: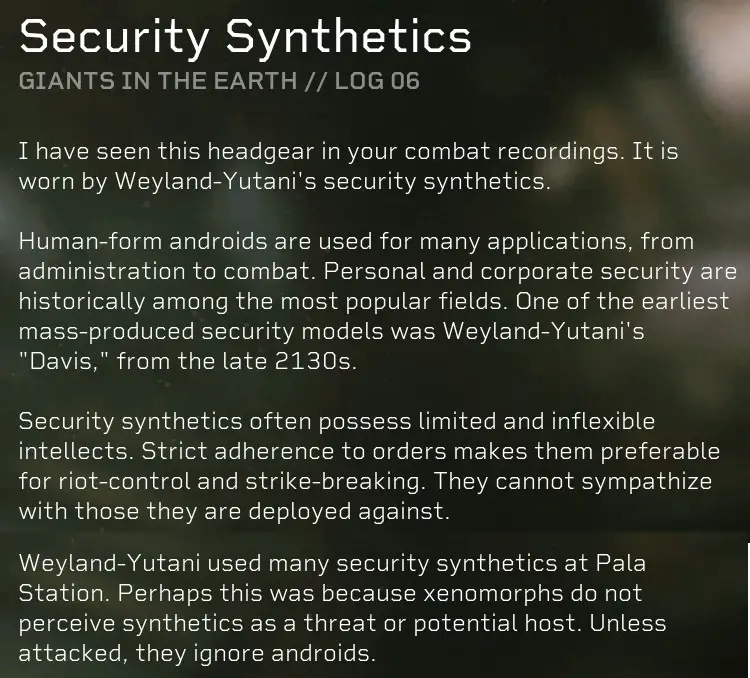 EVACUATE
Mission #3/3
Hoenikker's Signed NDA: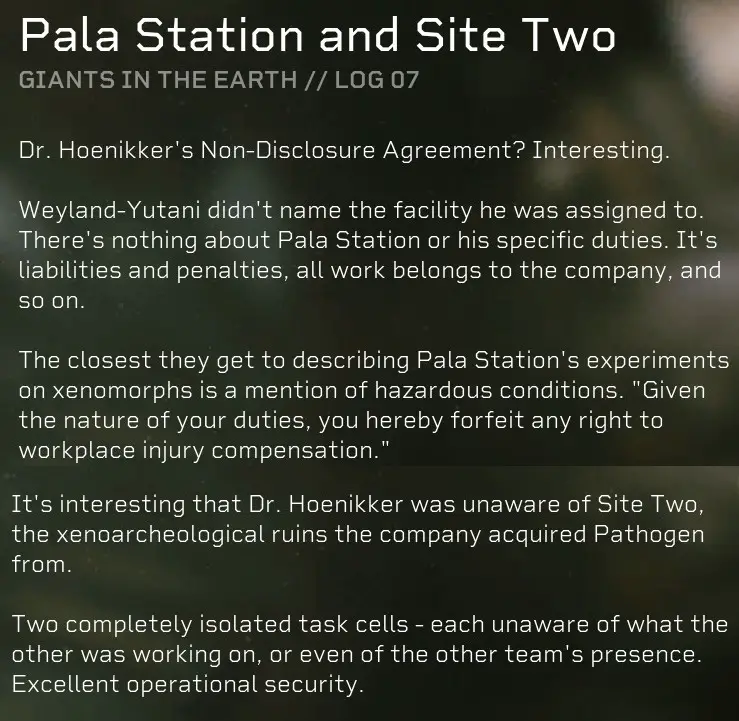 Rodriguez's ID Badge: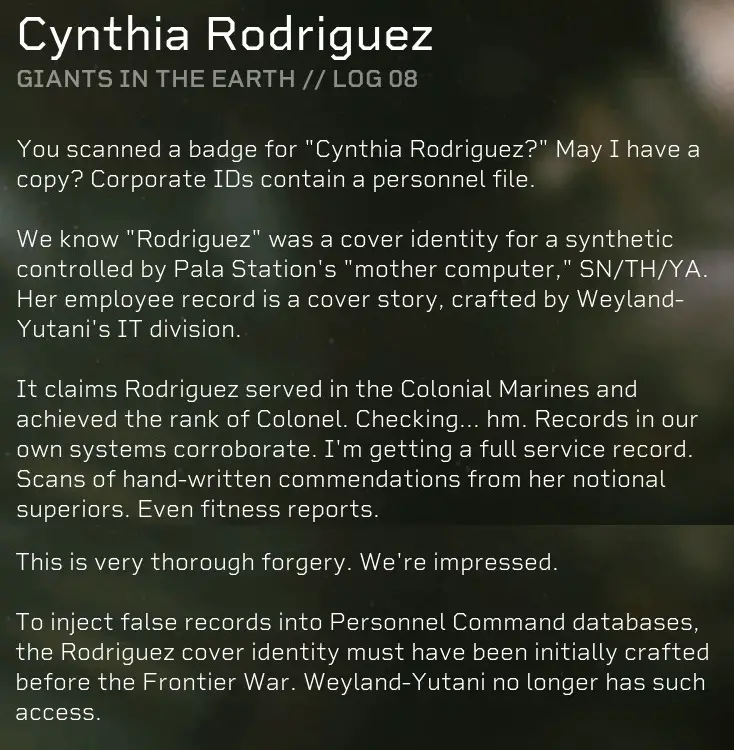 Server Panel: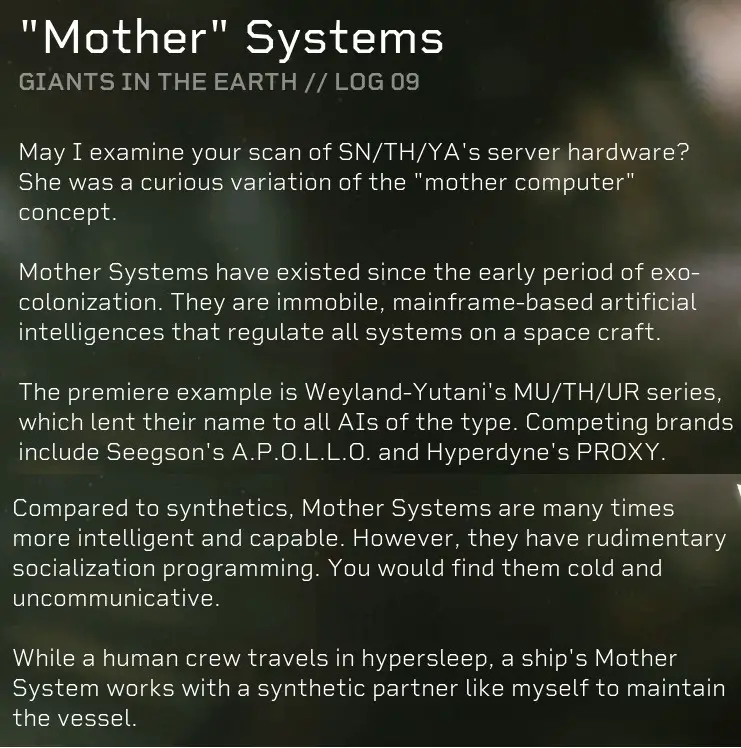 The Gift of Fire (9 x Intel)
RECON
Mission #1/3
40th Marine Expeditionary Unit: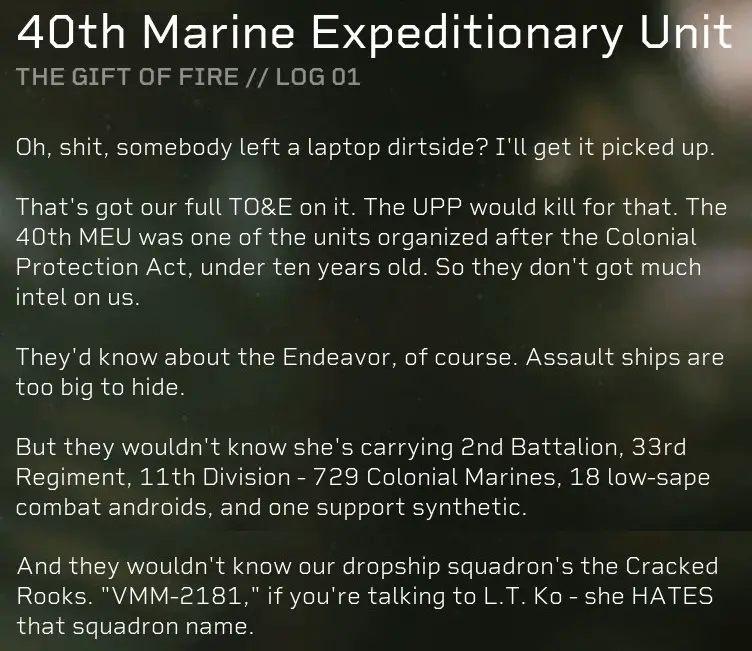 Issue of "Unexplained Universe":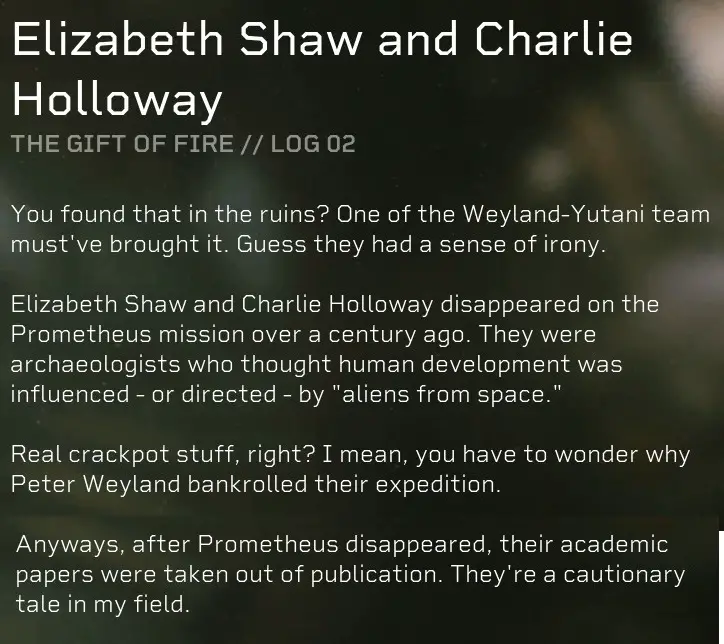 (Prometheus Easter egg!)Empty Pathogen Ampule: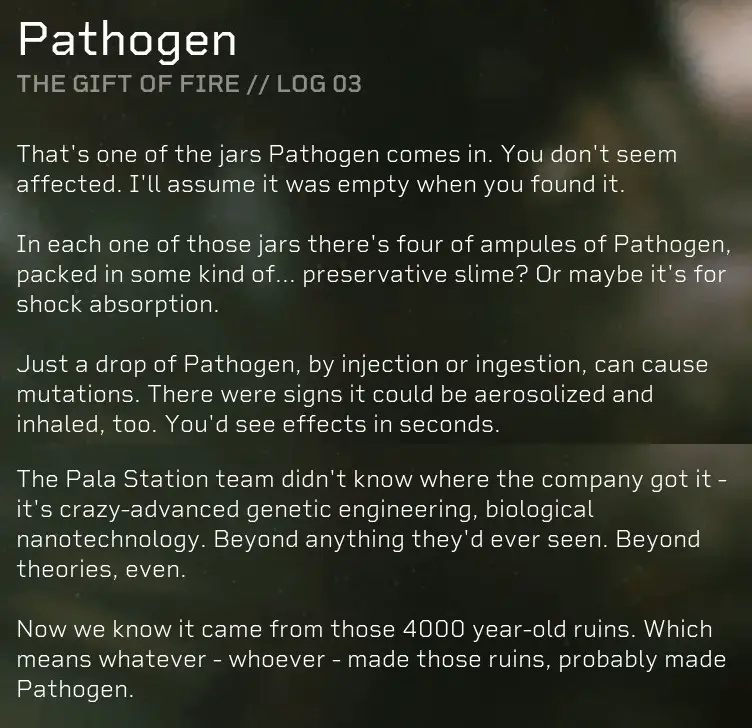 ADVANCE
Mission #2/3
Scientist's Notepad with Glyphs: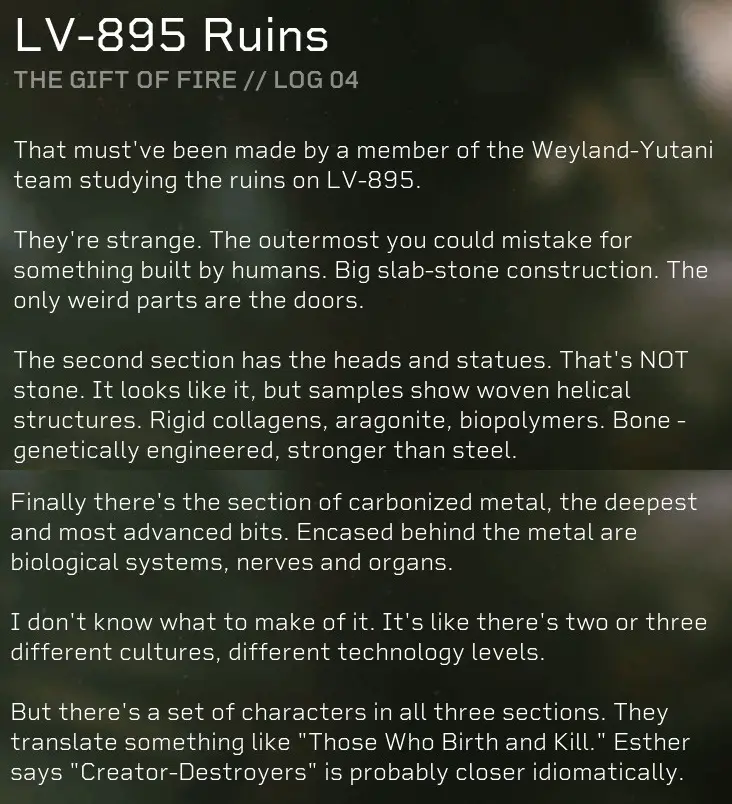 Gateway Station Datapad: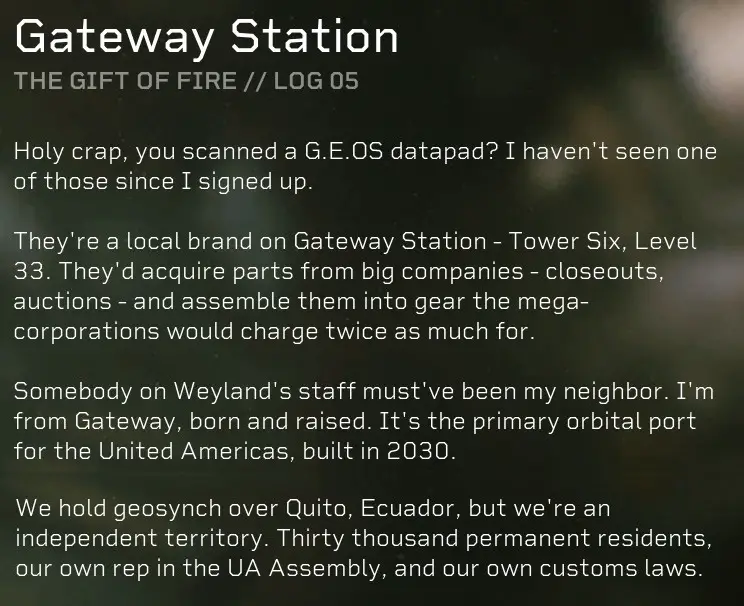 Dead "Popper":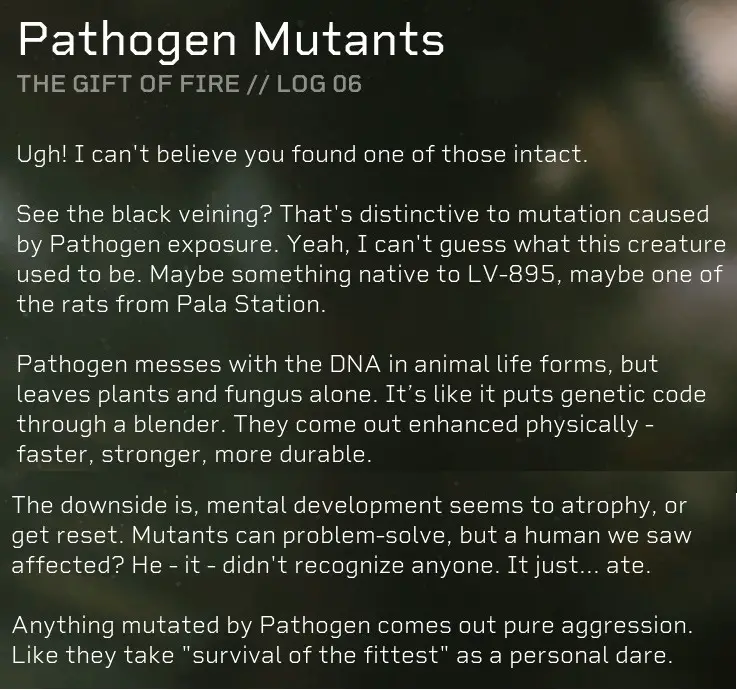 BOARDING
Mission #3/3
Engineer Helmet: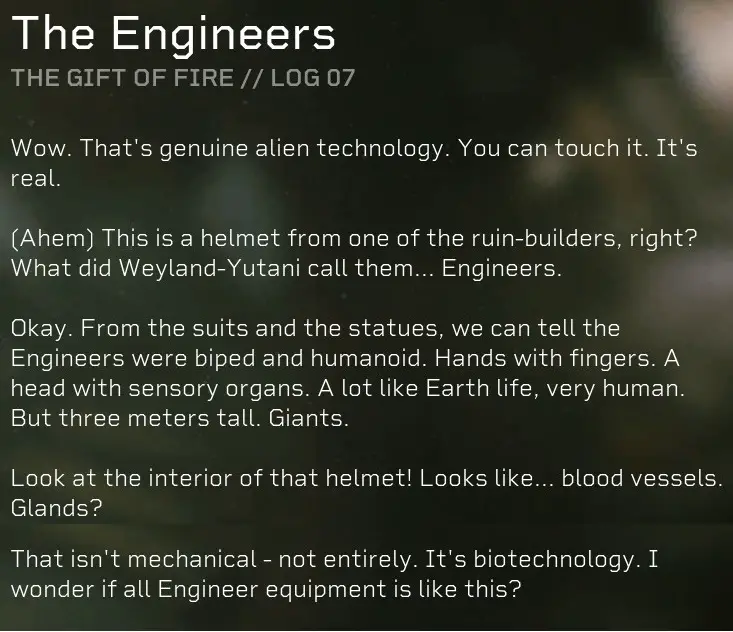 Stalker Tentacle: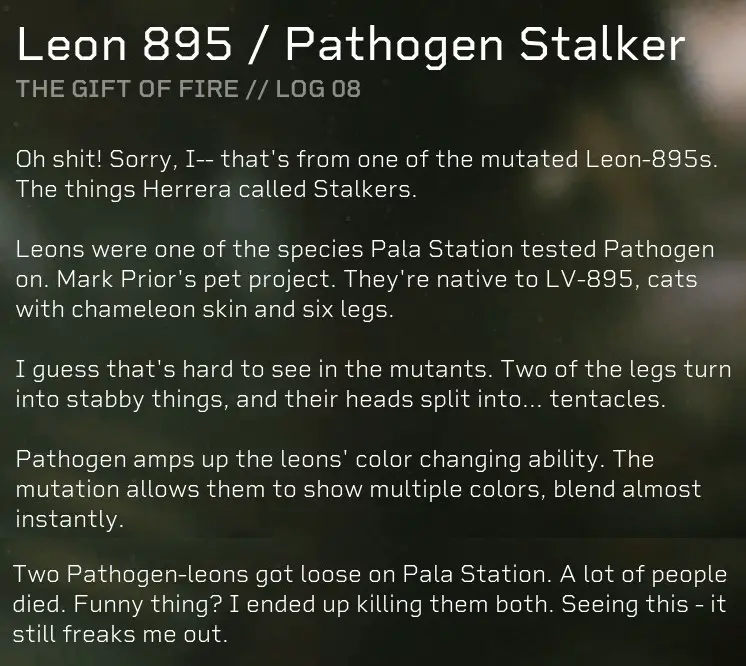 Control Flute: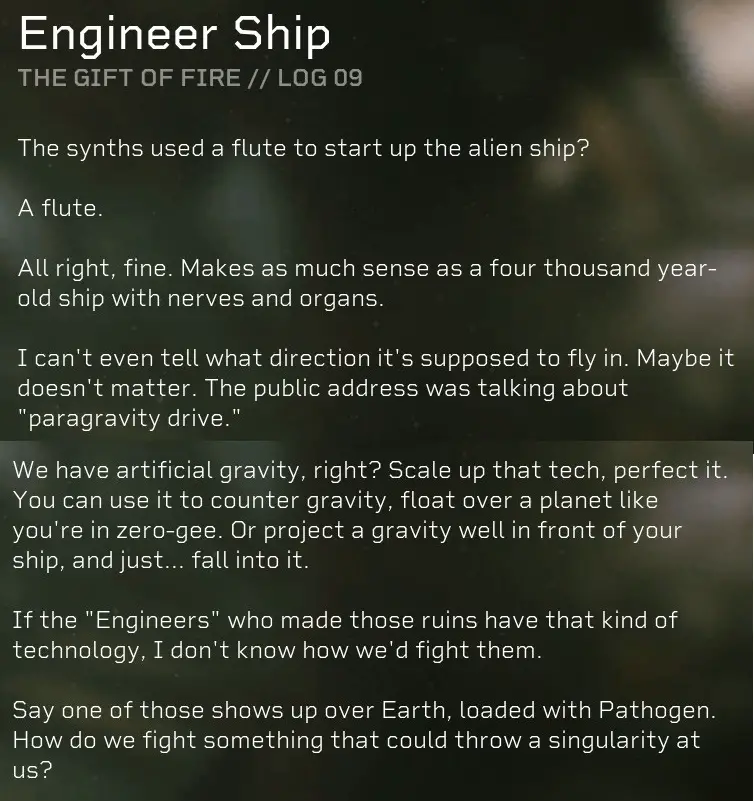 The Only way to be sure (9 x Intel)
BREACH
Mission #1/3
Armat Weapons Case: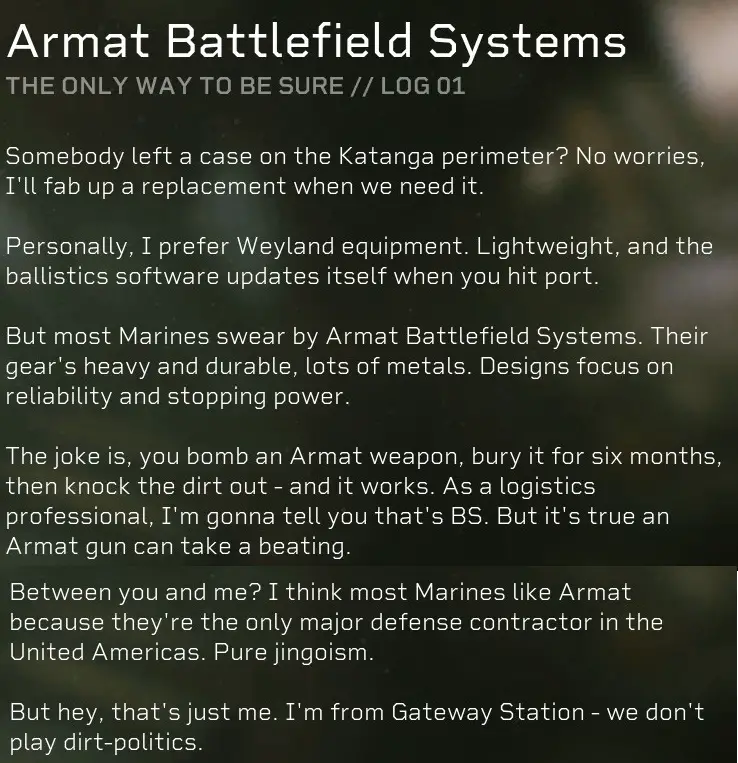 UA Centennial Poster: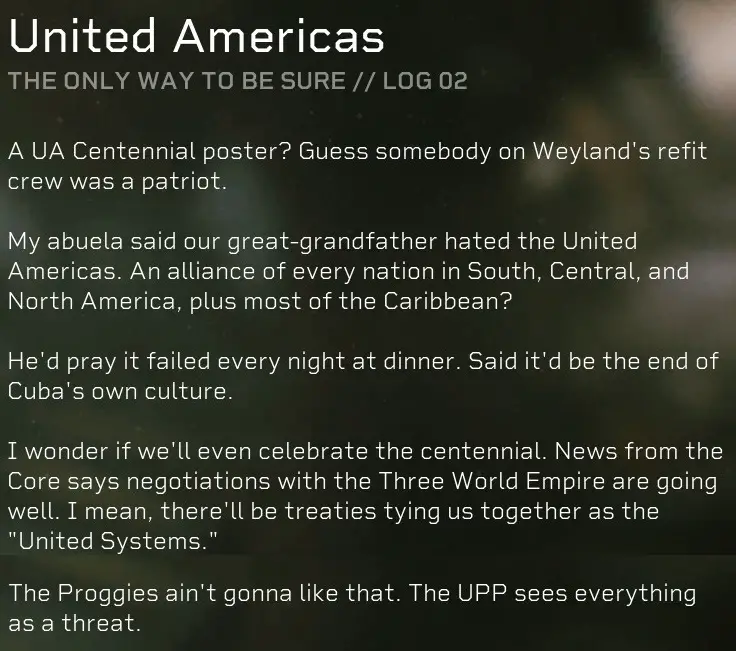 Spitter's Salivary Gland: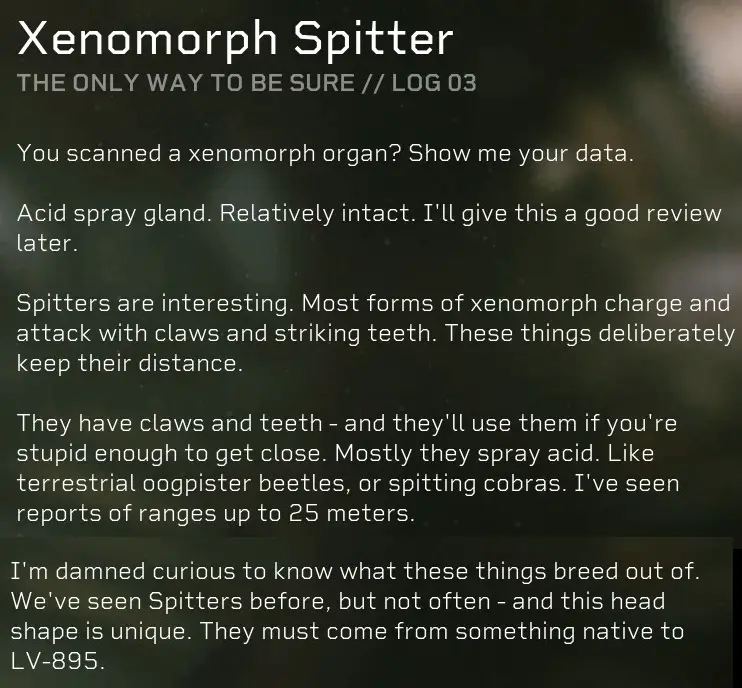 RESCUE
Mission #2/3
Partially dissolved Helmet: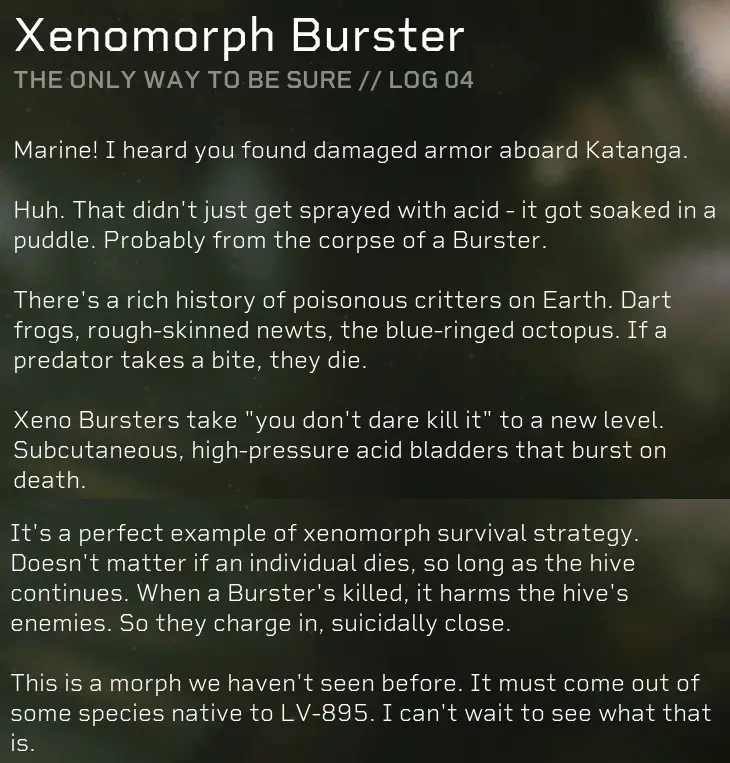 Hyperdyne Weapons Catalogue: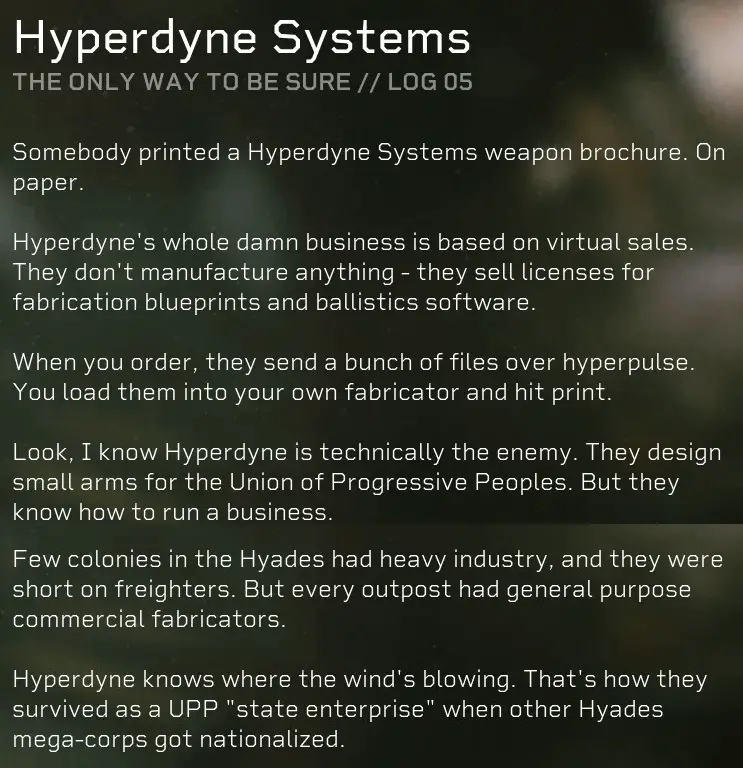 Union of Progressive Peoples Datapad: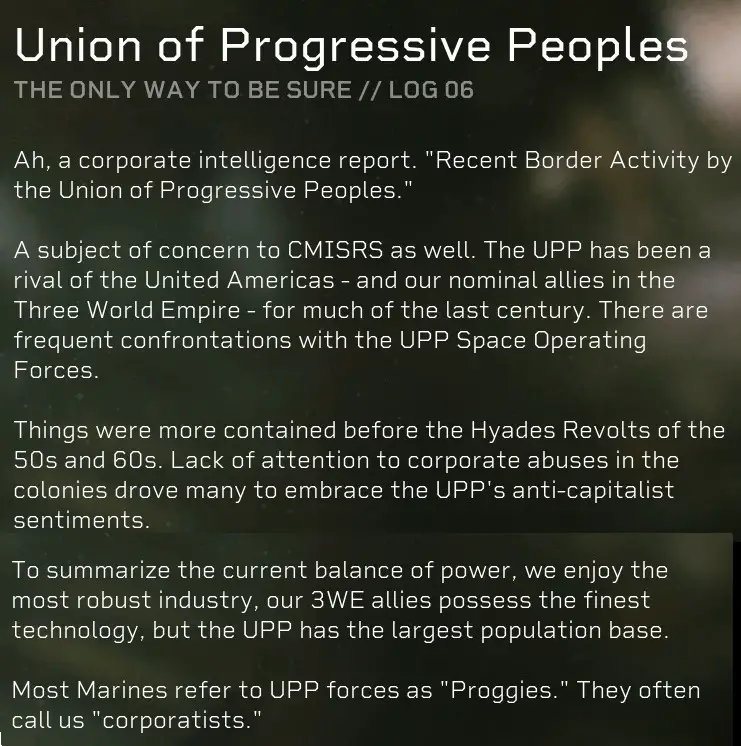 REGICIDE
Mission #3/3
Xenomorph Shedding: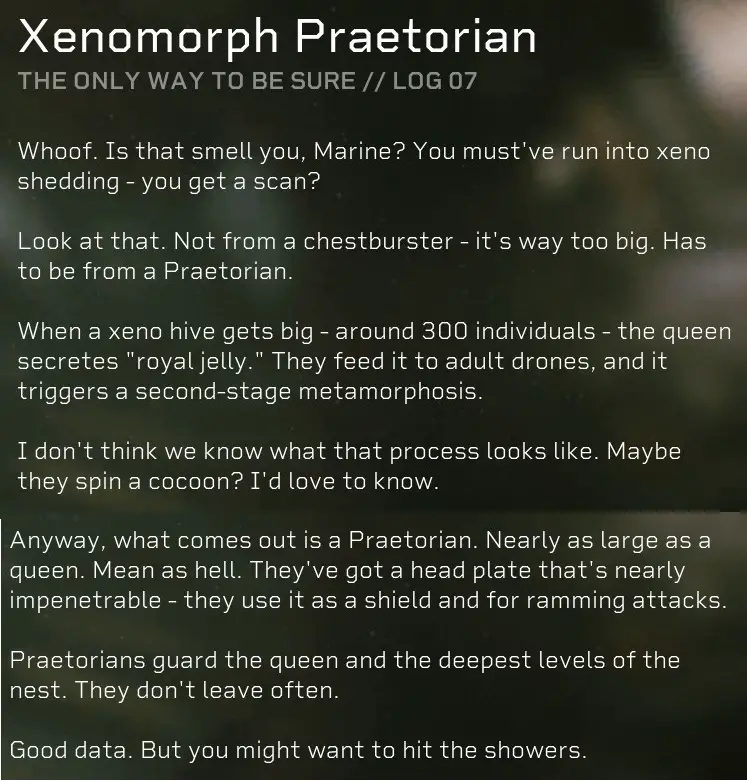 Three World Empire: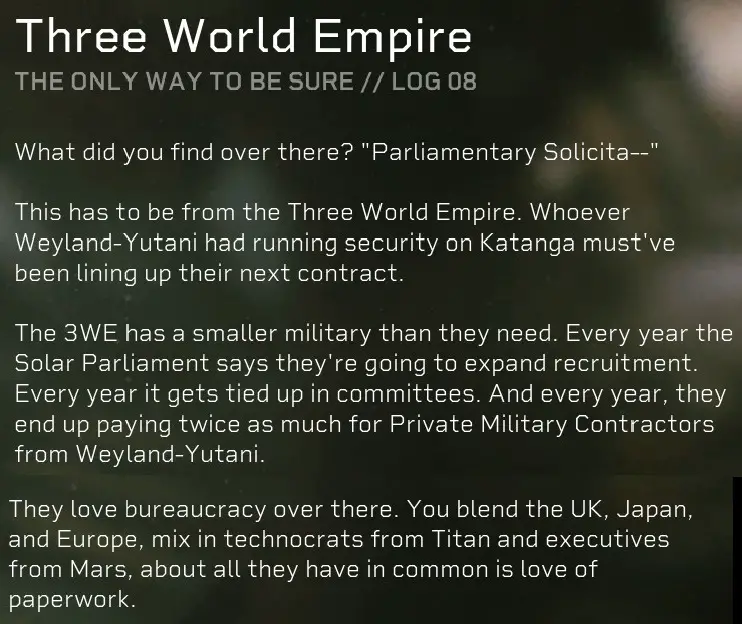 Corporal Shipp's Dog Tags: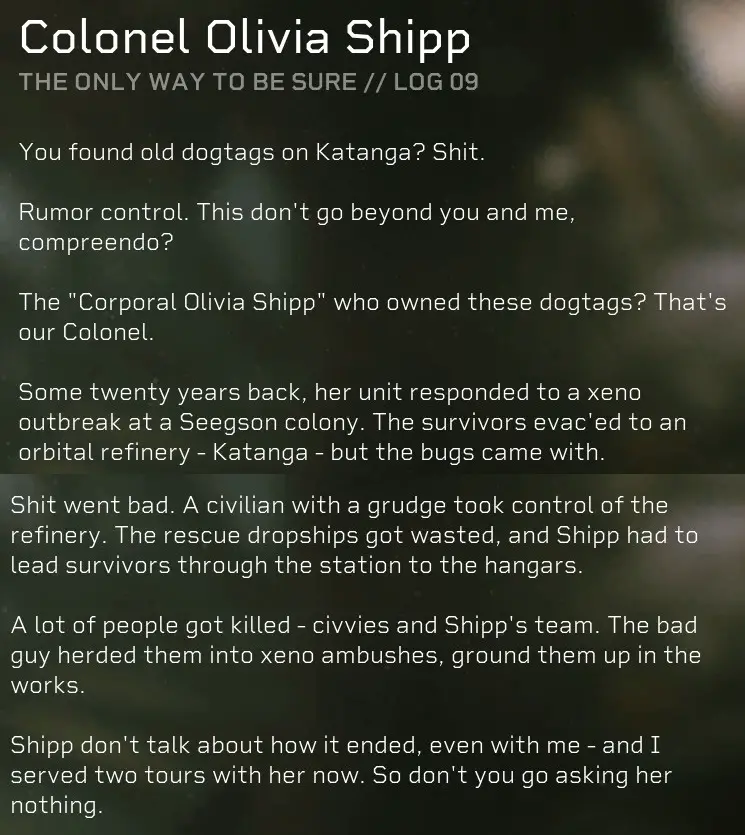 Thats all 39 Intel for the base game!
Promise of a Flower (9 x Intel)
You'll need this first!
SCOUT
Mission #1/3
Broken Alphatech Rifle: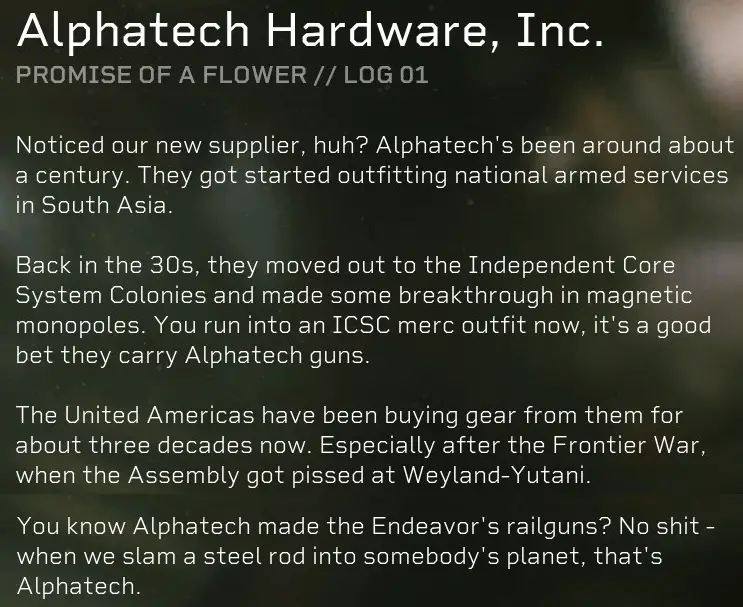 Crusher Skull plate: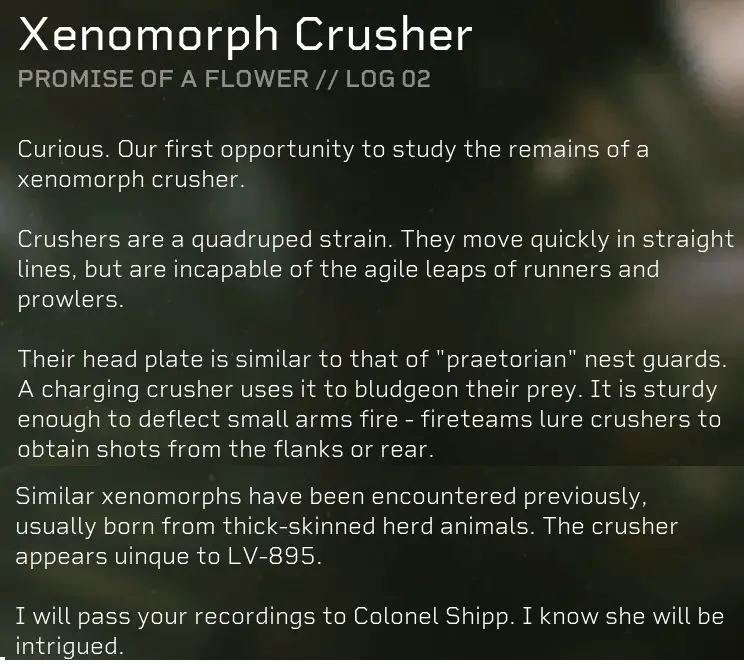 Detatched Metal Barb: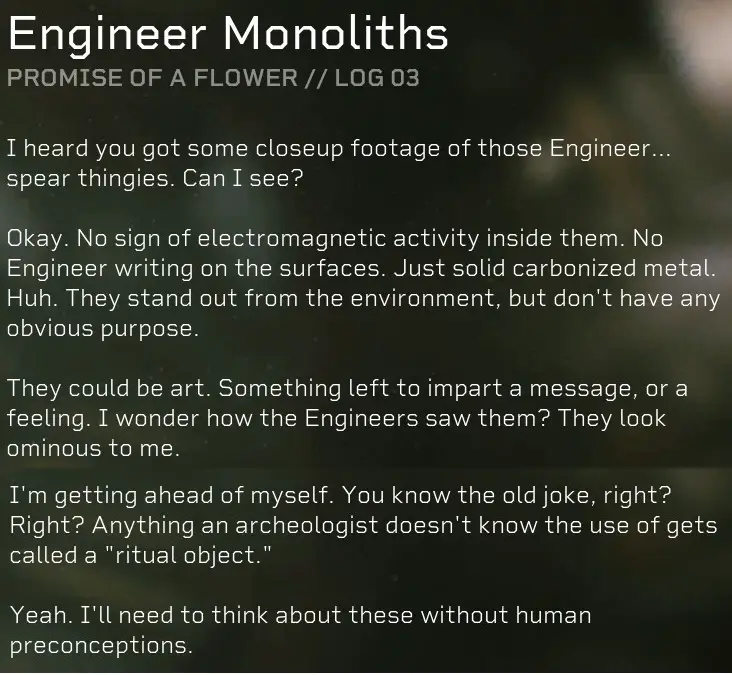 APPROACH
Mission #2/3
Cracked staue Face: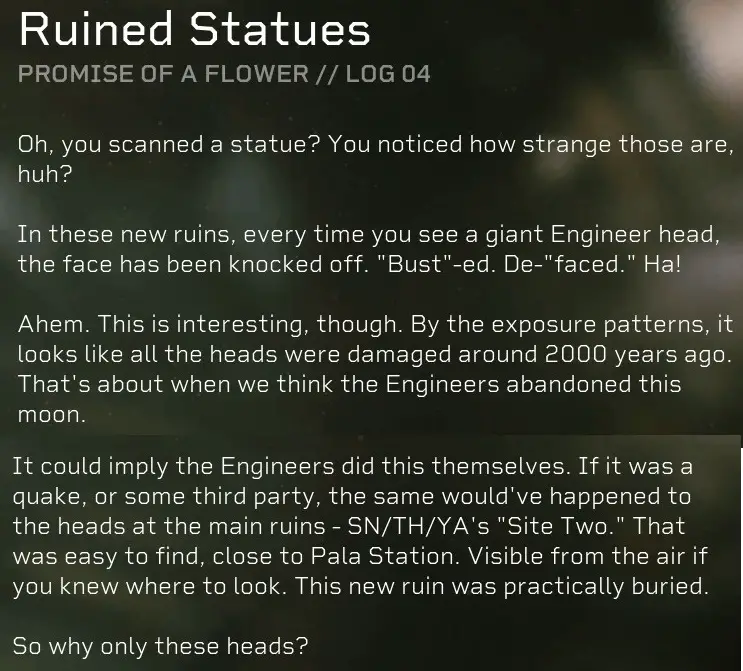 Fossilized Corpse: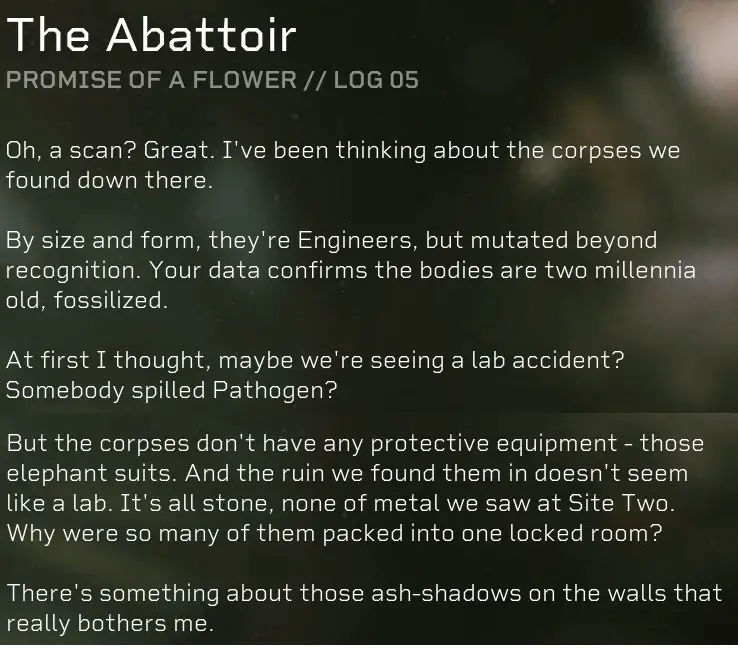 Mutated Growth: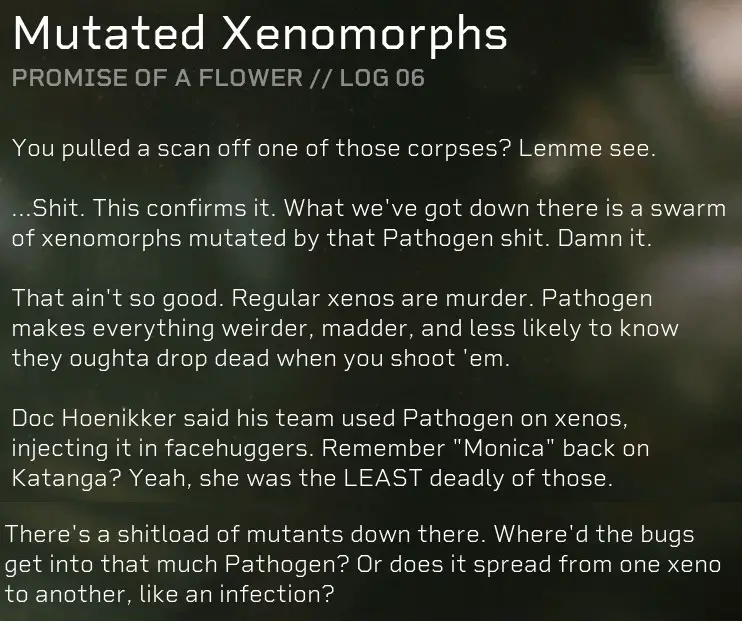 STRIKE
Mission #3/3
Spore Pod: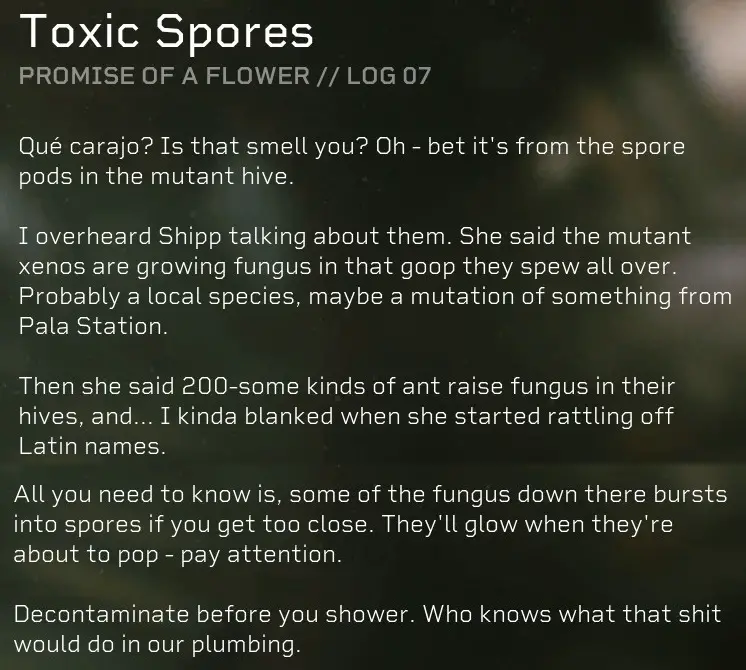 Brute Spine: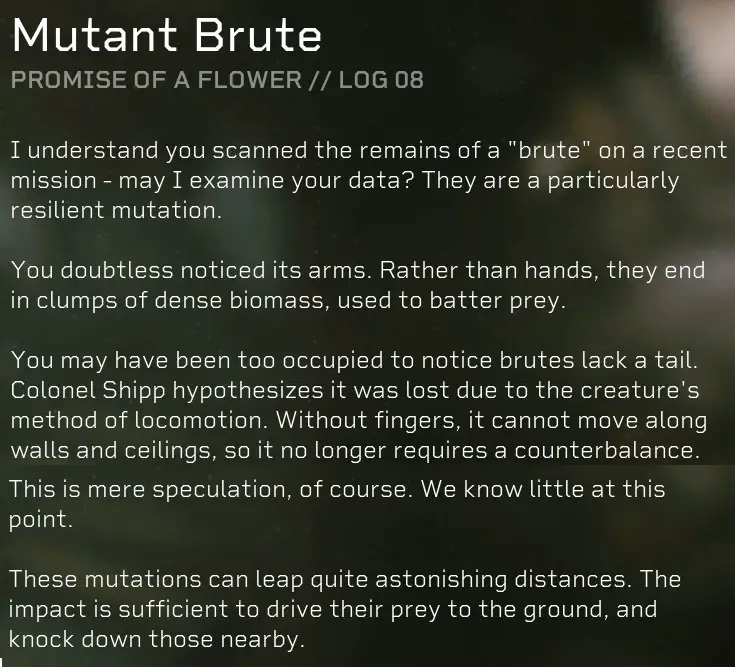 Shed Chitin: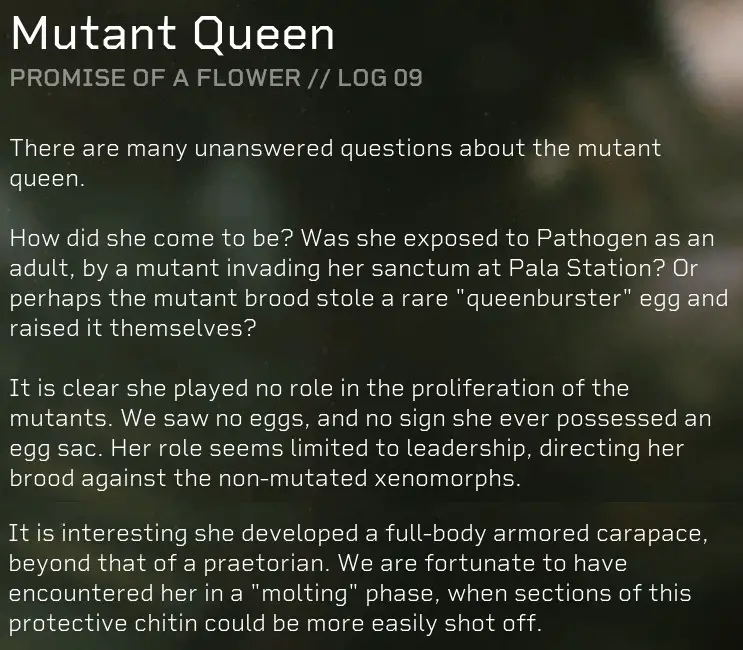 And thats it! All 48 Pieces of intel that are currently in the game. Hope you found them all!
Dramatis personae/ Important Characters
NOTE: All Excerpts are from the
[avp.fandom.com]Alejandra "Alex" Herrera
was Sergeant of Echo Company's newly organized 33rd Marine Regiment, 11th Marine Division in 2202, directing fireteams from a tactical operations center aboard a dropship or APC. Her battalion was ultimately assigned to the 40th MEU aboard UAS Endeavor.
João Sócrates Santos
was First Lieutenant of the United States Colonial Marine Corps' 33rd Marine Regiment aboard the UAS Endeavor, under the command of Colonel Olivia Shipp.
Dr. Timothy Hoenikker
was a theoretical archeologist employed by the Weyland-Yutani Corporation. After enduring a tragic childhood accident and losing both of his parents, Hoenikker qualified as a scientist and was posted to the world of LV-895, where he became involved with experiments using a mysterious pathogen. Events soon spiraled out of control and Hoenikker found himself trapped on the orbital refinery Katanga surrounded by Xenomorphs. Later rescued by a Colonial Marine fireteam, Hoenikker served in an advisory role to the Marines as they strove to contain the situation on both the Katanga and LV-895.
Esther 1089-12/A7
was an Esther model battalion synthetic stationed aboard the United States Colonial Marine Corps starship UAS Endeavor. She served as the 11th Marine Division's medical corpsman, science advisor, electronic warfare tech, and Military and Family Life Councilor (MFLC). While she did not normally deploy, Esther and Endeavor's MU/TH/UR computer kept the ship running.
SN/TH/YA
, also known as "Cynthia Rodriguez", was a Weyland-Yutani Model 9500 computer mainframe, designed to administrate Pala Station and used wireless nearfields to remotely control security and labor synthetics at both Pala Station and Site Two on LV-895, as well as a humanoid synthetic counterpart.
Corporal Ibrahim Savane
was the liaison between Echo Company and the Colonial Marines Intelligence, Surveillance, and Reconnaissance Service (CMISRS). He was a Intelligence analyst and reported to USCMC.
Colonel Olivia Shipp
was a member of the United States Colonial Marine Corps. Born in 2155 to Dr.'s John and Katherine Shipp, and orphaned by a Xenomorph outbreak as a teenager on Zagreus. Shipp joined the Colonial Marines at 18 and has fought Xenos for three decades.
Thanks for reading!
Let me know if you'd like to see any more content written for this game. I find the lore very interesting for this game and indeed the entire Aliens franchise.
I leave you with some of my favourite screenshots.
Enjoy!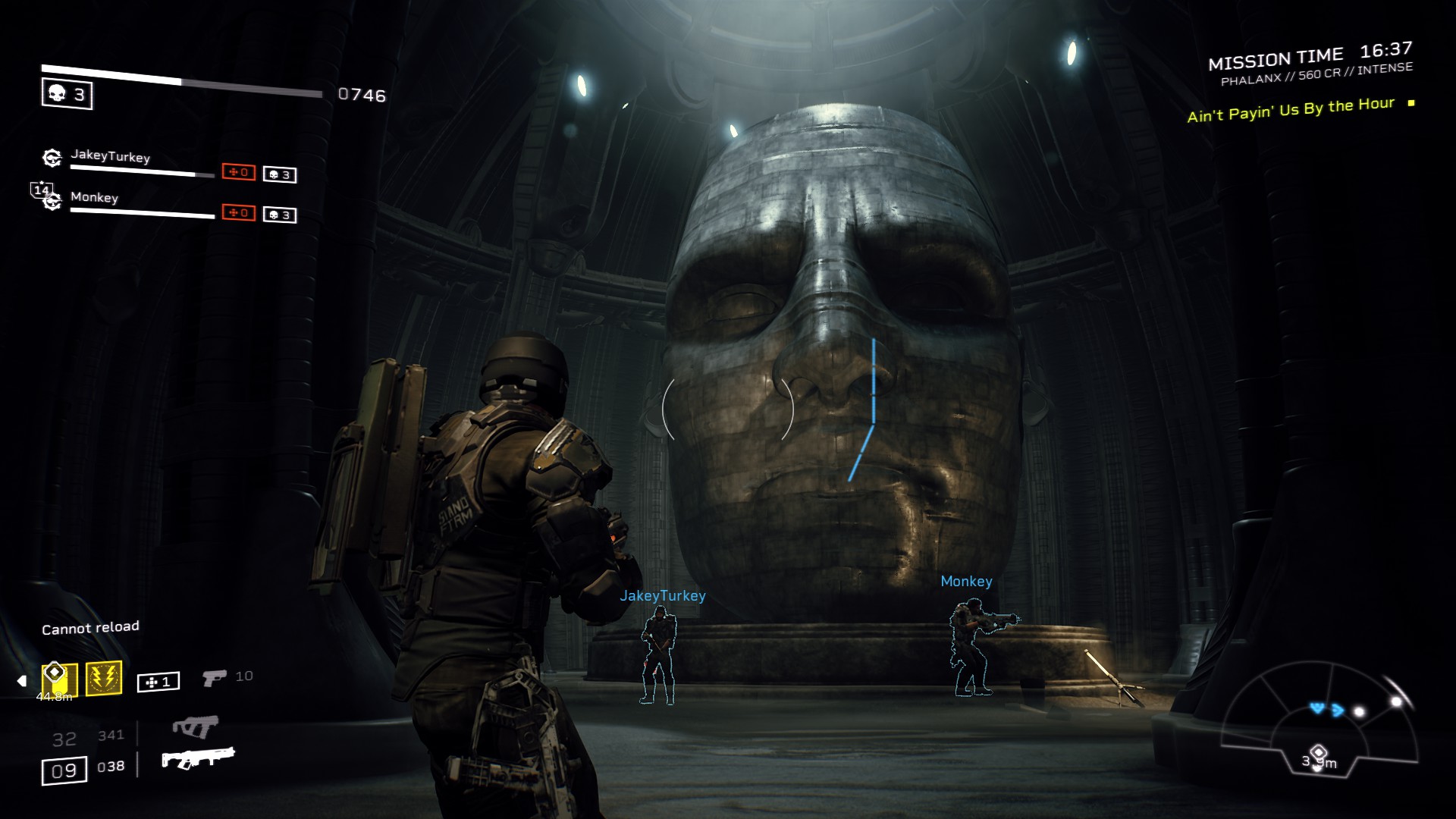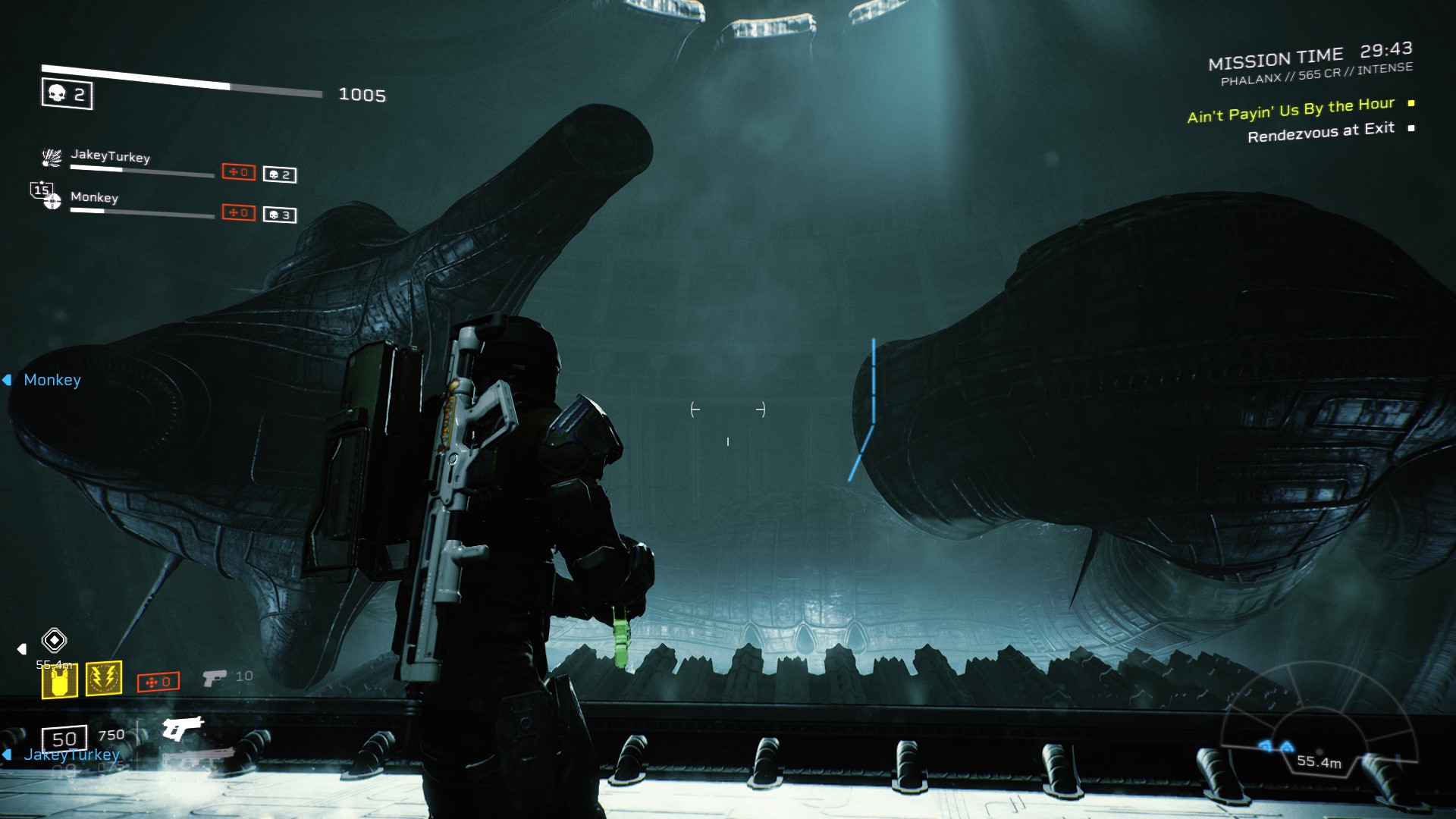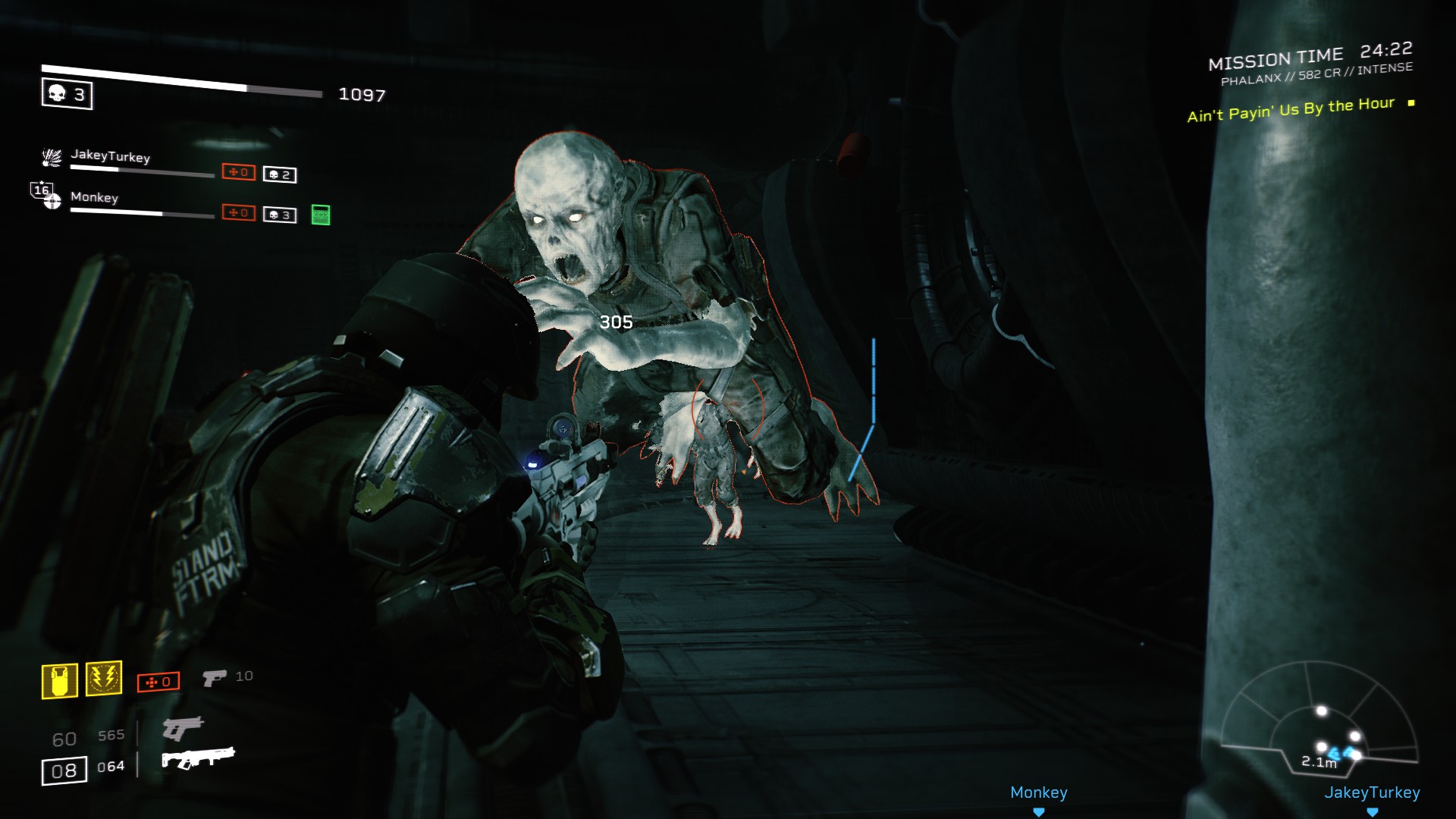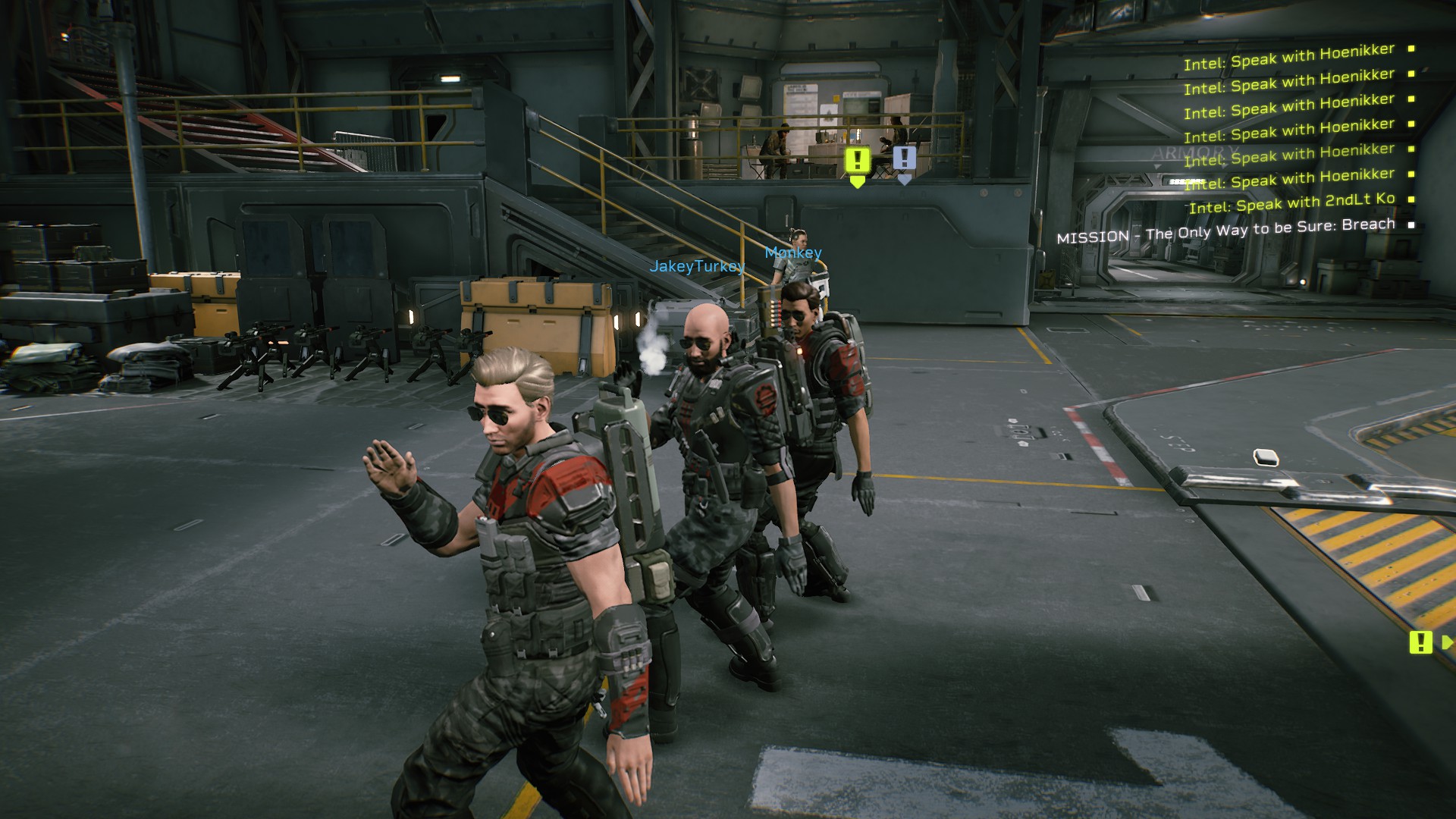 USCMC Dance group!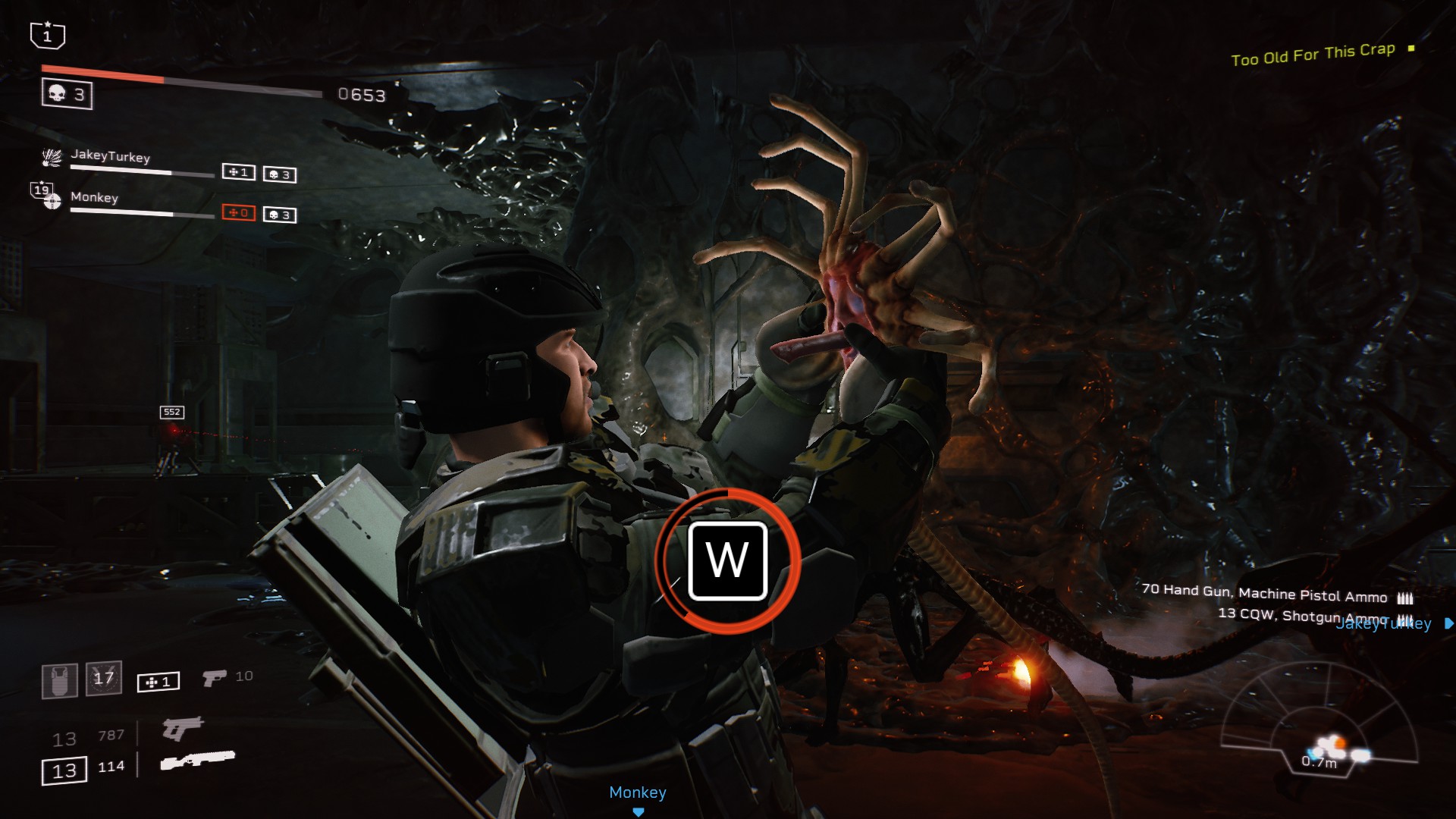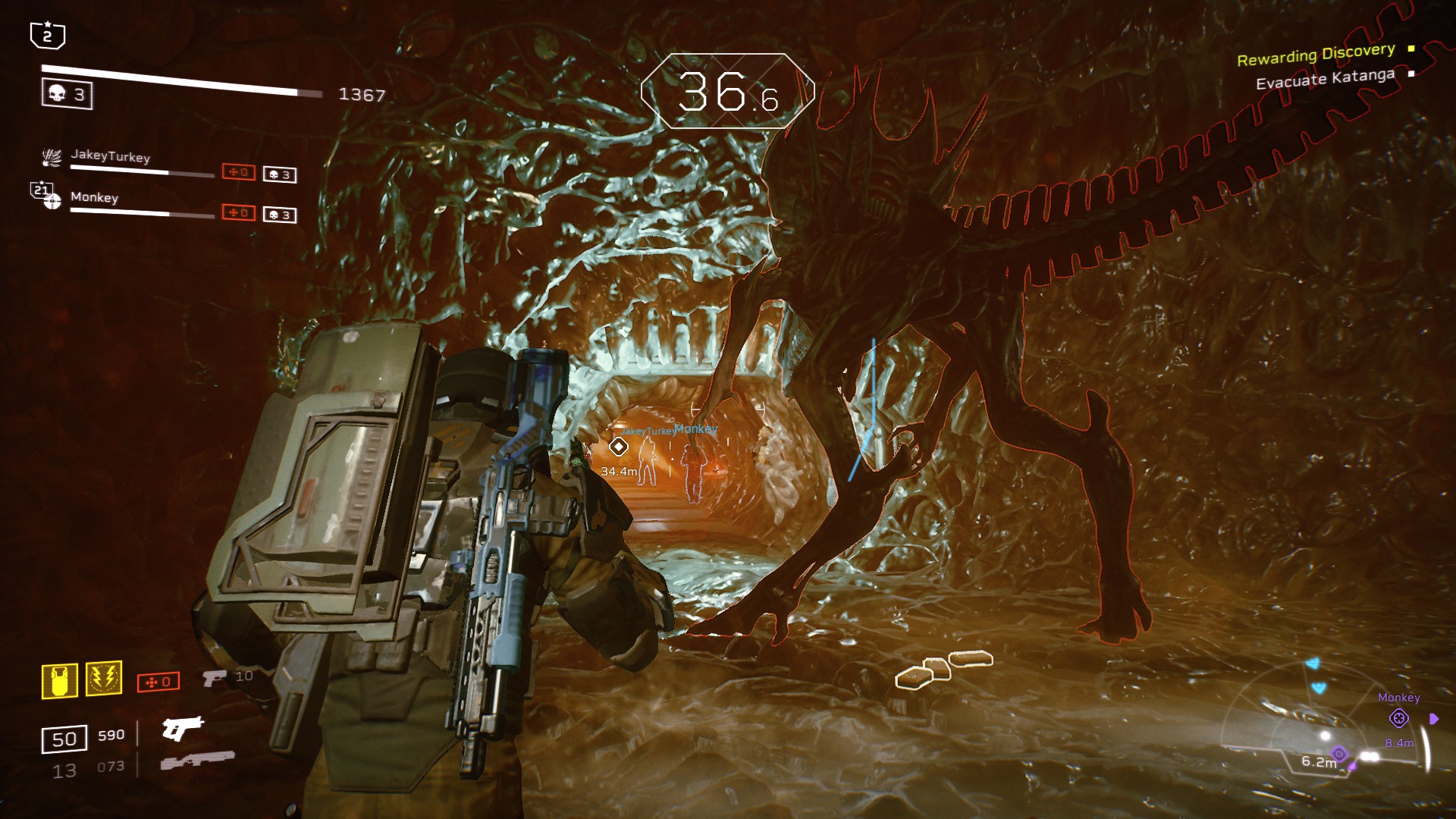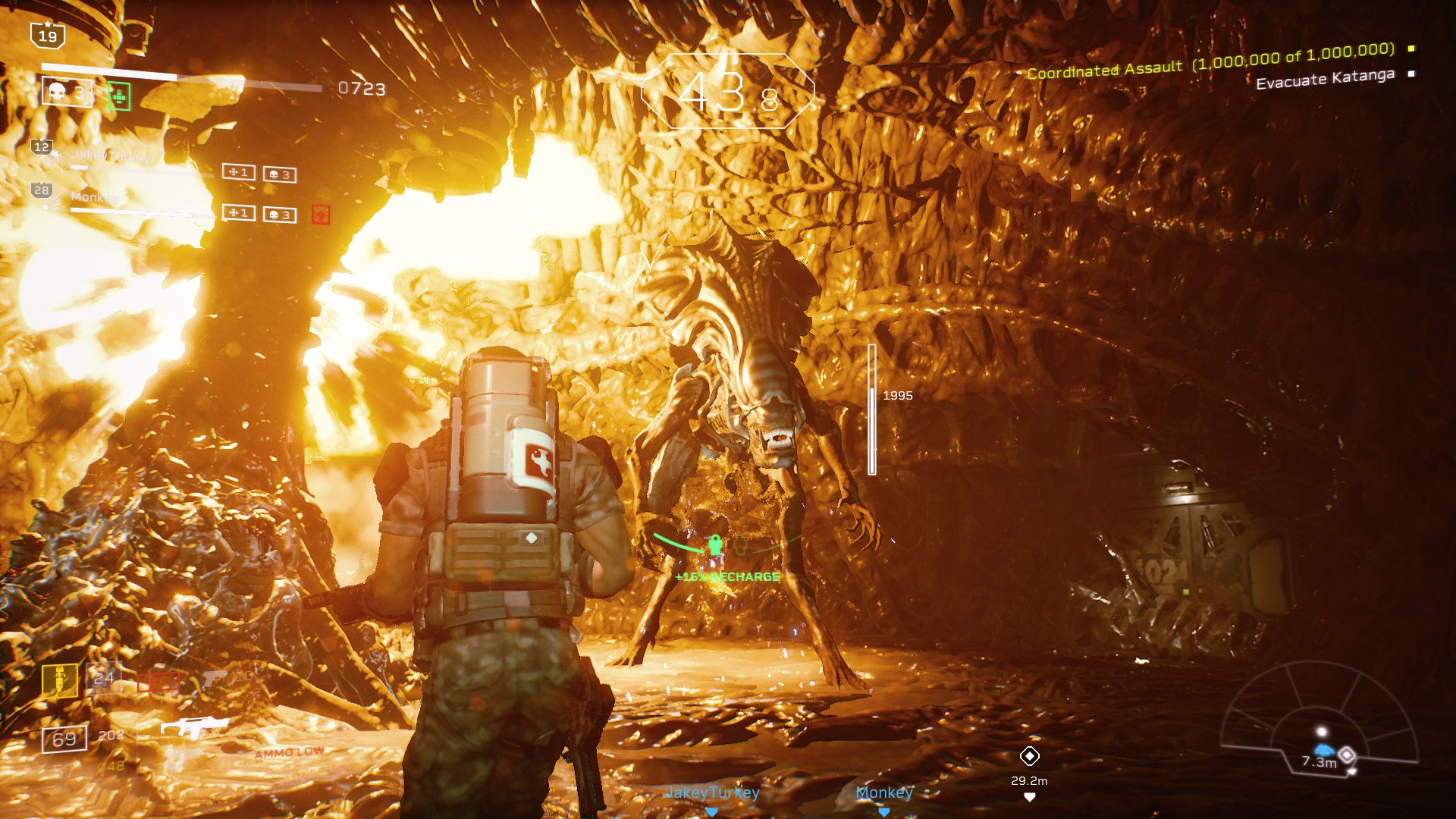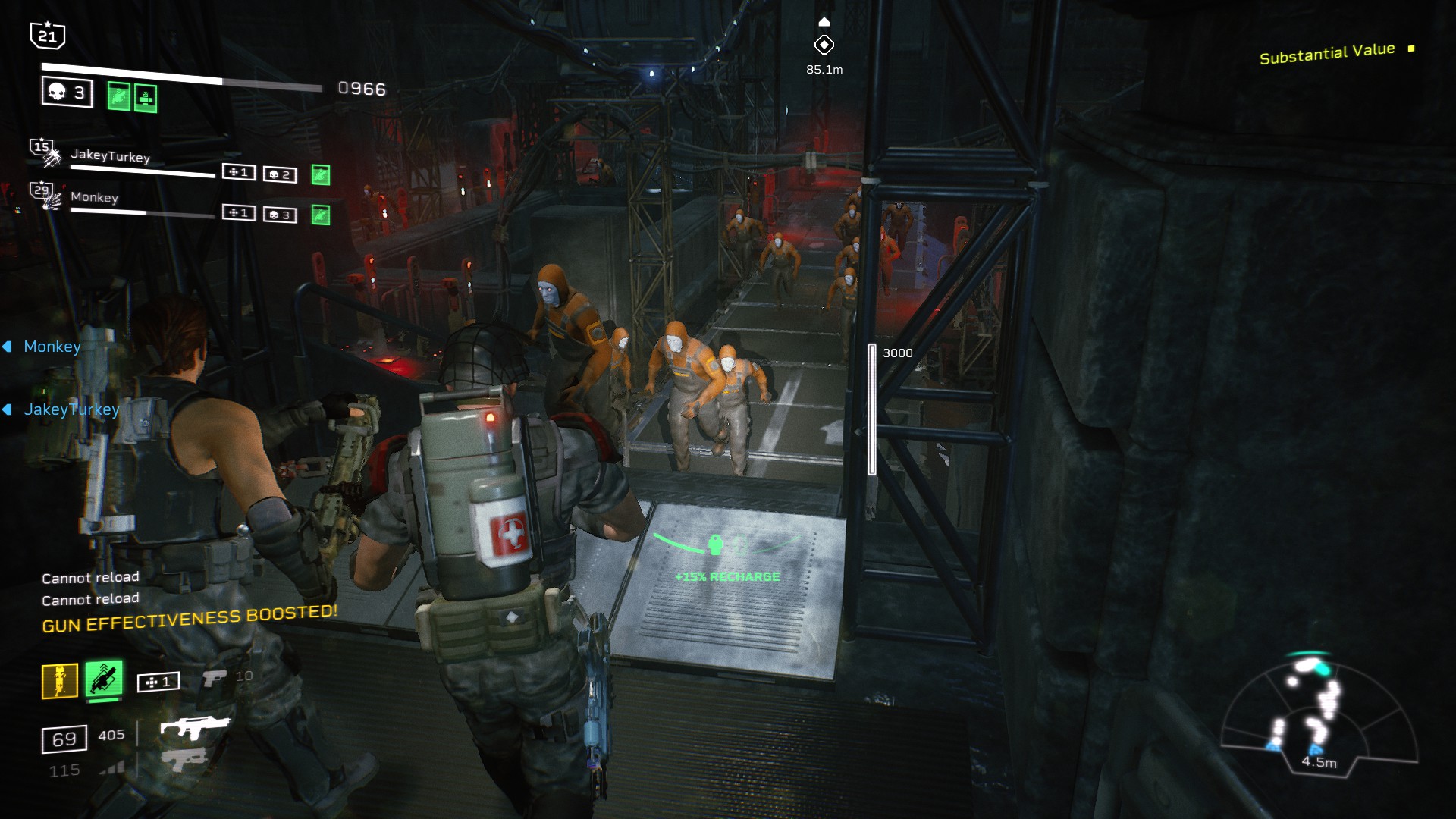 When you have gum at school…
That's everything we are sharing today for this Aliens: Fireteam Elite guide. This guide was originally created and written by Jäger. In case we fail to update this guide, you can find the latest update by following this link.
If you believe that any of the content on this site violates your rights, including your intellectual property rights, please contact us immediately using our contact form.